One Day in Dauphin Island, Alabama
Dauphin Island, Alabama, not to be confused with Dolphin Island, is just off the coast of Mobile, Alabama. Mobile is a fun and charming southern city worth visiting, and when you go, you should check out Dauphin Island.
It's a place steeped in history dating back to the time when the area was part of French Louisiana territory. And actually, more than fifteen hundred years when you consider the Native American findings here.
Clear blue water and white powdery sand. Huge live oak trees. It's the island you've never heard of that offers some great reasons to visit. Here is what I recommend doing on Dauphin Island on a day trip.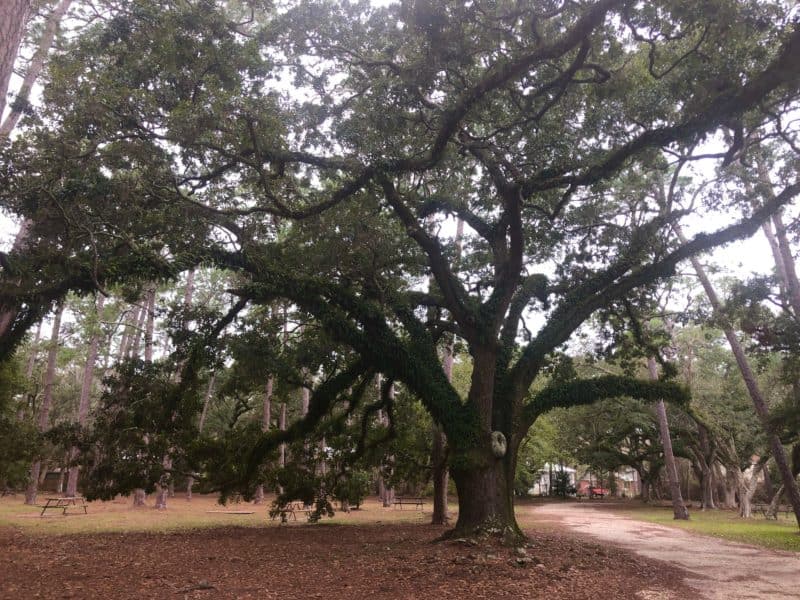 Some links in this article may be affiliate links, which means that if you purchase through them, I receive a small commission. This will never cost you extra. Please read the disclosures to learn more.
One Day in Dauphin Island Itinerary
Dauphin Island, Alabama, is fairly small, so you can do a lot of different things when you visit. Your itinerary may be different, depending on the time of year you visit.
It's a popular birding spot, so some people will visit just to see the birds that pass through the island. Other people might be interested in the pristine white sand beaches and the history, and that's what this itinerary is all about.
Start your day with a huge cinnamon bun at the Lighthouse Bakery.
Visit the Little Red Schoolhouse to learn more about the area.
Tour Fort Gaines.
Wander around Cadillac Square.
Grab lunch at Pirates Bar and Grill.
Enjoy the beach!
If you enjoy aquariums or you're traveling with kids, the Estuarium is a really popular spot. You could spend hours there alone, so plan your time accordingly!
Little Red Schoolhouse
Since you may not be visiting Dauphin Island with a local, the Little Red Schoolhouse is a great place to start. It's a historical building that serves as a welcome center, museum, and library, and it's a great place to get an orientation and plan your day.
The museum includes a lot of information about the island's history, including Fort Gaines, the Sand Island Light House, and the bridges around the island. There is also a lot of information about the role Dauphin Island played in the Civil War Battle of Mobile Bay in 1864. It also includes lots of historical photos for you to enjoy.
There is also an extensive lending library, and books are free of charge. There are lots of different books to choose from, ranging in age from children to adults. You can even get some DVDs, audiobooks, games, and puzzles on loan as well. So, if you decide to stay for more than a day, definitely check out the lending library.
The Little Red Schoolhouse is located at 1016 Bienville Boulevard, Dauphin Island, AL. It is open from Monday to Saturday from 10 to 4.
Fort Gaines
Fort Gaines is a historic fort named for Edmund Pendleton Gaines. It was completed in 1861 and is best known for the Battle of Mobile Bay, fought during the Civil War.
On the grounds outside the fort, you can see a large sign with the famous command from Admiral David Farragut that says, "Damn the torpedoes! Full speed ahead! " joined by two cannons. If you're like me, you've heard this quote but had no clue where it came from. Well, now you know.
Explore the site, watch live reenactments, and see a blacksmith demonstrate the craft. Learn more about this rich history preserved in this historic place. You can see the original cannons used in the battle, pre-Civil War brick buildings, and more.
There is also a museum that details the history of this period. The site is considered one of the best-preserved Civil War-era masonry forts and has received a nomination to be listed as a National Historic Landmark.
Fort Gaines is located at 51 Bienville Blvd, Dauphin Island, AL 36528. Admission costs $8, and it is open daily from 9 to 5.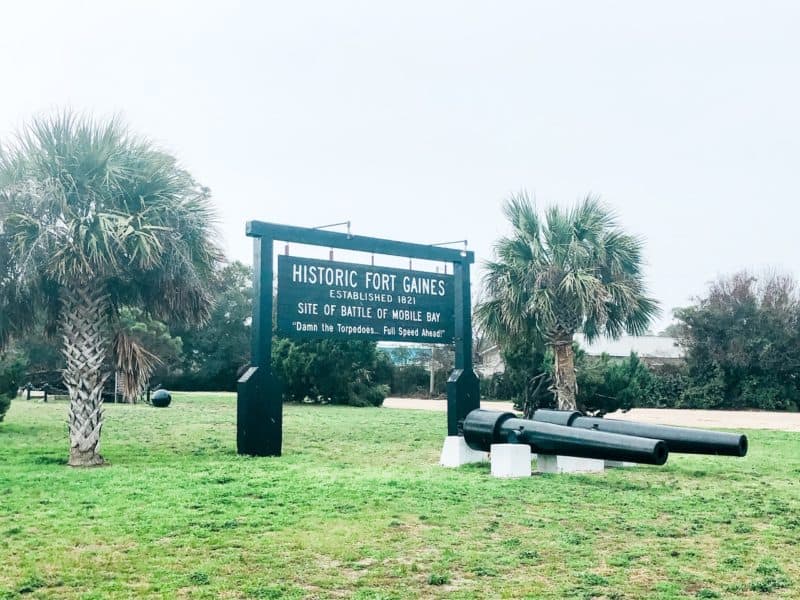 Fort Morgan Historic Site
If history, and specifically, the history of wars and battles, is your thing, you may want to also visit Fort Morgan. It's located on Mobile Point at the end of the Fort Morgan Peninsula, not far from Dauphin Island.
This masonry fort was completed in the mid-1800s and also played a significant role in the Battle of Mobile Bay. It is located where the bay meets the Gulf of Mexico.
This fort was used in several wars, including the Spanish-American War, WWI, and WWII. Though it is now a historic site owned and operated by the state of Alabama, it does show the evolution of seacoast fortifications.
It is surrounded by beautiful beaches and nature areas and has a boat launch and picnic area to enjoy.
Fort Morgan is located at 110 Highway 180, Gulf Shores, AL. The Mobile Bay Ferry offers a service for you and your car to go to Fort Morgan. It's open from 8 to 5 every day and costs $8 to enter.
Dauphin Island Public Beach
Enjoy the silvery-white sands of Dauphin Island on the public beach. Walk on the rocks just off the shore, swim in the cool gulf waters, or just enjoy the hot sand on your feet. There's something for everyone to enjoy here. Oh, and this beach is dog-friendly as well!
You'll notice a long pier that doesn't take you to the water but ends a ways back in the sand. It used to be at the water line, but due to hurricanes, it's no longer at the shoreline. It struck me as funny that it hasn't been moved or taken down, but it certainly makes for an interesting story.
The main public beach is located at 1501 Bienville Blvd, Dauphin Island, AL 36528. It's open from 8 to 5, and there is a $6 parking fee during the spring and the summer.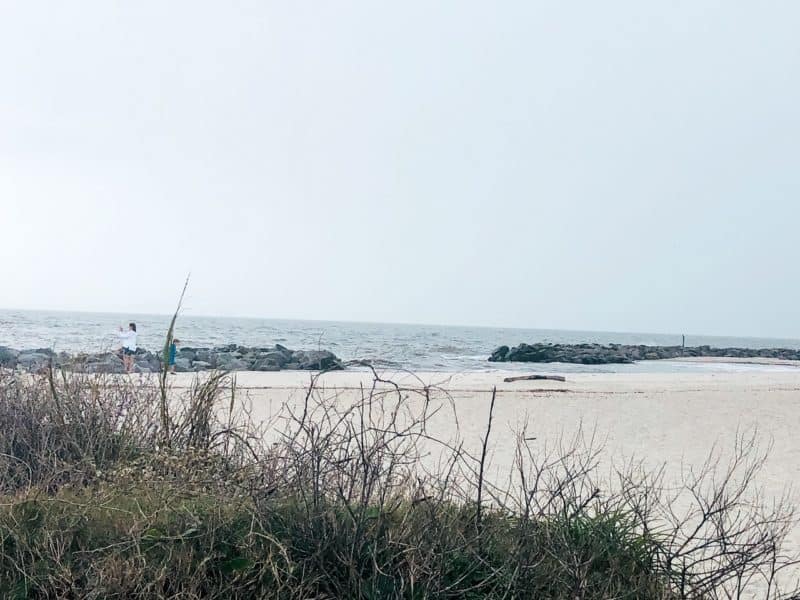 Cadillac Square
Cadillac Square became the site for the home of the French Governor-General of Louisiana, Antoine de la Mothe Cadillac, in 1713. However, in 1717, a hurricane caused extensive damage to the island. This caused the Governor=General to move elsewhere, and the capital was also moved.
The home is no longer there. However, this historic site is a large park with live oak trees and lots of birds. It's often used for different festivals throughout the year.
Cadillac Square is located at 661 Bienville Blvd, Dauphin Island, AL 36528.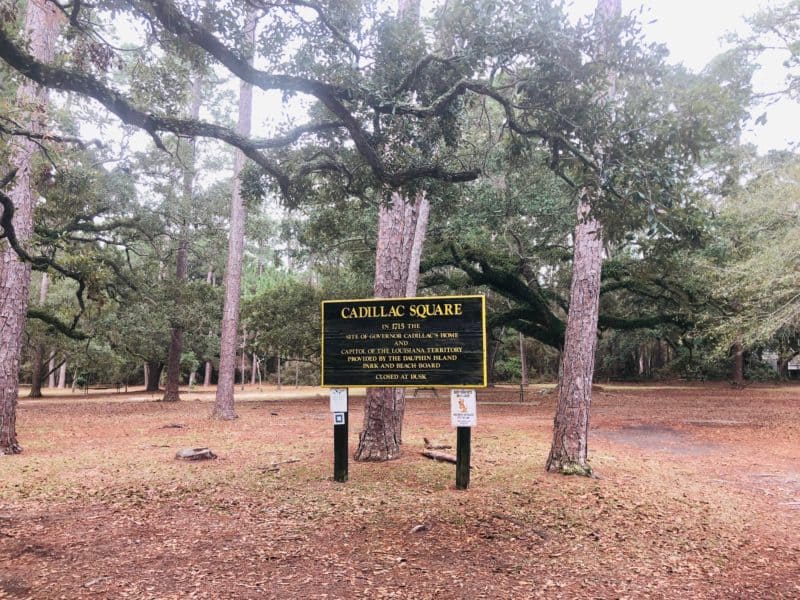 Goat Tree Reserve
The Goat Tree Reserve is one of the bird sanctuaries on the island. This park features "Goat Trees," ancient oak trees whose limbs extend as far as 50 feet from the trunk, running nearly parallel to the ground. According to local legend, they provided shelter for the island's wild goats that climbed them at night to stay safe from alligators roaming in the area.
Unfortunately, there are no longer any wild goats left on the island. The goat trees now shelter lots of different kinds of birds like warblers, tanagers, and vireos that enthusiasts enjoy. Not far from the Goat Tree Reserve is Shell Mound Park, and both are quick stops to check out.
Goat Tree Reserve is located at 701 Cadillac Ave, Dauphin Island, AL 36528.
If you are into birding, check out the Audubon Bird Sanctuary at 211 Bienville Blvd, Dauphin Island, AL 36528. Dauphin Island is known as one of the top four locations in the United States for springtime bird migrations. This park is the largest segment of protected forest on the Island.
Shell Mound Park
Indian Shell Mound Park, simply called Shell Mound Park, is a park and bird refuge. Mounds of discarded oyster shells, also known as shell mittens, were found dating to between 1100 and 1550. The Native Americans from the area harvested oysters and fished in the area.
Shell Mound Park is located at 830 Desoto Dr, Dauphin Island, AL 36528.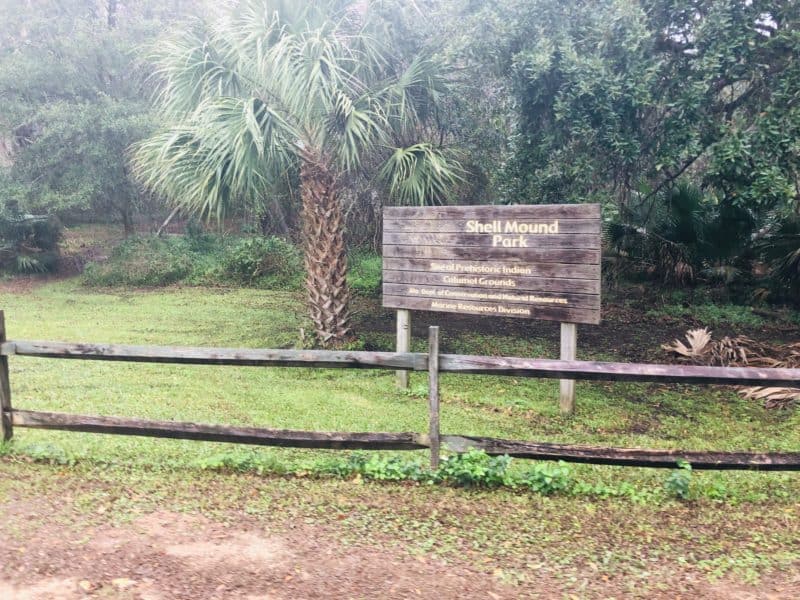 Dauphin Island Sea Lab Estuarium
One of the most popular places to visit is the Dauphin Island Estuarium. It's a public educational facility with more than 31 aquariums inside. Features include a stingray touch pool, a Living Marsh Boardwalk, and many plants, animals, and other things found in this area.
The Dauphin Island Estuarium has engaging interactive exhibits and is great fun for people of all ages to learn about the habitats of coastal Alabama. It also provides a lot of information about the fourth largest estuary system in the United States at Mobile Bay.
The Dauphin Island Sea Lab Estuarium is located at 102 Bienville Blvd, Dauphin Island, AL 36528. It costs $12 per ticket and is open daily from 11 to 4.
Dauphin Island Festivals
Another reason to visit Dauphin Island is for the festivals, and this town knows how to party! They have a big Mardi Gras celebration every year with a big parade. It's one of the first Mardi Gras festivals of the year, and people line Bienville Boulevard to watch people on foot, horses, floats, and boats made into floats.
Then, there's the 4th of July festivities immediately followed by the Alabama Deep Sea Fishing Rodeo located around 531 Lemoyne Dr, Dauphin Island, AL 36528. Haven't heard of a fishing rodeo? Well, I haven't either, but it's a "thing," and my friend and her hubby participate in it. They have contests, and people get quite serious about it!
Dauphin Island Weather
Summer in Dauphin Island is long, hot, and humid. The winters tend to be short and cool, and they can be quite windy. The area gets a good bit of rainfall throughout the year.
Overall temperatures year-round vary from a low of around 46°F to 88°F (7.78°C to 31.11°C). Of course, temperatures can fluctuate, but they are rarely hit freezing. The lowest is generally around 34°F (1.11°C), and the highest temperatures are generally around 92°F (33.33°F).
Given the weather, the most popular times to visit are from early April through mid-May and then from late September to early November. However, the festivals are quite popular on the island, and it's worth considering a visit during those times to see all this area offers.
Where to Eat on Dauphin Island
There are limited places to eat as this is a small island, but here is what my friend who lives there recommends.
Lighthouse Bakery
Lighthouse Bakery is a cute place with some amazing baked goods. Their cinnamon rolls are huge and really tasty, and they make great savory breakfast baked goods as well.
If you're there with a friend, I recommend splitting the cinnamon roll with one of their savory treats so you get to try both while reducing the sugar buzz. You really can't go wrong here.
And just like most places in these parts, they gear up for the Mardi Gras festivities with their own spin on King cakes. They are also open for lunch. This place was packed when we arrived and remained very busy while we were there, so it's worth checking out.
Lighthouse Bakery is located at 919 Chaumont Ave, Dauphin Island, AL 36528. It is open from 6 to 3 Wednesday to Friday, 6 to 4 on Saturday, and from 9 to 3 on Sunday.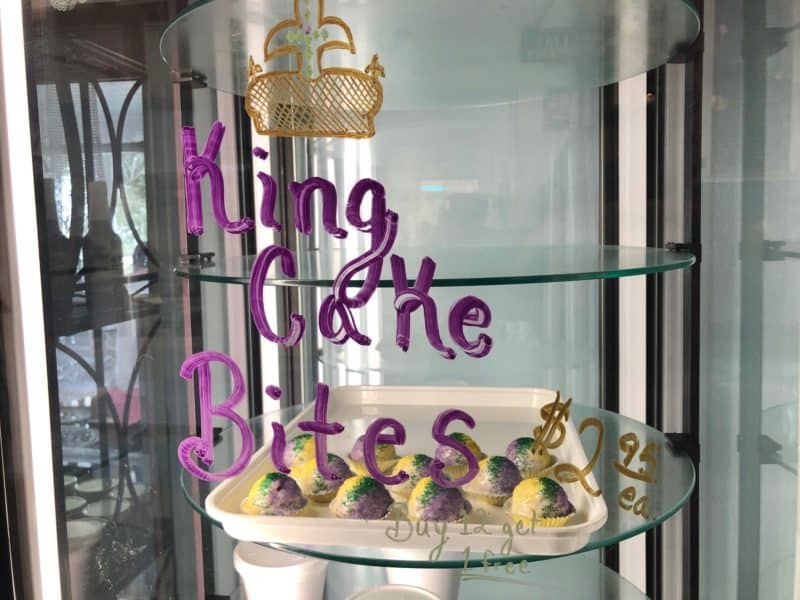 My friend recommended Pirates and the BBQ place as well. She said Pirates has great sandwiches and salads, and the BBQ place has great BBQ egg rolls.
Where to Stay on Dauphin Island
The island only has one motel. The Gulf Breeze Motel is a family-run place that gets good reviews on TripAdvisor. It's located at 1512 Cadillac Ave, Dauphin Island, AL 36528. If you do decide to visit during one of the festivals, definitely book well in advance!
Most of the places to stay on Dauphin Island are rentals, and there is a lot to choose from.
How to Get to Dauphin Island, Alabama
Drive over the bridge from the mainland to Dauphin Island. It takes between 30 and 45 minutes to get there, and there are no fees or tolls on the road.
Dauphin Island, Alabama, is a fun excursion from Mobile. Visit some of the sites, enjoy the beautiful white sand beaches, or check out the many birding areas. You may not have heard of Dauphin Island before, but it's worth seeing when you visit Mobile.
Dauphin Island Transportation
My college roommate has a home on Dauphin Island, so I got an insider's tour. Golf carts are legal to drive on the island, so we decided to take my friend's for a spin. Yes, on Dauphin Island, a golf cart is a perfectly acceptable means of transportation! Of course, that caused a downpour, but it was still a lot of fun.
Of course, cars are included in regular transportation on the island as well, but this was a fun thing to try.
One of the first things you will see upon arrival on Dauphin Island are these brightly-colored little homes backing up to the water. They are so cute, and even with the grey skies in the background, they make for a bright and cheery photo opp.
Don't Miss Dauphin Island, Alabama!
The beaches and birding spots are a popular draw to Dauphin Island. Since it's less than an hour from Mobile, it's a popular day trip destination.
If you're in Mobile visiting, don't miss Dauphin Island! It's a fun, quiet spot to visit and to unwind.
You Might Also Like
Like it? Pin it!