Top 21 Things to do in Fairbanks Alaska: Ultimate Winter Guide
There is a surprising amount of fun things to do in Fairbanks, Alaska in the winter. Who knew? Many of the people who visit Fairbanks in the winter are hoping to catch a sighting of the northern lights to check it off their bucket list.
They are what brought me there. However, this desert dweller wanted to extend her trip, if that tells you anything!
I won't lie—if it is possible to freeze your face off, Alaska would be the place to do it. I have never felt cold like I did leaving the airport in Fairbanks to find our rental car. And I lived north of Boston for most of my childhood!
But there are so many amazing things to do in Fairbanks, Alaska. It's worth donning the many, many layers you will need to keep warm and go. You won't regret it. Here are the top Fairbanks tourist attractions you won't want to miss.
This post may contain affiliate links, which means I'll receive a commission if you purchase through my links, at no extra cost to you. Please read full disclosure for more information.
Fairbanks, AK
Fairbanks is the largest city in the interior region of Alaska. There are around 35,000 in the city proper and over 100,000 people in the surrounding area. It's really far north, and in fact, it's only 200 miles south of the Arctic circle.
The University of Alaska Fairbanks is located here, the founding campus of the university system. The Chena River flows through the very small city center.
Though this is not a very populated area, there are a surprising number of things to do in Fairbanks, Alaska, even in the winter. This includes both indoor and even outdoor activities. Before I went, I had figured I'd spend much of my time indoors, but I was so wrong!
Things to Do in Fairbanks, Alaska
There are so many fun things to do in Fairbanks, even in the winter. If you had told me I'd want to spend winter in Alaska, I might have laughed before going there. Now I know better! This is my list of the top things you won't want to miss.
1. Take an Aurora Borealis Northern Lights Trip
According to Travel and Leisure, Fairbanks, Alaska is one of the 12 best places to view the northern lights. If you want to do a northern lights trip, it is the best place in the United States to do so.
The best time to go is in the winter in February and March. I can't think of a better draw to Alaska in winter than a northern lights vacation!
It's hit or miss with the lights, and it depends on a number of factors. You need complete darkness, appropriate weather with skies that are free of clouds, solar winds, and the sun's activity. You also need lots and lots of patience.
Trying to see the lights means many late nights, as the best viewing is from 10 p.m. and 2 a.m. It makes for very long nights but when you do see them, it's nothing short of magic.
You May Also Like Chasing the Aurora: Northern Lights Trip in Fairbanks
How to See the Northern Lights
The best places to see the lights are outside the city proper, away from the lights of the city and in more remote areas. Lucky for you, Fairbanks is a popular place for a northern lights trip, so there are lots of resources.
The Explore Fairbanks site has some recommendations for good places to go to see the aurora borealis. Read for more information about seeing the northern lights in Fairbanks, Alaska, and information about planning for a northern lights trip.
2. Stop at the Morris Thompson Cultural & Visitor's Center
I highly recommend stopping in this visitor's center early in your trip as it provides a lot of information about things to do in Fairbanks. We were impressed by the large volume of brochures and even a filing bin with things to do specifically in the winter.
We didn't start here, and we were sorry about that. Don't make the same mistake!
There is also a small museum-like area that talks about some of the native American tribes local to the area, the settlers in the area, and the animals that you can find. It's beautifully done and worth walking through. There are also several short videos that you can watch.
The Morris Thompson Cultural & Visitor's Center is open daily in the winter from 8-5 and is located at 101 Dunkel Street, Fairbanks, AK 99701.
3. Go Dog Mushing
There are a number of dog mushing (sledding) businesses in the Fairbanks area. I do recommend you do your homework to find a good place that treats their dogs well. After extensive research, I chose Just Short of Magic. Eleanor, the owner, is from New England (call out to the area where I grew up)!
Two retired dogs greeted us in the house when we were getting ready. (Getting ready = adding many layers and bundling up in the super warm clothing they have available.)
Outside was a complete love-fest with the dogs. They are very social and with just a couple of exceptions, are very outgoing. I fell in love several times.
You May Also Like Dog Sledding in Alaska: A Top Thing to Do in Fiarbanks
What to Expect from Dog Mushing
The ride is about an hour through some gorgeous pine and birch forests. The dogs were amped up to go and one was bouncing like a little kid hopped up on candy. They had such a great time and it was so soothing.
We even got to ride with a young but very impressive first-timer in the lead position. This was such a great experience and a must-do thing to do in Fairbanks.
I'll be honest—I was a little nervous about the ride. I hate roller coasters and get really sick, so I was afraid it would be bumpy like that. And it wasn't at all! Once you get used to the speed you're going, it's smooth and relaxing.
Just Short of Magic is located at 5157 Chena Hot Springs Rd, Fairbanks, AK 99712. There are several tour options ranging from 30 minutes to 2 hours. Prices range from $65 for two people to $200. In the winter, tours run several times a day and once you pick the tour you want, there is a handy online calendar for booking. She does offer tours year-round and even has a yurt that you can rent onsite to spend a little extra time with the dogs.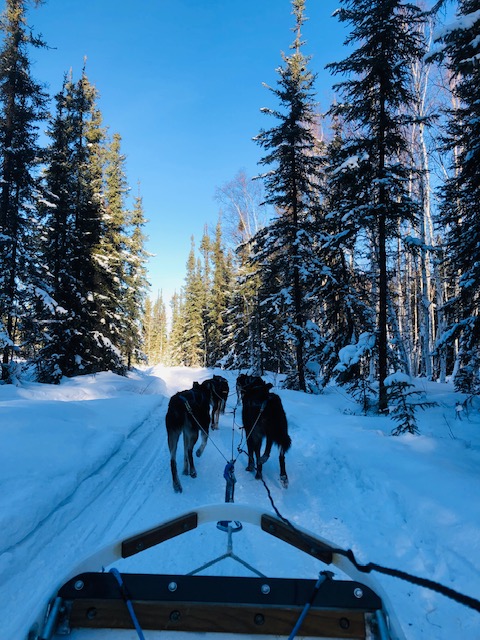 4. Soak in Chena Hot Springs
Visiting Chena Resort is one of the popular things to do in Fairbanks, AK. It's a little over an hour from the downtown area, depending on weather and road conditions.
The resort features a great restaurant, an ice museum (with an ice bar), and a hot spring lake that is an average of 106 degrees. They do offer dog mushing and an activities desk for those seeking help with bookings.
This is also one of the areas that are known to be good for viewing the northern lights as it is so far from the city. However, moose are known to cross Chena Hot Springs Road.
I recommend that if you are going there to view the Aurora, you consider staying over for safety. We came across this big guy on this road, and they are no joke!
The Chena Hot Springs outdoor natural hot springs rock lake hours are from 7:00 a.m. to midnight. Access costs $15 and towels are available for an extra $5 (free of charge for guests). The entrance fee for the Aurora Ice Museum is $15. The location is at 56.5 Chena Hot Springs Rd, Fairbanks, AK, 99712.
5. Explore the Fountainhead Antique Auto Museum
The auto museum collection includes more than 85 vehicles, collected by Fairbanks entrepreneur, Tim Cerny. He started this collection in 2007.
It includes horseless carriages, electric cars, speedsters, steam cars, some classics from the 1930s, and more. Almost all of the cars are still driven. This amazing collection even includes some one-of-a-kind cars that cannot be found elsewhere.
This is one of the most popular Fairbanks tourist attractions. At the time of this writing, Tripadvisor actually had it ranked as #1. So, whether you're a car enthusiast or not, it's worth checking out.
The Fountainhead Antique Auto Museum is open from 12-6 on Sunday and Wednesday during the winter, so plan accordingly! You do not want to miss this. The cost is $15 for adults, and they do offer guided tours that last 1.5 hours. The museum is located at 212 Wedgewood Drive, Fairbanks, Alaska, 99701.
6. Watch the Ice Sculpture Competition
The Fairbanks Ice Sculpture Competition is in its 29th year. Ice artists come from around the world to compete, and they have over 100 teams a year. Competitions include one person, two people, and multi-block exhibits open to a limited number of contestants.
Time is limited (1.5 days for one person and 2 days for two people), and they are able to work around the clock to complete their sculptures. Next, the sculptures are judged, and last, colored lights are added for display.
Carving runs in the various categories from mid-February through early March. The sculptures are available for viewing through the end of March. For those who are adventurous, there is an ice slide available if you bring a sled.
The artistry and dedication of the carvers are quite impressive. It's one of the activities in Fairbanks that you won't see in many other places, so it's worth visiting.
A day pass from Ice Alaska costs $16 and lasts all day. They provide a band so if you wish to leave and go back in the evening when the sculptures are lit up, you can. Season passes are available for those who wish to visit multiple times. 1800 College Rd, Fairbanks, AK 99709-4190 in the Tanana Valley Fairgrounds.
7. Enjoy the University of Alaska Museum of the North
This wonderful museum has two very different areas, upstairs and downstairs. The downstairs area has some interesting exhibits about the indigenous native American tribes, European settlers, animals, fossils found locally, and the aurora borealis.
There is also some history about the internment camps for local Japanese Americans during World War II.
Upstairs is the small but impressive award-winning Rose Berry Alaska Art Gallery. It includes paintings, sculptures, and other art from local people.
There are also several movies offered. We watched one on the northern lights which was really interesting. If you're looking for motivation for a northern lights tour, it's a good thing to see to learn more.
They also have an exhibit where someone added tonal sounds to lights that were very soothing. There are a lot of activities geared towards children and a separate small children's center. There is also a nice little cafe with great coffee.
The University of Alaska Museum of the North is open from Monday through Saturday from 9 to 5 in the winter from September 1st through May 31st. It is located on the University of Alaska Fairbanks campus at 1962 Yukon Drive, Fairbanks, AK. The cost is $16 and the movies cost an extra $5.
8. Walk with Reindeer at Reindeer Ranch
This was one of my favorite things to do in Fairbanks and the #2 rated activity according to TripAdvisor! There are not many places in the United States where you can meet a reindeer. If you're an animal lover, this is the place for you.
After getting to know these fun, and sometimes bratty animals, you take a walk in the woods with them and learn more about the Ranch and the reindeer.
This reindeer farm was born of the dream of a child to own a reindeer. (Hint: she succeeded! It took over two years for her to raise the funds but she managed).
They became an interest of the family and it's now a family-run business. The ranch has been operating for around six years and has been consistently ranked as one of the top things to do for the last few years. If you're looking for unique activities in Fairbanks, this is a fun one!
You May Also Like Running Reindeer Ranch: The Best Thing to Do in Fairbanks
Running Reindeer Ranch is open by appointment only and walks are offered most days. The cost is between $85 and $100, depending on the season. Plan on 2.5 hours as you spend some time talking about the history of the ranch and safety. After the walk, you enjoy some hot drinks and cookies while learning more. The walk is 45 minutes to an hour. the address is 1470 Ivans Alley, Fairbanks, AK 99709. There is some equipment to borrow like hats, gloves, boots, and jackets, and they do offer information on winter-weather rentals.
9. Visit Santa's House at the North Pole
If you were ever curious about what Santa does in the off-season, now is your chance to find out! Head to North Pole, Alaska.
Here you can meet Santa, and take a picture with him, at Santa's House. There is a large shop filled with everything Christmas you can imagine and even has a letter from Santa that you can send to your favorite child.
North Pole, Alaska, zip code 99705, gets hundreds of thousands of letters addressed to Santa every year before Christmas. Santa's House started as a trading post created by an industrious man. It grew into a large, magical shop for Christmas cheer all year round.
The city offers candy cane streetlights to maintain the ambiance throughout the town.
Santa's House is at 101 St Nicholas Dr, North Pole, AK, 99705. They are open from 10-6 daily in the winter. Santa is there daily as well, though the website does note that he does take a few short breaks throughout the day.
10. Take a Train to Denali
Visit the tallest peak in North America at Denali National Park and Preserve. Denali, (formerly known as Mount McKinley), rises 20,310 feet (6,190 meters). It's the centerpiece of this park that was founded in 1917.
You can go by car, train or a tour. If you go by train, you will take the Aurora Winter Train. It runs from Anchorage to Fairbanks with a stop at Denali Park on the weekends, and select dates during the week.
Driving will take you around 2 hours, depending on road and weather conditions. Tours can be arranged, ranging in cost based on transportation and what you want to do.
11. See Muskox
You can visit muskoxen at the Large Animal Research Station (LARS) at the University of Alaska Fairbanks. They offer an hour-long presentation where you learn the history of the LARS facility and all about reindeer and muskoxen. You can even meet muskox.
The muskox population disappeared in the 1920s and was later reintroduced to Alaska. 34 were brought from Greenland in the 1930s and there are now more than 4,000 in the state. LARS has a population for research and also to introduce people and students to working with wildlife and wildlife research.
LARS is unfortunately not open during the winter (September to May), however, you can call them to arrange a tour by sending a message to [email protected]. The cost for the tour is $25 per person (with a minimum charge of $250), so bring some new friends.
12. Explore Pioneer Park
This theme park is a historic village that features a number of original buildings moved from downtown Fairbanks, as well as two museums, and a Gold Rush town street. It opened in 1967 as part of the Alaska 1967 Centennial Exposition, where the state celebrated the 100th anniversary of Alaska's purchase from Russia.
The restaurants and shops all close in the winter, however, you can still walk around and get a great idea of Fairbanks of the past. The museums are open as well and are worth checking out.
The park is open daily in the winter from 6 a.m. to midnight, free of charge. The Bear Gallery is open Tuesday through Saturday from noon to 6, and the Railroad Museum is open from Wednesday through Saturday from 10-3. The address for Pioneer Park is 2300 Airport Way, Fairbanks, AK 99701.
13. Walk Along the Chena River
The Chena River runs through downtown Fairbanks. It's worth walking a bit, even in the snow. There is something so beautiful about Alaska in winter.
The walk offers some lovely picturesque views with a lovely Immaculate Conception Church across the river, a bridge over the river lined with flags, and a large bell tower. There is also a large display showing the number of miles to cities around the world.
It's peaceful and quiet here, especially in the wintertime.
There is also a sign that tells the story about the 1967 Chena River flood which was quite interesting and shows just how high the waters rose.
If you have a sweet tooth, you pass near the Fudge Pot before you cross the street to access the river. You're on vacation so why not splurge? Then cross the street to enjoy the lovely view. This is the location where you'll want to walk around.
14. Go Ice Fishing
There are a surprising number of guides that will take you ice fishing in the Fairbanks area. There are also ice huts available for use that you can reserve online. They don't include accommodation but have a wood-burning stove and four fishing holes.
These are available generally from December through March, depending on weather conditions. You can find guided ice fishing tours if you're interested.
15. See Antler Arch
The Moose Antler Arch is right next to the Morris Thompson Cultural & Visitor's Center. This arch is made up of more than 100 moose and caribou antlers collected from all over Interior Alaska.
What I didn't know before I went is that the arch is monitored 24 hours a day, 365 days a year by a live webcam. So, if you go, wave hello to your friends.
There's, of course, not much to see or do here, but it is a quick stop if you go to the visitor's center. And you get to meet some other great tourists here as well.
16. Try Birch Syrup
You know you love maple syrup on your pancakes, so why not try birch syrup, local to Alaska? You're surrounded by lots of beautiful birch trees in Fairbanks.
It's great to go local and try something a little different. Birch syrup has the same consistency as maple syrup but more of a molasses flavor to it.
Sample Alaska is a great brand to try and you can find it in a lot of local stores. It's even in the airport gift shops! The family that owns the Airbnb we stayed at runs this company. They are a large family with five kids so if you're interested in supporting local businesses, this is a great one to consider.
17. Eat Alaskan King Crab Legs
How can you not try Alaskan king crab when you're in Alaska? Well, we managed to not try salmon, the other "must try" when visiting Alaska. We were not about to miss this treat.
There are a number of places in and around Fairbanks to get it. We were given the following recommendations from several locals:
Prices are generally around $50 for a pound. We chose to go to the Turtle Club. In part due to the appeal of 1.5 lbs of this goodness (for $70), and also because it was our last evening in town and very close to our Airbnb.
You get a salad bar, fresh-baked loaf of bread, baked potato and they conveniently split it all for two. The place definitely has the feel of a local joint, and the dish is great and worth going for.
The Turtle Club is located in Fox, Alaska, around twenty minutes from the downtown Fairbanks area. The address is 2098 Old Steese Hwy N, Fox, AK 99712-1021.
18. Visit the Arctic Circle
There are options to either fly in a small plane or drive to go to the Arctic circle. You can see the Yukon River and the Alaska Pipeline along the way. Trips generally are from 10-16 hours and cost in the range of $175 to $220 and up, depending upon what is included with the tour.
Viator offers a number of different tours, depending on your interests. And you get a certificate at the end of the tour showing that you did, in fact, visit the Arctic Circle.
19. Check Out the Ice Museum
The website for the Ice Museum says that they are only open during Summer hours starting in May. However, several of the locals did mention that it's open sporadically during the wintertime.
If you're in Fairbanks during the ice sculpture competition, that is definitely worth seeing. But if not, check on this when you're in downtown Fairbanks to see if it's open. The ice sculptures are magnificent!
If it's not open, there is also an ice museum at Chena Hot Springs Resort, as mentioned above. The resort is over an hour from downtown Fairbanks, of course, depending on the weather. But if you're there for the hot springs, it's worth a visit.
The Fairbanks Ice Museum is located in the Historic Lacey Street Theater, 500 2nd Ave, Fairbanks, AK, 99701. A visit will cost $15 and the Aurora shows are $10 for adults.
20. Learn at the Alyeska Pipeline Viewing Point
We drove past this several times before realizing that this was THE Alyeska Pipeline Viewing Point to visit the Alaskan pipeline. There is a little bit of information about the pipeline and a segment where you can see just how big it is and what is inside.
I believe my Grandfather worked on the pipeline many years ago, so this was something that I really wanted to see when I was in Alaska. It's a quick stop, but not far from the downtown area (maybe 10-15 minutes) and worth seeing.
The location is 1671 Steese Highway, Fairbanks, AK, 99712. There is no charge and no set hours, although you'll want to go during the daylight to see it.
21. Get Your Brew on
There are a number of local beer-brewing companies to try when you're in Fairbanks. One of the top-rated is the Hoodoo Brewing Company. They offer free tours on Saturdays at 4 and sponsor or are involved with a number of community events.
Having a beer there is supporting Fairbanks! The taproom hours are 3-8 p.m. Tuesday through Friday, and 11-8 on Saturday & Sunday. There are other brewing companies as well including Silver Gulch Brewing & Bottling Company.
If you don't like beer but want to enjoy some local spirits, no worries here! Hoarfrost How to Get to Fairbanks
Distilling is a family-owned company that makes hand-crafted vodka. They are located at 3501 Lathrop St, Unit F, Fairbanks, AK 99701. Explore Fairbanks offers several other options as well.
And last, if booze isn't your thing, there are lots of coffee options around town. What was especially interesting were a few tiny coffee shops, around the size of a food truck, located around the city.
How to Get to Fairbanks
Fairbanks, Alaska has an international airport (FAI). It's not very big, but it's the most convenient way to go to Fairbanks, especially in the winter. There aren't a lot of direct flights and many do go through Seattle. Then, it's just a short trip to Fairbanks.
Another option is the Aurora Winter Train, which runs from Anchorage to Fairbanks on the weekend. It does take 12 hours but provides a picturesque trip with a perfect winter wonderland. If you have a little more time and find better flight options into Anchorage, this may be a good option.
Where to Stay
We chose to stay in an Airbnb when we visited Fairbanks. I prefer to stay in Airbnbs when I can for a number of reasons. First, it helps me to feel more like a local. I also like being able to get groceries and eat in some, as eating out for 2-3 meals a day can be a bit much.
In this case, we also wanted a place outside of the downtown Fairbanks area and closer to where we could view the aurora.
VRBO Apartment Rental
There are a lot of rental options in the Fairbanks area and I do recommend considering one. Especially as you'll be up much of the night, which throws your schedule off. With an apartment, you can eat whenever you want and not rely on restaurant open times.
I didn't see the listing for our apartment the last time I checked, unfortunately. You'll find others, and it's great to get a local's perspective. Our owners also had a sprinkling of winter clothing to borrow, and their snow pants really saved my butt—literally!
Hotels and Hostels
There are a number of hotels in Fairbanks, mostly in the downtown area. Prices range from around $75 to $140, and options include some chains like Marriott and Hampton Inn. There are also hostels as well, mostly in the downtown area. Many of the options outside of the downtown area are lodges, inns, and B&Bs, and of course, Airbnbs.
Here are some options to consider:
Pike's Waterfront Lodge—Located right on the Chena River, this is a convenient option located on the western edge of Fairbanks. It has a mini-fridge and microwave in the room, great for those crazy hours you will keep staying up all night to watch for the aurora.
Chena Hot Springs Resort—This place is located in one of the prime aurora viewing areas around an hour east of Fairbanks. Soak in the luxurious hot springs and book knowing you don't have to go far late at night to get some spectacular views, if you're lucky, of course!
Interestingly, hostels are showing at over $100 a night, so if you're looking to save on accommodation, you're better off looking at the local motels. The Golden North Motel is a popular choice a few miles from the center of Fairbanks on the western side.
Where to Eat
There are a surprising number of restaurant options in the small town of Fairbanks. And even more surprising is the extent of variety for the different places!
Crepery
Where to begin? We liked this place SO much that we went back a second time if that tells you anything. Oh, the heavenly goodness that is the Crepery. It is also the #2 rated restaurant in Fairbanks. They offer savory and sweet crepes, as well as salads and a fairly extensive coffee bar.
We tried five in all and especially liked a savory special called the Vegetariano. It had sun-roasted tomatoes, calamata olives, artichoke hearts, and cheese. Also amazing were the creme brûlée, prosciutto, fig, and blue cheese, and a simple one with brie cheese drizzled with honey and sprinkled with walnuts.
The smoked salmon crepe was recommended and it was good, however, it was a smoked salad filling and not what we were expecting nor wanting.
The Crepery is located right in the heart of downtown Fairbanks at 523 2nd Ave, Fairbanks, AK 99701-4769. It is open from 7-7 Monday through Friday, 9-6 on Saturday, and 11-5 on Sunday.

Jazz Bistro
The Jazz Bistro is a Cuban restaurant open for dinner in downtown Fairbanks. It's the #1 place in Fairbanks to eat and was recommended by all of the locals we talked with. The restaurant also features Caribbean and Latin food. As the name would indicate, they also offer live jazz several times during the week.
The Jazz Bistro is located at 527 4th Avenue, Fairbanks, Alaska. In the winter, they are open Sunday through Tuesday from 5-9:30, Wednesday through Friday from 11:30 to 3, and 5 to 9:30. On Saturday from 5 to 10:30.
Thai Places
There are a number of great Thai places around Fairbanks. We went to Pad Thai, near the University of Alaska Fairbanks and it was great. It smelled wonderful when we walked in and we enjoyed our chicken satay and nice and spicy, hot Tom Yum soups.
There were two others recommended to us by locals. According to TripAdvisor, they are the #3 and #4 most recommended spots to eat at The Thai House Restaurant and Lemon Grass Thai Cuisine. All offer similar and expected Thai cuisine and would be worth going to, depending on what part of town you are in.
Pad Thai is located at 3400 College Rd, Fairbanks, AK 99709, and it is open daily from 11-4 and 5-9. The Thai House Restaurant is at 412 5th Ave, Fairbanks, AK 99701, right in the downtown area, and is open from 11-9 Monday through Saturday. Lemon Grass Thai Cuisine is at 388 Old Chena Pump Rd, Fairbanks, AK 99709.
Car Rentals in Fairbanks
All of the main rental agencies are available in Fairbanks, including Avis, Hertz, Budget, Thrifty, and National. I saw a wide range in prices, so definitely shop around for what you want and keep an eye on prices as they can change closer to the trip.
Be sure to lock in on a price but not prepay so you can change if you decide you find a better deal. If you don't have a preferred rental car company, you can check prices on travel aggregators like Skyscanner, Kayak, or rentalcars.com.
One thing I would recommend, which we did not do, is to get studded snow tires. We got an all-wheel-drive car, which was helpful, but we did slip around a bit and studded tires would have been a big help. This is an option many car rentals in Fairbanks can offer so it's worth considering.
Where to Shop
We chose to shop at Fred Meyer. It's a grocery store that has everything you could possibly need, from food to warm winter wear, to home decor and sporting gear.
We got groceries here, hand and foot warmers, a thermos, and a few other things for our visit. Our goal was to find one store that would meet all of our needs, and we found that in Fred Meyer.
There is a Walmart Super Center and a large Safeway nearby. Additionally, there are a number of smaller stores in town to do your shopping.
As you might expect, a large number of "Made in Alaska" type stores like the Arctic Circle Trading Post. There is also a shopping mall if you're into that kind of thing.
Fred Meyer is located at 930 Old Steese Highway, Fairbanks, AK, 99701.
Planning Your Trip to Fairbanks, AK
There's a lot to consider when planning your trip to Fairbanks, Alaska. Particularly in the winter. Here are some of the top things.
Weather and Conditions
Alaska weather is cold by most of the world's standards in the winter. Living in Arizona in the United States now, I was a bit concerned about how cold it was and packed for wearing many layers.
Temperatures can vary greatly and the weather can be unpredictable and can change quickly. February temps in Fairbanks average a low of -13°F degrees and a high of ten degrees (-23 to -25°C), so I feel very lucky!
Fairbanks also averages 65 inches of snowfall (over 1.5 meters) a year. We got a light dusting on our first day there with light, puffy snow.
When we arrived near midnight it was -16 degrees Fahrenheit (-27°C), and the cold was biting. After the first night, the lowest it got was -2 degrees (around -19°C), and the high temperatures ranged from around 10 degrees to around 30 degrees (-12 to -1°C). After -16, 30 feels quite luxuriously warm!
What to Wear
We lucked out and were there during a "warm spell." It's all a matter of perspective, right?
Truth be told, when we were out at night aurora hunting, I wore five layers on top and three on the bottom (a tank, thermal top, turtleneck, sweater/sweatshirt, down jacket, and on the bottom thermal pants, jeans/fleece-lined knit pants, and snow pants.) I also wore the same when we were out dog sledding and for our walk with the reindeer.
Though I did bring some snow boots, gloves, a hat, and a scarf, my boots and gloves were not thick and warm enough for the time we spent outside and I did borrow for the reindeer and dog sledding outing. I was comfortable enough the rest of the time.
If you're looking for a detailed guide about what clothing to bring on this trip and some product recommendations, check out my post: Planning for a Northern Lights Vacation. It has some great recommendations based on my experience on this trip.
If you can use some help with packing the usual items and making sure you don't forget anything, download this handy packing list. It has the core of what you need for any trip and it can be customized for any special things you'll need.
On this trip, you'll want to add lots of heavy outer clothes as noted above as well as extra layers.
Daylight
We were surprised by the amount of daylight during the trip. What was interesting, though, is that sunrise and sunset seemed quite slow, and it actually took a good hour or two for the sun to fully rise or set.
The sun rises in February at around 7:40 a.m. and sets at around 6 p.m. However, we went aurora hunting early one night at around 7:30 p.m. and it was not fully dark until an hour later!
How to Plan for this Trip
Our primary focus for this trip was the northern lights, so we didn't plan a lot for other activities beyond having a list of some things to do. We did book two tours, for Running Reindeer Ranch and Just Short of Magic dog sledding.
interestingly, we figured we'd be sleeping much of the day as we'd be out most of the night trying to see the aurora, but that didn't turn out to be the case.
We were surprised by how little we slept during the day. As my friend said, we pretty much had extended naps during the trip. We would sleep from 4 a.m. to 8 or 9, and then for 2-3 hours in the early evening before heading out.
This provided a lot more time than we expected to do things in Fairbanks, and we didn't plan that very well, unfortunately. A lot of places have limited hours and limited days in the wintertime here. Definitely plan accordingly.
You May Also Like Planning for a Northern Lights Vacation in Fairbanks
Budget
Budget, of course, depends on a lot of factors including where you stay and what you do. There is a large range of what costs could be including the number of tours you take, or if you do them self-guided.
Aurora tours can run you a couple of hundred dollars a night or more. We chose to research the best places to view the aurora and went ourselves.
If you decide to stay outside the downtown Fairbanks area, plan on spending $650 and up for a house. Many of the Airbnbs we looked at will accommodate a number of people. Our two-bedroom with three beds can accommodate up to 8 with spare beds and air mattresses. It would have been a bit tight with more than 3 or four people, though.
Including housing, food, car, and spending money, we spent a little over a thousand dollars each. This did not include our airfare.
Why You Should Check Out the Things to Do in Fairbanks
You'd think all that cold and snow would make a person cranky, but the people have quite a delightful sense of humor. We found these examples right in downtown Fairbanks. Book your trip to go in the winter to Fairbanks. You won't regret it!
Though we came to see the northern lights, we found a lot of really fun things to do in Fairbanks. It's worth a trip! I'm already considering when I can go back to Alaska during the summertime to see more of this gorgeous and fun state.
You Might Also Like
Like it? Pin it!