Native American Indian Ruins in Arizona
Native Americans have inhabited Arizona since the beginning of recorded time and their culture plays a role in the shaping of Arizona life. There are many incredible Native American Indian ruins in Arizona that can be found on Tribal lands, including Havasupai Canyon and Canyon de Chelly. There is even a museum in Phoenix dedicated to the Native Americans of the Southwest, called the Heard Museum.
Phoenix is a great place to start from to investigate the many ruins in the state. If you do visit, check out this helpful guide of the best things to do while you're in Phoenix.
If you are touring the state, another amazing thing to do is the Havasupai Hike. This bucket-list hike features crystal turquoise blue-green waterfalls against striking red rocks. It's not an easy hike, nor is it easy to get passes, but with good planning, you can do it. And this guide offers everything you need to know about the Havasupai Hike.
Many Native American Indian ruins in Arizona remain and they are so interesting to visit. Through them, we can go back in time to see what life in Arizona was like hundreds of years ago before the state was populated by people of European descent. There are a lot of Native American ruins in Arizona and here is the list of my favorites.
Some links in this article may be affiliate links, which means that if you purchase through them, I receive a small commission. This will never cost you extra, and I appreciate your support!
Native American Indian Ruins in Arizona – North of Phoenix
Since most people visiting the state will fly into Phoenix, I have gathered the ruins relative to the Phoenix area. The following Native American Indian Ruins are in areas North of Phoenix up to Flagstaff.
Wupatki National Monument
Wupatki National Monument is my favorite area with Native American Indian ruins in the state. It's one I have visited several times. It was once settled by the Ancient Pueblo People, including the Kayenta, Sinagua, Anasazi, and Cohonina. The area was first inhabited in around 500 AD. Nearby is the Sunset Crater which erupted in the 11th century. It blanketed the area with volcanic ash, providing rich and fertile soil for growing. The crater attracted many to move to the area.
Wupatki means "tall house" in the Hopi language. The Monument got this name for the Sinagua pueblo dwelling with over 100 rooms. It is believed to be the largest and tallest structure from this time. Wupatki also included a community room and a ballcourt. The population grew following the eruption of Sunset Crater. At its peak, approximately 2,000 people lived in the area. It was later abandoned by 1225.
Other smaller sites nearby are the Wukoki Ruins Complex and the Citadel.
Visit Details
A visit to Wupatki National Monument and the nearby Sunset Crater Volcano National Monument costs $25 USD per passenger vehicle. It's $20 by motorcycle, and $15 for cyclists and pedestrians. This fee is good for 7 days. A number of passes for visiting National Parks and Monuments are honored.
There are some days where the entrance is free to the parks. The scenic drive is open year-round, day and night. The Wukoki, Lomaki, and Citadel trails are open from sunrise to sunset. Wupatki is located North of Flagstaff off of route 89.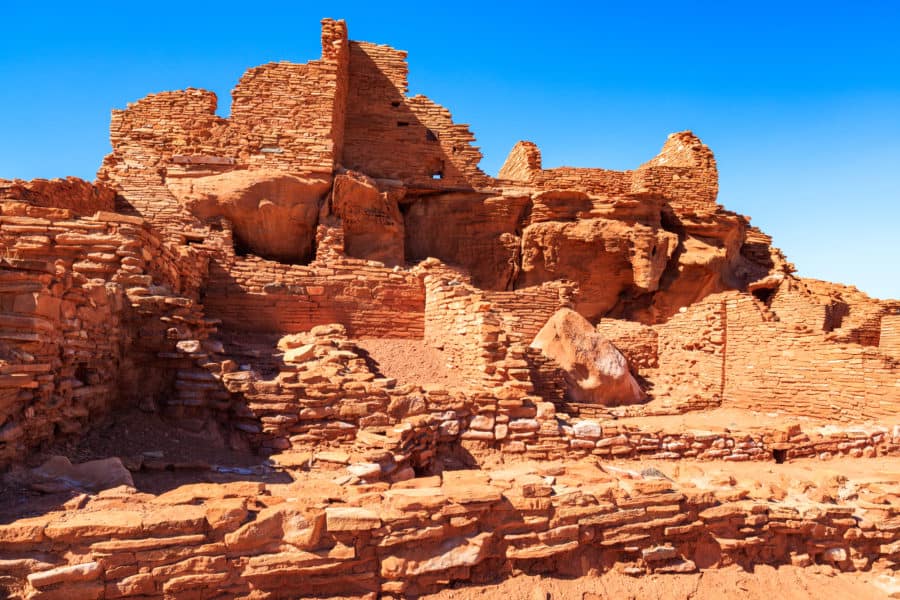 Walnut Canyon National Monument
Though Walnut Canyon is not far from Wupatki, the two couldn't be more different. Walnut Canyon is located in a densely wooded plateau southeast of Flagstaff where Walnut creek carved a canyon. During the 12th and 13th centuries, the Sinagua constructed cave-dwelling in the alcoves created by erosion that are high above the canyon floor.
The Rim Trail offers some nice views of the canyon and some cliff dwellings in the opposite wall but the Island Trail provides the ability to see the ruins. Both trails are under a mile through the Island Trail is an easy-moderate walk in parts. It's a nice walk but remember the high elevation if you are not used to it (7,000 feet) and bring water and take breaks as needed.
This is a nice walk in a gorgeous area to see the ruins. You're rewarded with a visit to around 20 largely-intact ruins that you can walk through and imagine how life once was.
Visit Details
Walnut Canyon National Monument is located at 3 Walnut Canyon Rd, Flagstaff, AZ 86004. Entrance to the Walnut Canyon National Monument costs $15 for 7 days. There are some free days and many local and national passes are accepted. The Monument is open daily from 9 to 5, however, access to some of the trails closes earlier (the Island Trail closes at 4 pm and the Rim Trail closes at 4:30).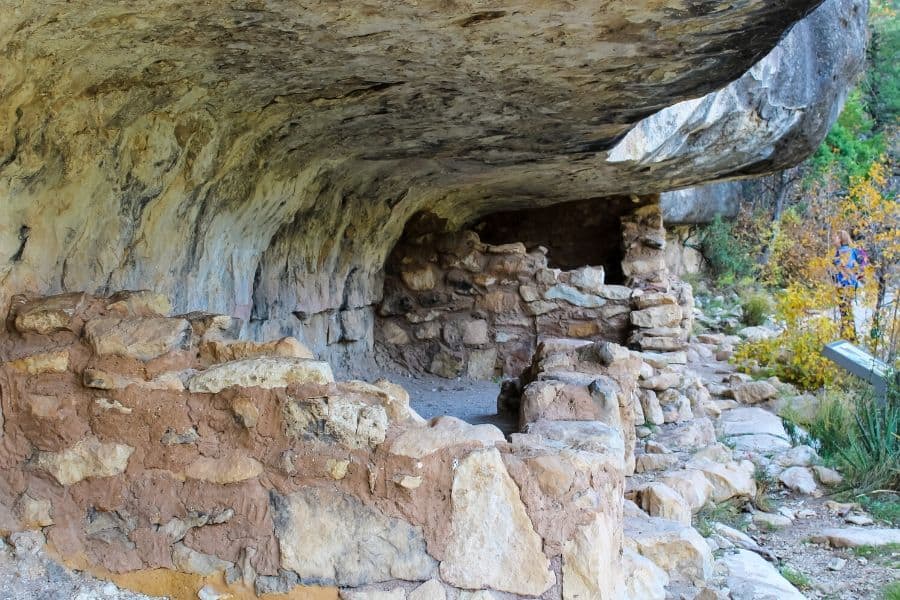 Montezuma Castle National Monument
Montezuma Castle National Monument is another cliff dwelling that is around 2 hours North of Phoenix right off I17. It is believed to have been contemporary to the development in Walnut Creek with inhabitants from around 1100 and 1425. The main structure is around five stories and includes between 45 to 60 rooms. It is believed that it was built over three centuries' time.
The structure is around 90 feet up a sheer limestone cliff. Though it isn't known for sure why it was built there, it is likely that it was to keep them safe from the annual flooding of Beaver Creek. It is one of the best-preserved cliff dwellings in North America due to its location.
It was named by European Americans who first found the ruins in the 1860s. They named them for the famous Aztec emperor, Montezuma, mistakenly believing he built them. However, the Aztecs did not come to this area and Montezuma was born years after the complex was abandoned. Also, it was not a castle but more of a complex where people lived.
Nearby, there is Montezuma Well, which is free to visit. It is a site considered sacred by many local tribes. More than 1.5 million gallons of water flow into the Well daily making this an attractive area to live.
Visit Details
Montezuma Castle is located on Montezuma Castle Rd, Camp Verde, AZ. Passes cost $10 and they are good for 7 days for both Montezuma Castle and the nearby Tuzigoot National Monument. Many local and national passes are accepted. The park is open daily from 8 to 5.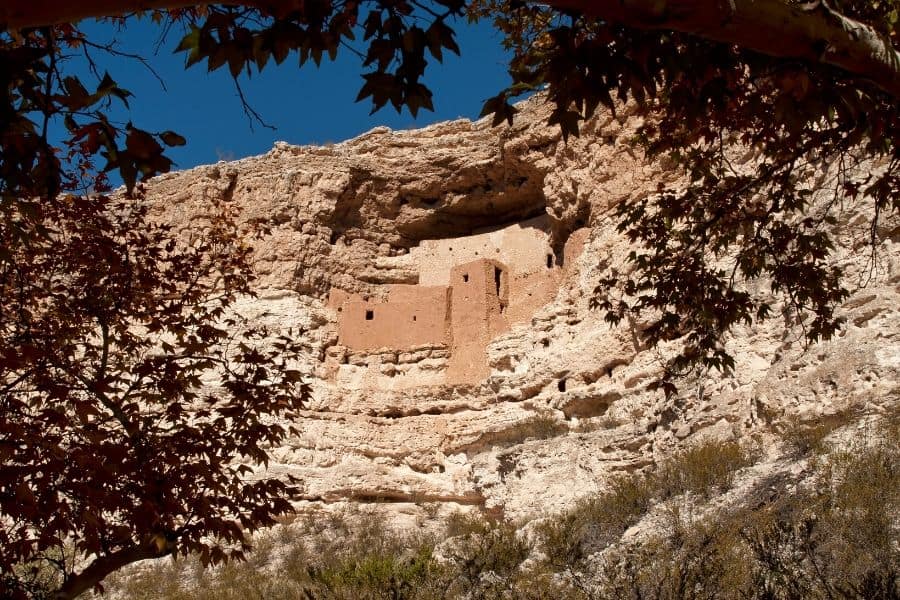 Tuzigoot National Monument
Tuzigoot is a two-to-three story pueblo dwelling on the summit of a ridge overlooking the Verde River and named for its "crooked waters." It is a complex with 110 ten rooms designed around larger, multi-story center rooms. These center rooms appear to have been for public functions. The settlement was built and populated between 1100 and 1425 by the Sinagua people.
It lies on land that was once privately owned by United Verde/Phelps Dodge. When the ruins were found, the land was sold to Yavapai County for $1 to excavate with support from the federal government.
Tuzigoot is one of three major pueblos in this area, all located within a few miles of each other near the north end of the Verde River Valley. Hatalacva was around 60 rooms and Bridgeport was a massive 237 rooms. Only Tuzigoot was partially reconstructed while the other two are in ruins.
Visit Details
Tugizoot National Monument is located at 25 Tuzigoot Rd, Clarkdale, AZ 86324. It is open daily from 8 to 5 and the entrance fee is $10.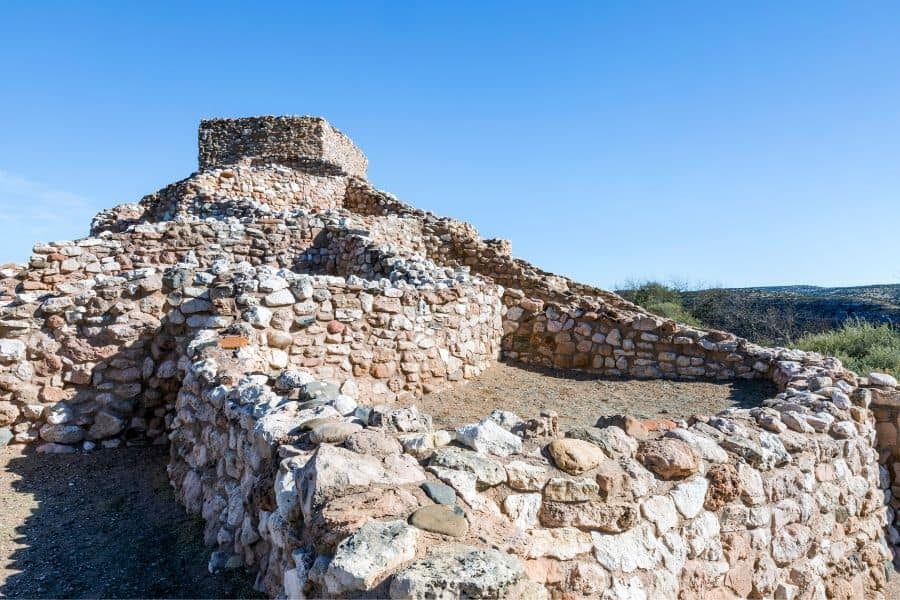 Canyon de Chelly National Monument
Canyon de Chelly is the northwest corner of Arizona and it is one of the most hauntingly beautiful places the state has to offer. Though it's in an area that isn't overly interesting nor beautiful, the canyon more than makes up for it. The monument is massive, covering more than 80,000 acres including three different canyons and features some amazing rock formations like Spider Rock.
Canyon de Chelly still remains on native Navajo lands. It is one of the longest continuously inhabited places in North America, including the Navajo and the Ancestral Puebloans (formerly known as the Anasazi).
The canyon walls have areas of sheet sandstone rising up to 1,000 feet high and have several Ancestral Puebloan ruins in alcoves below the cliffs. The canyon was inhabited during several periods from 250 to 1300 and the remains of several Native American Indian ruins remain.
There are two scenic drives along the rim, both the South Rim Drive and North Rim Drive.
Visit Details
Canyon de Chelly is located in the small town of Chinle. There are no fees to visit, however, the White House Trail is the only trail people can enter in the canyon without a local native guide. The Canyon de Chelly National Monument does offer some ranger-led hikes.
Native American Indian Ruins in Arizona – South of Phoenix
Though there are ruins to visit throughout many areas in the state, many of them are north of the Phoenix area. There is some south, and Casa Grande Ruins are my favorite.
Casa Grande Ruins National Monument
The Casa Grande Ruins National Monument is located in Coolidge, south of Phoenix. It is comprised of the ruins of several structures that are surrounded by a compound wall. The structures were made from adobe constructed in the early 13th century by the native people. Casa Grande, or "big house," refers to the largest structure that once consisted of an inner structure that was four stories high and outer rooms that were three stories high.
The ancestral Sonoran Desert people who built this settlement traded extensively and developed irrigation farming. Once a thriving community, it was abandoned after over 1,000 years in around the year 1450. We don't know why they left, as the local people had no written language.
People began visiting the ruins in the mid-to-late 1880s after a railroad line was installed not far away. As a result, there was some damage due to graffiti and vandalism that led to protection and preservation efforts. The National Park Service is now responsible for the security and upkeep of this monument.
Visit Details
The monument is open between October 1st and April 30th from 9 to 5, and from May 1 to September 30th from 9 to 4. There is no longer a fee charged to visit. It is located at 1100 W. Ruins Drive, Coolidge, AZ 85128. Guided tours to visit areas open to the public require reservations. Otherwise, no reservations are required.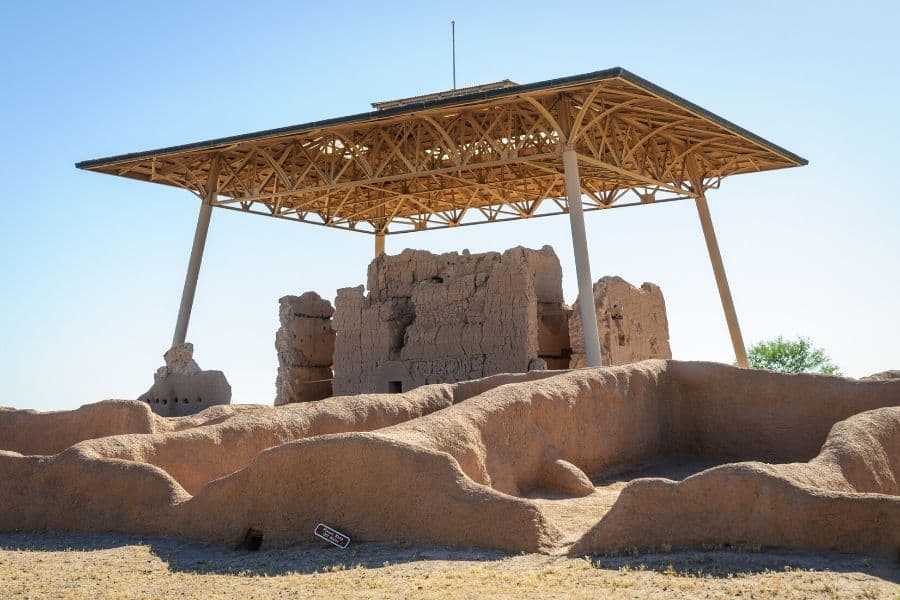 The Native American people have created the fabric for the state of Arizona today. Their history is depicted in the Native American Indian ruins remaining around the state. Visiting them provides an incredible historical view and a more complete understanding of the beauty and complexity of this state.
Another incredible Native American land of unsurpassed beauty is Havasu Canyon, home to the renowned Havasupai Falls. Though there are no ruins there, it's an amazing once-in-a-lifetime place to visit. Everything you need to know to visit the Havasupai Falls is in this guide.
Places to Learn About Native Americans in Phoenix
If you are short on time and can't get to some of the ruins mentioned in this article, you have some options to learn more while you're in Phoenix. As I mentioned earlier, the Heard Museum is a fantastic place to learn about Native American history through art. There are a lot of artworks featuring paintings, weavings, kachina dolls, and more. They also have some really interesting exhibits.
The Heard Museum is located at 2301 N Central Ave, Phoenix, AZ 85004. It's open from 10 to 4 on Tuesday, Wednesday, Saturday, and Sunday and from 10 to 3 on Thursday and Friday. It's closed on Mondays. There is a great restaurant in the museum where you can try an "Native American taco" made with fry bread. Yum!
The Pueblo Grande Museum is another great place right in Phoenix. There is a short walking trail where you can explore some Hohokam remains and a small museum. They offer some fun programming for children.
The Pueblo Grande Museum is located at 4619 E Washington St, Phoenix, AZ 85034. It costs $6 to visit and it's open from 9 to 4:45 from Monday to Saturday and from 1 to 4:45 on Sunday.
Petroglyphs in Phoenix
There are a number of locations in the Phoenix area where you can find petroglyphs, rock carvings created by the Native Americans. I have seen them in South Mountain Park on the Kiwanis Trail, and they are also on the Holbert Trail, Telegraph Pass, and others.
In the White Tanks, you can see petroglyphs on the Waterfall Trail. This trail does have a waterfall during certain times of the year, generally in the summertime during monsoon season after a rain.
The Superstitions mountains east of Phoenix has the Hieroglyphic Trail with a lot to see. And north of the city in Glendale, the ASU Deer Valley Petroglyph Preserve has over 1,500 petroglyphs along a short trail. Visiting these incredible signs of the Native Americans that once inhabited the area is a fun way to enjoy the outdoors while taking in a slice of history.
Why You Should Visit the Native American Ruins in Arizona
Arizona is a state rich in history and heritage from different cultures. One way to get to know Arizona better and to appreciate all that it offers is to learn more about the Native Americans that left such an imprint in this area. It's a great way to really connect with this city and to better understand what life in the area has been like in the past.
You Might Also Like
Like it? Pin it!