The Best Santiago Wine Tours—Concha y Toro Winery and Santa Rita
Even if you don't know much about Chile, chances are you have heard about its wines. Chilean reds have gotten a lot of attention in recent years, and the whites are also starting to get more as well. Chilean wines are known for being bold, full-flavored, and wonderfully affordable.
If you visit Santiago and like wine, you absolutely should take a day to tour one of the most popular wine regions located right outside of the city of Santiago. Here's what you need to know for the best Santiago wine tours to visit Concha y Toro winery and Santa Rita.
Some links in this article may be affiliate links, which means that if you purchase through them, I receive a small commission. This will never cost you extra. Please read the disclosures to learn more.
Chilean Wine
Chile is known around the world as a producer of great and affordable wines. So, as a lover of wine or "wineaux" as I sometimes call myself, it made perfect sense to get out to the vineyards. I didn't know much about Chilean wines, and I was about to find out more during this really enjoyable day.
The History of Chilean Wine
Spanish conquistadors introduced wine and grape vines to Chile when they colonized the area in the 16th century. French varietals like Merlot, Cabernet Sauvignon, and Carmenère were introduced to the region in the mid-19th century.
Until the 1980s, the wines mostly stayed in Chile but that changed with the introduction of more modern tools. Stainless steel fermentation tanks and oak barrels for aging revolutionized the Chilean winemaking industry. Wine production increased exponentially and the exportation of Chile's wine grew quickly. The number of vineyards grew from 12 in 1995 to over 70 just ten years later.
Chilean Wine Industry Today
Today, Chile is the fifth largest exporter of wines in the world and the seventh-largest producer. Its climate is fantastic for growing grapes, similar to that of France and California. The varieties introduced by the French in the mid-19th century are the most popular today and almost 75% of all wine produced in Chile is red.
There are 16 wine-making regions stretching through much of the length of the country. This narrow strip of land produces a wide range of different wines from bold reds, crisp and refreshing whites, sparkling wines, and everything in between.
Over 1.3 billion liters of wine are produced annually in Chile. Of that, nearly 75% are exported. The Chilean people usually only drink around 13 liters on average per year and prefer other local drinks like pisco to wine. Beer is also very popular, brought to the region in the 1800s by German and Croatian immigrants.
Chile is known for its world-class red wines, especially Cabernet Sauvignon. It's the top wine produced in Chile by far. Concha y Toro cabernet sauvignon is distributed around the globe and has earned a name for this thriving wine region, as does Concha y Toro merlot.
Carménère is also well-known in Chile, as well as Pinot Noir, a bit newer to the wine scene. However, white wines are getting a lot more attention including Chardonnay and Sauvignon Blanc.
Maipo Valley Wineries
The region closest to the capital city of Santiago is the Maipo region or Valle de Maipo. Sometimes called the "Bourdeaux of Chile," it's one of the top regions in the country and a great day trip when visiting Santiago. The area is known for its Cabernet Sauvignon, which enjoys the area's dry and sunny climate. Carménère and Merlot are also grown here as well.
Maipo Valley is a popular day trip from Santiago to explore some of the country's best wines. Three of the top five producers Concha y Toro Winery, Undurraga, Santa Rita. They are both important vineyards worth visiting.
There are a lot of tours that go to Maipo Valley and I recommend going this route. You can rent a car and drive but who wants to drive when you're enjoying wine? With a tour, you don't have to worry about driving and can safely enjoy your experience tasting the wines. I took a tour to see Concha y Toro and Santa Rita.
If you would prefer to drive, you can rent a car from here.
Concha y Toro Winery (Viña Concha y Toro, Shell and Bull)
Unfortunately, we visited Chile in September when it's winter in the southern hemisphere. The vines were dormant and brown but still very picturesque and they looked very much like the vineyards I have seen in other countries, only with a stunning backdrop of the Andes Mountains.
Concha y Toro is Latin America's largest wine grower and they produce one of the most widely recognized wines in the world, Casillero del Diablo, or the Devil's Cellar. It is one of Chile's oldest wineries, founded in 1883 by Don Melchor Santiago de Concha y Toro.
The house on the property was built in 1875 as a summer home for the founder, who was a formidable politician and businessman. There are 22 rooms and it's a hefty 4,600 square meters with a cheery yellow exterior (almost 50,000 square feet). Much of it is now used as office space. There are 23 hectares of garden with many different kinds of trees, a large pond, and some animals including chickens and sheep. They are free-roaming on the property.
Concha y Toro winery grows 26 different kinds of grapes, 13 red, and 13 white. There is an old traditional cellar built-in 1850 made from bricks held together by mortar made of limestone, sand, and egg whites.
The best wines are stored here, including Castelliero del Diablo. We were told the wine got its name as people were stealing it, so they spread a story that the devil had been seen in the cellar so people were scared to go.
There is also a new cellar which is much more modern and has no devil.
Visit Concha y Toro Winery
If you decide to visit Concha y Toro winery on your own, there are a number of different tours offered. They run from 9 to 5 and range from 17,000 CLP to 34,000 CLP (around $23 to $47 USD). There is a large shop where you can buy the wines and Concha y Toro branded products. Concha y Toro is located at Av. Virginia Subercaseaux 210, Pirque, Región Metropolitana, Chile. The grounds are beautiful and worth exploring.
Santa Rita Vineyard (Viña Santa Rita)
When we arrived at Santa Rita, it was a cold morning and the fog hovered low around the backdrop of the Andes. This vineyard has a large colonial-style hacienda that's rust brown with white pillars and trim. It's striking.
The owner and founder of Santa Rita was a woman named Mrs. Paula. The property was established in 1780 as a hacienda and the home was built in 1790. She was a patriot from a wealthy family and aided the Chilean fight for independence by housing 120 soldiers that were hidden in the basement. She nursed them and allowed them to rest, then they went back to fight the Spanish. There is a wine called 120 to pay homage.
In 1880, the hacienda became a vineyard. They produce Cabernet Sauvignon, Petite Syrah, Syrah Carmenère, Cabernet Frank, Merlot, Chardonnay, and Sauvignon Blanc. The vineyard has 1,200 hectares of land, nearly 3,000 acres.
The vineyard uses mostly 30 – 90-year-old vines as they believe they are best for producing quality wine as the roots are deep and absorb nutrients from the soil. At the end of each row of vines is a rosebush. The bushes draw insects and impurities and they are fragile, so they easily tell the state of the vines alerting them to issues.
Santa Rita Tour and Museo Andino
The tour shared a lot of information about their wine production and irrigation, which came from Israel. Their oak barrels are imported from the U.S. and France and local barrels are not used as the wine becomes too oxygenated. Nitrogen is actually added to protect the wine from oxygen, and we got to watch this process. They use their barrels only three times then sell them to be used to make pisco or another liquor.
The grounds were beautiful and the Museo Andino (Andes Museum) on the grounds was a nice surprise. I certainly didn't expect to see a museum on the grounds of a vineyard! It's fairly small but contained pre-Columbian artifacts and things from all over Chile, including Easter Island.
Visiting Viña Santa Rita
If you decide to visit Santa Rita on your own, they have a number of tours to choose from ranging from 17,000 to 70,000 CLP ($23 to $96 USD). They have a fun pedal bar, a bike tour, a picnic offering, and several tours focusing on certain varietals. There is even a hotel on site, Hotel Casa Real. It was the former summer home of the winery's founder that was restored and converted to a hotel in the mid-1990s. There is a Neo-Gothic chapel next to the hotel built in 1880 as well.
Viña Santa Rita is located around 45 minutes from Santiago at Camino Padre Hurtado 0695, Alto Jahuel, Buin, Región Metropolitana, Chile.
So, How Was the Wine?
We got to try several wines at each of the vineyards. Most were red and I each offered a white as well. I learned that I'm not a huge fan of Chilean wines on this tour. I hadn't really had them before I visited and I was excited to try them as my favorite overall wine is Malbec from Mendoza, Argentina.
The wines all had great flavor, but I found that they had a strange mouthfeel. I'm not sure how to explain it (I'm a wine lover, but no wine expert!) The way I would describe them is that they had a mineral taste to them and it left almost a coating on my tongue. I didn't dislike the wines but didn't rave about any of them either.
Wine is a very personal thing, and that's a great thing! There are so many different kinds to try that if you don't love one, keep trying. You'll likely find something you'll like. So, I want to be honest in my opinion, but it's mine alone. Chilean wines are popular and they are very affordable, so I encourage you to try them.
I had a wonderful time on my wine tour and I would still highly recommend going on one if you enjoy wine. If (or when) I return to Chile, I will surely go on another wine tour—if that tells you anything!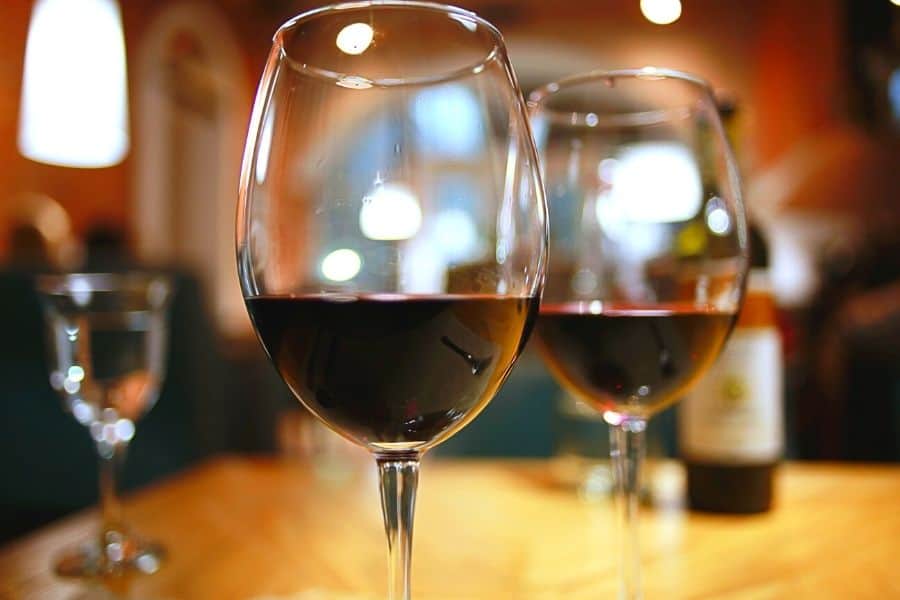 Undurraga
Another popular vineyard to visit in the area is Undurraga, and there are lots of tours going there as well. It was established in 1885 by Don Francisco Undurraga Vicuña. Like Concha y Toro and Santa Rita, it's among the oldest vineyards in the region.
Tours are offered ranging from 15,000 CLP to 28,000 CLP (around $21 to $28 USD). They have a number of different lines of wine including reds, whites, and sparkling.
Undurraga is located at Camino a Melipilla 34, Talagante, Región Metropolitana, Chile. Tours run from 9 to 6.
When Should You Visit?
The fall in the southern hemisphere, from March through May, is a wonderful time to visit the Santiago area, especially if you like wine. The vineyards show off their fall colors with beautiful foliage and there are lots of grape harvest festivals.
Why You Should Go on Santiago Wine Tours
Whether you're a Chilean wine lover or want to try a new wine, you can't go wrong with Santiago wine tours. The Maipo region is just an hour from central Santiago just waiting for your visit. Choose from any of the three most popular vineyards including Concha y Toro Winery, Santa Rita, and Undurraga.
Or better yet, try more than one! It's a fun half-day or full-day trip touring these beautiful places and learning about their process of growing and producing wine.
You Might Also Like
Like it? Pin it!