10 Incredible Things to Do in Denver—The Mile High City
There are plenty of fun things to do in Denver to keep you busy. Whether you're into art, music, sports, history, or the great outdoors, there's something for you in this vibrant metropolis by the Rocky Mountains.
Known as the Mile High City (it really is 5,280 feet above sea level), Denver is the capital of Colorado and a great place to visit. Downtown Denver has a lot to offer, from excellent museums to beautiful parks.
This is also where you'll find the 16th Street Pedestrian Mall that's full of shops, restaurants, and bars. It's the perfect spot to come before a game or a show, which goes on just about every night in this city that loves its sports and live music.
If you're planning a trip to Colorado, read on for a detailed look at some of the top things to do in Denver. You'll also find useful information about where to stay and eat, as well as recommendations for Denver day trips.
This post may contain affiliate links, which means I'll receive a commission if you purchase through my links, at no extra cost to you. Please read full disclosure for more information.
Visit the Colorado State Capitol
A great way to start your exploration of Denver is by visiting the Colorado State Capitol. While it's reminiscent of the US Capitol, it has several unique features, including the golden dome.
On your way in, be sure to walk up the stairs on the west side of the building. This is where you'll see the "One Mile Above Sea Level" marker that gives Denver its famous nickname. It's a great photo opp and even better later in the day when you can see the sunset over the Rockies.
Once inside, you'll be able to admire the stained glass windows and the beautiful Colorado Rose Onyx—a rare marble that came from a nearby quarry.
Enjoy architecture and geeking out on history? Check out this tour.
The Colorado State Capitol is located at 200 East Colfax and is open Monday to Friday from 7:30 a.m. to 5 p.m. Tours are available at 10 a.m., 11 a.m., 1 p.m., and 2 p.m. and are limited to 15 people. These tours are first-come, first served.
Explore City Park
If you're looking to enjoy some outdoor activities in Denver, City Park should definitely be high on your list. This large green space has lots to see and do. On a nice sunny day (of which there are many), you can easily spend several hours here.
There are paths for walking, jogging, or biking as well as tennis courts, football, baseball, and soccer fields. The park is also home to two lakes, where you can rent paddle boats that look like swans.
That only scratches the surface of what's on offer here. You'll also find the Denver Zoo and Museum of Nature & Science here. There's even an 18-hole golf course. Many of the best things to do in Denver are at your fingertips in this awesome park.
City Park is located at 2001 Colorado Blvd and is open daily from 5 a.m. to 11 p.m.
Go Museum Hopping
Speaking of museums, there are several worth visiting in Denver. The aforementioned Museum of Nature & Science usually has cool temporary exhibits. At the moment, they have "Guitar: The Instrument That Rocked the World" just to give you an idea of the fun exhibits they offer.
You're spoiled for choices downtown, including the fantastic Denver Art Museum. It's home to over 70,000 works from around the globe and across the centuries.
The Denver Museum of Nature & Science is open daily from 9 a.m. to 5 p.m., and tickets are $18.95. It's an additional $7 to catch a movie in the IMAX theater and $5 to hit the planetarium.
You can visit the Denver Art Museum every day from 10 a.m. to 5 p.m. and it stays open until 9 on Tuesdays. Admission is $18 for non-Colorado residents. It's located at 100 W. 14th Avenue Pkwy and can easily be combined with a visit to the Capitol building.
See a Concert: One of the Top Things to Do in Denver!
If you're a live music aficionado, you're going to absolutely love Denver. The Mile High City has one of the best music scenes in the country, hands down.
Whether you're looking to discover a local band in a dive bar, tear up the dance floor in a club, or see a famous band play to a sold-out arena, Denver has got you covered.
Some of the best places to see live music in Denver include Cervantes Masterpiece, the Mission Ballroom, and the Fillmore Auditorium. Be sure to check the calendar and see who will be in town on your visit.
Nothing can top a trip to Red Rocks Amphitheater, though. This open-air venue in nearby Morrison is high atop the list of the most beautiful music venues out there. Even if there's not a show going on, it's worth a visit just to walk up the stairs and take in the incredible views.
Visit the Botanic Gardens
Moving right along, next on our list of the best things to do in Denver is the city's impressive Botanic Gardens. Leisurely exploring the park and gardens are a fantastic way to spend an afternoon.
Here you'll find a wide range of gardens and collections from all over the globe, such as the Japanese "Garden of Pine and Wind." They also have rotating exhibits and often host special events.
The Denver Botanic Gardens are located at 1007 York St in Cheesman Park. They're open daily from 9 a.m. to 2:30 p.m., and tickets cost $15.
Root for the Home Team
For sports fans, you've got options year-round in the Mile High City. Denver is home to teams in all major professional sports – the Broncos (NFL), Avalanche (NHL), Nuggets (NBA), Rockies (MLB), and Rapids (MLS).
Generally speaking, fall is the busiest time of the year for sports. The Broncos have eight home games a year (more if they make the playoffs) between September and January.
Both the Avs and Nuggets also play home games regularly throughout the season. You can still catch the Rockies in September.
Even if you don't get tickets to the game, it's fun to soak up the atmosphere on game day. Denver is a rare city where most of the sporting venues are actually located downtown. There are plenty of bars around where you can watch the game with local fans.
For games and other events, this Denver city site has all the information you need to plan for your trip.
Experience Meow Wolf
Meow Wolf is a place that's hard to describe in a few short paragraphs. It's really one of those things you just have to go and experience for yourself.

This large-scale, immersive art installation is somewhat of a psychedelic wonderland. Denver's Convergence Station is the 3rd Meow Wolf location to open after the original in Santa Fe and another in Las Vegas.
You'll find Meow Wolf at 1338 1st Street downtown. It's open from 10 a.m. to 10 p.m. Sunday to Thursday and until midnight on the weekend. Tickets cost $45 to $49 depending on the time of your visit and must be reserved in advance.
Get Artsy
If you didn't get enough art between the museums and Meow Wolf, there's lots more to see here. The RiNo (River North) Arts District is one of the most fun places to visit in Denver.
Once an industrial hub, a bunch of empty warehouses were left when production moved out of the city. Artists eventually moved in for the cheap rent, and a local artistic community began to thrive.
There's lots going on here, including the RiNo Mural Program and the First Fridays event. From 6-9 p.m. on the first Friday of every month, a bunch of galleries opens their doors for art openings, live music, and more.
Walk the 16th Street Mall
One of the most popular free things to do in Denver is simply strolling along the 16th Street Mall. Designed by famous architect I.M. Pei, it resembles a diamondback rattlesnake from above.
This mile-long pedestrian-friendly strip has dozens of cafes, shops, restaurants, and bars to choose from as well. Whether you're in the mood for a burger or sushi, a glass of wine, or a craft beer, you'll find it here.
While you're in the area, you might as well check out Skyline Park. This 3-block park seeks to offer fun activities year-round. There's an ice skating rink in the summer and a nice outdoor beer garden in the summer.
Do a Brewery Tour
Speaking of beer, no list of the top things to do in Denver would be complete without a brewery tour. With some 150 breweries in and around the Mile High City, you'll never go thirsty here!
Hop on the Denver beer trail and raise a glass at one of the many fine breweries in the city. Just pull up the interactive map on your phone and hit the streets in search of lagers and IPAs.
There are lots of great craft beer tours here if you want to learn while you drink. My personal recommendation goes to the Denver Microbrew LoDo Tour, which costs $55 per person. You'll make four different stops and get to sample ten beers.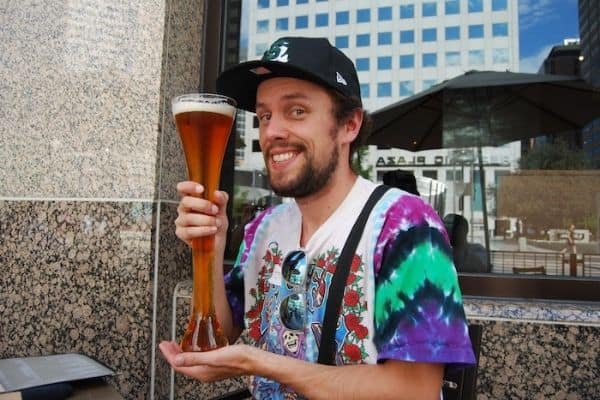 How to Get to Denver
Most travelers arrive in the Mile High City at Denver International Airport (DIA). Fun fact—this is the largest airport in terms of land area in all of North America.
Several airlines have service to Denver, and it's a major hub for Frontier, Southwest, and United. It's 25 miles from downtown, which is about a 35-40 minute drive depending on traffic.
You can hop on the RTD train headed to Union Station for $10.50. The train departs every 15 minutes from 5 a.m. to 8 p.m., and every half hour outside of those hours.
Your ticket is actually a day pass that covers all bus and rail lines. So, you can use it to get around the city on your first day as well. More on that in the next section…
It's also easy to hail a cab or use rideshare apps like Uber and Lyft from DIA. Official cabs have a flat rate of $56 from the airport to downtown. Prices fluctuate with rideshare apps depending on demand and the time of day, but you can usually get a ride for around $50 to 60.
Those who prefer riding the rails can also get to Denver by train. Amtrak's California Zephyr passes through Denver on its way from Chicago to the San Francisco area. The Southwest Chief also starts in Chicago and passes through Denver, headed to Los Angeles.
For bus travel, you can always ride the Greyhound to Denver. There's also the local Bustang that has several routes from other destinations in Colorado. Click here to check out their map.
How to Get Around Denver
It's totally possible to get around Denver without a car. You'll definitely want to read up on the RTD system of bus and rail lines before your trip.
As mentioned in the previous section, a ticket for the airport train is actually a day pass for all of the bus and rail lines. You can use it to get downtown and then get around until 2 a.m.
If you want to buy another day pass and just stick to the city center, it's only $6. You can also just get 3-hour passes as you need them for $3 each.
These days, there are scooters and bikes all over the city that you can unlock with apps like Bird, Lime, Uber, and Lyft. For short distances, this is a great and inexpensive way to get around.
Downtown Denver is generally a walkable place. There's also a free shuttle that runs along the 16th Street pedestrian mall if you need to give your feet a rest.
For further exploration, like visiting Rocky Mountain National Park, you'll want to rent a car. There are plenty of national and local rental car companies servicing the Denver area.
When to Visit Denver
There really isn't a bad time to travel to Denver. The city enjoys a temperate climate and gets 300 days of sunshine a year. As such, the best time to visit Denver totally depends on what you like to do.
Those who want to hit the slopes should plan a trip in the winter months between December and March. Just keep in mind that Christmas and New Year's are busy and expensive times.
If you'd rather be hiking in the mountains than skiing down them, spring, summer, and fall are all great times to visit. Fall, in particular, is a beautiful time in the area as it's peak leaf-peeping season.
Summer in Denver means a full schedule of concerts at the legendary Red Rocks Amphitheater. They actually start the concert season in late April there, but don't be surprised if you get snowed on at that time!
It's definitely a good idea to check the event calendar before planning your trip. There are lots of conventions, festivals, and other large gatherings that happen here throughout the year. They can jack the prices of hotels up and mean bigger crowds.
Where to Stay in Denver
For a city break, it's definitely best to stay downtown. There are tons of options for accommodation to suit all budgets. Staying here, you'll be within walking distance of many places on this list.
Here are a few options for where to stay in Denver:
Budget—Hostel Fish: Described as a hostel of backpackers by backpackers and for backpackers, this is a great place to stay in Denver on a budget. They have private and dorm rooms as well as lots of fun events. Hostel Fish is located at 1217 20th Street. 
Mid-Range—Grand Hyatt: This is one of the top-rated Denver hotels, and for good reason. With well-appointed rooms, a pool, gym, tennis court, and jogging track, it's a great value. The Grand Hyatt is located at 1750 Welton Street.
Luxury—The Four Seasons: Those who appreciate the finer things in life and don't mind paying for them will love a stay at this 5-star hotel. The Four Seasons is located at 1111 14th Street.
Where to Eat in Denver
The culinary scene in Denver is most definitely booming. You can find something for every taste and budget here, from simple local joints to Michelin-star restaurants.
Here are some recommendations that should get you through a weekend in Denver:
Denver Day Trips
If you decide to rent a car, there are lots of great options for day trips out of Denver. It doesn't take long to find yourself out in the beautiful mountains of Colorado from the city center.
The most popular choice is definitely going up to Rocky Mountain National Park. It takes about an hour and a half to get to Estes Park, which is the closest town to the park.
They are using a timed-entry system for RMNP, so be sure to book your spot early to avoid disappointment. Try for an earlier time to give yourself more daylight to explore this amazing park. Or check out this half-day trip to Rocky Mountain National Park.
You don't have to go to the national park to enjoy some hiking, though. Head up to Boulder, home to the University of Colorado, where you can jump on the Flatirons Trails at Chautauqua Park.
After a nice hike, head into town to walk around the Pearl Street Mall. You've got tons of options for places to eat, drink, and hang out in this cool college town. Or check out this Boulder hike and share a beer with a local!
In the winter months, you can head out to one of the many ski resorts within a few hours of Denver. Some of the closest include:
Ready for the Mile High City?
As you can see, there are tons of fun things to do in Denver and lots more within a short drive. The Mile High City really packs a punch as a travel destination!
Even on a short trip in Denver, you can check out some of the city's top attractions, get away to the mountains for a bit, catch a sporting event, and take in some live music. Along the way, you'll get to enjoy awesome Colorado craft beer and top-notch restaurants.
It's no wonder Denver has been one of the fastest-growing cities in the US for years now. After experiencing all that the city has to offer, chances are you'll be thinking about moving there as well!
If you have any tips or recommendations for Denver, please drop a comment below and let us know.
You Might Also Like
Like it? Pin it!