10 Best Day Trips from Orlando You Won't Want to Miss
Even though Orlando is a busy city with a lot to do, there are some amazing activities in the surrounding areas as well. The best day trips from Orlando include visiting the Atlantic beaches, exploring wildlife parks, taking historical tours, and exploring marine life. There are also lots of opportunities to learn more about Florida's history at one of the state's many historical landmarks.
All of these Orlando day trips are less than 2 hours away, making them great for a full day or half-day trips. You can explore various parts of Central Florida by day and make it back to Orlando just in time to explore the city's nightlife. Due to the fantastic weather all year round, you'll also be able to experience dozens of nature attractions right outside of Orlando no matter the time of year you visit.
To make the most of what Orlando offers, take 2-3 days to explore the city. If you have the time, take another 2-3 days to complete a few day trips. And, if you plan to go to the theme parks, add on a few extra days for that as well.
There is a lot of fun day trips from Orlando that you can take. Here are the top trips to consider that are popular with locals and tourists alike.
Some links in this article may be affiliate links, which means that if you purchase through them, I receive a small commission. This will never cost you extra, and I appreciate your support!
Visiting Orlando
Orlando is the largest city in Central Florida, so it offers a lot of appealing attractions for visitors. It's a great Southeast destination because it's close to the beach. It's also home to several state parks and some of the world's largest theme parks. With its large variety of attractions, Orlando has something for everyone.
Some of the most popular day trips from Orlando you won't want to miss :
Take a tour of the Kennedy Space Center to learn the history of NASA.
Drive to one of the state parks like Wekiwa Springs State Park to go tubing or paddleboarding.
Visit the Black Hammock to take an airboat tour.
Go to Crystal River to see the manatees.
Visit St. Augustine to learn the history of the Spanish colonization of Florida. 
1. New Smyrna Beach
New Smyrna Beach is about an hour from downtown Orlando (drive 44-W and then I-4 W). There are several public parking lots available, or you can park right on the beach. Parking fees are usually around $20, regardless of the time you spend at the beach. So, make a full day of it. The easiest places to park are in the Sand Dunes Lot or on Flagler Avenue.
After spending the day tanning and swimming, eat at The Breakers. They serve fresh-caught seafood, so the menu changes daily. They also have some of the best cocktails and beer, all with a beach view.
As you're leaving New Smyrna, stop at Frozen Gold. Continuously voted as the best ice cream at New Smyrna Beach, they have unique and fun flavors like Superman tie-dye and traditional flavors as well.
If you're looking for one of the most popular day trips from Orlando that's a quick drive, this is the one for you.
2. Wekiwa Springs State Park
Florida has several state parks. Wekiwa Springs is only about 30 minutes from downtown if you drive on I-4 E, making it perfect for a half-day trip. Hiking is the top activity at Wekiwa Springs State Park, with trails ranging from 0.8 miles to 13.5 miles. The trails are full of wildlife, including gopher tortoises, turkeys, and deer. Always be on the lookout as bear and bobcat sightings do happen.
For water activities, you can canoe or kayak one mile to Wekiva Island. You can also reach another state park in about 3 miles by kayak called Rock Spring Run. Wekiwa Springs is also 72 degrees all year round, making it an amazing spot for swimming and snorkeling. You can bring your own gear or rent it from the park for a small fee.
Wekiwa Springs State Park is located at 1734 Majestic Oak Dr, Apopka, FL 32712. The park is open every day of the year from 8 am to sundown. There's a $6 entrance fee per vehicle.
3. Ocala National Forest
Ocala National Forest is a vacation destination for nature and water lovers. It's about 1.5 hours from Orlando by car if you drive FL-429 S the entire way. Canoeing is the top activity choice at Ocala National Forest.
Alexander Spring Creek and Juniper Creek are the most used streams. Both can get very narrow at times. Branches and logs can be an obstacle as well. Make sure to bring a whistle or cell phone in a waterproof case in case you get stuck!
Alexander Springs is a warm place to swim with turquoise blue water. You can also rent snorkeling gear or scuba dive if you have your certification. Enjoy the natural limestone and rest on one of the many boulders when you get tired of swimming.
Salt Springs, as the name suggests, is a saltwater spring in Ocala National Forest. It's also a great place to swim.
Ocala National Forest is located at FL-40, Silver Springs, FL, 34488. It's open 24 hours, but swimming and other activities usually stop at sundown. There's a $6 entrance fee per person.
4. St. Augustine
If you're considering day trips from Orlando, St. Augustine is the longest one on the list. It takes around 2 hours to get to the small coastal town. (Take I-4 E, then I-95 N.) Make this a full-day trip so you can explore the beach and the fantastic food scene. Bring comfortable walking shoes as almost all of the streets are cobblestone.
The Castillo de San Marcos is the top-visited attraction in St. Augustine. It's a large fort originally built by the Spanish to protect Florida and the Atlantic Ocean trade route. Built more than 450 years ago, it's the oldest fort in The United States.
After taking a tour and hearing a cannon fire, head to George Street. It's the oldest street in St. Augustine and has the best shopping and dining. George Street is full of historical charm and has great local shops for souvenirs.
St. Augustine is also famous for its Ghost Tours. Take a guided walking tour to learn about the spooky past of the city. The tours are always mixed with humor, so they're perfect for all ages and aren't too scary.
For the best eats, try Woodpeckers Barbecue or the Sunset Grille. Collage Restaurant has the best dessert in the city, including a chocolate raspberry cake you'll dream about.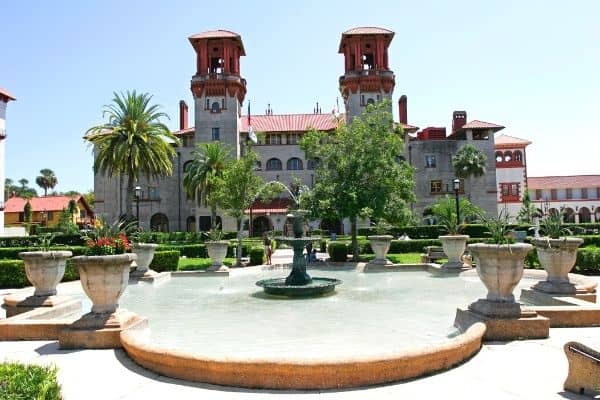 5. Crystal River
If you've researched anything about Florida, you probably know it's home to hundreds of manatees. If you want to swim with these amazing creatures, Crystal River is one of the best Orlando excursions! It's 1.5 hours from Orlando (take FL-44W). Crystal River Manatee Tours is the best tour operator because they offer several different activity packages.
If you aren't interested in swimming, you can take a boat tour of the river. They will take you to the most popular spots to see manatees. They also offer a sunset cruise option if you want to go during the evening.
If you want a more up-close experience, consider kayaking or snorkeling. Crystal River Watersports offer guided snorkeling tours or allows you to do it solo. You can also dive with the manatees if you're already certified.
Crystal River Manatee Tours is located at 1 SW 1st Pl, Crystal River, FL, 34429. They are open every day from 6 a.m. to 9 p.m. Tours vary in price based on what you choose but start at $65.
6. Kennedy Space Center
Kennedy Space Center is a must-see Orlando sightseeing destination. It's only 30 minutes from Orlando (on FL-527 N), so it's perfect for a half-day tour from Orlando. They also have frequent shuttle launches, so you might get lucky and see one take-off.
The most popular attractions inside the Space Center are Race to the Moon and NASA Now + Next. Some of the tours in the complex are self-guided, while others have a tour operator. It's a great place to learn the history of Apollo 8, NASA, and see how space exploration is changing the world. Kennedy Space Center has dozens of attraction zones to explore.
Kennedy Space Center is located at Space Commerce Way, Merritt Island FL, 32953. They are open every day from 9 to 5. Tickets start at $57.
7. Merritt Island National Wildlife Refuge
Merritt Island National Wildlife Refuge is located on the same island as the Kennedy Space Center. Visiting both places on the same day is definitely doable if you get up early enough! Keep in mind that the wildlife refuge closes on rocket launch days.
Merritt Island National Wildlife Refuge is 140,000 acres with a variety of ecosystems. It has over 1,500 species of marine life and birds. It's also home to the largest population of endangered species in Florida, including the Eastern Indigo Snake and the West Indian Manatee. This refuge is unique from other parks because it has freshwater and saltwater habitats.
You can take a 7-mile driving tour through the refuge to see the wildlife. The animals are most active in the early morning and late afternoons, so plan accordingly. You can also strap on your hiking shoes and go through the refuge on foot. There are 6 trails ranging from a quarter mile to 5 miles.
Merritt Island National Wildlife Refuge is located at 1987 Scrub Jay Way #32782, Titusville, FL. They are open every day from 8 to 4. There's a $10 entrance fee per car.
8. Homosassa Springs Wildlife State Park
Homosassa Springs Wildlife State Park is an hour and 40 minutes from Orlando (on FL-44W). It's different from the other wildlife state parks in the area because it's also a museum and a historic site.
Before becoming a state park, Homosassa Springs was a train stop in the 1900s. Passengers used it as a place to cool off in the water and have a picnic before continuing to their next destination.
It didn't become a wildlife park until 1984, when the state of Florida purchased it from Ivan Tors. Tors owned it as a site to train animals for shows and movies. His hippopotamus, Lu, still resides in the park and is the oldest hippo in North America.
Besides seeing all the natural wildlife, you can go hiking or have a picnic in one of the nature reserve areas. Make sure to check out the Fish Bowl Underwater Observatory that floats in the spring's water. It's a great way to see marine life up close.
Homosassa Springs Wildlife State Park is located at 9350 W Fishbowl Drive, Homosassa, FL, 34448. They are open every day from 9 to 5:30. Tickets are $13.
9. Black Hammock Airboat Rides
Black Hammock is in Oviedo, about 25 to 30 minutes from downtown (taking 417-N). They've been giving airboat tours in the Orlando area for more than ten years. All of their captains are licensed by the U.S. Coast Guard, so you can be sure you're in good hands.
You have the option to take tours in groups of 6, 12, 15, or 18. You can also book a spot on someone else's boat if you're going solo. The animals you may see vary by season, but almost everyone sees alligators, turtles, and bald eagles. All the airboat rides go to Bird Island, one of the largest colonies of wading birds in central Florida.
Black Hammock also has an award-winning restaurant right on-site with daily happy hour deals. Try the gator burger or the fried gator tail, local specialties. They also have smoked ribs, freshly caught shrimp, and crab legs.
Black Hammock Airboat Rides is located at 2356 Black Hammock Fish Camp Road, Oviedo, FL, 32765. They are open every day from 9 to 5. The airboat tours are $29.95 per person.
10. Clearwater Beach
Clearwater Beach is around a 2-hour drive from Orlando (on I-4 W). The beach is known for its beautiful clear blue water and soft white sand. Tanning and relaxing on the beach are just one appeal of Clearwater Beach, though.
One of the most popular attractions is the Clearwater Marine Aquarium. Winter and Hope, the dolphins featured in the movie Dolphin Tale, perform there. The museum has floor-to-ceiling windows on every wall giving you a spectacular view of the dolphins and other marine life.
After spending the day at the beach and the museum, grab a bite to eat at one of the oceanfront restaurants. The Salty Crab Bar is the best place for live music, drinks, and seafood.
If you want a more elegant vibe, head to the Watercolour Steakhouse and Grille at Clearwater Beach Marriott. Try the crab cakes or the lobster spaghetti (or both!) as they are to die for. The chef selection menu is seasonal and changes weekly.
How to Get to Orlando
Orlando has a large airport (MCO) that services flights from all over the United States. They also have several carriers that fly internationally from many destinations. Orlando International Airport is about 25 minutes from downtown, so it's convenient to get to.
Orlando is also well-connected to other states by roads, including I-75, I-95, and I-4. So, if you want to drive from southern Florida, Atlanta, or other places, it's easy to access.
When to Visit Orlando
Orlando is very busy during the typical tourist seasons, from June to August and December to January. If you want to avoid crowds and save money on hotels, consider coming during off-season months. Florida is warm all year round, so you can still do water activities and go to the beach no matter what month you choose to go.
Don't Miss These Incredible Day Trips from Orlando
There are some amazing day trips from Orlando, and most are less than a 2-hour drive, giving you lots of options. You can see Florida wildlife, get a tan at the beach, or explore historic cities and museums—whatever you fancy. Orlando is an amazing city just waiting for you!
You Might Also Like
Like it? Pin it!