7 Best Things to Do in St. Augustine—America's Oldest City
Searching for the best things to do in St. Augustine? This guide has everything you need to find top activities in this incredible historic city. While it's a top tourist city in Florida, St. Augustine also has many lesser-known attractions you'll surely enjoy. Nature lovers and history buffs love this coastal city because of the many museums and hiking trails.
Whether you're visiting alone, with friends, or as a couple, St. Augustine has something for everyone. With the European influences apparent throughout the city, you'll feel like you're strolling down the cobblestone streets of Spain or Italy.
The historic downtown area is also a fantastic place to grab a bite to eat, do some boutique shopping, or buy locally-made items. St. Augustine is sure to be a city you'll never forget and will be dying to get back to!
This post may contain affiliate links, which means I'll receive a commission if you purchase through my links at no extra cost to you. Please read full disclosure for more information.
A Brief History of St. Augustine
St. Augustine is considered America's oldest city. Founded in 1565 by Spanish settlers before Jamestown and the Plymouth colony, the city was named St. Augustine because it was established on August 28th, the feast day of St. Augustine.
It soon became the center of Spanish power in Florida. They built the famous fort, Castillo de San Marco, to help fight off regular attacks from the French and English. The fort still stands there today and is the oldest fort in the United States.
St. Augustine has still kept much of its historical charm, one of the main reasons it's such a popular destination for travelers. Due to its rich history, it's also a popular spot for student field trips, history fairs, and ghost tours.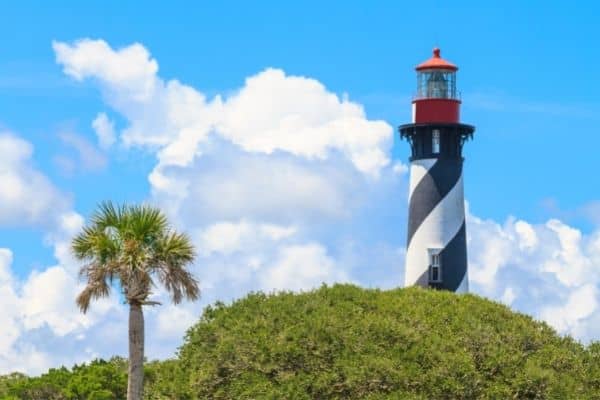 Best Things to Do in St. Augustine
There are a lot of fun things to do in St. Augustine for a day trip or a weekend. Here are some of the top picks!
1. Explore Historic Downtown 
Exploring historic downtown St. Augustine is a must if you want to see the culture of the city. St. George Street is the main street that runs through downtown. It's full of local art shops, small museums, and great cafes. Make sure to stop in the Whetstone Chocolate Factory for homemade fudge and other amazing chocolate treats.
If you want to take a more organized approach to exploring the area, take a historic walking tour with a knowledgeable guide. The walking tour includes several opportunities to stop and shop in local boutiques. They will also explain the history of all the architecture and historic buildings. 
The night tours are usually pub crawls or ghost tours, so they may be more appropriate for adults only. Make sure to make reservations for all the tours ahead of time as they fill up!
St. Augustine Historic Walking Tours is located at 23 Orange Street, St. Augustine FL, 32084. It's open every day from 10 a.m. to 10 p.m., with most tour options leaving every hour. Tours start at $20 for adults. Make sure to tip the guide at the end as well! Whetstone Chocolates is located at 139 King St, St. Augustine, FL 32084. 
2. Anastasia State Park 
If you're looking for a place to take advantage of Florida's beaches and see some great wildlife, Anastasia State Park is a great place to visit. Canoe and kayak rentals are available so you can enjoy the canals and waterways.
The beaches are more than 1,600 acres long, giving you plenty of opportunities to sunbathe and view wildlife among the sand dunes. 
The park also has 139 campsites if you have your own camping gear and want to spend a few nights among the birds and tortoises. There's also a 4-mile hiking trail, picnic pavilions, and long stretches of beach where you can go cycling or shelling.
Anastasia State Park is located at 300 Anastasia State Park Rd, St. Augustine, FL, 32080. They're open every day from 8 a.m. to 7:30 p.m. Fees are $8 per vehicle or $2 per person.
3. Castillo de San Marcos 
The Castillo de San Marcos is one of the oldest masonry forts in North America and the oldest in the US. It was originally used by the Spanish to protect them against attacks from the French and British.
Now, it stands as a historic site where people can take self-guided tours. Climbing to the top of the fort gives you a fantastic view of the beach and city below. 
The local park rangers are always near the fort. Feel free to ask them any questions about the fort or stop and listen to one of the quick 15-minute presentations.
They are dressed in period clothing and love to take photos with visitors! Nightly cannon and musket firings will make you feel like you're right in the action with the settlers in the 1740s. 
Castillo de San Marcos is located at 1 S Castillo Dr, St Augustine, FL, 32084. It's open every day from 9 a.m. to 5 p.m. and is $15.
4. San Sebastian Winery 
For wine lovers, visiting the San Sebastian Winery is a must. It's within walking distance from the historic downtown and convenient to get to. While they have every kind of white and red wine you can think of, they specialize in Chardonnay, Pinot Grigio, Petite Sirah, and Cabernet Sauvignon. They also have an amazing variety of desserts and sparkling wines. 
The wine tours and tasting are complimentary, so feel free to learn about the wine-making process and sample different kinds before buying. On the rooftop, you can get an incredible view of the city, listen to live music, and enjoy food at the Cellars Upstairs Bar & Restaurant. 
San Sebastian Winery is located at 157 King St, St. Augustine, FL, 32084. It's open every day from 10 a.m. to 6 p.m., and the restaurant is open until 9 p.m.
5. Oldest Wooden Schoolhouse
The oldest wooden schoolhouse in the United States is located in St. Augustine, just a 3-minute walk from the Castillo de San Marcos. The schoolhouse was built in 1716 and is the only original wooden structure left in St. Augustine.
You can take a tour of the inside of the schoolhouse, as well as the beautiful property around it. 
During the tour, you can even view original school books and materials used during Spanish Colonial times. The property also includes a kitchen used to make lunch for the students and a 250-year-old pecan tree.
The Oldest Wooden Schoolhouse is located at 14 St. George Street, St. Augustine FL, 32084. It's open Sunday through Thursday from 10 a.m. to 5 p.m., and Friday through Saturday from 10 a.m. to 7 p.m. Tickets are $5.95.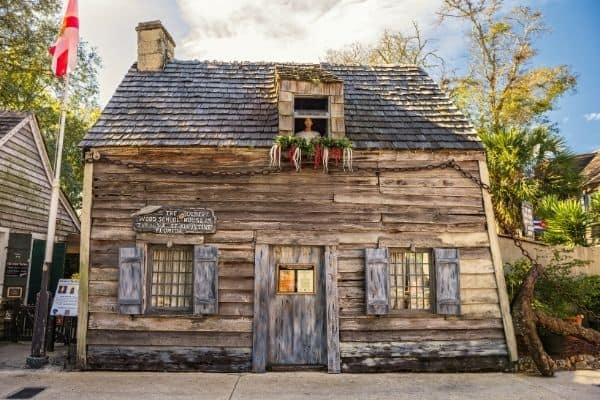 6. Fort Matanzas National Monument 
Fort Matanzas is one of the most visited monuments in Florida, and it's located right along the beautiful Matanzas River. It was originally built in 1742 and was part of a huge Spanish military settlement. The fort is on a barrier island, so you get to experience a beautiful ferry ride as you journey to the fort.
After taking a self-guided tour of the fort, there are some amazing nature activities you can do. Hike along the small trail ending at the beach or spend the day viewing wildlife and fishing. You can also speak to the park rangers and watch their hourly presentations to learn more about Fort Matanzas.
Fort Matanzas National Monument is located at 8635 A1A S, St. Augustine FL, 32080. It's open every day from 9 a.m. to 5:30 p.m. There are no fees to take the ferry or visit the fort.
7. St. Augustine Alligator Farm 
The alligator farm is one of the main tourist attractions. It originally opened over 100 years as just a small exhibit of Florida reptiles. It has since grown into one of the largest Florida tourist attractions.
You can see tons of reptiles, including crocodiles, alligators, snakes, and other Florida native reptiles. The farm also has many mammals, such as lemurs and sloths. Many different species of birds Native to Africa can also be found in the zoo.
If you're an adrenaline junkie, make sure you make a reservation for zip-lining. There are 50 different courses you can go through, including soaring right over the crocodiles. The zip line will also bring you into very close contact with the birds and lemurs. 
The St. Augustine Alligator Farm is committed to ensuring the survival and ethical treatment of all the species that are in their hands. They work with zoos and aquariums all over the world to enact their Species Survival Plan that was started in 1981.
Their goal is that all their species can have a healthy and self-sustaining population that is also demographically stable. They are also fully accredited by the Association of Zoos and Aquariums and are considered a humane and ethical place.
St. Augustine Alligator Farm is located at 999 Anastasia Blvd, St. Augustine FL, 32080. It's open every day from 9 a.m. to 5 p.m. Entry is $27.99 for adults and $16.99 for kids.
8. St. Augustine Lighthouse & Maritime Museum
Another fun and interesting place to visit is the St. Augustine Lighthouse. You've probably seen images of this picturesque museum, with its black and white striped tower and red top.
The first watchtower was built in 1586, followed by the tower completed in 1874.
The lighthouse is 165 feet high and 219 steps up. The attached small cottage that was once used as an office is set up as it might have been when the lighthouse keepers lived there.
You can grab a bucket to see just how heavy it was when they filled it with oil and carried it up the steps.
Don't miss the keeper's house, with a number of different exhibits about living in the lighthouse, local wrecks, and more. And wander the lovely garden in the front.
There is actually a lot on the grounds to see if you have time, including the Maritime Heritage Park, the Maritime center with videos of lighthouse stories, a gift shop, and a restoration exhibit.
There is also a WWII-themed eatery called the Tin Pickle, where you can grab a bite or a drink.
How to Get to St. Augustine
St. Augustine doesn't have an airport, so you will need to fly into Jacksonville (JAX) or Orlando (MCO). The Jacksonville airport is only about an hour away from St. Augustine, but it's pretty small, and the airlines that fly into it are limited.
Orlando is a huge international airport about 2 hours away from St. Augustine. There are a lot more flight options available.
If you are driving into Florida from the north, you can take I-95 South until you reach exit 318. Then, follow the signs for US1 South. If you are driving from Orlando or another part of Florida, you can drive on the Florida Turnpike and I-95 North to get to St. Augustine.
How to Get Around St. Augustine
St. Augustine is a walkable city if you are staying in or near the downtown area. They also have a trolley system that stops at all major tourist attractions and nearby beaches. Many hotels and inns also offer bike rentals to help you get places faster. 
St. Augustine is pretty small and safe, so walking everywhere is easy. If you are staying outside of downtown or closer to the beaches, you might want to consider keeping your rental car to get to all the places you need to go.
When to Visit St. Augustine
It's best to avoid St. Augustine during Christmas and New Year because it gets very crowded, and hotel prices soar. They do have fantastic Christmas festivals and a lighting ceremony, though, if you're interested. St. Augustine is home to Flagler College, so May and August can get very crowded in the city with graduation ceremonies and visiting parents. 
For the best weather, visit St. Augustine from February through April or September through November. There will also be fewer people and more time for you to enjoy your vacation without fighting the crowds. 
Where to Stay in St. Augustine
Budget: The Cozy Inn is family-owned and operated. It's only a 7-minute walk from the historic downtown district and 1 mile from the Castillo de San Marcos. All the rooms are equipped with minifridges, microwaves, and free Wi-Fi. You can also bring your pet for a small additional fee.
Mid-range: Hampton Inn St. Augustine has free breakfast and is only 2 miles from Anastasia Beach and 1 mile from Ripley's Believe it or Not. The rooms are simple but fully equipped with a coffee maker, minifridge, TV, and microwave.
Luxury: 44 Spanish Street Inn is right in the historic district and just a 5-minute walk to the Castillo de San Marcos. There are only eight rooms, so the atmosphere is quaint and quiet. Most rooms have a whirlpool tub, a TV, and a large bed. They also offer free parking and a hot breakfast served in a beautiful brick courtyard. 
St. Augustine Restaurants
Columbia Restaurant is one of the most famous places to eat in Florida. It's located right in the center of the historic downtown. Come hungry, as they have a full menu of traditional Cuban and Spanish cuisine. Make sure to try the 1905 salad or the traditional Cuban sandwich. 
For a fine dining experience, try Llama Restaurant. The Peruvian menu is all locally sourced and changes throughout the seasons. Some of the best choices are pork belly and ceviche. 
If you're near the beach, stop by Burrito Works Taco Shop. It's very laid back with all the burrito and taco combinations you can think of. Try the spicy shrimp tacos or the traditional Mexican tostadas. 
Don't miss Harry's Seafood Bar & Grill when you visit if you love traditional New Orleans fare. It was so good, Sam even went twice! Her favorites were the shrimp and grits, fried green tomatoes, fried grouper, and the marinated salmon salad. They make a great hurricane as well!
The Best Things to Do in St. Augustine Are Waiting for You!
The best things to do in St. Augustine can't be numbered. Stunning beaches, amazing museums, and the cultural downtown center are all the best parts of St. Augustine. It's an incredible city full of history, art, and music. Your trip to St. Augustine is sure to be a lively one!
You Might Also Like
Like it? Pin it!