6 Top Fort Lauderdale Activities Not to Miss
If you only have time to visit one city while in Florida, doing all the main Fort Lauderdale activities is a must. It might be a less popular vacation choice than Miami or Orlando, but as a Florida local, it's personally my favorite place in the state!
It has everything you think about when you dream of a Florida vacation including beaches, unlimited sun, boats, and warm weather all year-round. If you're interested in visiting more of Florida, you can easily add Fort Lauderdale to your Southeast road trip bucket list.
If you're crunched for time, you can easily see the best of Fort Lauderdale in a weekend. Feel free to stay longer, though, if you can!
I've been to Fort Lauderdale many times since it's just a short flight from where I live in Orlando. Here are the places and things I love to do every time I visit this beautiful beach city!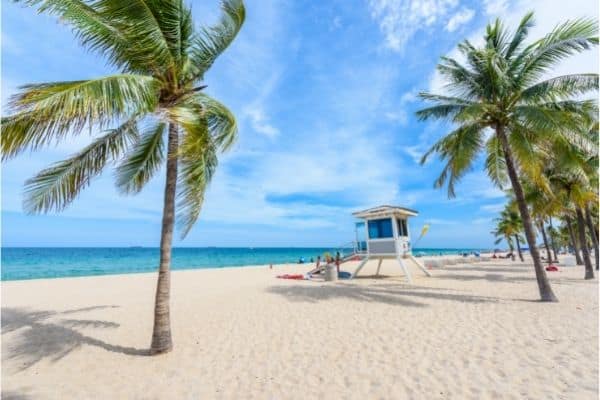 This post may contain affiliate links, which means I'll receive a commission if you purchase through my links, at no extra cost to you. Please read full disclosure for more information.
Take a Stroll Down Las Olas Boulevard
If you want to be among Fort Lauderdale's tourists and locals, head to Las Olas Boulevard. It's one of the busiest streets in the city, offering lots of restaurants, shopping, and bars. It's one of the best activities in Fort Lauderdale.
You can choose from fancy restaurants or laid-back sidewalk cafes. There are also countless art galleries. Many of them are free and proudly display local artwork.
While you can visit Las Olas Boulevard any time of the day, the evening is the best time. The street has colorful lights that highlight the scene. It's also the best time to visit the restaurants for drink specials and live music.
You can find a map and the location of the boulevard here.
Tour the NSU Art Museum
Fort Lauderdale has a pretty large art scene, with the NSU Museum being at the center of it all. Featuring permanent exhibitions and rotating artwork, the museum has over 75,000 square feet of art. The building is just as impressive as the artwork, with high ceilings and floor-to-ceiling windows.
All the tours are self-guided, but you can rent a headset for an extra fee if you want to learn more about the art than what the description plaques offer. Certain rotating exhibitions have gallery tours. Just make sure to ask at the ticket counter if there is one you're particularly interested in!
When you're done going through the galleries, you can end your tour at the cafe and gift shop. I love the book section of the gift shop! They have great coffee table books with pictures of the artwork from the museum.
NSU Art Museum is located at 1 E Las Olas Blvd, Fort Lauderdale, FL 33301, United States. They're open Tuesday through Saturday from 11 a.m. to 5 p.m. and Sunday from 12 p.m. to 5 p.m. Tickets are $12.
Get a Tan at the Beach
If you're looking for cheap things to do in Fort Lauderdale, head to one of the beaches. You can't go to Fort Lauderdale without going to the beach. Fort Lauderdale's beaches are much more impressive than Miami's beaches or the beaches you find closer to Orlando.
In my experience, the city keeps the beaches clean and beautiful. You don't have to stay at a resort to access the beach as most of the city's beaches are open to the public.
Fort Lauderdale Beach is my favorite beach in the area because it has tons of cafes to grab coffee and sandwiches to bring down to the beach. It's also right next to Hugh Taylor Birch State Park where you can go hiking or bird watching.
Near the parking areas of the beach, there are also tons of water sport gear rentals if you want to go paddleboarding or jet skiing. You can also rent beach chairs and beach toys for the kids.
Fort Lauderdale Beach is located at ​​Florida A1A, Fort Lauderdale, FL 33304, United States. It's open from sunrise to sunset.
Explore the Canals on the Jungle Queen Riverboat
The Jungle Queen Riverboat has been around since 1935 and is the most popular tourist attraction in Fort Lauderdale. You can either take a 90-minute sightseeing cruise or book a package dinner show with the cruise.
The cruise takes you through all the waterways of Fort Lauderdale and allows you to see the city from the water. It also takes you through Fort Lauderdale's residential areas where you can see beautifully manicured gardens and typical Spanish architecture.
The 90-minute tour includes drinks and snacks. If you go for the dinner show, it includes a full dinner, drinks, and desserts. It's one of the top unique things to do in Fort Lauderdale.
The Jungle Queen Riverboat is located at 801 Seabreeze Blvd, Fort Lauderdale, FL 33316, United States. The dinner show cruises leave at 6 p.m., and the 90-minute cruises leave at noon and 2:30 p.m. Tickets start at $33.05 for adults. 
Visit the Bonnet House Museum and Gardens
Searching for things to do in Fort Lauderdale with kids? Go back in time at this historic home. It was built in 1920 and used to be the home of famous artists Frederic Clay Barlett and Evelyn Barlett.
Even though it's been over 100 years since the home was first built, the home is still decorated and landscaped the same way it was in the 1930s.
You can take a tour led by a guide or do the tour on your own. Either way, you will go through the house and the gardens. You'll also learn about the family history of the Barletts and the artwork they created when staying in the home.
You can spend extra time in the gardens when the tour is over, which I definitely recommend. I personally enjoyed the gardens more than the house and spent about an extra hour looking at the flowers and birds.
You can also check out the gift shop before leaving and buy some souvenirs or order a scoop of homemade ice cream.
The Bonnet House Museum and Gardens is located at 900 N Birch Rd, Fort Lauderdale, FL 33304, United States. They're open Tuesday through Saturday from 11 a.m. to 3 p.m. and Sundays from 11 a.m. to 4 p.m. They're closed on Mondays. Tickets start at $30.
Take a Riverfront Gondola Tour
I've been to Fort Lauderdale many times, and this is one of the best activities I've done. It's expensive, but if you're going with a group of friends, you can easily split the cost making it much more manageable. Keep in mind that the gondolas only fit 6 people, though.
The tour is 90 minutes long and shows you the mansions and history of Fort Lauderdale. The route is similar to the Jungle Cruise, but the Gondola tours are much more intimate and quiet.
You can also ask the guide to stop and let you take photos, which isn't an option with the cruise. They also allow you to bring your own food and drinks on board, including alcohol.
They have a dinner package option to go along with the tour if you're interested. The dinner is at the popular restaurant Casa Sensei. Order your food ahead of time, and then they will deliver it to the dock and serve it to you on the gondola before you take off on your tour.
Riverfront Gondola Tours is located at 1200 E Las Olas Blvd, Fort Lauderdale, FL 33301, United States. The times of the tour vary by season, but the company is open every day. Reservations are required. Tickets start at $229 for the entire boat.
Explore the Historic Stranahan House Museum
For one of the best Fort Lauderdale attractions, head to the Stranahan House Museum. I started as a trading post and then became the home of Frank and Ivy Stranahan in 1906. It's part of the National Register of Historic Places since it's the oldest structure in Broward County.
They have guided tours every day. It's also a popular place to have private events if you happen to be coming to Fort Lauderdale for a family reunion or wedding reception.
Stranahan House Museum is located at 335 SE 6th Ave, Fort Lauderdale, FL 33301, United States. It's open on Tuesdays, Fridays, and Saturdays from 1 p.m. to 4 p.m. Tickets are $12.
How to Get to Fort Lauderdale
Fort Lauderdale has an international airport (FLL) that has daily flights from most major US cities and some international cities like Paris and London. If you can't find a flight into Fort Lauderdale-Hollywood International, you can check for flights into Miami International (MIA).
MIA is about a 35-45 minute drive to Fort Lauderdale, depending on the traffic. If you're driving from Orlando or another place in Florida, you can easily reach Fort Lauderdale on the Florida Turnpike and I-95 S.
How to Get Around Fort Lauderdale
Fort Lauderdale is a big city that is pretty spread out. You can rent a car for easy access to all the places in the city. If you plan to only visit the beach and downtown, bike rentals are a great option and much cheaper than car rentals.
Fort Lauderdale does have a bus system. Many of the routes are free, but it can be pretty inconvenient. Most buses only come every hour, but you can check the schedule for the route you want to take and try to be at the bus stop at the right time!
The Sun Trolley is also a great choice if you are only traveling to the beach or downtown. The stops and timetables are more frequent, so it's easier to use than the bus system.
They don't stop everywhere in Fort Lauderdale, though. So, check the routes to be sure they'll take you where you're looking to go.
When to Visit Fort Lauderdale
Fort Lauderdale has warm weather all year round. Unfortunately, the city is heavily affected during hurricane season though which runs from July to October. The heavy afternoon and evening downpours can make beach days more difficult during this season.
For the best weather, visit from December through April. It barely rains during these months, and the weather is less humid than in the spring and summer. Hotel prices will be higher in December and March though with all the people visiting for the holidays and school vacations.
Best Places to Stay in Fort Lauderdale
Fort Lauderdale is an up-and-coming area of Florida. Many people are choosing to come here instead of Miami since it's closer to Orlando and has better beaches. With the city becoming a more popular vacation destination, you'll find that hotel prices are higher than in other large Florida cities.
I would recommend looking into apartment or vacation rentals, but here are my top three choices for hotels!
Budget—Best West Fort Lauderdale I-95 Inn: This basic hotel has a free hot breakfast and free parking. It's a little further out of the city, but the access to I-95 can still get you anywhere you want to go quickly. You can book a suite if you want extra space or a pull-out couch for an extra guest.
Mid-range— The Westin Fort Lauderdale: With upscale rooms, an outdoor pool, and a hot tub, The Westin is one of my favorite places to stay in Fort Lauderdale. I also love the Mediterranean restaurant on-site. They have delicious cocktails, and the tables on the terrace have the best views of the lagoon.
Luxury—Hilton Fort Lauderdale Beach Resort: This is the place to stay if you want to be pampered. It's also only one mile from Las Olas Boulevard, so you have great access to all the best shopping and restaurants. Make sure to book a massage at the spa and spend time tanning at the huge outdoor pool.
Best Restaurants in Fort Lauderdale
El Vez Fort Lauderdale is the best place to visit if you're craving Mexican food. Make sure to grab a table on the patio overlooking the ocean while you eat. They serve breakfast, lunch, and dinner, along with daily happy hour specials. Make sure to try the seafood enchiladas or the prime brisket flautas.
Boatyard is probably the most popular restaurant in Fort Lauderdale. They have fresh-caught seafood, steak, brunch, and a full vegan menu. Make sure to try my favorite cocktail—the Bubbles and Blossom Mojito!
Coconuts is close to the beach and have great views of the marina if you like to watch the yachts and boats go by. They have all the seafood choices you can possibly dream of as well as salads and soups. No matter what you order for dinner, you have to order the peanut butter pie for dessert.
The Best Fort Lauderdale Activities Are Waiting For You!
Ready for your Florida beach vacation? All the best Fort Lauderdale activities are waiting for you! There are plenty of things to do in Fort Lauderdale, so feel free to make your own itinerary and incorporate some of the places in this guide!
If you want to explore more of Florida, you can also easily fly from Fort Lauderdale to Orlando or Jacksonville. Fort Lauderdale is well connected to the rest of Florida, making it a great stop on your southeast road trip!
Have you been to Fort Lauderdale? What was your favorite activity?
You Might Also Like
Like it? Pin it!