Visiting Dry Tortugas Islands—Florida's Stunning National Park
When you ask people about the national parks of Florida, they probably think of the Everglades rather than the beautiful Dry Tortugas Islands. In fact, a lot of people haven't even heard of this incredible gem of the state.
Dry Tortugas is a secluded national island park in Florida. It boasts beautiful blue waters, plenty of watersport opportunities, and a chance to camp right in the middle of Florida wildlife. It's a gorgeous and tranquil oasis.
Since it's a little further away from Florida's major cities, you can be sure you'll enjoy a quiet and sunshine-filled vacation. It's in the Gulf of Mexico near the Florida Keys, giving you stunning views.
Hop on the Dry Tortugas National Park ferry and head to one of the four main islands of Dry Tortugas to start your vacation! You won't regret your visit.
This post may contain affiliate links, which means I'll receive a commission if you purchase through my links at no extra cost to you. Please read the full disclosure for more information.
Dry Tortugas National Park
Although Dry Tortugas is a Florida Keys National Park, it is one of the lesser-visited areas since they are the last islands in the chain. The nearest island, Marquesas Key, is 37 miles away.
Dry Tortugas may be a little harder to get to than some of the other islands, but it's definitely worth it. Even the ferry ride to the islands offers some great photo ops.
Florida water is usually calm all year round unless there is a major storm coming. If you're concerned the ride may be choppy, don't be. It's actually relaxing as the water is so calm.
Start With Fort Jefferson on Garden Key Island
Although there are seven main islands in Dry Tortugas, you can only visit 4 of them. The main island of Garden Key is home to the famous Fort Jefferson and should be your first stop, especially if you take the ferry to the islands. You can learn about the history of the island and see all the activities there are to do around the island.
Fort Jefferson is the largest 19th-century fort in the United States. It was built to patrol the waters of the Gulf of Mexico and the straits of Florida.
During the later part of the century, the USS Maine was the first ship to depart Florida from Fort Jefferson to sail to Havana, Cuba. It used to be known as "Guardian of the Gulf" and was also used to protect forces during both world wars.
Now, it's a popular place to tour and learn about the history of southern Florida. It's also a great place to start your trip because the Yankee Freedom ferry stops at Garden Key after leaving Key West.
Top Things to do in Dry Tortugas
There are a lot of fun activities on the Dry Tortugas Islands. Here are some favorites you won't want to miss with a little something for everyone.
Go Snorkeling
Since only 1% of Dry Tortugas is dry ground, you can make the most out of your visit by snorkeling and diving. The reefs near Dry Tortugas are the third-largest in the world, so there are tons of marine life to see.
Pro tip: All the coral reefs and shipwrecks are historically protected, so you can't touch anything.
You can snorkel around Garden Key and Loggerhead Key. While you can't swim in the moat, you can snorkel around the fort's moat to see some cultural artifacts and marine life. You can find a full list of snorkeling sites here.
Check out Little Africa Coral Reef
While there are tons of snorkeling reefs, Little Africa is one of the most popular ones and should definitely be on your list to check out. When viewed from above, it looks just like the African continent and it's stunning. It's just off the north side of Loggerhead Key, and the water conditions are super calm. It's great for new snorkelers and/or children.
Take a Tour of Historic Fort Jefferson
If you come with the Yankee Freedom Ferry, the ticket purchase includes a tour of Fort Jefferson. The guided tour is 45-60 minutes and it's worth checking out. You can also download a self-guided tour app if you prefer to take the tour at your own pace.
You'll be able to see how the fort was built and how people lived in and guarded the fort starting in the 1860s. You can also see how the U.S. Army operated the fort during both world wars.
Spend Time on Bush Key
Bush Key is only open from late September through early February because of nesting season, but it's a must-see if it's open during your visit. Sometimes there's a land bridge that connects Bush Key to Garden Key, depending on how high the water level is. Other times you will need to canoe or kayak to it.
Bush Key is one of the only places to go hiking in Dry Tortugas. There's a one-mile path that takes you along the shoreline, and it's a great place to see wildlife.
Go Birding and Wildlife Watching
Birding and wildlife watching is one of the top activities in Dry Tortugas. If you want to see the bird migrations, make sure you visit in the spring or fall. Sea turtle sightings are also extremely common, with the two main species being green and loggerhead turtles.
Marine life is also everywhere in Dry Tortugas. If you aren't a confident swimmer or don't want to dive, you can take a boating tour. You'll generally get to see sharks, octopuses, tropical reef fishes, coral lobsters, and squid.
Enjoy Kayaking and Paddling
Kayaking and Paddling is one of the best ways to see wildlife and spend time in the water. You can go at your own pace and explore for as much time as you want.
Garden Key has quick paddles that you can do in thirty minutes or less, and there are longer paddles as well. Bush Key and Long Key are the best parts to kayak around if you want to see nesting birds.
If you're looking for a longer paddling opportunity, check out Loggerhead Key. The current can get strong, though, and it has long open waters, so it's more suitable for advanced kayakers.
You need a permit to kayak or paddleboard anywhere in Dry Tortugas. Make sure to visit the dock house at Garden Key to get one. The park rangers there will also guide you to where you want to go, and they'll make sure you have maps and safety information.
Take a Seaplane Charter Tour
A seaplane tour is a great way to get a breathtaking aerial view of Dry Tortugas. Seaplane Adventures of Key West is the only seaplane service offered in Dry Tortugas National Park. Every ticket gets a window seat and a headset so you can hear the guide.
Before getting to Dry Tortugas, you can also get an aerial view of Key West and the old historic downtown area. The planes also pass low over Fort Jefferson, which provides some incredible photo opportunities.
Seaplane Adventures of Key West is located at 3471 S Roosevelt Blvd, Key West, FL 33040. They have tours leaving every morning and afternoon. Tickets start at $341 for a 4-hour trip.
How to Get to Dry Tortugas Islands
Dry Tortugas National Park is only accessible by boat. If you have your own boat and a boating license, you are free to dock it at Garden Key. You can also take a seaplane charter if you prefer to arrive by air, but it's one of the more expensive options.
Most people choose to take the Yankee Freedom Ferry. It leaves 1000 Grinnell Street in Key West every morning at 7:30 a.m. and leaves Dry Tortugas at 3:00 p.m.
How to Get Around Dry Tortugas
The best way to get around Dry Tortugas is to sign up for a guided tour or charter. If you have your own boat, you are also welcome to take it from island to island.
You can check the national park's service's page for a full list of guided tours including snorkeling, kayaking, and birding. Browse for the type of tour you want and choose a guide.
When to Visit Dry Tortugas
The best time to visit Dry Tortugas is during the off-season months of February through May. Florida weather, especially in the southern parts of Florida, stays warm almost all of the time. If you visit in the winter months, you are sure to have a nice summer vacation.
The months of June, July, and August are usually the busiest because more people are off from work and school. Towards the end of summer, Florida typically has more storms and hurricanes, so always try to check the radar if you plan to visit during this time.
How Much Time to Spend in Dry Tortugas
Most visitors recommend that you spend about one day on each of the main four islands in Dry Tortugas. If you don't have time to spend four days, or don't want to visit all the islands, you should still try to spend one day on each of the islands you want to see. This should give you enough time to snorkel, swim, and set up a campsite if you plan to camp overnight.
Where to Stay in Dry Tortugas
Budget: The only place to stay in Dry Tortugas is to camp on Garden Key. Dry Tortugas National Park camping a great way to experience the island because you'll get amazing stargazing opportunities and even better sunset views. 
You must bring all your own supplies, including a tent, freshwater, food, ice, and fuel. Composting toilets are available within the campgrounds, and campers are free to use the rinse showers on the Yankee Freedom Ferry.
Mid-range: DoubleTree by Hilton Hotel Grand Key West has tons of amenities, including an outdoor pool and an on-site restaurant. They also have a free shuttle service to Old Town Key West and many other popular tourist attractions. All rooms have large beds, flat-screen TVs, and mini-fridges. Larger rooms are also available.
Luxury: Grand Marina Suite is a great Dry Tortugas hotel in Key West, only 5.6 miles from the Ernest Hemingway House and Duval Street. All rooms have private patios and access to free WI-FI. They also have a holiday home for rent, which is perfect if you're traveling with a large group. It's also less than 2 miles from Key West International Airport. 
Where to Eat in Dry Tortugas
Have a picnic in Dry Tortugas. There are no places to eat inside the national park, but there are plenty of covered picnic areas. The campsites also have grilling areas and can be used by anyone if they aren't full of campers. Feel free to make a hot meal if you don't feel like sandwiches.
Firefly West is one of the closest restaurants to the park entrance, and it's great for southern food and classic southern hospitality. Try the pan-seared pork belly or the low-country gumbo. They also have amazing small plates including fresh-baked biscuits.
Santiago's Bodega has several locations throughout Florida. They have an amazing happy hour every day and traditional Spanish tapas. Make sure to try the shrimp & chorizo or the lamb patties. Vegetarians also have plenty of options including cheese plates, patatas bravas, and raw and cooked vegetable plates.
Top Things to Do in the Florida Keys National Parks and Key West
Even though Dry Tortugas is secluded, you can still visit other islands in the Florida Keys pretty easily. You can also head back to the mainland to laidback Florida City or to Key West for a greater variety of activities. 
Key West is one of the best Dry Tortugas day trips as there are many museums and fantastic places to eat.
See the Ernest Hemingway Home and Museum
Take a guided 30 minutes tour of Ernest Hemingway's home in Key West. After the tour, you will be able to walk around the gardens, home, and writing studio. Reservations are not required.
The Ernest Hemingway Home is located at 907 Whitehead St, Key West, FL 33040. The museum is open every day from 9 a.m. to 5 p.m. Tickets are $18. 
Learn at Key West Butterfly Garden
The Key West Butterfly Garden has over a hundred species of butterflies and over 20 exotic bird species. They also have a special Learning Center where you can discover the anatomy and the life cycle of caterpillars and butterflies.
The Key West Butterfly Garden is located at 1316 Duval St, Key West, FL 33040. They're open every day from 9 a.m. to 5:30 p.m. Tickets are $15.
Explore Fort Zachary Taylor Historic State Park
Fort Zachary is a state park near Key West that is perfect for swimming, fishing, and snorkeling. The fort is older than the Civil War and has daily guided tours as well as exhibits that take you back in time. 
Fort Zachary Taylor Historic State Park is located at 601 Howard England Way, Key West, FL 33040. Tickets are $7 if there are two people in the car with a 50 cent charge for each additional person.
Stroll Down Duval Street
Duval Street is the main street in downtown Key West. It's only one mile long, but it's full of fun local pubs like the renowned Hog's Breath Saloon. There are a lot of great restaurants as well. You can also take a trolley tour around Key West from Duval Street.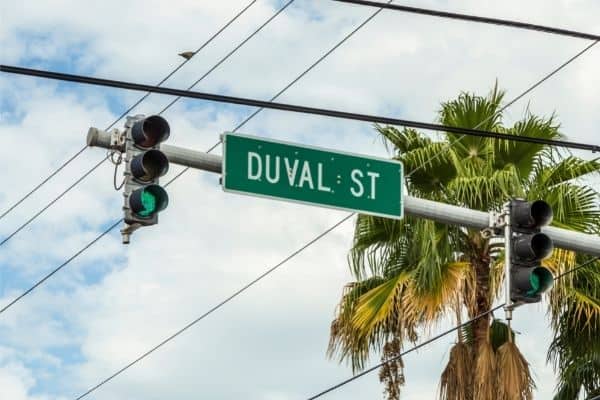 Get Your Nature on at Bahia Honda State Park
If you're looking for another state park in the Key West area, make sure to visit Bahia Honda State Park. They have snorkeling and kayaking rental gear as well as great picnicking and swimming spots. Tropical plants and animals can be seen everywhere.
Bahia Honda State Park is located at 36850 Overseas Hwy, Big Pine Key, FL 33043. Tickets ate $8 per vehicle.
Dry Tortugas Islands are Waiting For You!
Dry Tortugas Islands are an amazing place to visit if you're looking for a secluded beach vacation full of kayaking, snorkeling, and swimming. Camping on the island is a great way to see the wildlife and incredible sunsets.
Key West is also close by, where you can explore more Florida culture and even visit some other beautiful state parks! No matter where you go in the "Sunshine State," you'll have an amazing time.
You Might Also Like
Like it? Pin it!