8 Best Things to Do in Atlanta, Georgia
As the huge state capital, there are endless things to do in Atlanta, Georgia. Looking for the top spots in Atlanta? You've come to the right place.
I lived in Atlanta for almost three years while I was studying at Georgia State University, so I had the chance to explore most parts of the city.
Atlanta is massive, and it can be a bit overwhelming at first to figure out what you want to do there. Especially if you are just there for a few days. I wish I would have had a guide to help me learn my way around Atlanta those first few months I was there!
Not only does Atlanta have some really fun activities, but the food scene is amazing! You could easily spend a week eating your way around Atlanta. In this guide, I've outlined the best places to see as well as the best places to eat and stay!
This post may contain affiliate links, which means I'll receive a commission if you purchase through my links, at no extra cost to you. Please read full disclosure for more information.
Ponce City Market
This was one of my favorite places to hangout with friends during the weekends. This building used to be a Sears building but it's now a food market with shops and small art galleries. The bottom floor is mostly restaurants including my favorite, Ton Ton Ramen & Yakitori.
Grab a beer at the Tap on Ponce. Ponce City Market and the blocks surrounding the building allows open bottles, so you can walk around with your beer and see the rest of the market.
The second floor is mostly shops. There are some great boutique clothing stores as well as an amazing plant store. The candle shop and the small souvenir places are great to grab some knick-knacks to give to family and friends.
Ponce City Market is located at 675 Ponce De Leon Ave NE, Atlanta, GA 30308, United States. They're open Monday through Saturday from 10 a.m. to 9 p.m. and Sunday from 11 a.m. to 8 p.m.
Piedmont Park
Piedmont Park is one of the best places to relax in Atlanta when the weather is nice. They also offer events and festivals throughout the year in the park. Make sure to check out the calendar before heading to the park to see if there is an event you're interested in.
Also, check out a guided tour— they have many different ones depending on your interests. My favorites are the photography tours and the conservancy tours, but they also have bird walks and tree tours!
If you feel like being fit during your time in Atlanta, they also have running clubs, walking clubs, and fitness workshops where you can burn off some vacation calories!
Piedmont Park is located at 1320 Monroe Dr NE, Atlanta, GA 30306, United States. They're open every day from 6 a.m. to 11 p.m.
Atlanta Botanical Gardens
I only got to visit the Atlanta Botanical Gardens once while I was living in Atlanta, and I regret not making the time to go back! Depending on the time of year you go, there might be special events or exhibits which are always fun to check out.
The gardens get pretty busy on holidays and weekends. It can be hard to enjoy the scenery and get pictures, so go on a weekday if you can! The gardens are huge, so you can easily spend a whole day exploring if you have time.
There's also a cute cafe on-site where you can grab some sandwiches and drinks before or after touring the gardens.
The Atlanta Botanical Gardens are located at 1345 Piedmont Ave NE, Atlanta, GA 30309, United States. They're closed on Mondays but open every other day from 9 a.m. to 7 p.m.
Pathway Greenway Trail (Path400)
If you love to bike, jog, or rollerblade, spend a few mornings exercising on the Pathway Greenway Trail. You can also bring your pet along for some exercise, or you can always ask to play with other people's pets that you see along the way. That's what I did, and people always said yes!
Tip: The Greenway Trail eventually merges with the Atlanta Beltline. This is another popular fitness trail that eventually ends at Ponce City Market!
Atlanta is a fairly young city, so you will always see people out jogging and biking at all hours of the day. I don't recommend going to the trails alone at night. Though, I always felt safe in the morning and afternoons walking by myself.
Path400 is located at 3475 Piedmont Rd NE, Atlanta, GA 30305, United States.
Chattahoochee River
If you're visiting Atlanta in the warmer months, you have to check out the Chattahoochee River! If you have a paddleboard or kayak, bring it along for a great ride! The current does most of the work, so it's not too much of a workout.
The easiest place to launch is the same place that the river tubing companies launch their tubes in Duluth, about 30 minutes from Atlanta. If you don't have a paddleboard or kayak, you can also go tubing with one of these companies!
I recommend Chattahoochee River Tubing. They're affordable, and they go over all the safety tips you need to know beforehand. You can do a 2-hour or a 4-hour float. A bus will be waiting to take you back to the original launch site at the end of the float.
If you decide to do your own float with a paddleboard or tube, you will need to take an Uber back to the original launch site to get back to your car. You can also ask to hitch a ride back in the tubing company buses. They usually say yes!
Chattahoochee River Tubing is located at 4349 Abbotts Bridge Rd, Duluth, GA 30097, United States. They're only open from May through September. Tube pricing starts at $23 and kayak pricing starts at $50.
Trips usually leave once an hour during the months they are open. You can also find more information about the launch sites on their website.
Jackson Street Bridge
Jackson Street Bridge is one of the most famous landmarks in the city. The main thing to do here is to take pictures of the Atlanta skyline. It's a great place to snap pictures of Atlanta, especially at night when the buildings have all their lights on!
You might even see people taking their engagement photos here since it's such a popular spot. Does the view look familiar? It may to The Walking Dead fans from the first season! Check out this The Walking Dead tour!
Despite being a bridge that people can drive over, it's very small. There also is barely any traffic. You can safely get the best pictures of downtown from here, so don't miss it!
Jackson Street Bridge is located at 433 Freedom Park Trail, Atlanta, GA 30312, United States. Park on the side street two blocks away at 434 John Wesley Dobbs Ave NE, Atlanta, GA. There's an apartment building right next to the bridge, but the parking is for residents and guests of residents only. Many people park here, but you risk getting towed.
Krog Street Market
Krog Street Market is an awesome food hall with everything from breweries to desserts to any type of food you can imagine. It's much smaller and less busy than Ponce City Market, so it might be a good place to go if you want a quieter atmosphere.
Check out Hop City Beer & Wine for beer and Pho Nam for food. They also have tons of vegetarian and vegan options throughout the food hall.
Krog Street Market is located at 99 Krog St NE, Atlanta, GA 30307, United States. They're open Mondays through Thursday from 7 a.m. to 9 p.m., Fridays from 7 a.m. to 10 p.m., Saturdays from 8 a.m. to 10 p.m., and Sundays from 8 a.m. to 9 p.m.
Try the Best Breweries
Atlanta is a big city for local breweries. If you want to spend the day trying out beers and ciders, there are tons of amazing breweries all around Atlanta!
New Realm Brewing is the best if you want to be near the Atlanta Beltline and Ponce City Market. Try to get a table on the rooftop so you can get the best views of the city. I personally like the beers better at some of the other breweries, but the views and food here make it worth visiting!
Scofflaw Brewing Co is one of my personal favorites. I also love that the patio and garden area are dog friendly! My favorite choices are the Basement IPA and the Mood Ring with Raspberries. They also have a large selection of seltzers.
Eventide is my second favorite. It's located in Grant Park, another cute area of Atlanta to explore—especially if you love history. Check out the Grant Park Sour and the Summer Shade.
How to Get to Atlanta, Georgia
Atlanta has the busiest airport in the world, so you can catch flights from almost anywhere in the world to get there! The airport can be a little overwhelming. Just make sure to follow the signs, and you should be able to find your way around!
Atlanta is also well connected to other US destinations by the highways. The major interstates going into downtown Atlanta include I-20, I-75, and I-85.
How to Get Around Atlanta
You have many options for getting around Atlanta. The city is pretty spread out, so having a car is never a bad idea. Most places downtown do require paid parking, though, which can rack up your daily transportation costs.
MARTA is the official Atlanta transportations services. They have buses and metros and they offer a lot of coverage in the city. They are highly efficient as they come every 10-20 minutes depending on which route you're on. Here's all the information you need for the metro.
The buses tend to come every 30 minutes to an hour so they can be inconvenient if you're in a hurry or trying to see Atlanta in just a few days. You can check out the bus schedules and lines here.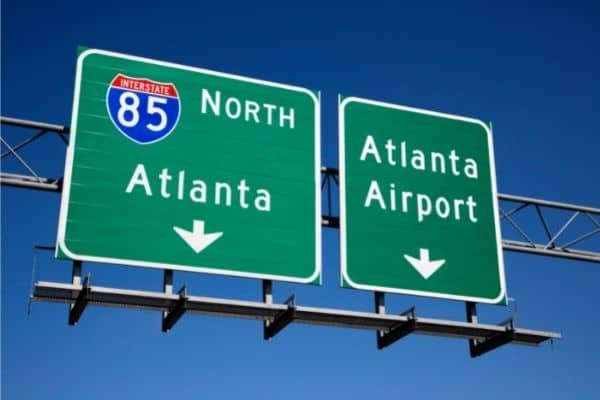 When to Visit Atlanta
The best time to visit Atlanta is in the summer and fall. The summer is pretty hot and can get crowded, but there are so many great events that go on during the summer, including a summer beer festival and an ice cream festival!
If you don't love the heat, Atlanta has beautiful crisp weather in October and November. You won't see a ton of trees changing color since Atlanta is mostly buildings, but the weather makes it extremely nice to walk around and enjoy the city.
Where to Stay in Atlanta, Georgia
Budget: Hampton Inn Atlanta Buckhead is one of the cheapest options in the city without having to be stuck staying in the suburbs. It's only 4 miles from the Botanical Gardens and just a few blocks away from a MARTA station. They have a huge outdoor pool, a free hot breakfast, and free parking.
Mid-range: Hotel Midtown Atlanta is just two blocks from Piedmont Park. The rooms are very stylish and modern with floor-to-ceiling windows, free Wi-Fi, and flat-screen TVs. Make sure to visit the cocktail bar with an outdoor terrace with great views of Midtown!
Luxury: If you have some extra money to spend and want to be in the heart of the city, I recommend booking a room at Hyatt Regency Atlanta. It's right in the heart of downtown so you are close to transportation and many attractions. The rooms have floor-to-ceiling windows giving you stunning views of the city.
Best Places to Eat in Atlanta
Ecco Atlanta has three different locations, one in Buckhead, one in Midtown, and one in the airport. Ecco was one of my favorite places to eat in Atlanta when I lived there. Reservations are required, so make sure to book in advance! I loved the braised pork pasta, the fried goat cheese, and the grilled octopus.
Hopstix is in Chamblee, a suburb of Atlanta. The drive is completely worth it though! It's an Asian Fusion restaurant and a brewery. I love any of the Ramen choices or the raw bar with great sushi selections. They also have great IPAs!
Atlanta Breakfast Club is one of the most popular places to eat in Atlanta. The food is also very reasonably priced, making it one of my favorite places! They have all the classic breakfast dishes you can think of as well as classic American dinner options if you go in the evening.
The Best Things to Do in Atlanta, Georgia are Waiting For You!
Ready to visit Atlanta? I hope this guide helped you plan your itinerary in one of my favorite cities in the United States!
Since Atlanta is huge, there is something for everyone. There's also a good mix of outdoor and indoor activities making it a great city to visit any time of the year.
Have you visited Atlanta? What's your favorite activity?
You Might Also Like
Like it? Pin it!