The Best 11 Things to Do in Savannah You Shouldn't Miss
When you think of Savannah, Georgia, you probably envision southern charm and a well-preserved historic city. The best things to do in Savannah truly revolve around that vision—especially since exploring the historic district is one of the main Savannah attractions.
It's also a beautiful city to take a horse-drawn carriage ride, walk along cobblestone streets, and see beautiful oak trees. One of the greatest things about Savannah is that it's a perfect place for a solo visit because it's such a safe and walkable city.
It's also a great place to visit for a girl's trip or as a couple for a romantic getaway. To get the most of your trip to Savannah and not feel rushed, you will probably need about 3 days. Here are the best things to do in Savannah that will make you fall in love with this charming small city. It's one of the most beautiful cities in the US.
Some links in this article may be affiliate links, which means that if you purchase through them, I receive a small commission. This will never cost you extra, and I appreciate your support!
11 Incredible Things to Do in Savannah
Savannah is a beautiful small city and there are so many things to do there. If you're looking or the best things to do in the city, look no further!
1. First African Baptist Church
Savannah's history was shaped intensely by slavery and its aftermath. The First African Baptist Church was founded and established in 1773, which makes it older than the United States. It's home to the first Black Sunday School in all of North America.
This beautiful building with stained glass windows and solid oak pews is a national historic landmark as well as an active church. Its beautiful architecture makes it one of the best places to visit in Savannah, Georgia.
First African Baptist Church is located at 23 Montgomery Street, Savannah GA, 31401. It's open from Tuesday through Saturday with tours starting at 11 and 2. There is one tour on Sunday at 1. Tickets are $7 for adults.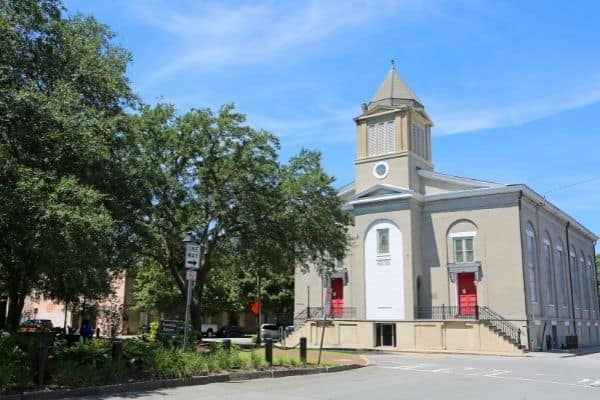 2. City Market
The City Market is fondly known as the "heart and soul of Savannah." It's the best place in the city to go for dining and shopping, as well as nightlife. Wet Willie's is the best place to go for drink specials and bar food. Congress Street Up is a better option for cocktails and a quieter environment.
The market itself is home to entrepreneur vendors and every purchase directly supports the local economy. It's a perfect place to purchase jewelry, cigars, and baked goods that are all locally made.
Savannah's City Market is located at 219 W. Bryan Street, Savannah, GA, 31401. It is open Monday through Wednesday from 10 to 6, Thursday through Saturday from 10 to 8, and Sundays from 1 to 5.
3. Mercer Williams House
The Mercer Williams House is one of the best historical sites in Savannah, GA. It was built in 1868, taking 8 years to complete because of the Civil War. The tour of the house and carriage shop is 40 minutes long and they have amazing and engaging guides. They know everything about the house and its architecture.
The house still has all of its original stained glass, windows, and flooring. It's a great place to visit if you have studied architecture or art history because you can see Renaissance elements along with Greek domes and Italianate structures. Talk about an architecture lover's dream!
Mercer Williams House is located at 429 Bull Street, Savannah Ga, 31401. It is open Monday through Saturday from 10:30 to 4 and on Sundays from 12 to 4. Tickets are $12.50.
4.Tybee Island
Tybee Island is a great day trip from Savannah. It is about a 20-minute drive from downtown Savannah. It's a great place to go to the beach because the water is warm all year round. There are also several outdoor activities like Beach Ecology tours to learn more about marine life, paddleboarding, and kayaking.
The island also has some of the best seafood shacks and bars that are right on the sand. If you like oysters, Tybee Island is an absolute must. Almost all of the restaurants have fresh-caught oysters with grilled options as well.
Tybee Island can be reached by driving from downtown Savannah down US-80 E. The DOT shuttle can also be used to reach the island.
5. Owens-Thomas House
The Owens-Thomas house was built in 1816. It has a beautiful garden, carriage house, and slave quarters, and you can see all of them on the tour. George Owens bought the house in 1830 and he had over 400 men, women, and children as slaves to work on his plantation.
Owens' descendants lived in the house until 1951 when it was given to the Telfair Academy of Arts. It was later opened to the public as a museum in 1954. During the tour, you will see how the history of slavery shaped the mansion and the entire city of Savannah. If you really want to understand the realities of living during that time, this is the place to go.
Owens-Thomas House is located at 124 Abercorn Street, Savannah GA, 31401. It is open from Thursday to Monday from 10 to 5. Tickets are $22.
6. Fort Pulaski National Monument
Fort Pulaski is located between Savannah and Tybee Island. The fort itself is on Cockspur Island, but the monument is also on parts of McQueen's Island. The fort was a base for the Union Army during the Civil War.
After the war ended, the fort became a national monument, but not until 1924. Fort Pulaski underwent massive repairs before it could be opened to the public. At the beginning of World War II, the fort had to close to the public again because it was being used as a US Navy base.
Finally, in the 1980s, Fort Pulaski was officially open to the public again and hasn't closed since. On Cockspur, you can take a tour of Fort Pulaski and learn about all of the military history. Cockspur Island also has many hiking trails and beautiful shorelines, making it one of the best places to visit in Savannah, Georgia.
Fort Pulaski National Monument is on US 80, Savannah GA, 31410. It can be visited every day from 9 to 5 and is $10 to visit.
7. Forsyth Park
Once a field for Confederate troop training, Forsyth Park is now a place for locals and tourists to get some peace and quiet. They have long walking and jogging trails if you feel like getting some exercise during your vacation. It is an amazing free thing to do in Savannah, GA.
Depending on the week you are there, you may be lucky enough to see a festival or concert. Every week of the year, the park has a farmer's market from 9 to 1. All of the plants, fruits, and vegetables are locally grown and the vendors love seeing people from out of town visit their stalls.
Forsyth Park is located at 2 W Gaston Street, Savannah, GA, 31401.
8. Old Fort Jackson
Old Fort Jackson is an incredible Savannah sightseeing destination. It's amazing because you get to learn more about Savannah's history, and you also get an incredible view of the Savannah River. If you visit Savannah in the spring or summer, make sure to see one of the cannon firings at 10 or 2.
Not many cannons from the Civil War era are still operational, but the Dahlgren Cannon is. It can still fire and it's one of the largest war artillery equipment pieces in The United States. Old Fort Jackson is the oldest fort in Georgia, and one of the oldest remaining forts in The United States.
Old Fort Jackson is located at 1 Fort Jackson Road, Savannah GA, 31404. It's open every day from 9 to 4, and tickets cost $10.
9. Skidaway Island State
Skidaway Island is only a few minute's drive from downtown Savannah. It has a large campground and hookups for RVs if you feel like camping or are traveling in an RV. Most people visit Skidaway to go hiking or birding.
There are four different hiking trails and most of them are just a few miles long. Colonial Coast Birding Trail is also part of Skidaway and you can see over 300 species of birds. The trail also has other wildlife, swamps, and a few waterfalls along the way.
Skidaway Island State is located at 52 Diamond Causeway, Savannah GA, 31411. It is open every day from 7 a.m. to 10 p.m.
10. Bonaventure Cemetery
Bonaventure Cemetery is free to visit and is regarded as one of the most beautiful cemeteries in the world. It's only three miles from downtown Savannah. You can take a tour with a guide or you're free to roam certain parts of the cemetery by yourself.
Free guided tours are given on the second weekend of every month. They do have maps available for $8 and an app that can be downloaded to help you get around by yourself. The app will also give you history for each point you reach, so it's really helpful. Download the app for $4.99.
Bonaventure Cemetery is located at 330 Bonaventure Road, Thunderbolt GA, 31404. It is open every day from 8 to 5.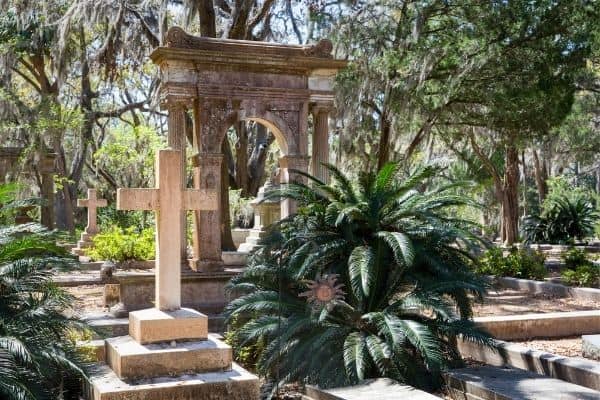 11. Ghost Tours
There are several different options for ghost tours in Savannah, but the best is Savannah Ghost City Tours. A ghost tour is a must and one of the best things to do in Savannah, GA at night. They have 4 different tours including one that is child and family-friendly. Two are rated 16+ as the content is more mature-themed.
They also have a pub crawl combined with a ghost tour that is for people 21 years and older. Savannah has open carry laws, though all drinks have to be in a plastic 16-ounce cup. They can't be carried outside of the historic district so drink up before you leave.
All the stops on the pub crawl put your drink in a plastic cup, which means you can bring an alcoholic beverage with you as you listen to spooky stories. Each stop for all tours will have a brief haunted story based on the location you are visiting. If you don't already, you might believe in ghosts by the end of your tour!
Savannah Ghost Tours is located at 100 Bull Street #200, Savannah GA, 31401. Tours usually depart at 8, 9, 10, or 11 at night depending on how many people there are and which tour you choose. Tickets start at $24.99 for adults.
Day Trips from Savannah
If you're spending more time in Savannah, it's always a great idea to take some day trips! Here are some of the best places around Savannah that you can reach in just a few hours:
How to Get to Savannah
Savannah has a small airport (SAV) that has arrivals from a few select cities on Allegiant Air, Delta, American, and Southwest. If your home city does not fly into Savannah, you can fly to Atlanta and connect to Savannah. Atlanta International Airport is one of the largest airports in the country and it's about a 3.5-hour drive to Savannah.
Take I-75 S to I-16 E until you get to exit 167 for ML King Jr. Boulevard. Alternatively, some people fly into Orlando International Airport and take I-95 N to I-16 E. It is about a 4-hour drive from Orlando, and Savannah is a great place for a road trip from Orlando.
How to Get Around Savannah
If you stay in historic Savannah, most of the sites on this list are within walking distance. Savannah also has a special transportation system called DOT. It has 24 stops throughout the downtown area. The best part is that it's completely free and runs until midnight every day but Sunday. On Sundays, the last bus is at 9 p.m.
The city is also amazing to bike around, and bike rentals are available. Even if you have a car with you, it's better if you leave it at the hotel and use the DOT or biking system. Parking in Savannah can be difficult and the downtown area can be confusing to drive if it's your first time visiting.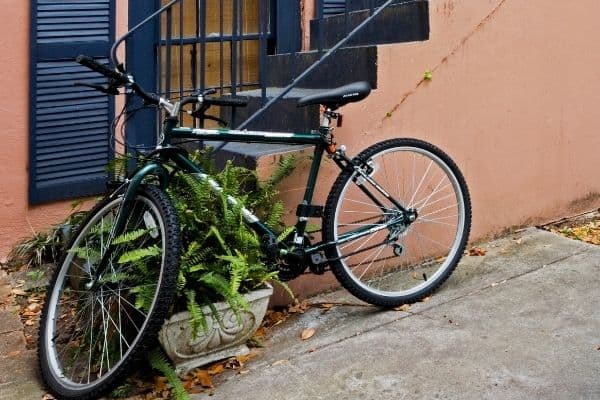 When to Visit Savannah
Being on the coast of Georgia, Savannah never gets very cold. It usually never drops below 45°F (7°C) and only lasts for a few days. So, visiting in winter is a good idea because it's considered off-season. Hotels are much cheaper and the buses will be less crowded.
Savannah has more festivals in the spring and summer months (March-July). If you have your eye on some art or jewelry festivals, try to come in the warmer months. The azaleas and trees usually begin to bloom around April as well and the city looks beautiful.
Where to Stay in Savannah
Savannah is a small city, but the hotel prices are comparable to large cities because many of the buildings have been renovated and offer incredible amenities. Hotels in the historic or downtown area will be pricier than those outside the city center, just like most downtown areas in cities.
Budget: The Historic District 1 is a great option on Airbnb if you want to be centrally located at a more affordable price. It is a private room that's walking distance to great nightlife. It also has easy parking if you have a car. 
Mid-range: Planters Inn on Reynolds Square is a great place to stay if you want to walk or bike everywhere. The City Market, Olde Pink House Restaurant, and the Telfair Museums are all within walking distance.
High-End: Kehoe House is located in the historic district and it's stunning. It's a renovated Renaissance mansion offering gourmet breakfast that's cooked to order, a private garden, and beautiful architecture.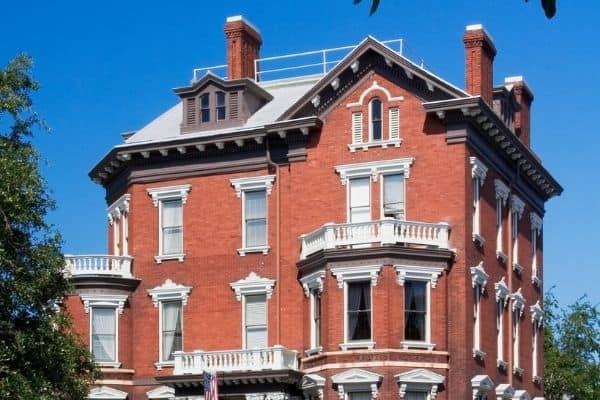 Where to Eat in Savannah
Olde Pink House Restaurant is one of the most famous restaurants in the southeastern U.S. They offer traditional southern food like shrimp and grits, a fried pork chop, and pulled pork in an upscale setting.
Vic's on the River is perfect for lunch, dinner, and coffee at their specialty coffee bar. Reservations are also always required so make sure to make them ahead of time. They have an extensive wine list, shrimp & oysters, and fried green tomatoes.
Husk Savannah is another great place for southern food right in the historic landmark district. The menu changes frequently according to regional availability and what seafood was caught that day. Everything is cooked fresh to order and you can taste it in the quality.
Savannah is Waiting for You!
Visiting Savannah involves walking through history and learning about the South in a way you were probably never taught at school. Savannah's charm and endless wine and dining options will make it hard to leave when your trip is over.
You Might Also Like
Like it? Pin it!