Where to Stay in Savannah: Best Areas & Accommodation
Known for its architectural charm, cobblestone streets, and southern hospitality, Savannah is one of the most visited cities in the southeast United States. It offers some of the best of the South and there are a lot of fun things to do.
Searching for where to stay in Savannah, Georgia, can be difficult because the city has so many different nooks and neighborhoods. While every section of the city offers a unique vibe, choosing where to stay depends on the places you want to visit while in Savannah.
The Historic District is one of the places to stay in Savannah and is the go-to for most people, but it's not the only place available. River Street and Forsyth Park are also popular areas and have some of the top tourist attractions in Savannah.
No matter why you're visiting this charming and historic city, there is plenty to do in every corner. Use this guide to find where to stay in Savannah, Georgia that will work best for you, and start planning your amazing holiday!
This post may contain affiliate links, which means I'll receive a commission if you purchase through my links, at no extra cost to you. Please read full disclosure for more information.
Savannah Accommodation Quick Guide
Need to find the best hotels in Savannah quickly? Check out these places!
River Street Inn: A luxury stay in the historic district, but just steps away from the River District. You can choose a room with a river view or a city view. The bottom floor is a casual seafood restaurant with live music and a cafe.
Hyatt Regency Savannah: Choose this comfortable stay in the north part of the historic district. It's only one mile from the main streets of downtown and one mile from Forsyth Park. Enjoy the heated pool, the lounge with river views, and the 24-hour fitness center.
Modern Garden on Jones: One of the best vacation rentals in Savannah, you don't want to miss this. It's surrounded by cobblestone streets and beautiful brick buildings. You'll get a private bedroom and bathroom, as well as a kitchenette to make small meals. It's just steps from a trolley stop and the haunted walking tours of Savannah.
Embassy Suites by Hilton Savannah: This is one of the best hotels in Savannah, and it's also friendly on the wallet. They have a free airport shuttle, complimentary breakfast, and evening socials with snacks and drinks. You can also upgrade to a suite if you want a separate living room with a pull-out couch.
Historic District
If you've never been to Savannah, you'll probably want to find a place in the Historic District. It's within walking distance to major landmarks. You can easily spend the day gazing at the Cathedral Basilica of St. John or touring the Owens-Thomas House.
Even though it's the center of the city, there's also magnificent landscaping and green space if you want to just chill and relax.
For unique shopping, the boutiques in the Historic District have locally made crafts and souvenirs. There are also high-end luxury shops if you want to go clothes or cosmetic shopping.
Budget—Double Tree Hilton Hotel Savannah Historic District: The best place to stay if you want basic amenities and to be close to the waterfront. It's only 20 minutes from the airport and has a trolley stop right down the street. There's also a heated indoor and outdoor pool if you feel like going for a swim in any season.
There are large spacious suite options if you're traveling as a family or with a large group of friends. You can also check out the nearby Savannah City Market or John Ryan's Bistro!
Mid-Range—The Marshall House: For a stay directly in the middle of the historic streets and sights, book your entire Savannah stay at the Marshall House. Start your day with a continental breakfast, so you're fueled and ready to go for a full day ahead.
There's an on-site bistro restaurant for a quick bite. Enjoy nightly wine and cheese receptions and cozy fireplaces in every room. The best part about the inn is that it's within walking distance of the best restaurants and attractions.
Luxury—Planter's Inn is one of the most elegant hotels in Savannah. It's in a beautiful brick building with elegant rooms. The room amenities include plush soft towels and name-brand cosmetics and toiletries.
Not only will you get first-class treatment during your stay, but you can also easily walk around the historic district and back to the hotel at night. Planters Inn is on a safe and quiet street. The Telfair Museums are only an 8-minute walk away, and the Juliette Gordon part of the historic district is just a 6-minute walk away.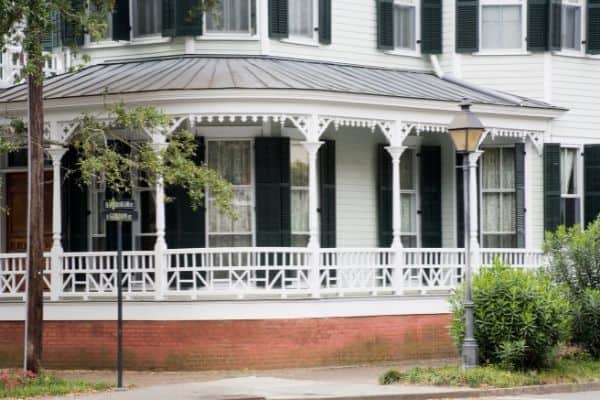 River Street
Coming to Savannah on a girl's trip or a weekend getaway with friends? Check out these hotels in the River District. Stretching right along the Savannah River, the district is known for its vibrant nightlife. Most of the old warehouses from the cotton trade era have been converted into boutiques, bars, restaurants, and clubs.
The best restaurants are right on the river with clear water views. If you come for dinner at sunset, you'll get an unforgettable view. For a skyline view, head to one of the River District's many rooftop bars, including Rocks on the Roof.
Budget—Homewood Suites by Hilton Savannah: Homewood Suites offers a contemporary stay right on the river. They also have extended stay options if you happen to be in Savannah on business. The historic district is about a 15-minute drive away, and the airport is only 10.7 miles away.
At Homewood Suites, you will be an equal distance away from all the major attractions. The rooms are colorful and comfortable, with fully equipped kitchens. During the week, they offer a complimentary light dinner.
Mid-Range—Savannah Porch: For a laid-back vacation rental stay, Savannah Porch is a cozy duplex condo. It's in the River Street district but right on the edge of the historic center. The private bedroom is beautiful and elegantly decorated with Victorian decorations.
The bathroom is private with a shower and tub. The parlor room and patio are shared with the owners of the home. It's less than a 20-minute drive from SCAD (Savannah College of Art and Design) and the Savannah airport. All the shops, galleries, and restaurants on River Street are within walking distance of this beautiful historic home.
Luxury—The Westin Savannah Harbor Golf Resort & Spa: For an upscale stay right on the harbor, the Westin Savannah has everything you need to enjoy Savannah. You can choose a room with a river or golf view. If you want more space for the family or friends' getaway, you can upgrade to a suite with a sitting room and wet bar.
The resort has three on-site restaurants. You don't have to go out and search for the best places to eat if you don't have the time or energy. Enjoy the outdoor pool, fitness center, and bar inside the resort as well.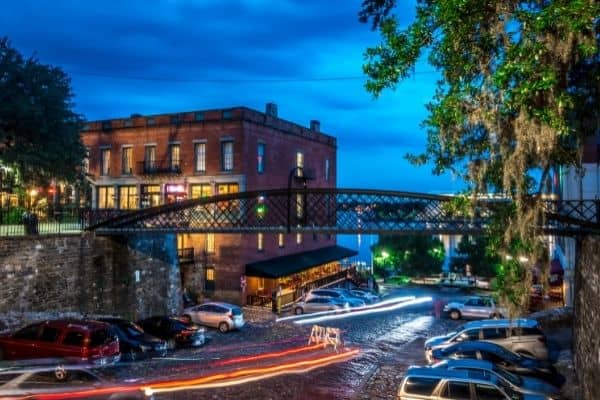 Forsyth Park
If you still want to be in historic downtown but away from the busiest sections, book your stay in Forsyth Park. The park itself is 30 acres and offers the largest green space in the city. If you're ever seen pictures of the giant beautiful oak trees or the Victorian houses in Savannah, they can be found in Forsyth Park.
They have a farmer's market every weekend where you can buy locally made crafts and produce. Since you're still in the southern part of historic downtown, you are close enough to all the major attractions with a quiet place to relax.
Budget—Forsyth Park Inn: This cute inn serves breakfast right on the patio overlooking the park. The inn is only 1.2 miles from the historic district, so you can easily drive or take one of the trolleys. Make sure to spend time in the courtyard, where they serve nightly drinks and appetizers.
Mid-Range—Quality Inn Savannah Historic District: A basic hotel right on the edge of historic downtown and Forsyth Park. It's just one block from the Savannah River. Choose from a basic room or book a full suite for the whole gang.
The City Market is also nearby, as well as nightclubs and bars. The Quality Inn is a great place to stay if you have to be able to drink and then walk back to the hotel.
Luxury—Mansion on Forsyth Park: For the ultimate luxury stay in Savannah, book a guest suite at the Mansion on Forsyth Park. There's an on-site spa offering massages and facial treatments, as well as a bar with fantastic cocktails. It's not far from the historic district—only about a 10-minute walk.
In your free time at the hotel, enjoy the in-room minibars, the cooking school, and the outdoor swimming pool. Most of the rooms have large whirlpool tubs if you want to relax after a long day of walking and touring the city.
Top Things to do in Savannah
Savannah has endless activities and history to keep you busy. Here are some of the top attractions you can't miss when visiting this southern city:
Shop on Broughton Street: Located right in historic downtown, this street has the best boutique shopping. They also have record shops, small cafes, and local art galleries you can explore. 
Take a ride on the Old Town Trolley Tours: If you aren't sure where to start downtown or don't feel like walking around the city, Old Town Trolley Tours will take you to all the best sights. The hop on hop off tours allows you to stop at the sights you want to learn more about. 
Explore Savannah's spooky side: Savannah is known for having a paranormal history and haunted sites. You can take a nighttime ghost walking tour. You can also visit one of the haunted inns. Who knows?  Maybe you'll even have a ghost encounter. 
Soak up the sun at Tybee Island: the island is just 20 minutes outside of Savannah. If you need some vitamin D or want to have a short beach vacation, Tybee Island has beautiful sand and clear water. The restaurants also have delicious fresh-caught seafood. 
Go on a brewery tour: Savannah has many locally made breweries throughout the historic district as well as other areas of the town. It's also home to the Ghost Coast Distillery, one of the first operational distilleries before Prohibition began. 
For more fun ideas, check out these popular tours:
How to Get to Savannah
Savannah does have a small airport. Though, it might be hard to catch a flight here, depending on the airport you're coming from. It can also be a little expensive to fly into since it doesn't serve every major airline. For cheaper flights, check into flying into Atlanta International and rent a car to make the 3.5-hour drive.
If you're heading in from another state, Savannah is well connected by road, including I-75 S and I-17 E.
How to Get Around Savannah
Most people find that they don't need a car to get around Savannah. Especially within the historic district, almost every major attraction is within walking distance. Savannah also has Uber and Lyft to get to some of the outlying areas or for short day trips.
The bus system is also pretty cheap but doesn't run as often as in major cities. You'll want to check the timetables to make sure you get back to your hotel before the buses stop running at night.
When to Visit Savannah
For the most beautiful scenery, you should visit Savannah between March and July. The temperatures start to warm up during this time. All the trees downtown, especially the azalea blooms are in full force during this time too. Maybe not the best time to visit if you have allergies, but it's a stunning photo op.
Savannah gets pretty busy around the holiday times. You'll see that prices for hotels will be high during this time. Since it's far down in the South, Savannah never gets too cold. Even visiting in the winter gives you comfortable temperatures to walk around and sightsee.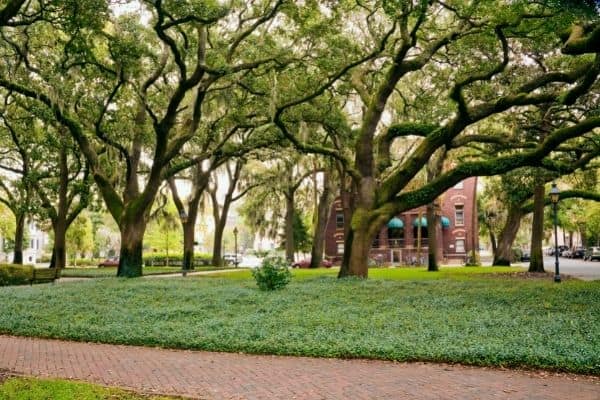 Everything You Need to Know Before Starting Your Savannah Vacation
Here are some common questions people ask when planning a trip to Savannah, Georgia.
Where to stay in Savannah on a budget?
While searching for the top places to stay in Savannah, you'll see that hotel prices in the city are much cheaper than in other cities across the southeast United States. If you're looking for the top budget options, though, you might have to stay a little outside of historic downtown.
The best places to stay in Savannah, GA, if you're on a budget are Quality Inn Midtown and Clarion Inn & Suites Savannah. Both are about a 12-minute drive to downtown and have all the basic amenities you need, including free breakfast!
Where to stay in Savannah for the weekend?
If you're only in Savannah for a few days or a weekend, stay in historic downtown for easy and fast access to all the major attractions. This way, you can be sure you have enough time to fit in all your excursions.
Where to stay in Savannah near the airport?
Traveling to Savannah for just one day? Staying near the airport might be the best choice. Hilton Garden Inn Savannah Airport and Country Inn & Suites by Radisson at the Savannah Airport are both convenient options. They're only about 2 miles away from the airport.
Is Savannah Safe?
Just like any touristy city, Savannah has crime. The main things you need to look out for are thieves and mugging, although it doesn't happen often. In historic downtown, it's completely safe to walk around at night and even alone. However, the further you get from the historic part of the city, the more the crime rate increases.
It's also not recommended that you take the buses late at night or by yourself. If you are taking a solo trip to Savannah, make sure to stay downtown so you can walk everywhere and feel safe while being alone!
Book Your Savannah Accommodation Today!
Your search for where to stay in Savannah, GA is complete! From world-class museums to fun haunted tours, Savannah is a must-visit city. Combine it with a southeast United States road trip, or just visit the city for a weekend! Either way, you will be dreading leaving the excitement and history of Savannah.
While there are different neighborhoods and suburbs of Savannah, you will be close to a variety of attractions no matter where you stay. Savannah is a compact city that can be explored in just a few days, but you'll make lifetime memories!
Have you been to Savannah? What was your experience?
You Might Also Like
Like it? Pin it!