Neuschwanstein: One of the Most Famous Castles in Germany
When I was a young girl, I loved doing jigsaw puzzles. I had a number of them that I would put together, break down, then put together again. One of my favorites was a puzzle of this glorious castle nestled in the Bavarian Alps. It was called Neuschwanstein.
Many of you may know it as the inspiration for the large castle at Disney World and the castle in Sleeping Beauty. To me, it was that challenging puzzle that was so beautiful to look at once the pieces came together. I marveled at this castle and swore that one day, I would visit to see it in person.
Maybe it was the inspiration for my obsession with historic architecture. Give me a crumbly old building with an amazing story or a beautiful or unique structure with amazing architecture, and I may just swoon. No matter how many incredible places I've seen, this was always in the back of my mind and near the top of my list.
When I was able to go, it was every bit as majestic as I knew it would be and a worthy destination on its own. But of course, it's nestled into a quaint and picturesque Bavarian town also worth seeing. Here is all about my trip to see Neuschwanstein Castle and the culmination of a childhood dream.
Some links in this article may be affiliate links, which means that if you purchase through them, I receive a small commission. This will never cost you extra. Please read the disclosures to learn more.
The Story of Neuschwanstein Castle (Schloss Neuschwanstein)
Neuschwanstein Castle is a 19th-century Bavarian palace built on the top of a rugged hill over the village of Hohenschwangau. It's located near the city of Füssen in the southwestern part of Bavaria in Germany, close to the Austrian border.
The palace was inspired by both the "castle Romanticism" style as well as the king's passion for the operas of Richard Wagner. The name Neuschwanstein means "new swan," believed to be a reference to a character in one of Wagner's operas.
Many of the rooms drew inspiration from Wagner's characters and his influence can be seen throughout the castle.
Ludwig II of Bavaria
The castle was built for King Ludwig II of Bavaria from his personal fortune. He grew up partly in the area as his father, King Maximillian II of Bavaria, built the nearby neo-Gothic palace, Hohenschwangau Castle. It was the royal family's summer residence.
Ludwig commissioned the castle only two years after Bavaria was conquered by Prussia. The king retreated into a private fantasy world (and was believed to have gone mad). He built this opulent castle to live out his dreams of being a true king. Though in truth, much of his power was stripped in the war.
The castle was built at a time when castles were no longer built for strategic defense. Though this one has the look of a stunning medieval castle, it was built for its impressiveness and beauty.
Construction began in 1869. However, it was not completed until after Ludwig's death in 1886 as he wanted the castle to be perfect. Only 14 rooms were finished at the time and they were beautifully decorated.
More work was done to the castle after his death, though it is still not actually completed. The king only slept in this castle for 11 nights before his untimely death. Sadly, this is probably not he romantic story you might have imagined for this magestic castle.
Visiting Neuschwanstein Castle
Neuschwanstein Castle is a very popular tourist attraction in the area. More than 1.5 million people visit it every year and the summer sees as many as 6,000 people a day! To accommodate this traffic and for security reasons, you can only enter the palace for a 35-minute guided tour.
There is a very well-defined system (German precision, of course!) A block of ticket numbers is called by a lit panel, and only those ticket-holders may enter. You'll see a lot of people milling around the entrance and it can get quite busy. However, it's very well organized.
And before you think about being late—don't. The block of numbers is called and you must be there to enter. They give you a couple of minutes but if you are late, you are not admitted and must buy another ticket.
Tours are also offered for specific topics as well. If you arrive at the castle without a ticket, you will stand in a line and wait for tour availability. That may take several hours during peak season, so it's best to get a ticket and save yourself the wait.
You don't need a ticket to see the grounds and the courtyard, though. So, if you are more interested in the outside, that's an option. Tickets are not sold on-site, and only at the ticket center in the center of Hohenschwangau.
Best Time to Visit Neuschwanstein Castle
The castle is immensely popular with tourists, particularly in the peak summer months of July and August. If you want to avoid the masses of tourists, November through April is recommended.
The castle is spectacular all year round, even in the winter. (Though, it does get quite cold in the area.) To avoid long lines, you will want to get to the ticket center early in the morning or after 3 p.m. when the crowds start to thin.
Neuschwanstein Tickets
Tickets must be bought at the ticket center in the center of Hochenschwangau or you can purchase them online. You cannot purchase them at the castle. It's very easy to find and it's on the main road in the village.
Generally speaking, just look for a large block of people and you're likely at the right place. When I went, the line was over an hour long. However, it moves quickly. There were a LOT of people in it and you can't miss that!
Visit Information
Tickets cost €17.50 (around $18.50 USD) to visit Neuschwanstein Castle. Tickets may be purchased in person at the ticket center in Hohenschwangau, or online. Visitors are limited each day, and tickets do sell out. So, it's a good idea to purchase online or to go early during peak times. Combined tickets are available to visit Neuschwanstein, Linderhof, and Herrencheimsee Castles once during a six-month period for €26 ($30.50 USD). Annual tickets or multi-day passes are also available.
The location of the castle is here and this map shows the path to walk to the castle. It takes 30 – 40 minutes to walk. There is a shuttle bus available that picks you up near the ticket office at Schlosshotel Lisl. The cost is €2.50 uphill/€1.50 downhill/€3 round-trip (around $1.75/$2.95/$3.50 USD). Tickets are purchased on the bus so it's a good idea to have exact change on you.
The ticket center is open 8 to 4 from April to October 15, and from 9 to 3 from October 16 to March. Neuschwanstein Castle is open from 9 to 6 from April to October 15, and from 10 to 4 from October 16 to March.
Visiting Neuschwanstein Castle
The walk from the center of town is around 30 to 40 minutes or so, though as you might imagine, it's very steep in some areas. The shuttle takes you much of the way up the hill. However, there is still a bit of a steep trek after you're dropped off.
Marienbrucke Viewpoint (Marien Bridge)
Stop at Marienbrucke for the most incredible views of the castle. It's truly breathtaking and though it's a popular place for a picture (translate as crowded), it's still worth it.
You get a sweeping view of the castle and the gorgeous area from one of the most beautiful and photographed angles. Even with the crowds, it's worth taking a few minutes to soak it in.
Though the walk is steep, you'll have plenty of reason to stop to catch your breath with the views of the castle as you approach.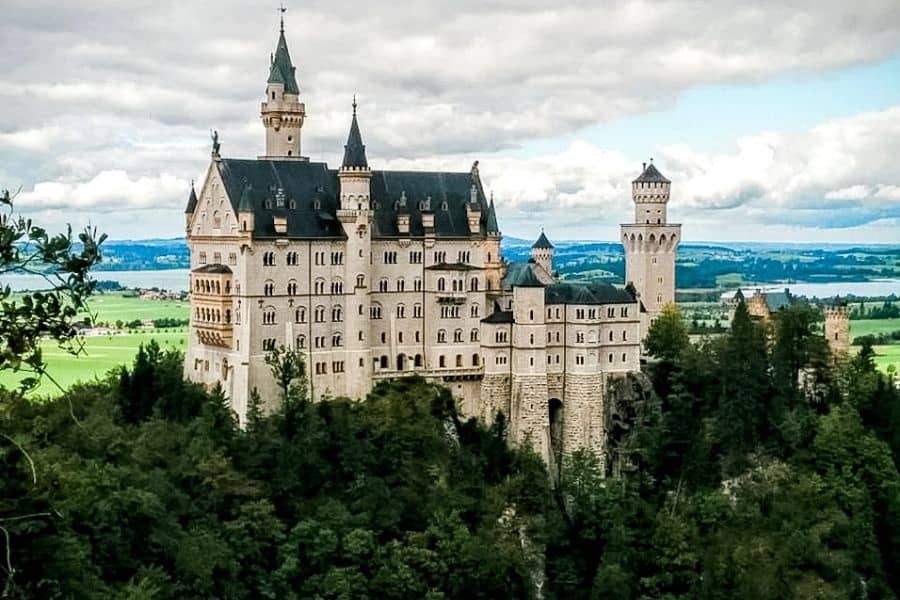 Neuschwanstein Castle Tour
The tour is mostly held on the third and fourth floors of the castle as they have been mostly finished. Only 14 rooms were finished at the time of his death. The second floor of the castle was unfinished and now houses the gift shop, cafeteria, and a multi-media room.
We walked up a winding staircase to the first floor to see the servant's quarters. Then we walked up three more floors with a total of around 130 steps. Though the inside of the castle pales in comparison to the outside, as so much of it was unfinished, what was completed is quite stunning.
On the way to the throne hall, one of the highlights of the interior, there are many painted frescos on the walls sharing stories of the past. The ceilings have a high, gothic arch to them.
Throne Hall
The Throne Room is a highlight of the tour. It's a large and impressive room, as you might expect. Though it's called the throne hall, there actually isn't a throne in the room as the king died before the room was finished.
The room almost looks like you're inside an ornate church. In fact, it was inspired by some Byzantine churches in and around Munich. A huge brass chandelier hangs nearly 13 feet high (4 meters) in this room. It weighs over 2,000 lbs.
I read that this inspiration from churches was intentional for the king, as he saw himself as a king by God's grace and a representative of God on earth.
King's Bedroom
Though most of the rooms are ornate in the castle, the bedroom is especially so. Murals decorate the walls telling the legend of Tristan and Isolde. They are also featured in carvings on the door and ceramic figures in the room.
The woodwork of the bed, the canopy over the bed, and around the room is extensive and very decorative. It took over four years to carve. There is a secret door in the room as well that looks like a wood panel, which leads to the salon and the dressing room.
Other Parts of the Tour
The tour visits a number of other rooms, including a dining room, dressing room, salon, oratory, study, and more Interestingly, there is also a small grotto, not commonly found in castles.
There was a small room next to the grotto, which led outside to a small sitting area that had lots of flowers coming from the cave. The views of the area are stunning from the castle.
The castle had the latest technology at the time. The entire castle was heated and had running water. One of the rooms even had electric lights and the castle had one of the first phones in the area.
A theme you'll see in the castle is swans, and Ludwig was rather obsessed with them. In fact, one of the rooms has the image of over 120 swans in it, in homage to Wagner.
Hohenschwangau Castle
Hohenschwangau Castle ("upper" Schwangau) is a 19th-century castle built by Ludwig's father, King Maximilian II of Bavaria. It was a childhood home of Ludwig.
Schwangau was originally a fortress located on the present site of Neuschwanstein castle. There was a fortress on the site of Hohenschwangau Castle that was called Schwanstein. The names were changed for some reason in the 19th century though it's not known why.
There is a 45-minute tour through the castle. It's not at the same level of over-the-top grandeur that Neuschwanstein offers in its finished rooms, but if you have the time, it's worth seeing.
Visit Information
The guided tour costs €20.50 ($24 USD). The ticket center is the same one where Neuschwanstein tickets are purchased in the center of Hohenschwangau.
It is open 8 to 4 from April to October 15, and from 9 to 3 from October 16 to March. Hohenschwangau Castle is open from 9 to 4 from April to October 15, and from 9 to 5, and the grounds are open from 8 to 4. In the winter, tours are available from 9 to 4 and the grounds are open from 8:30 to 3.
There is a horse-drawn carriage that you can take from the center of Hohenschwangau. Otherwise, you must hike up the hill. Though this castle is not as popular to visit as Neuschwanstein, tickets may still sell out. You can purchase tickets online as well.
Getting to Neuschwanstein
Most people visit Neuschwanstein on a day trip from Munich, and that's the easiest option. I wanted to visit both Neuschwanstein and Garmisch-Partenkirchen, and since "as the crow flies" GP is closer to Neuschwanstein, I decided I would go from there.
It takes a bit longer as you take two buses instead of a train, though in truth, it wouldn't be that bad. Unless you are totally ridiculously inept navigating by bus as I am, in which case, you lose several hours back-tracking once learning your mistake.
So, instead of getting there early in the morning when the castle is opening to beat the hoard of tourists.. whoops. Drat.
So, if you are thinking, "what a waste of time going back and forth to Munich. Instead, I'll just take buses from GP. I'm sure I can figure it out." DON'T. [famous last words] [[sigh]]…
Instead of doing what I did, I recommend going from Munich. If you'd rather take a tour instead of navigating yourself, here's a great Neuschwanstein tour option from Munich.
Train from Munich
To get to Neuschwanstein Castle from Munich, you can take a train from the Munich Hauptbahnhof station (train station) to Füssen. Trains leave hourly through the day and the trip takes a little over 2.5 hours.
Note: not all trains are direct and you may need to transfer. If you do, you will see information in English as well as in German on the signs at the train stations.
Check train times and connection information on the Deutsche Bahn website. Round-trip tickets start at €54 (around $63.25 USD). Another option if you are traveling over the weekend or making the trip after 9 a.m. on weekdays is the Bayern ticket. It's a regional day ticket for Bavarian and costs €25 (around $29.25 USD).
You May Also Like 16 Interesting and Unique Things to Do in Munich
If you are traveling with others, you can use this same ticket with an add-on fee for each additional passenger of around €7 ($8.25 USD). This gets you unlimited travel on all regional and local trains and most buses. Tickets are valid from 9 a.m. to 3 a.m.
You can purchase tickets from the ticketing machine or on the DB website. If you purchase the Bayern Ticket, you will need to provide the names of anyone you are traveling with. (This applies if you purchase tickets online or at the machine.)
Bus from Füssen
To get to Hohenschwangau, you will take a bus. Exit the train station and you'll find the bus stand. Take Bus 73 or 78 to Hohenschwangau for the ten-minute ride.
You'll likely get out of the bus with the crowd, no matter the time of year. Bus drivers will usually announce the stop as "Neuschwanstein Castle," though ask if you're unsure.
This ride is free with a Bayern Ticket and costs a few Euros each way without it.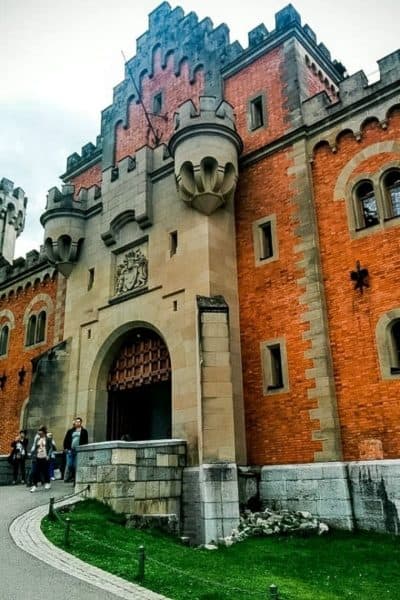 Where to Stay in Town
The town of Hohenschwangau is cute and it would be worth exploring once the throngs of Munich day-trippers return. There are three gorgeous castles in the area to explore, after all! And a charming small Bavarian town.
Villa Ludwig Suite Hotel / Chalet—This charming 4-star hotel is directly below Neuschwanstein Castle. Rooms are comfortably appointed with a Nespresso coffee machine and snacks, and some rooms have air conditioning and iPod docking stations. The restaurant offers wonderfully prepared local cuisine and there is a lovely hotel garden.
Hotel Müller—This hotel is on the Romantic Road between Neuschwanstein Castle and Hohenschwangau Castle. This stately hotel offers elegant rooms, some with a balcony or a terrace with castle views. The Bavarian-style restaurant offers a buffet breakfast and fine wines at dinner.
Romantic-Pension Albrecht—This charming Alpine-style bed and breakfast has been open since 1901. Some rooms have views of Neuschwanstein Castle and all are bright and comfortable. It's a ten-minute walk from Alpsee lake and a quaint place to soak in the Bavarian lifestyle.
All of these hotels are in the center of Hochenschwangau and are within a 20-to-30-minute walk to the castle.
Where to Eat in town
Most of your time in Hohenschwangau will be visiting the castles. On the main road near the ticket center, there are lots of restaurants to choose from. Here are a few that look good:
Why You Should Visit Neuschwanstein Castle
Neuschwanstein Castle looks like it was written in a fairy tale, with its towers and turrets built atop a cliff, looking down on the village below. It's a stunning castle with breathtaking views of this gorgeous area. Be prepared to be wowed.
You Might Also Like
Like it? Pin it!