3 Best Umbria Towns to Visit—Gubbio, Perugia, and Assissi, Italy
When you think of a visit to Italy, chances are you are considering its most famous areas, including Rome, Tuscany, Cinque Terre, and the Amalfi Coast. You may not consider the Umbria towns to the north of Rome—and that would be a shame.
Italy is an incredibly beautiful country with a wide range of different types of places to visit. From dramatic oceanside cliff towns to large cities steeped in history, Italy really has it all.
Everyone talks about the incredible beauty of the region to the north of Umbria, Tuscany. However, the "green heart of Italy," Umbria, and its beauty seem largely under the radar.
As a travel blogger, I have heard of some of the towns in Umbria, but they don't seem to get the same attention as the famous region to the north or Rome to the south. I'm so grateful I had an opportunity to visit this incredibly beautiful area, and I'm happy to help boost the attention it receives!
Umbria is every bit as worth visiting as its famous neighbors. And this region makes a fantastic weekend trip (or longer!) from Rome. Here are three of the best Umbria towns to visit and why Umbria may just have you planning a return visit to see more.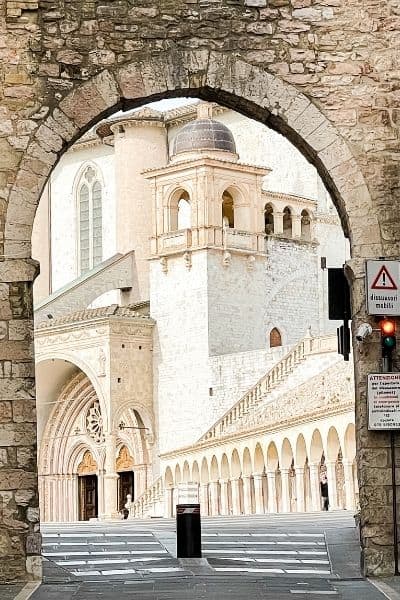 This post may contain affiliate links, which means I'll receive a commission if you purchase through my links at no extra cost to you. Please read the full disclosure for more information.
Why You Should Visit Umbria Towns
Umbria may be the understated cousin of Tuscany. Where much of Tuscany has beautiful sloping hills covered in vineyards, Umbria's landscape is more dramatic.
The Umbria hills are a bit taller, covered in trees and lush greenery. I had the opportunity to visit in the fall, and the hills were a beautiful tapestry of color from the changing leaves.
The land is beautiful, and many of the cities, towns, and villages are too. Many go back hundreds of years or more, with historic medieval areas begging to be explored.
3 of the Best Towns in Umbria
There are a lot of hill towns in Umbria. And I'd be remiss if I said most of them aren't worth seeing. Three of the most popular, and the ones I visited, are Assissi, Gubbio, and Perugia.
For three towns in reasonably close proximity, they couldn't be more different. They give an excellent overview of the type of area Umbria is and why you'd want to visit and see more. Here's an overview of each of these places and why you might want to see it.
I saw each of these places on a day trip, so we were limited on time. But I enjoyed each of them and would love to go back to see more.
1. Assisi
This postcard-perfect town is a gem. It's not only one of the best-preserved medieval towns in the entire world, but it's also a UNESCO World Heritage site. And not just one of the buildings, but the entire town.
Assisi is renowned for its historically significant buildings, medieval art masterpieces, its role in diffusing the Franciscan order, and its "continuity of a city sanctuary."
The town is located around 90 miles north of Rome in the rolling hills of Umbria. It was believed to have been founded as a Roman town called Assisium but was previously inhabited by the Etruscans in the 9th century BC. Legend has it that there was a holy spring there that drew them to the area.
You can enjoy viewing it high on the hill as you approach. And once you enter the city, it only becomes more strikingly beautiful.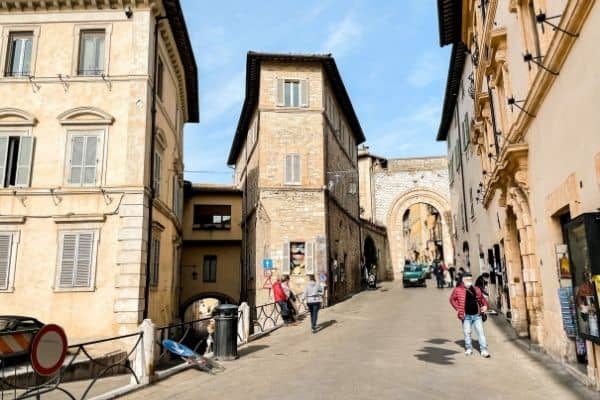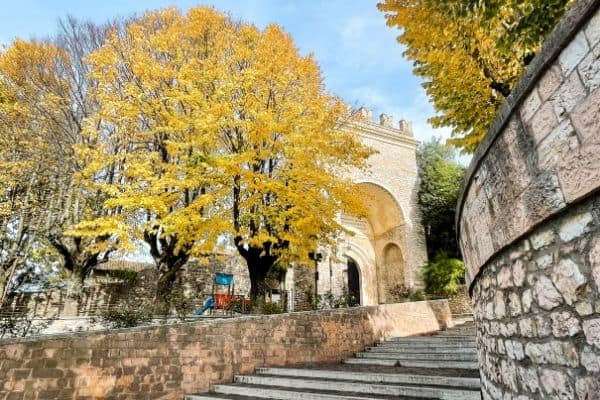 Assisi's Most Famous Former Resident: St. Francis of Assisi
You might have heard of Assisi from one of its most famous residents, St. Francis. It was his birthplace, and he founded the Franciscan religious order in this town in 1208. He worked along with St. Clare to also found the Poor Sisters, later called the Order of Poor Clares.
Pilgrims have come to Assisi since the 13th century to venerate St. Francis and St. Clare.
Top Things to Do in Assisi
Assisi is one of those towns where it's so pretty that you'll be happy just slowly to wander to take it all in. It's truly stunning and a feast for the eyes. There are a number of things you'll want to see and do when you go, as well as just wide-eyed wandering.
Climb to Rocca Maggiore
Rocca Maggiore is a 14th-century castle that sits on the top of the city of Assisi. It's quite a climb to get to it, but you get the most incredible views of this picturesque town and the surrounding area, including the city of Perugia.
It's not clear when it was built, but the first documentation about it was from 1173. There is a major and minor fortress in this massive structure built both for protection and intimidation. It was rebuilt in 1389 due to damage and expanded to its present-day look.
Rocca Maggiore is a great place to start your tour of Assisi. Do the climb, wander, and take a break. Then, the rest of your exploration will be downhill. Enjoy the narrow, cobbled streets and veer off the main roads to where the locals live.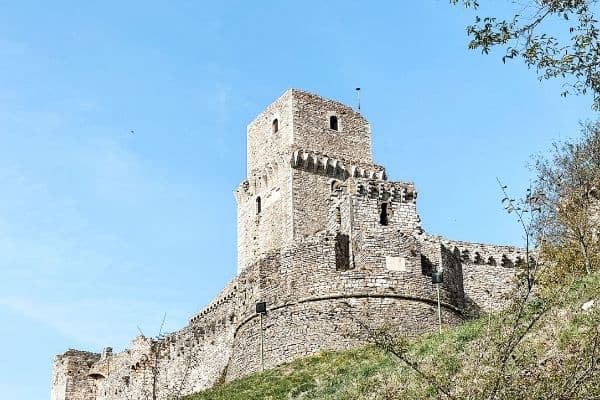 Visit the Basilica of St. Francis
The Basilica of St. Francis is the reason many come to Assisi. It's a gorgeous structure and impressive. In fact, it's one of the first things you'll see when you are driving to Assisi, as it's massive.
The basilica was constructed after St. Francis died in 1228. There is an upper and lower church in the structure. The lower church, Basilica Inferiore, has some impressive frescoes by Pietro Lorenzetti and Simone Martini. And here is where you'll find the tomb of St. Francis of Assisi (Cripta di San Francesco).
In the upper church (Basilica Superiore), there are 28 frescoes by Giotto depicting the life of St. Francis. The upper church is a celebration of his life, and the lower is more of a memorial.
This church is huge and if you decide only to visit one, this should be your one to see. It's well worth the time touring it.
Check Out the Other Churches
If you're interested in historic churches, Assisi is the place for you! There are a lot of them packed in this small city.
Duomo di San Rufino, also known as the San Rufino Cathedral or Assisi Cathedral, is a pilgrimage site. It's the location where St. Francis and St. Clare were baptized. It was built on top of an old Roman cistern in the 13th century and has a gorgeous Romanesque facade.
Chiesa Nuova is located in the central piazza, Piazza del Comune. It was built by the King of Spain, Philip III, in the 1600s and is known to be St. Francis' childhood home.
Santa Maria Sopra Minerva was built inside a 1st century BC temple dedicated to the Roman goddess, Minerva. It was renamed after the Virgin Mary by early Christians. This church has Corinthian columns that are a reminder of Roman times in the area.
Santa Maria degli Angeli is located near the train station in Assisi. It's a lovely domed church that was built in the 16th century. It has a small stone structure inside called the Porziuncola, believed to be where St. Francis founded the Franciscan order and where he died.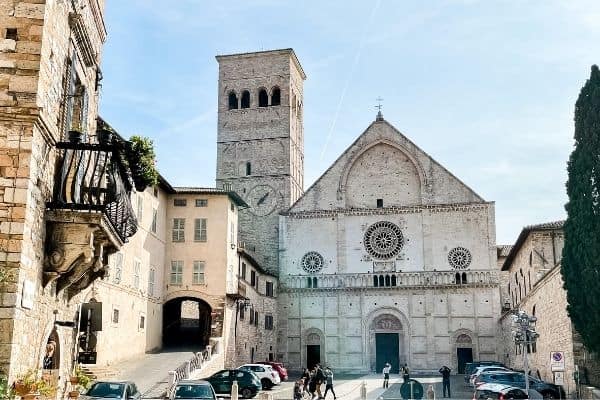 Go Shopping
There are lots of cute little boutique shops in Assissi. Artisans in leather and jewelry proudly display their wares. You'll find pottery, candies, baked goods, and many other places. It's a shopper's paradise.
And when you're shopping, make sure to wander off the beaten path. It's such a lovely town and a minute from the main roads where the shops are in the area where the locals live. It's so quaint, beautiful, and surprisingly quiet.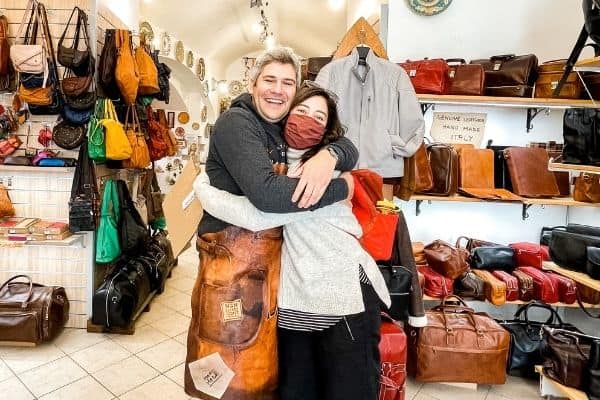 Where to Eat in Assissi
Trattoria Degli Umbri is one of the top-rated restaurants in Assissi. It has a cozy and very family-friendly atmosphere. People rave about the lasagna, but they also have other classic pasta dishes and fresh meat. The vintage wine collection is also huge.
Trattoria Pallota Assissi is another great place frequented by locals and tourists alike. It's located just in front of the Temple of Minerva. While all the dishes are excellent, make sure to try the potato gnocchi, the rabbit alla cacciatora, or any pasta with the homemade mushroom sauce.
Nonna Nini is a really small family-owned restaurant with some of the area's best-reviewed food. The menu is seasonal and changes with holidays, so check the website for the current menu if you want something special.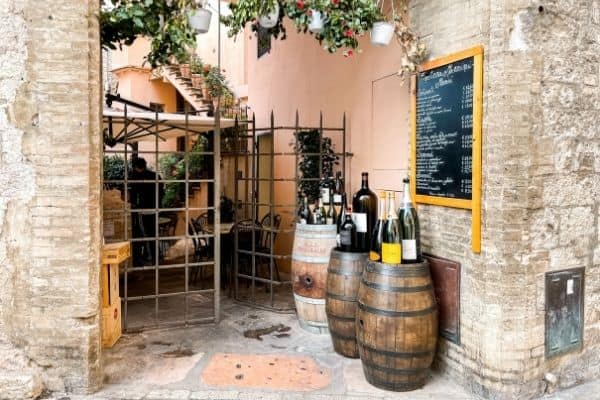 Where to Stay in Assisi
Budget: Hotel Giotti Assisi is by far the most centrally located hotel in Assisi. It's only a 5-minute walk from the Basilica of San Francesco d'Assisi. The rooms are basic, but have everything you need. You also get free breakfast, a great cafe/bar, and a spa with an indoor pool.
Mid-range: Brunelli B&B is located right in the historic center of Assisi. It used to be a medieval building, but now it has become an elegant and modern hotel. Each room follows a color theme with precise decorations. Breakfast is included and made with fresh regional ingredients.
Luxury: Asisium Boutique Hotel is just a few minutes walk from the Basilica of Saint Clare and the Temple of Minerva. The rooms have beautiful tall windows where you can get amazing city views. They also have an on-site authentic restaurant in an old cellar with classic stone walls and high vault ceilings.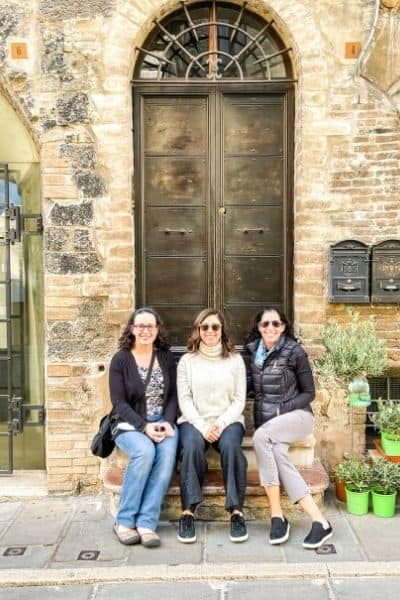 2. Gubbio
Gubbio is another quaint, small Medieval town in Umbria worth seeing. Though it's not quite as picture-perfect or well-known as Assisi, it is worth visiting.
It grew from the ruins of Iguvium in Roman times, and there is an ancient Roman theatre ruin near the historic town center. However, it originated in pre-Roman times.
The historic center is a walled city at the foot of Mount Ingino, just northeast of the capital city of Perugia. It's picturesque, with stone in shades of grey throughout the city.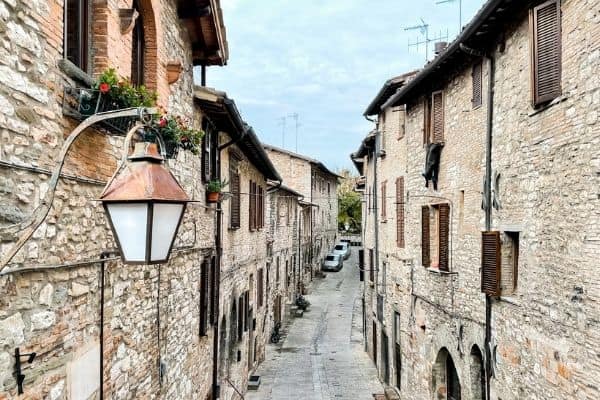 Top Things to Do in Gubbio
There are a lot of different things to do in Gubbio. Even though the historic center is relatively small, it's worth taking time just to wander around. You'll find a lot of beautiful buildings, doors, and scenery.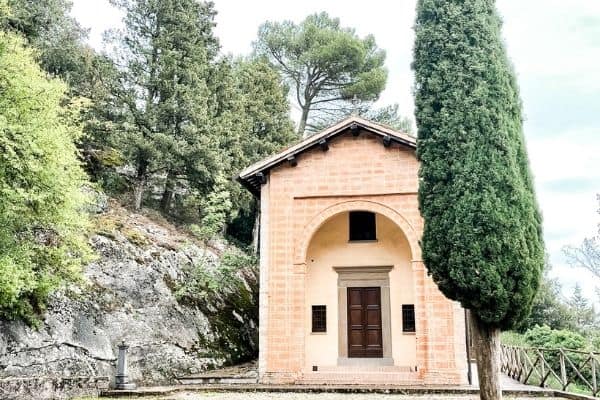 Hike up to the Basilica of St. Ubaldo
If you want a little exercise to be able to enjoy a great breakfast or lunch in Gubbio, hike up to the Basilica of St. Ubaldo. It's a 30-ish-minute hike up a wide path where you can get lovely views the whole way up.
It's a steady incline worth doing and not too difficult. Just take lots of breaks and enjoy the incredible views as you climb.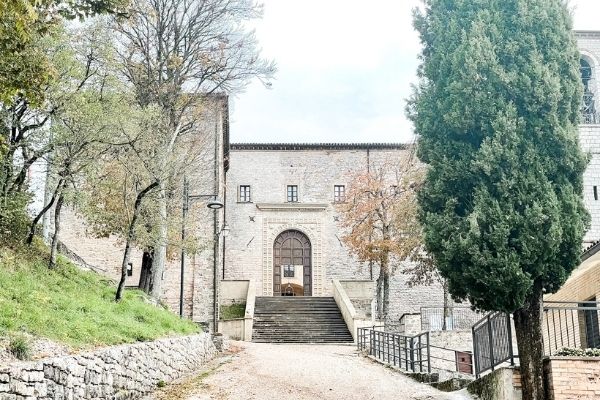 Take the Funivia
You'll find a cable car that takes you from the center of Gubbio, near Porta Romana, up to the Basilica of St. Ubaldo. It's a small, basic car where you stand in a two-person cage. The ride is only a few minutes, and you get lovely views.
If you don't feel like hiking the big hill, this is another great option. Or, you can climb up and take it down, which is what we did.
Visit Tenute Aliani – Castello di Ramazzano
If you have transportation to be able to take a trip from the city center or are game for a taxi ride, check out this picturesque castle. During my yoga retreat, we got to see this treasure during an outing on our visit to Gubbio.
It's a stunning old castle that is being renovated, paying homage to the past. We had lunch and wine tasting after a tour. You can actually stay here too, and it would be quite a treat.
They do sell their pasta and wines, and trust me, it's worth the shipping fee. My only regret is not sending more home! Everything here was incredible, and it was a lovely treat.
Castello di Ramazzano is located at Str. di Ramazzano, 11, 06134 Ramazzano – Le Pulci PG, Italy. If you're interested in staying, here's the link to check out their accommodation. When else can you stay in a castle?
Where to Eat in Gubbio
La Crescia Mia is a small restaurant that is definitely worth trying. Since it's not very big, I recommend making a reservation instead of just heading there one night. They're open for lunch and dinner and have classic Italian dishes. The best part is the bread is freshly made daily, including the amazing pitas that are served with every dish.
Ristorante dei Consoli is in the Hotel dei Consoli in historic downtown. It's more of an upscale restaurant, making it a nice place to go for a date night or a treat-yourself meal. There's also an option to do a pre-set tasting menu if you don't want to spend money on a whole meal and prefer just trying different things.
Taverna del Lupo is a cozy, award-winning restaurant. They also have amazing paintings on every wall that make you feel like you're eating in someone's home kitchen. They have a menu of Italian cuisine as well as a menu for regional Umbria dishes.
If you're short on time and want to grab something and eat while you're walking, check out the market. There are great Italian cold cuts and bread for a tasty meal.
Where to Stay in Gubbio
Budget: Hotel Bosone Palace is just a 5-minute walk to Cattedrale di Gubbio and to the Palazzo dei Consoli. All the rooms are elegantly decorated with hardwood floors and large beds. There's also the option to upgrade to a suite if you need extra space and want a minibar.
Mid-range: Hotel dei Consoli is centrally located, only a 7-minute walk from the Palazzo dei Consoli and an 8-minute walk from Parco Ranghiasci. The rooms have basic features like coffeemakers and flat-screen TVs. The bar on-site has amazing drinks, and the restaurant is great for nights when you don't feel like leaving the hotel.
Luxury: Park Hotel ai Cappuccini is a 13-minute walk from the Palazzo dei Consoli. The medieval stone hotel overlooks the hills of Gubbio, so get a room with a balcony with the best views of the hills and hotel gardens. They have a restaurant on-site, a spa, a pool, and a hot tub.
3. Perugia
Perugia is the capital city of the Umbria region in Italy. It's another medieval city with a nice little historic area in the midst of the city.
It's known for its chocolate, and there are lots of chocolate shops to choose from. Baci, meaning kisses in English, is known worldwide and is widely exported. It's also a university town, with the University of Perugia, founded in 1308, and the University of Foreigners and some smaller colleges.
Though the city of Perugia isn't quite as pretty as Assisi and Gubbio, the center is quite lovely off the beaten path. It's worth just wandering some of the side streets to explore.
Top Things to Do in Perugia
There are a lot of different things to do in Perugia. If you stick to the historic center for convenience, walk off the beaten path and check it out. Here are some of the top things to do when you're there.
Enjoy the Chocolate
As mentioned, there are a lot of different chocolate shops. But my favorite by far is Baci. It's worth visiting, and you are guaranteed to leave with some. Their best-known chocolates are dark chocolate with a milk chocolate hazelnut center with a hazelnut. But they have many options to choose from.
Don't hesitate to do a taste test to compare the various chocolate shops. Or enjoy some gelato. There's a great place near where you first enter the town center area towards one end.
Fontana Maggiore and Piazza IV Novembre
Fontana Maggiore is a beautiful 13th-century fountain with reliefs by master Tuscan stone carvers Giovanni and Nicola Pisano. The square is the city's central square and the social and political square of the community, dating back to Roman times.
Five streets join in this piazza. On one side is the Archbishop's Palace with the Museum of Natural History. On another is San Lorenzo, the 15th-century Gothic cathedral with an unfinished facade.
If you enjoy churches, there are a number to visit in Perugia. You can see San Domenico, Sant'Arcangelo, and the Church of San Pietro.
National Gallery of Umbria (Galleria Nazionale dell'Umbria)
Located in the Palazzo del Priori, you'll find the National Gallery of Umbria. You'll find paintings by local artists with pieces dating back to the 13th century.
Try Some Truffles
There are also a couple of truffle shops in the historic center as well. They offer tastes of white and black truffles in every kind of way to eat them imaginable.
Umbria is actually the heart of Italy's truffle industry. The region produces the largest quantities of black truffles in Italy and a lot of white truffles. So, if you enjoy truffles, this is the region to get them in.
Where to Eat in Perugia
Locanda Del Bartoccio is one of the oldest restaurants in the area, with a reputation for having the best traditional Umbrian food in the area. They also have a beautiful outdoor dining area. Make sure to try the gnocchi with saffron and get the warm focaccia as an appetizer.
Osteria Pappabona is right in downtown Perugia, with a small shaded patio perfect for sitting and people-watching. They have classic Italian dishes but often add in some twists to make them more unique. Make sure to get the cheese and meat platter for an appetizer, followed by some traditional ravioli or spaghetti.
La Taverna is a great traditional restaurant and has even better service. The chef often comes out to talk to tables and even explains a little about the restaurant and its history. They have an amazing lamb rack. The black truffle ravioli with truffle sauce is also incredible. Make sure to end the meal by picking a few things off the dessert cart.
Where to Stay in Perugia
Budget: Hotel Umbria is just a few minutes walk to Palazzo dei Priori and the Galleria Nazionale dell'Umbria. The rooms are simple but have everything you need, including free WIFI and TVs. Breakfast is free and pets are allowed at no additional cost.
Mid-range: Alla Rocca is very centrally located, so you can explore most of downtown Perugia on foot. The rooms are modern with a minimalist design. All the rooms have expresso makers and large TVs. They are also pet-friendly for a small additional fee.
Luxury: Castello di Monterone is on a hill between downtown and the Italian countryside. The rooms are extremely decorated and beautifully decorated. It's located only a few miles from the Benedictine Abbey of San Pietro and the Palazzo dei Priori. They have a breakfast buffet, a bar, and a spa.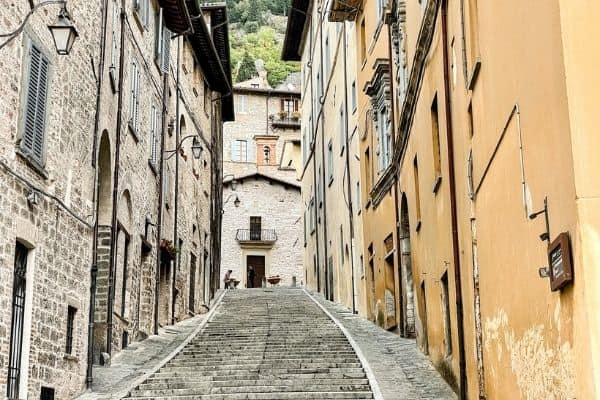 When to Visit the Umbria Towns
The spring from April through June is a great time to visit Umbria. You'll find mild weather, though you will likely get some rain. The heaviest of the rain typically is from October through early December. However, I went in late October, and the weather was incredible.
In the summer, temperatures can rise to around 94°F (34°C). In the winter, temperatures will drop in the 30sF (-1°C) in January, typically the coldest month.
It does tend to get more crowded during the summer with tourists, so spring or fall are the best times to go, depending on your tolerance for rain. If you don't mind colder weather, the winter tends to get little precipitation and is a good option.
How Much Time Should You Spend?
Plan to spend as much time as you can in the charming hill towns of Umbria. I spent around a day in each and felt like it was enough to get a feel for them, but it left me wanting more.
If you can, plan for a few days in these charming areas.
Other Incredible Umbria Towns
Have more time and are looking to venture further into Umbria? There are several other beautiful towns to visit while in Umbria.
Spello—This lovely, honey-colored town is postcard-perfect. Meander through the winding medieval streets and get lost in the fragrance of flowers if you visit in the springtime and summer.
Orvieto—This small town is located on top of a volcanic butte, offering beautiful views of the surrounding countryside wherever you look. The must-see 14th-century Roman Catholic cathedral looks over the town with its impressive architecture.
Todi—If you're looking for a small town that appears untouched by tourism, Todi is the place for you. It's located on a hilltop overlooking the Tiber River. It's a great place to enjoy authentic local life.
Don't Miss Visiting These Top Umbria Towns
Umbria isn't high on many tourist lists, so it's a well-kept secret in that way. These towns are charming, interesting, beautiful, and worth seeing. Given that they are all within a few hours of Rome, they don't take much time to get to them. And they give you a really different perspective, refreshing after some time in the capital city of Italy.
If you want to learn about the quieter side of Italy, visit these top Umbria towns. And don't tell anyone to maintain the charm!
You Might Also Like
Like it? Pin it!