What to Expect at Gypset Yoga Retreat Italy—a Detailed Review
If you're looking for an interesting and unique way to visit one of the most stunning areas in Italy, consider the Gypset Yoga Retreat Italy. I don't think I'm going overboard when I say it might just change your life!
Now, you might be thinking that you're not a yogi and are about to scroll right on past this article. That would be a shame, as you might be quite surprised about this trip.
In this post, I'll share my personal experience at the Gypset Yoga Retreat Italy. It will include a detailed itinerary, what you can expect, and why you might just want to consider going.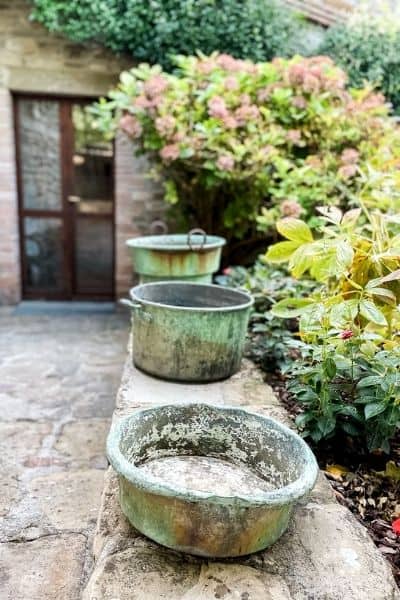 This post may contain affiliate links, which means I'll receive a commission if you purchase through my links, at no extra cost to you. Please read full disclosure for more information. Note: This is not a sponsored post and I was not compensated in any way for writing it.
Why I Decided to Go to Gypset Yoga Retreat – Italy
I have never been on a yoga retreat before. At least, nothing like this, so I really had no idea what to expect. And, confession time—I'm not all that into yoga.
I enjoy yoga, and in the past, I had taken classes. I never considered myself any good at it and hadn't taken a class in several years.
So, what business did I have to join a yoga retreat? I say why not?
I was curious about the experience and looking for a fun place to celebrate my birthday. It was a big "-0" birthday, after all. A friend was going and she invited me along. The Umbrian hills sounded like as good a place as any, and I thought it would be great to experience Italy in this way.
I'll be honest that I wasn't sure about it, given that I hadn't recently done yoga. But it was an incredible way to visit such a beautiful area and a lovely way to connect with myself and others. I would truly recommend this retreat and would consider their others.
If you do decide to book any of their retreats after reading this, please do tell them Sam from My Flying Leap sent you. I'd love for them to know!
(For disclosure, I believe I may get a small discount on a future booking). But even more important—I want them to know I'm happy to support them!
Why a Gypset Yoga Retreat?
Melissa Joy Schoeller and Laurel Van Matre have been practicing yoga and are certified yoga instructors. They have been for more than 20 years each and have been leading yoga retreats together for the last few years.
In 2021, they opened a yoga studio together, Gypset Midwest Yoga. It's located in Minnetonka, Minnesota, a suburb of Minneapolis. Laurel also owns another studio in Northeast Minneapolis, Yoga Garden. They teach a number of different styles of yoga including vinyasa, yin, restorative, Nidra, and more.
In addition to their yoga teachings, both are passionate about travel. As Melissa and Laurel developed a following, people started asking them about organizing retreats. It was a logical next step, blending their passion for travel and yoga.
For many years, they have been organizing yoga retreats separately, and now together, around the world. Their goal is to offer positive and transformative experiences. Did they meet their mark with Gypset Yoga Italy? Read more to find out!
The Gypset Yoga Retreat Location – Italy
The Gypset Yoga Italy retreat is located in the stunning Umbrian hills between the capital of the region, Perugia, and Gubbio. They hold it at a gorgeous country house bed and breakfast on a ridge overlooking a beautiful valley. In the fall, when the retreat is held, it's a tapestry of color as the leaves are close to peak changing colors.
The home is owned by Paola and Irish. They, with their talented and welcoming staff, do an incredible job caring for their visitors in this lovely home away from home. There are ten rooms all adorned with beautiful art and furnishings chosen by the owners.
The property has over 28 hectares of land, including terraced lawns, gardens, and woods. In addition to the main building, which holds the guest rooms and kitchen, there is a separate dining building and yoga studio.
There's also a Moroccan-style hammam/wellness center with a massage room, sauna, and a large seating area with heated floors and seats. Who knew a concrete slab could feel so incredible? And there's a jacuzzi spa and salt-water infinity pool.
Locanda del Gallo is a peaceful oasis in a gorgeous and tranquil area. If you want to truly fall in love with Italy, it's a wonderful place to experience.
Paola and Irish offer lodging for yoga retreats throughout much of the year. In June and July, they are open for individual reservations.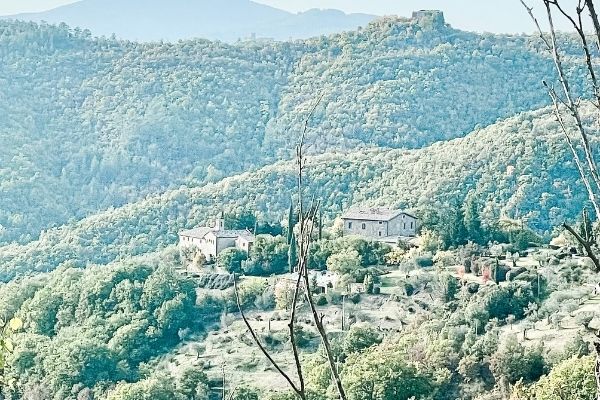 What to Expect from Gypset Yoga Retreat Italy
Each of the yoga retreats offers things to do that are tailored for the specific area. In Italy, it was no different. We went on some hikes to take in the beautiful surroundings, day trips to nearby towns, and of course, had a pasta-making class.
Yoga, food, and connection are all really important aspects of this retreat. Of course, there was plenty of local wines and food to enjoy. Here is what you can expect from this yoga retreat to help you decide if it's right for you.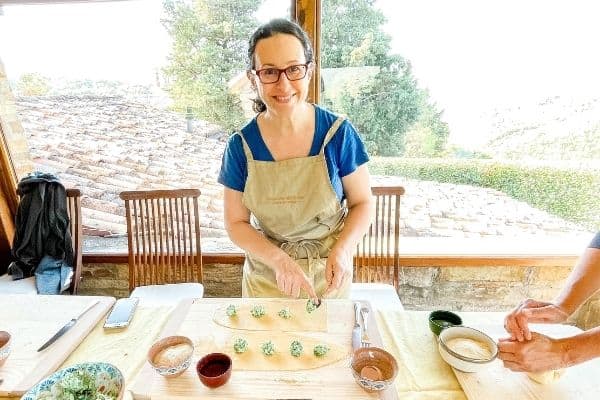 The People Who Attend
The Gypset yoga retreats have a diverse and rather eclectic following. Each group will be different, of course.
There were 18 people in my group, ranging from devoted yogis to people who had taken a few classes. And though nearly half of the people were from Minnesota, (where they have a studio), almost half were from other places, mostly in the US.
The group was mostly women, though there were two men as well. It was a really great mix of people and ages ranging from probably the 30s to 60-ish. Close to half of the group had met at a prior retreat.
We did spend a lot of time together, though you could get solo time as desired. It's funny because with as many people were there, there were times where I was wondering where everyone was!
I went on my own to read and to write and people respected my space when I needed it. When I wanted social time, people were happy to provide!
Daily Schedule
There was a schedule shared before the retreat started. Each day included two yoga classes, with vinyasa in the morning at 8 a.m. and Yin or restorative yoga in the evening at 6:15. We went on three day trips, for those who signed up, to nearby towns.
We also had three coordinated hikes and a pasta-making class with the chef. And Barre was offered a couple of days as well, and a headstand class, too. Additionally, there is a masseuse offering massages.
The day trips, pasta class, and massages were available to everyone who signed up. Transportation was coordinated for the day trips and we were given a ballpark for what it would cost. The final costs depended on the number of people who went (and most did).
The schedule shifted a little bit to accommodate some changes. For example, the day trips got moved a little bit and the hikes as well. And times shifted here or there depending on feedback. But, the schedule remained largely the same.
It was a choose-your-own-adventure. You could do nothing at all daily and choose not to participate, or join only the things that interest you.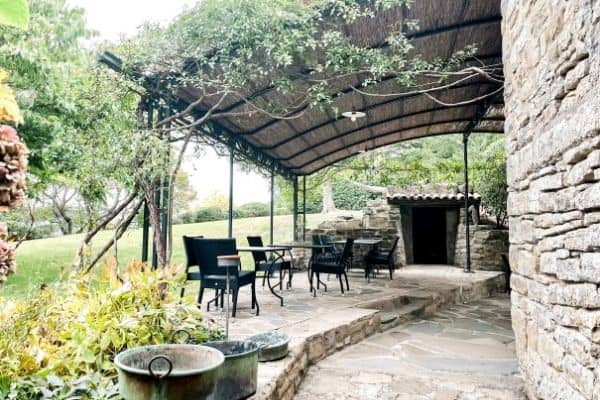 Food and Drinks
Food was served at certain times, depending on what was scheduled that day. Breakfast was a robust affair including homemade pastries, deli meats, bread, jams, homemade yogurt, granola, hard-boiled eggs. There was water, several juices, and coffee with several options for creamer (cow milk and almond milk).
Lunch was a self-serve with several options. It was generally vegetarian with a great mix. We enjoyed the chef's incredible focaccia bread or another pastry. Vegetables were served, and different incredible rice and pasta dishes. We even got to try the pasta we made during our class.
Dinner was a three-course spread, starting with focaccia bread and incredible local olive oil and balsamic vinegar. We started with pasta or soup and had meat generally for the main course. Last was dessert. Some favorites were pumpkin puree soup, lasagna, an Indian curry, lemon zest ravioli, and tiramisu. Everything was amazing.
The chef did an incredible job accommodating food preferences. We had a vegetarian and a vegan in the group and both were delighted with their meals. Before we left for the trip we were asked if we had any dietary preferences or needs and they were very willing to accommodate.
For drinks, there was an honor bar stocked with wine, liquor, and mixers for drinks. We kept track of what we drank and paid the tab separately at the end.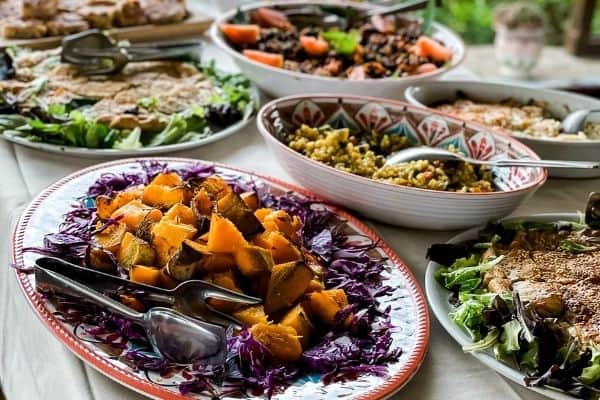 Yoga
Melissa and Laurel took turns teaching classes. It was fun as they both have very different styles.
The studio is gorgeous and overlooks the valley. The classes are challenging and refreshing and the music selection is a lot of fun. They mix in traditional music you'd expect to hear in a yoga studio with some very non-traditional choices.
The vinyasa class was a real workout and energized you for the day. Be prepared to work up a sweat! I'll be honest, I only went to a couple of the morning classes. But when I did, it gave me a great energy rush for the day.
I had never done Yin before and learned some new poses. Restorative was blissfully relaxing. It was such a great way to wind down from the day and to get into a state of relaxation before dinner.
As I mentioned, I'm no yogi and very much out of practice. Both Melissa and Laurel did a great job with offering alternatives for poses based on where each of us was at. I never felt uncomfortable or judged, which made it really fun to participate.
Pets
If you're an animal lover, this is a great place for you. Paola and Irish have three chocolate labs. They are very friendly but will leave you alone if you're not interested. They also have a friendly kitty.
So, if you're like me where you're concerned about being away from your pets when you travel (not for them, but for YOU), you're in luck. You'll get plenty of furry loving on this retreat if you want it. Especially around mealtime.
And if you don't love pets, no worries. They don't go in the main house and they seemed to leave people alone unless they got attention. So, you won't be overwhelmed in any way.
Wellness Center
We spent a good bit of our free time hanging out down at the hammam. It was such a comfy and cozy space, and a great spot to wind down in the evening.
There are a couple of chairs but much of the seating is a large concrete bench. It's heated and was so incredibly comfortable. Who would have thought concrete could be the perfect choice for a cozy seat?
The area around the pool was gorgeous, with incredible views of the valley. It was a bit cool to swim in the pool, though some people did. The hot tub seated eight and we took full advantage of it.
And there are plenty of comfortable lounge chairs all around the pool.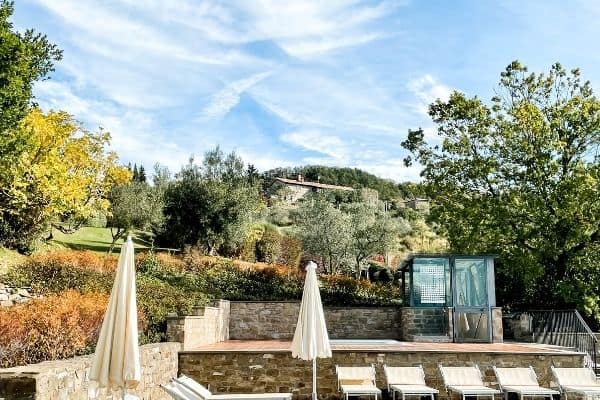 Hikes
There were three organized hikes offered. Some were led by Paola and Beatrice, the main chef. Others were led by Melissa and Laurel.
On the first hike, we went to Alcatraz, a nearby area. There is an art installation from a local artist who had passed away, with his art remaining. You'll see some rather interesting sculptures spread out around his property.
We also walked to an old stone cottage, enjoying incredible views of the valley for much of the hike.
All of the hikes offered incredible views of this area. It was especially beautiful as the leaves were changing colors all around.
The hikes range from a low-moderate to bordering on difficult, but they are worth it if you're up for it! They're also a great way to get to know Paola and Beatrice, who are both really nice and interesting people.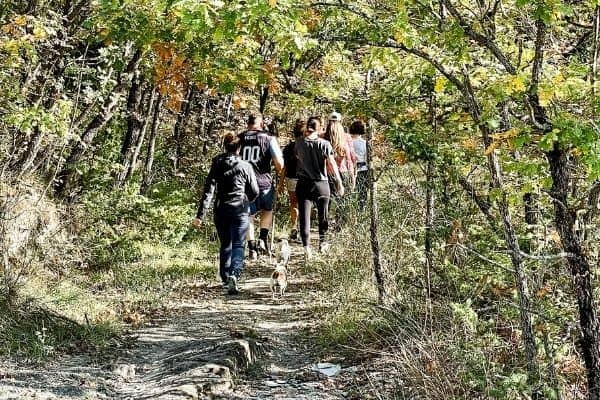 Cooking Class
I'll admit I'm not much of a cook, so I almost skipped the cooking class. I'm so glad I didn't! Not only was it a blast, but we took home some great recipes that I have actually made since returning home! And we got a handy little wooden tool to make pasta.
We made two types of pasta. First, we made a durum semolina pasta and made cavatelli, orechette, and radiatore. They are all essentially the same pasta in slightly different shapes.
Then we rolled out long sheets of pasta to make ricotta herb ravioli. The herbs came from their garden and smelled (and tasted!) divine! We learned how to knead the dough, roll out the pasta, and shape and create the ravioli.
Last, we made some cookies. We added in some chocolate to half of the dough for a beautifully blended brown and white cookie bows.
And while we made our pasta, Beatrice, the chef, made a large tray of focaccia. One of my life goals is to make focaccia bread as well as Beatrice does! Confession: I have a way to go but a solid foundation to learn from!
The class was a lot of fun! Not only the learning part, but we got to know Beatrice and the staff better. And we gained an immense appreciation of how much work goes into our meals! It's definitely a labor of love making fresh pasta and we were quite spoiled at Locanda!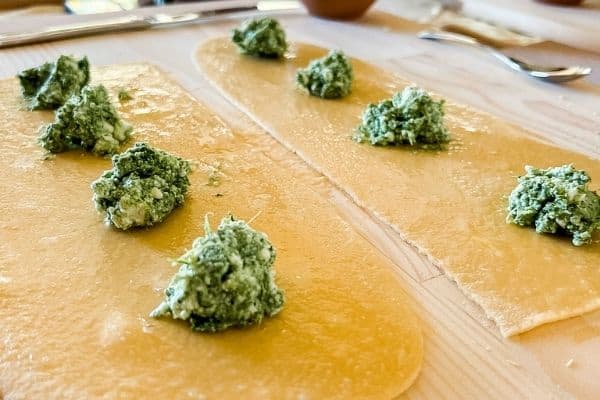 Special Touches
Not only were there planned classes, outings, etc. but there were also some incredibly thoughtful special and impromptu touches as well. It's clear that Laurel and Melissa put a lot of thought and effort into making these retreats a special experience.
Two of us had birthdays during the retreat. The chef baked cakes for each of us. And we had the opportunity to celebrate with everyone, making our birthdays incredibly special.
And, at the end of the retreat, we each got a hand-written postcard with a personal message and some thoughtful gifts. It was incredibly sweet and such a nice way to end our week.
That last evening, Paola and Irish lit a bonfire. We gathered around the fire to share our experience over the week and what we would take away from it. It was truly such a nice way to end an amazing week.
Day Trips
We went on three day trips: Assisi, Gubbio, and Perugia. They were all wonderful and worth doing. Each of these towns/cities are very different, offering a unique view of Umbrian life.
Assisi
Assisi is an incredibly beautiful town up high on a hill. Its most famous former resident, Saint Francis, was born there. Today, it's a pilgrimage site and a popular place for tourists to visit.
The construction of most of the buildings in the city is a lovely tan stone. You enter under a large archway and the town is picture-perfect. You'll see lots of great small shops including a leather shop, jewelers, clothing, pastries, sweets, and more.
There are a number of large beautiful churches as well, with the Basilica of San Francesco d'Assisi taking center stage. And don't miss Rocca Maggiori, a large medieval castle, at the top of the city.
Take some time to wander the back roads of this town that are off the beaten path of tourists. There are some really beautiful areas throughout the town.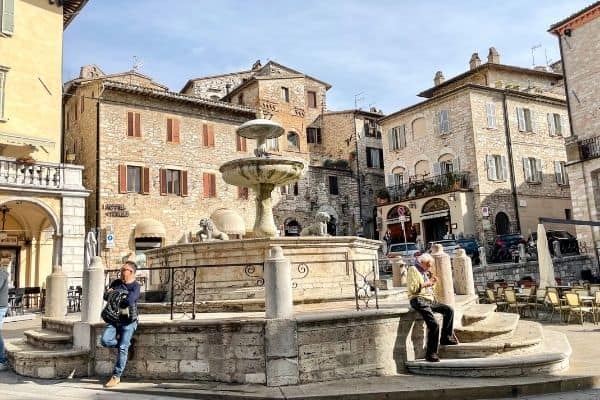 Gubbio
Gubbio is very different from Assisi, but no less beautiful—just in a very different way. The town appears very medieval and construction is largely of dark grey stone. Much of the city center was built in the 14th and 15th centuries.
A fun thing to do if you're up for it is to hike to the top of the large hill overlooking the city. There is a funicular that goes to the top, but where's the fun in that! It's a steep climb but it's worth it, especially for the gelato you'll enjoy when you get back to the bottom.
There's a lovely church at the top offering gorgeous views of Gubbio and the surrounding area. If you're short on time, take the funicular down. It's a cross between a ski lift and a birdcage!
Castello di Ramazzano
One of the highlights of our day trip to Gubbio was our visit to Castello di Ramazzano. This castle was built in the 12th century by the Ramazzani family, who lived there from 1097 to the end of the 16th century.
The Aliani family now owns the castle and has been undergoing a significant renovation effort. The castle is used for events, and you can even rent a room there.
We had a lovely tour with Vincente then an incredible wine tasting with a four-course meal. It was made of some of the products they sell including wine and handmade pasta.
Don't worry about leaving empty-handed, as they ship all over the world! It's a fabulous way to extend the fun of your trip when you have a box of yummy goods from Italy to look forward to!
Perugia
Perugia is the largest of the three cities and the capital of the region. There is a large shopping district so it's a great spot to buy gifts to take home.
You'll find many great truffle shops and chocolate shops. Perugina's Baci is one of my favorites (meaning "kisses" in Italian).
Wander around the Piazza IV Novembre with its beautiful architecture including a museum and a church. Then, step off the main path and explore the city. As you wander, check out the many griffins, the symbol of Perugia.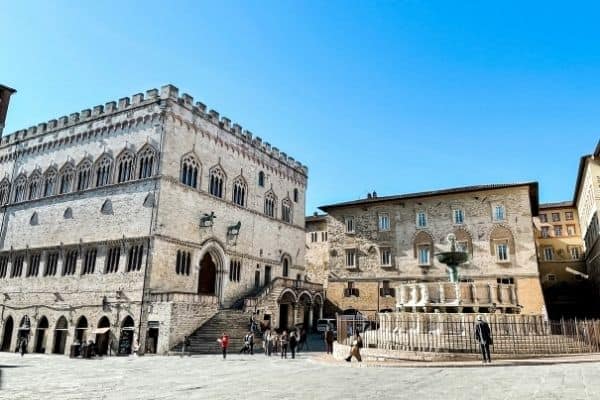 Where are Gypset Yoga Retreats?
There are Gypset Yoga Retreats around the world in a number of different locations. They are constantly working on new retreat locations, so keep an eye on their retreat page to see what new locations may come up!
Many of their most popular locations repeat year after year, and some are every other year. The list of locations is extensive, and currently includes:
Costa Rica
Mexico
Belize
Panama
Joshua Tree, US
Hawaii, US
France
Portugal
Spain
Greece
Italy
Morocco
Commonly Asked Questions About Gypset Yoga Retreats
If you've never been to a yoga retreat, you're probably going to have some questions. And for that matter, even if you have been to one before, you may have questions about this retreat!
I have shared my experience at this retreat. Here are some additional questions you may be curious about that I wanted to answer for you.
What Are These Yoga Retreats All About?
Gypset Yoga Retreats are all about creating a shared experience where all feel welcome. "Come as strangers, leave as friends" is a theme that runs throughout the retreat.
Over the last few years, they now have a following of people who have attended past retreats and now continue to go to new ones together. The retreats are designed to be an adventure to beautiful places with an option to practice yoga. They aren't a typical yoga retreat where you're on the mat for several hours daily.
The idea is to see the world, explore, and take time for restoration. You have the option to do as much or as little as you'd like. Lots of options are offered so people can decide what's right for them as far as their mental and physical health. And of course, great healthy food is always available.
Do I Need to Know Yoga to Attend?
While it may be helpful to have a basic knowledge of yoga (as in: having taken a class), everyone is welcome from beginner to expert. We had a yoga instructor attending, a person who had only taken a few classes, and everything in between.
You absolutely don't need to be a yoga expert to join one of these retreats.
What Do Gypset Yoga Retreats Cost?
The cost depends on which retreat you purchase and your accommodation choice. The cost for a room with one bed, two beds, or more varies. A single room will cost more than sharing a double on a per person basis.
The average cost per person for a double room ranges from $2,200 to $2,900. Some retreats run $1,800 per person for a double room and others are closer to $3,000 per person.
Head to their website and take a look to see which retreat location is right for you.
How Long Have Laurel and Melissa Known Each Other?
Laurel and Melissa met in 2017 and held their first retreat together in Tulum, Mexico in April 2018. The Gypset Retreat concept was born at this time.
Do Laurel and Melissa Go on All of the Retreats?
Yes, both attend every retreat. They both love to travel and consider this their dream job. Not going together just wouldn't feel the same and they have a great working relationship and friendship.
Plus, there is a lot to keep track of and organize, even during the trips. So, their traveling together ensures they have a great time as well as all of the people on the retreat.
Do I Have to Arrange Transportation?
You need to book your flight to the location for the yoga retreat and they recommend the airport to fly into. People have the option to meet at the retreat destination.
For the Italy retreat, we met at a hotel near the train station as it was so far from where everyone flew in (Rome). Laurel and Melissa purchased our tickets and told us what time to meet. (We covered the cost of the tickets at the end of the retreat, along with our day trips, etc.)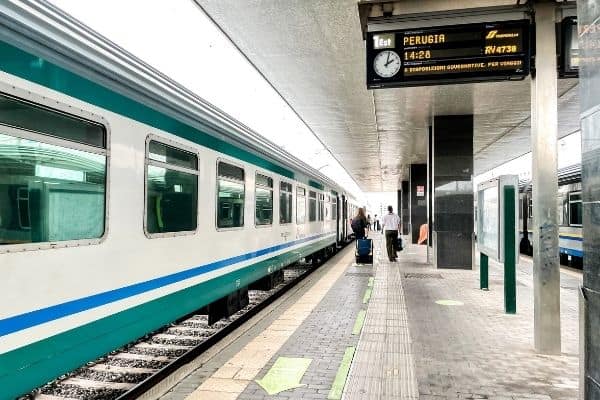 How Do I Book a Massage?
There will be a sign-up sheet at the start of the retreat with open time slots. You'll pay the masseuse directly (and please don't forget to tip).
Can I Get My Own Room?
Yes, you have the option to book your own room for the retreat if you'd like. Getting a solo room does cost a little extra, and the amount will vary. There are limited solo rooms available so if you are interested, you may want to book early.
Are Gypset Yoga Retreats Worth It?
Where else could a yogi, judge, hippie, attorney, and others come together so seamlessly? (And no, this isn't a "yogi, judge, and a hippie walk into a bar" joke!)
If you're looking for an interesting way to explore part of Italy while boosting your fitness and building some incredible connections with people, Gypset Yoga Retreats are a great way to do all that and more. And there are so many other amazing locations to choose from.
Just beware—you might just get hooked and sign up for another.
You Might Also Like
Like it? Pin it!