Why You Should Visit the Herculaneum Ruins + Top Tips
Have you ever heard of the Herculaneum ruins? If you're like many people, you probably haven't. The Herculaneum ruins can be our little secret and I'm happy to share why you want to know about the Herculaneum ruins and why you should visit.
Here's a hint: when Mount Vesuvius erupted in 79 AD, Pompeii wasn't the only city destroyed. Herculaneum was a smaller but thriving city to the west of the mighty Mount Vesuvius.
Herculaneum provides a lot of detail about what life was like during the Roman era. How is Herculaneum different from Pompeii and should you bother seeing it if you visit Pompeii?
Read on to learn why you should visit the Herculaneum ruins and some tips while you're there.
This post may contain affiliate links, which means I'll receive a commission if you purchase through my links, at no extra cost to you. Please read full disclosure for more information.
What is Herculaneum?
Most people have heard about the ruins of Pompeii but far fewer have heard of Herculaneum. It was a small, thriving Roman city with a long history that was destroyed by the eruption of Mount Vesuvius, like Pompeii.
UNESCO World Heritage Site
If you've been a reader on my site for any amount of time, you know I'm a tad bit obsessed when it comes to UNESCO World Heritage sites. Why? Because they are special.
UNESCO World Heritage sites are identified as being unique for various reasons. They can be natural sites or man-made, and represent something special to be cared for.
Part of being a UNESCO site gives them protected status and provides support for their upkeep and maintenance. This ensures they can be appreciated for generations to come.
Like Pompeii, the Herculaneum ruins offer the world a glimpse into the past. One that was largely hidden away for well over a thousand years. And, though there is destruction from the volcanic eruption, it shows a side to ancient Roman life not viewable elsewhere.
History of Herculaneum
Herculaneum was first populated around 600 BC by the Ausci (or Auscii) people. It was a small fishing village given its location right on the sea. In 700 BC, the Greeks came and transformed this small village into a thriving city. Gate walls were built, private and public buildings.
The Etruscans next ruled Herculaneum and in around 89 BC the Romans. It was then named Herculaneum for the legend of Hercules, and dedicated to him. It was a small city, smaller than Pompeii, but it did have around 5,000 residents.
Herculaneum was a residential city filled with the wealthy of the Naples and Rome regions. Looming behind the city was Vesuvius, believed at that time to be a mountain. But of course, we know now it was an active volcano.
Mount Vesuvius Eruption
In 79 AD, Mount Vesuvius erupted. It went off "like an atomic bomb" for three days. Locals received many warnings from the volcano of significant earthquakes.
In 62 AD, there was an earthquake so strong it destroyed nearly half of the city, and earthquakes continued. The residents built temples to appease the gods, not realizing the danger they were in. The nearby residents of Vesuvius didn't know the volcano was active, and they were caught unaware when it erupted.
Herculaneum was destroyed on the second day of the eruption. It was buried in a pyroclastic flow of hot gasses, lava, water, volcanic materials, and vegetation that traveled 50 km per hour (31 mpg). The flow was between 400 and 500 degrees.
Many people fled at the start of the eruption and were able to escape the city. Anyone remaining in the city at the time of the pyroclastic flow died instantly. They were mostly killed by the hot gasses from the flow, as evidenced by the skeletal remains found.
Following the eruption, Herculaneum was buried under over 6 meters (more than 20 feet) of ash.
Living in the Shadow of the Sleeping Beast
As you visit Herculaneum, consider the people living in this area. Mount Vesuvius remains a dormant volcano but it's still very much a volcano. It's considered one of the most dangerous in all of Europe.
It has erupted throughout the centuries, though never as significantly in recent times as the eruption in 79 AD. The last eruption was in the 1940s. There is now a scientific site on the rim of the volcano that would provide around 3 to 4 days' notice if it were to erupt again.
So, what does that say of those who live here? According to my guide, living in this area south of Naples means "you're a little crazy." People live day by day and don't think about it. Their attitude is to seize the day and the future will be what it will be.
What to Expect When You Visit the Herculaneum Ruins
Herculaneum is an ancient city that was preserved under layers of volcanic material. It was found before Pompeii, officially located in 1709 while digging a well. However, it's believed it was actually found earlier though wasn't identified.
Herculaneum excavations began in 1738, 10 years before Pompeii. The volcanic materials that protected the ancient city from looting were very hard to get through. Archaeologists created tunnels to excavate and when you enter the ancient city, you walk through one of them.
Unfortunately, only a small portion of the Herculaneum ruins has been excavated—around a quarter of it. This is due in a large part to the fact that a city was built on top of it, not knowing the treasure lying underneath.
The materials that covered Pompeii were softer, so resources shifted there for excavation. However, Herculaneum is better preserved. You can see detailed mosaics on the floors and some intricate frescoes on the walls.
Herculaneum is where the rich and famous at the time lived, so you'll get a glimpse into what life was like in the elite seaside resort town.
One thing to note is that most of the artifacts found inside the rooms and structures have been removed. Some are in the little museum on-site, so it's worth visiting there. Many were taken to the Naples Archaeological Museum, and I highly recommend a visit.
How Much Time to Spend at the Herculaneum Ruins & How to Visit
Even though much of the Herculaneum ruins have not been excavated, there is plenty to see. You could easily spend a full day exploring. Depending on your level of interest, you'll want to spend at least around a half-day at the site.
I highly recommend you hire a guide or go on a guided tour for at least a couple of hours when you visit. There are labels on some of the structures but very limited information when you're walking around. If you don't know what you're looking at, it'll look like just another ruined building!
Instead, hire a guide or go on a tour for your first couple of hours. Learn about the city, the people, and the history. Wander through the ancient roads to get some perspective of the places you are looking at and why they're special.
Then, after you are educated, wander around on your own and see what you can identify. You'll then easily be able to see the difference between an ancient restaurant, a small home, and a larger home for a very wealthy and important person. And you'll see some of the most special parts of the Herculaneum ruins.
Herculaneum Ruins Private Guide Recommendation
We booked a private guide Antonio Somma for our Pompeii tour based on recommendations by Rick Steeves and on his site. So, we decided to ask Tony about Herculaneum.
He booked us with Veronica, and we were thrilled with her! Reach out to Tony at [email protected] or on What app at +39-3398919489.
What to See When You Visit Herculaneum
There's a lot to see at the Herculaneum site. Here is what our guide, Veronica, showed us as they are some of the most special areas of the Herculaneum ruins.
You'll start a tour looking down on the ruins. Consider that what is ground level today includes the layers of volcanic materials and dirt and silt that has built up over the ruins over the many centuries it was buried. At the time it was an active city, the ground level was even with the remains.
You'll enter through a tunnel carved through the layers of solid pyroclastic flow. It's incredible to think about the destruction of this city and what it must have been like. And also amazing to think of the herculean (intended!) effort to carve through this material to excavate the city.
Today, the water is off in the distance. But, back in the times of Herculaneum, the city was right on the sea. When you exit the tunnel and cross the bridge, you'll see the port area on the left.
The Port and Herculaneum Skeletons
Look closely in the openings in the port and you'll see groupings of skeletons. There were over 300 found here, evidence of people trying to escape the endangered city. These aren't the original skeletons but reproductions placed as they were found.
All of the skeletons were male. Some skeletal remains of women and children were found in homes. It's believed the men were finding passage for their families and tragically never made it.
Guisseppe Magi was the archaeologist who found the skeletal remains in 1981. Our guide, Veronica, is a friend of his, so she shares a lot of great in-depth information on her tours.
There was an exciting new discovery in 2021 as another skeleton was a short way from this grouping of skeletons. They are still studying to determine if they can gather any new insights.
Terrace and the Tomb of Marco Nonio Balbus
Cross the bridge and climb up the metal steps that cover the original stone steps into the city. At the top is a terrace with the tomb of Marco Nonio Balbo.
He was a politician, resident, and benefactor of the ancient city. He financed some significant reconstruction and was given this honor after his death as a result.
You can see some intricate stonework around the terrace and the colors can be seen. The angels on top of his tomb are the originals.
Roman Baths
Herculaneum had both public and private thermal baths. The private baths were for the most elite of the city and they were like a club for those who paid for the privilege. The public baths were used by merchants, sailors, and the like.
Public Baths
The public baths are also separated for men and women. You can tour the female section of the public thermal baths. There is a waiting room with benches and a changing room (apodyterium) with an incredible mosaic on the floor. on the walls, you can see shelves, like an ancient locker room.
There's a massage room and a sauna with alternating cold and hot water providing steam. And one of the rooms has the remains of a glass window high up on the wall.
Women actually only had warm and hot rooms as it was believed cold was poor for the reproductive system. Men's baths had hot, warm, and cold rooms.
Private Baths
In the private baths, there are separate rooms and baths for men and women. They were designed with red walls on the bottom and white on top to reflect the light as there was no electricity.
In the men's bath, you can see a gorgeous mosaic tile floor in the changing area. You can walk through several rooms, similar to the women's bath.
Restaurants (Thermopolium)
You can see a thermopolium in Herculaneum. These were essentially restaurants, where they had a large counter decorated by colored marble with containers filled with hot food for purchase.
There are a number of these found throughout the excavated portion of the city. These were at street level and generally had the home behind it, or even behind and above.
Some of them had a low wall and a hole in the ground for a toilet.
House of the Wooden Partition
Outside of the building was a bench for people to wait outside to meet with the owner. Upon entering, in the center of the floor, you see a cistern to collect rainwater through a hole in the ceiling. Though some homes used this water, the wealthiest got water from the aqueduct. This was then for decoration.
A marble table was in front of the cistern and would have been decorated with silver to indicate the owner's wealth. And there may have been a fountain for decoration.
Directly behind the cistern was a large public office where the owner met with the public, called the tablinium. Here you can see remains of the frescoes on the walls, mosaic on the floor, and original wooden doors.
Near the office was the triclinium, or dining room. In it were three beds for people to lay on to eat. There are bedrooms, or cubiculas, and one had an original wooden bed with iron legs (the iron legs had been replicated.)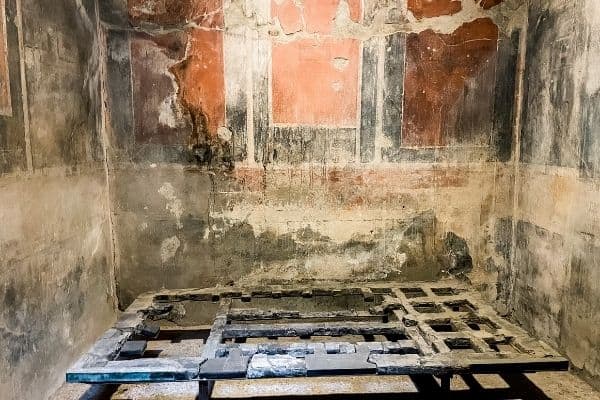 House of Neptune and His Wife
Though some of the buildings were named, like at Pompeii, in truth, it's not known who once resided there. There are a number of homes of wealthy residents that are quite incredible to see.
Many of the homes, like this one, were named for items or artwork found inside the home. This one was structured similarly to the home above. This home had incredible mosaics in the dining room with twin beds for eating. The mosaic with the arch was a fountain.
Villa of the Papyri
Over 1,100 carbonized papyri scrolls were found in what was named the Villa of the Papyri. The scrolls were ancient Greek texts on Epicurean philosophy. Many were written by Philodemus of Gaara (Jordan).
There were also statues found including 16 bronze statues, and many statuettes, busts, and heads. The originals are on display at the National Archaeological Museum in Naples as well as the wall painting discovered here.
The papyri were moved to the Archaeological Museum as well, and the exhibit was unfortunately closed when we went.
Hall of the Augustales
This is the only public area excavated in Herculaneum. It has the original marble floor. There is artwork on the walls and a number of incredible frescoes. One of the most impressive is with Hercules, Juno, Jupiter (represented by a rainbow), and Minerva.
The Augustales were an order of Roman priests started by Tiberius. They were the followers of Augustus, sometimes known as the cult of Augustus. This building was a former college.
Inside the ruined structure is the bedroom of the guardian of the college. His skeleton was found on the bed "guarding" the college until the end.
There is even a balcony with a toilet on the second floor.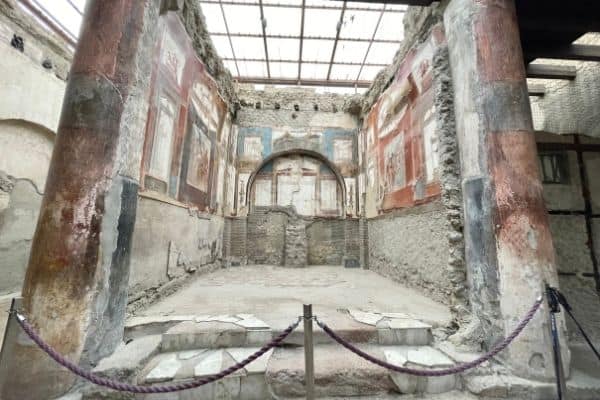 Public Fountain
Water was available to all residents of Herculaneum through the aqueduct. This public fountain was decorated as many were. One was found with carvings of Hercules and Venus.
Other Amazing Findings
There are a lot of incredible things you'll see in the Herculaneum ruins including:
Wood stairs petrified by the pyroclastic flow
Evidence of sliding doors at the opening of buildings
Two and even three-floored buildings
Water draining systems
Toilets
Original wood beams
Press machine for ironing
A shop for olive oil and wine with original terra cotta pots and a wooden door behind leading to the owner's home. The oven can be seen and the apartment on top.
Kitchen and toilet used by slaves
Original lead pipes supplying the city with water
An original wooden screen
Home with a well, garden, and kitchen
A home with petrified wood beams, front doors, and window coverings
A metal shop
A wine shop
Herculaneum Museum and Artifacts
There is a small building on-site with some incredible artifacts from the ancient city. Though most of the treasures removed from Herculaneum are housed in the Archaeological Museum in Naples, there are some incredible finds here as well.
One of the most special things found in Herculaneum was a wooden boat with a soldier in it. You can see the remains of the boat inside a separate structure near the little museum.
Herculaneum Tickets and Visit Information
Generally speaking, you can get tickets onsite as Herculaneum is often not very crowded. People simply aren't as familiar with this site as they are with Pompeii.
It's a good idea during the summer to consider purchasing the tickets in advance if you don't have flexibility on the day you want to go. If you do want to purchase your tickets in advance, go to the Herculaneum official site.
Tickets
Tickets cost 13 Euros (around $14.60 USD). There is also an audioguide available if you don't have a guide. The ticket office does close 1.5 hours before the site closes, so make sure you get there with plenty of time. You don't want to short-change your visit!
Hours
Herculaneum is open year-round.
From March 16 to October 14, it's open from 9:30 to 7:30 (last admission 6).
From October 15 to March 15 it's open from 8:30 to 5 (last admission 3:30).
Visit Information
Summertime is the busiest time at the Herculaneum archaeological site. If you have flexibility, it's great to visit in the spring and fall to avoid any crowds and still have good weather.
There are no restaurants or cafes on-site, so it's best to eat before or after visiting. But don't worry, there are a number of different places to choose from on the way from the train to Herculaneum. And if you get hungry but can't wait, there is a snack machine outside the ticket office.
You can store bags for free at the ticket office.
How to Get to Herculaneum
The easiest way to visit Herculaneum is by train. On the Circumvesuviana train from Naples (Napoli Centrale – Piazza Garibaldi) or Sorrento, go to the Ercolano-Scavi stop.
The train takes around 25 minutes from Naples and 40 minutes from Sorrento. (However, this assumes there are no delays, which was never my experience on this train!) It can be quite crowded from Naples, so be prepared!
It's approximately a ten-minute walk to get to the ruin. When you leave the train station, head downhill to the end of Via IV Novembre and through the archway. You'll follow this path to the ticket office on your left.
You can also take a private or small-group tour to visit Herculaneum.
Herculaneum vs. Pompeii: How Are They Different?
What makes the Herculaneum ruins special is that given the means of destruction by the pyroclastic flow, the city was carbonized and preserved very differently from Pompeii.
As a result, wooden objects and other organic materials like papyrus and food have been discovered. And you'll find two, and even three-story buildings at Herculaneum, where those didn't survive in Pompeii.
In Pompeii, you'll see casts of people made from filling the gaps where their bodies once lay. In Herculaneum, they found skeletons buried under the volcanic materials. More than 300 skeletons were found near the water, assumed to be people attempting to leave but having waited too long.
There are also more hints as to how people there lived including more significantly remaining artwork. Herculaneum has more wall frescoes, floor mosaics, and other artwork than the Pompeii archaeological site.
Herculaneum is a much smaller site than Pompeii. And, there are very few public buildings. So, the forum, basilica, amphitheater, and other public structures have not been excavated. You can see those at Pompeii.
Herculaneum is also much lesser known than Pompeii. So, it's generally much less touristed. Pompeii was quite busy when we went, and there were areas in Herculaneum where we were the only people there.
Should You Choose Pompeii or Herculaneum?
If you have the opportunity to, see both. They both give very different views of ancient Roman times. Pompeii was a commercial city with a lot of shops and restaurants. Herculaneum was a small, very wealthy city where you can tour more homes.
So, if you can see both, it would be a great idea to do so. I would recommend seeing them on different days, though. It's easy to max out on "old crumbly buildings" and we found that after a few hours. And visiting can be quite overwhelming emotionally for people. Start fresh on a new day and see the second site.
If you only have one to choose from, well that's a tough choice! I wouldn't want to be in that position. Pompeii is impressive for its size and of course, it has name-brand recognition (so to speak). Herculaneum is much better preserved.
Hiking Mount Vesuvius
You have the opportunity to hike Mount Vesuvius, and it's a great idea to tame this beast that caused so much destruction. It's possible and easy to do it from Herculaneum or Pompeii. It's closer to Herculaneum, so a good idea to see it from there. There are several options to visit.
Bus
When you get off of the Curcumvesuvius train at the Ercolani stop, look to your left and you'll see the office for the busses to Vesuvius. You may even see a bus directly in front of you. This is the most affordable way to go, and it's easy with Vesuvio Express.
Buses leave frequently, and they provide around 90 minutes at the volcano. This gives you time to hike up, take a little time to look around, and walk back down. The cost for a round-trip bus ticket is 10 Euros (around $11.30 USD).
Tour
You can also take a tour that will take you to both, either a small group tour or a private tour. And, another option is many of the taxi drivers will take you to Vesuvius and will offer to wait a certain amount of time for you to hike it.
Private Driver
When we were heading back to the train station, a taxi driver approached us offering 40 Euros (around $45 USD) for the drive and a one-hour wait. Unfortunately, it was dumping rain so we weren't able to go (they don't allow you to hike the mountain in the rain).
From what I saw from group tours and research, it's a good idea to have 1.5 to two hours for the climb, including 30 minutes to an hour at the top. So, if you go with a taxi driver, you will want to negotiate.
This was the one thing I didn't get to do on my trip and was disappointed. So, it gives me a good excuse to return!
Should You Visit the Herculaneum Ruins?
I'm sure it's no great surprise since you're still reading that I absolutely loved the Herculaneum ruins. This was one of the highlights of my trip to this region and I would highly recommend visiting.
If you do have time to see Pompeii and Herculaneum, I'd absolutely recommend doing both. A visit to Herculaneum would make a great half-day trip, and you could then climb Mount Vesuvius, weather permitting.
And don't miss the National Archaeological Museum in Naples. Seeing the content of these incredible structures in the museum takes the Herculaneum ruin from a decimated city to a place that was one a thriving community. It helps to make it real and even more worth visiting.
You Might Also Like
Like it? Pin it!