What to do in Luang Prabang: Living Land Experience
If you're looking for a really interesting activity in Luang Prabang that is very representative of the area, go no further than Living Land.
The Living Land Company is located around 15 minutes from the historic part of the city. This organic farm is run by the Lao people and it supplies many of the restaurants and hotels in Luang Prabang with vegetables, greens, herbs, and rice.
What is so special about the Living Land, though, is that they offer an interactive tour of the rice farm so you can learn first-hand the process for cultivating rice.
I was really excited to do this visit and to learn more about the culture of the Lao people and how their core food staple is cultivated: rice. I learned a lot and was shocked by how difficult the process is given how inexpensive rice is!
After this tour, I will never look at a bowl of rice the same way again.
This post may contain affiliate links, which means I'll receive a commission if you purchase through my links at no extra cost to you. Please read full disclosure for more information.
Living Land Farm – What is Included
The tour includes pick up, drop off, and an approximately 3-hour tour of the property and walk through of the entire process of cultivating rice. And you're not just watching the process from the sidelines: you get to actively participate every step of the way!
This tour is probably not appropriate for people who cannot walk on uneven ground. It would be difficult to get around.
The cost is 424k kip (just under $5 USD) and includes a snack. The cost without the snack at the end is 344k kip. The Living Land Farm website provides information about the farm, tour, restaurant, and homestay bungalow available. The address is Ban Phong Van, Luang Prabang Town, Laos.
What you get is an incredible and interesting experience on a beautiful farm with wonderful people excited to teach you. And your fee contributes to the farm's community efforts, including free English language classes for children.
My Living Land Experience
I will admit that this trip didn't start off as the best experience: I was told I would be picked up between 7:30 and 8 a.m. I happened to meet the manager of my hotel while waiting in the lobby, and we got to talking.
He's from France and shared his experience in the country working with the Lao people. It was a great conversation, and I really enjoyed talking with him.
At 8:15, he called the Living Land Farm to make sure they were coming, and they said they were. At 8:45, he called again and was told that they arrived, and no one was waiting in the lobby, so they left.
Never piss off a Frenchman!
Around 20 minutes later, a tuk-tuk arrived to take me to the farm. Tuk-tuks are used for transportation around Southeast Asia, but they are a little different in every country. Here they are like a small van open in the back and sides.
Since I was so late at this point, I got my own guide. Usually, tours are for 10 -15 people, and allowing everyone the opportunity to try everything takes a lot more time.
You May Also Like 11 Best Things to do in Luang Prabang
The Living Land Farm and the Tour
The property is beautiful, framed by mountains in the distance and a patchwork of greens, tan and rich browns. There are native-looking structures where some locals live who work at the farm.
There is also a garden area where they grow flowers and vegetables for sale in the local market. Rice isn't sold from the farm but instead goes to feed the village families.
My guide was a 17-year-old boy named Mua. He was in his last year of school and has been working at Living Land for three years. He works all weekend to help support his family, and his English was very good.
Your fee for Living Land contributes to the community efforts and free English classes for children for free! So, Mua was a great example of the good work done by the farm.
Kondauna are located throughout the paddies—they look like scarecrows made of rice stalks and are used to protect the rice.
The Farm-to-Table Steps to Cultivate Rice
There are an impressive fourteen steps, yes, fourteen, to cultivate rice from seed until it arrives at your table to eat.
Step 1: Prepare the Rice
Add a large amount of salt to some water to test the seeds. First, an egg is floated in the water to check that there is enough salt: when the egg floats, it's the right amount.
Seeds are then added to the water, and the seeds that float are removed. The seeds that sink to the bottom are the only ones that are planted.
Step 2: Sprinkle the Seeds
This is done by going mid-calf deep into the rice paddies consisting of mud. The seeds are sprinkled on top, and water is added.
In one week, the rice becomes a small seedling that is around two inches long, and in just one month, it is a fully mature plant. Not one to shirk from an adventure, I kicked off my shoes and waded on in.
Step 3: Prepare the Paddy for Planting
The rice plants in farmed rice paddies are cut down and cleared, and a water buffalo was traditionally used for this as buffalo poop is believed to make good compost. Yes, I was told this AFTER I waded into the mud.
Back in I went into mid-calf deep-sucking grey-brown mud. My guide and another older man readied the water buffalo, Rudolph. He is 7 years old, hard-working, and very friendly.
It was no small feat trying to pull the metal till through the mud. Water is added to start the process. The work is considered men's work, and I see why! When it was set up, he had me go in to do some of the tilling.
Only around twice, I almost did a complete face-plant when Rudolph got on a roll! You move the metal piece and forth to make it easier for the water buffalo.
Getting out of the paddy is challenging as well as the mud sucks you back in. It was fun but started my really appreciating how much work it is to grow rice organically in the traditional way.
Step 4: Plant the Seedlings
Once again, you get into the mud and grab a handful of the rice seedlings. Then you separate out 4-5, then plunk them an inch or so deep under the water into the mud.
Step 5: Control the Water
The water comes from the mountain and is controlled through channels. When enough water is added, the channel is closed. The process of adding water is 4-10 days, then the rice is dried, and weeding is done. The watering time and drying time are equal.
Families and many people do this together, and they have a family song to help the rice grow. We sang one. Weeds are used to compost, and they are rolled into a ball and then mashed into the mud.
Step 6: Harvest
A sickle is used to cut the rice stalks. I waded into the rice paddy and grabbed a good-sized handle of the rice stalks, and cut carefully. Once I had a handful, I tied off a bundle of them and laid it on the other stalks. The bundles are left to dry for a few days.
When rice is yellow, it's ready to harvest. Men and women harvest. We walked through the area where the vegetables are planted, and I walked barefoot through the rough ground to go to where the flowers were planted.
They also have some sugar cane and bamboo. The leaves and dry stalks are burned to be used for the vegetables. No chemicals are used at this farm, only compost.
We walked past a small hut with a roof only which is Rudolph's house. He said they put lots of warm straw around for him.
Step 7: Crush the Rice
You next crush the rice after you dry the bundles on a rack. A nunchuck is used to grab the bundle and you lift it over your head to smash it on a large flat stone on the ground. You stop when no more rice appears.
The remaining straw is used to feed the buffalo, build houses, and make brooms to clean. It's such a wonderful thing to see the efficiency and lack of waste in the process.
Step 8: Wind the Rice
Winding the rice is done by waving a large wooden fan at it (wind as in what blows around us and not wind like winding an old-time clock). The bad rice will fly away, but the good rice with remain.
Around 20% of the good rice is used for next year's planting, and the rest goes to feed the local people.
Step 9: Put the Rice in a Basket to Carry Home
There are three types of baskets of bamboo used for this:
The Hmong mountain people use a basket that is held on their backs with straps like a backpack.
The lowland style is two baskets attached to a wood bar, held on the shoulder. In order to control the baskets, Mua said you do the "sexy bottom' walk," wagging your butt to cause some sway in the baskets.
The third basket is called khamul and is balanced, worn in back with a strap on the forehead. The person bends over so they can carry for a longer time and may use a long stick for balance.
Step 10: Produce the Rice
Two people do this together with a machine that looks like it might be in a kid's playground, kind of like a see-saw. One person goes up and down on the see-saw, and the second turns the rice scooping it into the bowl so the long stone part attached to the see-saw can continue crushing the little husks. This is usually women's work.
I was told women in Laos must learn to do this, or they may not marry! What is left is used for rice wine, feeding fish and chickens.
Step 11: Grind the Rice
The rice is ground by hand, and the powder can be used for making rice candy, noodles, and rice flour. It is then filtered through a tightly-women bamboo plate. Doing this, it's flipped in the air and lands back on the plate.
The large pieces are removed by hand. The woman that showed us this made it look much easier than it was!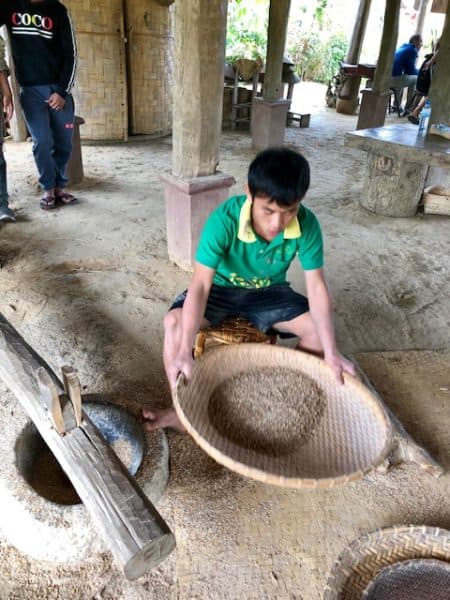 Step 12: Soak the Rice
During this step, you soak the rice in water overnight (or at least 4-5 hours). This leaves the water milky and this milk can be used for shampoo or medicine.
Step 13: Steam the rice
Step 14: Eat!
We finished the tour, and then it was time to eat. On the way, we met two men who were working with straps of bamboo to make things. Men and women use this for relaxation at night while working at the farm.
They use a knife to make the straps flat and thin and make baskets and other items for use or for fun.
I was offered a tray of rice treats that were quite interesting and tasty. One looked like a sea sponge, and it was quite impressive. I'm curious how it was made.
I was presented with a certificate for completion of the course, and I now know how to make rice. I'm a little nervous that this now makes me eligible for marriage!
Living Land offers a really fun, informative, interactive experience that demonstrates the complexity of cultivating and preparing rice, a staple food in much of the world. It's a fun half-day in a gorgeous setting and worth visiting when you're in Luang Prabang.
For some other interesting tours working with local artisans on different skills, check out these tours.
You Might Also Like
Like it? Pin it!