The Top 7 Fun Things to do in Sayulita, Mexico
Heading to the west coast of Mexico and trying to find the best things to do in Sayulita? Well, you've come to the right place, amigo!
Sayulita is a popular beach destination in the state of Nayarit. It's famous as a Pueblo Magico (Magical Town) for its colorful streets and Huichol art.
Long a favorite of surfers and yogis, Sayulita definitely has a very bohemian, hippie vibe. Time moves a bit slower here, making it the perfect place to chill out for a few days (or weeks, or months).
Make the most of your relaxing beach getaway to Sayulita, Mexico with the help of this guide. We'll cover the top things to do, some of the best hotels in Sayulita, restaurant recommendations, y mucho mas.
This post may contain affiliate links, which means I'll receive a commission if you purchase through my links, at no extra cost to you. Please read full disclosure for more information.
Vamos Pa' la Playa
Most people come to Sayulita for sun & sand, so hitting the local Sayulita beaches is atop our list. Playa Sayulita is the main attraction here and is a jumping-off point for several other activities.
While it's not the most beautiful stretch of beach in Mexico, it's still a nice spot to spend a day hanging out. There are plenty of beachfront establishments with sun loungers and umbrellas that you can rent or just use if you order food and drinks.
The main stretch of beach near town can get pretty crowded, especially on weekends and holidays. Head to the right and walk for a bit to find a more laid-back stretch of sand.
Alternatively, pop over to Playa de Los Muertos. It's much smaller and quieter than the similarly named beach down in Puerto Vallarta.
Ride the Waves
Sayulita surfing is one of the top draws for many visitors. The water is shallow at the main beach, the waves aren't too big, and it's sandy. As such, this is a great place for beginners to learn how to ride some waves.
When it comes to Sayulita surf schools, there are tons of options. You can easily just show up on the beach and book lessons the day of.
If you want to book in advance, one school that comes highly recommended is Surf'n Sayulita. They charge 900 ($45) if you're cool with joining a group. Or, take a private surfing lesson.
More experienced surfers can simply rent a board or bring their own. Should you find the main beach to be too easy and too full of rookies, you'll want to head off on a day trip to other breaks like the one at Playa la Lancha in Punta Mita.
Climb Monkey Mountain
Not all of the top things to do in Sayulita take place on the beach. Climbing Cerro del Mono (Monkey Mountain) is also a must-do when visiting Sayulita. From the peak, you're treated to some breathtaking panoramic views of the area.
There are a few options for hiking Monkey Mountain. All you need to do is get to the start of the trail, and it's pretty well-marked. It's a bit far out of town, so you'll need your own wheels or will need to arrange for a cab.
Many tour operators in town run trips to Monkey Mountain as well. WildMex has a great tour. They actually maintain many of the trails in the area, so they know it well and are passionate about sharing it.
However you hike Monkey Mountain, it's best to do it earlier in the day before the sun is too intense. It's classified as a moderately difficult hike and takes about an hour to go up and another to come back. Be sure to wear proper footwear and take plenty of water along with sun protection.
Do Yoga
If someone isn't carrying a surfboard around Sayulita, chances are they've got a yoga mat. This is a very popular destination for yogis, with classes and retreats for all levels.
For a great hike and yoga experience, check out this tour.
There are many yoga studios in town to choose from, such as Paraiso Yoga. They have several options, from $10 for a drop-in class up to unlimited monthly lessons for just $90.
They're located at C. Playa Azul 21 and are open from 8:00 a.m. to 7:30 p.m. Monday to Saturday and from 9 a.m. to 1 p.m. on Sunday.
Those wanting to take their yoga to the next level can sign up for a retreat or yoga teacher training. Haramara Retreats is highly-rated and well worth checking out. They have several different week-long retreats running all through the high season (November to April).
Islas Marietas
While they're not exactly located in Sayulita, the Marietas Islands still deserve a spot on this list. These uninhabited islands are just a few miles off the coast. You can easily reach them on a day trip from Sayulita.
Boat tours depart from Punta Mita and usually last about three hours. Highlights include swimming to the famous Hidden Beach, some amazing snorkeling, and great wildlife spotting.
This is one of the few places in the world where you'll see blue-footed boobies. You might also spot sea turtles while snorkeling, and whale watching is even possible in the winter months.
Most tour operators in town can set you up with a trip to the Marietas Islands. If you want to book in advance, Sayulita Entourage has a trip for $75 per person leaving at 9 a.m. or 1:30 p.m. Check out this snorkeling tour you can book, and there are tours for certified divers, too. You can even go snorkeling and whale watching.
Whale Watching
Speaking of whale watching, it most certainly deserves a spot on the list of top things to do in Sayulita. Between December and March, humpback whales migrate to Banderas Bay to mate and breed.
Watching these majestic creatures swim and the breach is a truly awe-inspiring experience. While it's possible to see them from the beach, it's much better to go out on a boat tour to get up close and personal with them.
La Orca de Sayulita is the first whale watching and research company. They give informative 3-hour tours run by a biologist with a few options. A private tour for a group of up to six costs 8,000 pesos ($400), or you can jump on a group tour for 1,400 ($70).
Check Out Local Shops and Markets
If you're looking to take home some cool souvenirs or gifts from your trip to Sayulita, be sure to hit some of the town's markets and shops.
One of the best places to shop is Mercado Artesanal, also known as the "Hippie Market." It's open every day and has lots of vendors selling a wide variety of goods. There's also the Mercado del Pueblo, a farmer's market that's only open from 10 a.m. to 2 p.m. on Fridays.
Perhaps the best souvenir you could take home is some original Huichol art. This unique art is made by the indigenous Huichol people, usually in the form of yarn paintings or objects made with thousands of colorful beads.
The best place in Sayulita to learn about this incredible art form is at Tierra Huichol. You can find them right in town at 38 Av. Revolucion. They're open every day from 10 a.m. to 10 p.m.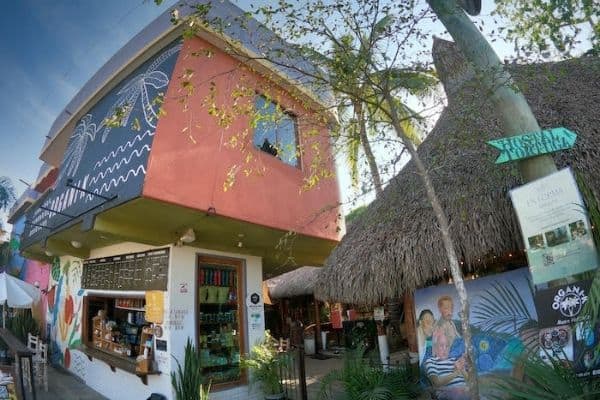 Drive the Riviera Nayarit Coastline
Sayulita is the most famous beach town along the coast, but if you have more time in Mexico, you should definitely check out some of the other famous beaches along the Riviera Nayarit.
Lo De Marcos is still very quiet compared to the other beaches with fewer tourists and more locals. There are many small restaurants and cafes to eat at along with plenty of room at the beaches.
San Blas is another great place. Most bird lovers head here as the beach and surrounding forests are home to hundreds of different bird species.
From San Blas, you can also go to Isla Marias. These islands used to be a federal prison but have been reopened and redone to welcome tourists. The islands are still quiet and boast many different birds and wildlife.
How to Get to Sayulita
A vast majority of travelers get to Sayulita by flying into Puerto Vallarta (PVR). This is an international airport with several direct flights to the US and Canada. It's about an hour from the airport up the coast to Sayulita.
So how does one get from Puerto Vallarta to Sayulita? You've got a couple of options. Let's start with the cheapest one, which is the local bus.
Exiting the airport, turn left and walk across the pedestrian bridge that goes over the highway. The bus stop is right there and buses bound for Sayulita pass by very often during the day. Just look for "Sayulita" on the windshield.
The bus costs 46 pesos (just over $2) for a one-way fare. It takes an hour to an hour and a half from the airport, depending on how many stops it makes. Note that if you have a lot of luggage, the bus will not be a very comfortable option.
For a more comfortable and much faster ride, you can take a taxi or Uber. The airport taxis have an official stand and set rates. These days it costs around 2,000 pesos ($100) for a trip to Sayulita.
Alternatively, you can walk across the same bridge you would use to get to the bus stop and hail a local cab or order an Uber. Having some Spanish and haggling skills will help with a cab driver, and you can probably negotiate a trip for 1,000 pesos ($50).
As far as Uber goes, you will need a working phone. Uber is generally pretty reliable in PV and cheaper than taxis. Plus, you won't need to have cash for the trip. On the downside, many drivers have jumped ship to InDriver.
You bid on your ride on this platform and need to pay the driver cash in Mexican pesos. If your Spanish is no bueno (good) and you're not very familiar with the area, this isn't the best option.
Renting a car is also an option, but it's not really necessary unless you're planning on doing lots of exploration outside of town. It's easy enough to get to and from the airport without needing a car. Skipping out on one means avoiding potential conflicts with a rental agency.
How to Get Around Sayulita
Sayulita is a small beach town that's easy enough to explore on two feet. If your days will be full of surfing, lounging on the beach, doing yoga, shopping, and going out to eat/drink/dance, you really don't need a vehicle of any kind.
That being said, many people opt to rent a golf cart in Sayulita. It's not really necessary, but it sure is fun. Rivera Golf Carts has good reviews and rents 4-seaters for $55 a day or 6-seaters for $75.
Some shops also rent out scooters and motorcycles, which can be a great option if you're an experienced rider. You can expect to pay between $30-$40 a day, depending on the type of bike you choose.
For travel to nearby towns like Punta Mita or San Poncho, your best bet is just taking a cab or hiring a driver for the day. Many tour operators also run day tours to these and many other places if you prefer letting someone else do the leg work.
When to Visit Sayulita
As is the case with basically all the beach towns in Mexico, there's both a low and a high season in Sayulita. The busiest months are December to March, especially between Christmas and New Year's.
Semana Santa (Holy Week) is also a very popular time to travel in Latin America. Based on my personal experience living in PV, I'd recommend giving these very busy weeks a pass as crowds and prices are both ridiculous.
Since it's now Insta-famous, Sayulita sees an influx of visitors every weekend from places like Mexico City and Los Angeles. If you can swing a visit during the week, you'll get a far more enjoyable experience and lower prices.
Summer isn't necessarily a bad time to visit Sayulita, but your beach day may very likely be cut short by a downpour. The heat and humidity can also be a bit too much for some to handle this time of year.
Hotels in Sayulita, Mexico
Even though it's a pretty small town, there's a wide range of options for hotels in Sayulita. There are also hostels, B&Bs, campsites, villas, and more. Here are some of the best options for accommodation in Sayulita to satisfy different budgets:
Best Restaurants in Sayulita
Whether you're looking to smash some street tacos or have a fine dining experience on the beach, Sayulita has got you covered. Here are some of the best Sayulita restaurants:
Once you've had a nice meal, it's time to party! Here are some recommendations for fun Sayulita bars to check out:
Ready for all of these Awesome Things to Do in Sayulita?
¿Estás listo para visitar Sayulita? Maybe you need to brush up on your Spanish first, but I'm sure you're beyond ready to visit Sayulita!
You can do all of these awesome things and more with just a few days in this fun beach town. I recommend spending at least a week in the area if possible. That gives you time to explore Puerto Vallarta and other smaller towns like Bucerias and Yelapa.
However long you spend there, one thing's for sure—you'll want to come back again and again. Take it from me as I gear up to head back down there for the 5th year in a row. There's just something special about this little slice of paradise in Mexico!
You Might Also Like
Like it? Pin it!