The 9 Top Day Trips from Puerto Vallarta, Mexico
As amazing as Puerto Vallarta is, make sure to take some time when you visit for some of these top day trips from Puerto Vallarta.
Puerto Vallarta is one of the most visited places in Mexico and for many good reasons! You have the stunning beaches on one side and the magnificent Sierra Madre mountains on the other. Heaven!
The area is a great mix of tourists, locals, and ex-pats. Some people you'll meet in PV are visitors, while others are digital nomads that have been living in the area for years. It's a popular ex-pat hotspot.
No matter your reason for visiting Puerto Vallarta, make sure you carve out time in your schedule to take a few day trips. Most of the trips listed in the guide are two hours away or less!
You can easily even take a few half-day trips to be back in Puerto Vallarta before the evening nightlife begins. Here are my top recommendations for Puerto Vallarta day trips and the best places to see in the area!
This post may contain affiliate links, which means I'll receive a commission if you purchase through my links, at no extra cost to you. Please read full disclosure for more information.
Visiting Puerto Vallarta
Puerto Vallarta, or PV, is one of the best beach getaways. It's located in the region of Jalisco right on the Pacific Ocean. You might have heard of the popular large city of Guadalajara. PV is in the same region and a few hours west.
Since it's right on the coast, you'll have plenty of chances to hit the beach and do some snorkeling and swimming. Or, if you're a little more daring, try windsurfing or parasailing.
It's a large ex-pat town, so you will be able to have all the modern amenities you need with fast internet speeds. You'll also meet tons of locals as well.
Once you have explored Puerto Vallarta, you might be wondering what Puerto Vallarta day trips are popular to explore more of Mexico. Puerto Vallarta is a great location, and it's easy to get to other cities and popular attractions.
Here are some of the top day trips you can take from PV:
There are many more day trips you can take, but check out the top nine below.
Yelapa
If you've been in Puerto Vallarta for a few days and want to escape being in the city, head to Yelapa. You can only get there by boat, making it an amazing way to get out onto the water and enjoy marine life.
You can catch the boat from the south side of the Zona Romantica. It only costs a few dollars.
Yelapa is an extremely laidback little village. It's also very remote with soft white sand and crystal clear blue water. If you're looking for a little area of paradise not far from PV, this is where it's at!
Explore the little downtown part of the village before heading to the beach or the water. There are many places to eat and small vendors where you can buy locally-made crafts.
Most visitors to Yelapa go to Playa Isabel for swimming. The water is shallow and there are no jagged rocks. It's a great place for beginner swimmers or for kids as well!
Want a small group tour where you'll get picked up in Puerto Vallarta? Check out this tour to Yelapa.
Isla Marietas and Hidden Beach
Isla Marietas is a group of beautiful islands off the coast of Puerto Vallarta. The Mexican government works hard to protect the islands and keep them preserved. So, not all of them are open to tourists.
The most visited island is Playa Escondida. It has turquoise waters and a small beach surrounded by rock walls.
If you are interested in marine life, I highly recommend bringing your snorkeling gear to Isla Marietas. Because of the near-perfect preservation, the fish are teeming. You can swim right alongside them.
There is also a chance you will see whales, dolphins, and turtles.
Sierra Madre
When you think of Mexico, you probably think of beaches and sunshine. Mexico has huge diversity when it comes to landscapes, though, with some gorgeous mountain ranges like Sierra Madre.
Heading to the Sierra Madre mountains gives you a chance to explore more than just the coast. Sierra Madre is also perfect for those looking to get some adventure and activity into their itinerary.
From hiking to mountain biking to water rafting, you can definitely get your adrenaline pumping in Sierra Madre. You can also book a tour to see one of the many historical villages or cultural sites hidden within the mountains and nearby jungles.
Interested in exploring by horse or ATV? Check these out!
San Pancho
San Pancho is another great beach town about an hour away from Puerto Vallarta. The main difference is that San Pancho is way better for surfing than the other beach spots. Since there is only the beach plus a few restaurants and shops, San Pancho is a great relaxing day trip to just surf and enjoy the sun without a crowd.
Check out the surf shops, including Pancho Vida and Nativa Surf Shop to buy some gear or souvenirs to take home.
The water conditions make San Pancho better for those who already have some surfing experience. Since San Pancho is small, there also aren't many opportunities to get lessons, unlike the other major surf towns near Puerto Vallarta.
Sayulita
Sayulita is about 35 minutes from Puerto Vallarta, so you can easily make this just a half-day trip since it's so close. Sayulita is a large ex-pat town with plenty of things to see and do. Some people choose to spend a night or two here to make sure they have enough time to see everything.
Unlike San Pancho, Sayulita is better for beginner surfers. There are also many surf schools, including Lunazal Surf Shop & School and Surf'n Sayulita. Both are highly rated and offer lessons and gear rentals for beginners.
Or, check out these great surfing lessons in PV!
If you feel like exercising, hike to the top of monkey mountain. The top has some of the best views of the beach and the city below. The hike is a little difficult in some spots but is still suitable for beginner hikers and older children.
Sayulita is also one of the top spots for yoga. You'll see many ex-pats carrying around their yoga mats and even doing classes on the beach and the park. For formal classes, check out Paraiso Yoga.
San Sebastian
If you want to see some of Mexico's rich history and get away from the coast for a day, head to San Sebastian. It's an old historic town built in the 1700s. The streets are narrow and filled with small bakeries and coffee shops perfect for relaxing in.
There is plenty to do in San Sebastian, and much more than just walking around and seeing the cool architecture.
La Quinta is a great place to grab organic coffee. They also do tours of the plantation if you are interested to know more about how coffee is grown, planted, and processed.
If coffee isn't your thing, you can head to Hacienda Don Lalin Tequila Distillery instead. You don't have to be a huge tequila drinker either because they have tons of different flavors like pomegranate and cherry that take the edge off sipping straight tequila.
Don Lalin tequila is not available in the United States, so definitely buy some to take home if you find a flavor that you like.
Before heading back to PV, make time to go to the top of La Bufa hill. It's just a short hike, or you can book an ATV tour to get to the top.
The observation deck offers amazing views of the city and the mountains. Try going at sunset for the best views and cooler weather.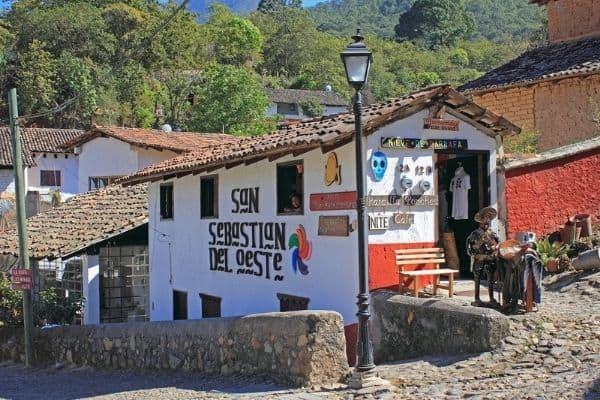 La Cruz
The city of La Cruz is 30 minutes from Puerto Vallarta. It's small but it's known for its farmers' markets every weekend. At the market, you will also find food stalls with local goodies. You can sit at one of the outdoor tables and eat and people watch.
Along with fresh produce and bakery items, the farmers' market also has handicrafts. Most of them are locally made so it's a great way to support the local economy and get something unique to bring home.
Right outside of the town, there's an amazing beach. Playa Destiladeras is quiet with shallow water. There's also a beach club and restaurant if you are looking for some fancier food and great cocktails.
It's right on the beach so you can enjoy your food and watch the waves roll in.
Tequila Town
This famous region for tequila is about a 4-hour trip from Puerto Vallarta. It will definitely be a full-day trip, or you can spend the night. The town is small, but the architecture is amazing. Spend a few hours just walking around and exploring all the local shops and restaurants.
Some of the older buildings are lined with flowers and vines making them an amazing spot to get pictures.
This region of Mexico is called Tequila Town because it's surrounded by agave hills. There are also many tequila distilleries around and tasting tours.
Definitely visit Tequila Town if you're a fan of Jose Cuervo. You can visit the Tequila Jose Cuervo Bar. You should also make time to stop at Fabrica La Rojena. It's a distillery with tequila tasting and a margarita bar.
Las Caletas
If you're looking for a secluded beach perfect for photos, Las Caletas is the place to go. Many honeymooners and those looking for engagement or family photos come here because of the stunning backdrop.
The nearby jungle also offers some interesting hiking opportunities. If you're around in the spring or early summer, you'll see tons of flowers blooming.
Many people choose to rent beach chairs or hammocks to lounge in at Las Caletas. You can also go snorkeling or diving if you bring your own gear.
Check out this great tour to Las Caletas from Puerto Vallarta!
How to Get to Puerto Vallarta
Puerto Vallarta has a pretty big international airport called Licenciado Gustavo Diaz Ordaz International Airport (PVR). They have daily flights from every state in the U.S.
If you are flying during the months of November through March (high season), you might even find a direct flight, depending on your location.
There are also some flights from major Canadian and European cities, but you will probably have a layover somewhere.
Once you arrive at the airport, I suggest taking a taxi to drive you to Puerto Vallarta. Rates are posted so you don't have to worry about getting hustled. You can also navigate to the other side of the airport to get an Uber or take the local bus if you are good with directions.
How to Get Around Puerto Vallarta
Puerto Vallarta is not very big, so you can walk or bike to most places. For the day trips though, you will need to catch the bus, take a taxi, or go on a tour. Just make sure to ask the taxi driver the rate BEFORE they start driving, as local taxis do not have meters like the ones at the airport.
I personally do not recommend renting a car and driving. I found it extremely difficult to drive in Mexico as roads are not well labeled, and other drivers are not very courteous.
You can also find Ubers in Puerto Vallarta. Like many other international cities, Puerto Vallarta also uses InDriver, which is similar to Uber, except you pay in cash.
When to Visit Puerto Vallarta
If you want the best weather, go to PV from November through March. This is considered the high season, so hotel prices will be costly. Expect crowds at the beach and other popular attractions.
July through October is too hot for most people, and it rains almost every afternoon and evening.
Like other Mexican cities, Puerto Vallarta has massive celebrations during Christmas and Holy Week in April. You might want to avoid these times, so you don't encounter large crowds.
Visiting in November before Thanksgiving or after Holy Week in April will give you the best deals on hotels.
Ready for the Best Puerto Vallarta Day Trips?
Puerto Vallarta is a popular coastal town in Mexico where many ex-pats and locals enjoy the sun and beaches. You could easily spend a week or two just exploring Puerto Vallarta, but make sure to add on a few extra days to your trip so that you can experience some of the best Puerto Vallarta Day Trips.
Some of the day trips are to nearby beach towns, and some will take you further inland to quaint little cities and tequila distilleries. Experiencing Puerto Vallarta day trips is a great way to learn more about the country's history and see the diverse landscape.
Have you been to Puerto Vallarta and taken a day trip or two? What was your favorite?
You Might Also Like
Like it? Pin it!