Mill City Tourism: The Top 10 Things to do in Minneapolis
I'll admit that going to Mill City, aka, Minneapolis, wasn't high on my list of places in the United States to visit, even though I have heard there are a lot of Minneapolis attractions worth seeing.
When a friend from work invited me, I decided to take her up on her offer and I'm so glad I did! There are a lot of fun things to do in Mill City.
Minneapolis has it all—great history, beautiful natural parks, lakes, and outdoor spaces, museums, culture, and some of the best restaurants I have ever been to.
Who knew what a foodie capital Minneapolis is?? I promise I'll share all about our incredible restaurant experiences later in this post.
Here's my list for the top fun things to do in Minneapolis, MN! If you're looking for what to do in Minneapolis, this has got you covered!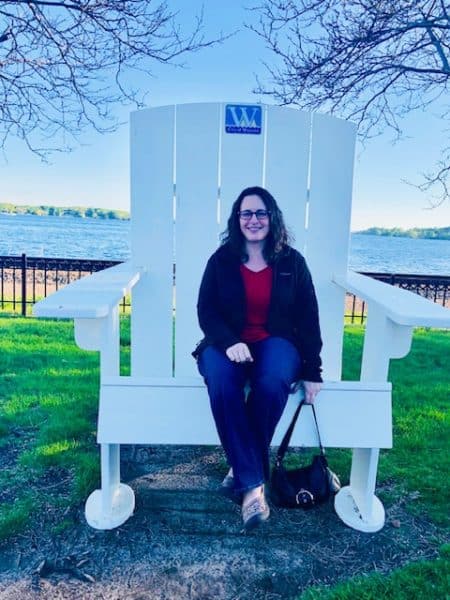 This post may contain affiliate links, which means I'll receive a commission if you purchase through my links at no extra cost to you. Please read full disclosure for more information.
Mill City Location and History
Minneapolis is the largest city in Minnesota, one of the states in the northern-most region of the United States of America. It is part of the Twin Cities, which includes St. Paul, the state's capital, to the east.
Minnesota is often known as "the land of 10,000 lakes" for its many lakes, some of which are in or within an hour's drive of Minneapolis.
It is on the banks of the Mississippi River and became a flour-milling capital and a hub for timber. The rise of the flour mills is why it earned the nickname, "Mill City."
The city's focus on natural parks and preserving the waterways makes it a lovely place for a visit, especially in the warmer-weather months. So much of the city's history and economic growth are due to it's proximity to the Mississippi River.
Mill City is now known for its strong music and performing arts scene. Both Bob Dylan and Prince hailed from Minnesota and Prince's residence is now a museum open for tours.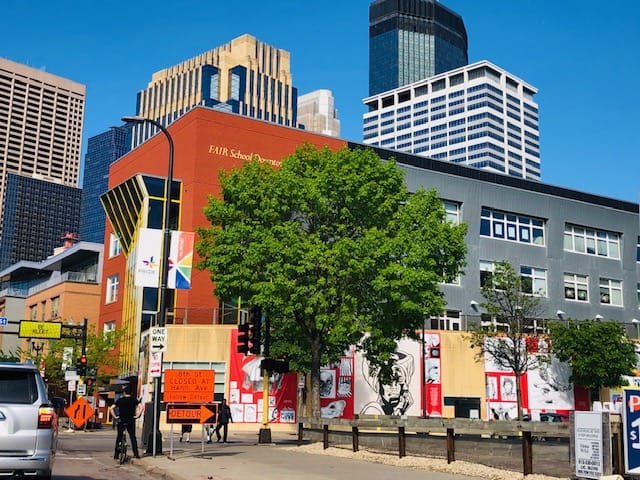 Getting Around
Downtown Minneapolis is very walkable as it's quite compact so it's easy to get around on foot. There is an extensive skyway system that connects many of the major buildings and attractions and is useful during bad weather.
You can drive as well and it is pretty easy to get around, though parking can be expensive. Most on-street parking is metered and accepts cash or credit cards.
Uber and Lyft are also plentiful in the area or there are buses and a train that serves the area. The METRO Blue Line Light Rail runs through the downtown area and has several stops.
Many of the stops on this list are outside of Minneapolis, requiring a car. You have the option to take Uber, of course, and there may be some public transportation options to some of the places mentioned. However, your best bet will be to rent a car to go.
All of the places mentioned are within around an hour of Minneapolis, and you'll be rewarded with seeing some beautiful parts of the state.
Paisley Park Tours
Paisley Park is Prince's former home and studio in Minneapolis. In an homage to 80s goodness that starts when you first set eyes on the building, the tour walks you through the incredibleness that was his life.
It showcases everything from his car collection and his private studios. It also includes his awards and platinum record collection, hundreds of outfits, and other artwork.
I was a child of the 80s, big hair and all. (No, I'm sorry to say you will not see a picture of that anytime soon and I'm grateful that social media was not a thing back then.)
I was a huge fan of Prince back then, and am a little disappointed that I didn't continue to follow him through the years. This tour gave me a huge appreciation for what an incredibly talented artist, entertainer, and human being he was.
You May Also Like Paisley Park Tours
Unfortunately, they lock up your phone on the tour (literally, they put your phone in a case that is locked until you complete the tour). Even without being able to sneak stolen shots, this tour was a pretty amazing glimpse into a really talented life.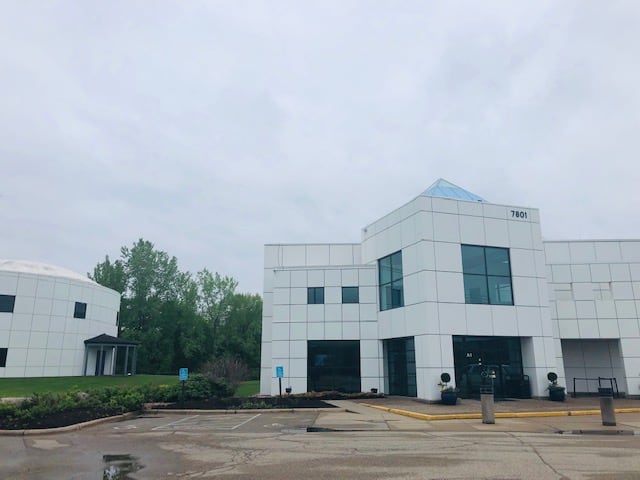 Tours often sell out, so I recommend booking online if you know when you want to go. The general tour costs between $38.50 and $50 and there are VIP tours and Ultimate Experience tours as well. Paisley Park is located at 7801 Audubon Rd, Chanhassen, MN 55317. There is free parking onsite. Paisley Park is open on Sunday and Monday from 10 – 5, Tuesday and Friday from 10 – 7, Thursday from 10 – 8, Saturday from 9 – 8, and it is closed on Wednesdays.
Boating on Lake Minnetonka
There are many lakes in and around Minnesota and you really can't go wrong enjoying any of them. Minnetonka is the 9th largest lake in the state and happens to be right near where my friend lives, so I had the pleasure of spending a day out on a boat to enjoy it. This lake is only 15 miles southwest of Minneapolis.
The area around Lake Minnetonka is one of the most affluent areas in the state, and by boat, you can see some truly monstrous homes. These rival some of the mansions in Newport, Rhode Island, where several of the Vanderbilts and the Bouvier family (Jackie Kennedy's family) used to summer.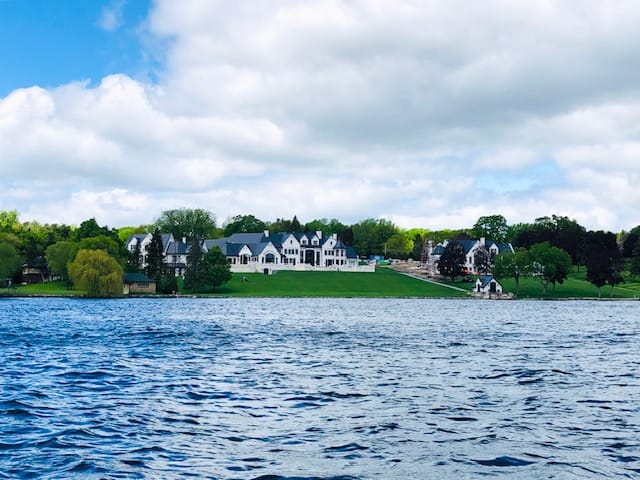 There are many other things to do around Lake Minnetonka including visiting the upscale town of Wayzata, the Minnesota Landscape Arboretum, the Lowry Nature Center, and check out the many bays along the lake.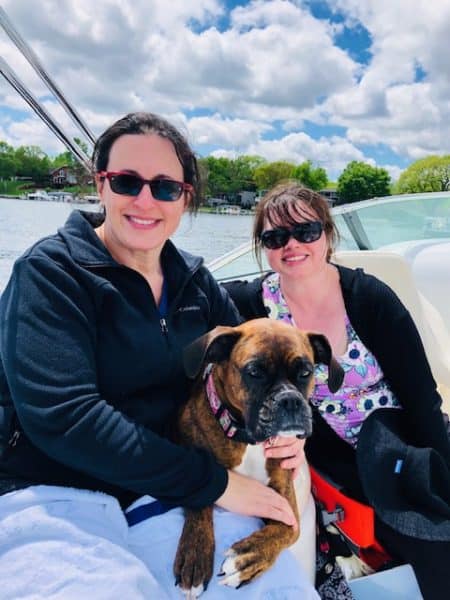 Boating, sailing, and fishing are all popular here. You can rent boats like motorboats, pontoon boats, and fishing boats by the hour or by the day starting at around $125/hour or $350 per half-day and up. Minnetonka is located around 15 miles from downtown Minneapolis.
Lord Fletcher's Restaurant
There are a number of restaurants along the lake that you can take your boat right up to, and Lord Fletcher's is one of them. It has been around for a long time and is a bit of an establishment here. It showcases live music and has a huge outdoor space right at the lake.
You're mostly there for the view and party atmosphere but the food is quite good. I recommend the walleye sandwich and it was surprisingly good. The homemade tartar sauce and slivered almonds are a nice touch.
Ok, so I learned that this place is a bit of a "meat market," especially at night (and no, I don't mean what they are serving up on their plates!) But if you're looking for great food with a lakefront view, this is a great option.
Lord Fletcher's is located at 3746 Sunset Drive, Spring Park, MN 55384. It is open from 11 – 12:30 Monday – Thursday, 10:30 – 12:30 on Friday, and 10 – 11:30 on Saturday and Sunday
Minneapolis Sculpture Garden and the Walker Art Center
The Walker Art Center began as the private collection of lumber baron Thomas Barlow Walker in the late 1800s. It is one of the most visited modern and contemporary art museums in the country.
The Minneapolis Sculpture Garden is outside the museum, opened in the 1980s as one of the largest urban sculpture gardens in the United States. The art is both beautiful and whimsical and features a piece called "Spoonbridge and Cherry" by artists Claes Oldenburg and Coosje van Bruggen. It is a well-known and beloved symbol of the Twin Cities.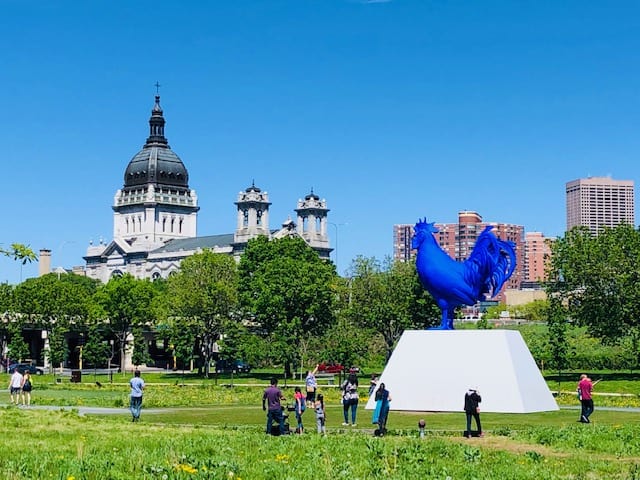 The Walker Art Center costs $15 to visit and is open from 11 – 5 on Sunday, Tuesday, and Wednesday, 11 – 9 on Thursday, and 11-6 on Friday and Saturday. It is closed on Monday. It is located at 725 Vineland Place, Calhoun Isles, Minneapolis, Minnesota, 55403, USA. The Sculpture Garden is near the art center and is open at all hours for no charge.
Mill City Museum
The museum offers a tour that walks you through the history of the area, the milling industry, and the mill that was located in the building. I highly recommend it.
There are some interesting exhibits that are very interactive and would be fun for kids (and adults who behave like kids) including a baking lab, and a water lab where you can learn how the river was used for the flour and logging industries.
There is also an observation tour where you can look out over the river as well as the ruin of the mill. You can walk around the ruin as well.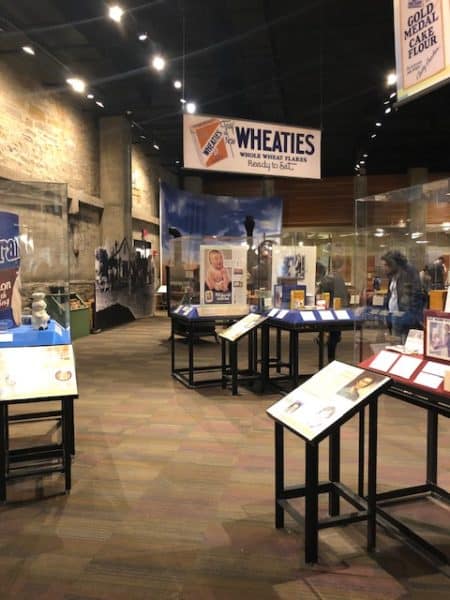 History
The Mill City Museum is located on the historic Mississippi Riverfront in Minneapolis. It is located inside the ruins of the Washburn A. Mill, the largest flour mill in the area. This mill ground enough flour in just one day to make more than 12 million loaves of bread and played a dominant role in the area until it was closed in 1965.
Flour milling was tough work and could be dangerous. People contracted white lung disease from breathing in the flour over many years. The original mill exploded in 1878, flour dust is explosive, killing 18 men.
The explosion was so massive that windows cracked in many of the St. Paul buildings nearby. It was rebuilt in 1880 and they introduced dust collectors to get rid of the dust and to reduce explosions.
Following the disaster, improvements were made and the factory began collecting dust. The collected dust was dumped in the river, which increased the rat population and didn't make downstream St. Paul very happy. Later, it was used on pig farms as animal feed.
There were more than 24 mills around the river in its heyday. They introduced white flour to the area of the U.S. and the world. The largest mills at the time were Washburn-Crosby's and Pillsbury, and the Pillsbury mill sign still looks over the river on the other side.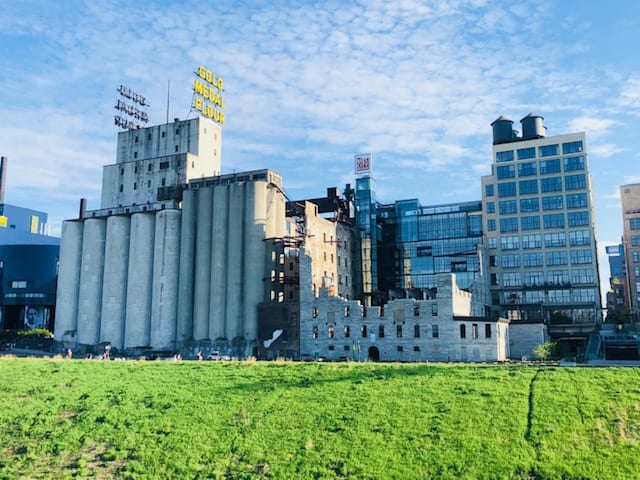 Mill City Museum Location
The museum and former mill are right alongside the Mississippi River and overlook the Stone Arch Bridge, another sight of the area. This bridge was a railroad crossing and is the only bridge that spans the length of the Mississippi River made completely of stone.
The Mill City Museum is open daily from 10 – 5 and on Sundays from 12 – 5. It is located at 704 South 2nd Street, Central Minneapolis, Minneapolis, Minnesota, 55401, USA. Admission is $12 and tours last around an hour.
Weisman Art Museum
The Frederick R. Weisman Art Museum was named after a Mill City native, entrepreneur, and philanthropist. the museum is located on the University of Minnesota campus in Minneapolis. The exterior was designed by Frank O. Gehry, an internationally-acclaimed architect.
Weisman Art Museum is located on the University of Minnesota Campus at 333 East River Parkway, University of Minnesota – Twin Cities, Minneapolis, Minnesota, 55455, USA. It is open from 11 – 5 on Saturday and Sunday, 10 – 8 on Wednesday, and 10 – 5 on Thursday and Friday. It is closed on Monday. Admission is free to all to make the arts accessible to the University and to the nearby communities.
Mall of America
My early teens and life as a "mall rat" are many years behind me, and while I don't love going to malls now, there was a draw to see the largest, the Mall of America, in Minneapolis. There are more than 520 stores in the mall, 520. Let that sink in for a moment.
Not only is this the shopping mecca of the United States, but there is a tremendous amount of things to do with kids. There is a massive Lego store (which I *may* have visited), an aquarium, blacklight minigolf, Crayola experience store, Nickelodeon Universe (the largest indoor theme park in the country), and more.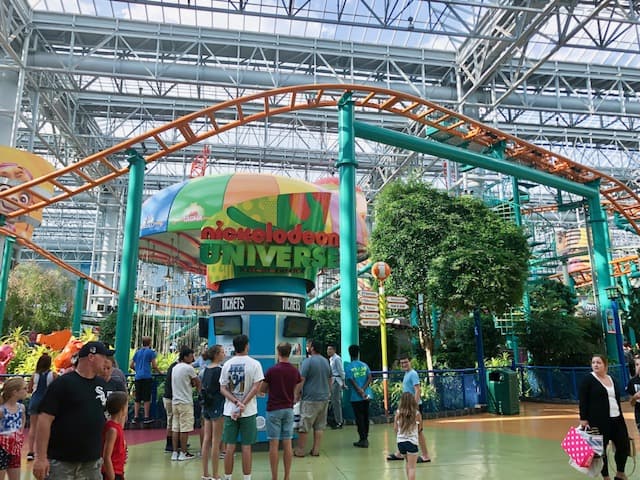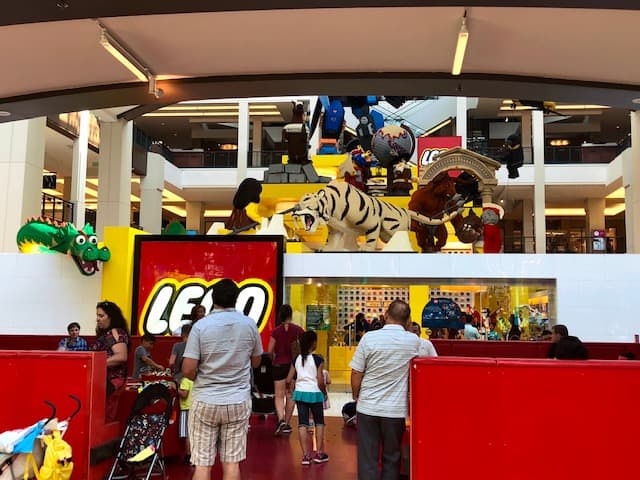 There are a surprising number of Victoria's Secret and Pink stores (a brand of Victoria's Secret), perhaps in an attempt to get some love from the male population of visitors.
How to Get to the Mall of America
It is very easy to get to the mall and there are many methods of travel you can take. They offer ample parking, valet, multiple Uber-pickup locations, buses, taxis, tour buses, and the light rail has a stop at the mall as well.
It's only around ten minutes from the airport which makes it a convenient location to access for people coming into town.
The Mall of America is located at 60 E Broadway, Bloomington, MN 55425. It is open from 10 – 9:30 daily except for on Sunday when it is open from 11 – 7.
Bakken Museum
Another interesting place to visit which is also a fun place for kids is the Bakken Museum. From the website, "The Bakken Museum inspires a passion for innovation by exploring the potential for science, technology, and the humanities to make the world a better place."
It was founded by Earl Bakken, who co-founded one of the world's largest medical device companies and was part of creating the first heart pacemaker. His inspiration was from the film, Frankenstein, which he pays homage to in this museum.
It's a fun and interesting place to walk around and the building is stunning. There's a nice herb and medicinal plant garden, a Ben Franklin electricity exhibit, and lots of other things to see and do.
If you're traveling with kids, this is a great spot to visit.
The Bakken Museum is located at 3537 Zenith Ave S, Minneapolis, MN 55416. It costs $13 for adults and $7 for kids (ages 4 to 17) to visit. They are open from Tuesday to Sunday from 10 to 5.
Minnehaha Park and Falls
Minnehaha Park is a is a city park of Minneapolis located southeast of the downtown area. The Minnehaha Creek runs through it, and the showcase and major draw to this park is the Minnehaha Falls.
There are also several preserved historical buildings that led to it being listed on the National Register of Historic Places in 1969. These include the Minnehaha Princess Station, a Victorian train depot that was built in the 1870s, the John H. Stevens House built in 1849, and the Longfellow House, a replica of the Henry Wadsworth Longfellow's house located in Cambridge, MA.
Minnehaha Fall is located in southeast Minneapolis at 4801 S Minnehaha Drive, Minneapolis, MN 55417. It is open from 6 a.m. to midnight.
Mill City's Chain of Lakes Regional Park
You will see lots of people out and about in this area in the northern part of Minneapolis. The Chain of Lakes includes Lake Harriet, Lake Calhoun, Lake of the Isles, Cedar Lake, and Brownie Lake. It has nearly 15 miles of trails.
Amenities offered in this area include cross-country ski trails, boat docks, a biking path, hockey rink, fishing pier, bandstand, and garden, with free movies and music in the summer.
Lake Calhoun, one of the largest lakes, is located at 3000 E Calhoun Pkwy, Minneapolis, MN 55408.
Basilica of Saint Mary
You may have noticed that I'm a bit of a nut for historic architecture, including churches, castles, and other incredibly beautiful buildings. The Basilica caught my eye for obvious reasons. It's a gorgeous structure built in the early 1900s. It's huge and worth at least a drive-by when you're in downtown Minneapolis.
In addition to being a church with a large following, its leaders host concerts and music festivals and display local, national, and international artwork. The Basilica of St. Mary acts as a gathering place for the local community and is a beautiful place to enjoy.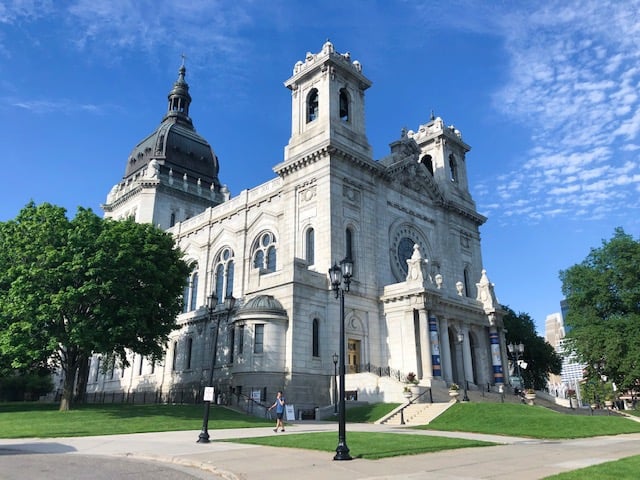 The Basilica of Saint Mary is open during the week from 6:30 – 5, on Saturday from 8 – 6:30, and on Sunday from 6:30 – 7:30. It is located at 88 17th St N, Minneapolis, MN 55403.
Ice Cream at Sebastian Joe's
Sebastian Joe's is a local family-run shop in Mill City with great ice cream, coffee, and pastries. If you are getting close and see a line out the door of one of the shops, you know you're at the right place! They have fun ice cream flavors like Nicollet pothole, Pavarotti, senior mo-mint, and others, as well as some of the usual favorites.
If you don't feel like waiting (and the line does move surprisingly fast), they do offer pints and quarts to go, as well as ice cream cakes and other ice cream specialties. There are two locations in town open daily, so you never have to do without. T
hey are also in several restaurants which carry it including Lord Fletcher's on Lake Minnetonka. In case you're worried there could be quality issues with a small shop with multiple locations, don't fret. We *might* have gone to both with an equally positive experience.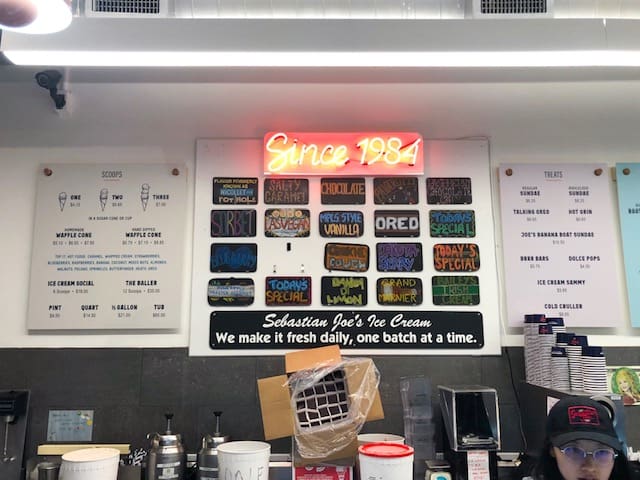 Sebastian Joe's uptown Minneapolis location in Lowry Hills is at 1007 W Franklin Ave S, Minneapolis, MN 55405. The South location is in Linden Hills at 4321 Upton Ave S, Minneapolis, MN, 55410. Check the website for hours at each location as they are different.
Where to Eat in Mill City, Minneapolis
Minneapolis is a foodies' mecca, which surprised me, honestly. I had no idea there are so many great restaurants in this area. And there is tremendous cultural diversity, so you can get foods from all over the globe.
Sushi Fix
It took me several tries to like sushi and now I'm a bit of an addict. I really love it and enjoy getting some of the more creative rolls and offerings when I see them. This place had by far the most creative dishes I have seen.
They offer off-menu items that you need to ask the waiter about and we had two: Frankenstein roll, which is a mix of two other rolls that they offer, and with a spicy mouth-kick, it's incredible. We also got Shiso Yummy which had one of the best presentations I have seen with bonito flakes over grilled shiso peppers.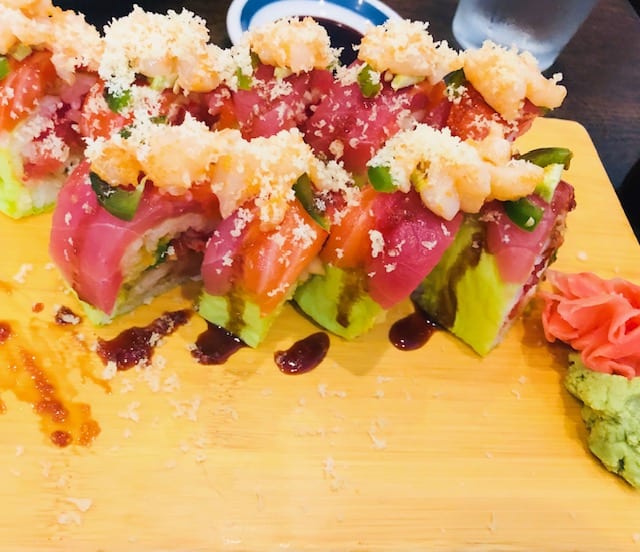 Get a bunch of things to share and you will be wowed by the creativity with both the presentation and the food preparation and flavor.
Sushi Fix is located at 862 Lake St E, Wayzata, MN 55391.
Sushi Fix is open most days from 4:30 – 9 from Sunday to Thursday and to 4:30 to 10 on Friday and Saturday. They don't take reservations so get there early! It gets very crowded. It's located at 862 Lake St E, Wayzata, MN 55391. Gavin Kaysen Restaurants
Gavin Kaysen Restaurants
Renowned local chef Gavin Kaysen opened his French bistro, Bellecour, in a prime location in downtown Wayzata. We went for brunch and started with their pastry bowl which included 6 pastries. We tried portions of them and they were all incredible.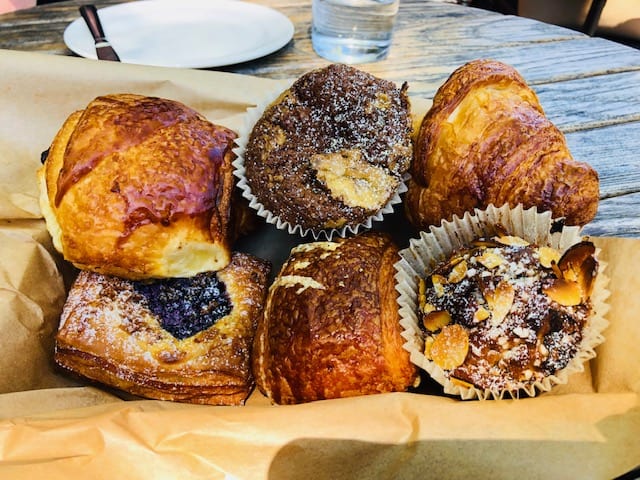 Sadly, this restaurant was closed, another victim of the global pandemic. However, He does have other options. Based on how amazing Bellecour was, I'd highly recommend!
Quang Vietnamese
This is a solid Vietnamese place in Minneapolis and a staple for university students. If you're looking for an inexpensive, no-frills with really good food kind of place, this may be your choice. It's always crowded, so you know it's good.
Quang Restaurant is located at 2719 Nicollet Ave, Minneapolis, MN 55408. It is open from Monday – Friday from 11 – 9, Saturday from 10:30 – 9, and on Sunday from 10:30 – 8:30. Quang is closed on Tuesday.
Kramarczuk Sausage Company
According to their website, "This is the place where your wildest sandwich dreams can come true." I didn't get a sandwich when I was there, but I can tell you that you won't leave hungry or dissatisfied. There is a sizable eastern European population in Minneapolis and this incredible Polish deli does not disappoint. Go hungry.
In the restaurant, they offer a few types of sausages, sandwiches, stews, and soups, salads. They also offer some traditional items like cabbage rolls with several sauces to choose from, pierogi, and others.
I got a cabbage roll that was the size of my head with a pile of sauerkraut, plenty for dinner and lunch the next day. It's not a budget-buster and this food is crazy good.
It also offers a market with many eastern European staples, sausages, pastries, a deli, and many other items. You can get close to 40 types of homemade sausages, pastries, and many other items in the shop.
Kramarczuk is located at 215 E Hennepin Ave, Minneapolis, MN 55414. They are open from Monday to Wednesday from 8 – 8, Thursday to Saturday from 8 – 9, and Sunday from 10 – 4.
Bauhaus Brew Labs
This is a really fun place for those over 21 years of age. it's a funky spot offering beer, hard seltzers, and non-alcoholic brews. They offer food with several food truck options outside, depending on the day.
I've been told they are all good, but that the real standout is the Animales Barbeque Company. So, of course, we went on a day they were there. It dumped rain though there is ample inside and outside covered seating.
Let me tell you, it was worth every wet moment! Their barbecue is amazing and the meats are tender and melt in your mouth! We got a sampler with some spicy sausages, various cuts of meat, and banana pudding. My mouth is watering thinking about it!
And, try the sour watermelon hard seltzer. You're welcome!
Bauhaus Brew Labs is located at 1315 Tyler St NE, Minneapolis, MN 55413. It's open from 4 to 10 Monday to Thursday, from 3 to 11 on Friday, and from 12 to 11 on Saturday.
The Market at Malcolm Yards
If you're a person who has a tough time making decisions on what to eat, Malcolm Yards has you covered. If you're familiar with Faneuil Hall in Boston, this is a smaller and more trendy version.
It's in an old mill food hall with rustic charm, cool graffiti, and street art. There's an incredible lineup of around a dozen small restaurants and you surely won't have trouble finding something you like.
Food ranges from pasta, pizza, and burgers, to Korean, Japanese, and Nepalese/Indian. I chose the Nepalese dumplings and they were absolutely incredible. They gave me a fried veggie dish to celebrate their anniversary and that was incredible as well.
My friend got fried chicken at the Korean place and it was some of the best I've ever had. And of course, I had to try the ice cream which was fantastic. They had some interesting flavors to choose from and I really enjoyed their coffee bourbon flavor.
They even have a wall of beverages. You can get a card to purchase whatever you want and they offer some great beer, wine, and cider options. You can also add your food to it and pay on your way out.
And if you're having a gathering, you can rent out space here as well and they have some fun activities like yoga.
The Market at Malcolm Yards is located at 501 30th Ave SE, Minneapolis, MN 55414. It's open daily from 11 to 9 and on Saturday and Sunday from 11 to 10.
Sociable Cider Werks
Another great place in a fun space is Sociable Cider Werks. I love hard cider, so when I heard about this place, it piqued my interest. They were actually offering hard seltzer tastings at a grocery we stopped by to pick up dinner fixings, so we were in!
They have great hard seltzers, ciders, and beers. Though I liked the seltzers, I really enjoyed the ciders. So much so, I got a sampler where you can choose four different kinds to taste. Yum!
They offer traditional apple ciders as well as some interesting ones like passionfruit and blueberry. Those were my favorites.
Sociable Cider Werks is located at 1500 Fillmore St NE, Minneapolis, MN 55413. It's open from 2 to 11 Monday through Thursday, 2 to 12 a.m. on Friday, 12 to 12 a.m. on Saturday, and 12 to 10 p.m. on Sunday.
6Smith
This upscale New American eatery is nestled in on the main drag in Wayzata right on the water. If you're looking for the perfect location with great food, drinks, and service, add this to your list.
We both got a fish taco special which was huge and ridiculously good! And I was told on Fridays, they have a fat stack sandwich special called "Fat Pants Friday." This sandwich is monstrous and must be seen! It's only served at the bar, and you'll definitely want your fat pants for that meal!
6Smith is located at 294 Grove Ln E, Wayzata, MN 55391. It's open daily from 11 to 10 except for Friday and Saturday, when it's open from 11 to 11.
Visiting Mill City
Minneapolis may not have the acclaim of Chicago or the drama of New York, but the 46th-largest city in the United States can hold its own. There are so many fun things to do in and around Minneapolis, and it's well worth a visit. Or two.
My Flying Leap was mentioned on Redfin. Check out the article we were featured in: Fun Things to Do in Minneapolis: 14 Can't-Miss Activities for New Residents | Redfin.
When to Go
June to August is the best time to visit Minneapolis if you want to enjoy life at and around the lakes. It can get hot and humid in the city, and many locals head out of Minneapolis to the lakes.
Daily highs are around 80 degrees Fahrenheit so the city takes to the lakes and other outdoor venues. This is peak tourist season so you will see lots of people out and about. If you go in the early part of June, or even late May, you may catch the cherry blossom trees blooming, a real treat.
Some of the best times to go are later in the spring and early fall, where you get less humidity generally and slightly cooler weather. It really depends on your preference and what you plan to do when you visit.
Minneapolis is known for getting dumped on with snow. So, be aware of that when traveling in the wintertime, or even in the early spring and late fall. Snowfall is heaviest from November to April and there are 40 inches on average annually.
Where to Stay
I had the opportunity to stay with a friend when I went to Minneapolis. Many of the hotels I saw are large chain hotels. However, these all seem really unique and fun and places where I'd consider staying.
Budget/Mid-Range: Hyatt Centric Downtown Minneapolis is an upscale lifestyle hotel in the heart of Minneapolis. It has some great amenities and a huge fitness center with an indoor running track. It's in walking distance to many main attractions.
Mid-Range: Canopy by Hilton Minneapolis Mill District is in a 1900s building that has been lovingly rejuvenated into a stunning hotel. It's near the best sports, dining, culture, and nightlife in the city.
Mid-Range/Luxury: Moxy Minneapolis Uptown is a fun and spirited hotel may be a Marriott now, but you'd never know it. It's a boutique hotel that's stylish, and modern, and playful.
Getting There
More than a dozen commercial airlines serve the Minneapolis-St. Paul International airport. Delta is a hub and has frequent flights. It is just over ten miles from downtown Minneapolis so it is easily accessible. The airport is quite impressive.
It is large and has a huge shopping and restaurant area. There are some fun shops as well as great restaurants. I recommend Smack Shack for their lobster roll.
Why You Should Visit Mill City
Minneapolis "Mill City" Minnesota is a worthy destination to visit and there are a lot of fun things to do. This area is a melting pot of cultures and ethnicities, so the restaurants, sights to see, and things to do all reflect that.
Like it? Pin it!