Why You Should Tour Antebellum Homes in Natchez
There is something so amazing about historic home tours. If there's one thing I love more than architecture, it's history, and touring amazing homes while learning about the architecture and the former inhabitants of the home is just so much fun to me. I know, I'm showing my #historynerd stripes yet again!
Just before the Civil War, Natchez, Mississippi had more millionaires than anywhere else in the United States. It became a competition of sorts to build the largest and most majestic house.
To get a taste of what it was like back in the golden days when cotton was king, you absolutely must tour antebellum homes in Natchez when you visit. It's a top thing to do in Natchez, and here are some of my favorites.
Some links in this article may be affiliate links, which means that if you purchase through them, I receive a small commission. This will never cost you extra. Please read the disclosures to learn more.
A Personal Aside
I was very conflicted about visiting Natchez and about writing about my experiences. Hailing from the northern United States, I struggled with visiting an area that was made wealthy by slavery.
I asked about their stories and was generally told not much was documented or shared in verbal stories. And of course, the stories that I did hear were significantly sanitized.
I decided to write about these mansions anyway, sharing the stories I was told on the tours. To be honest, I felt quite uncomfortable but didn't have the right words to put my thoughts into this post, so I didn't. Instead of editorializing, I simply omitted my personal feelings on the topic.
Recently, I was challenged by a reader that wrote that this post makes it appear as if I condone slavery by not saying anything. I have very strong feelings and opinions on the matter of slavery, however, this is a travel blog and not a social and political blog.
So, given the divisiveness in this country and the pervasive systemic racism that is clearly visible, I will say this: I do not condone or support racism and believe strongly that people should not be judged for the color of their skin, nor race, creed, religion or who they love.
My goal in writing this post is to share the beauty of the homes in this area and not to portray slavery as acceptable. We cannot undo what has been done. We can simply aim to do better. And with this update, I hope to do the same.
Natchez, Mississippi
Natchez is a charming small city located on the banks of the Mississippi River. There's a lot to do in this sleepy town. One of the most popular is to visit the antebellum homes. There are a lot of them offering tours, and I have included some of the most popular and the homes I visited.
There are also a number of museums providing insight into this area's rich history—the good and the bad. You'll find a museum of African American history and culture, and a prehistoric indigenous village of local Native Americans.
You'll also find a lot of beautiful areas to explore. the town center is very quaint and charming. And, of course, you can walk by the Mississippi River for some beautiful views.
You May Also Like Things to do in Natchez in One Day
Antebellum Homes in Natchez – Rosalie Mansion
Peter Little from Pennsylvania was a cotton gin mechanic and planter. Little purchased a portion of the land where the Europeans first settled on the Mississippi River at the age of 17 and the mansion was built in 1823. He named it Rosalie to honor the fort with the same name.
Peter met his wife, Eliza, who was the daughter of a friend who died along with his wife at a young age from yellow fever. He had begged Peter to care for her and he did, in a way—he married her. He was 25 at the time and she was just 14. The marriage was initially in name only though they grew to love each other.
They lived in the home for 30 years and had no children. Eliza started the first children's home in the area and it's still open today. She passed away from yellow fever at the age of 60 and he died three years later.
Peter left no will so the home was placed for auction and the Wilson family purchased it in 1857. Most of the furnishings in the home belonged to them. They had no children but adopted a daughter from an orphanage across the river. Their adopted daughter, Fannie, married Captain Steven Rumple after the Civil War and they had six children.
The Wilson family lived at Rosalie for 101 years. Fannie's daughters, Annie and Rebecca, lived there for their entire lives. Annie did marry in her 60s (bless her heart!) but remained in the home.
In 1938, the Mississippi State Society Daughters of the American Revolution purchased the house and allowed the sisters to continue living there for the rest of their lives. Apparently, they took that as a challenge, as Rebecca lived 10 more years but Annie lived another twenty!
Rosalie Architecture and Features
Rosalie Mansion served as an architectural inspiration for many of the Greek Revival mansions in the Natchez area. It was designated a National Historic Landmark in 1989.
Rosalie is a three-story brick building with four massive columns in the front. The home has an outdoor kitchen with a breezeway that led to the house. Food was handled through the window to the dining room in the main house.
There are a number of interesting items in the house including a Cornelius Baker gaselier chandelier made of brass. Also, there's an 1802 hall tree, the oldest piece in the house, where people used to hang their jackets and it has an iron bottom to collect the water.
The home has a brass chandelier from a Mississippi steamboat and a David Weatherly clock made in 1810. There is also a 1,000-piece collection of old Paris porcelain that is handpainted and unique. It's not original to the house.
The home served as the Union Army headquarters during much of the war. General Gresham, a Union General, lived there during that time with the Wilson family and moved all of the furnishings into the attic to protect them.
Note: Rosalie does not allow pictures to be taken inside, so, sadly, you'll have to take my word for it of how beautiful it is. But, the outside of this home should leave you with the idea that it is completely amazing and worth going on this tour when you visit antebellum homes in Natchez.
Rosalie Mansion is located at 100 Orleans St, Natchez, MS 39120. It is open daily from nine to five and tickets cost $20.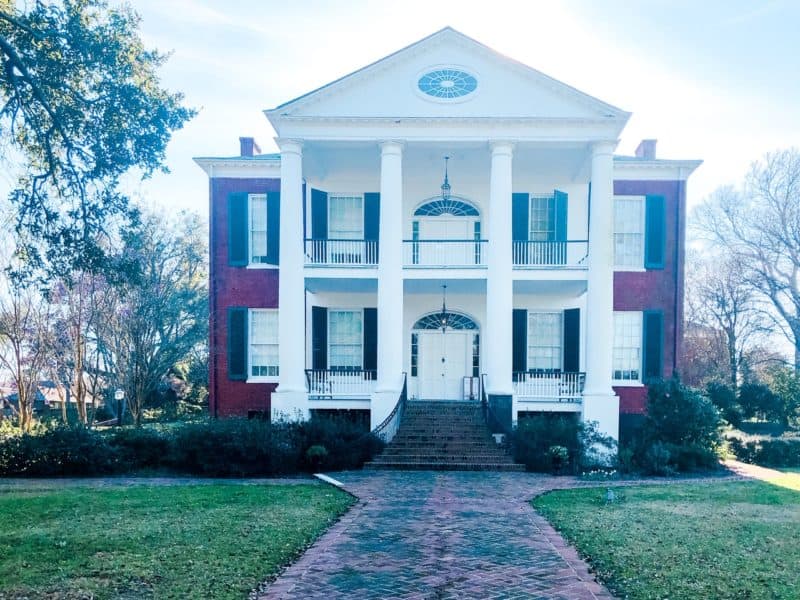 Antebellum Homes in Natchez – Longwood
Of all the homes we visited, Longwood had the most interesting story to tell (and show). It is the largest octagonal house in the United States and 30,000 square feet (almost 2,800 square meters) with 6 floors.
Haller Nutt was a cotton planter from Natchez. He wanted something unusual for his family home and was intrigued by octagonal homes as there is no wasted space. Haller decided to build it in 1860 to replace his first home and started construction shortly after. (Extensive brick-making began a couple of years earlier.)
More than 750,000 bricks (and possibly as many as one million bricks) were made for this house.
Then the Civil War started and construction was halted after only the first floor was completed. The family moved in with the intention that they would return to complete the house after the war was over.
The first floor was never intended to be lived in. Instead, it was planned to be a billiard, kitchen, smoking room, playroom, and others. Work halted in 1861 with only nine rooms on the basement floor completed.
Haller died at the age of only 48 from pneumonia, leaving his wife Julia to raise their 11 children (8 lived to adulthood). She lost everything during the war and had to raise her children in poverty in the lower level of the home. The furnishings are original to the Nutt family on loan to Longwood.
After the last child who lived here passed away, the home was sold to Kelly MacAdams in 1968 for $200,000. She repaired the home for two years, leaving the upper levels unfinished to show what war can do.
She gave the home to a local association, the Pilgrimage Garden Club, with the agreement that the home would never be finished.
Unfinished Floors
Longwood is 100 feet high from the bottom of the house to the top of the onion-shaped dome. The upstairs floors were boarded up and in fact, there are still boards lying around.
Nutt thought the war would be over quickly so everything was left as it was when the workers left. You can see some construction supplies, doors, and other things laying around that were never installed.
There are also floor charts and diagrams of what the home was planned to look like when it was completed. It would have been an impressive sight, but honestly, it's pretty amazing to see in its current state as well.
Longwood Mansion is a National Historic Landmark and is on the U.S. National Register of Historic Places. It is one of the most popular Natchez mansions to tour.
Note: Longwood also doesn't allow pictures of the inside where the family used to live. Only pictures of the unfinished area are allowed.
Longwood Mansion is located at 140 Lower Woodville Rd, Natchez, MS 39120. 30-minute tours cost $25 and run daily from 9 to 5.
Antebellum Homes in Natchez – Melrose
Melrose was the first antebellum home tour we went on and the bar was set high by our amazing guide, Sonny. She traveled here from Minnesota on a motorcycle and was entertaining and incredibly knowledgeable.
Before the tour began, we had a little bit of time so we wandered around the grounds including the slave's quarters. This was where 15 of the slaves lived in two, two-room buildings. There was a lot of information about slavery in general and about some of the people who once lived there.
There is also audio which nearly scared the @#$% out of me as it came on as I entered the room and sounded like someone had walked up behind me! But once I got a grip, it was interesting.
We also toured the stable where a number of antique cars were stored among other things, then headed back to the main house for our tour. The larger buildings on the property include the main house, the dairy building, and the kitchen building.
The kitchen and dairy buildings were set parallel to each other and perpendicular to the main house, in a pattern we would see again with some of the other homes.
Melrose History
Melrose was built by John McMurran for his family. He moved from Pennsylvania to Natchez in the mid-1820s, establishing a law practice, winning a seat on the state legislature, and marrying into a wealthy and respectable family within a brief period of time.
He purchased a cotton plantation, the first of five that he would own. Then he purchased this 132-acre plot, which at that time was located on the outskirts of Natchez, to build a country estate befitting a man of his means.
Melrose was completed in 1849 and the family moved in shortly after. The property ran due to the hard work and diligence of 35 slaves, 10 of which lived on the upper floor of the dairy and in the basement.
As abhorrent as the idea of owning slaves now is, in this time it was typical and expected. McMurran was known for being good to his slaves.
The McMurran lived here until 1865 when slavery was abolished. At that time, the family couldn't afford to keep the home and it was sold intact to the second owners, the Davis family, in 1866.
They purchased Melrose from the McMurrans intact. In fact, 85% of the furnishings and items in the home were original to the McMurran family. The daughter of the Davis family remained in the home until 1976 when it was sold to a third owner named Callen.
In 1990, the National Park Service purchased the property and they currently manage it.
Melrose Architecture
Melrose was one of the finest homes in the area built in a Greek Revival style fashioned after an English manor with four huge Doric columns in the front. The plaster was painted to look like sandstone in the style of the time.
It was also very modern for its time and they collected rainwater from the roof into a large cistern and even filtered it with charcoal for drinking. There are pipes that go down from the roof on the outside of the house where it was collected in the basement.
Melrose Features
The main floor was designed for entertaining and had the most lavish decorations. No expense was spared for things like gold tops for the curtains and the best of furnishings at the time.
You can see painted canvas covered in varnish on the floor in a decorative pattern, which was the style at the time. Though much of it has been replicated due to wear, they still showcase an original section.
The upstairs was much more simple and plain. And the kitchen was as well, which makes sense as the family likely either didn't go there or spent little time there.
Another interesting feature in the house is the Punka fan over the table. It was operated by a cord that the slaves pulled and it was very heavy. This fan was also called a shoo-fly and was used to keep the flies away from people while they were dining.
There were also decorative cords in every room to bells that would chime to alert the slaves that the family was in need of their attention. Only the mother and father were allowed to pull these cords.
The home tenants preserved a couple of things from the original owner. The first is the library filled with many first-edition books. The second was McMurran's prized dish set. She washed them herself to be sure they weren't chipped or else they couldn't be used. The original set is mostly complete and it was her pride and joy.
Melrose Mansion is located at 1 Melrose-Montebello Parkway, Natchez, MS 39120. Tours run from 9 to 5 and cost $8.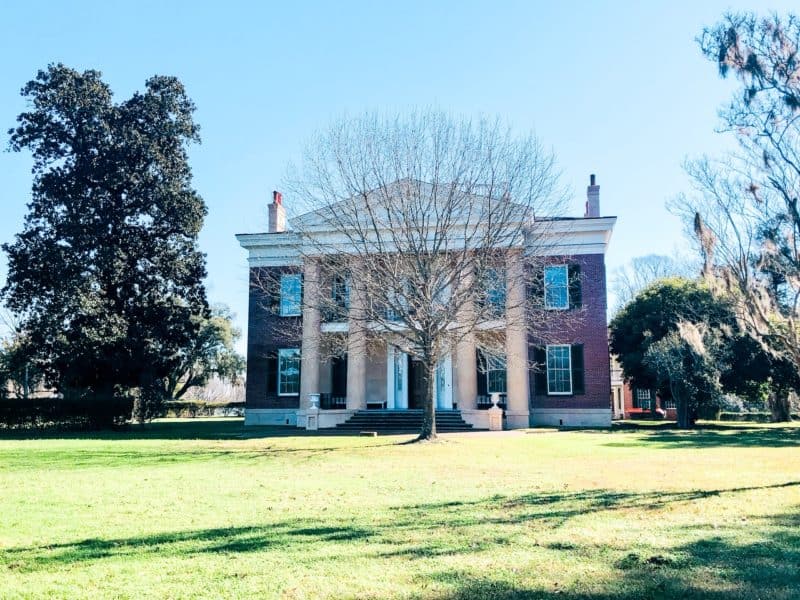 Antebellum Homes in Natchez – Auburn
Auburn construction started during the "grand mansion building craze" and finished in 1812. Lyman Harding, a Boston attorney and the first Attorney General for the state of Mississippi, had it built. Unfortunately, he didn't enjoy it for long and he passed away in 1820.
It was then purchased by Dr. Steven Duncan for only $20,000. He married a wealthy local woman by the name of Catherine. During their time there, they added additions and a back porch to the house.
Dr. Duncan was a multi-millionaire and owned 15 plantations with 2,200 slaves in total. 23 lived on the property. He was against the succession of the South during the Civil War and he left for his New York City summer home in 1863 and never returned.
His youngest son, Steven, decided to stay in the home. He never married and donated it in his will to the city of Natchez so the and would be a public park and the land and home would remain together.
Unfortunately, the city didn't really want it so they sold everything in the house and made it a playhouse for children. The house is so stunning on the outside, so it's a real shame!
In 1972, the Town and Country Garden Club ladies asked for a lease to restore the building. They ran it as a B&B in the beginning to cover their expenses. Today, it's leased and managed by an association running tours.
Auburn Architecture and Features
Auburn was the first building in the Natchez area designed as a Greek Revival home. It is a two-story mansion and served as a model for many others in later years. It is a Mississippi Landmark and a National Historic Landmark.
One of the most interesting and unique things about Auburn is the open wood freestanding staircase from the 1800s. It was tough to get a picture of it as I couldn't step back far enough to do so. It's special as it's one of only a few in the United States.
Sadly, very few items from the house remain. There are a few things in the house that are original to some of the owners, though. For example, there is a painting of the fireplace of Doctor Duncan in his 50s and a number of chairs that were original to the house.
Upstairs there is a large mirror also believed to be original. Additionally, there is also a bed that was original to the home purchased by Dr. Duncan. It was auctioned to a woman in California who donated it back to Auburn. The furnishings in the home are from the period but they are on loan.
Last, there is a picture of George Davis, a slave who served the doctor and his son and stayed on in a paid position for many years. He was taught to read and write and there is a copy of a letter he wrote to "Master Steve," what he called him for the remainder of his life.
Auburn Antebellum Home is located at 400 Duncan Ave, Natchez, MS 39120. Tours cost $15 and run around thirty minutes from 11 to 3.
Other Popular Antebellum Home Tours in Natchez
There are a number of other antebellum homes in Natchez that we didn't have the time to see. Here are a couple of the most popular ones that were high on our list had we had time. They will surely be top on our list if (or when?) we return.
Stanton Hall
Stanton Hall is located at 401 High St, Natchez, MS 39120. Also known as Belfast, it is an Antebellum Classical Revival mansion. It was built in the 1850s for only $83,000 and is one of the most opulent antebellum mansions to survive in the area.
It is now owned by the Pilgrimage Garden Club and is a Mississippi Landmark and a National Historic Landmark. 30-minute tours are offered daily from 9 to 4:30 and they cost $25.
Chocktaw Hall
Chocktaw Hall is located at 310 N Wall St, Natchez, MS 39120. It was built in 1836 and the architecture is a blend of Greek Revival and Federal styles.
There is actually a bed & breakfast on the ground floor and this is one of the top hotels in Natchez, Mississippi (technically, a top bed & breakfast in Natchez, MS). It's ideal if you want to see what it might be like to live in a grand home like this.
There are four queen bedrooms. Tours are held from Wednesday to Sunday at 11 a.m., 1 p.m, and 3 p.m. and they cost $20.
Should You Tour the Antebellum Homes in Natchez?
The wealth and opulence of life in Natchez during its golden age was due to cotton. And the wealth accumulated by the cotton crop was the result of slavery. Enslaved people kidnapped from Africa forced to do heavy labor was the backbone of the wealth in this city and life in the South at the time.
I'll be honest—I had a hard time reconciling it. Taking in the stunning beauty of these majestic and grand old homes knowing the suffering that built and maintained them. It was a lot to absorb.
Some of the homes did pay homage of sorts to the slaves whose labor created them and kept them running. But they didn't all and certainly, it wasn't a focus. On a personal level, I'm not sure of the best thing to do.
I debated if I wanted to see the homes knowing what I do. However, I felt that avoiding or ignoring wasn't the right solution either. In the end, I did choose to tour the antebellum homes knowing this dark past. But, you need to do what feels right for you.
Visiting the Antebellum Homes in Natchez is a Top Acitivity
You May Also Like Things to do in Natchez in One Day
There are a lot of other things to do in Natchez as well, though visiting the antebellum homes is a highlight. for some other ideas, I wrote another post on Natchez as well.
Natchez is rich in Civil War history. The hundreds of antebellum homes reflect a time of wealth and opulence in this Old South city. When you tour the antebellum homes in Natchez, you walk back through time to when cotton was king. You should tour antebellum homes in Natchez to really get a flavor for the area.
You Might Also Like
Like it? Pin it!