Traveler's Guide to the 11 Best Places to Visit in Morocco
Winding labyrinths in spice-scented medinas, historic ancient fortresses, jagged peaks, and cities of blue. Sand dunes rising from the earth. Morocco is a country of striking contrasts and overwhelming beauty. Read more to learn about the best places to visit in Morocco.
This post may contain affiliate links, which means I'll receive a commission if you purchase through my links, at no extra cost to you. Please read full disclosure for more information.
Merzouga
Merzouga is a small village in the Sahara desert only around 30 miles from the border of Algeria. It's such an interesting and unique place. The sand dunes seem to rise up out of nowhere and they are an impressive sight. They are tan during the day but pick up the most amazing colors with the rising or setting sun, in a rainbow cast of reds, oranges, pinks, purples, and browns.
Then everywhere between the sand dunes is a dark-brown and mostly barren landscape. It almost looks like what you would expect the surface of the moon to be like.
There is a small village in Merzouga. Then, at seemingly random places, you will see small outcroppings of either a cluster of hotels. Or you see a few small structures that the nomadic people, the Berber, use for their homes.
It's amazing to see people who have carved a life out of such a barren landscape. In many ways, it reminds me of the Native Americans and what they contended within the barren Arizona landscape where I live. The desert can be harsh and unforgiving, but yet, there is life.
As you might expect, Merzouga is all about the sand dunes and the Sahara desert. The most popular things to do here are to do a 4×4 jeep ride or a quad ride and to ride camels or dromedaries.
I think Merzouga is one of the best places to visit in Morocco as it's so unique from much of the world and even within Morocco. I live in a desert, and it looks like no place I have ever been to.
You May Also Like Why You Should Visit the Sahara Sand Dunes of Merzouga
Must-Do Highlights
Camel trek
Merzouga Lake
Gnawa music at Bambara or Pigeon des Sables
Sand surfing
Kohl mine
Marrakech
Marrakech is the most heavily touristed city in Morocco, and with good reason—the famed "red city" of Morocco offers some of the best the country has to offer. It is considered by many to be one of the best places to visit in Morocco, if not the best.
I found Marrakech to be really interesting. I'll admit that I was a little bit intimidated to go from everything I read before I went. It's a crowded and bustling city where people are aggressively bartering in the market.
Many articles I read were a long list of what to look out for and what to be careful of. And honestly, it is all of that. But it's also quite interesting and intriguing, and there's a flow to it. I was able to mesh with it and actually did venture out on my own a little bit.
There is a lot to see and do in Marrakech. It's in a pretty central location, so it's a great launching point for day trips and to see other parts of the country. Don't let what you read deter you. Visit Marrakech and plan to spend at least a couple of days there, if not more.
You May Also Like 11 Reasons Why You Should Visit Marrakech
Must-Do Highlights
Bahia Palace
Saadian Tombs
Jemaa El-Fnaa
Museum of Marrakech
Koutoubia Mosque and Tomb of Lalla Zohra
Jardin Majorelle and the Berber Museum
Moroccan Hammam
Essaouira
The picturesque fortress city of Essaouira overlooking the Atlantic is a fantastic day trip from Marrakech. Or even better, a weekend visit. Spend time exploring the twists and turns of the old town, wandering the old city walls and ramparts, and the citadel.
Visit the harbor fish market and the rows of picturesque bright-blue boats. Climb the steps of the Harbor Scala for some of the best harbor pictures.
The vibe here in Essaouira is much more relaxed than in Marrakech. It's an interesting mix of local Arabs, hippies, and tourists. The shopkeepers are not as pushy as in many places in Morocco.
So, you can often spend time looking at handcrafted goods without being bothered. Prices are often a bit better in Essaouira as well, so it's a great spot to do your souvenir shopping.
Essaouira is known as the windy city as the tradewinds blow year-round. Though the beaches are beautiful, you won't find many people laying out during much of the year. Instead, people are taking advantage of the winds and enjoying watersports like surfing and kitesurfing.
UNESCO World Heritage Site
Essaouira's medina is a UNESCO World Heritage site listed as an exceptional example of a late 18th-century fortified town. As you may know from my other posts, any UNESCO site is worth seeing, in my opinion. I'm adding Essaouira to my list as one of the best places to visit in Morocco.
You May Also Like Top 9 Things to do in Essaouira
Must-Do Highlights
Medina (old city)
Sidi Mohammed Ben Abdallah Museum
Mellah
Harbor fish market
Harbor Scala and the ramparts
High Atlas Mountains
The tallest point of the High Atlas Mountains is known locally as "Idraren Draren." This means Mountain of Mountains, and it can be seen from Marrakech. It is the highest point in Northern Africa.
There is a lot to do in the High Atlas Mountains as you take in the scenic views of the jagged peaks. It is a hiking paradise from May to October. There are many picturesque places to visit, including waterfalls and small villages.
Enjoy a mint tea at a local village, visit a women's argan oil co-op, or hike to a waterfall. You can also take a hot air balloon ride at sunrise or sunset to enjoy the dramatic scenery.
Explore some of the small villages along the way to see what life in the mountains is like and even learn more about nomadic life. There are nomadic Berber tribes still living in these parts. It's a very different life from the bustling cities of Morocco, and why this is one of the best places to visit in Morocco.
Must-Do Highlights
Argan oil co-op
Ouzoud Waterfalls
Ourika Valley
Todra Gorge
Todra Gorge is a spectacular canyon located on the eastern side of the High Atlas Mountains. Rivers carved this impressive canyon through cliffs of red and orange rock that are more than 500 feet tall. The river is now just a trickle, nowhere near what it must have once been to carve this gigantic canyon.
The gorge is in a fairly remote part of the country. However, it is a popular tourist destination. Souvenir vendors line the canyon walls, and tour buses often clog the well-maintained dirt path.
You can walk a while through this area and think of the powerful waters that once carved the gorge. There is a large old, closed hotel in the gorge. and unfortunately, there are many stray dogs searching for a meal from visiting tourists.
Ait Ben-Haddou
Ait Ben-Haddou is another of the best places to visit in Morocco. It features a ksar, a group of adobe buildings surrounded by high walls on top of a large hill. It is a UNESCO World Heritage site recognized as a striking example of southern Moroccan earthen clay architecture.
Inside the city walls are a number of kasbahs, or merchant houses, nestled together within the protection of the walls. This city was once on the caravan route between Marrakech and the Sahara, so a lot of wealth passed through here.
You May Also Like Marrakech to Merzouga—What to See Along the Way
There are a few families still living in this ancient village, though most live across the river in more modern dwellings.
Meknes
Meknes is one of the four Imperial Cities of Morocco and was founded in the 11th century. It became the capital of Morocco during the late 1600s and early 1700s. During that time, it expanded rapidly into a city with a distinct Spanish-Moorish style. Though it no longer has the same place of importance, it remains the sixth-largest city in the country.
Meknes is known for its large and ornate gates to the old city. Many of the towering old city walls remain along with the gates and grand buildings, showing the former grandness of the city. Wander the narrow winding streets of the medina.
Visit the royal stables and the royal granary, Bab El Mansour, and check out the thriving marketplace. The market, called El Hedim Square, is a miniature version of the Marrakech market.
Must-Do Highlights
Bab al-Mansour Gate
Mausoleum of Moulay Ismail
Medina
El Hedim Square
Granary and Heri es-Souani royal horse stables
Volubilis
Near Meknes is the ancient Roman ruin of Volubilis. It is one of the best-preserved Roman ruins in the world. Where did the Roman Empire not go? A small Berber village fell under Roman Rule in 146 B.C.
Less than 200 years later, it became the capital of the Roman state, Mauritania.
You May Also Like Why You Should Visit the Roman Ruins in Morocco
At its peak, more than 20,000 people lived at Volubilis. The city became wealthy and enjoyed the trappings of that wealth in traditional Roman buildings. Volubilis has a basilica, the Temple of Jupiter, and the Triumphal Arch of Caracalla.
Though an earthquake near Lisbon reduced Volubilis to rubble, the important buildings have been partially rebuilt. It takes some imagination, but you can get a feel for what this city once was. Volubilis is a UNESCO World Heritage site and a must-see, making it one of the best places to visit in Morocco.
Fes
The city of Fes is another imperial city and the former capital of Morocco. Fes is the second-largest city in Morocco, second only to Casablanca. It is located at the crossroads between Casablanca, Marrakech, Rabat, and Tangier.
it is home to the largest and the oldest medina (old walled city) in the country. It was built in the 9th century and is one of the best-preserved medinas in the country and possibly in the world. Around 90,000 people are believed to still live there.
The medina is a crowded labyrinth of narrow paths and passageways. Some are ridiculously narrow, and all are a complete assault on the senses. But somehow, it is as charming as it is overwhelming.
Hiding inside are co-ops of artisans, a leather tannery, beautiful picturesque fountains, striking minarets, and the oldest university in the world. There are some incredible places in this area of perpetual pandemonium.
You May Also Like What It's Really Like in the Fes Medina
The Fes medina is not somewhere to go without a guide. First, because you may never find things as it can be quite overwhelming! Second, because you may never find your way out. As frenetic as the medina is, it was one of my favorite places in Morocco.
Must-Do Highlights
Old medina
Oldest University in the World – Al-Kairaouine Mosque
Chouara Leather Tannery
Textile Co-op
Pottery Co-Op
South Castle
Mellah, Jewish Quarter
Royal Palace
Chefchaouen
The fabled located in Northern Morocco is known for the old city washed in shades of blue. Why is the city blue? That is the topic of much debate.
Some believe it was in solidarity with the Jews who took refuge there from Hitler in the 1930s. Others say it was designed to attract tourists. Either way, it is believed to symbolize the sky and heaven and helps to promote a spiritual life.
Wander the narrow streets and alleyways smelling spices, incense, and oranges. Stop and sip a cup of steaming hot tea. This city is an Instagrammer's dream.
Must-Do Highlights
Medina (old city)
Cascades d'Akchour
Kasbah Museum
Grand Mosque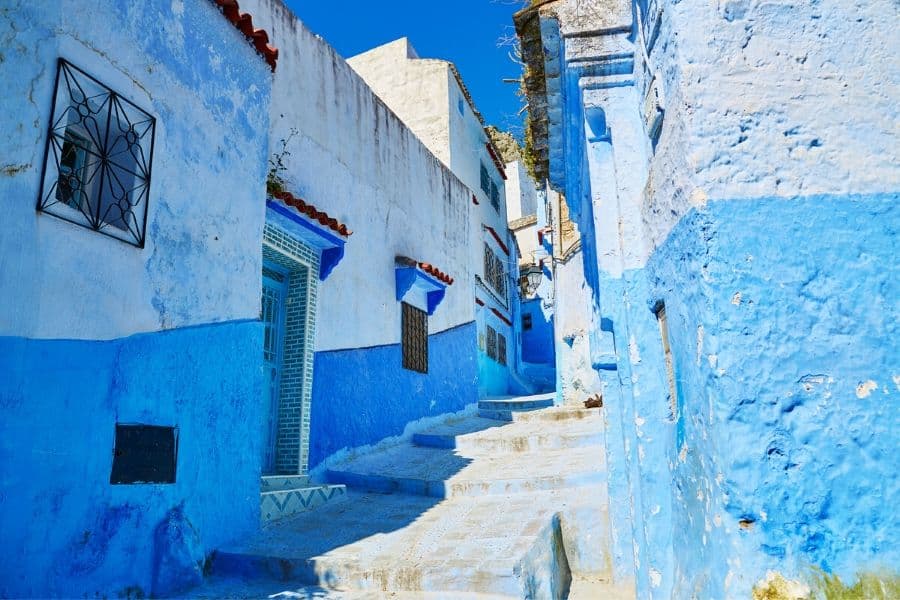 Casablanca
You might expect there is a lot to see and do in Casablanca. It's the largest city in Morocco made famous by the Hollywood film of the same name, but you would be wrong!
The "white city" is worth visiting, but you can see most of the main attractions in a single day. It is a modern city that is sophisticated and a comfortable introduction to the country.
This city on the Atlantic Ocean is home to one of the largest mosques in the world, the Hassan II Mosque. It is one of the few in the country that offers tours that provide visitors a glimpse of what it is like inside a mosque.
Rick's Cafe is nearby, a lovely restaurant paying homage to the one in the classic film, "Casablanca." The old and new medinas are worth visiting to try your hand at Moroccan bargaining.
You May Also Like The Best Things to do in Casablanca in One Day
Must-Do Highlights
Hassan II Mosque
Corniche
Notre Dame de Lourdes Catholic Church
Quartier Habous New Medina
Old Media
Rick's Cafe
Morocco is a fascinating country to visit. Primarily Muslim and refreshingly progressive, it's a great place to learn about the culture. Morocco offers some strikingly contrasting places to visit, including large modern cities, historic oceanside fortresses, Sahara desert dunes, and tiny villages.
It's an amazing place to visit and well worth adding to your travel list. I am so grateful I got to go!
If you're sold and want to skip ahead to a great one-week itinerary, click here.
You Might Also Like
Like it? Pin it!