The 14 Best Places to Stay in Vegas on Any Budget
With nearly endless choices, it's tough figuring out the best places to stay in Vegas. Well, it's your lucky day as that's exactly what you'll find in this detailed post. Hopefully, that luck continues on your trip to fabulous Las Vegas!
Let's not forget about the world-class dining options and nightlife that you'll get to enjoy in Las Vegas. There are so many amazing restaurants, bars, and clubs here, so foodies and night owls rejoice!
If you're planning a trip there but aren't quite sure where to stay in Vegas, read on for a closer look at some of the best options for every budget, both on and off the Strip.
Even if you're not into hitting the slots or the tables, there are plenty of reasons to travel to Vegas. It's definitely earned the "Entertainment Capital of the World" moniker. On any given night you can see live music, a magic show, stand-up comedy, acrobatics, burlesque shows, and so much more.
Some links in this article may be affiliate links, which means that if you purchase through them, I receive a small commission. This will never cost you extra, and I appreciate your support!
The Strip: One of the Most Famous Streets in America
Although it's technically not even in Las Vegas proper, the Strip is definitely the most popular place to stay. This 4-mile stretch of road is full of all the glitz and glamor you expect from fabulous Las Vegas.
If you want to be in the heart of all the action, the Strip is the place to be. Whether you're looking to gamble, shop, wine and dine, see the shows, or party 'til the break of dawn, you can do it here.
One great thing about the Strip is the ease of getting around. Most of the resorts are connected by escalators and air-conditioned walkways, so you barely ever have to step out into the often intense Vegas heat. There's also the Deuce bus running up and down the Strip, but more on that in the "how to get around" section.
Is the Strip Where You Want to Be?
Trying to decide where to stay on the Strip in Las Vegas is tricky as you have tons of options. Most people who come to Vegas for a quick vacation look to the massive casino-resort complexes the Strip is famous for.
Staying on the Strip is awesome, but it can be pricey. Rates here can vary quite dramatically depending on the night of the week. Not surprisingly, they are much higher on weekends. A night in one of the resorts on the Strip might be 4-5x the price on a Saturday compared to a Wednesday. Keep this in mind when planning your trip.
Another important thing to consider is those pesky resort fees. Most resorts in Las Vegas charge a nightly fee on top of the room rate, which can be up to $50. It's hidden in the fine print on some booking sites, so just be diligent and check the details. At least most of them still offer free parking for guests.
If you're looking for where to stay in Vegas for cheap, the Strip really isn't the place. It's hard to find a room for less than $100 a night here before resort fees. There are deals to be had, though, especially if you come on a weeknight and don't mind walking a block or two.
Here's a brief rundown of some of the most well-known spots on the Strip broken down into three zones: the south end, the middle, and the north end.
South End of the Strip
The south end of the Strip is just west of McCarran International Airport, where most travelers arrive in Vegas. On this end, you'll find resorts such as Mandalay Bay, Luxor, and Excalibur.
Prices are lower down here as it's a bit of a trek to the center of the Strip and right next to the airport. It's still a popular place to stay as these resorts have everything you need under one roof. Plus, you have very easy access to the airport and can save money and time on cabs.
Budget—Fairfield Inn & Suites: While this technically isn't on the Strip, it's super close. If you're trying to find a room for less than $200 without resort fees and that has an outdoor pool, this is the spot.
Mid-Range—Excalibur: If you've always wanted to live in a castle, Excalibur is the best hotel to stay at in Vegas. Named for the mythical sword of King Arthur, this whole resort has a cool Medieval theme.
Luxury—Mandalay Bay: This is definitely the lap of luxury at the south end of the Strip. You can spend the day lounging on their 11-acre beach, then grab cocktails at the fancy Skyfall Lounge before grabbing a table at one of their excellent restaurants.
Middle of the Strip
Moving north across Tropicana Avenue, you'll find iconic Vegas Strip hotels such as New York, New York, the MGM Grand, and Planet Hollywood. From here on out, it's sensory overload with all of the massive casino signs, costumed people on the streets, and giant plastic cocktail-toting tourists.
Keep heading north and you'll pass some of the most luxurious names on the Strip such as Caesar's Palace, Aria, Bellagio, and the Venetian. This middle section is without a doubt the ritziest and thus the priciest.
This is also where you'll find the Wynn, which is hands down one of the most luxurious places to stay in Vegas. Scratch that—it's one of the top 5-star resorts in the entire world. This place is fancy!
Budget—Travelodge: To be honest, there aren't really any "budget" options on the Strip. This 2-star hotel still costs over $150 on a weekend but at least there's no resort fee.
Mid-Range—Paris: It's hard to beat the location of this Parisian-themed resort. Staying here puts you smack dab in the middle of the Strip without breaking the bank. With the Eiffel Tower and the Louvre as well as sidewalk cafes and shops, it's easy to feel like you've been transported to Europe.
Luxury—Wynn: Any Google search of the best places to stay in Las Vegas will inevitably include the Wynn and its sister resort, Encore. This is a place of superlatives, as it's the largest 5-star resort in the world. This place wins awards year after year, including a Michelin star for Wing Lei—the first Chinese restaurant in North America to get this honor.
North End of the Strip
Prices drop as you move further north to places like Treasure Island, Circus Circus, and the STRAT. Looking at reviews for some of them, it appears that quality drops along with the price.
The best part about being at the north end is that you can easily access both the Strip and downtown. This allows you to see a few different sides of Vegas, and check out some of the coolest attractions in the city.
Budget—Hostel Cat: The top-rated hostel in Las Vegas is a great place to stay to meet fellow travelers. It's also hands-down one of the cheapest options in the city, with dorm beds for under $30. There's also a nice courtyard here where you can hang out and soak up the sun while playing some bean bags or beer pong.
Mid-Range—The STRAT: The hotel formerly known as the Stratosphere is one of the cheapest options. It's not the most exciting area of the Strip, but you've got everything you need under one roof here. Plus, you can watch people jumping off the tower from the pool and get a discount on the observation deck, which gives you some pretty insane views of Vegas.
Luxury—Hilton Grand Vacations: You won't find any 5-star resorts at the north end of the Strip, but this one has 4! It's still a great location for exploring Vegas and the outdoor pool is really nice here. They also have suites with a kitchenette, which is always nice.
Downtown: The Old-School Side of Vegas
While the Strip is great, it's not the end-all, be-all of Vegas. In fact, many people prefer the old-school vibe of downtown. It definitely feels a bit more authentic here than the faux-European vibes in many of the resorts.
In addition to being easier on your wallet, staying downtown means you'll get to enjoy the Fremont Street Experience. There's live music every night of the week, a super fun zipline, and the incredible Viva Vision sound and light show. You definitely won't be bored staying here.
Some of the coolest attractions in Vegas are located downtown as well. The Mob Museum tells the history of organized crime and law enforcement in the country. It's a fascinating place to explore.
A few blocks away, you'll find the famous Neon Museum, also known as the Neon Graveyard. It's home to dozens of signs from casinos and hotels of years gone by. Join one of their guided evening tours, and you can see some of the signs lit up.
Best Places to Stay in Downtown Vegas
While there aren't quite as many choices for accommodation here as there are on the Strip, you've still got some solid options downtown. Here are a few to satisfy different budgets:
Budget—El Cortez Hotel & Casino: If you want a dash of history with your Vegas trip, book a stay at El Cortez. Dating back to 1941, it's one of the oldest casino-hotels in the city. Don't worry—it's had several renovations over the years, most recently in 2018.
Mid-Range—The D: Formerly called Fitzgeralds, this place underwent a $22 million renovation in 2012 when it transformed into The D. (It stands for both "Downtown" and the owner's hometown of Detroit, by the way.) It's definitely one of the most fun places to stay in Vegas, especially when you hang out at the Longbar and watch the flair bartenders at work.
Luxury—Circa Resort: This 35-story hotel and casino is hard to miss as it's the tallest building in downtown Las Vegas. It's an adults-only property, which is getting harder to find these days as Vegas promotes a more family-friendly image. Perhaps its coolest feature is "Stadium Swim"—a 6-tiered pool with a 40-foot tall HD screen.
The Best Places to Stay in Vegas off the Strip
If you're balling on a budget in Vegas, you've still got some options. You'll just need to look off the Strip and a few blocks away from the Fremont Street area.
For those looking to find a no-frills style of accommodation, here are some of the best bets:
Palace Station: This place was simply called "The Casino" back in the 70s, and has undergone several name changes and renovations over the years. It's not far from the Strip, and it's also close to Chinatown where you'll find some amazing restaurants.
Mardi Gras Hotel & Casino: If you're headed to Vegas for a convention and want to find a cheap room, this is the place to be. It's right by the Vegas Convention Center and the monorail stop. They offer a free shuttle to the Strip and the airport as well.
Red Roof Inn: This budget hotel has nice features like an outdoor pool and free parking. It's also pet-friendly, which is hard to come by in Vegas. The location is quite convenient as it's very close to the airport and just a few blocks away from the Strip.
Top Things to do in Las Vegas
There's so much to see and do in Vegas that you won't be able to fit it all into one trip. Here's a list you can use to get started, checking items off each time you visit:
Take a pic with the "Welcome to Fabulous Las Vegas" sign
Ride the roller coaster at NYNY
See the fountains at Bellagio
Take a spin on the High Roller Ferris wheel
Watch the volcano erupt at the Mirage
Take a day trip to Red Rock Canyon
Play mini-golf at the Rio or Bally's, or try your hand at Top Golf
Check out the Fremont Street Experience
Visit the Mob Museum and Neon Graveyard
Get married with Elvis officiating
Hit one of the indulgent buffets
See a show (Cirque du Soleil, magic, stand-up comedy, live music)
Explore the psychedelic Area 15 highlighted by Meow Wolf
For a more detailed look at the best things to do in Vegas and more, check out this massive 3-day itinerary!
How to Get to Las Vegas
A vast majority of travelers arrive in Las Vegas at McCarran International Airport (LAS). There are direct flights to nearly 150 destinations in nine different countries. They definitely want to make it easy to get you in the door!
There are two terminals at the airport, which are confusingly named Terminal 1 and Terminal 3. There's a free shuttle connecting the two that runs every 20-30 minutes outside of Level 0 at each terminal.
Although not as popular, you can also travel to Las Vegas by bus. Greyhound, Megabus, and FlixBus all have routes serving Sin City.
How to Get Around Las Vegas
If you're staying on the Strip, the best thing you can do is get a bus pass. You can pick up an RTC bus pass for 24 hours for $8, or one for three days for just $20.
The Deuce on the Strip line runs 24/7 and travels the full length of the famous road. There's also a Downtown Loop line for those staying in that part of town.
Taxis are also readily available in Las Vegas. They use a meter so you'll get a fair price. It is usually cheaper to use rideshare apps like Uber and Lyft, which are both huge in Vegas.
It can definitely be fun to rent a car in Vegas if you want to get out of town. The Red Rock Canyon is just 15 minutes away and is a beautiful place to explore. It's about an hour to the historic Hoover Dam if you want to check that out.
That being said, traffic on the Strip can be crazy and unfortunately, there are usually tipsy drivers on the road. Free parking is also harder to come by these days. If you're just in Vegas for a weekend to take in the sights, you can skip the rental car entirely.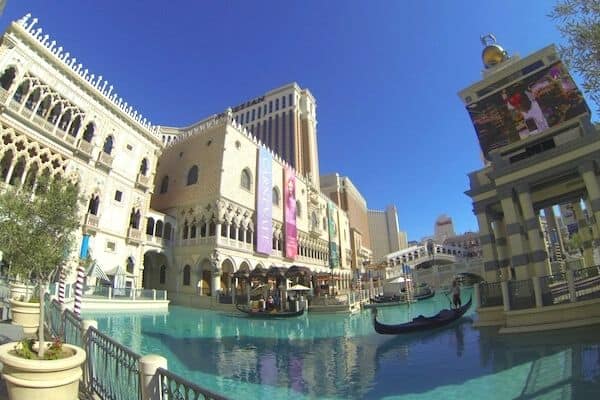 Where to Stay in Las Vegas on a Budget?
If you're looking for budget options on the strip, you will need to check out places at the end of the strip as these are often cheaper. Some of the most popular choices include the STRAT Hotel and the Rio All-Suite Hotel.
STRAT has an outdoor swimming pool, a restaurant, and an observation tower. Rio All-Suites has beautiful rooms with strip and mountain views. They have live shows and an on-site Indian restaurant.
Where to Stay in Las Vegas Near the Airport?
If you want to stay close to McCarran International Airport, here are some places to choose from. Check out Tropicana Las Vegas for a luxury hotel with waterfalls, pools, and an on-site steakhouse.
You can also check out MGM Grand or Tru by Hilton Las Vegas Airport.
Is It Better to Stay on the Strip in Vegas?
This depends on your budget. Staying on the strip in Las Vegas means you will be paying quite a bit for a hotel. The hotels in this area are often much more convenient and safer though. You're also within walking distance to many attractions which means you'll pay less for transportation.
If you're a first-time visitor to Vegas, staying on the strip makes your vacation much more stress-free. The strip is the best neighborhood in Las Vegas.
What Month Is the Cheapest to Stay in Vegas?
There are many times of the year when you can cheap accommodation in Vegas. If you're searching for where to stay in Vegas during the months of September through November or January through April, you'll find many discounts.
January tends to be the cheapest month. To avoid expensive rates, don't visit Las Vegas during any major holidays.
When to Visit Las Vegas
Once again, it's important to note the price differences between weeknights and weekends. Going to Vegas from Monday-Wednesday can be a quarter of the price of a Friday-Sunday visit. If at all possible, to get a good deal at the best places to stay in Vegas, it's best to visit during the week as far as prices go.
It's also important to check the calendar of events. Las Vegas is a hub for conventions and festivals these days. Rates tend to skyrocket around these as well.
As far as the weather goes, spring and fall are probably the best seasons. Temperatures in the summer can often exceed 100 degrees. In the winter, it might be a bit chilly for you to enjoy that poolside cabana.
All the Best Places to Stay in Vegas
Hopefully, this post helps you hit the jackpot when deciding on the best places to stay in Vegas. As you can see, the options are nearly endless. Where else in the world can you choose between staying in a pyramid, a castle, or a palace?
Wherever you decide to lay your head in Vegas, you'll have easy access to all of the city's attractions. North or south, downtown, or off the Strip, it really doesn't matter. The point is you're in Vegas, baby! Now get out there and live it up.
You Might Also Like
Like it? Pin it!