11 Top Things to Do on the Las Vegas Strip
Somewhere on the edge of the desert, you see the Great Pyramids, the Statue of Liberty, and the Eiffel Tower. Is it a mirage? Actually, the Mirage is the place across the street with the erupting volcano, and these are just a few of the many things to do on the Las Vegas Strip.
Flying into this bustling city in the Mojave Desert, you're sure to be amazed at the sight of the Las Vegas Strip. This 4-mile stretch of road is home to massive resorts and casinos that are all illuminated in a sea of neon at night.
On any given day, there are tens of thousands of people milling about on the Strip. In addition to the casinos, it's full of restaurants, shops, bars, and much more. There are so many Las Vegas Strip attractions it'll make your head spin like the images on a slot machine.
Once known famously (or infamously) as Sin City, Las Vegas now prefers to be called the Entertainment Capital of the World. These days it's just as much of a hot spot for family vacations as it is for bachelor parties.
With a few days on the Strip, your options are nearly endless. Where else in the world can you visit an aquarium, ride a roller coaster, take a gondola ride, dine in a Michelin-star restaurant, go to the circus, see a pop star, and party in a nightclub all in one day? Welcome to Fabulous Las Vegas!
In this guide, we'll take a look at some of the top things to do on the Las Vegas Strip, including recommendations for some of the best hotels, buffets, and much more. We'll start at the south end and head north, hitting some of the city's best attractions along the way.
Some links in this article may be affiliate links, which means that if you purchase through them, I receive a small commission. This will never cost you extra. Please read the disclosures to learn more.
1. Welcome to Fabulous Las Vegas Sign
One of the quintessential things to do on the Las Vegas Strip is snapping a picture with the famous sign. It's been here since 1959 and is even on the National Register of Historic Places.
There's almost always a line of people here, but it moves quickly. It's definitely a must-see on the Strip. After all, if you didn't get a pic with the sign for the 'gram, did you even go to Vegas?
The sign is located at 5200 Las Vegas Blvd S. It's open 24 hours a day and is free.
2. Pinball Hall of Fame
Fancy yourself a pinball wizard? After getting your obligatory picture with the sign, head across the street to this super fun interactive museum.
Here you'll find hundreds of pinball machines dating back to the 1950s. Older games only cost a quarter to play, while newer ones run a cool fifty cents. It's way more fun than hitting the slots, plus there are windows and clocks in here!
The Pinball Hall of Fame is located at 4925 Las Vegas Blvd S. It's open from 11 a.m. to 9 p.m. every day and is free to enter.
3. Shark Reef Aquarium
Moving north, one of the best Las Vegas Strip activities for families is the Shark Reef Aquarium at Mandalay Bay. The main tank here is an impressive 1.3 million gallons, making it one of the biggest in North America.
There are over 2,000 animals here, including sharks, giant rays, crocodiles, sea turtles, and even a Komodo dragon. They also have animal encounter programs as well as a virtual reality theater.
The Shark Reef Aquarium is located at 3950 Las Vegas Blvd S. It's open from 10 to 6 every day and is $29 for adults and $24 for children 5-12.
4. Bodies and Titanic Exhibits
Our next stop is Luxor, which is an attraction in and of itself. There's a Sphinx in front of this pyramid-shaped resort and casino. Head inside, and you'll find some of the best things to do on the Las Vegas Strip with two amazing exhibitions.
At the Titanic exhibit, you can see hundreds of artifacts from the sunken ship along. The exhibit includes recreations of many of the rooms onboard. Meanwhile, the Bodies exhibit features whole-body specimens and organs that have been meticulously preserved. Who knew you could get lessons in history and anatomy in Vegas?
Both exhibits are located at 3900 Las Vegas Blvd S. They're open from 11 a.m. to 6 p.m. every day. Tickets are $32 for each exhibit, or you can purchase a combo ticket for $42.
5. Big Apple Coaster & Arcade
Crossing Tropicana Avenue, we make our way further north along the Strip. Here you'll find the New York Hotel & Casino, which features a replica of the Manhattan skyline complete with the Statue of Liberty.
The best part about NYNY, though, is definitely its Big Apple Coaster. This one will get your heart pumping with speeds of up to 67 mph and a 144-foot drop. After your ride, drop into the arcade to play some classic games.
The Big Apple Coaster is located at 3790 Las Vegas Blvd S. It's open from 11 a.m. to 11 p.m. Monday- through Thursday and 11 a.m. to midnight on weekends. It costs $19 before 9 p.m. and $23 after, or you can get a day pass for $35.
6. Bellagio Fountains and Botanical Gardens
The Bellagio is one of the best hotels on the Las Vegas Strip and, it's home to a couple of great attractions as well. In front of the massive resort, people line up day and night to catch a glimpse of the fountains.
After seeing the exciting display of water, sound, and light, head inside to check out the botanical gardens. They change with the seasons and are always very impressive.
The Bellagio is located at 3600 Las Vegas Blvd S. The water show happens every 30 minutes before 8 p.m. and every 15 minutes from 8 to midnight. The gardens are open 24 hours a day and both are free to visit.
7. Eiffel Tower Viewing Deck
All you need to do is walk across the street from the Bellagio to transport yourself to France. Here you'll find some of the top Las Vegas Strip attractions, most notably the replica of the Eiffel Tower.
Grab your ticket and head to the viewing deck. At 46 stories tall, it offers sweeping panoramic views of the Strip. You might as well check out the replica Arc de Triomphe and Le Boulevard while you're over here.
The Eiffel Tower Viewing Deck is located at 3655 Las Vegas Blvd S. It's open Thursday to Monday from 3 to 10 p.m. and costs $25.
8. High Roller
You'll definitely feel like a high roller when you take a spin on this awesome observation wheel. It's actually the tallest in North America, topping out at 550 feet above the Strip.
It takes half an hour for the High Roller to make a complete revolution, which is plenty of time to enjoy the view. If you're in the mood to party, sign up for their "Happy Half Hour," where your trip includes an open bar.
The High Roller is located at 3545 Las Vegas Blvd S. It's open every day from 4 p.m. to midnight. Anytime tickets are $34.75, while the Happy Half Hour costs $60.
9. See a Volcanic Eruption
Without a doubt, one of the hottest things to do on the Las Vegas Strip is watching the volcanic eruption at the Mirage. Cheesy puns aside, this is seriously an awesome experience.
If you really want to feel the heat, get there about 15 minutes early to find a spot on the rail. The fiery display is accompanied by music from the Grateful Dead's own Mickey Hart with Indian tabla legend Zakir Hussain.
The Volcano is located at 3400 Las Vegas Blvd S. The eruption happens every day on the hour from 7 to 11 pm. It's totally free to watch.
10. Take a Gondola Ride
Since you've already been to Cairo, New York, and Paris, why not add Venice to the list? Cruising along in a gondola at the Venetian is one of the best Las Vegas Strip activities.
This is especially popular with couples, as it always pops up on lists of the most romantic things to do in Vegas. Enjoy a serenade from your gondolier as you float down the Grand Canal.
The Venetian is located at 3355 Las Vegas Blvd S. The gondola rides are available every day. Hours vary for indoor/outdoor and weekday/weekend, but it's always open until at least 11 p.m It costs $34 per person during the week and $39 on weekends.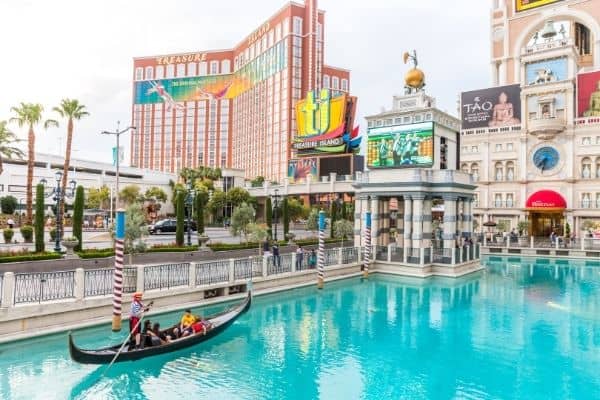 11. Thrill Rides
Only the brave will make it to the last item on our list. The thrill rides at the STRAT are not for the faint of heart! Adrenaline junkies will love Skyjump, which is a controlled descent from the 108th floor of the tower. It's kind of like bungee jumping, only better and less terrifying.
There are a few other options up here as well including the Big Shot, which shoots you 160 feet up in the air at 45 mph. You can also take a spin on the aptly named Insanity or X-Scream, both of which dangle you over the side of the building.
The STRAT is located at 2000 Las Vegas Blvd S. The thrill rides are open every day from 2 to 10 p.m. during the week and noon to midnight on the weekend. Skyjump costs $130, while the other thrill rides are $29 each which includes admission to the more relaxed SkyPod.
How to Get Around Las Vegas
If you're planning on spending a majority of your time on the Strip, you can easily get by with a mix of walking and public transport. It's actually pretty pedestrian-friendly, with lots of covered walkways and escalators to make moving between the resorts easy.
There's definitely a bit of a mirage effect going on in Vegas, though. Everything looks like it's really close, but once you start to walk you realize it's actually pretty far!
Whenever you need to give your feet a break, you can always hop on the Deuce bus. This line runs up and down the Strip and even goes downtown if you want to check out Old Vegas.
A bus pass in Vegas costs $6 for two hours, $8 for one day, or $20 for three. If you'll be there all weekend, it's definitely worth it to grab the 3-day pass. You can buy them at vending machines or just download the app. Click here to see the route and schedule.
If you don't feel like waiting on the bus, it's super easy to hail a cab here. Rideshare apps Uber and Lyft are also quite popular. They even have a designated pick-up spot at the airport.
When to Visit Las Vegas
Let's start by saying that there's no such thing as a bad time to visit Las Vegas. There's always something going on here, making it a year-round destination.
That being said, some people simply cannot take the intense summer heat. It often exceeds 100 degrees here (around 38° Celcius) between June and August. As long as you don't spend much time outside during the day, though, it's manageable.
One thing to consider when planning a Vegas trip is the city's event schedule. There are tons of conferences and festivals here throughout the year. During these busy times, accommodation prices skyrocket and availability is limited.
Unless you're going to one of these events, it's better to avoid those times. In fact, it's not a bad idea to avoid weekends altogether. Prices for hotels basically double on the weekend. There are tons of deals to be found if you visit Vegas during the week and fewer crowds.
Where to Stay in Las Vegas
As of last year, there were around 140,000 hotel rooms available in Las Vegas. You are certainly spoiled for choices here, with youth hostels, motels, boutique hotels, and massive luxury resorts.
Here are a few options for the best hotels on the Las Vegas Strip to satisfy all budgets:
Budget: Hostel Cat—While this may technically not be on the Strip, it's still Las Vegas Blvd. here. As long as you don't mind a dorm room, you can find a bed here for less than $50 total most nights. That's hard to beat in Vegas. 
Mid-Range: Flamingo Las Vegas—Fun fact—this is the only remaining resort on the Strip that opened before 1950. It's a classic Vegas hotel and while it's not the fanciest, there are actual flamingoes here. Surely that counts for something.
Luxury: Wynn Las Vegas—This is definitely the cream of the crop when it comes to resorts on the Strip. It's always on lists of the top hotels in the world, and for good reason. Just be sure to bring your wallet for this one!
Where to Eat in Las Vegas
Every single one of the big resorts on the Strip has multiple options for dining. These range from food courts with takeaway, to the indulgent buffets, to Michelin-star restaurants with celebrity chefs.
Here are some of the best restaurants on the Las Vegas Strip that should get you through a short trip there. As with the things to do section, we're going from south to north along the Strip.
Enjoy These Amazing Things to Do on the Las Vegas Strip!
Hopefully, this post helps you have an unforgettable weekend in Vegas. With a few days there, you'll be able to check out a bunch of these Las Vegas Strip attractions.
For further reading, be sure to check out this jam-packed 3-day Las Vegas itinerary. If you feel like getting out of the city, you'll definitely want to add a few of these incredible day trips from Vegas.
What are your favorite things to do on the Las Vegas Strip? Leave a comment below and let us know!
You Might Also Like
Like it? Pin it!