5 Fun Things to Do in Raleigh, NC
Looking for fun things to do in Raleigh, NC? You're in the right place, then!
As the capital of North Carolina, Raleigh has endless culture and places to explore. People from all over the world travel to Raleigh both to visit and to live. Raleigh has a large number of technology universities both in the city and nearby. So, you'll find a great range of price points for activities and restaurants.
One reason I love Raleigh is because of the weather. Summers can get pretty hot, but they are still comfortable enough to spend time outdoors with friends and family. Fall and spring have cool weather and festivals. The winter does boast some snow days, but not many.
As a pretty big city, it can be a challenge to find the best things to do in Raleigh, NC. This guide will help so you can be sure you won't miss anything important!
This post may contain affiliate links, which means I'll receive a commission if you purchase through my links, at no extra cost to you. Please read full disclosure for more information.
North Carolina Museum of Art
Raleigh has lots of museums showcasing art and technology from around the world. The North Carolina Museum of Art is generally ranked within the top 25 museums worldwide in magazines. You can easily spend a whole day here.
If you are limited on time, you can choose between the east wing or the west ring. The west wing has all the permanent collections, including European, African, Egyptian, and Jewish art. Head to the east wing to see rotating exhibits, modern art, and local art.
North Carolina Museum of Art is located at 2110 Blue Ridge Rd, Raleigh, NC 27607, United States. It's closed on Mondays and Tuesdays but is open every other day from 10 a.m. to 5 p.m. Admission to the west wing is free and admission to the east wing varies according to the exhibit. Check the website for more information.
Ann and Jim Goodnight Museum Park
If you are more of an outdoor person or want to visit more museums, you can visit the Ann and Jim Goodnight Museum Park. It's the largest museum art park in the United States, with over 164 acres of things to see. It is technically part of the North Carolina Museum of Art, but I consider it to be a different thing to do in Raleigh.
There are also some beautiful walking trails in the park where you can see more of the art and the monuments. Some of the installations are even interactive. Food and drink are allowed in the park also, making it a nice spot to have a picnic.
If you're in Raleigh for business or for an extended amount of time, you can also use visit the park for your daily jogging or biking routine.
Ann and Jim Goodnight Museum Park is located at 1800 Blue Ridge Rd, Raleigh, NC 27607, United States. It's open every day from dawn to dusk, and admission is free.
Explore Downtown Raleigh
You can easily spend your whole trip in Raleigh downtown if you want to. It's a large area with tons of opportunities for entertainment, eating, and drinking. I recommend trying to find a restaurant with nice outdoor seating if the weather is nice. The Cortez is one of the most popular places.
If you're in a big group and everyone has different tastes, try going to the Morgan Street Food Hall where there are tons of different kiosks with food from Mexican to seafood to mini-breweries.
And speaking of breweries, downtown has a ton of them if you want to spend a day just walking around and trying the locally-made beers. Wye Hill Kitchen & Brewing and Trophy Brewing + Pizza get a lot of buzz.
There are also many parks throughout the downtown area as well where you can get some fresh air. Dorothea Dix Park is right in the middle of the city. On nice days, locals have picnics here or just have a few drinks with friends.
Downtown Raleigh is also full of shopping. Most of the shops are locally owned and the clothing boutiques offer unique trinkets and clothes that you usually don't see elsewhere.
Here is a map of downtown to help you find all the best places to see and explore.
Take a Food Tour
Food tours and walking tours are my favorite part of visiting a new city. Tours let you soak in the culture and, of course, all the best food offerings! I also enjoy food walking tours because I feel like I'm getting my exercise while on vacation.
There are many different food tour options, but the most highly rated one is Taste Carolina. Most of the food selections you get to try are from the fine dining scene and you can also sample wine and cocktails.
They also have a couple of different food tour options. The downtown dinner tour is best for fine dining and drinks while the downtown tasting tour is best for casual food and food halls. They also have a downtown speakeasy tour which is mostly centered around drinks and cocktails.
Prefer a beer tasting? Then, check this out!
Taste Carolina will give you the meeting time and place when you make your reservation online. Downtown tours usually have afternoon and evening times while the speakeasy tour starts later at night. Check the website for current tour times though as they do change.
Joel Lane Museum House
Raleigh hasn't always been a large hustling and bustling city. It used to be full of plantations and was more of a rural farming area, much like the rest of North Carolina.
Joel Lane Museum House is a great place to visit if you want to learn more about how Raleigh went from being rural to being one of the east's coast most popular cities.
The museum is a bright yellow house that used to belong to plantation owner Joel Lane. The house is still in pristine condition and takes you back in time.
Joel Lane Museum House is located at 160 S St Mary's St, Raleigh, NC 27603, United States. They're open Wednesday through Friday from 10 a.m. to 2 p.m.
Top Day Trips from Raleigh
If you are interested in seeing more of North Carolina and want to take a few day trips, Raleigh is close to many other cities that are worth visiting. For the purpose of day trips, I only wrote about places that are within 2 hours or less since anything longer might require an overnight stay.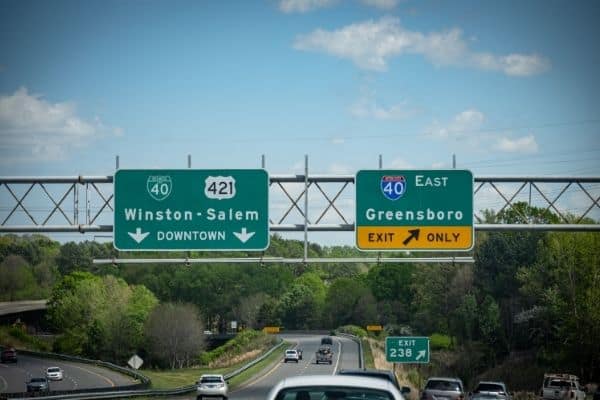 How to Get to Raleigh
If you are traveling from another state, you can fly to Raleigh International Airport (RDU). It's a pretty large airport with two terminals and has daily flights from most major carriers.
Flying here from an international destination can be expensive, though. You might want to check flights into Atlanta or one of New York City's airports and then have a connection to Raleigh.
If you're already in North Carolina, you can drive to Raleigh. It's close to other cities in the state. You can reach Raleigh from Charlotte in about two and half hours via I-85N and I-40E. It's about four hours from Asheville on I-40E.
How to Get Around Raleigh
Raleigh is a large city, and most people choose to drive when they visit. If you don't want to deal with a rental car, you can stay in a hotel downtown and walk most places. Uber and Lyft are also good choices for when you want to go somewhere that's too far to walk.
Biking is also a popular choice for getting around downtown. For bike maps and bike rental choices, you can check out this website.
Raleigh also has a bus service, but it's not very efficient. It can be a good cheap choice to use every once and a while if you're not on a tight schedule to get somewhere. You can check out this website for the bus schedule and routes.
When to Visit Raleigh
My favorite time to visit Raleigh is in the fall time. Being from Florida, I find Raleigh in the fall is a bit cool, and I love seeing the trees change color and participating in all the fall activities going on.
In October and November, you can get away with only wearing a heavy coat in the evening. It still has comfortable temperatures to walk around without freezing.
Spring is also nice if you want to take a warmer weather vacation. April and May are great months as most days in the 70s. Some of the most popular festivals, like Brewgaloo and the Raleigh Art Festival, also happen during these months.
Best Places to Stay in Raleigh
Budget: Ramada By Wyndham Raleigh has basic rooms with simple amenities like coffeemakers and flat-screen TVs. Suites also have wet bars and balconies. Make sure to have a free hot breakfast every morning and enjoy the outdoor pool in your free time.
Mid-range: Aloft Raleigh is a colorful and modern boutique hotel. The restaurant on-site always has live music and happy hour menus on certain days. If you're traveling with a large group, upgrade to a suite for more space and a pull-out bed!
Luxury: The Umstead Hotel and Spa is the place to go if you want to get pampered during your stay in Raleigh. The landscape and the gardens are my favorite part, and they are kept in pristine condition. Make sure to get a room with a lake and garden view. The hotel also has free bike rentals, an outdoor pool, and a cocktail bar.
Best Restaurants in Raleigh
Taverna Greek Kitchen & Bar is one of my favorite places to go if you don't feel like getting dressed up for dinner. It's casual and cozy with authentic Greek food and a rooftop patio with nice views of the city. I love the lamb burger, but they also have great soups, salads, and vegetarian choices.
Salt & Lime Cabo Grill is a must if you like Mexican food. They have dishes you have probably seen before and some new ones that aren't typical in most Mexican restaurants. I love anything from the street taco menu, especially the Korean pork belly and the Bangkok shrimp.
Death & Taxes should be your go-to if you're looking for fine dining while in the area. Try the grill pork chop or the Long Island steak strip. Make a reservation so you can get a nice table. Walk-ins are usually seated near the busy bar or near the open kitchen, which can get pretty warm.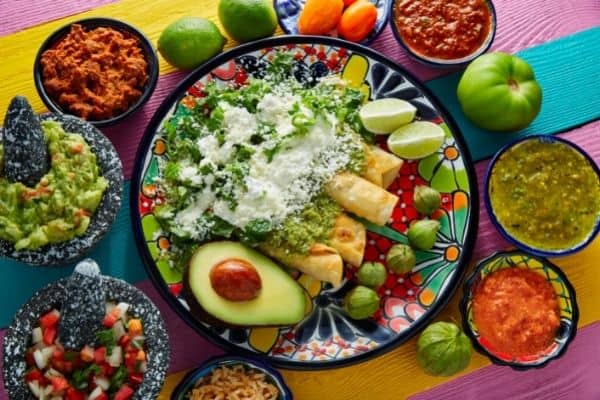 Raleigh is Waiting For You!
Ready to do all the best things in Raleigh, NC? I hope this list of day trips and activities will help you plan the perfect trip. Even though I love visiting Raleigh (and all of North Carolina) in the fall, it's a great city to visit year-round.
If you only have a few days in the city, make sure to spend most of your time exploring the fun shops and restaurants downtown. You can also make sure to carve out time to see some of the best museums in the country.
If you have more time in Raleigh, you can always take a few day trips or spend more time seeing the best spots in the city.
Have you been to Raleigh? What's your go-to activity?
You Might Also Like