Best Places in Portugal to Visit in 2 Weeks
There are a lot of beautiful places to visit in Portugal, and you can't possibly see them all in just two weeks. You can see the highlights of this amazing country if you prioritize, and that's what this post aims to help you with.
Two weeks won't be nearly enough time for you once you visit, but you'll quickly be planning your next trip to see more! Here's a guide to see some of the best places in Portugal to visit that you can see in only two weeks.
This post may contain affiliate links, which means I'll receive a commission if you purchase through my links at no extra cost to you. Please read full disclosure for more information.
Lisbon
Portugal's capital and largest city is a great place to start when choosing the best places in Portugal to visit. There's a lot to do there, and you'll want to allow yourself at least a few days to tour the city and go on a couple of day trips. The more time, the better, as there is a lot to see in Lisbon.
Visit Carmo Square, the site of a peaceful revolution to overthrow a dictator. While you're there, see Carmo Convent and the Santa Justa Lift as well—such a famous mode of transportation that it's a tourist attraction in itself.
Go to Livraria Bertrand, the oldest bookshop in the world. Take a break and try a pastel de nata, or Portuguese egg custard.
Stop by the impressive Commerce Square with its large bronze statue of King Joseph I and the Rua August Arch. Check out the incredible mosaic work in Rossio Square.
Then, climb up the largest hill to Sao Jorge Castle. Wander the ancient cobbled streets of Alfama and dine on "illegal Chinese food," or Chinês Clandestinos, in Mouraria. Then, check out the nightlife in Bairro Alto and listen to some Portuguese fado music.
It's a lot to pack into a few days, but you won't want to miss a thing in this vibrant, historical, and fun city! Check out this post for a great 3-day itinerary for Lisbon.
You May Also Like Fun Things to Do in Lisbon
Must-Do Highlights
Carmo Square and Carmo Convent
Santa Justa Lift
Commerce Square
Sao Jorje Castle
Alfama
Chinês Clandestinos in Mouraria
Try a pastel de nata
Sintra
Just a short train ride from Lisbon is the magical fairytale land of Sintra. Visiting this city, nestled high in the mountains, is one of the most popular day trips from Lisbon. It features beautiful sweeping landscapes, picturesque castles, and a quaint city center.
Sintra was where the Portuguese royalty spent their summers, as it's cooler and less humid than Lisbon. It's a UNESCO World Heritage Site recognized for its European Romantic architecture, weaving in Gothic, Moorish, Renaissance, and other elements into a beautiful tapestry too amazing to be believed.
Tour the National Palace of Sintra, the best-preserved medieval royal residence of Portugal. Climb to the awe-inspiring Pena Palace, overlooking the city of Sintra from the top of a mountain peak.
And don't miss Quinta da Regaleira, an estate steeped in mysticism and symbolism. Even wandering the city center is pure magic. This is one day trip from Lisbon you will not want to miss.
You May Also Like 9 Things to Do in Sintra—Best Day Trip from Lisbon
Must-Do Highlights
National Palace of Sintra
Pena Palace and Pena Park
Quinta da Regaleira and the Intiation Well
Moorish Castle
Casa Piriquita for a Queijada de Sintra and a travesseiro de Sintra (pastries)
Belém
Though technically a neighborhood in Lisbon, Belém has the feel of an entirely different city, and it's a must-see when you go to Lisbon. Two of its architectural treasures are UNESCO World Heritage Sites: Belém Tower and Jerónimos Monastery. They are both magnificent, and for these alone, Belém is worth a visit.
Belém is where the great explorers of the Golden Age set off for new worlds. Vasco da Gama, Ferdinand Magellan, and others firmly cemented Portugal as a world power in the 15th century. Through these great adventurers, Portugal established footholds around the world.
Look out to the water and see the 25 of April Bridge commemorating the fall of a dictator. You can also see the Christ the King statue across the river overlooking the area. A visit to Belém will take between half a day and a full day, depending on your pace and what you want to see. But, it will be an unforgettable part of your visit to Portugal.
You May Also Like Why You Should Visit Belém
Must-Do Highlights
Jerónimos Monastery
Belém Tower
Monument of the Discoveries
National Archaeology Museum
National Coach Museum
Pastéis de Belém
Algarve
The Algarve is Portugal's southernmost region. In a country with many miles of coastline, this area stands out, known for its beautiful Atlantic coast white-sand beaches.
It's also known for its beautiful whitewashed fishing villages, many of which have been transformed into a strip of beautiful villas and a vibrant nightlife. And, if you're into golf, some of the country's best courses can be found here.
Though parts of the Algarve are well developed, the western Atlantic coast area and interior are much less developed, offering more of a small-town feel. Visit some beautiful and jaw-dropping cliffs overlooking the ocean for some of the most incredible views this country offers.
Visit Faro's old town, whose foundation is both Roman and Moorish, and Tavira, one of the prettiest areas in this area. Ponta da Piedade, south of Lagos, has beautiful limestone cliffs overlooking the ocean.
Cape Saint Vincent offers cinematic views of the rocky seascapes in the area. Praia da Rocha combines the Algarve's craggy coastal scenery with its pristine sands and rolling surf. The Arches of Marinha and Benagil Cave are other popular places to visit.
Must-Do Highlights
Faro old town
Ponta da Piedade
Cape Saint Vincent
Benagil Cave
Arches of Marinha
Forte de Nossa Senhora da Rocha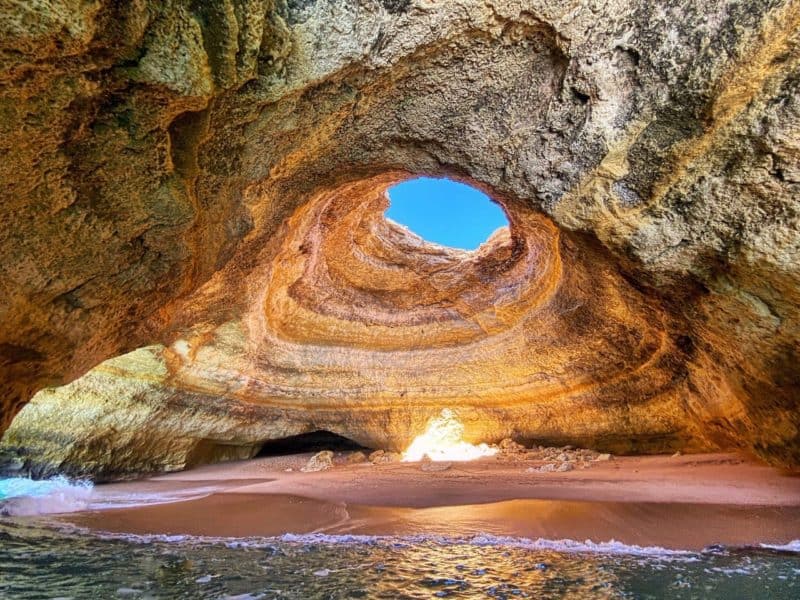 Porto
Porto may not see as many tourists as Lisbon, but it's every bit as worth your time. In fact, Porto has a quirky and fun side that is really appealing. This, in addition to its incredible architecture, culture, and wine.
Port wine is grown in the Duoro Valley outside of Porto, and the wineries and cellars are right across the river from Porto.
This compact city is easy to navigate by foot though it's still hilly enough to get a good workout. Visit the São Bento Train Station for some of the most exceptional traditional azulejos tilework in the area.
Climb Clérigos Tower to take in the spectacular views of Porto and the Duoro River. Visit Lello Bookstore, an inspiration for the "Harry Potter" series. And see Bolsa Palace and the exquisite Arab Room.
Head towards the river to explore the Ribeira district, one of the oldest parts of the city and a big nightlife area. Then, head across the Dom Luis I Bridge to Gaia for a port wine tasting and a night of Fado music. Beware of visiting Porto, as you may never want to leave.
Check this out for a great 2-day itinerary for Porto.
You May Also Like Porto Attractions: 11 Reasons to Fall in Love
Must-Do Highlights
Clérigos Tower and Church
São Bento Train Station
Lello Bookstore
Bolsa Palace and the Arab Room
Dom Luis I Bridge
Gaia port wine cellars
Ribeira district
Eat a Francesinha
Guimarães
Guimarães is considered the birthplace of Portugal as the oldest city in the country. The historic center is a UNESCO World Heritage Site recognized for being a well-preserved medieval settlement making it one of the best places to visit in Portugal.
The Castle of Guimarães is a traditional-looking castle that is fun to walk around, and it's worth touring the next-door Palace of the Dukes of Braganza. Wander around the historic center and enjoy the beautiful architecture and small-town Portugal life.
Grab a bite or a drink in the city squares, Tiago Square, and Oliveira Square, and admire the Monument of Salado. Visit the Church of Our Lady of Consolation and the Holy Steps and admire the beautiful garden in front of it, which makes for some gorgeous photo ops.
Head up Penha Mountain in the cable car to the Sanctuary of Penha. Though the sanctuary is quite simple and modern, this area has some amazing views of Guimarães and the surrounding areas.
You May Also Like The Birthplace of Portugal—Guimarães
Must-Do Highlights
Castle of Guimarães
Palace of the Dukes of Braganza
Tiago Square and Oliveira Square
Church of Our Lady of Consolation and gardens
Cable car to the Sanctuary of Penha
Braga
Braga is a medieval city around an hour from Porto. One of the prime attractions in Braga is the Bom Jesus do Monte. This UNESCO World Heritage site is a pilgrimage sanctuary with a Baroque staircase that's over 380 feet high (115 meters).
If you're not up for climbing this "stairway to heaven," there is a water-balanced funicular you can take as well.
Braga also has a vital and historic city center with appealing architecture and history. Enter the gate to the city, Porto Nova, to wander this medieval area.
The Cathedral of Braga is older than the city itself, and it's also the oldest in all of Portugal. Wander the Garden of Santa Barbara, which is stunning. And if that's not enough, check out the stunning Raio Palace.
Then, stop in Casa das Bananas to learn about the tradition of Bananeiro. Where else is there a custom named after a banana drink? Sit in the one seat in the house to learn what pranksters they are in Braga.
You May Also Like The Best Day Trip from Porto—Braga
Must-Do Highlights
Bom Jesus do Monte
Arco Nova
Cathedral of Braga
Garden of Santa Barbara
Raio Palace
Eat a frigideira at Frigideiras do Cantinho
Grab a drink at Casa das Bananas (for adults!)
The Best Places in Portugal to Visit are Waiting for You!
This is a lot to pack into just two weeks, but these are the best places in Portugal to visit that you won't want to miss!
You may decide to spend more time there, and that would be great! But it's possible to see all of these areas in two weeks if that's the time you have. They'll give you a great taste of this incredible country so you'll surely want to return!
You Might Also Like
Like it? Pin it!