The Best South Dakota National Parks and State Parks
One of the things that most impresses me about South Dakota is the incredible range of geography it offers. Much of the state consists of flat prairie grasslands, where you can see for miles without interruption. I think this is what South Dakota is most known for, and what I thought I would see when I planned this visit. There are a number of wonderful South Dakota national parks and state parks that really showcase this area.
As you travel west on Interstate 90, the main highway that transects the state, you start to see very different areas. You approach the Badlands around an hour from Rapid City. Then as you continue west you are back to seeing softly sloping green hills and flatlands. Finally, you see the Black Hills, a stunning pine-tree-covered forest where the famous Mount Rushmore is located.
As a result, each of the South Dakota national parks and state parks are very different, and some even have different sections within the park, like Custer State Park. They are all pretty incredible and I had no idea how beautiful South Dakota would be before I visited. Read about the national and state parks of South Dakota so you know what you're missing and why you should visit.
In addition to the parks, there are a lot of other fun things to do in South Dakota.
If you're visiting many national parks, it's worth it to buy an America the Beautiful Pass. It's 80 and allows you to get into all the national parks!
Some links in this article may be affiliate links, which means that if you purchase through them, I receive a small commission. This will never cost you extra. Please read the disclosures to learn more.
The Badlands
The Badlands were created around 500k years ago when water ran through the layers of rock, carving out the smooth sloping hills throughout the park. It's a stunning sight that looks a tad out of place with the rest of South Dakota. In fact, it looks a lot like the badlands area in the Petrified Forest National Park in Arizona. Much of the state consists of flat grassy hills and the Badlands is a palate of browns, oranges, and red.
One of the most popular of the South Dakota national parks, Badlands National Park, consists of 244k acres in the Northern Great Plains of South Dakota. It started off as a national monument in 1939 and became a national park in 1978.
Half of the park belongs to the Oglala Lakota Nation and is co-managed with the National Park Service. This Native American Nation is the eighth-largest Native American Indian Reservation in the United States. Some of the Tribe still live in the park today.
You May Also Like 25 Top National Parks in the US You Must See
It's a one-hour drive along the Loop Road, which offers some of the most stunning views of the park. Turn off to wander along some paved paths and dirt paths with viewpoints.
There are a number of great hikes in the Badlands. Make sure you bring plenty of water as services are very limited in the park.
The Badlands are located an hour east of Rapid City off of I90. Entrance to the Badlands is $25 per vehicle and is open 24 hours a day year-round, though the visitor's center has more limited hours. The Cedar Pass Lodge offers a campground, lodging, and a restaurant for visitors.
Custer State Park
This state park is incredibly diverse, all within the park itself. It has 70k acres in the southern part of the Black Hills area of South Dakota and features grassy plains, granite peaks, and some stunning lakes. It's not a South Dakota national park, but I found Custer State Park the most diverse and beautiful in the state.
There are a number of scenic drives that go through the different areas of the park. We started in the northern part of the park driving through the areas with spindly rock towers then stopped at the beautiful Sylvan Lake.
Then we continued to make a loop, next driving the grasslands area on the lookout for animals. We never did see bison though we did see some burros, a whitetail deer, and some others.
There are lots of wildlife including bighorn sheep, coyotes, elk, mountain goats, antelope, whitetail and mule deer, bison, wild turkeys, birds, and prairie dogs.
You May Also Like Ten Fun Things to Do in South Dakota
Things to Do in Custer State Park
You can canoe and kayak in the lakes, go hiking, fishing, horseback riding, and there are many other activities. There are also several large and grand old lodges that are fun to explore.
I wasn't expecting much in Custer State Park but I ended up really loving it there. It's incredibly picturesque and has a lot to explore.
In late September every year, Custer State Park holds the Buffalo Roundup Festival. They herd the approximately 1,300 buffalo and provide vetting and shots.
They take an official count and sell some off as the parklands can only sustain so many buffalo for herd safety. It's a scene straight out of the Old West and worth seeing if you can catch it.
Custer State Park is located at 13329 US Highway 16A, Custer, SD 57730. It costs $20 to enter per vehicle for a week.
Tour Options
A tour that looks like a lot of fun that I wanted to share is this private jeep safari and hiking tour in Custer park. I wish I saw it before I went, as I probably would have seen more animals!
And, What could be more amazing than going to see this incredible area of Custer and the Black Hills by hot air balloon?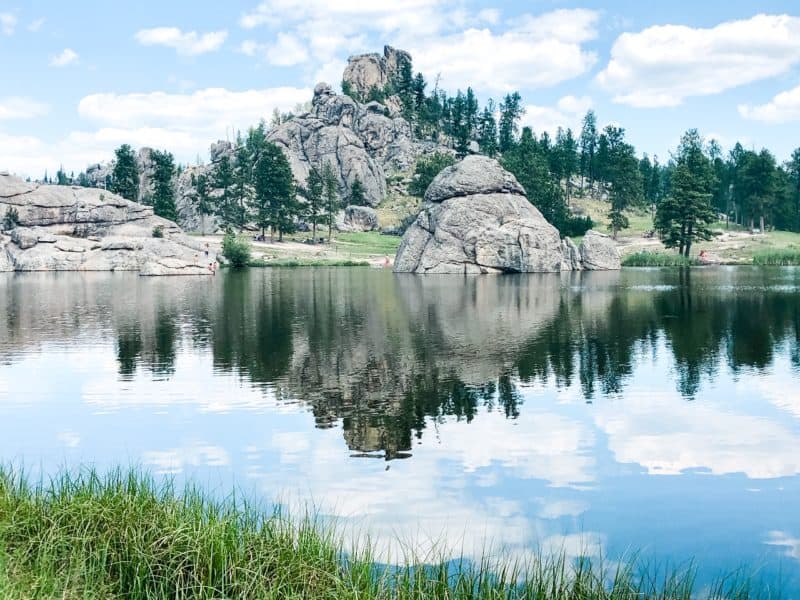 Wind Cave National Park
Wind Cave National Park was established in 1903 by President Theodore Roosevelt. It was only the 7th national park and has the distinction of being the first cave to be designated as a national park not only in the United States but in the world.
Wind Cave earned the distinction due to the calcite formations, known as boxwork, and holds most of the world's boxwork formations. Wind Cave is also one of the longest caves in the world. It has almost 150 miles (nearly 2,400 km) of explored cave passageways.
The first mention of Wind Cave was by the Lakota (Sioux), a Native American tribe from the Black Hills area in South Dakota. They mentioned a sacred place where a hole blew air. It was later discovered in 1881 by brothers Tom and Jesse Bingham when they heard rushing wind from a small hole in the ground.
The top of the cave is prairie land with an unexpected surprise underneath. Visitor's tip: long pants and close-toed shoes are required due to a fungal infection in bats called white-nose syndrome. And temperatures average around 50 degrees Fahrenheit (10° C), so be prepared.
Wind Cave National Park is located at 26611 US Highway 385, Hot Springs, SD 57747. It's open year-round daily from 8 to 4:30 and costs $12 to enter.
Other Area Parks Worth Mention
Though this post is dedicated to state and national parks in South Dakota, I'd be remiss if I didn't mention a couple of other areas in and around the state that are worth visiting.
Falls Park
Falls Park is a top attraction in the largest city in South Dakota, Sioux Falls. The Big Sioux River runs through it, giving Sioux Falls its name. It is a large public park that contains 123 acres featuring many waterfalls. There are a dozen sculptures throughout the park worth seeing.
The falls area includes an observation tower connected to a visitor center, the remains of an old mill, and a café. The Queen Bee Mill was once a state-of-the-art facility that processed over 1,500 bushels daily. However, it was closed in 1883 due to a short supply of wheat and inadequate water power. The area was repurposed and the public park was opened to celebrate the area and the history of this city.
There is also a hydroelectric plant here and more than 7,400 gallons of water move across the falls every second.
Falls Park is located at 131 E Falls Park Dr, Sioux Falls, SD 57104. It's open daily from 5 a.m. to midnight. The visitor center is open from 9 to 9.
Black Hills National Forest
The Black Hills are known as a beautiful ponderosa pine forest that rises out of the prairie floor in the southwestern part of the state. It covers 1.25 million acres and is simply massive.
It actually includes Custer State Park and has a variety of diverse lands. The forest is used for timber production, mining, and grazing and it's a popular area for hiking, mountain biking, horseback riding, rock climbing, and other activities
You'll drive through the Black Hills heading to Mount Rushmore and will get to see some beautiful views on the way. And definitely check out Custer State Park to see the diversity this area offers. It's scenic and really beautiful.
If you want something even more special than the typical visit, check out these tour options:
The Black Hills National Forest is located in the southwestern part of South Dakota.
Devils Tower
Though not in South Dakota and not a park, this National Monument deserves "honorable mention" and it is worth a side trip if you're in South Dakota both due to its unique appearance and its proximity.
Devils Tower was actually the first United States National Monument, established on September 24, 1906 by President Theodore Roosevelt. Located in Wyoming, it is 106 miles from Rapid City. If you think it looks familiar, it does! It because famous in the movie, Close Encounters of the Third Kind.
The monument stands an impressive 867 feet tall and was believed to have been created more than 50 million years ago. There is a paved Tower Trail that circles the monument for incredible views, as well as other trails in the area for hiking. We walked the tower trail and stopped many times for pictures to enjoy the different views.
It is considered sacred by many of the Native American tribes in the area and is still used in rituals today. Legends from the different tribes vary, though generally include a bear carving the trails in the rock with its claws.
Climbing the tower is allowed, though you must register with a ranger before starting and after completing the climb. We did see two people making their way up, and it's pretty amazing to see.
The local Native American tribes did not approve, and an agreement was established where climbers are asked to not ascend in June to respect sacred ceremonies performed. However, this is not required. More than 5,000 are reported to climb the tower every year.
A Side Note About Devils Tower
if you're a "Grammar Nazi" as I am, you will immediately notice the apostrophe missing from "Devil's" and this will set your teeth on edge. However, according to Wikipedia, this is due to following a geographic naming standard.
I didn't expect to fall for South Dakota but I sure did! And there is so much to this incredibly diverse state. You may visit to see Mount Rushmore, and I highly recommend seeing that when you're in the Black Hills.
There is so much else to see as well so I hope this will inspire you to make the most of your visit.
If you're a history buff and interested in Laura Ingalls Wilder from Little House on the Prairie (the tv show and the book series), consider a visit to DeSmet, South Dakota.
Like it? Pin it!