11 Top Things to Do In Seville You Can't Miss
My first trip to Spain was inspired by Seville—stunning architecture, royal history, and dreamy culture. I started in Madrid, made my way to the exquisite Córdoba, then to Seville.
I'll admit my interest in Seville waned after Córdoba, where I thought the Moorish style of architecture was absolutely incredible. It was my first time seeing it and I just couldn't get enough.
The Andalusian culture is very strong in Seville and the people are magnificent. There are a lot of amazing things to do in Seville and it is worth visiting. Though, perhaps, not right after Córdoba. 🙂 Here are some top attractions you shouldn't miss.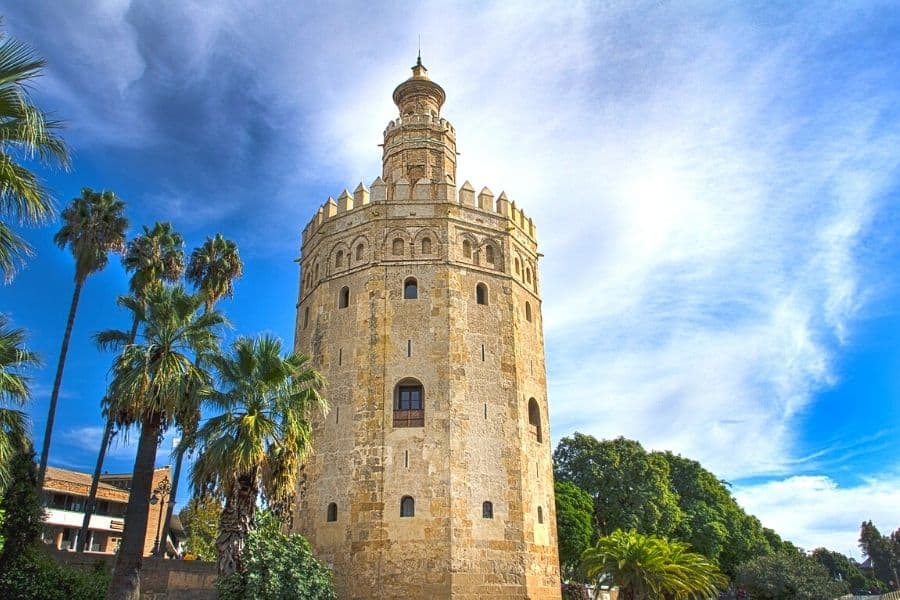 This post may contain affiliate links, which means I'll receive a commission if you purchase through my links, at no extra cost to you. Please read full disclosure for more information.
A Brief History of Seville
The city of Seville was founded as Hispalis, a Roman City. Though, there is evidence that it was inhabited in the 7th and 8th centuries B.C. In 711 it was conquered by the Moors and renamed Ishbiliyah. It was under Muslim rule until 1248 when the Christians overthrew the Muslims.
During Muslim rule, it was originally part of the region Córdoba ruled. Then it became independent for a time before falling under the Christian Kingdom of Castile under King Ferdinand III. The Muslim rulers were known for religious tolerance, and Muslims, Christians, and Jews live in relative peace.
After Christian rule began, Seville became an important economic center and there was a lot of activity from its port during the Golden Age. Christopher Colombus, Ferdinand Magellan, Amerigo Vespucci, and others sailed from Seville for their famous excursions.
Seville became the gateway to the New World. Seville thrived as ships carrying treasures, spices, and other goods from the Indies arrived in its port first before moving through to other parts of Spain.
The city became a center of arts and culture in the 17th century from all of the wealth flowing in. from the new world. However, it began to decline in later years due to issues with the port and the river, Guadalquivir. It also lost the royal monopoly on goods from the New World coming through Seville exclusively.
Modern-Day Seville
Seville is located in Andalusia, the southernmost part of Spain. It is the capital of this region and the largest city there. The metropolitan area has over 1.5 million people and the city proper has over 700,000. It's the fourth-largest city in Spain.
It's a popular city to visit and has many beautiful attractions for tourists to see. This is both due to the historical importance of the city as well as the architecture.
UNESCO World Heritage Site
Seville has three UNESCO World Heritage Sites in its old town historic district: the Cathedral, the General Archive of the Indies, and the Alcázar palace complex. UNESCO recognizes locations that are unique and notable so world heritage sites are special and worth visiting.
Together, these three sites epitomize the Spanish "Golden Age." The cathedral and the Alcázar have Moorish influences. The Giralda minaret in the cathedral reflects Almohad architecture as well and the entire cathedral represents the largest Gothic building in Europe.
The Archive of the Indies, formerly the ancient Lonja, has valuable documents from the American colonies.
Walking Tour of Seville
As I often recommend, a free walking tour of Seville is a great way to start when you visit this city. They provide a great orientation and some of the top attractions to see.
You're not done there though, as they don't usually include tours of the insides of places. Especially for those with a fee to get in. But, they give you a glimpse so you can decide if you'd like to go back (and trust me, in Seville, you will!)
The two companies I have used throughout Europe and recommend are:
FreeTour – This is a listing of other free tours and it can be quite helpful to see the focus of some of the free tours
Ultimately, you'll choose a tour with a focus on your interests. If you're obsessed with interested in architecture and history, look for a tour with that focus. Some may be more around culture, food, or even specific locations to see.
Royal Alcázars of Seville (Reales Alcázares de Sevilla)
One of the first places you will want to see is the Royal Alcázars of Seville. Commonly known as the Alcázar of Seville, this royal palace was built for the Christian King Peter of Castile.
The Alcázar was built on the grounds of a Moorish residential fortress that was destroyed when the Moors were overthrown. It was where the Moors ruled this empire originally and though they are long gone, they have left their mark.
This structure is a stunning representation of Mudéjar architecture representing both Moorish and Gothic styles. And, since construction took over 500 years (including several additions), it also includes some design elements that are Gothic, Romanesque, and Renaissance.
Important Areas of the Alcázar of Seville
There are several beautiful gardens and the palace is known for its stunning tile work. This is a nod to the Islamic heritage throughout with the decoration and ornamentation of the building in arabesque geometric patterns.
The main entrance is called the Puerta del León (Gate of the Lion). It features a crowned lion holding a cross in its claws made of tile.
The Courtyard of the Maidens (Patio de las Doncellas) is another treat to see. It includes several reception rooms arranged around a long rectangular reflecting pool surrounded by sunken gardens.
The upper level consists of an addition with stunning plasterwork in more of a Renaissance style. The downstairs portion is decorated in more of a Mudéjar style.
The Hall of Ambassadors is an ancient throne room originally built before the Christian occupation. This room also features some stunning plasterwork in geometric patterns and exquisitely tiled panels.
The Royal Alcázars of Seville is located at Patio de Banderas, s/n, 41004 Sevilla, Spain. Tickets cost € 13.50 (around $14.50 USD) and include the Alcázar, the royal gardens, and the Antiquarium. Visiting the Upper Royal Room at the top of the Palace of King Don Pedro is a separate ticket which costs € 5.50 (around $5.85 USD). From April to September, it is open from Monday to Sunday 9:30 to 7. From October to March, it is open from Monday to Sunday from 9:30 to 5.
Seville Cathedral (Catedral de Sevilla)
The Seville Cathedral (Cathedral of Saint Mary of the See), is the third-largest church in Europe and the largest Gothic building anywhere in the world.
It was started in the 1400s and its first life was as a Muslim Mosque. It was repurposed and adapted in the 1500s to become a Christian cathedral.
This cathedral holds the remains of King Ferdinand III of Castile, who was responsible for overthrowing the Moors.
Christopher Columbus is also buried here as well as his son, responsible for finding the New World on his voyage in 1492. The four pallbearers on his tomb represent the four medieval kingdoms of Spain: Aragon, Navarre, Leon, and Castile.
The altar is stunning and it's covered in gold, telling the story of the life of Jesus.
The Seville Cathedral is open from 11 to 6 from Tuesday through Saturday. On Sunday, the cathedral is open from 2 to 7:30. It's located at Av. de la Constitución, s/n, 41004 Sevilla, Spain.
Giralda Tower (Torre Giralda)
The Giralda bell tower rises 343 feet (105 meters). It was formerly the mosque minaret on the original structure and was built to look like the Koutoubia Mosque minaret in Marrakech, Morocco.
After the Reconquista in 1248, it was converted to a bell tower. A new top was added in a Renaissance style.
Some of the most incredible views of Seville can be found from the top of Giralda Tower, so it's a worthy visit.
The Giralda Tower is located at Av. de la Constitución, s/n, 41004 Sevilla, Spain. Tickets to visit the cathedral and Giralda Tower costs 10€ (around $11.75 USD) and there is an audio guide for an additional 4€ (around $4.75 USD). It is open from 8 to 2 and 4 to 7 daily.
Barrio Santa Cruz
The Santa Cruz neighborhood is the former Jewish quarter (judería) of the medieval city of Seville and the primary tourist neighborhood. It is the area the Cathedral of Seville is located in and next to the Real Alcázar, two of the top attractions in Seville.
When the city of Seville was conquered from Muslim rule by King Ferdinand III of Castile, he relocated the Jewish population to this area. They were later expelled from Spain in 1492, the same year Christopher Columbus sailed to the New World.
This area is quintessential Seville with a labyrinth of narrow paths often called "kissing lanes" as the balconies are so close across the street. Homes all faced an inner courtyard, perhaps as a refuge from the intense summer heat in this area.
Many of the buildings feature glazed tiles with gorgeous geometric patterns for both their beauty and to keep the buildings cooler. People tended to live in the courtyard in the summertime and upstairs in the winter to maximize the warmth. Mature orange trees that keep their leaves all year round also helped to maximize the shade.
There are a number of plazas (squared) sprinkled around the neighborhood. Some of the most well-known and well-traveled are the Plaza de las Cruces, Plaza de Santa Cruz, the Plaza de Los Venerables, and the Plaza de Doña Elvira.
Each has a slightly different feel to it and is worth visiting. I loved the Plaza de Doña Elvira, with its stunning azulejos, and bright blue and white tiles found throughout much of Portugal as well. A tour of this area is a great way to go to learn more.
María Luisa Park (Parque de María Luisa)
This city girl is a huge fan of seeking out green space in cities I travel to, and María Luisa Park sure meets that need. Seville is much larger than I expected.
Perhaps I was expecting another Córdoba, and Seville is certainly larger than that. So, getting some time in beautiful nature definitely helped me to love Seville.
This park is the primary public park in the city. It was actually land that belonged to Spanish royalty but was donated for public use in the late 1800s. It's located along the picturesque Guadalquivir River and is a beautiful expanse of lush greenery that Andalusia does so well.
The park is a botanical garden as well, featuring some beautiful native and foreign plants, shrubs, and trees. The center of the park is described as a "Moorish paradisical style" of exquisite tiled fountains, ponds, benches, and pavilions.
Beautifully styled flower beds are throughout with palms, orange trees, and Mediterranean palms.
The park is a birding paradise as well, and part of the Plaza de América is called the Parque de las Palomas, or Dove Park, given the high population of birds that stay here. They include ducks and swans that are in the beautiful fountains and lakes in the park, as well as parakeets and others.
Notable Places to Visit in the María Luisa Park
There are also a number of notable statues and fountains in the park. On the Plaza de América is a monument dedicated to Miguel de Cervantes, the writer of the famed Don Quixote.
It once featured two statues representing Don Quixote on a horse and Sancho Panza on a donkey, which is no longer there. What remains are tiles showing scenes from the author's works.
There is also a monument dedicated to Gustavo Adolfo Bécquer, believed by many to be the second most notable writer from this region behind Cervantes. He was rather prolific and a poet, and playwright, among other talents.
His monument is inspired by one of poems and includes a bust of the poet. On his right is Cupid in the form of a child throwing arrows at three young women. On his left is Cupid as an adult, dying from a stab wound.
There is also the Fountain of the Lions (Fuente de los Leones), with four stone lions carrying shields. They each are on four of the eight sides of the octagonal-shaped fountain. The fountain is further decorated with tiles.
Plaza de España
If that's all not enough to attract you to visit Maria Luisa Park, there is also Plaza de España, one of the most famous of Seville's landmarks. Plaza de España is known to be the second-most impressive building behind the cathedral.
It was built for the Ibero-American Exposition of 1929 to be a masterpiece for Spain and Seville. Plaza de España is the size of five football fields and features many different types of Spanish architecture, including Renaissance Revival, Moorish Revival, and Baroque Revival, along with a healthy mix of 1920s Art Deco.
The building is accessible by a number of beautiful bridges leading over a moat.
This is a must-see place with you visit Seville. When you go, you're rewarded with a strikingly over-the-top structure with a lot of intricately detailed features including some beautiful tilework and ceramics. It's a large, semi-circular building with towers flocking on both ends.
To get some of the best views, rent a small boat to row in the canal and learn why this is sometimes referred to as the "Venice of Seville."
Maria Luisa Park is located at Paseo de las Delicias, s/n, 41013 Sevilla, Spain.
Museum of Fine Arts (Museo de Belles Artes)
If you're an art lover, the Museum of Fine Arts of Seville may be your thing. It showcases art from the medieval age to the early 20th century.
Spanish artists are mostly represented here, and there are a number of works by local Sevillian painters during the "Golden Age of Seville" in the 17th century. It shows Seville's fondness for religious art.
The building was constructed in the late 1500s as a convent of the Order of the Merced Calzada de la Asunción. It was founded during the reign of King Ferdinand III of Castile.
After many religious monasteries and convents were shuttered, the museum itself was founded in 1839.
The Museo de Belles Artes is located at Plaza del Museo, 9, 41001 Sevilla, Spain. A visit only costs 1.50 € (around $1.60 USD). It is open from 9 to 3 every day except for Sunday, when it is closed.
Plaza Nueva
Plaza Nueva is an official town square and the location of the Seville town hall. There is a large statue of King Ferdinand III, who freed Seville from Moorish rule in the 13th century.
What this area is best known for, though, is its shopping. It's a lively pedestrian shopping area and the place to go in Seville for traditional items and foods.
And it's not just for the tourists as the locals shop here as well. Pick up a stunningly beautiful woven shawl or a fan. You can find beautiful tiles and more.
There are also many designer shops here as well that rival many other cities. And if you get hungry while you shop your heart out, there are also some great cafes and restaurants.
The primary shopping streets are Calle Sierpes and Calle Velasquez Tetuán, next to Plaza Nueva. Even if you're not much into shopping (and I'm not!), it's worth taking a stroll to see what Seville has to offer.
Metropol Parasol (La Setas de Sevilla)
The Metropol Parasol has been built since I visited Seville, but I thought it is worth noting. Though honestly, I'm not quite sure how I feel about it!
It's a massive structure that was completed in 2011 that is described as a "waffle-like crown structure." The Metropol Parasol is known locally as Las Setas de la Encarnación (Incarnation's mushrooms).
It's known to be the world's largest wooden structure and was built as part of a redevelopment plan for the Plaza de la Encarnacíon. Part of the inspiration was to be a point of identification for the city and to demonstrate Seville's place as one of the world's most fascinating cultural destinations.
It's a simply massive structure and 200,000 square feet (18,000 square meters).
If you'd like to visit the Metropol Parasol, it's located in Plaza de la Encarnacíon. If you do go, please tell me what you think. Me? I'm not sure I'm convinced about this one! I'll admit it.
Must-Do Things to Do in Seville
Seville isn't all about sightseeing but also about participating in local Andalusia culture. I mentioned these in Madrid as well, though they are also worth doing in Seville as well.
Flamenco
Andalusia is the home of flamenco. If you have a chance to see a flamenco show in Seville, you must do it. There is something so bold and passionate about flamenco, and it's almost like seeing an opera set to an equally dramatic dance. It's pure magic.
Seville is so passionate about flamenco, in fact, that it may erupt spontaneously in some bars. Or you can see a show. Graceful and dramatic, castanets and hand clapping set the rhythm, joined by raspy-voiced singers evoking a sound similar to Muslim prayer.
The flamenco guitarists have lightning-fast fingers and strum a tune that makes you sit on the edge of your seat while wanting to weep from the beauty. They are some of the best guitarists in the world.
If you have never seen a flamenco show before, be prepared for the emotional wave that will sweep over you. There is something so beautiful and transformative about it. And there's no better place to see it than in Seville.
Tapas
Tapas are a tradition throughout Spain. These small plates serve up some amazing fare, ranging from simple to intricate. You'll see dishes like croquetas, small balls of fried goodness with various goodies inside like cheese and ham.
Plates of manchego cheese with thin slices of jamon, the Spanish-cured ham. Garlic shrimp and incredible stewed meats. All are served up with incredible bold red wines and tasty sangria, red wine mixed with liquors and fruit.
My mouth is watering, thinking about how amazing it all is.
The menu is often scrawled on chalkboards and they simply wipe off an item when they sell out. People typically move from bar to bar and try different things.
These plates are made for sharing. Each tapas bar has a different ambiance and specialties so it's worth moving around and trying different things.
Why I Won't Support Bullfighting
You might notice one thing Spain is known for is omitted from this list, and that's bullfighting. It's a brutal spectacle very popular with many in Spain and a quintessential part of Spanish culture.
Though it may be romanticized, it's just not something I can recommend. And no, I also would not attend the Running for the Bulls.
If you do want to learn more without directly supporting this, you can visit the Bullfight Museum. You can tour the Real Maestranza de Caballería, the oldest bullring in Spain, and learn more.
The Bullfight Museum is located at Paseo de Cristóbal Colón, 12, 41001 Sevilla, Spain. It's open from Monday to Friday from 9:30 to 2:30 and on Saturday from 2 to 11. Guided tours are offered every 20 minutes, and a visit costs 7€ (around $8.30 USD).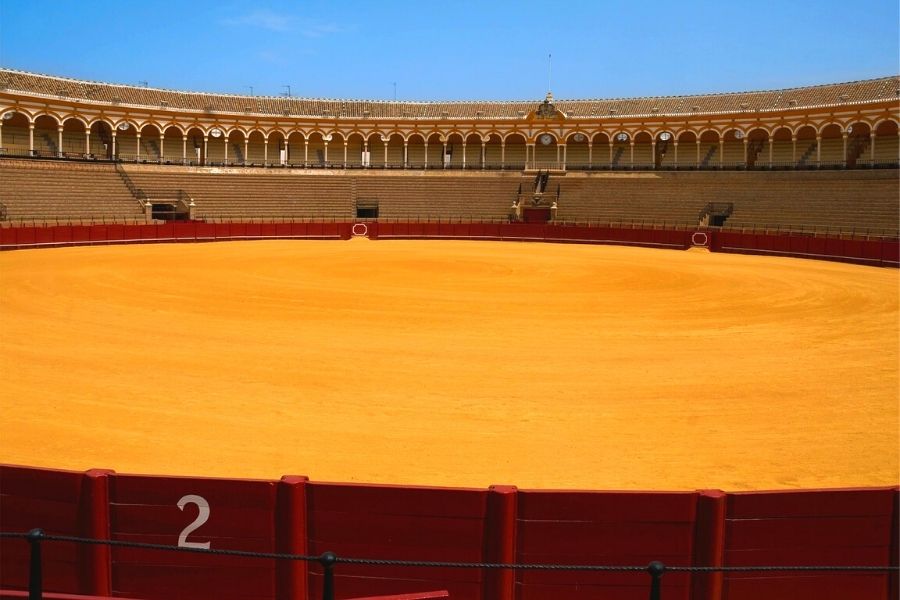 Where to Stay in Seville
As I usually do, I recommend staying in the historic center of Seville for proximity to the sights. I'll warn you, though, that the prices in Seville are quite a bit higher than in Madrid.
However, if you're only visiting for 2-3 days, it's worth staying in the city center if you're able to in order to maximize your time. Here are a few places that look good and are located in the historic center. The hotel is located at Calle Morgado, 17, 41003 Sevilla, Spain.
Luxury
Boutique Hotel Casa del Poeta is a luxurious property located just 800 feet (244 meters) from the Cathedral. This location is in the heart of the historic district, and the soundproofed rooms make you feel like it's not!
There are many amenities at this 4-star hotel, including air conditioning, slippers, balconies in some rooms, and a beautiful terrace and library. This property is located at Calle Don Carlos Alonso Chaparro, 3, 41004 Sevilla, Spain.
Mid-Range
H10 Corregidor Boutique Hotel is a great value in the heart of the historic district. It's a 15-minute walk from the Seville Cathedral, so it's in a convenient location. The building is typical of the area, built around an Andalusian-style patio with a fountain.
There are some nice amenities, including a gym, flat-screen TVs with satellite, and a lovely patio where breakfast is served. The hotel snack bar serves up some typical Andalusian tapas as well.
Budget
El Viajero en Sevilla is a tremendous value-budget hotel that's a little further from the center of the historic district but still located within it. It's conveniently located near many restaurants and bars, and while reviews note that it can be a bit loud at night, they rave about the friendliness of the staff. This hotel is located at Calle Fernán Caballero, 4, 41001 Sevilla, Spain.
Where to Eat in Seville
One thing you'll notice when you check sites like TripAdvisor, my go-to for beginning to research hotels and restaurants, is that many of the tapas bars rate in the highest restaurants as well.
In fact, all of the tapas places below are on the list of top-rated restaurants. So, consider them for dinner as well! That is if you're not so full from tapas that you have no room for dinner.
In this case, I have an option for you that I *might* have done once (or twice).
Tapas
La Brunilda: Recognized as one of the best tapas bars in Seville, this is a must-do when you go. You will find a line well before opening time as proof! It's a fixture for locals and tourists alike. Calle Galera, 5, 41002 Sevilla, Spain.
El Rinconcillo: This is the oldest bar in the city, opened in 1670. It is a tourist attraction in its own right (1670!!) however, locals come here as well. Calle Gerona, 40, 41003 Sevilla, Spain.
Restaurante Eslava: A long-standing family business and, as of this writing, the top tapas bar in Seville on Tripadvisor. Calle Eslava, 3, 41002 Sevilla, Spain.
A popular tapa is jamón or cured ham. If you want to go even more high-scale, try Jamón Iberico. It's one of the highest quality and oh so good.
Chocolate y Churros
If you load up on tapas and can barely fit another bite, walk around for a bit, then commit to a "light snack." Sweet tooths only need apply! For this I mean chocolat y churros.
Chocolat caliente is rich, dark hot cocoa met chocolate pudding. It's rich, thick, and chocolatey, and though I was unable to prove that a spoon could actually stand up in the cup, it came awfully close.
A great place for these is Bar El Comercio. You'll be packed in like sardines, but you won't mind once you get your dish. And don't expect churros as you may get in the United States or other countries. these are more like strips of fried dough that may be lightly dusted with cinnamon sugar. Mmmm…
Bar El Comercio is located at Calle Lineros, 9, 41004 Sevilla, Spain. They also have tapas as well, in case you're interested.
Day Trip from Seville to Córdoba
One of the most popular day trips from Seville, and one I highly recommend, is to visit Córdoba. Now, this city is worthy of more than one day, but if you're stretched for time, it's an easy and worthwhile day trip.
Córdoba is a historic old city in Spain and a UNESCO World Heritage Site, so you know it's special. The center of town has many special places in and around the Jewish Quarter dating as far back as Roman times. There's a Roman Bridge and a Roman Ruin, but the real treasures are more modern than that.
The Mosque-Cathedral of Córdoba and the Alcázar of Córdoba are two of this city's most famous treasures. The Mosque-Cathedral includes design elements from Christian and Muslim cultures, and it's impressive. And the Alcázar, or fortress, is stunning, with its incredible city views and beautiful gardens.
It's worth going on a guided tour to learn the history of this beautiful and fascinating city. You can get tours in Córdoba, and you can even get them from Seville. Here are some great options, including both.
Other Day Trips from Seville
If you have more time and want to explore a bit more outside of Seville, there are a lot of great options for you. Here are some that I found look interesting.
How to Get to Seville
Depending on where you are leaving to go to Seville, you may fly into the Seville International Airport. If you're already in Europe, taking a train may be a good and economical way to head to the city. This is particularly so from other destinations in Spain, like Madrid and Barcelona.
Seville Airport
The Seville Airport (SVQ) is an international airport serving the western parts of southern Spain. It handles around 8 million travelers annually and is the sixth busiest airport in Spain.
Connections are available to over 40 locations in Europe and Northern Africa, and it's a base for the low-cost airline Ryanair. Most people tend to connect through Madrid from other countries in the world.
It is located around 6 miles (10 km) from the center of Seville. There is no train from the airport to the city center but there is an urban bus (Line EA) that connects from the airport to the city center.
It also goes to the Santa Justa Station, where the train runs (AVE train station). The ride takes around 25 minutes. Bus fare costs 4€ one way or 6€ round-trip ($around $4.75 USD or $7.10 USD).
Or, of course, you can take a taxi or Uber.
Seville by Train
Trains are very popular in Spain and are easy to come by in Seville from any of the primary or secondary cities like Madrid, Valencia, Barcelona, and Córdoba.
Seville Weather and When to Visit
Seville's peak time is from June to August. However, the southern Spain sun is scorching hot then. Summers often exceed 100° F (37.78° C), making it one of the hottest places in all of Europe.
The best time to visit, balancing the temperature and throngs of summer tourists, is from March to May. You'll want to spend at least 2 to 3 days in Seville if you can.
It's a bit cooler and a bit less touristed then. The fall does cool off, but it's also the rainy season. Winter highs don't tend to go much higher than 60° F (15.56° C). Prices do tend to fall some during the winter.
The average highest month in the summer is July at around 96° F (35.56° C), and the average low in the winter is January at 41°F (5° C). The rainy season tends to start in mid-to-late October and runs through February.
Why You Should Visit Seville
Seville is a city that lives up to its hype! Its beautiful and well-maintained historic center can keep you busy for days seeing the sights and eating your way through the many tapas bars. One is more incredible than the next. This historic city gives a great glimpse of the Andalusia region and is well worth a visit.
You Might Also Like
Like it? Pin it!