Benefits of TSA PreCheck & Why You Should Get It
Considering the benefits of TSA PreCheck and if the program may be right for you?
Imagine what it could be like going through security in minutes without any hassles.
No taking off your shoes and your belt. No rummaging through your bag to find your laptop that sunk to the bottom of it and no wrangling with your toiletries. You simply get in line, then put your bag on the belt and walk right through the metal detector.
Well, you don't have to imagine it—it truly could be that easy. This article shares the benefits of TSA PreCheck, one of the Trusted Travelers Programs offered in the United States, and why you should enroll.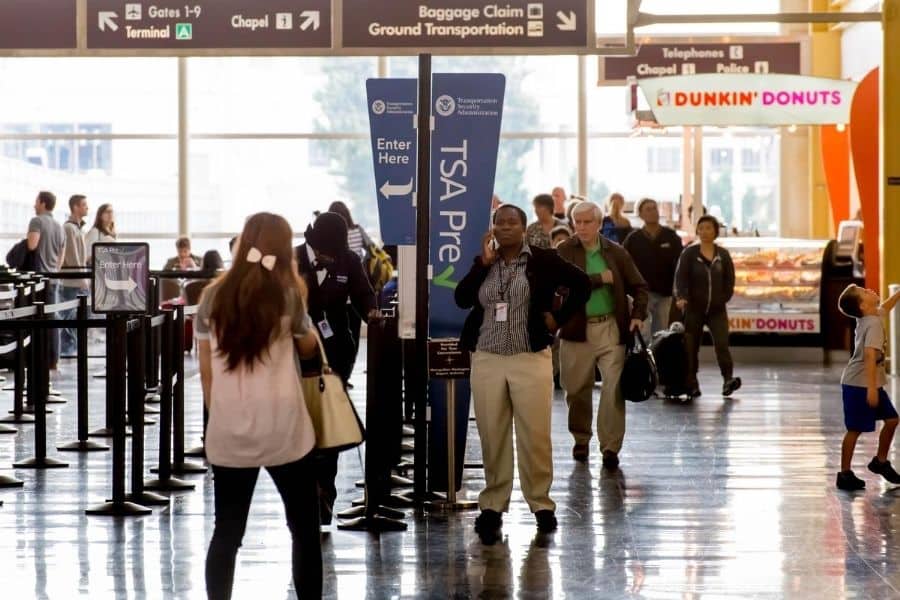 This post may contain affiliate links, which means I'll receive a commission if you purchase through my links at no extra cost to you. Please read full disclosure for more information.
Trusted Traveler Programs
The United States Department of Homeland Security offers the Trusted Traveler programs as a way to improve the efficiency and speed of the process of passing through immigration, security, and border checks.
These programs offer expedited lanes at United States airports. They also provide access to expedited travel lanes when crossing international borders in and out of the United States by land or sea.
Each program has its own eligibility requirements as well as different benefits. So, you need to review the materials thoroughly before applying to ensure you select the right one and that you are eligible. there are five programs currently available in the U.S.:
TSA PreCheck—Expedites security screening in United States airports for both domestic and international travel.
Global Entry—Offers expedited passport control that reduces time going through immigration and customs when people enter the United States.
NEXUS—Provides expedited border clearance between the United States and Canada when crossing by air or land, as well as marine ports of entry.
SENTRI—Allows expedited entry to the United States from southern land border ports.
You May Also Like Is Global Entry Worth It?
There is also a program called FAST available for commercial truck drivers only. TSA PreCheck is the best-known program and one of the most popular. However, you can determine which is appropriate based on where you travel and select accordingly.
For more information about Global Entry, check out this post.
Trusted Traveler Program Benefits
There are a number of benefits of the Trusted Traveler Programs.
First, they make people's travel experience easier and more streamlined.
They also improve overall security in airports, at border checkpoints, and in the country overall.
And last, these programs provide modified screening procedures that expedite entry into the United States.
People apply for the program of their choice in order to secure membership. Then they have to complete a rigorous screening process, and those details are below. Pay the fee, complete the requirements, and then go to an in-person interview. Once all of this is done, you are eligible for approval to the program of your choice.
Benefits of TSA PreCheck
TSA PreCheck is an expedited screening program for travelers flying in United States airports for both domestic and international flights. Include your Known Traveler Number (KTN) when you book your flight with your airline. (If you forget or book through a third-party application and you are unable to, you can generally contact your airline to add it to your record.)
It's important to include your KTN with your booking to enjoy the benefits of TSA PreCheck—I have learned that lesson the hard way! If you don't include it in your reservation and you don't know it to share it with your airline, you don't get it.
When you print your boarding pass or secure your mobile boarding pass, you will see TSA Pre✓® listed on it. Most airports that offer this benefit have a separate security line for TSA PreCheck members. You show your identification and boarding pass at the security line as you would always do.
You May Also Like How to Handle Travel Anxiety: 10 Ways to Cope
The benefit, in addition to the separate line, which is often shorter, is that the security procedures are limited at security.
You don't have to remove your light jacket, laptop, shoes, liquids, or belts. (Liquids are only allowed that are under 3.4 ounces and fit in a quart-sized see-through bag, just like any airport passenger.)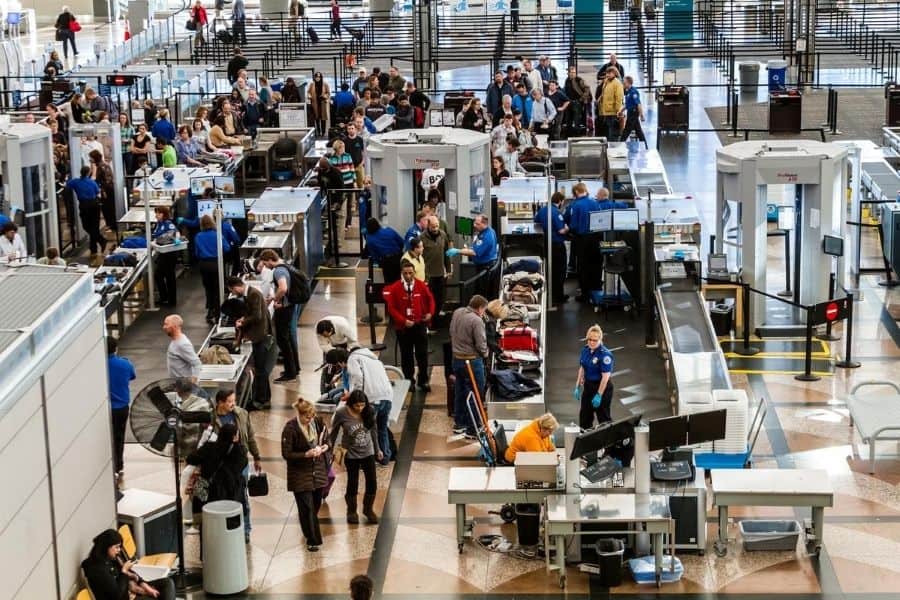 What Airports Offer TSA PreCheck?
TSA PreCheck availability is now at more than 200 airports and with 73 airlines. Most of the larger airports have it, and many of the smaller ones do as well.
However, not all are set up with a separate line for TSA PreCheck. If this is the case, they generally will provide travelers with a placard indicating that the passenger is a member. Then, you go through the regular security line but don't have to remove the above-mentioned things from your bag (or your person).
In my experience, most airports do seem to offer it. However, I have been to a couple that doesn't have separate lines. These are generally airports that are newly offering it, or either small airports or small gates at a larger airport. (For example, the American Airlines gate at Newark (EWR.)
How to Sign up for TSA PreCheck
In order to secure approval for TSA Precheck, you need to follow the process.
Create a Trusted Traveler Program (TTP) account online.
Complete the application for TSA PreCheck.
Pay the non-refundable fee.
Your application may be conditionally approved. If so, visit a TSA PreCheck airport enrollment center and provide the required documentation for the background check. You'll also be fingerprinted at this time. You have the option to make an appointment, or you can do this as a walk-in visit.
You will receive a written response in 2 to 3 weeks after your in-person interview. If you are approved, you'll get your Known Traveler Number and ID at this time.
Once you apply, the system walks you through the process. To check your TSA Precheck status, log into your TTP account online.
Who is Eligible for TSA PreCheck
Eligibility for all of the Trusted Traveler Programs is for people considered to be low-risk. For TSA PreCheck, this includes U.S. citizens, U.S. nationals, and lawful permanent residents. Additionally, there are the following requirements for all of these programs that people:
Are not subject to any ongoing investigations.
Are allowed to enter the United States.
Have no past criminal convictions nor any pending criminal charges.
Have not violated immigration and customs laws.
Provide truthful and complete information during the application process.
Cost and Membership Duration
The cost for TSA PreCheck is $85 for five years. You do pay it when you apply for the program, regardless of your final approval. It is non-refundable, so you will not get your money back.
Global Entry costs $100 and does include TSA PreCheck membership. So, if you do any international air travel at all, it may be worth considering a Global Entry membership instead of TSA PreCheck.
A number of credit cards to reimburse the cost of TSA PreCheck and Global Entry. This may likely change over time, so be sure to check with your credit cards first before paying the fee. And if you choose one of these cards, confirm it still offers this benefit.
It does take some time to go through the process at renewal, both sometimes to hear back from the application and also to get to an enrollment center.
Make sure to leave plenty of time to renew to ensure your coverage doesn't lapse. I recommend at least six months, and of course, if there is a government shutdown or partial shutdown, you'll want to leave more time than that.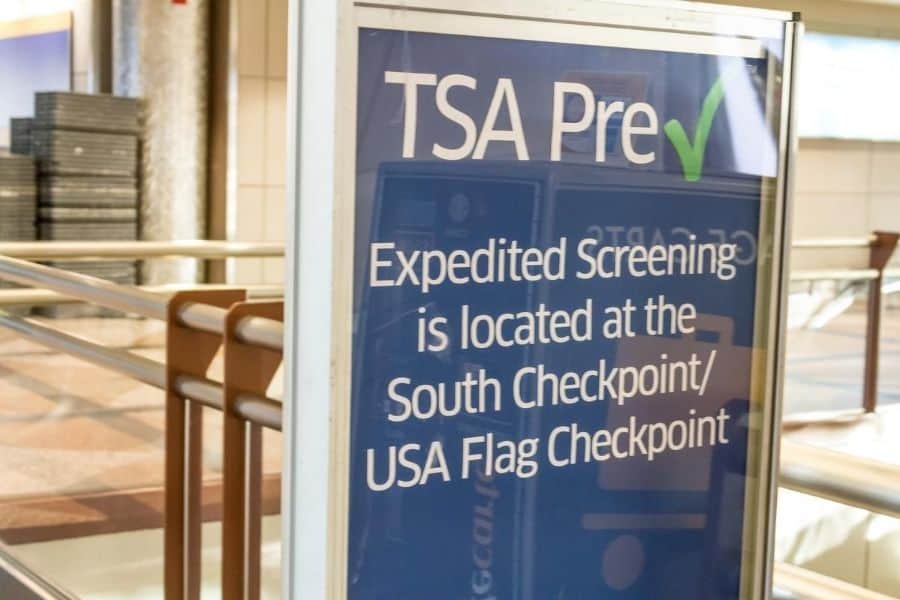 Additional Information to Know
Here are some additional details you should know about the program to make sure you get the most out of the benefits.
TSA Pre✓® must show on your paper or electronic boarding pass for you to enter the TSA PreCheck line and to secure the benefit. I don't recommend trying it anyways, as you will be refused and will have to wait in the general security line. And, if you have the benefit but it doesn't show on your ticket, check with the airline. I have had that happen, and they can resolve it quickly for you.
You don't need to carry your membership card. However, make sure you know your Known Traveler Number. I arrived at the airport to learn that my boarding pass didn't reflect TSA Pre✓®, but without your KTN, they can't help you. Opportunity missed!
The name you use on your application must match the identification you use at your in-person interview. This must be the same name you use for your airline reservations. I got burned by this one once as my ticket pulled in my credit card name, which included my middle name. Since it didn't match, I didn't get TSA PreCheck or Global Entry.
You can check your status online, and once approved, and you are provided your KTN. You can use this even before you get the letter with your card.
There is no age restriction to enroll in this program. Parents and legal guardians who have TSA PreCheck may be joined by children under the age of 12.
Any violations of the program terms and conditions will result in the termination of your membership.
You may still be selected for additional screening at the airport. Having a Trusted Traveler Membership does not get you off the hook!
Is TSA PreCheck Worth It?
You may have heard about this program but aren't sure if TSA PreCheck is worth it. And particularly if the cost of TSA PreCheck is worth it. The answer is that it really depends.
How much traveling do you do in an average year? If you go on more than a few flights a year, then it may be worth it. In fact, according to a recent study, 92% of TSA PreCheck members believe the fee is worth it.
In fact, people said they believe the benefits of PreCheck are so well worth it that they would pay nearly three times the current cost!
Additional Benefits of TSA PreCheck
Also, you may have the opportunity to try it before you buy it with TSA PreCheck, unlike the other Trusted Traveler Programs. On occasion, people will be approved to try it out for one flight to see what they think.
This doesn't enroll you in the program, and this benefit expires after one flight (or two if you're super lucky).
The Trusted Traveler Programs are government-run, offering to expedite travel through United States airports and at U.S. borders. The benefit of TSA PreCheck is that the program can be a great way to save time and reduce a little bit of stress, particularly if you're looking for how to get through airport security faster.
I'll admit that I was resistant at first but soon bought in, and I'm a proud owner of my Global Entry card (which offers TSA PreCheck). It's worth considering these programs and choosing the one that is right for you and your travel.
Want to know more about Global Entry versus TSA PreCheck?
You Might Also Like
Like it? Pin it!