Top Tools and Tips for Remotely Working from Home or Anywhere
Not having to go into an office to do your work seems like a dream, right? For many people, it may just be an ideal set-up as going to an office every day for work can be hard! The commute can be challenging (hello, two hours of daily dashboard time!) as well as the distractions of having so many other people around. It's so easy to get to chatting and before you know it, the day has passed!
And forget trying to sit down to focus on something when people keep dropping by. If you're like me, you get into a "work zone" where you're really focused for short periods and can really crank out work. However, it makes it nearly impossible if I'm constantly interrupted—easy to happen in an office setting.
Remotely working seems like a perfect idea, however, it comes with its challenges as well. Here are some great tips and tools for working from home based on my several years of experience.
Some links in this article may be affiliate links, which means that if you purchase through them, I'll receive a small commission. This will never cost you extra, and I appreciate your support!
Top Tools for Working Remotely – Quick View
Here are some of the tools to consider for working remotely at home. The links below go directly to the section to save you time if you don't want to scroll through this piece. (Though, I'd recommend you read it all as you might get some great ideas!)
Here are some tools to consider when you're working while traveling. These are smaller and lighter items that will make you comfortable and efficient while taking up less space and weight in your bag.
What is Considered Remote Work?
Remote work is anything done outside of a traditional office setting. It could be working from home or working from an alternate location. The work can also vary from working a full-time "traditional" job for a company to freelance work to any online business. The only consistency with the definition really is that it's not done at an office.
The location for remotely working comes into play when you think about the tools you might need to do it comfortably. For example, right now I am working for a company, freelancing, and of course, working on this blog. (And yes, in case you're wondering, it IS a lot!)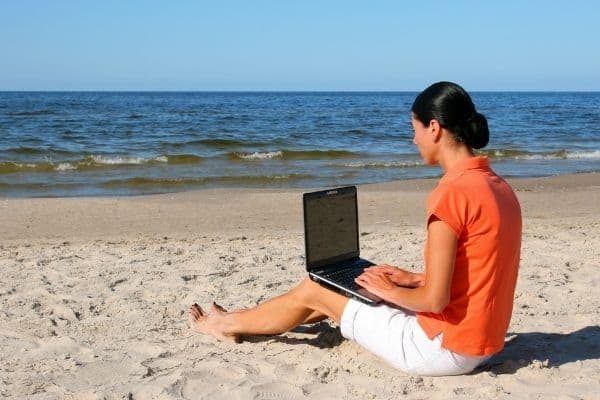 My Remote Work Street Cred
I do my three jobs mostly from my house (including my work for a company). However, there have been times where I have been traveling and have done some work as well. For the work I do, as long as I have a computer and internet, I'm good to go!
Being able to work from any location is a great start to increase your ability to travel more. It's something I looked for with my side hustles when I started planning to increase my income to fund more travel. I knew I wanted to do something that I could do from anywhere, so I specifically chose opportunities based on that criteria.
My full-time job didn't start off as a virtual position and initially, I went into the office a couple of times a week. That reduced with time as I was working a lot of hours in a much earlier time zone than I live in. So, I was on calls at 5 or 6 a.m. which didn't leave me time to drive into the office. Eventually, I transitioned to being completely at home (which I *may* have pushed a bit.)
I was thankful to have worked part-time from home to start building the skills I needed to do it effectively. It can be challenging and it's not for everyone. I do love it personally, though!
What to Consider for Remotely Working
When you're working from home, you can set up an office or at least have a setup that maximizes comfort. You know—pick up that ergonomic chair and adjustable desk that fits oh-so-perfectly. Maybe you want a larger monitor or a mouse. Working from home means you have a bit more flexibility as to what you set up for your work environment.
When you're traveling, you're more limited as to what you can take with you. This is something I'm starting to think about as I plan to move abroad and continue working on the blog and other projects. I won't be packing up my comfy chair or the comfy laptop tray I use when blogging from my comfy sofa.
When traveling, we have to prioritize what is most important. And, that likely means needing to reduce the size and quantity of office equipment. That doesn't mean you can't have a comfortable setup whether you're working from home or remotely working while traveling. Here are some suggestions.
The Best Tools for Working Remotely
The best tools will definitely depend on if you have a home office or if your "home office" travels with you. You're not going to be carrying an ergonomic chair in your backpack! And of course, if you're traveling by car, you may be able to bring a bit more than if you're heading out by flight. But, generally speaking, here are some great tools regardless of your definition of "working remotely."
Tools for Remotely Working at Home
When you have a comfortable and well-thought workspace, it's a bit easier to be more productive. Having said that, some people prefer an actual office space while others want the flexibility of working anywhere.
When I started working from home, I had a tough time balancing work and life (and if I'm honest, I still do!) I found I needed a door I could open and close to signal that I was working or off work. I personally have an office set up, and I regularly used it early on.
Now, I often work from the comfort of my super-comfy sofa (I know, I'm pretty obsessed with it!) So, with that in mind, here are some helpful tools to accommodate either scenario.
Adjustable Desk
We're all different heights and sizes. So, it makes sense that a desk would be more comfortable if we could adjust it to what feels right. This was one of those game changes for me.
It changed how I work because not only can I adjust my seat now, but I avoid my shoulders hurting from hunching them when I spend hours working. Instead of my body trying to adjust to my desk, I simply adjust the desk to my body. Brilliant!
There are options for traditional desks you use with a chair or even a standing desk. Or, if you have a regular desk that you want to convert to a standing desk, you can do that, too. You can even use this if you have a desk that is too low and you want to adjust it to be higher, or even a standing desk.
This option is an electric desk you can use to sit or stand at with a footrest, and it's available in two different sizes. There are options with a shelf and drawers, and desks with keyboard trays.
Here's a complete list of adjustable desks you can scroll through to find exactly what you're looking for.
Adjustable Chair
If you know you'd benefit from an adjustable desk, it's not a great leap to realize you will do well with an adjustable chair. There are a lot of options including those with arms or not, and some are more ergonomic than others.
If you want a basic, low-cost chair without frills, this chair may fit your need. If you want a basic chair with no arm rests, try this one. This chair has a height adjustment, arm adjustment, and even lumbar support for a comfy seat. And this chair has all of that along with a headrest. If you'd rather scan the list, check this list of chairs for your perfect fit.
Mouse
A mouse is a key tool that many people can't work without. Having said that, I have gotten used to just using the mousepad on my laptop. I did use a separate mouse for many years, and I think most people do. This one is ergonomic and wireless and looks oh-so-comfortable. Or, this mouse is advertised as silent and it's also wireless.
Here are some different styles and shapes that you can try to see what works best for you.
Keyboard
You may use the keyboard on your laptop. Though, if you use a desktop, you'll need a keyboard. And some people find a separate keyboard is far more comfortable than what you find on your laptop.
Just like with a mouse, there are options for the shape and some are more ergonomic than others. Some come with a mouse and some offer a wireless option. Others offer a pad to rest your wrists on when you type. Plenty of options here!
Laptop Lap Desk
I had no idea a laptop lap desk was even a thing until a few years ago, and now I can't live without it. There's nothing less comfortable than sitting on your super-comfy sofa (again, right??) with your laptop in your lap when it starts to heat up and cook your legs. And, in Phoenix where I live, it's 1,000 degrees in the summer. Not to overlook that it may not be the healthiest for you.
I got one of these and love it! I use it all the time when I'm working from my sofa. Now that I see some that are available on the market, I may be looking to upgrade soon!
You'll see different options ranging in a basic tray with a cushioned bottom to little stands like you might use to eat your dinner on the sofa. They even have fancy adjustable trays with a slot for your phone and a little side drawer.
Sound-Cancelling Headphones
If you live with others or like working in public spaces like coffee shops and coworking spaces, headphones are a good way to go. They come in a variety of price points and there are over-the-ear headphones and even earbuds that offer sound-canceling. Some headphones can be used for phone calls and others even connect to Alexa!
They help you reduce distractions and can even help you to be more productive. Whether you prefer headphones or earbuds, they're a great tool to consider to boost your concentration and focus.
Blue Light Blocking Glasses
Here's a handy tool you can use at home or on the road! We all know our computers emit blue light that isn't great for our eyes. So, unless you're "lucky" like me and need glasses for computer work anyway, you'll want to consider a pair of glasses that helps to filter out the blue light. It's a cheap and easy solution!
Here's a great set of glasses in a three-pack. If you're like me, if you're not wearing them, you're bound to misplace them. What a drag! This gives you three opportunities to find a pair! Or, if you want different style and shape options, don't you worry! Click the button below to scroll through lots of options.
Tools for Remotely Working on the Road
When you're traveling, you may not want to lug a huge bag with all of your work gear. And in truth, you can't bring everything. There are some things you can bring to make working on the road easier, though.
The great thing here is that several things above are easily transportable including the mouse, keyboard, and glasses. If you want to be sure you have a comfy workspace, just bring them along.
Portable Laptop Stand
You can't bring your comfy desk and chair with you when you travel (generally speaking). But, you can still make your workspace comfortable wherever you go! Check out these portable laptop stands. They are lightweight, compact, and make any work environment more comfortable as they are adjustable.
This one is highly rated, at a budget price, and looks like it would be really comfortable.
Wi-Fi Extender
What's worse when you're traveling than when you have WiFi, but the connection is so bad you need to sit on top of the router? Solve that problem with a WiFi extender. They boost the range so you can work from where you feel most comfortable.
Laptop Bag or Sleeve
I guess the only thing worse than crappy WiFi is breaking your laptop while on the road. Awful, right? It's essential to have a good bag for carrying your laptop to keep it safe. Or, a well-padded laptop sleeve will do the trick and it gives you more options for what kind of bag you bring.
The padded sleeve you need will depend on the size and type of laptop you have, and here is a list of laptop sleeves you can review to see what will work for you.
Cord Organizer
Using an organizer for your cords, dongles, and little bits you need to work remotely is a huge plus. Not only will you be able to find them when you need them, but you won't lose them or leave them behind. (Well, providing you check it before you leave! Whoops!)
Because seriously—what's worse than getting to your destination, then finding you left your power cord at home? And yes, I speak from experience!
There are a lot of options for size and the type of sections in the bag like zippered pockets, etc. These are a great and inexpensive way to stay organized. Mine is similar to this one. They are available in different sizes and different configurations. Some are fancier than others as well.
External Battery
This one was a total game-changer for me with travel and I can't believe I didn't think about it earlier. I take many of my photos on my phone. And, I use my phone for navigation. So, partway through my day, I'd either have to run back to my room to recharge, or bring cords to hopefully get to charge at a restaurant. Never again with this tool!
You'll find options based on the battery size and life, the number of connections, and even some solar-powered options.
External Hard Drive
An external hard drive is a great idea to carry with you whenever you have your computer. If there are just certain files you're concerned with, you can carry a small flash drive. However, I want the comfort of an entire system backup in case I were ever to break my laptop on the road or lose it.
The options are different sizes and you may find differences in speed and size. I have this one that is nice and small and pretty much supposed to be indestructible. I haven't tested that theory, though (nor do I want to). Personally, I always carry an external hard drive whenever I have my laptop. And I carry it in a different bag, just in case.
Tip: Make sure the external battery and the external hard drive are both compatible with your computer (PC or Mac).
Portable Hotspot
If the place you're going to stay at doesn't offer Wi-Fi, a portable hotspot is a good idea. Some work on SIMs and others is through a phone carrier. So, give some thought to where you'll be traveling and what your phone plan offers.
Travel Router
Travel routers provide an easy and effective way to connect multiple devices to the internet. They offer a stable and secure connection to public networks, reducing your risk of getting hacked. And even for private networks, they make adding multiple devices a breeze.
To learn more about Wi-Fi travel routers, check out this post. It includes all you need to know about them and some amazing options.
5 Things No One Tells You About Working Remotely
I have been working from home for a few years full-time and before that, I worked from home a day or two a week for many years. Everyone is different of course, but here are some of the things I've learned from working from home.
It's not easy to get things done when you have limitless flexibility—When your hours are flexible and no one is watching, it can be difficult to get things done. After all, the laundry needs to be done, the dogs want to play, and your pillow looks oh-so-comfy.
You may feel a touch guilty for not working—When your laptop is looking lonely, it can be hard to turn off the work vibe, especially if you enjoy your work. Set clear boundaries for work and life to manage this.
Staying in touch with people is harder—When you're not in an office setting with people around you, it can be a challenge to connect with other people. Extroverts especially may feel a little disconnected. It's important to make more of an effort to connect with people at work and socially.
You need to create a system for work productivity—With unlimited freedom and so many distractions at home, you really need to figure out your work style. You no longer have the structure of an office to get focused. For me, it was my commute to get in the zone, arrange my desk, go through my calendar, and then I was off! Figure out what works well for you to get the work done and do that. Don't be afraid to try different things to land on what works best.
Tech support isn't so easy—If you work for yourself, it's all you, baby! And if you are remotely working for a company, it's not as easy as slogging down the hall to the resident computer geek to fix your computer. Remember to keep regular backups for your content. And have a backup plan when possible like an alternate laptop if yours dies, a hotspot if you lose internet, etc.
You not only need a system for work productivity but for life as well. When you're no longer heading into the office for 9 so you're getting a workout in at 7, it becomes challenging to maintain important things like that. And, I'm sure you've read that when your fridge is just feet away from you at all times, it can be a challenge to stay fit!
Considerations for Remote Work
Working remotely may sound like a dream, and in many ways it is. No more bumper-to-bumper traffic, arriving at your office already stressed out to start your day. No more suits, business attire, ironing, and OMG, pantyhose! (Anyone who knows me will laugh at this as I not only don't know how to iron without burning myself, but I don't even think I own one anymore! And do they even make pantyhose anymore??)
It's not all sunshine and rainbows, though, because working remotely can be a challenge. And even once you think you have it down, it's something you will continue to need to stay on top of. But, more on that later!
Now, this may vary based on the work you do. For example, if you work for a company, you may have set working hours. You may have calls during the day which may limit where you do your work. You also may have on-call time where you must be available.
If you work for yourself, you have a lot more flexibility with defining your work, which comes with both good and bad. It requires establishing firm boundaries between work and life and making sure you block enough work time to get everything you need to do.
Here are some essential tips for working remotely that I have learned to keep you productive and on track.
8 Essential Tips for Working Remotely
Create a workspace where the magic will happen—The first time I worked from home, I spread out on my comfy sofa in my pjs all excited about my day. A few hours later, I woke up having passed out cold and got nothing done. Whoops!
Establish a routine—Yes, some of the joy of working remotely is the flexibility it offers you, but at least until you're very used to it, it's a really good idea to create a routine to get you in the rhythm of work time and play time.
Try to work in a room with a door—You may not have this option, but it's a good idea if you can, and here's why. If your laptop is always by your side, you'll keep logging in when you think of that "one quick thing." But, when it's in a room where you can shut the door, it can make all the difference. I found the door provided a clean break between work time and the rest of my life. It made a huge difference until I was adjusted enough to manage it myself, sans door.
Determine your productivity zone—I'm a morning person, so my prime focus zone is from around 6 to 11. I can still work after that, but I get the most done in this window. I plan to do the work that most needs my focus during these hours and it made all the difference with my productivity.
Consider how to stay focused—Give some thought to how you can best stay focused. I used to need background noise when I worked. Now, I prefer silence (though I love the birds chirping outside and my wind chimes). Just like the concept of sleep hygiene and getting your body ready to go to bed, it's a similar concept for getting prepared to work and remaining productive.
Block time for household tasks—It's a total luxury to be able to do your laundry and empty the dishwasher when you work from home. But, you may find that more and more of your work time ends up dedicated to household tasks. Just like you schedule a meeting on your calendar, schedule your housekeeping times as well. Otherwise, you may find you have a super-clean house and no work done!
Get outside—When working from home, it's so easy to blur the line between work and life. And it's especially easy if you enjoy what you do to feel as if your laptop is just another limb on your body. Do yourself a favor and get out every day, even if it's a short walk. Your body (and your dogs, if you have them!) will thank you.
Limit distractions—Household chores aren't the only distractions you'll find when remotely working. For me, I found my phone was a huge one. It goes wherever I do and I turn it on and start scrolling without a second thought (thanks, Mark Zuckerberg!) Consider moving your phone away from where you're working to limit the distraction.
Pro-level Remotely Working
In truth, I don't follow some of these anymore as I have been working remotely for several years. However, I found I wasn't very productive when I first started, and because of that, started looking for ways to manage it better. I implemented all of these things and found my work was much better for it.
Another helpful tip for some (and one I never did) is to dress up for work as you did before working remotely. Some people find that this act alone helps them get "into the zone." I do try to get out of pajamas (generally speaking!), however, I don't get dressed up anymore. In truth, if I had to go back into an office again, I'd likely need to buy a whole new wardrobe!
The Best Tips for Working Remotely
Play around with these suggestions and see what works for you. You may find you are able to shut off work time however, you get distracted by things around the house. Or, maybe you'll find you can be really productive, but only with a desk and a home office setup.
Whatever your personal preferences, keep trying until you find what works for you. And know that this is a challenge for almost everyone to navigate in the beginning. The best tips for working remotely are what you find work best for you.
You Might Also Like
Like it? Pin it!