Top 10 UNESCO World Heritage Sites (+ a Couple Extras)
If you're a regular reader of my blog, you'll know I'm a tad obsessed with UNESCO World Heritage Sites. Trying to narrow my favorites down to the top 10 world heritage sites proved to be too challenging a task!
Somehow, I didn't know about this designation until a dozen or so years ago. I actually went to a number of them—like Stonehenge in England and Independence Hall in Philadelphia, U.S. without even knowing it!
But now that I do know, I actively seek them out. Why? Because many of the best places to visit in the world are UNESCO World Heritage Sites.
This post will explain what the designation of UNESCO World Heritage Sites means, why it matters, and a list of some of my favorites.
This post may contain affiliate links, which means I'll receive a commission if you purchase through my links, at no extra cost to you. Please read full disclosure for more information.
What is UNESCO?
UNESCO is an acronym that stands for the United Nations Educational, Scientific, and Cultural Organization. It's an organization whose goal is to identify, protect, and preserve natural and cultural heritage around the world. In particular, those that are considered to be what they call "an outstanding value to humanity."
The convention meets every year to vote on new sites, and around 20 new sites are admitted annually. These sites on the list are not owned or controlled by the United Nations or UNESCO. They are generally owned and controlled by local governing authorities.
The world heritage convention can add or revoke sites, which doesn't happen often. Sites may be de-listed if they are not properly managed or protected. In this case, UNESCO first adds sites to the list of World Heritage sites in danger. The sites on this list are at risk of losing their designation.
They attempt to negotiate with local authorities before taking this stance, and only two have been de-listed to date: Arabian Oryx Sanctuary in Oman and the Dresden Elbe Valley in Germany.
UNESCO works with countries and local populations to preserve these sites. They provide emergency help for sites in danger, assist with public awareness-building activities, and offer professional training and technical assistance when needed.
Listed sites get international recognition, legal protection, and may be able to receive funds to facilitate conservation.
What is a UNESCO World Heritage Site?
UNESCO World Heritage Sites are locations that have been selected by UNESCO and inscribed to the list. As of the start of 2021, there were 1,121 UNESCO World Heritage Sites around the globe. 33 were added in 2021, which is more than usual.
The organization continues to evaluate new sites for admittance to the list. These sites may be natural, man-made, and mixed.
Here are some of my favorites, which I'd consider in the top 10 world heritage sites. These are places I've seen which I would also characterize as some of the best places to visit in the world.
I'm listing them in alphabetical order by country to make it easier to read. And also because it would be nearly impossible to rank these in my personal priority order! Coming up with a list of ten twelve was hard enough!
Cambodia—Angkor
Angkor Archaeological Park is one of the most important archaeological sites in Southeast Asia. Angkor Wat is the most famous and largest temple, and the complex is sometimes known by the same name.
It's believed there are 72 major temples and several hundred minor temples scattered in the area. This was the capital city of the Khmer Empire that ruled from the 9th to 15th centuries.
The Angkor complex is located in Siem Reap, Cambodia. It represents one of the most popular tourist attractions in the country. More than 2 million visitors visit Angkor Wat and the archaeological park every year.
It's an incredible place to visit and I highly recommend getting a local guide that can show you around and share the incredible history of the area. Angkor Wat is the largest and best-known temple, but there are many others in the immediate area to visit ranging in size and preservation.
Some of my favorites are Angkor Wat and Ta Prom, made famous by the movie, Tomb Raider. (It's the temple with the huge root systems throughout the complex). Banteay Srei is another interesting and unique temple in that it's a Hindu Temple and not Buddhist.
All of the temples are amazing. You can walk through many of the structures and even climb to the top on the uneven stone steps. Visiting these ancient temples is an incredible and unique experience.
Canada—Canadian Rocky Mountain National Parks
If rugged mountain peaks, alpine meadows, crystal blue mountain lakes, waterfalls, and deeply-carved canyons sound appealing, you are going to fall in love with the Canadian Rocky Mountain National Parks.
This UNESCO site includes a number of national parks in this area including Banff, Jasper, Kootenay, and Yoho. It also includes Mount Robson, Mount Assiniboine, and Hamer provincial parks.
There is also a site, the Burgess Shale fossil site, where soft-bodied marine animals were once living, and their fossil remains are found in this area.
Of these parks, Banff gets the most attention and it's the one I got to visit. It's the oldest national park in all of Canada, dating back to 1865.
The area was established by the Canadian Pacific Railway and they have left behind some majestic old railway hotels still prized today. This includes Chateau Lake Louise, Banff Springs Hotel, and others.
Millions visit Banff National Park every year and there are a lot of things to do in the area. From visiting the beautiful lakes like Lake Louise and Lake Moraine to climbing (or riding the gondola) up Sulfur Mountain, or high tea at the Banff Springs Hotel.
Explore downtown Banff and the Whyte Museum and explore the hundreds of hiking trails all around this picturesque area. There is nothing like it in the world—why it's a top 10 World Heritage site.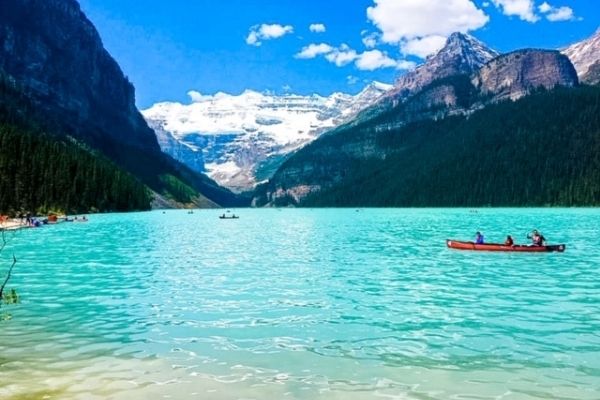 Chile—Rapa Nui National Park—Easter Island
When I was in school, I remember reading about the moai heads at Easter Island. I was fascinated by this civilization located on a remote island in the South Pacific Ocean. It's was a bucket-list adventure being able to visit.
The Rapa Nui, the indigenous name for the people from Easter Island (and their name for the island), built the large moai heads as a representation of the ancestors to watch over them and keep them safe.
But even these ancestral reminders couldn't keep them safe. The island thrived and expanded beyond the available resources, leading to wars and near extinction.
Until the 1700s, they were free from any external influences. They established a system of rule that worked effectively for over a thousand years. At their height, there were 16,000 Rapa Nui People on the island. As of the late 1800s, there were 11.
Easter Island Today
Rapa Nui National Park comprises most of the island today, where a few thousand people live. The ahu, or groups of moai on a platform have been partially reconstructed, as they were all knocked down when the island was invaded. You can see some fully rebuilt and others in pieces.
You can tour the rock quarry where the stones to create the moai were carved. A popular thing to do is visit the sacred Rano Kau volcano to visit the Orongo ceremonial village. Here you'll learn about the Birdman ceremony that determined the island ruler.
The island is quite beautiful which some gorgeous beaches. And the Hanga Roa port area is nice and worth exploring. There's also some great swimming and diving in the area.
I highly recommend taking some tours on Rapa Nui Island to learn about the history. It's really fascinating to really understand all that happened here when you wander among the moai.
Colombia—Coffee Cultural Landscape of Colombia
The most lush and fertile area of Colombia and one of the most beautiful is in the Coffee Triangle (Eje Cafetero). This is the area with the most of the Colombian coffee production. It's also a thriving area with some gorgeous small cities and towns.
One of these lovely areas in the Coffee Triangle is Salento. This small town of thousands is the nearest town to the Cocora Valley. Visitors come to this valley to go on a stunning trek through a cloud forest to see striking comically-tall palm trees called wax palms. It's an epic hike that leads you through different areas of the valley.
Salento is small but there are a lot of things to do. It's a quaint backpacker town and a welcome break from some of the hustle and bustle in the larger cities in Colombia.
Though much of the coffee in the region is grown at lower elevations, there are several farms in the small town of Salento. I had the opportunity to stay at the Plantation Hostel and go on their Don Eduardo's Coffee Farm Tour.
The heart-racing climb up the hills where coffee is planted is impressive when you consider the picking is done in the rainy seas. If you're a coffee-lover, you will love this tour.
There are other small cities to visit in the area, including Manizales, which I got to visit. This area is quite different from the other parts of Colombia and it's worth visiting.
Other UNESCO Sites in Colombia Worth Seeing
Port, Fortresses, and Group of Monuments, Cartagena—Cartagena is a major port city on the Caribbean coast of Colombia. It has a quaint and beautiful thriving historic walled city with beautiful garden squares and vibrant street art. There's also a large historic fort called San Felipe de Barajas Castle worth visiting to learn the history of the area. The nearby town of Palenque de San Basilio is also an interesting slice of history worth learning more about.
France—Cathedral of Notre Dame
It wouldn't be possible to not have somewhere in Paris not be on my top ten list of UNESCO World Heritage Sites. You see, Paris is my favorite city in the world. It was my first solo trip, and will always hold a fond place in my heart.
As a historic architecture nerd, I think Paris is one of the most beautiful cities in the entire world. Paris was my only international repeat for nearly a decade if that tells you anything. In a huge world of places that I have never yet seen, I chose to return to Paris.
In my opinion, one of the most incredible places in all of Paris is the Cathedral of Notre Dame. Not only is the architecture incredible. But, you can climb the 400+ steps inside to get some of the most incredible views of the city in all of Paris.
Where else can you hang out with a gargoyle overlooking the city and ponder its history?
The fire in 2019 was absolutely heartbreaking. I watched with much of the world in horror as it unfolded.
Notre Dame Cathedral has seen dozens of coronations, royal weddings, and other important historic events. It witnessed the crowning of Napoleon, some of the worst of the French Revolution, the beatification of Joan of Arc, and survived two world wars.
I'm grateful that they are choosing to restore this incredible structure so it will be enjoyed generations to come. It has stood witness to some of the best and worst of history.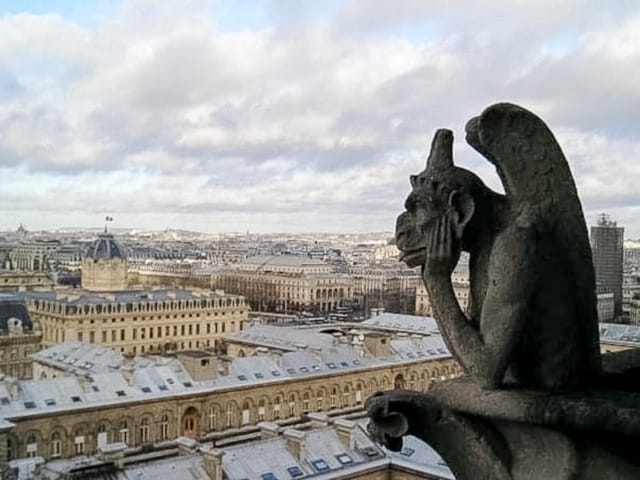 Other UNESCO Sites in France Worth Seeing
Banks of the Seine—One of the central focal points of the city of Paris is the Seine River, which flows through the center of the city. Man of the top attractions are along or not far from this river, from the Eiffel Tower to the Louve to Notre Dame and more. You can't visit Paris without walking along the river, and this helps you understand just how this magestic city got its start.
Palace and Park of Fontainbleau—This was one of the UNESCO sites I got to see before I even knew about UNESCO! It was a chateau used by the kings of France, and later by Napoleon. It's a beautiful palace and a striking spot in this rural area.
Palace and Park of Versailles—One of the most incredible palaces in all of Europe is the incredible palace of Versailles. It was the primary residence of the French kings for centuries. As incredible as the palace is, the grounds are every bit as impressive. It took me two trips to Paris to visit, but only because my first trip was in the winter. This is not to be missed when you visit Paris.
Germany—Palaces and Parks of Potsdam and Berlin
There are hundreds of incredibly beautiful palaces and castles throughout all of Europe. In truth, it would be hard to pick just one or two of them that are the best, most beautiful, or most important.
My choice of this on my top ten UNESCO list may be influenced by the very first castle I remember seeing as a young girl, Neuschwanstein Castle. You may know it as the inspiration of the Disney World Castle, but I first saw it on a puzzle.
Now, Neuschwanstein isn't in or near Berlin (it's near Munich). And it's not included in this UNESCO site. (Though I did read it's on the tentative list as a site to be considered for addition to the list). My love for Neuschwanstein left me with a great appreciation for German castles.
UNESCO Palaces in Germany
This UNESCO "site" includes 150 structures built between 1730 and 1916 in Potsdam and Berlin. It includes one of my favorite castles in the area, the incredible Sanssouci. This is actually a grouping of castles, though there is a "main" castle on the property.
A day trip to visit Potsdam and the Sanssouci complex and parks is a must-see when you visit Berlin.
Architecture nerds (like me!) will love this city as there are a lot of incredible buildings to see. There's also a lot of really interesting history from World War II that took place here as well. So, it's worth taking a tour if you're interested in learning more.
Though I only had time for a day trip, this is one of the cities I'd like to go back to explore. I hope to spend a few days as there is really a lot to see and do here.
In Berlin, there are a lot of great castles, palaces, and UNESCO sites to see. In fact, there are over 50 in all of Germany! I loved Charlottenburg Palace as well, and I have listed another favorite that I got to see while visiting Berlin below.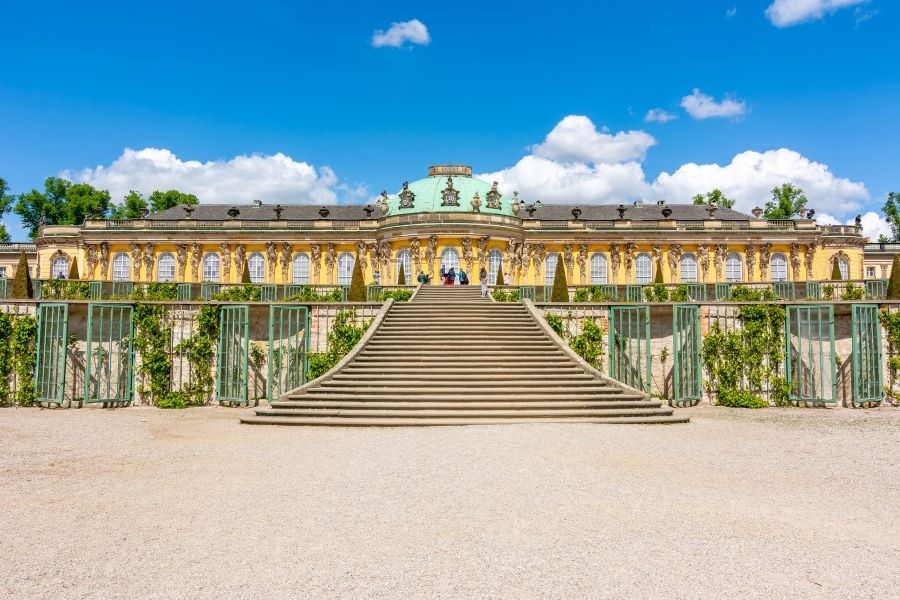 Other UNESCO Site in Berlin, Germany Worth Seeing
Museuminsel (Museum Island)—This is a museum complex in the heart of Berlin. It's located near the incredible Berlin Cathedral, also worth seeing. It includes five different museums and I highly recommend the Pergamonmuseum. It's easily in my top five of all museums in the world as you literally walk through time with its incredible exhibits.
Italy and the Holy See—Vatican City
Paris may be my favorite city in the world to date, but Italy is my favorite country. There are so many incredible places to visit in Italy.
It's the only country to date that I have visited three times, and Rome is my second international repeat city in all of the world.
When I had the opportunity to visit an area near Rome, I knew I couldn't miss out on a return trip to Rome. And of course, that includes Vatican City.
It's not easy to choose one place for the top ten UNESCO sites in Italy. But since I'm putting myself on the spot, I'll say Vatican City.
Vatican City is actually a separate country from Italy with its own leadership, governed by the Holy See. It's a small area, and what most people visit are St. Peter's Basilica, St. Peter's Square, and the Vatican Museums.
A visit to Vatican City is a must-see when you go to Rome. Whether you're religious or not, St. Peter's Basilica and Square are simply awe-inspiring. And the Vatican Museums house some of the most incredible art.
Most famous of all of the Vatican Museum is the Sistine Chapel. The impressive ceiling was painted by artist Michelangelo and it's considered one of the world's greatest artistic masterpieces.
Other UNESCO Sites in Italy Worth Seeing
Historic Center of Rome—The historic center of Rome includes so many incredible sites to see, it's impossible to list them all. Some top spots include the Colosseum, Roman Forum, Trevi Fountain, and the Pantheon. No matter how much time you have, whether it's a weekend in Rome or a month, these are places you should not skip.
Historic Center of Florence—This beautiful city is a symbol of the Renaissance in Italy. For nearly 600 years, it was an active artistic hotbed, with great masters like Michelangelo, Botticelli, and others. See the influences of the Medici at every turn as you explore this incredible place.
Historic Centre of San Gimignano—San Gimignano was an important town for pilgrims traveling to and from Rome in years past. The wealthy build towering homes and there are over a dozen remaining. I didn't get to spend much time in this town, but it's a quaint and beautiful place to explore.
Historic Centre of Siena—This striking medieval city has preserved a highly Gothic influence from the 2th through the 15th centuries. It's a work of art starting at the central square of Piazze del Campo and working outwards. It's a wonderful day trip from Florence.
Piazza del Duomo, Pisa—Who hasn't heard of the leaning tower of Pisa? It's a bit of a trek to get there on public transportation, but it's such an interesting place to go. Climb the tower to get great views of the church?? is it a church, basilica, etc?
Venice and its Lagoon—The city built in the lagoon, Venice was established in the 5th century. It's an architectural masterpiece and it's incredible to wander around the city and its many picturesque canals.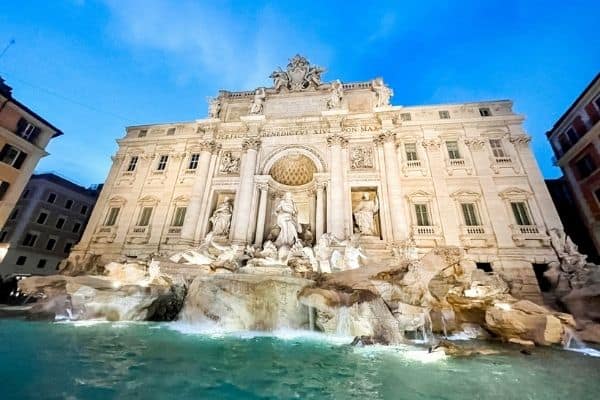 Morocco—Medina of Essaouira
Morocco is an assault to your senses—in a good way. Morocco is a truly incredible experience to visit and to absorb the sights, sounds, and smells of this country.
It was my first trip to Africa, and I'm going to dare to say it will likely always be a favorite. There were so many incredible aspects to Morocco and I loved almost everything about it. Even when I felt overwhelmed, there is something so energizing about this country.
It wasn't easy to decide my number one place in Morocco. If I have to choose only one, my favorite and top 10 world heritage site in Morocco would be Essaouira.
Essaouira is a walled city perched over the Atlantic Ocean. The area has been inhabited since around the 6th century, and the walled fortress was built in the 16th century. It flourished as an area for export by the sea, sheltered pirates, and proved impenetrable from attack.
There was once a thriving Jewish Quarter. Thousands of Jews sought refuge here from Spain and Portugal during the Spanish Inquisition, though they later mostly moved to Israel.
The historic old town, or medina, is interesting to walk around. It's not as overwhelming as the medina in Marakesh, and better deals can be found here in the shops, or souks.
It's also worth wandering the fish market to see the brilliant blue boats the fishermen use to bring in their catch. It makes for a striking photo-op against the fortress walls of the Harbor Scala.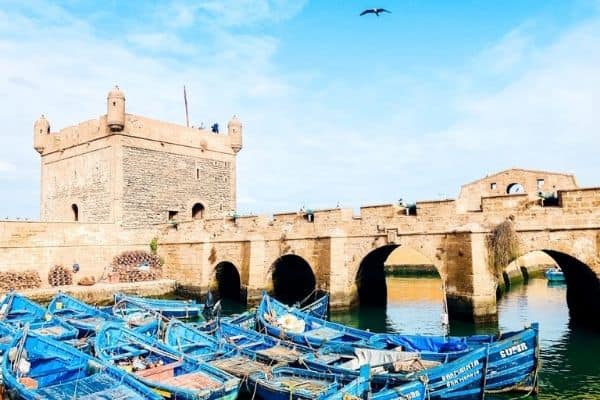 Other UNESCO Sites in Morocco Worth Seeing
Peru—Historic Sanctuary of Machu Picchu
A place that was on my bucket list, and one of the most incredible places I've ever seen was the sanctuary of Machu Picchu. This Inca citadel was built in the 15th century on a nearly 8,000-foot high (2430 meter) mountain ridge.
The climb or even the bus ride up is incredibly impressive, navigating steep switchbacks that drop off into the Sacred Valley. It's incredible to imagine how the massive boulders were brought here without any heavy machinery.
It was abandoned around 100 years after it was built, around the time of the Spanish Conquest. It was believed to have been built for an Inca Emporer and housed around 750 people at its height.
As with most of the Inca construction, the large boulders were carved to fit together without the aid of mortar between them. Walking among these massive rocks, it's absolutely awe-inspiring to see this monumental construction of this citadel.
If you have the opportunity to visit Machu Picchu, take it. This is truly one of the most incredible things I have ever seen.
Other UNESCO Sites in Peru Worth Seeing
City of Cusco—This Inca city was built over 11,000 feet above seea level (3400 meters) in the Andes Mountains in the 15th century. Though it was conquered by the Spanish, they largely kept the structure of the city, though the razed some of the religious buildings and built their own over them. You can still see the Sacsayhuaman Inca ruin. Visit for the Festival of the Sun, Inti Raymi, for a really interesting celebration.
Portugal—Monastery of the Hieronymites and Tower of Belém in Lisbon
One of the most popular things to do in Lisbon is to visit Belém. Though it's technically a neighborhood of Lisbon and not a separate city, it feels very distinct when you visit. Plan to spend a half-day or more here in this incredible place.
Belém is historically important as it was a symbol of Portuguese expansionism during the Age of Discovery. It's where many famous Portuguese explorers set sail, including Vasco da Gama, Ferdinand Magellan, and Pedro Alvares Cabral.
The Jerónimos Monastery is one of the most beautiful buildings I have ever seen. It's an example of the Portuguese Manueline style of architecture and I was completely gobsmacked by how stunning it is. Da Gama is believed to have been buried in this 600-year old structure.
The Tower of Belém is a short walk away, located near the Monument to the Discoveries. It's a large monument honoring the Age of Discovery. The tower was built to protect the city from invaders coming from the Tagus River. It's designed in a similar fashion to the monastery.
There's a lot packed into just a few city blocks in this small neighborhood. Jerónimos Monastery and Belém Tower are well worth seeing during any visit to Lisbon.
Other UNESCO Sites in Portugal Worth Seeing
Cultural Landscape of Sintra—One of the most popular day trips from Lisbon is to the magestic and historic city of Sintra. Located where the royal summer palaces were, this city has some big hits to see. Visit Pena Palace, perched high on the mountain ridge overlooking the historic city center and the national Palace of Sintra. Then visit the most interesting property, Quinta da Regaleira, shrouded in mysticism.
Historic Centre of Guimarães—Walk back through time to the birthplace of Portugal in Guimarães. It features two lovely central squares lined with restaurants, and one overlooks a Gothic monument. There is an ancient castle built to defend the region, and take a cable car to the top of Penha Mountain to visit Penha Sanctuary and to enjoy the incredible views.
Historic Centre of Oporto, Dom Luis Bridge, and Monastery of Serra do Pillar—Porto is a popular city in northern Portugal that captured my heart. Its compact city center along the Douro River has a lot of incredible places to visit. Take time to explore and give port wine a try. I only had two days in Porto, and it's wasn't nearly enough.
Sanctuary of Bom Jesus do Monte in Braga—One of the most popular reasons to visit the medieval city of Braga is a visit to the striking Sanctuary of Bom Jesus do Monte. It overlooks the historic city center, which is also worth visiting.
On my first trip to Spain, I visited Madrid and Seville and decided to stop in this city called Córdoba. I had no idea what a hold on me it would have, even a decade later.
Being an architecture nerd lover, I fell in love with the historic center of Córdoba. It's a UNESCO site, and has stayed with me, due to the almost casual blend of architecture between three distinct, and generally not often seen together cultures: Christian, Muslim, and Jewish.
This city was once the largest in all of western Europe. It started as a Roman settlement that was conquered by the Moors and remained under Muslim rule for centuries. During this time, the city flourished and all cultures found largely tolerant rulership.
Wander the Jewish Quarter, the historic city center of Córdoba, to see most of this city's primary attractions. these include the exquisite Mosque-Cathedral of Córdoba, the Alcázar of Córdoba, and its lovely gardens. If you have time, check out the Roman Bridge and Calahorra Tower.
Córdoba may not be as well-known as nearby Seville, but I found the architecture to be even more interesting. Both are worth visiting and are easy to as they are so close (around 45 minutes by train). You can see the highlights of Córdoba in a day as the city center is compact. Though, I'd recommend more time if you can.
Other UNESCO Sites in Spain Worth Seeing
Cathedral, Alcazar, and Archivo de Indias in Seville—Seville is a beautiful and historic city on the coast of Spain in Andalucia. Its most famous places include the Alcázar of Seville, an impressive palace/fortress with stunning gardens and Plaza de España in Maria Luisa Park.
Historic City of Toledo—Located close to Madrid, this small city is worth visiting. It was founded in Roman times on the Tagus River, and is also known as a "city of three cultures," similar to Cordoba. It's quite beautiful.
Works of Anton Gaudi—Though I wouldn't say I'm a huge fan of Gaudi, his architecture is nothing like I've ever seen. And I learned to appreciate after seeing some of his sites in Barcelona including La Sagrada Familia, Casa Mila, and others.
United States—Yellowstone National Park
One of the most unique and interesting national parks I have been to in the United States is Yellowstone National Park. It's one of the most popular parks in the entire country.
It's one of the most seismically active areas in the entire US. The park has thousands of earthquakes every year. It's sitting in a giant caldera, and the volcanic material is only a couple of miles beneath the surface.
Having said that, this park is surprisingly diverse. Those its best known for the geysers and such, there are grasslands, hills, jagged mountains, and rugged canyons. There are a lot of different landscapes packed into this park.
There are a lot of different things to do in Yellowstone. Of course, one of the most popular things to do is see the many different types of geothermal features. This includes geysers like Old Faithful, fumaroles, mud pots, etc.
Hiking and animal watching are popular, and you'll find bears, bison, wolves, and more in this park. Visiting the grand ole lodges is popular as well, like Lake Yellowstone Lodge and Old Faithful Lodge.
You could easily spend a week or more exploring Yellowstone National Park. Though, if you have three days in Yellowstone, you can make the most of it and see some of the most popular places.
Other UNESCO Sites in the United States Worth Seeing
Given the long list of UNESCO sites in the US, I'm going to break this list into the Eastern US and the Western US.
Eastern United States
Everglades National Park—The Everglades is the largest designated sub-tropical wilderness in North America. It has a complex habitats with an incredible diversity of plants and animals. No trip to Florida is complete without seeing this park.
Independence Hall—Both the Constitution of the United States and the Declaration of Independence were singed in this Philadelphia building. The principles set forth in these documents have had a profound impact to the history of the US and have influenced the world.
Statue of Liberty National Monument—Made by a French sculptor as a gift to the US to celebrate 100 years of American independence, this sculpture stands at the entrance to the harbor in New York to welcome millions of immigrants into the country.
Additionally, I have seen Monticello in Virginia, Thomas Jefferson's former residence. It is absolutely incredible and a high recommendation if you're in the DC area. I did not see UVA though, which is part of the designation.
Western United States
Chaco Cultural National Historic Center—This archaeological site of the pre-Colombian people built from mid-9th century to the 13th century is located in northwestern New Mexico. It is a remarkable place including public and ceremonial buildings and homes linked by a carefully-constructed system of roads. It's an incredible place to visit to learn more about the Native American people who inhabited the area.
Grand Canyon National Park—One of the natural wonders of the world, this is the most spectacular gorge found anywhere on our planet. It was created over millions of years by erosion by the Colorado River. It's a breathtaking site, and a popular road trip in Arizona.
Hawai'i Volcanoes National Park—This park contains two of the most active volcanoes in the world, Kilauea and Mauna Loa. They represent the dramatic and dynamic change of volcanoes on the landscape of the area, and are amazing to witness.
Mesa Verde National Park—A well-preserved settlement of the Ancestral Puebloan people used from around 450 to 1300 AD. It includes over 600 cliff dwellings and other structures that you can climb through when you visit.
20th Century Architecture of Frank Lloyd Wright—Eight homes build by famed architect Frank Lloyd Wright are UNESCO World Heritage sites. This includes Taliesin West in Scottsdale, Arizona. It's an incredible artistic representation of its desert surroundings. (Note: these locations are around the US but since Taliesin West is in Arizona, I included it in the Western US section of this piece.)
Vietnam—Ha Long Bay
Ha Long Bay, or Halong Bay, is a beautiful UNESCO site located off the coast of northern Vietnam. Hanoi is the closest city to this area.
Halong means "descending dragon." According to myth, the gods sent a family of dragons to protect Vietnam from invaders when it was starting to develop into a country. The dragons spit out jewels, which turned into islands and inlets in the bay, protecting the infant country. Whether it was created by dragons or nature, it's breathtaking.
The bay has striking turquoise water and is known for thousands of limestone isles that are in various shapes and sizes throughout the bay. They make for a strikingly picturesque scene.
Around 40 of the nearly 2,000 islands in the bay are inhabited. There are also small floating fishing villages, essentially a group of boats lashed together.
A popular thing to do is go on a junk boat tour into the bay. On these trips, you can go swimming and kayaking in remote areas of the bay, and visit the small floating villages. You can also enter caves in the islands and tour the grottoes inside.
Ha Long Bay is a beautiful and interesting place, different from anything I had seen. There are similar limestone islands and islets off the coast of Thailand as well, which I have been to since my trip to Vietnam. But Ha Long Bay will always be someplace special for me.
Other Favorite UNESCO World Heritage Sites
It's not easy to choose my top 10 world heritage sites with so many incredible places to choose from. Here are some of the others I have seen that are worthy of a spot on this list.
Americas
Asia
Laos—Town of Luang Prabang: the historic center of Luang Prabang is a small and sleepy area and a welcome break from the hustle and bustle of the larger Southeast Asia cities. There are dozens of gorgeous temples here, or watch the intriguing Alms Giving Ceremony. You can also learn about rice growing at the Living Land Farm or visit one of the most beautiful waterfalls in the world at Kuang Si.
South Korea—Changdeokgung Palace Complex: A 15th century palace complex in Seoul, South Korea, built for a king. This complex blends harmoniously with the landscape in the area and includes official and residential buildings set in a garden.
Europe
There are a lot of UNESCO World Heritage sites in Europe. Though these aren't included in my top 10 world heritage sites, they are all places I enjoyed visiting and would highly recommend.
I'm going to break this down to Eastern Europe and Western Europe and the United Kingdom just to break up the text a bit. All are located in Europe.
Western Europe & the United Kingdom
Denmark—Kronborg Castle: This symbol of Denmark power, is a Renaissance castle built in the mid-1500s. Kronborg played a key role in northern Europe in the 16th to 18th centuries. It's also the setting for Shakepeare's Hamlet.
United Kingdom—Canterbury Cathedral, St Augustine's Abbey, and St Martin's Church: Canterbury Cathedral is a beautiful Gothic and Romanesque structure, and the seat of the head of the Church of England for centuries.
United Kingdom—City of Bath: This city was founded in the 1st century AD as a Roman thermal spa. It later developed into an interesting town whose architecture was blended with the ancient baths.
United Kingdom—Palace of Westminster and Westminster Abbey including Saint Margaret's Church: These neo-Gothic structures have played key roles in British history. All British sovereigns have been crowned in Westminster Abbey since the 11th century, and many are buried there.
United Kingdom—Tower of London: This is one of the most famous of England's iconic structures. The White Tower was built in 1066 by William the Conqueror as a demonstration of power, acting as a fortress and gateway to London from the Thames River.
Eastern & Central Europe
Austria—Historic Centre of the City of Salzburg: This Italian Baroque masterpiece and home to Mozart is one of the most beautiful cities in the world. Made famous by The Sound of Music and its more famous resident, it's a popular place to visit. It's a stunner, and you can see many of the highlights in a day trip from Munich.
Bosnia & Herzegovina—Old Bridge Area of the Old City of Mostar: This Ottoman frontier town was developed in the 15th and 16th centuries. It features Stari Most, or Old Bridge, and Turkish houses and architecture.
Croatia—Old City of Dubrovnik: Game of Thrones fans may recognize this place as the location for King's Landing. It's a really small city but gorgeous with its tall city walls and terra cotta rooftops. It's easy to spend a few days here exploring.
Czech Republic—Historic Centre of Český Krumlov: This quaint town between Prague and Budapest is a beautiful medieval town that has maintained its architectural heritage with Gothic, Renaissance, and Baroque elements.
Czech Republic—Historic Centre of Prague: Built on both banks of the Vltava River, Prague is one of the most beautiful cities in Europe. There are many magnificent places including Charles Bridge, St Vitus athedral, Hradcany Castle, with exquisite architecture.
Hungary—Budapest, including the Banks of the Danube, the Buda Castle Quarter and Andrássy Avenue: Though Established as a Roman settlement, this area shows signs of human life dating back well before then. This area and its architecture reflect the history of Hungarian greatness.
Visit the Top 10 World Heritage Sites
Whenever you visit any of these top 10, oops, 122, UNESCO World Heritage Sites, you're sure to find a winner. Each is an absolutely incredible place to see. That's not to say the others aren't worthy of being on the list—they absolutely are! But these are my favorites of the ones I've seen.
I'll continue to update this post as I see more. Each is incredible special and well worth a visit.
What are your favorites? Would you be able to pick your top 10 world heritage sites?
You Might Also Like
Like it? Pin it!