Top 10 Things to do in Panama City, Panama
Your first thought may be of the Panama Canal when you think of Panama, but there's a lot of other great things to do in Panama City. Surprised?
Don't be! Panama City is a really fun city with a historic section, a UNESCO World Heritage Site, incredible culture, and so much more. You may visit for the Panama Canal, but there's a lot more to this city.
This article includes ten of my favorite things to do in Panama City. Read on to find out more!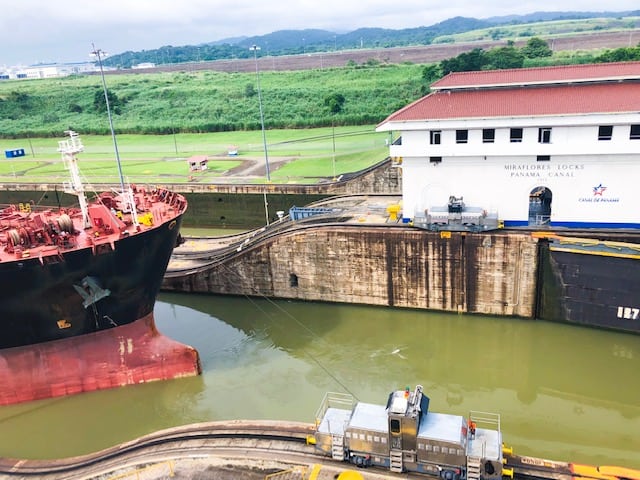 This post may contain affiliate links, which means I'll receive a commission if you purchase through my links, at no extra cost to you. Please read full disclosure for more information.
Panama
Panama is a small country in Central America that has coastlines on both the Atlantic and Pacific Oceans. It is the only place in the world where someone can watch the sunrise over the Pacific Ocean and set over the Atlantic Ocean. Costa Rica lies to the west and Colombia to the southeast.
Indigenous tribes populated Panama until the Spanish colonization in the 16th Century. Panama later broke away from Spain and became part of Colombia until it gained its independence in 1903.
The secession from Colombia was in large part to begin construction of the Panama Canal, working with the United States Army Corps of Engineers. Though this was not the first effort to bring a canal to the country, it was the first successful effort.
The canal has been a huge positive to Panama, bringing continued stability and financial resources to the country.
Panama City
Panama City is located at the Pacific entrance of the Panama Canal. It features a very modern and cosmopolitan downtown, a Spanish Colonial historical center called Casco Viejo, and the ruins of the original Panama City called Panama Viejo. Casco Viejo and Panama Viejo together are a UNESCO World Heritage site.
Panama City is the only capital city with a protected rainforest within its borders, Parque Metropolitana. The city does an amazing job preserving the rainforest regions in general. It also provides a lot of outdoor space along with the prime real estate areas of the Pacific Ocean.
Top Things to Do in Panama City
Panama City is a fun place to visit with a lot of diverse things to do. You can explore both the modern and the historic sections of the city or check out the major engineering feat of the Panama Canal. There is something for everyone.
You can also take in glorious city views along miles of manicured walkways and wander through the Panama of the past. Or even taking in a rain forest or two—you won't run out of great things to do in Panama City.
1. See the Panama Canal – #1 Thing to Do in Panama City
This one may be a no-brainer as the Panama Canal is a huge draw for tourism in the country. It's actually a lot more interesting than I expected.
The Miraflores Visitor Center is a top tourist attraction for visitors to Panama City and a must-see while you are there. This is where the Miraflores locks are, at the Pacific gate to the Panama Canal.
This was not the first time there was an attempt to build a canal across Panama. But, it was the first successful attempt through a partnership between Panama and the United States. This was a tremendous feat of engineering, and you can learn more about it in the Miraflores Museum.
There is also an IMAX Theater with a great 3-D movie about the history narrated by the one and only Morgan Freeman. It is really interesting and worth seeing, in my opinion.
The Gatun Lake (and Monkey Island) Boat Tour costs $35 per person at the Gamboa Rainforest Resort. The resort also offers a number of other tours including boat tours, hiking tours, and a fishing tour.
Additionally, they have an aerial tram through the rainforest that is worth checking out. The Gamboa Rainforest Resort also offers a tour to visit a local indigenous tribe called the Embera.
You May Also Like Why You Should Visit the Panama Canal
Get there between 8:30 and 9 to get a front-row seat to the boat traffic going through the locks from the Pacific Ocean. Or get there by around 2:30 to see the boats going in the opposite direction from 3-4. There are three levels with observation decks, but the best views are found on the fourth level. We got there right around 8:45. The folks arriving right after us didn't get to stand in the first row of people watching.
Miraflores Visitor Center is open from 8 to 4:30 on Monday and Tuesday and 9 to 4:30 on all other days. There are two snack shops, a full restaurant, and a gift shop. The entrance cost to the visitor center and the museum is $20 USD and the movie is $10 USD with a combined ticket (or $15 alone).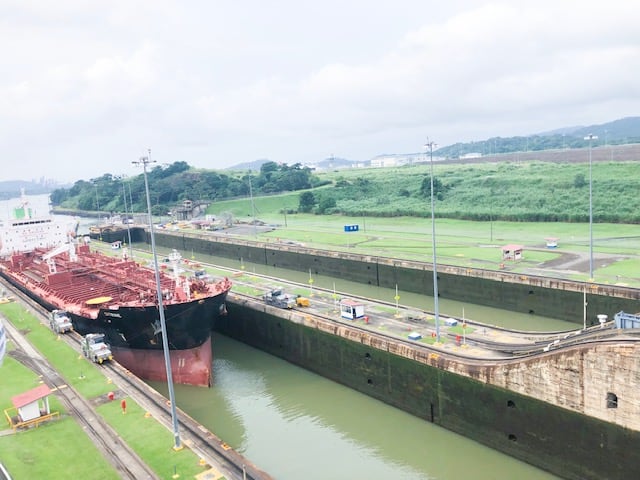 2. Relax at the San Blas Islands
The San Blas Islands are a small piece of Paradise off the coast of Panama. There are more than 365 small islands, of which close to 50 are inhabited by the indigenous people, Guna Yala.
It is a haven for ecotourism due to its pristine landscape. Hurricanes don't hit Panama so it's a beautiful place to visit year-round.
This can be done as a day trip with several tour groups or as a multi-day trip, depending on the time you have. It was a long day as a day trip—13.5 hours. This included picking up some people at their hotels, a nearly two-hour drive to the launching point for the islands including a short stop for breakfast.
We then visited two islands and a sand bar and had lunch. Then we returned with a short stop on the way back.
You May Also Like The Best Panama Islands: San Blas
You can spend a relaxing day (or days!) here going snorkeling, enjoying the sun and sand, or going sailing and boating. Enjoy the fresh catch with some coconut water and relax your worries away.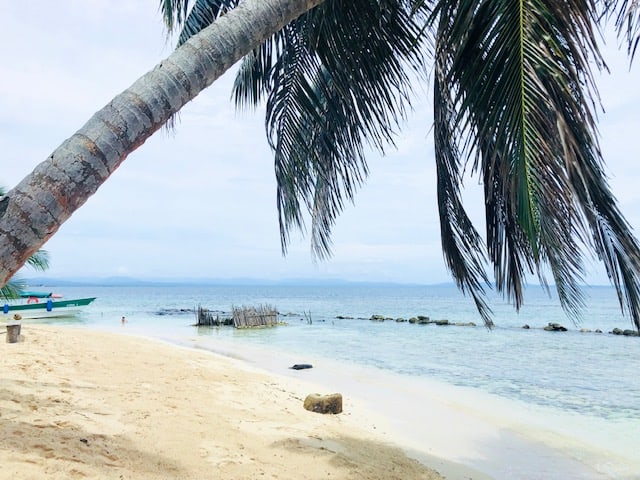 3. Tour Casco Viejo
Casco Viejo (meaning "old quarter" in Spanish), is the historic district located in Panama City. It was founded in the late 1600s following the destruction by pirates of the original Panama City.
There are many important and beautiful places to visit here. You can easily spend half a day or a day touring this area and admiring the architecture.
Palacio de las Garzas (Herons' Palace) is located here, which is the residence of the President and the Government center. In that part of Casco Viejo, you will find a lot of police presence.
The Metropolitan Cathedral (Catedral Metropolitana) is worth seeing. If you go, you can view the $14M USD renovation undertaken for the Pope's visit in early 2019.
You May Also Like Why You Should Visit Panama City, Old and New
There are several spectacular churches to see including the San Jose Church (Iglesia San Jose). It features a gold altar and a 350-piece nativity from Italy and Spain. Two ruins remain including the Convent, which is now a monument, and the Santo Domingo Church (Iglesia Santo Domingo).
This church showcases the Flat Arch (Arco Chato). The French (Plaza Franzia) is another place to see. It is a memorial to the French attempt to build a canal in Panama. There is a lovely small market nearby where indigenous sell their hand-crafted wares and other artistic treats.
UNESCO World Heritage Site
Casco Viejo along with Panama Viejo (the ruin of the original capital of Panama) are a UNESCO World Heritage Site. Casco Viejo is largely under construction now and has been for several years.
Great pains are being taken to preserve the historical aspects of this area to preserve the Spanish Colonial architecture. The renovated buildings are stunning and provide a great view of what the old town will look like in a few years.
4. Stroll Cinta Costera
Cinta Costera is a beautiful waterfront boulevard with amazing Panama City views. It's lined with palm trees and includes lanes for walking and biking. On one side is a grassy strip with beautifully manicured landscaping and the other, the ocean.
There are many street vendors here selling food and artwork. It's a place where many of the Panama City festivals are held.
This "coastal beltway" (Cinta Costera in Spanish), is a land reclamation project that completed in 2009. It is 64 acres and over 5 miles long. It features many parks for children, a pedestrian walkway, and a circular loop for cars that encircles Casca Viejo.
Locals and tourists alike flock to this area, and you'll see people exercises or just gathering here.
Bordering the ocean are large concrete shapes where you can see lots of cats and raccoons mingling. An upcoming city improvement project is to add beaches by the ocean along this beltway, removing the concrete shapes.
5. Explore Panama Viejo
Panamá Viejo, also known as Panamá la Vieja, is the ruin of the former site of the original Panama City capital. It was the first permanent European settlement on the Pacific Ocean established in the early-1500s.
It was attacked numerous times by pirates in the early 1600s however, it was able to withstand the attacks. In 1671, the city of 10,000 was attached and defeated by pirate Henry Morgan. The city leader had the city burned to avoid it being taken over.
Panama City was later rebuilt at Casco Viejo. Panama Viejo is a UNESCO World Heritage Site along with Casco Viego, today's historic center. Though some of the city lies under the surrounding neighborhood, the excavated area is open for touring. You can see the original tower, cathedral, city square, and several convents, as well as other city buildings.
There is a wonderful museum that provides some artifacts from when this was a thriving and growing city. It also shows a replica of the city including all of the buildings. You can also climb the tower to get a great view of what this city once was.
Entry to Panama Viejo costs $15 USD and this includes entrance to the museum. It is located at Vía Cincuentenario, Panamá City, Panama and is open from 8 – 5 Tuesday through Sunday. There is a shuttle that will take you to the center of the ruins. But, be prepared for a good bit of walking on some areas that are not very level.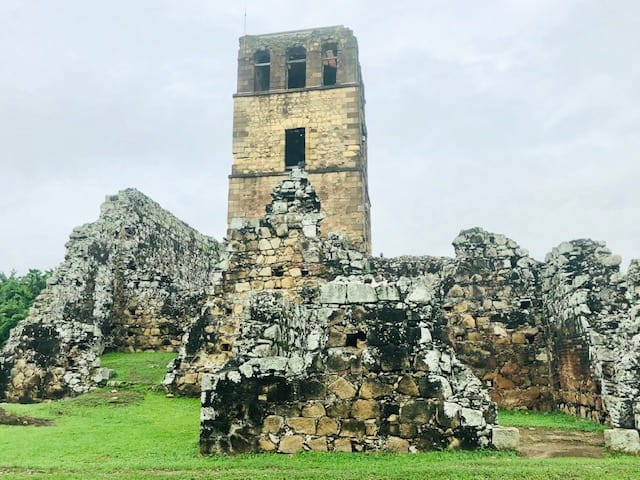 6. Dine at the Fish Market (Mercado de Mariscos)
A visit to the Mercado de Marisco is a must-do in Panama. If you get there early, you can watch fishermen bring in their daily catch. At any time, you can see them preparing the fish they caught and selling it. It is located on the edge of Casco Viejo between this area and Cinta Costera.
You will find seafood is prominent on any menu in Panama City. Many of the local restaurants shop at this market for the freshest catch. The left part of the building is the market where the fishermen display their overnight catch for companies or individuals to purchase.
On the right are many restaurants where the fish is served up in many different styles for your dining pleasure.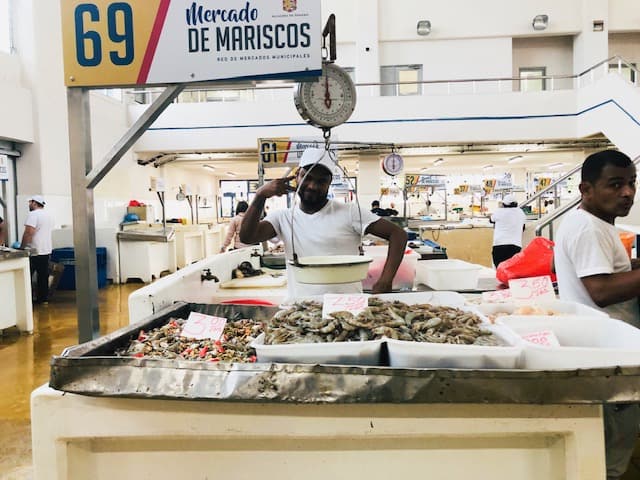 The Restaurants
It is a very casual environment, with plastic chairs and large sun shades to protect from the intense sun and extensive rains they get. This place gets crazy busy but you usually won't have a hard time finding a seat.
Most of the 20+ restaurants offer very similar dishes though they may offer specials to spice it up a bit. A great thing to try and a staple in this area is ceviche, where fish is "cooked" in citrus juice. There is also a restaurant upstairs where chefs will cook what you buy in the market.
Be warned, though, that people walk through the open-air restaurants to sell things, so you will pretty regularly be disturbed. And prices here are not inexpensive. The menu ranged mostly in the mid-teens.
I got fish with shrimp on top and it was very good and a nice size. However, I was a bit surprised to pay $25 USD for it (taken by the "special of the day." For non-fish eaters, there are a couple of limited chicken options.
The Mercado de Marisco is located at Avenida Balboa & Calle Eloy Alfaro | Cinta Costanera, Panama City, Panama. The market is open daily from 6 a.m. – 5 p.m., except for the 3rd Monday of each month when it is closed completely for thorough cleaning. The restaurants are open daily except for on Mondays.
7. See the Panama Metropolitan Nature Park (Parque Metropolitano)
The Metropolitan Nature Park is the only protected rainforest located within a large city like Panama City. It is protected land and is responsible for providing environmental services to the residents of Panama City. They have reported a 30% decrease in air pollutants and it also is serving as a flood zone.
This park also provides many easy and moderate hiking trails and the opportunity to see lots of wildlife. You might see monkeys, anteaters, sloth, white-tailed deer, iguanas, tortoises, and more than 250 species of birds. If you want to see the wildlife, go very early in the morning when the park first opens before it gets crowded with people.
Metropolitan Park offers the second-highest viewpoint from which to see Panama City. There is also research done in this park. An international team of scientists from the Smithsonian Tropical Research Institute (STRI) has set up a crane in the park to study the forest canopy.
The Metropolitan Natural Park is located in the district of Ancón, District of Panama, between Ave. Ascanio Villalaz, Ave. La Amistad. It is open from 8 – 5 Monday through Friday and to 1 p.m. on Saturday, however, I did see find a recommendation to go earlier to see animals so it appears you can get in before this time. Entrance is $5 USD and a trail map is $1.50.
8. Boat Gatun Lake to Monkey Island
Gatun Lake is a large part of the Panama Canal. You will ride on this lake if you decide to do a boat tour of the canal. However, if you decide to tour Miraflores Visitor Center on your own, it's still worth seeing.
We had the opportunity to see one of the huge ships that went through the locks when we were at the visitor's center when we went to the lake.
We went to the Gamboa Rainforest Resort to book this boat ride. You can also go directly to the lake if you prefer and speak some Spanish. It was a nice ride and though we only got to see a couple of monkeys, a sloth, and a crocodile, we still felt it was worth doing. You have the chance to see Tamarind, Howler, and White-Faced Monkeys.
The hotel is lovely and the grounds are really beautiful. It's a nice place to walk around to enjoy the beauty and stillness rainforest.
The Gatun Lake (and Monkey Island) Boat Tour costs $35 per person at the Gamboa Rainforest Resort. The resort also offers a number of other tours including boat tours, hiking tours, and a fishing tour. Additionally, they have an aerial tram through the rainforest that is worth checking out. The Gamboa Rainforest Resort also offers a tour to visit a local indigenous tribe called the Embera.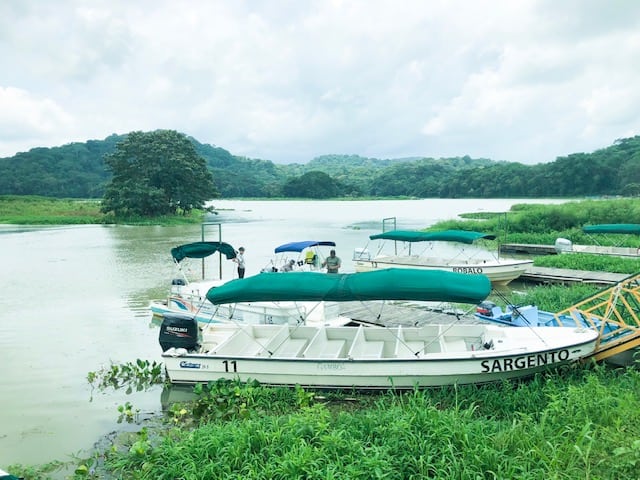 9. Take a Trip to Portobelo
Portobelo is a small town of historical significance in the Colón Province of Panama. It's approximately a one-and-a-half-hour drive from Panama City and a great day trip from Panama City.
Portobelo was colonized by Spain in the late 1500s and served as a Caribbean port for Peruvian silver. According to legend, it was named Porto Bello by Christopher Colombus, or beautiful port.
It was attacked and captured by pirates multiple times and even by the British naval fleet. Though, Spain was able to regain control each time.
You May Also Like Visit the Intriguing Historic Town of Portobelo
Today, it's a very small town with two squares, 2 churches, a hospital, and the Custom House Museum. You can tour the small museum which has some historical artifacts.
They offer a movie in English of the history of Portobelo. It is included for $5 (you also get to use the bathrooms free of charge)!
There is also a beautiful white sand beach nearby called Playa Blanca. It has some beautiful reefs worth seeing by snorkeling or scuba diving.
Portobelo Forts
Right next to the museum is the San Jeronimo Fort (Fuerte San Jerónimo). This was the largest fort built to protect the region. Check out the monstrous turkey vultures when you go! Santiago la Gloria Fort (Fuerte Santiago la Gloria) is on the road leaving town and is definitely worth a visit.
You can see Fuerte San Lorenzo across the water and several ships that ran aground and were left to decay.
The fortifications of Portobelo and nearby San Lorenzo are considered a UNESCO World Heritage Site. They are considered in the "in danger" list by UNESCO due to the major cost expenditure that will be needed to maintain them.
The San Jeronimo Fort and the Santiago la Gloria Fort are both located in Portobelo.
Christo Negro
Also in Portobelo is the "Black Jesus" (Christo Negro). It is a wooden statue of Jesus Christ that was found on the town's harbor. It is now located in Iglesia de San Felipe, a Roman Catholic church located in Portobelo.  
The statue is life-sized and adorned with a robe changed twice a year, during the Festival of the Black Christ and during Holy Week.
Several miracles have been attributed to the statue, also called "El Nazareno" or "El Christo." There is a pilgrimage of the faithful to see the Black Jesus celebrated annually on October 21.
Pilgrims wear purple robes and walk long distances to view the Black Jesus. Criminals also make this pilgrimage to atone for their crimes. Because of this, the statue is also sometimes called the "patron saint of criminals."
Iglesia de San Felipe is located in the center of Portobelo. It's just a five miinute walk from the museum and Jeronimo Fort.
10. Walk the Amador Causeway (Calzada de Amador)
What do you do with massive amounts of earth removed for a major construction project like the Panama Canal? You make a lovely walkway to connect a nearby island, offering beautiful city views, of course! Thus, the Amador Causeway was born.
This almost 4-mile stretch is located where the Panama Canal meets the Pacific Ocean. It is a great place for watching the giant container ships enter the canal. Like Cinta Costera, it's another place where you will see the locals out and about, either biking, walking, running, or gathering.
There are several places to go on the Causeway as well, including BioMuseo, a museum celebrating Panama's biodiversity. One of the largest artisan markets in the city is located in the Figali Convention Center, called Centro Artesanal.
The Amador Causeway also offers some amazing city views of Panama City.
Biomuseo is open from 10 – 4 Tuesday through Friday, and 10 – 5 on Saturday and Sunday. It is closed on Mondays. Biomuseo is located on the Amador Causeway 136, Panama City, Panama. The Figali Convention Center is located right before the start of the Amador Causeway.
Where to Stay in Panama City
The two most popular places to stay in Panama City are El Cangrejo and Casca Viejo.
El Cangrejo is in a great, centrally-located neighborhood with lots of great restaurants. Though there are few sites to see there, it's well situated and is less costly than the historic old town area of Casca Viejo.
I stayed in El Cangrejo as I would generally pay a little less for accommodation to have more spending money when I travel. We stayed at a great high-rise condo with amazing views of the city and lots of amenities.
The apartment had air conditioning in every room (just having air conditioning was a requirement during the humid rainy season for us!), two bedrooms and two bathrooms (not required, but nice to have)! It also had a gym and a pool. The owner was very responsive and there is a large market around the corner.
Casca Viejo is the beautiful historic center and though you'll pay more to stay there, it's a lovely area to walk around. there are some great restaurants there as well and you can't really go wrong either way. We stopped for a drink in the Central Hotel Panama and wow, was it beautiful! It is located at Plaza de la Independencia, Calle 5a Este, Panamá, Panama.
Where to Eat
Here are some of my favorite places to eat in Panama City:
El Trapiche
This is a highly-recommended local Panamanian restaurant and it was very good. It's an institution that has been around since 1983. We had a rather interesting dinner companion on the wall above us that was fun.
We decided to get sampler dishes to try some of the local cuisine and it was great overall. The ropa viejo and patacones (fried green plantains) were our favorites. The tamale was a bit different from the Mexican version I've had and the chicken and rice were also good as well as the yucca.
El Trapiche has three locations, and the one we went to is located on Vía Argentina, Panamá, Panama. It is open from 7 a.m. to 11 p.m nightly, though it is open an hour later on Friday and Saturday.
Mi Ranchito
Located on the Amador Causeway, this place was worth going to! Mi Ranchito ("my little ranch") is a place highly recommended for tourists so I expected a bit of a "tourist trap." I was delighted to find this was not the case and we had great local dishes for a reasonable price.
My dish, garlic shrimp with patacones was excellent. We sat under the thatched roof outside enjoying views of the water and the city.
Mi Ranchito is located on Naos Island at the end of the Amador Causeway, at Avenida Punta Culebra, Ciudad de Panama, Panama. Entrees range and mine was $12 USD. It is open from 8:30 to 10, Sunday through Thursday and 8:30 to 11 on Friday and Saturday.
Mercado de Mariscos
Though I was surprised by the price tag and the atmosphere is extremely relaxed and casual, the Mercado de Mariscos was one of my favorite meals in Panama City.
We ate at El Rincón Isleño. The fish was well cooked and the patacones were perfectly crisp on the outside and softer in the middle. The ceviche that we got to sample was very good as well.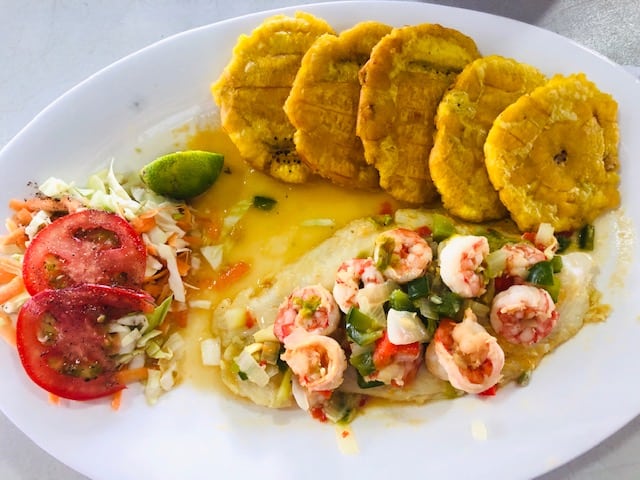 Beirut | Obarrio
If you want a great restaurant that isn't Panamanian, Beirut is a fun place to go. It is a fantastic Lebanese place with a lot of attention to design.
We decided to get a sampler as my friend didn't know much about Middle-Eastern food, and while this was a bit on the pricey side for the local fare (it was around $70 USD), we had enough food for two meals.
The sampler came with all of the usual dishes including hummus, baba ganoush, tabouli, grape leaves, some kabobs, fresh bread, and several other small dishes.
Beirut is located at Ricardo Arias St, Panama City, Panama. It is open every day except for Saturday from 12 – 2.
Panama Weather
Panama weather is generally warm and humid. Highs range in the 80s generally and lows are in the 70s. Before you decide this is perfection, the humidity level is the catcher! The average humidity in the county is around 80% and it goes up to close to 100% during the rainy season.
The dry season runs from January to April and the rainy season is during the rest of the year. "Dry season" may be a bit of a misnomer, though, as there is still plenty of rain during the dry season. It's the rain that helps maintain the lush green of the rainforests throughout the year.
What to Pack for Panama
Plan for rain (and humidity), scorching sun, and lots of mosquitos. These should factor in for your packing. You will want to bring sunscreen and bug repellant.
Bring deet, a natural essential oil alternative, or picaridin and make sure you reapply often. The mosquitos are no joke given all the water.
Definitely bring a raincoat and ideally, one with a hood with ties around the hood, wrists, and bottom. Consider wicking clothing as well given the high levels of humidity.
Prices in Panama
Prices in Panama were a bit higher than in other areas of Latin America I have been to, but they were generally less than those in the United States with one exception. There were a lot of American goods in the market, and those were generally a little higher than prices at home.
Prices for Panamanian products and for services tended to be very low and probably less than half of those in America. For example, our Uber rides were crazy inexpensive.
American-style restaurants were a bit more costly than local restaurants, though we didn't find restaurants to more than maybe 25% less than in the United States.
You May Also Like 12 Things to Know Before You Go to Panama
Panama Airport
There are two international airports that serve Panama City and we flew into Tocumen (PTY). It's a bit further than the other from the city but it's the airport that seems to get much of the traffic from points north.
One thing we found interesting was that it was a long walk through the airport to get out and they pass you through a tremendous amount of retail stores before you go.
There are so many fun things to do in Panama City, Panama. Not only should you come here to see the Panama Canal, but you will fall in love with all this city has to offer. It's a top expat destination and there are so many reasons why. Check it out and let me know what you think!
You Might Also Like
Like it? Pin it!