Top 3-Day Yellowstone Itinerary—America's Wonderland
Get excited about an epic bucket list trip with this massive 3-day Yellowstone itinerary! Fun fact—this was actually the first national park in the entire world, founded way back in 1872.
Yellowstone is one of the most famous and most popular national parks in the country, and for good reason. Last year, nearly 4 million people visited the park last year to gaze upon its impressive geothermal features, such as the Old Faithful geyser and the Grand Prismatic Spring.
Traveling to Yellowstone truly feels like visiting another planet. It's an awe-inspiring place to explore, but planning a trip to Yellowstone can be a daunting task as there is so much to see and do. Read on for a detailed look at how to make the most of 3 days in Yellowstone.
Some links in this article may be affiliate links, which means that if you purchase through them, I receive a small commission. This will never cost you extra, and I appreciate your support!
Yellowstone National Park
Before we get on with the Yellowstone itinerary, it's important to understand just how huge this national park is. It covers around 3,500 square miles (about 9,000 square kilometers) across three states.
A vast majority of the park (96%) is located in the northwest corner of Wyoming. The remaining 4% is in Montana and Idaho. There are five different entrances to the park and eight developed visitor areas.
With this 3-day Yellowstone itinerary, you'll be prepared to see many of the park's highlights. Just keep in mind that you won't be able to see it all in one visit. People come back to Yellowstone again and again and always discover something new.
If you visit many national parks in one year, consider buying an America the Beautiful Pass. With the pass, you get admission to all the national parks!
Yellowstone National Park History
To really understand Yellowstone, we have to go back in time. Really, really far back in time. A massive volcanic eruption over 600,000 years ago created the Yellowstone caldera. There have actually been three huge eruptions here dating back to 2 million years ago.
After the last big eruption, lava flowed into the caldera for the next 500,000 years, filling in the crater. It's still very much an active volcanic area, which explains all of the geothermal activity going on just below the surface.
Yellowstone Today
Speaking of that, did you know that Yellowstone is home to more than half of the world's geysers? In addition to Old Faithful, visitors also flock to areas like the Norris Geyser Basin and the West Thumb Geyser.
Beyond the geysers, the park is also full of hot springs, mud pots, and fumaroles. There are also impressive travertine terraces at Mammoth Springs. You'll learn about all these and more on your visit.
Wildlife spotting is also one of the most popular activities in Yellowstone. The wildlife is abundant and diverse here. Bears, bison, bighorn sheep, elk, moose, and wolves can all be spotted here.
While it's fun watching the wildlife, it's not so fun getting chased or mauled by them. It's important to keep a safe distance from the animals. You should also be sure to carry bear spray and know how to use it if you're planning on hiking.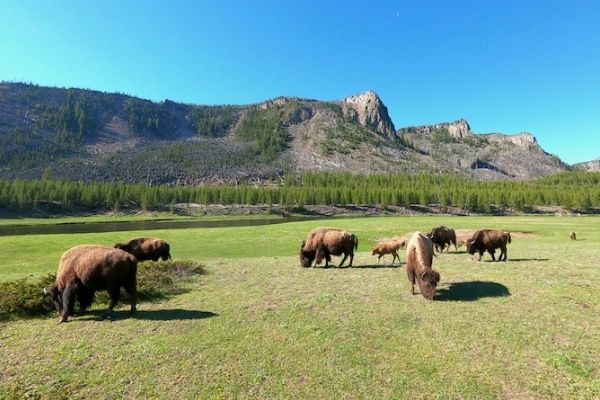 That's not all, though! Yellowstone is also a fantastic destination for fishing, hiking, biking, horseback riding, backpacking, and boating. Are you starting to see why millions of people visit the park every year?
Now that you understand a bit more about the park, let's get to the Yellowstone 3-day itinerary to help you plan the trip of a lifetime there!
3-Day Yellowstone Itinerary
Day 1
Fountain Paint Pots
Midway Geyser Basin
Old Faithful
West Thumb Geyser Basin
Day 2
Artist Paint Pots
Norris Geyser Basin
Mammoth Hot Springs
Day 3
Lamar Valley
Grand Canyon of the Yellowstone
Yellowstone Lake
If you're looking for a no-hassle 4-day guided tour of Yellowstone and Grand Teton National Parks, check out this incredible trip!
Day 1
Fountain Paint Pots
To see some of the highlights of Yellowstone in one day, the best way to approach the park is from the West Entrance. Drop into the historic Madison Information Station to get your bearings and an introduction to the park.
From there, find a place to park and hit the short trail around the Fountain Paint Pots. This is where you'll get an up-close look at all the amazing geothermal features that Yellowstone is famous for.
Midway Geyser Basin
Moving along, the next logical stop is the Midway Geyser Basin. A boardwalk brings you to such iconic landmarks as the Excelsior Geyser and the most photographed hot spring in the park—Grand Prismatic Spring.
While it's an impressive sight from the ground, it's even better seen from above. Drive a bit further south and park at the Fairy Falls trail.
There's a side hike here that takes you to an epic overlook of Grand Prismatic. If you're up for it, it's a 5.4-mile round-trip hike to the falls.
Old Faithful
Next up is the most famous attraction in all of Yellowstone—Old Faithful. This geyser is named for its frequent and somewhat predictable eruptions.
Be sure to check the day's predictions for when it will erupt to time your visit properly. Cell phone service isn't great in the park, so it's a good idea to check these before you enter.
If you get there a bit early or late, don't sweat it. This is the perfect spot to sit down for a picnic or grab lunch from one of the restaurants. There's also a huge gift shop that's fun to peruse while you wait.
In addition to watching Old Faithful erupt, there's a nice loop trail here that you can take to see more geothermal activity.
West Thumb Geyser Basin
If you're feeling up for it, finish the day off at the West Thumb Geyser Basin. It's located on the shores of Lake Yellowstone and is a stunning corner of the park to explore.
Here you'll find yet another nice boardwalk to enjoy a casual stroll and take in the sights. This is a great spot for photographers as well, as you can get shots of the mountains on the other side of the lake.
Assuming you're heading back out the West Entrance, it's also worth it to take the quick scenic loop around Firehole Canyon.
Day 2
Artist Paint Pots
The 2nd of 3 days in Yellowstone is all about taking in the incredible geothermal activity that made this park famous. You may want to consider switching up your accommodation by moving from the west side of the park to the north. This helps avoid backtracking and time spent in the car.
Heading east towards Norris Geyser Basin, you can start day two off with the short trail at Artist Paint Pots. It's an often overlooked yet very scenic trail where you'll spot colorful hot springs and boiling mud pots. 
Norris Geyser Basin
This part of Yellowstone is all about superlatives. It's the oldest and hottest of the park's many geothermal areas.
At the Norris Geyser Basin, there are two different loop trails. One through Porcelain Basin and one through the Back Basin. If you combine the two, it's about a 3-mile walk in total.
As you might expect, the main attraction in this part of the park is the geysers. This is where you can gaze upon Steamboat Geyser, which is the tallest one in the world.
Mammoth Hot Springs
From Norris, head north to reach Mammoth Hot Springs. While you're in this part of the park, it's also worth it to drop by the Museum of the National Park Ranger. (It's temporarily closed so check first.)
Another quick scenic stop can be made to admire the Twin Lakes if you're so inclined. On the drive, you'll also pass a few picnic areas and hiking trails. There are so many options for your 3-day Yellowstone itinerary it'll make your head spin!
Once you get to the Mammoth Springs area, you can choose to park and walk along the boardwalk or just take a scenic drive and stop at overlooks. Either way, you'll get to admire the amazing travertine terraces.
Other popular activities in Yellowstone around Mammoth Springs include visiting Fort Yellowstone, the Albright Visitor Center & Museum, and, believe it or not, the post office. Send someone a postcard from one of the most amazing places on the planet!
Day 3
Lamar Valley
Assuming you stay somewhere near the north side of the park on night two, that's where the third and final day begins. From Mammoth Springs, head east on the Grand Loop Road for a scenic cruise.
It's about a half-hour drive to the Tower-Roosevelt area. As you might expect, you'll pass by several overlooks, trailheads, and picnic areas along the way. It's a big day with lots of driving, though, so don't stop at every single spot.
There are a few points of interest in the area, including the Petrified Tree and historic Roosevelt Lodge. It's a good place to stop and stretch your legs before continuing on through the Lamar Valley.
This is a beautiful section of the park that's great for wildlife spotting, so bring your zoom lens and binoculars. There are also several trailheads along the way if you feel like taking a hike.
Grand Canyon of the Yellowstone
When you've had your fill of the Lamar Valley, turn around and head back to Tower-Roosevelt. From there, you'll go south towards Canyon Village. Tower Fall makes for a good pitstop in this direction.
The Grand Canyon of Yellowstone is definitely one of the most impressive areas of the park. It's about 20 miles long, and there's plenty to see and do here.
There's both a North and South Rim Drive you can take to access various overlooks and trails. Whether by foot or by car, be sure to check out Inspiration Point and Artist Point.
Yellowstone Lake
Last but certainly not least, follow the lines going south until you reach Yellowstone Lake. It's the largest high elevation lake in the country and a great place to relax after a busy 3 days in Yellowstone.
You can make a quick stop to look for wildlife in the Hayden Valley and check out the Mud Volcano on your way there. Once you get to the lake, hang out on Fishing Bridge and look for fish swimming by.
Where you go from here depends on your travel plans. You can head south out of the park and into Grand Teton National Park on your way to Jackson. One adventure ends, and another begins!
Other Options to Explore Yellowstone in 3 Days
In case you don't like some of the options above, here are some alternatives to add to your Yellowstone 3-day itinerary:
Morning Glory Pool: This beautiful spring is in the Upper Geyser Basin. It's quite a long hike from old faithful, but the colors from the spring are stunning.
Fishing Cone: You might also hear this called the Fishing Pot Hot Springs. It's a beautiful geyser worth seeing even though it's one of the less visited ones.
Fishing Bridge: This is one of the best places to come if you want to see bears in Yellowstone. It's also one of the best places for fishing as long as you have a fishing license.
How to Get to Yellowstone
Now let's get down to the nitty-gritty and cover some of the logistics. Planning a trip to Yellowstone can be a bit tricky, especially figuring out how to get there and back.
There are a few airports near Yellowstone, with West Yellowstone (WYS) being the closest. It's only open in the summer, though, and has limited options. There are only direct flights from Salt Lake City and Denver to West Yellowstone.
You can also fly into Idaho Falls (IDA), which has a few more options. From here, it's about a 3-hour drive to the south entrance or two hours to the west.
Many people choose to fly into Bozeman (BZN) or Jackson Hole (JAC), as these are larger airports with more choices for flights. The former puts you about two hours from the north entrance, while the latter is actually located in Grand Teton National Park, just south of Yellowstone.
Another option is to fly into Billings (BIL). It's an international airport and the second-largest in Montana, offering a god number of flights. It's a two-and-a-half-hour drive that takes you through the beautiful and scening Beartooth Pass.
Since you'll likely need a rental car no matter which way you go, some people opt to drive to Yellowstone. It's about five hours from Salt Lake City or ten from Denver, both of which have large airports and plenty of rental car companies.
How to Get Around Yellowstone
You need a car to really explore Yellowstone, as there is no proper public transportation in the park. Be sure to book a rental car far in advance, as places commonly sell out in the summer months.
There are five different entrances to access the park – North, Northeast, East, South, and West. Which ones you decide to use will depend on where you're coming from and where you end up staying.
One thing to note about driving in Yellowstone is the importance of using the pull-outs. Unfortunately, many visitors stop in the middle of the road to snap photos of wildlife, causing massive traffic jams.
Oh yes, and the weather. During the winter months, most of the roads in Yellowstone are closed. In fact, only the North Entrance remains open year-round. Snowmobiles are a popular means of transportation during this time of year.
From the town of West Yellowstone, it's easy to book a bus tour of the park. This is a great option for those who don't want to rent a car but still want to explore Yellowstone.
When to Visit Yellowstone
So, what is the best time to visit Yellowstone National Park? The summer months are definitely the most popular as that's when the weather is warmest and everything is open. Of course, these months come with huge crowds and prices.
During the winter, much of the park is closed. Only the North Entrance is open year-round, and you can expect frigid temperatures with lots of snow. Great for snowmobile enthusiasts, but not for everyone else!
If you can handle slightly colder temperatures and potential road closures, the shoulder seasons of April to May and September-October are both great times to visit. The summer crowds aren't there, and the wildlife spotting is excellent.
Whenever you visit Yellowstone, be prepared for erratic weather. It's a good idea to pack layers, especially if you'll be camping. You might need a raincoat one minute and then your sunglasses the next, so keep these things accessible in the car.
How Much Time to Spend in Yellowstone
One could spend a lifetime exploring Yellowstone and still not see it all. Once you realize that, it will help you set realistic expectations for your visit.
Ideally, you would get at least a week to fully explore the park. Doing so allows you to take your time and not wear yourself out with really long days. With a week, you can even take a day or two off to see other things in the area or relax.
That's not possible for everyone, though. Thankfully you can cram a lot into a 3-day Yellowstone itinerary, as you've seen in this post! That's enough time to see most of the highlights along the Grand Loop Road.
Where to Stay in Yellowstone
Finally, let's take a look at accommodations in Yellowstone. While there are plenty of options, demand is far higher than supply, and prices reflect that.
Within the park, there are a dozen campgrounds with over 2,000 sites. Seven of these operate on a first-come, first-serve basis, while the others can be booked online in advance. Some are tent-only, while some have full hookups for RVs.
For those who prefer a bit more comfort, there are nine lodging facilities in the park, including the famous Old Faithful Lodge. Just be warned that rooms in the park can be incredibly expensive, especially during the busy summer season.
Here are options for where to stay in Yellowstone to suit every budget:
Budget: Mammoth Campground—Located near the North Entrance, this is the only campground that's open year-round. It's just $25 per night for a site here, and it's a great base from which to explore the park.
Mid-Range: Roosevelt Lodge & Cabins—Built in 1920 near a campsite where President Roosevelt stayed, these rustic cabins are the cheapest option that's not a tent.
Luxury: Old Faithful Snow Lodge & Cabins—This is a very coveted address in Yellowstone, as you're right near the park's top attraction. The Snow Lodge is also the newest of the park's hotels. 
Nearby Places to See
Should you choose not to stay in the park, you still have plenty of options. Many visitors choose to base themselves in towns located just outside the park. Here are some of your options:
Ready for an Amazing 3-Day Yellowstone Itinerary?
Pack up your camping gear, lace up those hiking boots, charge up your camera batteries, and get excited! You are well on your way to living the dream on a life-changing trip with this 3-day Yellowstone itinerary!
While this guide has prepared you with the logistics you'll need, nothing can prepare you for the sheer magnificence of Yellowstone. No words or pictures truly do this place justice. Thankfully you're going to see it for yourself soon enough!
Got some awesome tips or advice to share on planning a 3-day Yellowstone itinerary? Please let us know about them in the comments section below!
You Might Also Like
Like it? Pin it!