15 Epic Things to Do in Yellowstone National Park
If you're looking to visit one of the most unique national parks, look no further than Yellowstone National Park. It's one of the most popular in the entire country and for lots of great reasons.
Most come to see the geysers, like Old Faithful, but what they find is an area rich in diversity and beauty with grassy fields, alpine mountains, rushing rivers, and so much more natural beauty.
Yellowstone is one of the most seismically active areas in the country. There are thousands of earthquakes in the park annually, though they're generally not very powerful. It's no surprise that magma and volcanic material is only a couple of miles beneath the surface here (where most of the US is ten miles deep or more).
I was incredibly lucky to visit with a local, who offered her suggestions for the best things to do in Yellowstone National Park. She even included a locally-known secret that I didn't see in any guidebook I checked. So, here's the list of what my friend took us to see which shows some great variety to cover a range of interests.
This post may contain affiliate links, which means I'll receive a commission if you purchase through my links, at no extra cost to you. Please read full disclosure for more information.
Yellowstone National Park
Yellowstone National Park was established by the US Congress in 1872 and signed to law by President Ulysses S. Grant. Though it's mostly in the state of Wyoming, part of it extends into Montana and Idaho. It spans almost 3,500 square miles, and it's huge. It's one of the most popular US National Parks and draws millions every year.
People visit Yellowstone for many reasons. Probably the most popular reason is for the geysers and hot springs. Yellowstone Lake is centered over the Yellowstone Caldera, the largest supervolcano in North America. If you're looking to see an incredible landscape unlike any other in the US, and most of the world, Yellowstone is the place to be.
Yellowstone is also home to many different animals including wolves, bison, elk, and grizzly bears. And there are a number of different habitats within the park. You'll see grassy plains, dramatic canyons, high-elevation alpine forests, and fertile lakes.
Yellowstone National Park is a UNESCO World Heritage site. It contains half of the world's geothermal features, with the world's largest concentration of geysers (over 300!) All of the US National Parks are special places recognized for their beauty and unique representation of the landscape, but this one is unlike any other park in the world.
If you're planning to visit more than one national park, make sure to buy an America the Beautiful Pass! It's $80 and lets you into all the national parks in the USA without paying extra fees.
Top Things to do in Yellowstone National Park
There's a tremendous amount of fun things to do in Yellowstone National Park. Of course, one of the draws to this park is the many geysers, but it's a very large and diverse park and the different areas offer really interesting and different landscapes.
This park also has a number of grand old historic hotels you can tour and also stay in. And it's worth stopping in as many of the visitor centers as you can. There are a lot of them, and the rangers offer so much interesting information and history.
Here's the list of the top things to do in Yellowstone National Park that you won't want to miss!
1. Visit Old Faithful
Visiting the Old Faithful Geyser is one of the most popular things to do in Yellowstone National Park. Would it actually be a visit to this park without seeing Old Faithful? I'm not sure.
Old Faithful is a cone geyser and the first in the park to be named back in 1870 during the Washburn-Langford-Doane Expedition. Its eruptions are highly predictable, going off every 44 minutes to 2 hours.
Stop at the Old Faithful Visitor Education Center for a map of the geysers and the trails in this area. It's incredibly interesting for people of all ages.
2. Tour the Old Faithful Inn
The Old Faithful Inn and the Old Faithful Geyser are part of the Old Faithful Historic District. Even if you don't stay there, it's worth visiting the Old Faithful Inn, a gorgeous, rustic, historic Inn that opened in 1904.
It became a National Historic Landmark in 1987. It has survived earthquakes and lucked out by avoiding nearby fires. They offer tours, and they are a wealth of information and really interesting.
There are two other inns in the area including Old Faithful Lodge with small cabin-style accommodations and the Old Faithful Snow Lodge. It's the newest and has the most modern accommodations. It's also the only one of the three open all year round, as the others close for the winter in October.
3. See the Other Geysers Near Old Faithful
Pick up a map of the trails and geysers in this area and spend a few hours walking around. You may get lucky and see some of the smaller geysers go off! It's interesting as there are different types of geysers, and you see some of them in this area.
Grand Geyser is a fountain geyser usually in a pool of water and is multi-dimensional (where Old Faithful shoots off in one direction). There are also a number of interesting geyser basins including Biscuit Basin, Black Sand Basin, Fountain Paint Pots, and Midway Geyser Basin.
In this area, you'll see some beautifully colored geysers, and fumaroles, which are steaming pots, mud pits, and bacteria mats. Some are in brilliant shares of oranges, greens, and gold. The colors seem almost unnatural and some are quite brilliant. It's incredibly interesting.
4. Go Wildlife Watching in the Lamar Valley & Hayden Valley
The Lamar Valley is one of the most popular areas in Yellowstone Park. It's a beautiful part of the park, though the primary draw to visit is to see wildlife. Lamar Valley offers your best chance of seeing bears, wolves, bison, and more. There are a lot of animals in Yellowstone.
It's located in the northeastern corner of the park along the Lamar River. It's often referred to as "America's Serengeti" as you can see large groups of migrating animals.
You'll see a number of pull-outs off the road. If you see a large crowd of cars and people, chances are there's some great viewing and it's worth a stop. If you don't luck out, check out the Hayden Valley, another popular area for wildlife viewing.
In Hayden Valley, we got to see several large herds of buffalo. At one point, we got pretty close to them as they were right near the road, in the safety of our car. They make really cute mewling noises!
We got to see a few wolves as well, and some elk, gazelles, and smaller creatures like squirrels and chipmunks. The one animal that eluded us, even though we raced off several times to places where we were told they were recently spotted, was a bear! We heard there are a lot of bears in Yellowstone, but had no luck. Maybe next time.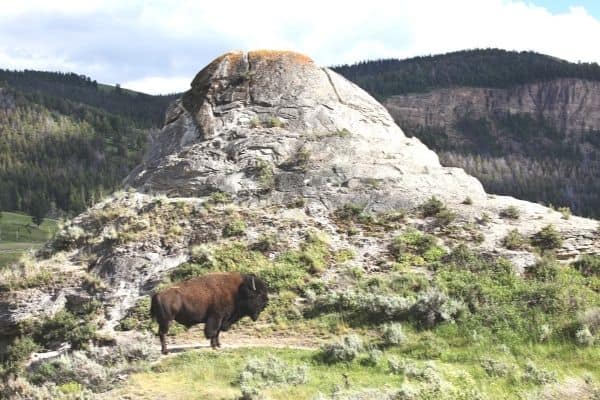 5. Check Out Yellowstone Lake
Yellowstone Lake is the largest high-elevation lake in the United States and in North America. It's over 7,700 feet (2,300+ meters) above sea level and it covers over 131 square miles.
The lake is 410 feet deep at its deepest part and remains at a temperature averaging 45°F throughout most of the year. Given its size, it does surprisingly freeze over every winter. the bottom is lined with different geothermal features though there are fish that live in it (cutthroat trout).
It's not a swimming lake (nor are any of the lakes in Yellowstone National Park), given the extremely cold temperature it maintains. Though, there are a lot of other activities to do in this area.
6. Visit the Lake Yellowstone Hotel
Lake Yellowstone Hotel is a National Historic Landmark and worth seeing. The hotel underwent a massive renovation a few years ago, making it even more appealing for a stop.
Like with many of the grand old hotels in Yellowstone, you can take a guided one-hour walking tour for free. On the tour, you'll learn about the history of the hotel and gain an appreciation for the hotel's Colonial Revival style and architectural details.
7. Go Boating
Of course, boating is a popular activity on Yellowstone Lake and a great way to appreciate this beautiful area. You can rent a boat at Bridge Bay Marina. You're allowed to fish as well, with a permit.
You can also take a lake cruise, also departing from Bridge Bay Marina. Yellowstone Lake Scenicruise offers one-hour tours several times daily.
8. Go to Fishing Bridge
Yellowstone Lake drains at Fishing Bridge, so it's an interesting place to see. This historic bridge was built back in the early 1900s. There is a museum nearby, The Fishing Bridge Museum that's worth a visit if you're interested in learning more about the history of this area.
9. Investigate the Mud Pots
You'll see steam floating up from the ground and will smell the unmistakable rotten-egg aroma of sulfur before you even get near the mud pots. Some of these are more like venting shafts and others look like boiling witches' cauldrons. The size ranges from small pools to some that are the size of a backyard pool or larger.
There is a boardwalk path around the pits so you can walk up fairly close to them safely. The pits have some great names like Black Dragon and Dragon's Breath. Some are rather plain and others are gorgeous. One is a stunning blue color that seems so unnatural and yet, here it is.
The land in the area is incredibly barren given the geological activity. You'll see areas with no vegetation at all and some with dead pine-type trees.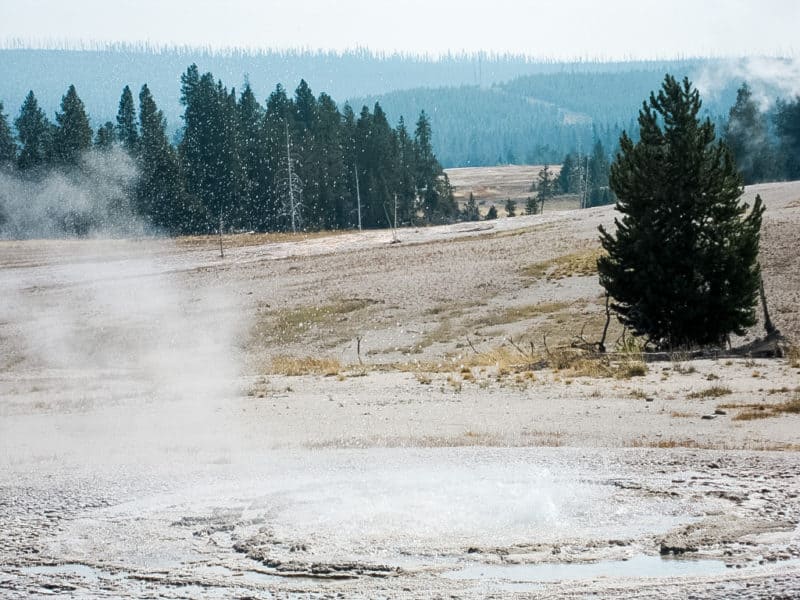 10. Visit the West Thumb and Grant Areas
West Thumb is one of the two little fingers off of Yellowstone Lake carved by the glaciers. When I visited, we actually spent most of a day going between Grant and West Thumb just to listen to the ranger talks and to hike around these areas.
The Grant Geyser Basin overlooks the lake and offers some truly incredible views of the bright blue and orange pools draining into the dark blue of the lake. There are also some interesting mud pots by the water, and we were told that people used to fish in the lake, then put the fish into these boiling cauldrons to cook the fish!!
11. Visit the Canyon Area
Near the center of Yellowstone National Park is the Canyon area. This is where the "Grand Canyon" of Yellowstone is located. You can drive along the North Rim Road to enjoy some incredible views. There are a lot of pull-outs on the road to make this easy. But even better, get out to hike.
A gorgeous area is the Upper Basin Waterfall. There's an area nearby for a picnic lunch to enjoy the views of the waterfalls in this area. The rocks are gorgeous, with shades of red, rust, orange, and gold. Some favorite areas are Inspiration Point, Artist Walk, and Upper and Lower Basin Falls.
12. Explore Norris and the Norris Geyser Basin
Start in the visitor center and then head out on one of the trails from it. You'll see a boardwalk through a barren wasteland with no trees around. In this area, you'll only see pools of bubbling cauldrons of steaming plumes that fill the air. It makes for a quite eerie, but somehow beautiful ambiance.
The colors here are magnificent. There are several streams with green (from algae), orange and red (from rust), and bright blue (silica) as well as yellow and gold (sulfur). It was such an interesting science lesson to check out this park!
All of the geysers in this area are striking, but the last three we saw on one of the trails were especially so. The first was a gorgeous bright turquoise blue. The second, Steamboat Geyser, is the largest geyser in the world and has reached heights of over 400 feet! It's very not consistent, and while it does blow 10-40 feet, the last time it blew over 300 feet was in 1995.
The last was Emerald Geyser, which is a gorgeous emerald green pool. It has a heavy concentration of sulfur, and the blue water turns the pool into an impressive green color.
13. Visit Mammoth
Mammoth, is the oldest established part of Yellowstone National Park. We missed the obsidian cliffs (though the sun wasn't shining enough to show the true beauty of these cliffs). We did stop at the "Sheepeater's Cliffs" for a nature walk. They were named after the Shoshone Indians, who reportedly ate sheep.
We then stopped at the terraces overlooking Mammoth. These giant limestone terraces are made of travertine-depositing hot springs. They are white and look like rippling snow. I
read that the Shoshone and Bannock people collected minerals from these terraces for their white paint. This area is pretty large and there are several sections to walk around. There is also a bacteria "mat," a beautifully colorful area of orange, yellows, and greens.
We drove down to Mammoth, which used to be a military installation. There are several really gorgeous structures, and the inn was designed by Robert Reamer, the same designer of the Old Faithful Inn.
Inside the inn is a gorgeous map made of wood representing all 50 states. Driving through the town, we saw a large herd of elk, sleeping amongst the houses. It reminded me of Estes Park, Colorado, near Rocky Mountain National Park. In this town, the elk roam everywhere and it's a common occurrence to find elk on your front lawn!
14. Soak in the Luxuriousness of the 45th Parallel Hot Springs
A mostly-locally-kept secret is to visit the 45th parallel hot springs. Unless you know about this secret spot, you'd never find it. There are no signs and nothing to indicate this hidden gem. It is outside of the park, but it's well worth visiting.
It's located—as you may expect—at the 45th parallel, halfway between the equator and the North Pole. There is a small parking lot with some picnic tables. You walk a mile or so through a beautiful area along the river, winding your way down.
The hot springs pour scalding hot water down the side of the Boiling River. Locals every year move some of the moderately-sized boulders to block off the area where the springs dump into the river for a lovely soak. The river water is quite cold for much of the year, so you'll walk through the pools and hit patches of really hot and cold water. It feels luxurious!
There is no changing area here, though there are port-o-potties if you're so inclined. The locals just change in their cars, behind the port-o-potties, or quickly get it done. It's a good idea to bring water shoes.
15. Hike the Many Incredible Trails in Yellowstone National Park
You'll never run out of trails in Yellowstone National Park. They range from short walks through the geysers to some more challenging hikes in the mountains. Here are some of the most popular to visit:
Grand Prismatic Hot Spring
This 1.6-mile easy hike is heavily trafficked, but worth doing for the incredible view of the Grand Prismatic Hot Spring. It's amazing what such little elevation gain provides for views!
Easy hike
Distance: 1.6 miles
200 feet elevation gain
Out-and-back hike
Upper Geyser Basin and Old Faithful Observation Point Loop
This trail is a 4.9-mile loop with a number of hot springs. It's a heavily trafficked loop that is quite popular but worth doing.
Easy hike
Distance: 4.9 miles
350 feet elevation gain
Loop hike
Mystic Falls, Fairy Creek, and Little Firehole Loop
This hike offers beautiful waterfall views and you may get lucky and see Old Faithful erupt in the distance. There are a couple of overlooks with great views of Mystic Falls. It's very popular particularly from May to October.
Moderate hike
Distance: 3.5 miles
600 feet elevation gain
Loop hike
West Thumb Geyser Basin Trail
Though this trail is more a walk than a hike, it deserves its place on this list as it showcases some of the most stunning geysers in the park. It's very popular.
Easy hike
Distance: 1 mile
59 feet elevation gain
Loop hike
Yellowstone Falls, Crystal Falls and Inspiration Point via North Rim Trail
This hike takes you along the northern rim of the "Grand Canyon" of Yellowstone. It features the beautiful Yellowstone falls and it's moderately trafficked.
Moderate hike
Distance: 4 miles
450 feet elevation gain
Out-and-back hike
There are a lot of trails in this park, so if you don't find what you're looking for, here are some other great options!
16. See the Morning Glory Pool
This is located at almost the end of the Upper Geyser Basin, but it's definitely worth the long walking time. The pool has beautiful colors and is stunning to look at.
On the way to the Morning Flory Pool, you can see the Castle Geyser, Grotty Geyser, and Diasy Geyser.
Safety Tips for Visiting Yellowstone National Park
You'll see a lot of signs about keeping a safe distance from wildlife, leading you to shake your head wondering how stupid people can be. Then, invariably, you'll see tourists standing WAY too close to animals.
We saw several people who violated this rule, and one in spectacular (horrifying) fashion. It was a young family with an infant child trying to get that Instagram-worthy shot with a massive buffalo. We looked on in horror, though thankfully, it turned out ok for all involved.
If any of you are familiar with the Darwin Awards, well. Please don't do it for yourself and others. You can crop the shot.
Yellowstone Safety Tips
There are a number of helpful safety tips to keep you safe and happy in Yellowstone. Some are general tips and some pertain to the geothermal areas.
Maintain an adequate distance from wildlife. Stay at least 300 feet (91 meters) from wolves and bears, and at least 75 feet (23 meters) from other wildlife including bison and elk. Staying in your car is, of course, your safest option for viewing wildlife.
Don't feed wildlife—Not only is it a terrible thing to feed wildlife as they can become dependent on human food (which is generally not healthy for them), but they can also become aggressive with humans. Make sure any food is carefully stored so animals cannot get to it.
Don't block the road and be careful when driving—If you see wildlife and want to stop, pull off to the side of the road. And if you see wildlife crossing the road, be very careful to avoid injuring them.
No swimming in Yellowstone—Swimming is not allowed in Yellowstone. This includes in the lake and even the hot springs. The temperatures are not healty for people.
Respect the park—Stick to the trails, especially around the hydrothermal features. And please take any trash out with you. Let's keep the park clean for everyone to enjoy, and to be sure you don't destroy the environment.
Geothermal Safety Tips
No dogs are allowed in any thermal areas—You are not allowed to walk a dog near any of the geysers, fumaroles, etc. This includes the trails and the boardwalks. (You'd be surprised by how clueless people can be. Don't risk your dog!)
Stay on the boardwalks in thermal areas—Keep yourself, and the geyser safe by walking on the boardwalk. Be especially careful with children.
Be careful walking near the geysers—not only do you not want to risk damaging the delicate natural environment, but the geysers are incredibly hot. You certainly don't want to fall in and risk being burned or worse. If you're on a trail near geyers, make sure to stay on it.
Don't touch any thermal features—I hope it goes without saying that you shouldn't touch any of the water in a thermal feature or the runoff from one. It's incredibly hot!
If you feel sick or dizzy, leave the area—Many of the thermal features emit gasses, some of which can be harmful to people. If you feel sick, including nausea or dizziness, leave the area you're in immediately.
How to Get to Yellowstone National Park
There are five entrances to Yellowstone National Park, so lots of options for visiting the park, depending on where you're coming from.
Gardiner—A north entrance that is closes to the Mammoth area.
Silver Gate—Northeast entrance that is closest to Billings, Montana (around 125 miles away).
East entrance—Around 50 miles from Cody, Wyoming.
South entrance—Around 60 miles from Jackson Hole, Wyoming, and the closest to Grand Teton National Park.
West Entrance—Closest to Old Faithful and around 100 miles to Idaho Falls, Idaho.
Billings, Montana
Many people fly into Billings, Montana to make their way to Yellowstone via Silver Gate (the northeast entrance). This is the way we decided to go, though we did return to Billings via Mammoth and the north entrance. Part of the draw of visiting Yellowstone from Billings is the stunning Beartooth Highway, which has been called "the most beautiful highway in the US."
A great stop along the way is Red Lodge. It's a quaint small town with one main road offering some beautiful shots with the mountains in the background. If you fly into Billings later in the day, the Pollard makes a great (and historic) stop for the night. Cooke City is another small and picturesque town that was a prospecting stop with a quaint old hotel, general store, and the like. If you stop here, try the huckleberry ice cream.
Take your time with this drive and take advantage of the many overlooks for scenic views. Beartooth Butte and Beartooth Lake make for a beautiful and picturesque stop, as do the Pilot, a distinctive spire, and the Index. My pictures don't do this area justice—it's truly stunning.
Driving this way, you get a great view of how Yellowstone, and Yellowstone River, got its name. The river carved through an area creating beautiful cliffs in bright yellow rock. Depending on the level of rainfall and snowfall, you may see a beautiful waterfall.
Billings, Montana via the Gardiner (North) Gate
We visited Yellowstone with a friend who lived in Billings and had the "inside scoop." We were lucky that she planned out our itinerary to see the best of the park in the time we had. She suggested visiting the park via Silver Gate but leaving the Mammoth area via the Gardiner gate.
This route let us pass by not one, but two hot springs. The 45th parallel hot springs are mentioned above in the top things to do in Yellowstone National Park. This route also had is drive through Pray, Montana, and another, very different type of hot springs.
Chico Hotel Hot Springs in Pray, Montana
Chico Hot Springs Resort and Hotel is another great stop on the way back to Billings (or heading to other areas in Montana). It's an old resort hotel known for its hot springs.
The hotel is gorgeous and worth touring as is the lovely gardens behind it. One of the draws to visit, though, is the hot springs. It's worth staying here if you have the time, and we had planned to, but unfortunately, we weren't able to as the airline changed our flight times on us.
The hotel has a five-star restaurant and a lot of fun activities including rafting, dogsledding (in the winter), horseback riding, and more. The hot springs are a pool and not in a river here, and you can purchase a day pass.
The Chico Hot Springs Resort & Day Spa is located at 163 Chico Rd, Pray, MT 59065. It costs $10 for a soak if you aren't a hotel guest. Towel rentals are available for $2.50 and lockers are available. It's open from 8 a.m. to 11 p.m.
How to Get Around Yellowstone
There is no public transportation in the park, so your best bet is renting a car to get around Yellowstone. Check out rentalcars.com to price shop among some of the most popular car rental agencies.
You can also take a guided tour to get around, which is another option, especially if you don't want to drive. You don't have control over where you go, of course, but you also don't have the potential hassles of driving.
When to Visit Yellowstone National Park
The summer is the busiest time of year to visit Yellowstone, especially in July and August when the schools are closed. The weather is hot but usually tolerable.
The best time to visit the park for good weather and to avoid the largest crowds are the shoulder seasons. These are April and May in the Spring and September and October in the fall. The weather is usually still mild during these times and the park has fewer visitors. You'll also find fewer road closures, though they do often continue through April.
Yellowstone does get a lot of snow in the winter causing road closures. And there are limited options for staying in the park during the winter. It's the least busy then, of course, and still stunningly beautiful blanketed with snow.
How Much Time to Spend in Yellowstone National Park
You really need to spend five to seven days in Yellowstone National Park to get to see all of the different areas and a good array of what the park offers. There's a lot to see and do in the park and it's quite large, so driving can take some time. And of course, you may get stopped by that herd of bison crossing the road.
It's also a great idea to consider adding a day or two to see some of the areas around the park. A visit to Grand Tetons National Park and Jackson Hole is quite popular and easy to do.
Plan on at least a minimum of three days. You won't get to see everything and all areas, but you can see the highlights and enough to want to plan your next visit.
Where to Stay in Yellowstone National Park
There are lodging options in many areas within Yellowstone, and it's a good idea to consider moving around some. This will keep you from backtracking while you explore the different and very diverse areas of the park.
Your options will differ depending on the time of year and the type of accommodation. There are twelve campgrounds with more than 2,000 sites. A number of them are open availability while some can be reserved in advance. You'll find tent-only sites and RV sites with full hookups.
There are also nine lodging facilities in the park, with a mix of lodges and cabins available. it's expensive to stay in the park, particularly during the most popular times in the summer. but, you save a lot of time driving, which is a great advantage.
You'll see accommodations in all areas of the park, with the main lodges in the area around Old Faithful, Mammoth, Lake Yellowstone, and Tower Falls. This site is where you go to check availability and book the lodges, cabins, and campgrounds that allow for reservations. You'll generally want to book six months to a year in advance.
Where to Stay Outside of Yellowstone
If you decide to stay outside the park, maybe due to closures, availability, or cost, you have a lot of nearby options. There are a number of towns not too far from the park, depending on where you'd like to stay. Here are some of the top options:
Where to Eat in Yellowstone National Park
Most of the dining options in the park are at and around the lodges. Here's the site with all of the open dining options at any time of year.
Many people grab groceries on the way to the park and take advantage of the many beautiful areas with picnic benches. Just be really careful to pack up your food well to keep it from hungry furry hands!
A popular thing in this area is huckleberry, and you'll find them in a lot of interesting dishes. If you have the opportunity to try them, in foods like huckleberry ice cream or corn cakes with huckleberry butter, don't skip them!
Top Things to do in the Area Around Yellowstone
Hot springs are big in this area, so if you find yourself heading in or out of the north entrance of the park, look for the 45th parallel hot springs. Or, visit the hot springs in Pray, Montana.
If you have the time, and it's a great idea to make it if you can, don't skip a visit to Grand Teton National Park. It's another stunning park located within an hour of Yellowstone.
If you're bouncing around at different accommodations, consider spending a night in or around Jackson Hole. It's a cute town worth a day to visit, or even an evening if that's what you can spare.
What Do You Think of These Amazing Things to Do in Yellowstone National Park?
There is no surprise that Yellowstone is one of the most heavily touristed national parks in the United States. It offers some unique landscapes you just can't find anywhere else. There are so many incredible things to do in Yellowstone National Park. If you were wondering what to do in Yellowstone, I hope this clears it up for you!
What were your favorite things to do there? And which was your favorite geyser or geothermal feature? Add your comment below!
You Might Also Like
Like it? Pin it!