Mayan Healing Medicine—Mayan Medicinal Plant Walking Tour
Want to know more about Mayan healing medicine? There's no better way to do this than on a Mayan medicinal plant walking tour in Belize.
If you're staying in San Ignacio, Belize, there is a wonderful opportunity to learn about the Maya people and the plants that they knew helped people overcome illness and feel better. Some are actually used today in naturopathic and Eastern-type medicine.
It's so incredible to consider that these plants were in use for healing thousands of years ago. The Mayan people were such an advanced civilization, and their teaching is still in practice today.
Want to learn more about Mayan plant medicine? Read this post to learn about a walking tour in San Ignacio, Belize, that highlights many of the plants used in the past and today for Mayan medicine.
Some links in this article may be affiliate links, which means that if you purchase through them, I receive a small commission. This will never cost you extra. Please read the disclosures to learn more.
Mayan Medicinal Plants Trail Walk
One of the things I was most excited about learning more when I went to Belize was about the traditional Mayan medicinal plants. The ancient Mayans had a vast knowledge about the power of plant medicine thousands of years ago.
Mayan healing and Mayan medicine have been around for thousands of years. And it's still used by the Mayan people through medicine men and women. Some treatments are well-known and used by the "common" people today.
I was surprised that I didn't find a lot of information online about a Mayan plants tour. What I did find was very dated and had no real contact information.
We did see a sign on our way to San Ignacio for a Mayan medicinal plant tour, but no one we asked seemed to know anything about this kind of tour. And I found nothing in my usual tour go-to sites.
Lodge at Chaa Creek
So, when we were in San Ignacio, I put my head down and researched online, determined to find something. I did at the luxurious and beautiful Lodge at Chaa Creek.
We asked our hotel about the best way to get there, and she recommended a driver. It was around $50 USD to go there. He waited for us and then drove us back. I'm sure we could have negotiated, but it seemed reasonable for his time, so we went with it.
Had we planned a little better, we would have brought bathing suits and towels to enjoy their incredibly beautiful pool. However, we certainly did enjoy their outdoor bar with a large collection of infused drinks. Wow.
They had interesting flavors like lychee and pineapple sorrel. (Sorrel is like the Mexican hibiscus drink, jamaica if you're familiar with that. It's a lightly sweet red juice.)
The grounds are beautiful, and we enjoyed walking around them. The medicine path trail is right on the lodge grounds, so we got to take it all in. It's one of the nice perks of the lodge, and if you stay there, you get the walk for free.
Fortified with our mojitos (I got a lychee mojito, and my friend got a pineapple sorrel), we met our guide for this truly interesting experience.
The tours are offered daily with a reservation. Simply, email the resort and request a date and time. The walks are for around an hour or so.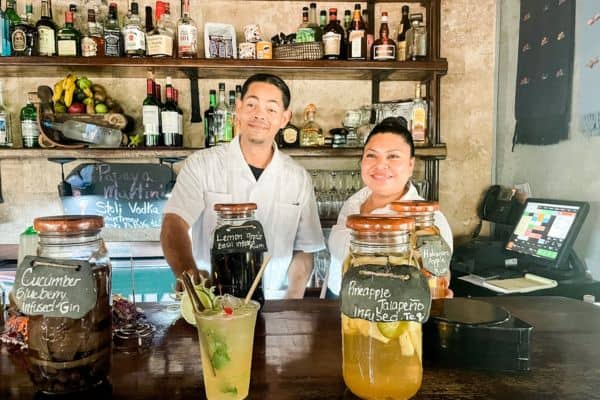 Chaa Creek Mayan Medicinal Plant Tour Guide
Our guide was a man named Meshack from Zimbabwe, Africa. He learned about Mayan plant medicine from his grandfather and has studied and done tours for over 20 years.
This is clearly a passion of his and something he is very interested in and that he knows a lot about. The more questions we asked, the more animated he became. It was such a great experience.
Mayan Plant Medicine
Our guide told us about Mayan medicine, but also some about the Mayan people. The Mayan god of medicine was Ixchel. There are six principles of Manan medicine:
Life force
Physical and spiritual
lant and prayers
Cycle of life
Asking for blood
Hot and cold
According to the Maya, diseases can be physical or spiritual, and they are treated differently. The forest is like a restaurant, and medicine is food.
Medicine can be applied in different ways. It could be ingested, taken as tea, applied, and in other ways. This may depend on the plant and the issue the person was having requiring medicinal treatment.
Many of these plants are used locally today. Why aren't they used worldwide, you might ask? Well, our guide would tell you that companies make more money with pills than with plants. But the locals do still benefit from both traditional and "Western" medicine.
The medicine is passed through families, from generation to generation.
The Mayan people revered nature and understood its uses and value. The Ceiba tree is considered the tree of life. The top of the tree that stands high in the sky is considered heaven. The trunk is where the living are, and the roots are the underworld or afterlife.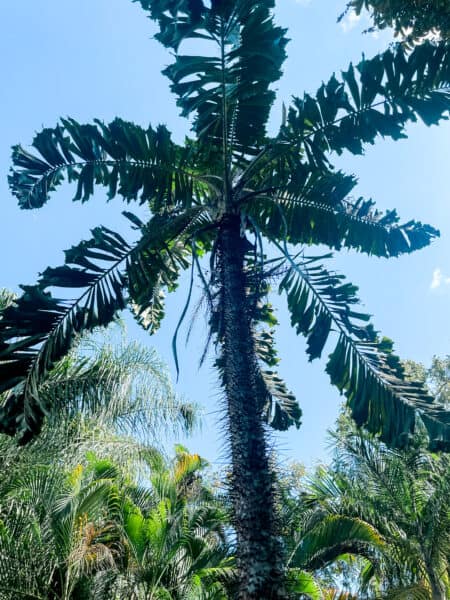 The Power of Plant Medicine
We saw a lot of trees and plants on the property, most of which grew naturally there. Here are some of the trees that we saw and their practical uses.
These trees have stamps with numbered tags. The New York Botanical Garden came here years ago to track the trees and study their growth.
Cohune Palm
The fruit on this palm tastes like baby coconut, light and fresh. It's used for cooking oil, but it's also good for dry skin. It is part of the coconut family.
Red Gumbolimbo
This plant has multiple purposes. The sap from the tree is good for sunburn, insect bites, itching, and rashes. The bark can be boiled as tea and used to treat malaria.
I had three bites on my leg and rubbed the sap on them. It really helped with the itch!
Hog Plum
This is a plant still used in the village. Medicine women peel the bark and boil it in water to help with cramps and childbirth. It helps to reduce or stop bleeding and can be effective after a woman gives birth to stop the blood flow.
Wild Custard Apple
This tree produces a fruit the size of a cherry. If you crush and boil it, it can be used for infection and wound care.
Dystentery Bark
This plant is used to treat dysentery, a disease caused by dirty water. The locals often call this tree negrito, or black. The black fruit can be eaten and contains vitamins. If you boil the bark and drink it as tea, it can help the symptoms of dysentery. It can be used fresh or dried.
Pheasant Tail
Boil the leaf in water and take a bath in it for muscle pain. You can also rub the leaf on joints to help with arthritis. And you can make a poultice of the crushed leaves to make a soothing ointment. It's used locally and grows easily in the area.
Acacia
Acacia is used for snake bites, as is Cockspur. It helps to relieve the symptoms but is not an antivenom.
Wild Pineapple
This plant is used for multiple purposes. The fiber from this plant is used to make ropes and hammocks. The leaves can also be crushed for the sap to use on wounds for healing and relief.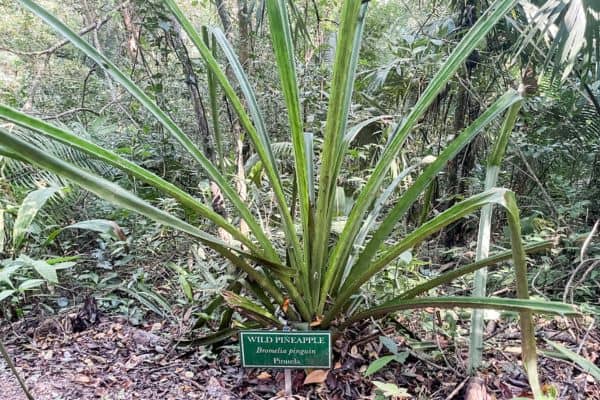 Allspice
We might know this spice as one of the ingredients in pumpkin pie, but it also has medicinal value. The leaves are used to make the spice. They can also be boiled into a tea and used for anxiety. They can also be used as bug repellent when crushed.
Allspice berries can be used to make cooking oil.
Give and Take Tree
This tree is quite interesting. Touch the bark, and you'll get a nasty wound. But the sap is the cure for it (thus, give and take). What's interesting, though, is that the spiny tree must have wounded someone and then thought to try cutting into it to get to the sap. Pretty amazing!
Copal
Used to bring blessings to people. Only medicine men or women can use this, though. It's used for pink eye in children and what's called "witch eye" or "evil eye." It could also be used for insomnia if you boiled the leaves and took a bath in them. Or, it could be consumed as a tea.
It can be used to make a tooth fall out if it's bad if you rub the sap on it. This was a very important tree for the ancient Mayan people. It was a source of spiritual and physical medicine used for both white and black magic.
Fiddlewood
This is another plant with multiple uses. The wood was used to make musical instruments.
The sap was rubbed into the hurt area for muscle pain. You could also crush the fruit and boil it in water to make a tea that helps with a stomach ache.
Wild Yam
This plant flowers every 75 years. It can be used as a tea for birth control, menopause symptoms, and to help with diabetes. The fruit was also used as a kind of pregnancy test. If you cut open the yam and a woman peed on it, if it changed color, then she was pregnant!
Wild Grapevine
The fruit of this plant tastes like sour grapes. They are filled with water and are good for hydration if needed. You could also use the sap from the tree to rub on the skin to prevent infection. It was often used for kids, and if you add drops to the throat, it can moisturize and help with the pain.
Basket Tie-Tie
This plant was used for weaving baskets. The vine strips can grow to one thousand feet long or more!
Breadnuts
You can eat the nuts from this tree. The Mayan and Aztec People used these nuts as a means of currency and money as well.
Snake Plant
This plant can be grown indoors or outdoors. Chewing the leaf and swallowing the juice helps relieve symptoms from a snake bite and can remove the venom from the body. (Note: not a deadly venom but one that can make the person sick.)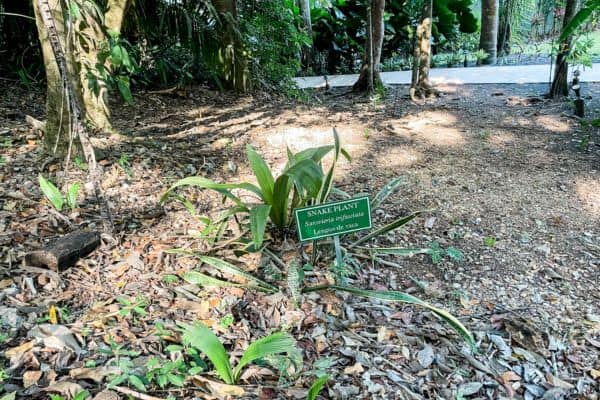 Trumpet Tree
A hollow tree that can be used to make musical instruments. It's good for high blood pressure as well if you boil the leaf and drink it.
Leaves were also smoked in Mayan ceremonies and were found to be high in nicotine.
Angels Trumpet
This plant has a bright pink flower. Smoke the leaves at your own risk, as they can make you high!
Coffee
Coffee can be drunk as a stimulant traditionally. However, coffee isn't a big industry in Belize. It can also help with headaches.
Cacao
Cacao is another plant locally grown. It has many health benefits, helping regulate blood sugar, blood pressure, cholesterol, and more.
It was also used in Mayan ceremonies and was considered a "food of the gods."
Aloe Vera
The sap in an aloe vera plant promotes healing.
Oregano
The oregano plants were in a small planter. If you crush the leaves, mix them with honey-lime water, and drink, it's good for colds and congestion. In fact, you can get dried oregano in pills at health stores today, so this is commonly known.
Other Plants for Mayan Healing
We saw some other plants on the trail, including garlic vines. This plant is used ornamentally and smells like light garlic.
Mangoes are found in the area, and the Maya also ate the fruit. And we saw mamosa, an interesting plant. The boiled roots were used like mouthwash. But, if you touch the leaves, they will curl in. The leaves were used in a baby's pillow to help them sleep.
Lemongrass is another plant that has current uses. It was used recently to help with the fever associated with Covid.
Mayan healing wasn't only about treating illness or injury, it was also about nourishing the body.
Ancient Medicine for Mayan Healing
There are a lot of plants that the Mayan People used for thousands of years to help with a host of medical issues. Many of the Mayan healing plants are used today by the local people. They grow naturally in Belize, though some are also cultivated for use.
What could be more fascinating than understanding how to use the plant life growing naturally around you to make life better and easier? That's a key to Mayan healing by using what was readily available.
I don't know about you, but it makes me wonder what might be in my own backyard!
You Might Also Like
Like it? Pin it!