Hiking Cocora Valley—The Ultimate Trip-Planning Guide
Planning on hiking Cocora Valley in Salento, Colombia? Read on for everything you need to know to do this incredible hike!
There are many fun items on the list of top things to do in Salento, Colombia, and hiking Cocora Valley is number one on most lists. In fact, many people find Salento due to its proximity to the Cocora Valley.
This incredibly beautiful area boasts verdant valleys, lush cloud forests (higher elevation rain forests), and the majestic and slightly cartoonish wax palm trees, the tallest palm trees in the world.
If you want to go hiking in Colombia, this is one of the top spots to do it. It takes you through one of the most beautiful areas in the country.
Here's all you need to know for hiking Cocora Valley and how to plan a trip to visit this incredible area. It's a must-see when you visit Colombia in my book!
Some links in this article may be affiliate links, which means that if you purchase through them, I receive a small commission. This will never cost you extra. Please read the disclosures to learn more.
Where is the Cocora Valley (Valle del Cocora)
Cocora Valley, Colombia, is nestled in the center of the Coffee Triangle (Eje Cafetero) and is located in the Andean mountains in the Quindío region. It is home to the national tree and symbol of Colombia, the Quindío wax palm.
These trees stand over 200 feet tall with an incredibly skinny trunk that you can often get your arms around. They're quite funny to look at!
The Coffee Triangle is a UNESCO World Heritage site, recognized as "An exceptional example of a sustainable and productive cultural landscape that is unique and representative of a tradition that is a strong symbol for coffee growing areas worldwide."
If you've read some of my other posts, you'll know I actively seek out UNESCO sites as they offer visitors something special. Many are historic cities and man-made structures. This one is special as it's listed due to its natural beauty and incredible landscape.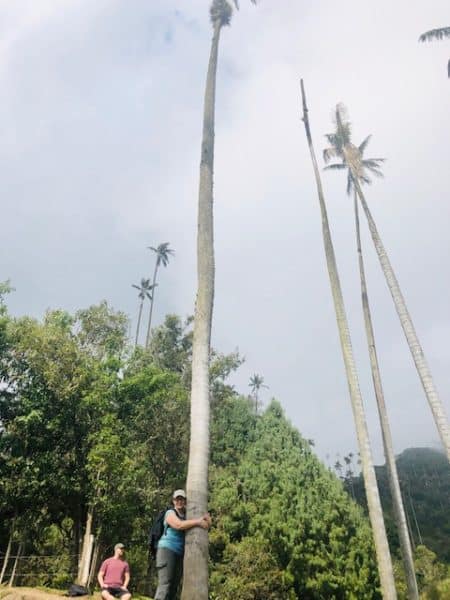 Cocora Valley is a cloud forest in the larger national park, the Los Nevados National Natural Park. The stunning landscape has many facets, from lush grassy fields to mountains, showcasing creeks and waterfalls. You can see cows grazing nonchalantly as you walk on past.
If you're looking for a beautiful place in Colombia away from the traffic jams in the big cities, this is where it's at!
Want to hike Cocora Valley but prefer going with a guide? Check out this Cocora Valley hiking tour.
What to do in the Colombia Valle del Cocora
The most popular options for seeing the Cocora Valley are either hiking or horseback riding. When you are dropped off by the Willy (jeep), you can see lots of horses available with eager guides to take you on a trip.
I chose to hike it, and I was honestly glad I did when I saw the condition of some of the horses.
Hiking Valle del Cocora, Colombia
Hiking Cocora Valley is practically a rite of passage in this area and in Colombia as well. In fact, if you're planning on hiking Colombia, this is one of the top spots. It's the main draw to visit and an amazing experience. This valley is actually what brought me to Salento.
I had read about how beautiful the valley is and how epic this hike is, and I was sold. I'm so glad I did, as it visiting Salento and Cocora Valley were some of my favorite parts of my trip to Colombia.
Three Hiking Trail Options
There are three options for hiking the Cocora Valley:
The clockwise loop starting on the left/straight down the dirt road
The counter-clockwise Loop starting on the right
Hiking in and out, starting straight down the dirt road
The in-and-out hike takes approximately two hours, and the loop is a four to six-hour hike, depending on your fitness level. And if you get lost during the journey, but we'll touch on that later…
When you get dropped off, you have two options: walk straight on the dirt road to take the clockwise loop (and the in-and-out hike), or go through the blue metal fence on the right for the counter-clockwise Loop.
The counter-clockwise loop is generally recommended because the last half of the hike is downhill through the wax palms, saving the most unique and special part of this hike for the end.
Either direction is fine for the loop, though I chose to make the counter-clockwise loop, and it's the one I recommend. Not only does it show you the most incredible part of this hike last, but you are climbing up the steepest part of the hike.
And while that may not sound like fun (it was a challenge!) I think walking down would be much harder, especially if it rains at all. It's very grassy and can get quite slick.
Plus, think about it—wouldn't you rather enjoy the spectacular view from the top after working so hard to get there? That was my thinking!
Clockwise Loop
This hike takes you first through the fields of wax palm trees first. There is an incline, but it's relatively gradual and not too taxing. At the highest point of the hike, you will reach Finca La Montaña, where you can purchase drinks and some light food and soup.
When you continue from the Finca, it's very steep and difficult on the knees. You may want to account for weather and conditions when selecting this hike. It can be quite muddy on the trail, and this descent can be like walking in a bucket of jello (or what I'd imagine being!) during the rainy season.
Counter-Clockwise Loop
This loop has you hiking through the forest first, over and through rivers, past small waterfalls, and then over 7 very "dodgy suspension bridges." It's a slight incline through the woods, and becomes increasingly steep, then very steep approaching Finca La Montaña.
It's a really good workout, and though it would be tough in muddy conditions, it would be easier than the climb down. Thankfully, Mother Nature was good to us, and the mud was limited.
In-and-Out Trip
This hike starts to the left of the blue gate (straight on the road). It's a 30-minute walk to the Bosque de las Palmas where walk among the wax palms.
If you continue walking slightly uphill, you can go to some lookout points to see views from a higher vantage point. The trees end when you've been walking for a little over an hour.
Then, make your way back the way you came for a short 2-2.5 hour hike.
Hiking Cocora
We chose to take the counter-clockwise loop and set off through the blue gate. It starts with a very well-defined path in between fence posts with barbed wire in the middle of some open fields.
You're walking through farmland with stunning mountain views and a teasing sprinkle of wax palm trees. Scattered herds of cows contentedly graze.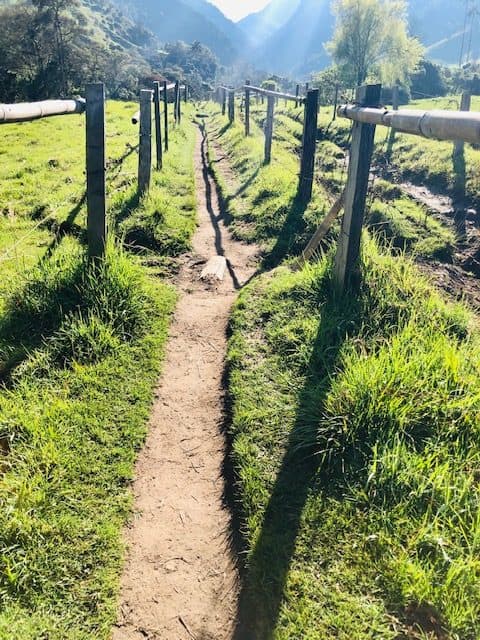 Right before the scenery shifts, we came across a tent where we were told there was a cost of 2k COP to pass. I had read about a fee on the other side of the hike, but not here. He was adamant, so we paid it, especially considering that it was less than $1 USD.
Cloud Forest
Then the scenery shifts some to a densely planted forest where you follow along a stream. This is where it gets interesting, as there are not one, not two, but seven rickety suspension bridges.
If you're like me and like your feet to be firmly planted on the ground, the thought of crossing these filled me with dread. They aren't terribly high up, thankfully, but one step on the bridge leads to a cascade of wobbling, sometimes loose wood.
All that there is to hold onto is a piece of thin, often very loose, wire.
Suspension Bridges
After the first few, I found a rhythm, and while I didn't relish the thought of doing more, I wasn't quite as terrified. That is until I hit the last one.
This last bridge was two pieces of fixed wood which I thought would be an improvement from the suspension bridges, but I was sadly mistaken. There were two (and three, in parts) planks of wood placed at different heights, so the walk was very uneven.
Added to that fun, there was only one wire to hold onto that was very loose and mostly useless.
And, when we went off the trail accidentally, I had to walk over that last bridge a second time to get back to the right path. I lived to tell the tale and honestly impressed myself a bit, given how terrified I am of heights!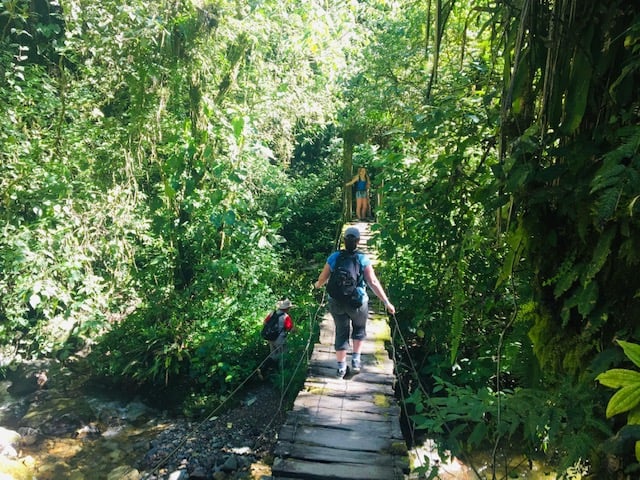 Acaime- Hummingbird Sanctuary
Once we made it over the last bridge, it was a short hike to Acaime, the farm that is a Hummingbird Sanctuary.
Had I known I would have to cross the last bridge again to head back to the loop, I might have opted out, so I'm glad I didn't know. At this point, we were hiking for a couple of hours so it was a nice break.
It costs 5k COP ($1.60 USD) to enter, and you get a drink of either hot chocolate or agua panela caliente (a traditional Colombian hot drink made from melted and caramelized sugar cane) with cheese.
There are a number of feeders with hummingbirds. Though we didn't see a lot of variety in the birds, we did see a few different kinds when we were there.
They were pretty, and it was a nice relaxing break as well as a great place to get to meet other people. This comes in handy when you're unsure which way to go on the path.
It can also backfire when you follow people who also don't know where they are going. (Yes, a clue of where this is going and our misadventure!)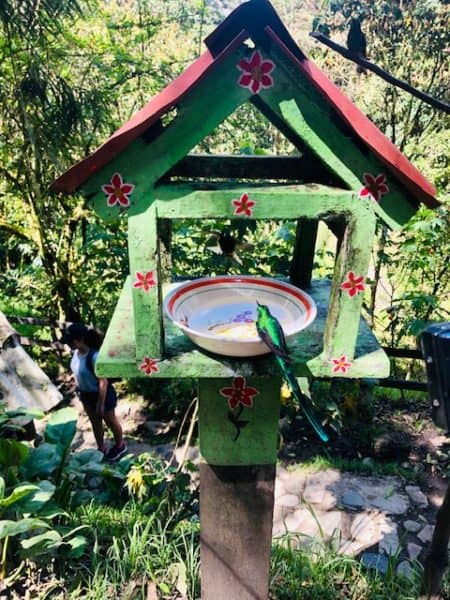 The Way to NOT Go
When you head back to the loop from Acaime and hit the first set of signs, stay to the left. We made the mistake of veering right, which heads to the waterfall.
It sounded lovely, but it was several kilometers away and a very steep climb. By the time we started thinking we went wrong, we were 30 minutes invested. We thankfully ran into two guys with a guide who directed us back down our summit to the right path.
Finca La Montaña
Once we were back to the signs and stayed to the left, we came across another group of signs with an arrow pointing right to continue on the loop. This is why we went wrong at the last set of signs, as we recalled that we should veer right but did so too soon.
The climb up the hill to the Finca La Montaña, which is considered the halfway point, is quite steep. There are switchbacks that are well-worn up this grassy hill that can be quite muddy. The view from the top is beautiful, and it's a great place to stop for lunch.
You can purchase soup and drinks at the Finca or can bring your own. There are several places in town that provide prepared lunches, or you can go to the grocery store located in the small town square in Salento.
I picked up a bagged lunch from Brunch de Salento. For 14k COP (just under $3 USD), we got a monstrous lunch that took two days to eat.
It included a huge sandwich, banana, small water, homemade granola, crackers with peanut butter, cheese, and a chocolate peanut butter brownie. I would have been enough to share.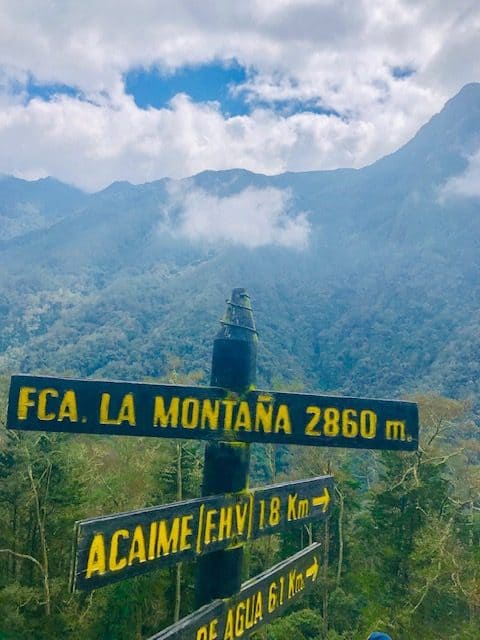 Wax Palms
After a lunch break, we continued on the path that was wide and partially paved. From this road, there are many Miradors, or lookout points, to see the iconic wax palms. It's worth stopping at some of these to see stunning panoramic views.
We ran into the second area where they were collecting a fee during this part of the hike. The man who approached didn't appear to be any kind of official and said the fee was 10k COP. We knew the fee here was 3k COP and laughed and paid the right fee.
He said he was joking, but do yourself a favor and be familiar with the expected fees, so you don't pay the "tourist tax." Then we reached Bosque de las Palmas (meaning forest of the palms), with a big open space with views of the wax palms.
As we approached this area, we could see a cluster of very dark clouds in the distance coming our way. At this point, we had been hiking for around 6.5 – 7 hours, including our not-so-scenic detour and lunch break at the Finca, as well as several stops at the lookout points.
We made our way down a big steep hill to the road to walk back to the Willys. By then, there were many people who were visiting the wax palm fields and lots of horseback riders heading out and returning from their journey.
Where to Stay in the Cocora Valley
Most people visiting choose to stay in the town of Salento when they go to the area to hike Cocora Valley. This quaint small town of around seven thousand people is one of the most beautiful and picturesque towns in the country and a destination in its own right.
An added benefit of staying there is the convenient transportation offered in the small town square.
There's a surprising amount to do in the small town of Salento. From coffee plantation tours to enjoying the restaurant-turned-dance club, check out this post to see what's in store for you there!
You May Also Like Top 10 Things to do in Salento
How to Get to the Cocora Valley
People who hike Cocora Valley generally stay in the town of Salento. It's often considered the Salento Valle del Cocoral, though it's actually outside of Salento. Salento is the nearest town.
There is a transportation system set up in Salento, taking jeeps to the valley on a regular basis which is inexpensive and very convenient.
Accessing the Valley from Salento
From Salento, simply hop on a shared jeep called a Willy. It costs only 8k COP (under $3 USD) for a round-trip ride, and you pick up your return Willy where you were dropped off.
The Jeeps are available in Plaza Bolívar, the town square, from around 6 am until 4 or five in the afternoon, depending on the time of year.
They leave when they fill up. You can't miss them, and you will see a number of Willys lined up on one side of the small green area in the center of the square.
How to get to Salento
Salento is accessible by bus via Armenia or Perreira, two small cities in the Coffee Triangle. In fact, Armenia, Perreira, and Manizales are the three spokes of the triangle.
The ride is an hour or less from either city, and the bus is located at the central bus station. The Plantation House Hostel in Salento offers great information on bus times and scheduling and even offers rides (at cost) for those who miss the last bus.
I arrived from Armenia. There is a shuttle bus at the airport that takes you to the bus terminal. Then find the bus with a Salento sign in front. I left Salento and went to Perreira, which was very easy.
Both buses took under an hour and cost only a few US dollars (8-11k COP). Buses can take a long time in Colombia as road conditions in some areas are poor. However, these short rides were quite good, and there were no delays.
There is also a bus that goes from Medellin to Salento on Flota Occidental. It leaves from Terminal del Sur in Medellin, and as of this writing, the scheduled times are 9 and 11 a.m. and 1 p.m.
Times may change, so be sure to check the schedule. The cost is around $13 USD (47k COP) for a one-way trip.
What is the Best Time of Year to Visit the Cocora Valley
Colombia has a rainy season and a dry season. The best time to plan to visit the Cocora Valley for a hike is the months of December, January, and February, when it is the driest.
During this time, it can still rain, and it probably did end up raining in the late afternoon on the day I went in December. (The skies got very dark, and there was thunder, but we left before there was any rainfall).
The small amounts of mud we encountered on the trails were nothing compared to what it can be, and many hostels and hotels rent or loan boots for people to wear. Even in the dry season, the weather can change dramatically and quickly, so be prepared with rain gear and layers.
Tips for the Cocora Valley Hike
Hike with someone or a group. Even if you travel solo, there are lots of people that you will meet up with. Salento is a backpacker's paradise, and people, both the locals and tourists, are quite friendly. Strike up a conversation and make a new hiking buddy. We saw people fairly steadily, but for safety, it's best to have company.
Pack a lunch: you can usually grab something at the Finca. However, the loop is a long hike, and it's a good idea to come prepared. Several places pack a hearty lunch, including Beta Town and Brunch de Salento.
Go early: you may have a short wait to catch a jeep ride, and you want to be sure to allow plenty of time to get back before the last jeeps. it's also helpful to avoid the afternoon crowds. Additionally, this area often gets some rain in the afternoon, and the hike is a bit more pleasant when it's not raining.
Bring plenty of water: of course, it's important to stay hydrated. It is not recommended to drink river water without adequate filtration, and bottled water is very limited on the trek.
Pack appropriately: in addition to food and water, it's a great idea to pack sunscreen, bug repellant, a raincoat (even if it's bright and sunny!), lots of layers, and appropriate shoes. It can be very muddy on the trails, and you're also hiking on some steep areas and over areas with loose rocks (and loose wooden bridges!) Make sure you have adequate foot support- you'll be thankful for it.
Packing tip: It's a good idea to pack a plastic bag to store your boots in your bag. They will likely get muddy, and it can be challenging to get it all off! You don't want mud getting all over your clothes when you leave.
Why You Should Visit Cocora Valley
The Cocora Valley hike is amazing and leads you through some truly stunning areas. It is a challenging hike in some parts and really provides a sense of accomplishment when you complete it. Especially if you find yourself hiking with people half your age—but I digress.
Getting to hike through a cloud forest is amazing. And the area is really beautiful. But getting to see the wax palms was quite incredible. I live in an area with palm trees, and I've never seen anything like them.
For an even more detailed hiking description of the trail, Goats on the Road provided this great post that was spot on.
Here is my recommendation for the top things to do in Salento, Colombia. And, for information about other great places to visit in other areas of Colombia, this article offers information on the best places to visit in Colombia.
You Might Also Like
Like it? Pin it!