A Traveler's Guide to the Best Places to Visit in Colombia
Colombia is a geographically-diverse country featuring tropical Colombia beaches, lush rainforests and cloud forests, and sweeping mountainous landscapes with stunningly-sprawling cities.
There are many incredible places to visit in Colombia. This post will help you decide where you want to go among the many Colombian destinations.
Some links in this article may be affiliate links, which means that if you purchase through them, I receive a small commission. This will never cost you extra. Please read the disclosures to learn more.
Colombia's Tropical Region
The Caribbean areas in northern Colombia are lush and tropical. The city of Cartagena is the fifth-largest city in Colombia. The historic walled city and fortress of Cartagena are a UNESCO World Heritage Site.
Many don't venture outside of Cartagena. I loved Cartagena, but I think those who don't see anything else are really missing out. Those who do are treated to some of the most gorgeous areas in Colombia.
Transportation to the area is easy, and most fly into Cartagena. There is an international airport not far from the historical city center serving the area, Rafael Núñez International Airport.
Taxis are the recommended transportation to and from the airport. Uber is available, however, it is not legal as of this writing. From Cartagena, there are many buses to get you where you want to go (and of course, taxis.)
Cartagena
Cartagena is one of the best places to visit in Colombia. It has it all: proximity to the beach, a colorful and quaint old city center filled with colonial architecture.
There are lots of historic things to see in Cartagena and some amazing restaurants. and incredible street food. This gorgeous walled city is very walkable.
Though the humidity is high year-round, there are plenty of places to cool off. Go inside for incredible fruit juices and lots of air conditioning. Read more about fun things to do in Cartegena in this post. Some of the top attractions include:
Sanctuary of Saint Peter Claver (San Pedro Claver)
Peter Claver was a Spanish Jesuit Missionary and priest known as "the patron saint of slaves." The city was a slave-trading hub in the 1600s when Peter Claver was there. He saw them as other Christians and encouraged others to do the same.
He met ships of slaves from Africa in the port with food and medicine and helped them to adapt. The sanctuary is a beautiful structure with an internal garden that is a lush break from the busy city surrounding it.
The sanctuary is located inside the walled city. It's open from Monday through Friday from 8-6 and on the weekends from 8-5 for 11k COP ($3.50 USD).
San Felipe de Barajas Castle (Castillo San Felipe de Barajas)
San Felipe is a well-preserved fortress on a hill overlooking the city of Cartagena. It was built in the 1500s and 1600s and was a pivotal location in the war against independence with Spain.
Visiting San Felipe de Barajas Castle is the #2 thing to do in Cartagena, according to TripAdvisor. It's also a UNESCO World Heritage Site, so it's well worth visiting.
Open daily from 8-6 for 25k COP ($8 USD), and walkable from the city center or accessible by taxi.
Zenu Gold Museum (Museo del Oro Zenu)
This gold museum has an impressive collection of gold jewelry which it is known for. It also has other pre-Columbian artifacts unearthed in the region. The volume of gold artifacts is second in the country, only to the Gold Museum in Bogota.
Entrance costs 5k COP ($1.60 USD). It is open from Monday through Saturday from 9-5 and on Sunday from 10-3.

You May Also Like 21 Best Things to do in Cartagena
Clock Tower (La Torre de Reloj) and Carriage Plaza (Plaza de los Coches)
One of Cartagena's most famous landmarks is the Clock Tower. The gate was once the primary entryway into the walled city. The neoclassical tower was actually added later, in the 1850s. The gateway opens into Carriage Plaza inside the walled city.
This iconic square and one of the largest in the city is where carriages used to pick up and drop off passengers. There is still a bustling marketplace daily. You'll see Palenqueras (women from the town of Palenque) selling their sweets.

Plazas
The plazas are some of the most visited places to visit according to TripAdvisor. Plaza Santo Domingo, Plaza San Diego, Plaza Bolívar, and Plaza de la Trinidad (in the Getsemani neighborhood) are some of the most popular.
Plaza Bolívar is one of the largest and most lush in the city. Though, all of them have interesting aspects and are worth seeing. You will even be rewarded with a Botero statue. It's located at Plaza Santo Domingo, interestingly, right in front of a church!) and some lovely churches.

Getsemani Neighborhood (Bairro Getsemani)
This colorful and bohemian neighborhood just outside the city walls of Cartagena is a backpacker's paradise. It's loaded with hostels and inexpensive restaurants.
Getsemani has a much more local feel and though it used to be a very poor neighborhood, it's now a lively area where many locals live. Narrow streets showcase stunning murals, shops offer unique and artistic items, and kids play soccer in the streets.
It is one of the best places to visit in Colombia, and in Cartagena.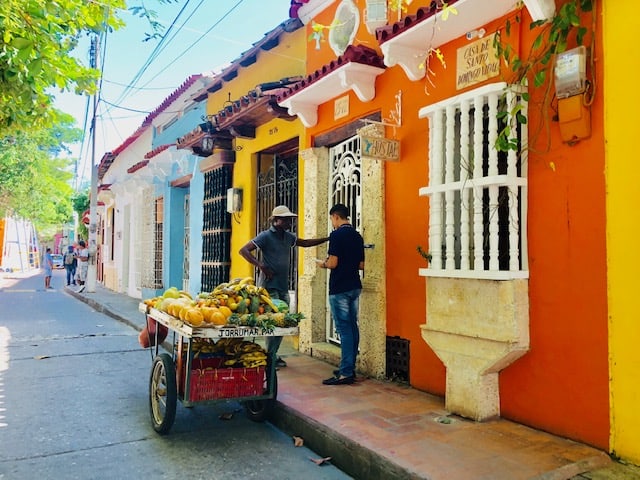 Take a City Tour
There are many tour companies, and I usually like to take free walking tours. I find the guides do a really great job as they work entirely on tips. I recommend Beyond Colombia as my guide provided a great orientation to the city.
He also gave us tips and guidance for things to see in more detail after the tour. And, he even provided a discount at some of the popular places.
Where to Stay
I chose to stay inside the walled city of Cartagena in an Airbnb apartment. The area is gorgeous and very safe. (Of course, you always need to be careful and aware of your surroundings.) I love staying in apartments when I can, as I feel more like a local.
They also offer the benefit of a kitchen, so I can skip eating out for some meals. However, apartments can pose some interesting dilemmas, like how to use appliances. Read about what can happen when you are not familiar with appliance "quirks" from my trip to Cartagena.
Were I to visit again, I would probably consider staying in Getsemani. It is less crowded and less heavily touristed. It has the beauty and quaintness of the old city, without the hoards of people.
Cartagena Day Trip
The best day trip from Cartagena is to Palenque de San Basilio, around an hour from Cartagena. This village consists of around 3,500 people descending from West-African slaves who escaped Cartagena and the surrounding areas in the 17th Century.
According to UNESCO, Palenque de San Basilio is a "Masterpiece of the Oral and Intangible Heritage of the Humanity."
Though many Palenque villages were established, only San Basilio survives to the present day. It holds intact the unique cultural heritage of the people. It also has the distinction of being the first freed town in the Americas.
Palenque is a really interesting day trip, and I recommend Juan Ballena tours. Read more about visiting Palenque in this post.
The Lost City (Cuidad Perdida)
This archaeological site features a ruined city believed to have been established in 800 AD. Cuidad Perdida was discovered in 1972 and is accessed by a climb up 1,200 steps in dense jungle.
Four-to-five day organized hikes visit the lost city and they are a moderate-to-strenuous fitness level. The reward for the effort is some beautiful terraces and excavated squares amidst the jungle.
This post offers some great information about the trek to Cuidad Perdida, the conditions and what to expect, what you will see there when you go, and why it is one of the best places to visit in Colombia.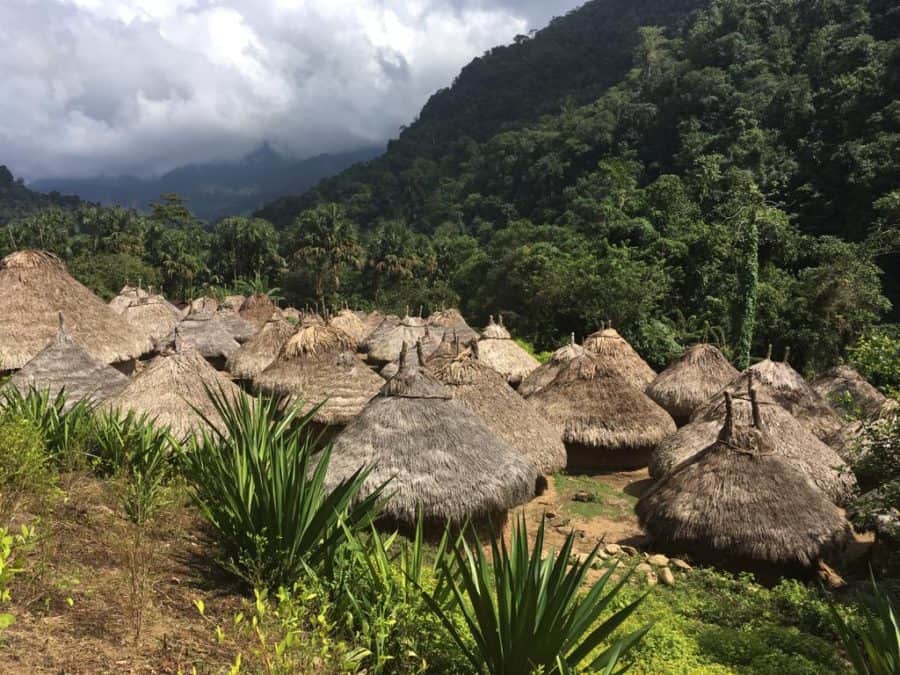 Best Beaches in Colombia
Playa Blanca
A mere one-hour ferry ride from Cartagena, Isla Barú boasts one of the most beautiful. It's also one of the most convenient-to-get-to beaches, Playa Blanca. It's a really popular day trip from Cartagena.
Though, you can enjoy quieter times in the early morning and later afternoon. Enjoying these quiet times is particularly easy if you stay there.
Rosario Islands
Playa Blanca is the most popular of the Rosario Islands, but there are others to visit as well. The Rosario Islands offer some stunning beaches.
There are also a lot of fun activities like kayaking and exploring mangroves, scuba diving, and night swimming with phosphorescent plankton. This article has some great ideas for why you should visit the Rosario Islands.
Santa Marta and Tayrona National Park (Parque Nacional Natural Tayrona)
If you have more time, you can take a 5-hour bus ride to the stunning Tayrona National Park. It is located within Santa Marta It's the oldest city in Colombia, founded by the Spanish in 1525. It's also the second oldest city in South America.
Tayrona Park offers much of the biodiversity in Colombia of flora and fauna. This includes a range of tropical beaches to lush jungles. There is also an archaeological ruin called Pueblito to visit.
Tayrona offers some of the most picturesque scenery in the country. If that isn't tempting enough, here are some additional reasons to go to Tayrona National Park.
All of this incredible beauty does come at a cost, though. The entrance fee for foreigners is 57,500 COP (around $12.25 USD. Hefty in Colombia, when the local cost is just over $5 USD). Additionally, food and lodging costs are higher than in most of Colombia so plan accordingly.
Coffee Region (Eje Cafetero)
The Colombian coffee region is where the majority of the coffee is produced in the country. It's considered to be some of the best coffee in the world.
You May Also Like Top 10 Things to do in Salento
Cities of Manizales, Perreira and Armenia
The cities of Manizales, Perreira, and Armenia are known as the coffee triangle. They are a growing area of the country and a hot spot for expatriates moving to Colombia. They are small cities ranging from close to 300,000 to nearly 800,000.
I visited Manizales and there's a surprising amount to do in this college town. Each has its own personality and they are worth a visit if you are heading to Salento and the Cocora Valley. Read more about visiting Manizales in this post.
You May Also Like Colombia Coffee Triangle Living in Manizales
Cocora Valley
Cocora Valley is the home of the wax palms, the tallest palm trees in the world. There is an amazing and challenging hike through the cloud forest. It crosses over suspension bridges with a stop along the way to visit Acaime, a hummingbird sanctuary.
The last highlight of this trek is walking through fields of wax palms. It's an epic hike and worth doing but be prepared—it is quite steep in parts. The rainy season can be a bit of a muddy hot mess.
You May Also Like Hiking Cocora Valley—the Best Thing to do in Salento
"Willie" jeeps leave the square of Salento starting at 6:30 am once they fill up. The round-trip cost is 8k COP ($2.50 USD).
Salento
Though the town of Salento is the primary launching point to the Cocora Valley, it's a worthy visit in its own right. This picturesque colonial town boasts a beauty that compares with any other in the country
The view from the mirador peak of the valley between the mountains is stunning. Go on horseback rides, hike to a waterfall, and play tejo.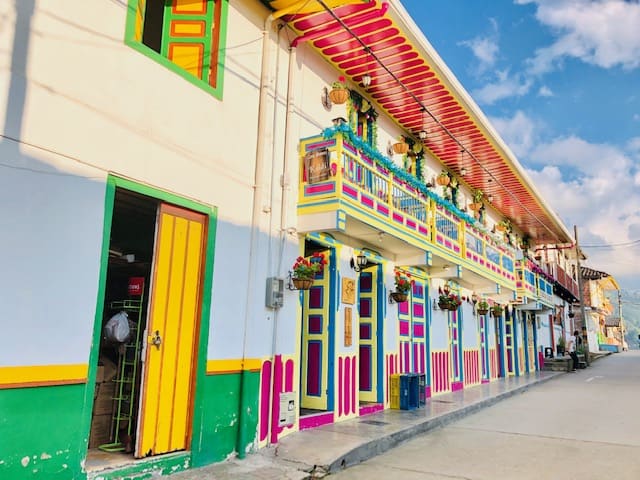 It also boasts several thriving coffee plantations where you can tour the farms and learn how your cup of joe is grown and harvested. It is one of the best places to visit in Colombia to learn more about coffee and coffee production in the country.
Don Eduardo Coffee Tour & the Plantation House Hostel
My favorite was the Don Eduardo Coffee Tour offered where I stayed, at the Plantation House Hostel.
The family that runs the hostel is amazing and the location is a short walk from the main square. It's nice and quiet as those places close to the town center can get quite noisy at night.
The Hostal website provides great information about transportation by bus from Armenia or Perreira. (They are where there are airports if you are so inclined). Read more about visiting Salento, hiking Cocora Valley, and visiting a Salento coffee farm in these posts.
You May Also Like The Top 10 Things to do in Salento
The tour is 30k COP ($9.70 USD), discounted for guests who stay at the hostel. The Plantation House offers community rooms and private rooms that range from $9 USD to $25 USD a night. Direct flights are available from Medellín to Armenia or Perreira. Or a bus is available as well (6-10 hours, depending on road conditions and construction.
Jardin
If you're looking for a quaint town that's a little closer to Medellin (3-4 hour bus ride), consider Jardin. It's a beautiful small town worth visiting. This post includes some great information about visiting Jardin and the things to do while there.

Central Colombia and the Mountains
Medellín
Medellín is the second-largest city in Colombia. This sprawling metropolis is located in the Aburra Valley of the Andes mountains. Though the population is only around 2.5 million in the city and 3.5 million in the surrounding Metropolitan area, it appears absolutely massive due to its location in this narrow valley.
Houses climb up the base of the mountains and are everywhere the eye can see.
The "City of Eternal Spring" has a temperate year-round climate, cooler and less humid than the tropical Caribbean regions of the country and warmer than the highest-elevation areas. It's a bustling metropolis of industry and trade.
Two airports serve the city. Olaya Herrera Airport, right in the city, serves mostly in-country flights. José María Córdova Airport, an international airport located high in the mountains 1-2 hours outside the city, depending on traffic, serves longer-distance flights and some in-country flights as well.
You May Also Like The Best 11 Things to do in Medellin
Botero Square (Plaza Botero)
Botero Plaza is an outdoor park that contains 23 sculptures created by local artist, Fernando Botero. It is surrounded by the Museum of Antioquia and the Rafael Uribe Palace of Culture, also worth visiting.
The Museum of Antioquia is the second oldest museum in the country and as an impressive 119 pieces donated by Botero, including paintings and sculptures. The Palace of Culture is a unique and stunning building that you can tour.
This area is a popular tourist destination and quite unique to Medellín, making it one of the top places to visit in Colombia. While you're there, find the buñuelo shop for a tasty local snack.
Parque Lleras
If you are looking for nightlife, this is the place to be! Parque Lleras is located in Zona Rosa (red zone) in the Poblado district of Medellín.
Many cities in Colombia have a Zona Rosa and Medellin's is known to be one of the best. It features many bars, restaurants, shops, and dance clubs.
San Antonio Plaza (Plaza de San Antonio)
This popular plaza located in one of the oldest sections of Medellín is filled with murals and also includes not one, but two, Botero statues. The statues are the same, however, one was badly damaged by a bombing incident that killed a child and several others.
Botero donated a second statue but the first is there to serve as a reminder of the violent history of the city. I saw San Antonio Plaza with a guide. He shared that it is a dangerous area, particularly at night, and did not recommend visiting alone without caution.
See below for a recommendation for a tour group.
Cable Car
The number 2 thing to do in Medellín according to TripAdvisor is to ride the cable car, the Medellín Metrocable. Created to establish an alternative to the metro transportation, it's now a tourist attraction in its own right providing incredible panoramic views of the city for a budget self-guided tour of sorts. It runs from San Javier station (near Communa 13) to La Aurora, high in the mountains.
Santo Domingo
Once the most violent neighborhood in a city known for violence, Santo Domingo has turned over a new leaf, further benefited from the Metrocable stop. This neighborhood offers some of the most stunning views of the city of Medellín, all for the cost of one metro ride. This article provides some great information about places to photograph in Santo Domingo and transportation to this neighborhood.
Downtown District (El Centro)
There are many things to see in the downtown area of Medellín. I do recommend taking a tour to learn about the history and significance of what you see.
The Alpujarra Administration Center includes the Palace of Justice, City Hall and Mayor's office in an architectural style known as brutalism. In the center is a very interesting and intricate sculpture.
There is an area called the Square of LIghts. It's is an interesting memorial for those who died as a result of violence in this area. Parque Berrio is a great place to view local life. I do recommend a guide in this area as there are higher rates of pickpocketing and theft than in other areas of the city.
Pueblito Paisa
Pueblito Paisa (little town) is a replica of a traditional town center in the region built on the top of Nutibarra Hill (Cerro Nutibarra). It includes a church, many typical shops, and a traditional stone fountain in the middle of the town square.
Pueblito Paisa offers a step back into history as well as some amazing city views by day or night. It's a steep and sometimes narrow walk up, and I recommend a taxi for ease and safety.
Communa 13
Communa 13 was previously one of the poorest and one of the most violent neighborhoods in Medellín. It is being revitalized and showcases some incredible murals. Be ready for your heart to break as you're inspired by the talent and initiative of the people who live here.
I recommend a tour is to see Communa 13 to get the history and perspective from someone who lives there. I went with Inside Medellín Tours and Sergio was my guide. He was very good.
He shared his experiences growing up in this neighborhood during the extreme poverty and violence in the 1990s. An interesting quirk of this neighborhood are the many escalators leading to the steeper areas. The tour is free with a hearty tip for the guide.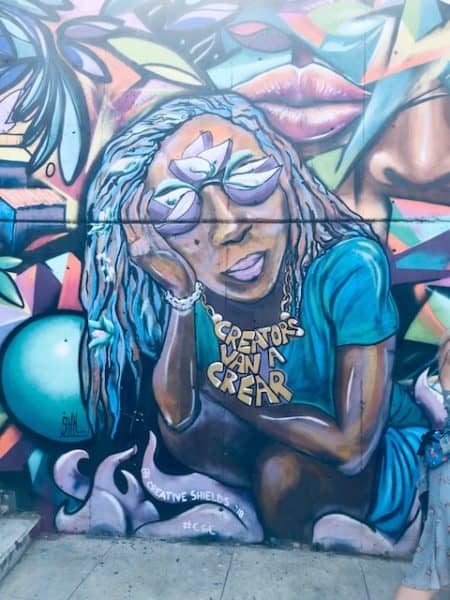 Take a City Tour
As I mentioned previously, I always like doing free city tours to get background and orientation when I arrive in a new city. Medellín has many tour companies to choose from, for both paid tours and free tours.
I chose Real City Tours and cannot rave about them more. My guide was fantastic and one of the best that I have ever had in any free or paid city tour (Juan).
He provided us with his own personal experiences of growing up in Medellín. His stories have stuck with me a month after my return. He shared a lot about the people, the history, and the culture including truths and misconceptions about Colombia.
He provided us with insight as to safety while addressing the "elephant in the room," the "infamous man from Medellín." If you go to visit Medellín, I strongly recommend this tour and heard lots of other great positive feedback for other guides as well.
You May Also Like Why I Recommend Free Walking Tours
A Few Words on Pablo Escobar Tours
People in Colombia have strong feelings about Pablo Escobar, as you might expect. Some do still view him in a positive light, and many believe he was a stain on Colombian history.
My guide with Real City Tours, Juan, shared his personal experiences with the random violence in the 1980s and early 1990s caused by the drug cartels. It included his being shot multiple times, his brother being shot, and his best friend being killed in front of him. He encouraged us to consider if we want to support tourism that glorifies such a person.
I chose not to.
A word of caution: our guide warned us that locals have been known to share harsh words and even to slap people when his name is mentioned. Consider yourself warned!
Where to Stay
The Poblado neighborhood is known locally as the "Gringo neighborhood." It's where many of the tourists and expats live in the city. It's convenient to the metro and has loads of restaurants and hotels. I chose to stay in the Laureles neighborhood, where the locals live.
I rented an Airbnb apartment located in a high-rise apartment building with stunning city views and a panoramic rooftop deck, all for $40 USD a night. Laureles is cheaper than Poblado, though you won't find many English speakers there. It does offer some wonderful restaurants and street food and is convenient to the metro.
Day Trip from Medellín
The best day trip from Medellín is to visit a stunningly-colorful Spanish colonial town called Guatapé. These tours share the history of the area, including the destruction of Peñol and parts of Guatapé to create a lake to power a hydroelectric plant.
You can see a replica of old Peñol, "new Peñol," where the people of the original town were transplanted, take a boat ride on the created Guatapé Lake, climb Peñol rock for incredible views of this stunning area, and visit the quaint and beautiful town of Guatapé.
Enjoy a michelada at the top of Peñol rock (beer with fresh mango) or a salted mango.
You May Also Like The Most Colorful City in Colombia—Guatape
There are many tour groups that visit Guatapé, and I booked through my Airbnb host with Maxitour Viajes. It cost 70k COP ($44.65 USD) and included breakfast and lunch, pick up and drop off to the place you are staying, and a bilingual tour guide who speaks Spanish and English. The cost to climb el Piedra de Peñol is not included in the tour cost, and that is 18k COP or $5.75 USD. This post has more information about Guatapé, el Piedra de Peñol, and Peñol.
San Gil
San Gil is often known as the "extreme sporting capital" or "adventure capital" of Colombia. The list of death-defying activities is quite impressive and includes kayaking, bodyboarding, rock climbing, paragliding, white water rafting, canyoning, caving and waterfall repelling, and others.
This article provides some great information on things to do in San Gil. If you're an adrenaline junkie, then San Gil is the place for you.
San Gil is centrally located just south of Bucaramanga, the largest regional city, which serves as the primary transport hub to arrive in San Gil. Bucaramanga is served by Palonegro airport and has buses or taxis available for transportation to the city. It is located a few hours by car from Bogotá and close to ten hours from Medellin.
Bogotá
Bogotá is the largest city in Colombia and in a word: massive. Formerly known as Santafe or Santa Fe de Bogotá, this city is undergoing a revival of sorts and is growing into a modern city with a lot to offer.
I will admit that I fully expected to not like Bogotá and was even a little bit nervous to visit as I had read that you cannot use your cell phone in public or risk having it stolen.
While I received that caution from several kind people, I found the city to be very easy to navigate and safe providing you ensure awareness of your surroundings at all times, much like any other large city.
In-country and international flights fly into the Dorado International Airport, or an extensive bus system leads in-and-out of the city.
You May Also Like 11 Fun Things to do in Bogota
Candelaria
The historic neighborhood of La Candelaria in Bogota is full of places to see. At the top of the list is the Botero Museum, the opera house (Teatro Colón Bogotá), and several included in the list below.
There are lots of great restaurants to dine at while wandering the streets admiring the graffiti and architecture in this eclectic neighborhood.
The Botero Museum is free of charge, as are the other museums in the complex. Hours are Monday and Wednesday through Saturday from 9-7 and Sunday from 10-5. Closed Mondays. The Teatro Colón offers shows as well as a tour for 11k COP ($3.50 USD) a couple of times a day on certain days. Please note the tour is in Spanish only.
Simon Bolivar Square (Plaza Bolivar) and the Cathedral
Plaza Bolívar is the main square in the heart of La Candelaria and where some of the city's most important buildings and offices are located. The stunning Cathedral (The Primatial Cathedral of Bogota, Catedral Primada de Bogotá) Metropolitan Cathedral Basilica of the Immaculate Conception is located on the Square.
This beautiful building, built four times in the same spot, provides just a piece of the history located on this square.
Gold Museum (Museo del Oro)
The Gold Museum has a vast collection of pre-Colombian artifacts and showcases the largest gold collection in the world. The museum is four floors and displays around 6,000 of its 55,000 gold pieces.
For the best coffee in the city, go to Cafe San Alberto on the first floor, where you can have coffee served in many different styles. Then start on the second floor for the museum exhibits.
The museum is located in Candelaria and is open from Tuesday through Saturday from 9-6 and Sunday from 10-4. It is closed on Monday. The cost is 4k COP ($1.30 USD).
Zona G (Zona Rosa)
If you are looking for the nightlife in Bogotá, Zona G, the Bogotá Zona Rosa district, is where you want to be. Not only is this the place to party well into the night (and the morning) but it also includes some of the best upscale restaurants that the city has to offer.
If you're looking for fine dining or bars and clubs, this area has it all. There are also many shops and malls located in this area.
Monserrate
This hill rises over 10,000 feet (more than 3,000 meters) over the city center of Bogotá. It is considered a pilgrimage destination by the indigenous people (Muiscas) and Christians alike, with a church and a shrine at the top along with restaurants and shops.
Access is by a funicular, a tram, or by hiking up the hill. The reward of the climb is some of the most incredible views of Bogotá. Monserrate is located in the Chapinero neighborhood and is open every day of the year.
The funicular runs Monday to Saturday from 6:30 to 11:30, and Sundays from 5:30 to 5:30. Costs range from 6k COP to 20k COP ($2 USD to $6.50 USD). Please visit this page for more information.
The National Museum of Colombia (Museo Nacional de Colombia)
The Colombian National Museum is the oldest and largest museum in all of Colombia. It has a massive collection of over 20,000 pieces of history, art, and culture, some dating back as far as 10,000 BC.
There are 17 galleries inside, and the museum is undergoing a modernization project slated for completion in 2023.
The Museum is located in the International Center. Adults cost 4k COP ($1.30 USD), though free admission to the exhibition halls is available on Wednesday from 4:00 pm to 6:00 pm and on Sundays from 10:00 am to 5:00 pm. Hours are 10-6 Tuesday through Friday and 10-5 on Sunday. Closed Mondays.
Take a City Tour
Beyond Colombia also offers a great city tour in Bogotá, as well as in Cartagena. My guide was great and very informative. We hit many of the Candelaria destinations mentioned above including the Botero Museum, Teatro Colon, Plaza Bolivar and the Cathedral.
We wandered some of the smaller streets in the neighborhood to take in the street art and architecture and even stopped at my hotel, Hotel Casa Galeria, where I learned that it was once a "hidden" chicheria. Now that chicha is legal, we got to try it in the cafe in my hotel.
Where to Stay
Candelaria is a popular place for tourists to stay when visiting Bogotá. It's a historic neighborhood, relatively safe, and in close proximity to many of the popular places to visit. I chose to stay here as I had only two days in Bogotá, and I'm glad I did.
It can be very crowded so always be aware of your surroundings, put away your cell phone and you will have a great time!
I stayed at the Hotel Casa Galeria, a wonderful little boutique hotel with great staff, rooms, and an amazing breakfast. They also have a cafe with lots of local pastries and desserts.
This hotel is open air though, so it is quite cold during many times of the year (they provide you with a nighttime hot drink and a hot water bottle, which helps tremendously). It's also very loud as it's located on a very busy pedestrian walkway.
The hotel cost was 115k COP a night ($35 USD). The hotel cost was 115k COP a night ($35 USD).
Day Trip from Bogotá
The best Bogotá day trip is to Zipaquirá and the Salt Cathedral (Catedral de Sal de Zipaquirá). When the Spanish Conquistadors came to Latin America seeking gold, they found themselves in Bogotá. However, they didn't find gold there.
It was hiding in the small town of Zipaquirá, along with "white gold," an even more valuable item to the indigenous people.
When the Spanish Conquistadors came to Latin America seeking gold, they found themselves in Bogota. However, they didn't find gold there. It was hiding in the small town of Zipaquirá, along with "white gold," an even more valuable item to the indigenous people.
You May Also Like Best Day Trip from Bogota—Zipaquira and the Salt Cathedral
Zipaquirá is a small town with a Spanish Colonial center marked by a large church and a vibrant square a little over an hour from the outskirts of Bogota.
The town is known for its famous Salt Cathedral, an underground Roman Catholic church built in large tunnels created while excavating salt. The town itself is quite nice and worth seeing as well.
I contacted Bogota Pass for a tour as I was told that all tours go through them, however, my amazing guide also provides tours direct to the public. You can contact him at [email protected].
So, Which of the Best Places to Visit in Colombia Will You Go to?
There is a long list of the best places to visit in Colombia. Colombia destinations offer something for everyone. There are many variations in climate, elevation, and geography.
Many popular places to visit in Colombia are quaint small towns and villages and sprawling large cities with everything in between. You can make the perfect combination of a beach trip with city time and trekking time in the jungle.
Here are some ideas for a great three-week Colombia itinerary.
The people of Colombia are strong and proud, happy to shrug off the violent past to make way for a much brighter future. While you're there, take time to get to know the people.
Locals are generally very happy to talk to tourists and are incredibly helpful. In my opinion, as gorgeous as this country is, it's the Colombian people who really provide the biggest appeal to visiting this country. Learn more about Colombian people here.
You Might Also Like
Like it? Pin it!