21 Best Things to do in Cartagena
Looking for a list of the most fun things to do in Cartagena? Then, give this article a read to learn more!
There is an incredibly long list of fun things to do in Cartagena. The "Jewel of the Indies" features beautiful beaches, a stunningly-colorful walled city filled with incredible Spanish colonial architecture, amazing world-class cuisine, and interesting history. It showcases such an intriguing juxtaposition of ancient and modern throughout the city.
Cartagena was the backdrop to movies such as "Romancing the Stone." It also was featured in "Love in the Time of Cholera" by Nobel Prize-winning Colombian novelist Gabriel García Márquez.
Cartagena has a romantic allure and mystique. There are many fun things to do in Cartagena, and this article will share the best of the Cartagena attractions you won't want to miss.
Some links in this article may be affiliate links, which means that if you purchase through them, I receive a small commission. This will never cost you extra. Please read the disclosures to learn more.
A Brief History
Cartagena de Indias was founded on June 1, 1533, by Spanish Commander Pedro de Heredia. The location is the site of an abandoned indigenous village called Calamarí. The French attempted to invade in 1563, followed by the English and Dutch over the next century.
In the 17th Century, Cartagena became a hub for the slave trade in the Americas. It was a key port for the export of silver from Peru to Spain. During the 1800s, Cartagena led the charge for Colombian independence from Spain, succeeding in 1821.
Cartagena is the fifth–largest city in Colombia. It is home to more than one million people in the city and surrounding area. It is the largest port city in the country and a significant exporter of coffee, tobacco, sugar, platinum, and textiles.
Due to this, it was spared much of the violence of the 20th Century's civil war and conflicts. It continues to flourish as an economic hub for the country.
As a result, it's one of the most popular tourist destinations in Colombia. Particularly due to the number of people who visit on cruise ships, though many tourists do flock to this area on their own as well.
You May Also Like 25 Things to Know Before You Go to Colombia
UNESCO World Heritage Site
Cartagena is a UNESCO World Heritage site, including the "Port, Fortresses and Group of Monuments, Cartagena." It is considered an "Outstanding Universal Value." According to UNESCO, "Situated on the northern coast of Colombia on a sheltered bay facing the Caribbean Sea, the city of Cartagena de Indias boasts the most extensive and one of the most complete systems of military fortifications in South America."
THE UNITED NATIONS EDUCATIONAL, SCIENTIFIC AND CULTURAL ORGANIZATION (UNESCO) SEEKS TO ENCOURAGE THE IDENTIFICATION, PROTECTION AND PRESERVATION OF CULTURAL AND NATURAL HERITAGE AROUND THE WORLD CONSIDERED TO BE OF OUTSTANDING VALUE TO HUMANITY.
Source: UNESCO website.
I have found UNESCO sites to be interesting and rich in history. I do seek them out in the areas that I travel to and find they are always worth seeing.
Inside the Walled City
The area of Cartagena inside the old city walls is some of the most picturesque parts of the city. This colorful and quaint area is filled with Spanish colonial architecture. It is loaded with history, providing many things to see and do.
You could spend days just wandering this area, finding a new favorite street or building. There are many posts showcasing the most instagrammable areas.
The Best Things to do in Cartagena: Walled City
There are many amazing things to do in Cartagena. For this article, I'll split them by region in the city.
Sanctuary of Saint Peter Claver (San Pedro Claver)
This sanctuary is a beautiful building with a lush internal garden. It provides a great break from the very busy and touristy area of the old city.
Peter Claver was a Spanish Jesuit Missionary and priest who encouraged people to view the slaves arriving in the city in the 1600s as Christians. He worked on this mission for over 40 years.
Claver met the new slaves in the port with food and medicine. He aided them with adapting to life in the Americas and was known as the "patron saint of slaves."
A visit to the Sanctuary of Saint Peter Claver is a top thing to do in Cartagena, according to TripAdvisor. According to Wikipedia, "the Congress of the Republic of Colombia declared September 9 as the Human Rights National Day in his honor."
The Sanctuary of Saint Peter Claver is open daily from 10-5 for 16k COP (around $3.50 USD). Address: Plaza de San Pedro Claver, Cra. 4 ##30-01, Cartagena, Bolívar, Colombia.
Clock Tower (La Torre de Reloj) and Carriage Plaza (Plaza de los Coches)
The Clock Tower is one of the entrances to the old walled city of Cartagena, once the primary entryway. When it was built, it linked the Getsemani neighborhood to the Old City via a drawbridge over a moat. It used to be called Boca del Puento (the Mouth of the Bridge).
It is one of the city's most famous landmarks and the neoclassical tower was added in the 1850s. Several vendors line the tunnels through the wall selling souvenirs and books.
The gateway opens into Carriage Plaza inside the walled city. This iconic square and one of the largest in the city is where carriages used to pick up and drop off passengers.
Carriage Plaza was also the area in the city where slaves were bought and sold. There is still a bustling marketplace daily where Palenqueras (women from the town of Palenque) sell their sweets.
The Clock Tower is located in the southern area of the old city.
Zenú Gold Museum (Museo del Oro Zenu)
The Zenú Gold Museum preserves the legacy of the Zenú people, a local indigenous tribe. It is recognized as one of the top museums in Cartagena.
This gold museum has an impressive collection of gold jewelry and other pre-Columbian artifacts unearthed in the region. The volume of gold artifacts is second in the country only to the Gold Museum in Bogota.
Located next to Plaza Bolivar, the Zenu Gold Museum entrance cost is 5k COP ($1.60 USD). The museum is open from Monday through Friday from 8:30 to 5 and from 9-1 on Saturday. It is closed on Sunday. The official website is here. Address: Zenú Gold Museum, 3326 Carrera 4, El Centro, Cartagena, Bolívar, Colombia.
Take a Free Walking Tour
There are a number of free walking tour options, and I recommend Beyond Colombia. The tour starts just outside the old city walls in Mártires Square and hits all of the prime spots within the city walls.
The guides are good and provide a lot of great information about the history of the city, the people, and things to do in Cartagena.
They also provide a map with a bracelet that provides a 10% discount at many of the recommended tourist destinations. This tour provides a great orientation to the city and is worth doing.
The tour meets at the big statue of Camellón in de Los Mártires Square (White Umbrellas). Tours are 2 hours. They are offered daily at 10 and 4 in English and Spanish (the Spanish tour is only at 10 daily). This tour is free and gratuities are appreciated (an equivalent of $10 USD is recommended if you enjoy the tour or between 30-35,000 COP).
You May Also Like Why I Recommend Free Walking Tours
Plazas: Plaza Bolívar and Plaza de Santo Domingo
There are 16 squares in the old town area of Cartagena within the city walls. Plaza de Bolívar, or Plaza Bolívar as it is generally known, is a beautiful oasis in the center of the old city.
Plaza Bolivar is filled with mature trees and several fountains. It's a local hangout and generally has entertainment in the evening with singers and dancers to be appreciated by tourists and locals alike.
It was originally called the church square as it is in the shadow of the Cathedral. It was later called Plaza Mayor, followed by the Plaza de la Inquisicion.
In 1896, this square was renamed Plaza Bolívar after a statue of El Libertador Simón Bolívar was installed. It has been called that since. Plaza Bolívar was filled with beautiful white lights and white-light butterflies when I was there in December.
Get your first sighting of a larger-than-life Botero statue in Plaza de Santo Domingo. Facing a church, interestingly, and nestled between numerous shops and restaurants is the lovely la Gorda Gertrudis.
She is a nude statue with typical Botero exaggerated portions. It is supposed to be lucky to touch her left breast, and you will find that you're in good company with those who did, given the bright shininess of it.
Check out the other squares within the old city center and see the similarities and differences between them.
Food Tour
One of the best ways to learn about the exotic flavors of Cartagena is through a food tour. There are several to choose from, and Beyond Colombia has a free one that is worth checking out.
I always recommend free tours as the guides work on tips, so they are motivated to show you a good time.
Try patacón (deep-fried plantain), Colombian-style ceviche called Ceviche Cartagenero, Alegrías (a Palenque sweet), and local Colombian fruits.
This tour meets at the big statue of Camellón in de los Mártires Square (White Umbrellas). Tours are Monday through Friday at 4 and they are in English only. The tour is free though the cost of food is additional. Gratuities are appreciated (an equivalent of $10 USD is recommended if you enjoy the tour, or between 30-35,000 COP).
You May Also Like What You Need to Know to Go to Colombia
Watch the Sunset
Cafe del Mar is a great place to watch the sunset from its location on the old city walls. It's worth taking a stroll first then get there early to score a prime seat to watch the sun go down with your favorite local beer or pisco sour.
The drinks are a bit pricy here relative to what you can get elsewhere ($10+ USD for a mixed drink). You're paying for the view.
Cafe del Mar is located on the old city wall at Baluarte de Santo Domingo., Cartagena, Bolívar, Colombia.
Another great place to watch the sunset is at the top of the Sofia Hotel. Sit on the lovely rooftop by the pool sipping a cocktail and watching the sunset. Calle 32, de la Aduana, Cra. 45 #26c4, Cartagena, Cartagena de Indias, Bolívar, Colombia.
Palace of the Inquisition (Palacio de la Inquisición)
The Palace of the Inquisition, also the historical museum, faces the Plaza Bolívar near the Cathedral. Though it once held torture equipment used on victims during the Inquisition, the equipment was removed for Pope Francis' visit in 2015 and was not returned.
The building is a beautiful Spanish colonial with an interesting inner courtyard. Some of the exhibits have an English translation, but not all of them do.
It now is a historical museum on the lower levels and the upper level has art installations. When I went, there was an exhibit of photographs of people.
There was also an interesting LBGTQA display of several men dressed in what almost looked like a modern-day take on tribal or aboriginal garb. It was colorful and striking.
Inquisition Museum, Calle 34 #3-11, Cartagena, Colombia, +57 5 660 6025. It is open from 9- 6 Monday through Saturday and from 10 to 4 on Sunday. The cost is 22k COP or around $4.75 USD.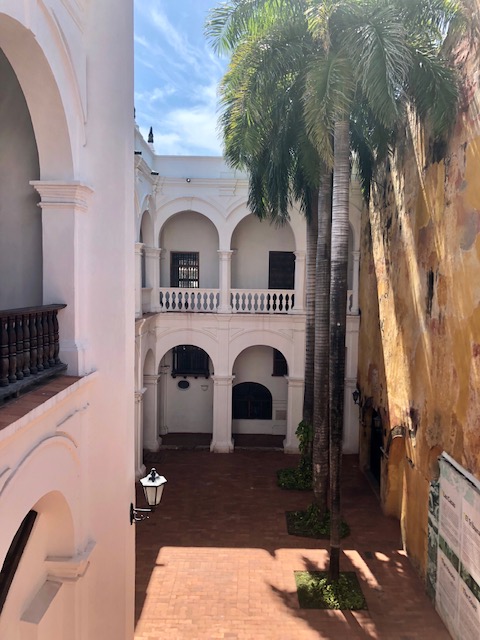 Dine on Locally-Caught Fish
Cartagena is right on the sea, so you know you are getting the freshest of fish wherever you go. The great part about this, as well, is you pretty much can't go wrong with anything you order. Some local favorites are mojarra roja (tilapia), sierra (Spanish mackeral), pargo (red snapper), or róbalo (sea bass).
Fish is often served a la plancha (grilled) with fresh herbs, fried, with garlic sauce, or with coconut sauce. Common accompaniments are small green lemons, plantain, and green plantain, and sweet coconut rice.
Fish is also often included in the soups and stews Cartagena is known for. Cazuela de mariscos (seafood stew) is a local Cartagena favorite, often including shrimp, calamari, and clams. And of course, there is ceviche, fish cured in citrus juice.
The Best Things to do in Cartagena: Getsemani
The Getsemani Cartagena neighborhood is where the thieves and hookers used to hang out. it wasn't a place that tourists went and it even wasn't a place where locals would go. All that changed.
Now this neighborhood offers a quaint, somewhat quieter, and less-crowded experience than inside the old walled city of Cartagena. Here you'll find some sleepy streets where the locals are hanging out, kids are playing soccer, and few tourists in sight.
This is the area to really get the local experience. When you step off the main roads and down the residential streets, you'll get to see what life in Cartagena is like.
You get to see life on the street. People were hanging outside and others had their doors open while preparing a meal. Neighbors spend time together watching the days pass.
This is an area for people-watching galore, including locals, artists, street performers, and tourists. There is a real charm in this area and I recommend you add a visit to your list of things to do in Cartagena
Get Lost Admiring Street Art
There is a lot of street art in Cartagena, but the art in Getsemani is simply breathtaking. And it's everywhere!
You would be hard-pressed to walk down a street in this neighborhood and not find any colorful murals on the walls. There are a few streets that have it lining much of the street. It's creative, interesting, and spectacular.
This historic neighborhood is worth seeing, and the artistic talent represented on the walls of this part of the city is worth a look.
The artists have a sense of humor, too. Especially the metal sculptures that are sprinkled throughout the area.
San Felipe de Barajas Castle (Castillo San Felipe de Barajas)
San Felipe, originally known as the Castillo de San Lázaro, is a well-preserved fortress on a hill overlooking the city of Cartagena.
Construction began in 1536, and it was later expanded in 1657. Though the castle fell to the French in the late 1600s, it was repaired and reinforced in the mid-1700s. It was a pivotal location in the war against independence with Spain.
When the castle ceased to be used for military purposes, it fell into disrepair. It was cleaned up and listed as a UNESCO World Heritage site along with the historic center of Cartagena. San Felipe is the #2 thing to do in Cartagena according to TripAdvisor.
San Felipe de Barajas Castle is open daily from 7-6 for 25k COP ($8 USD), and walkable from the city center or accessible by taxi. It is located at Calle del Guerrero No. 29 – 64 Cartagena de Indias.
Just behind the Castle is Zapatos Viejos statue. The "old boots" bronze sculpture is a tribute to poet Luis Carlos Lopez. He was of the greatest poets of Cartagena and this statue is in honor of his most popular work, 'To my Native City'. The address is Cl. 31 #18B-55, Cartagena.
Plaza de la Trinidad
Plaza Trinidad is a unique place to go in Getsemani and prime people-watching. By day and by night it's worth taking some time to explore this area.
Check out the fruit stands and food carts in this lively plaza. The Getsemani church on the square is beautiful as well.
When I was there in December, there was a beautiful holiday display including a boat and some more traditional Christmastime items.
The Best Things to do in Cartagena: Bocagrande and Other Areas
Playa del Bocagrande
If you're looking to dip your toes in the sand while you're visiting Cartagena, this is the place to go! It is just a short cab ride from the walled city.
Playa del Bocagrande offers the closest beach on a long strip of water. It's one of the most popular beaches in Cartagena and worth visiting.
You get views of the uber-modern part of the city in Bocagrande. There is a walking path by the water that you will see locals and tourists on. Or you can walk the sandy beach and enjoy the ocean views.
Playa del Bocagrande is located here on a map.
Mártires Square and the Harbor
Mártires Square offers a great view of the Clock Tower and the entrance to the old city of Cartagena. The square was decorated with thousands of small white lights in December and was stunning to walk around.
By day, there are lots of small vendor tents selling local goods and handicrafts. There is a steady flow of people passing through this square and it's a great place for local people watching.
When you need a break from the foot traffic, walk over to the harbor and admire the twin Pegasys statues near the water.
Mártires Square is located here on a map.
Parque Centenario
I scored an amazing tip before heading to this park to see the animals, to ask around for a young man named Ricardo. You may notice him carrying a white grocery store bag filled with fruits and if you don't, ask around for him. Everyone in the park seemed to know him.
He will show you around and introduce you to his friends: a family of five monkeys, including one very adorable baby monkey, up to 25 red squirrels, and iguanas. You have the opportunity to feed them bananas and other fruit.
I had read about the animals in this park but likely wouldn't have found them (the monkeys and red squirrels, anyways), without Ricardo. He was a really nice guy and appreciates a tip for his services. I thought it was well worth it!
Parque Centenario is located here on a map.
Mercado de Bazurto
This huge local market is a 30-minute drive from the old walled city and across the road from Cienaga de Las Quintas Lake. This labyrinth of a market is not for the faint of heart and is often described as an "assault on the senses."
It showcases endless stalls with fruit, vegetables, meat, fish, and everything you can possibly imagine. If it can be sold, it's here.
Vendors start setting up at 2 am and just-caught fish is set up early morning so you know it's fresh. This is no tourist market, but a market for the locals and therefore a great people-watching experience.
It is not advisable to accept any tastes as items are not well washed. Those that are were washed in local water can cause stomach upset if you are not used to the local water. Do make purchases, but plan to either cook or peel the items before eating.
And of course, be aware of your surroundings and keep a close handle on your bags. Though this market is not for everyone, it is considered by many to be one of the best things to do in Cartagena.
Mercado de Bazurto is located at Av Pedro De Heredia, Cartagena 130001, Colombia. A taxi costs around 7-9k COP ($2-3 USD).
The Best Things to do in Cartagena: Day Trips
Though there are so many fun things to do in Cartagena, there are quite a few day trips that are worth doing if you have a couple of extra days. Here are some of the best.
Palenque
The best day trip from Cartagena is to Palenque de San Basilio, the first freed town in the Americas. This village of only 3,500 people is around an hour from Cartagena.
The people are descendants of West-African Congo slaves. These people escaped Cartagena and the surrounding areas in the 17th Century and established the town of Palenque.
Many Palenque villages were established in Colombia and in other South and Central American countries. Only San Basilio survives to the present day while holding its unique cultural heritage intact.
You May Also Like Best Day Trip from Cartagena—Palenque de San Basilio
Palenque de San Basilio is a UNESCO World Heritage Site. According to UNESCO, Palenque de San Basilio is a "Masterpiece of the Oral and Intangible Heritage of the Humanity."
Explore the town with a native, learn some of the Palenque language, and play music with a locally famous and world-recognized musician.
It's a day trip you'll never forget and one of the top things to do in Cartagena. You can read more about visiting Palenque de San Basilio in this article.
I recommend Juan Ballena tours. For $99 USD, you are picked up and returned to the place you are staying, driven to Palenque, get a local guide, and get a huge and delicious lunch. We were picked up between 8 and 9 and returned by 3.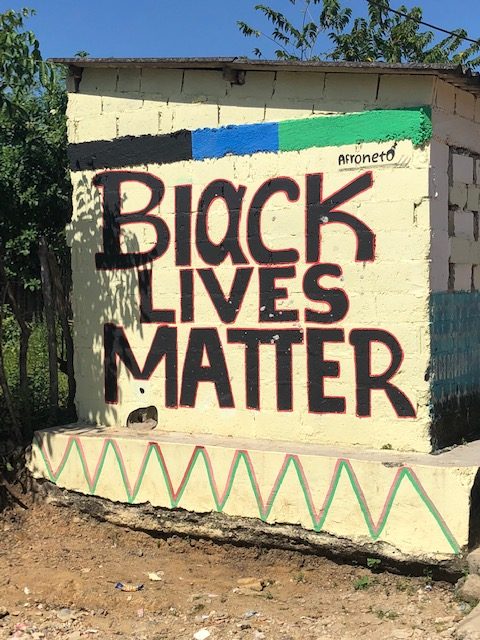 Playa Blanca
Located on the largest and best-known of the Rosario Islands (Isla Barú), Playa Blanca is a short, one-hour trip from Cartagena by ferry. It is a very popular thing to do when people visit Cartagena.
You can enjoy some quieter time on the beach in the early morning and late afternoon. Make a day of it or stay overnight as there are options to choose from.
The Rosario Islands offer some stunning beaches as well as other activities. You can do things like kayaking and exploring mangroves, scuba diving, and night swimming with phosphorescent plankton. This article has some great ideas for why you should visit.
Totumo Mud Volcano
The Totumo mud volcano is a popular half-day trip from Cartagena. The mineral-infused mud is reputed to have healing properties. There are a number of tours that will handle the logistics of pick up and drop off, allowing for some time to soak in the mud.
Here is a tour that includes transportation from Cartagena.
Parque Tayrona
Though this is not a day trip, I highly recommend a visit to Parque Tayrona. It is a 5-hour bus ride to the park and very worth seeing the stunning Tayrona National Park.
It is located within Santa Marta, the oldest city in Colombia, and the second oldest city in South America, founded by the Spanish in 1525.
Tayrona Park offers much of the biodiversity in Colombia of flora and fauna, with a range of tropical beaches to lush jungles. There is also an archaeological ruin called Pueblito to visit. Tayrona offers some of the most picturesque scenery in the country.
The entrance fee is 57,500 COP (around $12.25 USD). Additionally, food and lodging costs are higher than in most of Colombia so plan accordingly.
Best Places to Eat in Cartagena
Street food is plentiful in Cartagena, and I especially enjoyed arepa corn cakes and local fruit juices. There are a lot of traditional fruit flavors, and also some interesting local fruits like my new favorite, lulo.
Also known as naranjillo, this was described to me as rhubarby citrus, and that nailed it for me. It has a sweet and tart flavor which I thought was incredible and I highly recommend.
There are so many options including guava, papaya, banana, blackberry and some more traditional juices like orange and pineapple.
Though I tried to only drink bottled water and to not have ice cubes in my drinks, I gave up and happily accepted the risk with fruit juices. (Note: they add water and ice to the juice, and even the jugo con leche, with milk, has ice).
I gave up and very happily enjoyed the juices with no ill effects. Whew!
Restaurants I Recommend in the Walled City
La Cevecheria offers incredible ceviche and showcases a picture of my favorite travel documentarian, Anthony Bourdain.
Montesacro Resto Bar is an amazing restaurant with great service and incredible food. You can get a balcony seat overlooking the lovely Plaza Bolívar.
Porton de San Sebastian is a good option in the old town new Plaza Santo Domingo, and it was recommended by my host. Lots of good local food and very inexpensive.
Grab a drink on top of the old city wall at Cafe del Mar to watch the sunset over the ocean.
Restaurants I recommend in Getsemani
La Cochina de Pepina (Getsemani) is incredible and affordable. They offer amazing local soups and a traditional beef dish called Posto Cartagena. This dish is also called carne negra, and it has an amazing mole sauce. The restaurant is only 8 tables but it is well worth any wait.
I got a coffee at Cafe Oh La La (Getsemani) while I waited for La Cochina de Pepina to open and wished I had another meal to eat there. It's beautiful inside and offers a mix of French and local cuisine. Another diner said her breakfast was amazing. I'll tell you that they brought me some bread with the coffee with a passion fruit jelly. Oh my goodness, it was all I could do to not just grab a spoon.
Where to Stay in Cartagena
Walled City
Staying inside the walled city of Cartegena is an obvious choice. There are a lot of different accommodations to choose from, including hotels, apartments and Airbnbs, and some hostels.
The hotels are smaller and mostly local and boutique-style hotels. I chose to stay in this area of the city for convenience. Since I was visiting for just a few days, it was a convenient place to tour the area. It is also generally safe as well.
Getsemani
Were I to visit again, I think I would stay in Getsemani. This neighborhood seemed a bit less crowded than the old walled city area and is just a 15-minute walk or so from that area.
There are a lot of small hotels and hostels as well as apartments to choose from. The prices are a little lower on average and it's a bit quieter. There are lots of restaurants and shops though, so there is still plenty to do in the area.
Bocagrande
Just a short drive from the old city of Cartagena is the Bocagrande neighborhood. It's a very modern area along a long, sandy beach with palm-lined promenades. There are many large, modern hotels in this area and there is a lot to do including thriving nightlife.
Bocagrande has several casinos and lots of restaurants ranging from fast-food chains to locally-owned places. There is also plenty of shopping from local boutiques and an upscale mall.
This is one of the most expensive areas in the city but has all of the conveniences of its modern affluence.
Hotel Options
There are a lot of hotel options in Cartagena all over town. Here are some options in the walled city and Getsemani areas, near where most of the places you'll likely go are.
Budget: Hotel El Viajero #2 is a solid budget hotel right in the old town. It is comfortable with air-conditioned rooms and WiFi in a great part of the city.
Mid-Range: The Getsemani Cartagena Hotel is a nice hotel at a great price only ten minutes from the Clock Tower. The rooms have been redesigned and almost half are in the original Republican House in period style. Some rooms offer city views and others views of San Felipe Castle. Rooms are air-conditioned and comfortable.
Luxury: The Sophia Hotel is in a perfect part of town, right in the center of the walled city. Rooms are comfortable with air conditioning (great for muggy Cartagena!), a minibar, and a fridge, but that's not the best part of this hotel. It also has an incredible rooftop deck with a pool! This is one of the best places in the city to watch the sun set. And, this hotel has a surprising mid-range price tag.
Cartagena Weather and When to Visit
Cartagena weather is rather hot and humid all year. The rainy season is typically in May and June and October and November. It tends to be cloudy and overcast during this time.
The dry season, generally in December and January, and July and August, is often windy. Temperatures range from 76 degrees Fahrenheit to 88 degrees and can range by a few degrees in each direction.
The best time to travel to Cartagena is just after the high season (In March) and from June to August. The best time for the country as a whole is between December and March. This is because it rains the least during these months, especially in the Andean regions. This is Colombia's peak tourist season and prices soar at this time.
Why You Should Visit Cartagena
Cartagena is a popular tourist destination in Colombia, and it's easy to see why! Its proximity to the beach, natural beauty and colorful interesting architecture, extensive history, and the long list of fun things to do in Cartagena all make it a popular place to visit.
What really makes Colombia stand out, though, are the people. If there is one thing you must know about Colombia, it's that the people are truly the most appealing reason to go.
Colombia is a stunningly beautiful country, but the people are so kind and curious and proud. They are the real reason to visit and they are why you will fall in love with the country.
You Might Also Like
Like it? Pin it!