Best Day Trip from Cartagena: Palenque de San Basilio
Cartagena is a top draw for visitors to Colombia and with good reason—it's stunning! There's a lot to see and do in the historic town center. If you have the time, there is another appealing reason to visit Cartagena, and that's a day trip to Palenque.
The best day trip from Cartagena is a visit to the village of Palenque de San Basilio, just over an hour away. There's nothing "typically Colombian" about this village, however. And you know it as soon as you drive into town on the main road.
There is a bustle of activity from people wearing brightly-colored clothing of red, yellow, and blue in the national Colombian colors, in contrast to their beautiful dark skin.
Here are some of the amazing reasons to visit Palenque and what to expect when you do.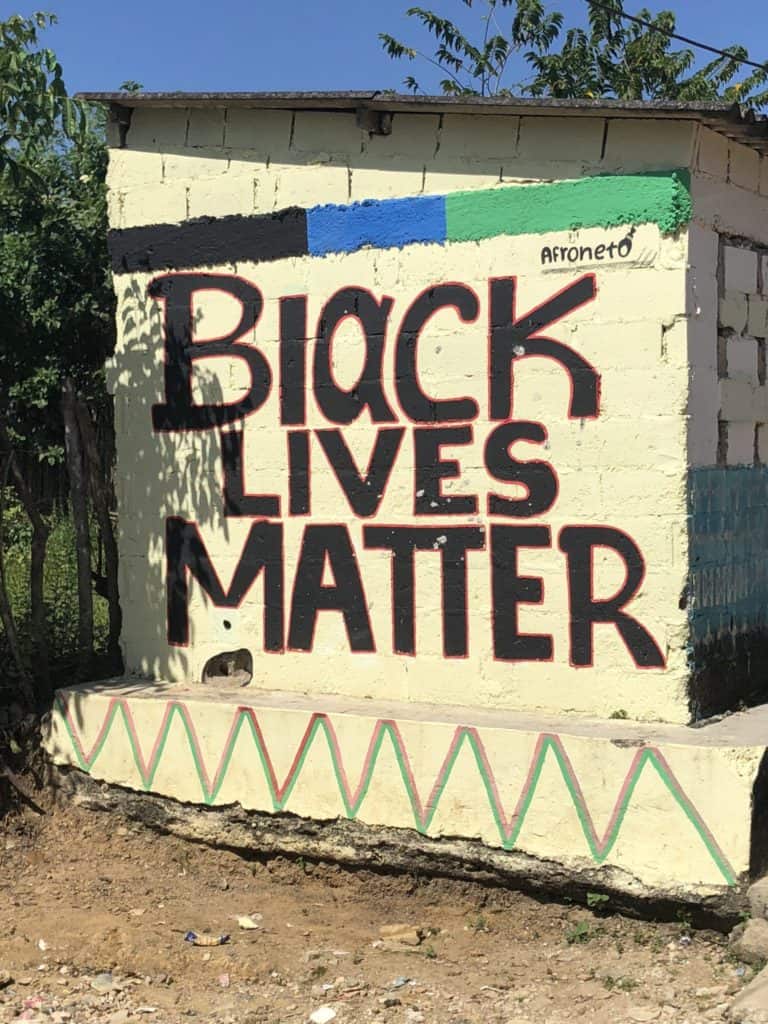 This post may contain affiliate links, which means I'll receive a commission if you purchase through my links, at no extra cost to you. Please read full disclosure for more information.
Palenque de San Basilio – UNESCO World Heritage Site
According to UNESCO, Palenque de San Basilio is a "Masterpiece of the Oral and Intangible Heritage of the Humanity." Though many Palenque villages were established, only San Basilio survives to the present day.
Palenque holds intact the unique cultural heritage of the people. It also has the distinction of being the first freed town in the Americas.
Welcome to Palenque de San Basilio
This village consists of around 3,500 people descending from West-African slaves who escaped Cartagena and the surrounding areas in the 17th Century. They established this place in the foothills of the Montes de Maria mountains and have remained there since.
We were greeted by Viktor, our guide for the next few hours. He is a happy and charismatic man who has lived his entire life in the village of Palenque de San Basilio. Through his eyes, we got to see the beauty of this place, and of its people.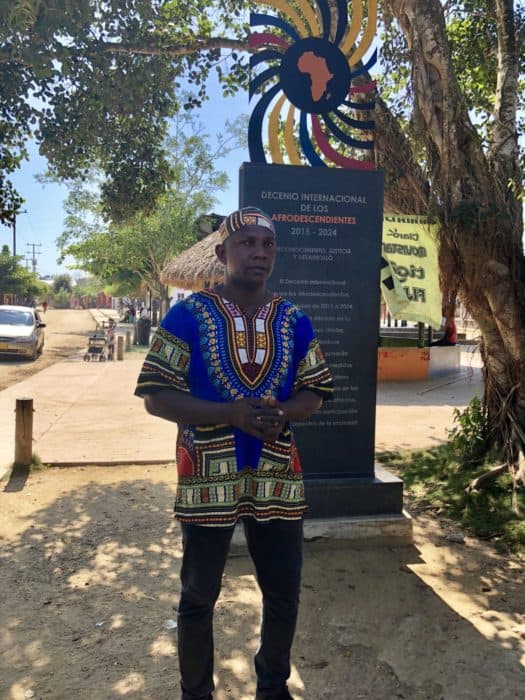 The people in Palenque originated from Congo and were brought to Colombia during the colonization of the Americas by the Spanish. Many fled Cartagena and other cities due to the harsh conditions and treatment they were subjected to.
They often established colonies outside the cities where they lived. There are some similar Palenque groups in other South American countries. But only San Basilio remains entirely unintegrated with the surrounding society.
Though only 35 miles from Cartagena, the muddy roads that created the safety for this village hundreds of years ago now create isolation, so many have moved to cities for work.
Even still, there are many Palenqueros who take the bus to and from Cartagena daily. They go to sell items like fruits and sweet candies. These Palenqueros do remain in this village, working hard to preserve their identity and culture.
You May Also Like 21 Best Things to do in Cartagena
Palenquero
The Palenque language, Palenquero, is a mix of Spanish, French, Portuguese, and African with the sound of Creole. According to Wikipedia, fewer than half of the current residents of Palenque speak the language, and efforts are underway to ensure its preservation.
Palenquero has an interesting sound. Though it may have influences of Spanish, it isn't understandable, even to those fluent in Spanish. Here are some examples:
Kumo Kusa Ta – How are you?
Asina ria — good morning
Numana mi – sister
Numano mi – brother
Asina que – it's good
Asina que nu – it's not good
Kombelisa mi – my friend
Angrasia – thank you
Viktor quizzed us throughout our time with him. "Kumo Kusa Ta?" was responded with a blank stare and a giggle. It was a difficult language to remember as it's so different from other languages we had heard in the past.
We did our best, which was pitiful, and he was a great sport about it. Occasionally we got the responses right, and other times we had a great laugh that Viktor was happy to join.
Life in San Basilio de Palenque
Conditions in this village are poor, though improving. Most of the town now has electricity and running water, though we were told many locals still go to the creek to wash clothes and bathe.
The improvements are in large part due to a project by the United Nations called Decenio Internacional Para Los Afrodescendientes. The town now has a medical clinic with doctors and an ambulance as well as a small school where Palenquero is now taught to all students.
In the center of town is a statue of Benkos Bioho breaking out of chains. He established Palenque in 1603 with 36 other escaped slaves. He established a network that helped other slaves to escape and to make their way to Palenque or other similar villages.
Throughout the town, there are artistic representations of pride, from a "Black Lives Matter" mural to other murals depicting strength and their connection to Africa.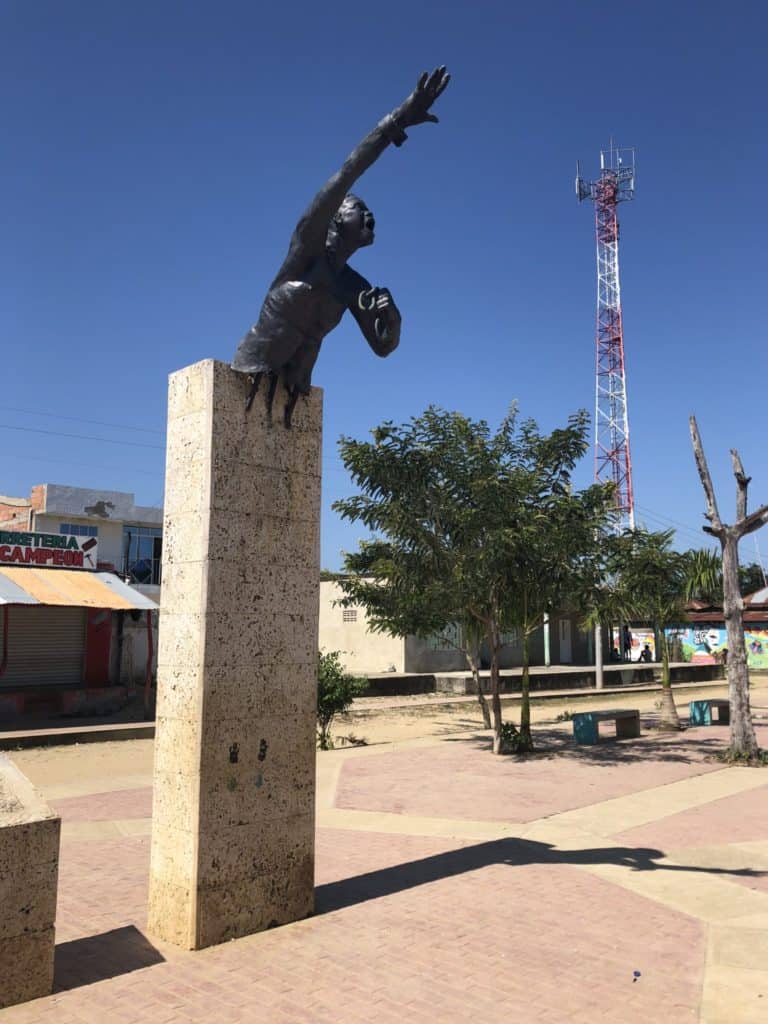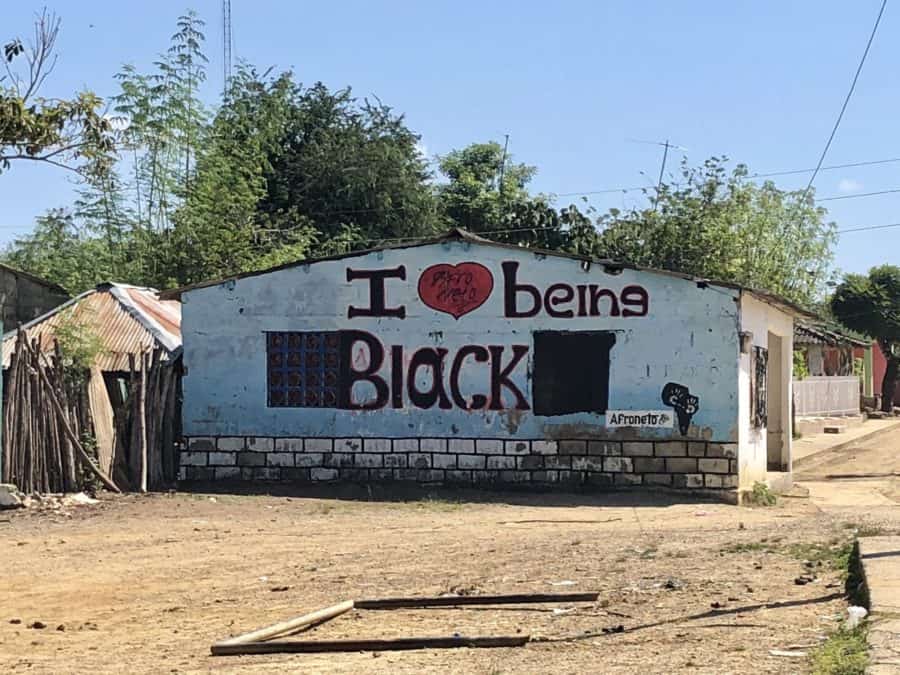 Palenque Colombia Culture
Viktor said that around 4 p.m. every afternoon, the music starts. It was only 1:30 and we heard some very loud, fun music with a great beat playing so he started dancing as we were walking.
"It must be 4 o'clock somewhere," he said with a smile, spinning one of the women in my tour group. Song, dance, and music are ingrained in this culture and are a part of their daily life.
We walked down the dirt roads and looked at the modest homes. People watched us with some interest, though they are used to people coming through on tours. It is one of the ways the people in the town support themselves.
Every October, there is a drum festival (Festival de Tambores) in Palenque. It is featured as one of Colombia's most underrated festivals and celebrations, according to Culture Trip.
Viktor said it lasts for three days and nights and that it's a lot of fun. Though I found many articles and blog posts about this festival, I haven't found anything that shows specific dates.
Kombelisa Mi
We stopped at a small building where a man was sitting outside with his young daughter. He is the tallest man in the center of the picture below, from a band called Kombelisa Mi, described as a hip-hop group and as a "Populist Afro-Colombian dance party."
He welcomed us in and we saw some instruments that were recognizable, like a xylophone and drums, and some that are very unusual and had the look of "swamp music instruments" I have seen in New Orleans.
They have played at international venues, including the Kennedy Center and the Lincoln Center, as well as places in Europe and South America.
Then he started to play the xylophone and sang in such a lyrical and beautiful rhythm. We were encouraged to play as well. His little daughter danced with a friend while we played the instruments and laughed.
He then took a turn on the hand drum. His talent and enthusiasm were clear. Music and dance are very much ingrained in the Palenqueros.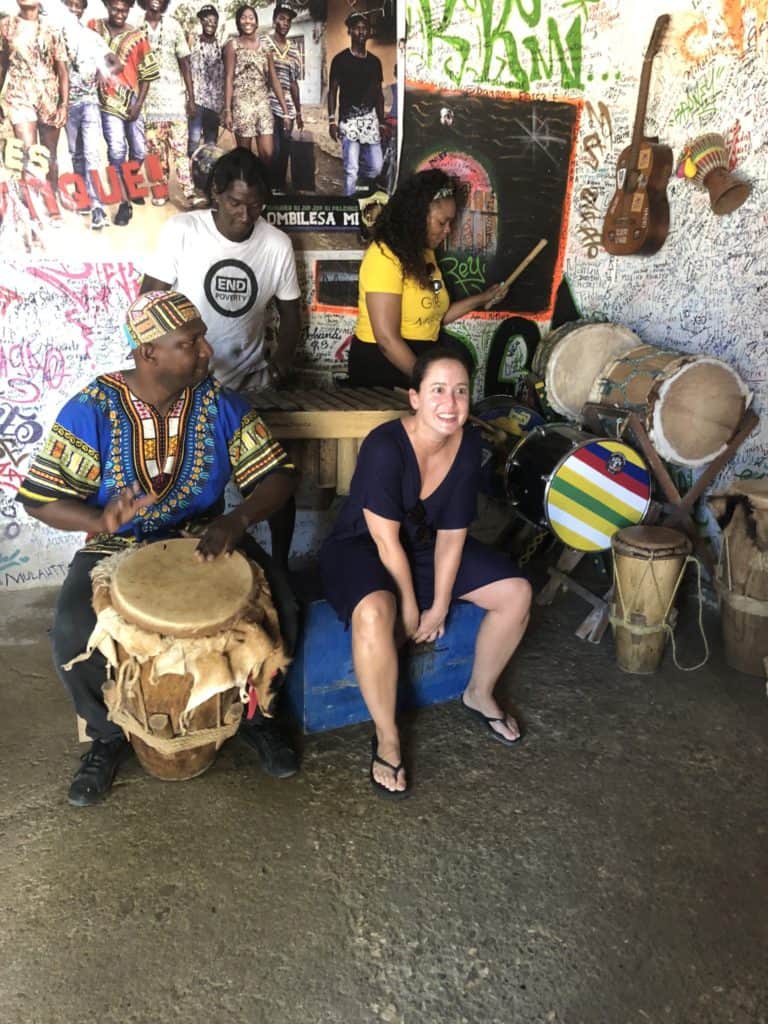 Palenqueras
In Cartagena, Palenqueras adorned in traditional dresses walk with large bowls filled with fruits and sweets on their head. Many have small stalls and tables in the Plaza de los Coches loaded with unfamiliar and interesting-looking items.
Selling these is their livelihood and making these sweets from hundreds-of-years-old traditional recipes is a way to keep the culture alive.
We were able to purchase some of the sweets made from dried fruits like mango, guava, coconut, and sugar cane. And some locally made liquor made from sugar cane called aguardiente.
I purchased a small plate of sweets for 3,000 COP (around $1 USD). The ball is called Alegria, or happiness. I like that.
To learn more, this link has some interesting information and a great tip: if you wish to take a picture of the Palenqueras, buy the sweets and ask for permission. It is polite and appreciated.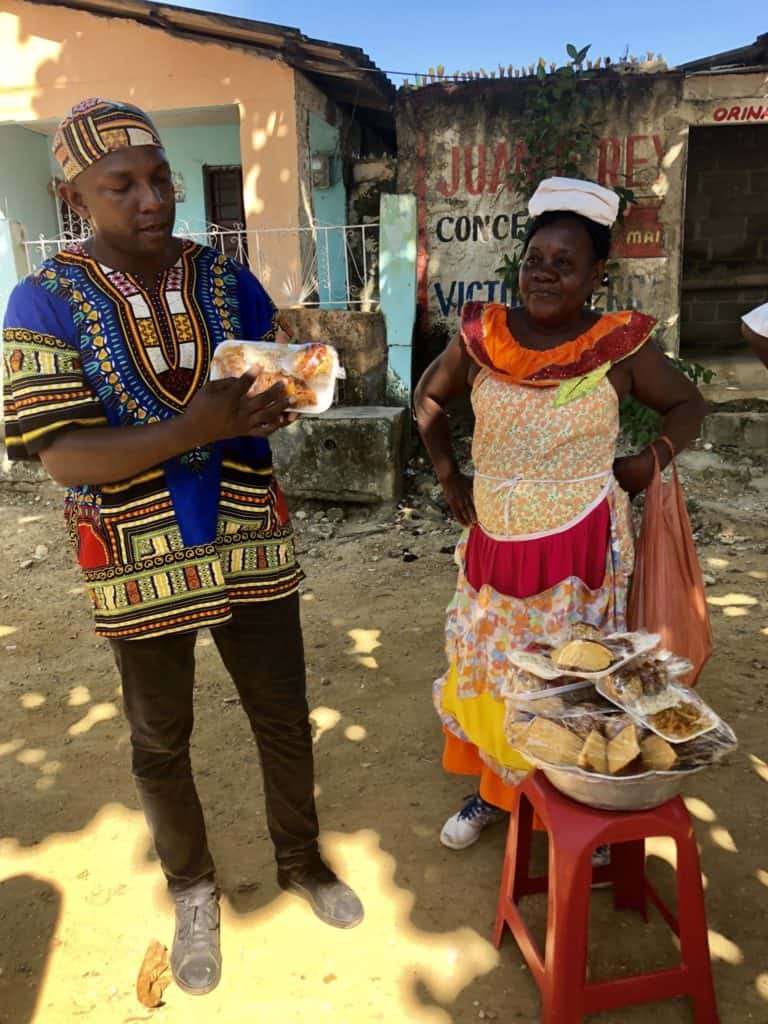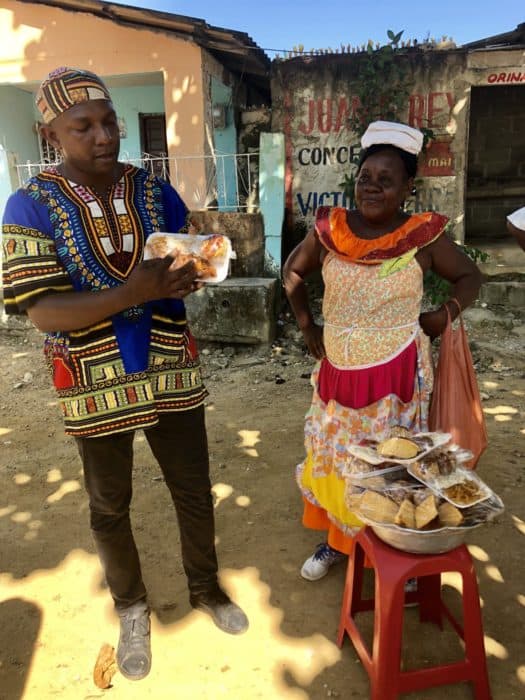 The sweets are good and quite sweet. I got one with Alegria, mango, and coconut. Alegria is a bit chewy and sticky and the fruit in it is heavily sugared.
The mango and coconut had a very thick sugar coating and though I'm a sweet tooth, I found it a bit sweet and a bite was enough. They are very worth trying, and of course, supporting the locals.
Palenque Tour
I highly recommend a day trip from Cartagena to Palenque de San Basilio. My trip to Palenque was through Juan Ballena, booked through Tripadvisor. It cost only $50 USD (regularly priced at $100, but they were running a special.)
We were picked up and dropped off where we stayed in Cartagena and were driven in a comfortable van. After the tour, we stopped at a restaurant minutes from the center of Palenque for a very good, very large lunch and headed back.
Lunch was meat (chicken, fish) or vegetarian (egg and lentils) with rice, beans, and salad with fresh-squeezed orange juice.
Viktor was a great guide who conveyed his passion for Palenque. We got to speak with a few of the locals through Viktor, and it was a great introduction to the village and to the people.
I have read that visitors can take dance classes, drumming lessons, and learn from a local herbalist, and think it might be interesting to go during the drum festival to learn more about this amazing little village.
I had to do some digging to find this trip and I'm not sure why. If you are looking for the best day trip from Cartagena, I highly recommend this one.
Other Palenque Tours
There are a number of other well-rated tours to Palenque in case you'd like options.
Where to Stay
If you want to stay in Palenque, there aren't a lot of options that are easy to find. Hotel – Granja de Animales San Basilio de Palenque is three miles away and looks to be a good option. It's nothing fancy but a well-rated option with comfortable rooms, friendly staff, WiFi, and even hammocks.
For information about other great places to visit when in Cartagena or in other areas of Colombia, this article offers information on the best places to visit in Colombia.
You Might Also Like
Like it? Pin it!