The Best Medellín Day Trip—Guatapé, Colombia
Guatapé, Colombia, often called "the most colorful town in Colombia," is a small Spanish colonial town around two hours from Medellín. It is one of the top Colombian tourist attractions.
There are many reasons why this is such a popular day trip from Medellín. It's known for its beautiful Spanish Colonial center, beautiful and brightly colored buildings, and the gorgeous Guatapé Lake, among other things.
When I learned of the secret past hidden in the area, I was intrigued to learn more. Here's what you'll want to know about Guatapé, Colombia, and everything you'll see on your trip.
Some links in this article may be affiliate links, which means that if you purchase through them, I receive a small commission. This will never cost you extra. Please read the disclosures to learn more.
My trip to Guatapé, Colombia
I decided to take a group tour with a group my Airbnb host recommended. It was larger than I hoped, however, since I turned out to be the only non-Spanish speaker on the full bus. Thankfully, Jessica, our guide, spoke fluent English.
Raul and Kaitlyn, a father and daughter who lived for a time in the United States and spoke fluent English, approached me when we stopped for breakfast and asked me to join them. The people of Colombia are so friendly, helpful, and curious and this was consistent with what I saw throughout my trip.
Colombian Breakfast
I was introduced to my new love at breakfast, agua de panela (or aguapanela) and panela caliente. It's a traditional local drink made of sugar cane and boiled water. You boil the sugar cane to a paste and let it caramelize, then boil it with water.
The aguapanela is cold and mixed with a little bit of lemon juice (locally called guandolo). It tasted to me like an Arnold Palmer (iced tea mixed with lemonade). I drank this many times throughout my trip, both hot and cold, and highly recommend it.
Breakfast was a huge affair, like all meals are in Colombia. It included eggs, arepa corn cakes, a square of white, soft and salty cheese, plantain, and panela. A man next to me was eating something that I wasn't familiar with. When I asked Raul what it was, the man next to me offered me a piece of it and insisted I try it.
It was chicharron or fried pork skin. Not my favorite, but I read that it's a very traditional food in Colombia that you must try at least once. This was my once! We were in the town of Marinilla, where people are known for being good sellers of local products. Jessica shared stories of their sales conquests.
New Peñol and Old Peñol
In the 1970s, the government decided to flood 5,600 acres of hilly landscape to create a lake to power a hydroelectric dam. The strategy worked, and today the dam created on the new Guatapé Lake powers around 36% of Colombia's electricity.
In the meantime, it creates some of the most spectacular landscapes you will see in the country. Though the work destroyed much of the three towns, it created what has become one of the top Colombian tourist attractions.
For the construction of this impressive reservoir, the former town of El Peñol was completely demolished in the '60s. Its inhabitants were relocated to New Peñol (Nuevo Peñol).
New Peñol doesn't have the charm of its colonial predecessor. However, it does have a couple of sights to see, including the Phoenix of America statue and a church made of rock, representing the strength of the people.
There is also a quaint replica of Old Peñol by the created lake that you will want to see. It features a recreation of the old church, several tourist souvenir shops, and restaurants serving traditional food.
There is another replica of a traditional town center similar to this called Pueblito Paisa (little town). Some items from the original town of Peñol were taken to build this replica. This includes building materials and the church door. Pueblito Paisa is a Colombia tourist attraction in Medellín.
Guatapé Lake
After a quick tour of Old Peñol, we took a boat ride around Guatapé lake. It was a gorgeous day with the sun shining and a light breeze. The ride was around an hour and took us through the main area of the lake.
We passed over the old town of Old Peñol located 29 meters beneath the surface. There is a large cross in the middle of the lake, demonstrating where the old church was. This area was beautiful and had nice anticipation of the beauty to come.
We passed the hollowed-out and gutted buildings of a group of homes once owned by Pablo Escobar leading onto a peninsula going into the lake. Our guide pointed out a white house on the lake where Dr. Dimetrio once lived. He had no wife but had 36 children.
The doctor offered free services to the people one day a week, though it was said that the service wasn't entirely free…
La Piedra del Peñol
One of the top Colombian tourist attractions and a highlight of this area offering the best views of this incredible landscape is La Piedra del Peñol. It's a monolithic presence that appears out of nowhere.
La Piedra del Peñol, also known simply as Peñol, is a large granite rock 2,135 meters (just over 7,000 feet) above the ground.
The History of el Peñol
This large rock is located on private land. As the story goes, there were three sons and when the parents died, the land passed to them.
El Peñol is situated on infertile land and the youngest, Eduardo Vigegas, got it at his request. He had a vision for what el Peñol is now and climbed it in 1978. Later, wood steps were added, and finally, a concrete staircase.
The rock was first climbed officially in July 1954, when Luis Villegas, Pedro Nel Ramirez, and Ramón Díaz climbed the rock in a five-day endeavor. They used sticks that were fixed against the rock's wall. You can scale it, climbing over 700 steps.
Originally made of wood, it's now a winding concrete staircase. Raul and Caitlyn remained with me through the day. At the top is a small store where you can buy souvenirs, snacks, and drinks.
Raul got a Michelada, beer with mango pieces, and lemon juice. I wish I like beer, as it looked really good.
On the northern face of the stone, there are large white painted letters "G" and an incomplete "U." (It is actually only the single vertical stroke that was completed, resembling an "I").
The towns of Guatapé and El Peñol had long disputed ownership of the rock. The residents of Guatapé decided to settle the matter by painting the town's name on the rock in huge white letters.
It did not take long for the residents of El Peñol to notice the work, and a large mob was assembled to stop it. Only the "G" and part of the "U" were completed.
Guatapé, Colombia
If La Piedra is top of the list of natural Colombia tourist attractions in this area, Guatapé is the top manmade one. Our last stop of the day was another highlight of the region and the picturesque town of Guatapé.
Guatapé is known as "the town of Zocalos" due to the beautifully carved and brightly painted 3D motifs of village life that adorn the bottom of almost every building in the historic city center.
These zocalos were created by Jose Maria Paula. The concept caught on so all of the buildings in the historic center were updated to include them. Each is customized to the interests of the house owner.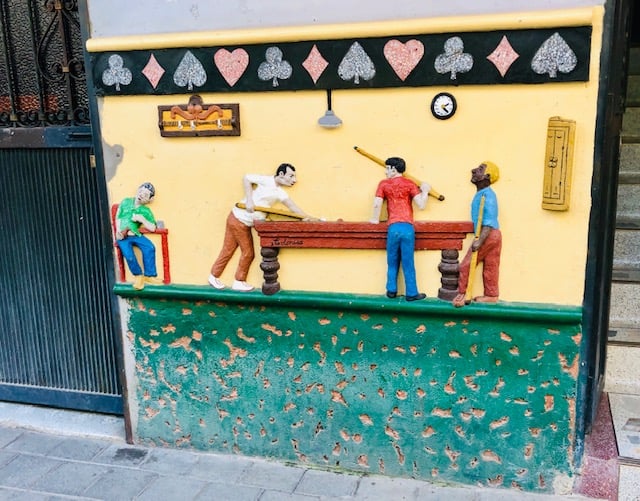 Though some of Guatapé, Colombia, was submerged in the lake, the historic center thankfully was not. It was the most stunning town center that I saw while in Colombia.
We noticed a large stage in the center of the town but we were not sure what it was for. Just before we left, we were entertained by a fairly large LGBTQIA parade marching through the town.
Medellín to Guatapé
I visited Guatapé with Viajes Maxitours, which my Airbnb host organized for me. The cost was 70k COP ($22.50 USD), including breakfast and lunch and hotel pick-up and drop-off. It is a full-day trip and including picking up passengers it took around ten hours.
You can also take a bus from the Medellín Norte (North) bus terminal. The bus costs COP 14,000 (around $2.50 USD) and leaves hourly. You don't need a reservation, but you will want to show up 15 minutes to 30 minutes in advance to snag a seat.
I do recommend a day tour both for convenience and to learn more about the history, which you don't get if you travel on your own. This is a popular day trip so there are lots of options, including small group tours.
This Guatapé tour from Medellín is a great option or you can book a private Guatapé tour. Either way, prepare yourself for an amazing day trip!
Things to Do in Medellín
When I was researching Medellín, visiting Guatapé, Colombia is in the top five things to do. It is one of the top Colombian tourist attractions. In TripAdvisor, visiting Guatapé Lake (laguna de Guatapé) is actually the #2 thing to do in Medellín.
It's not only a really nice break from a city that feels quite large, but it's a stunning and interesting trip worth taking. When you visit Medellín I highly recommend a day trip to the lovely Guatapé.
For information about other great places to visit when in Bogota or in other areas of Colombia, this article offers information on the best places to visit in Colombia.
You Might Also Like
Like it? Pin it!