Is Colombia Safe for Travelers to Visit?
Colombia is a country in South America that's becoming increasingly popular for tourism. Though it may not be on your radar due to its dark past, it's painting a bold new future, busily redefining itself as a country on its way up.
Colombia isn't perfect and does have its issues like any, but it's making incredible strides for improvement. Is Colombia safe to travel to? Read this post to find out!
This post may contain affiliate links, which means I'll receive a commission if you purchase through my links, at no extra cost to you. Please read full disclosure for more information.
Colombia's Dark Past
When you think of Colombia, the show Narcos probably comes to mind: drug cartels, excess, and violence. That was certainly true of the Colombia of the 1980s and 1990s when the "man from Medellin" held a position of power.
The more recent history, even until a few years ago, was one of guerrilla groups as well as drugs and violence. Violent crimes were common as well as kidnapping.
When I visited Communa 13 in Medellin, a neighborhood that was once the most violent and dangerous in the city which has transformed itself through art, education, and hard work, my guide was a young boy during the darkest times in the country's history.
With a faraway look in his eyes and a sobering directness, he told us story after story of the violence that he saw on the way to and from school regularly.
What really struck me was the way he shared his stories—almost seeming indifferent to it but probably more numb to the horror. Just imagine being 6 years old and walking past a dead body on the street!
He showed us several artistic living murals where potted plants were gathered on a wall, each with the name of a loved one who went missing and was presumed dead. It was truly hard to get my head around this, and that's probably the case for many of us.
Having gone through such traumatic and imprinting experiences makes the Colombia of today even more special. The Colombian people are proud of their country and what they are becoming and they are actively changing it.
They don't see themselves as the victims of their past but strong proponents of a beautiful future.
2016 Peace Accord
In truth, peace in Colombia is a fairly recent thing. In 2016, there was a peace accord between Colombia's government and the paramilitary group FARC (Revolutionary Armed Group of Colombia), the largest of what is known as guerrilla groups that plagued Colombia for many years.
Since then, Colombia has enjoyed an unprecedented period of peace in the country.-No, 2016 isn't that long ago, is it? But it has made a world of difference to the everyday Colombians.
They are proud of their country and are thrilled to open it to tourists. Of course, tourism brings much-needed money to the people, which in turn, supports their desire for change.
Are there problems in Colombia, still? Of course. It's a developing country and it has many of the typical issues associated with large areas of poverty. And, though there is a peace accord with the largest paramilitary group, there are still others that are active in certain areas, making them unsafe for travelers.
Is Colombia Safe for Tourists?
Visiting Colombia is a "do your homework" country to visit. Many, and even, most areas are safe enough for visitors. However, there are some places where tourists should not go and they are well documented. (As of this writing, the highlighted areas are the southwestern and northeastern areas of the country bordering on Ecuador and Venezuela).
The same goes for the places on the tourist path as well (the areas noted are generally not). Some of the most heavily touristed areas in Cartagena, Medellin, and Bogota. If you do your homework, you'll read some cautions and they are the same as you'd read for any cities.
Even in New York City and other cities in the United States (as well as around the world), there are similar cautions. There are neighborhoods where tourists should not go. And there are cautions like not flashing valuables and keeping a hand on your belongings that will help you anywhere you go.
So, is Colombia safe for tourists? I would say an emphatic yes and I'd encourage anyone interested to visit this incredible country which stole a piece of my heart.
Colombia Safety Wisdom
When I visited Medellin, I took an incredible free walking tour with Real City Tours. Like every tour I took, our guide, Juan, shared some very personal experiences of growing up in Colombia.
His story was incredibly personal and the pain was etched on his face when he shared it. When he was in his late teens, he and his best friend were gunned down in the wrong place at the wrong time. After a painful recovery, he made it. His friend did not.
Though this left a lasting impression on Juan and changed the course of his life, he doesn't let it define him but instead, makes major life decisions aligned with his goals resulting from the gift of his life. He actively works to make Colombia a better place and to educate tourists about his country.
His education included some tips on how to be respectful, to be open to the locals' curiosity (as tourism is a fairly recent thing), and how to be safe. For being respectful, he strongly recommended not supporting tourism that capitalizes on Colombia's dark past (like Pablo Escobar tours).
He also talked about how important it is to the people to keep Colombia safe for travelers. Most Colombians are happy to welcome travelers to their country, and they know safety is required.
No Dar Papaya
There's actually even an expression used in Colombia about safety, "no dar papaya." This translates as: don't give papaya. What it means is that you shouldn't put yourself in a position where others may take advantage of you.
So, if you have something that would be considered "sweet" or appealing to others like a phone, jewelry, or anything that might make you a target, keep it hidden. Don't make yourself a target to others.
There are a lot of safety measures you can take to improve your odds when you travel in Colombia, or anywhere for that matter. This includes safety measures before you travel, like doing research to learn about any unsafe areas.
Also, each area may have certain quirks that you can read about in travel blogs or on forums before you leave. In Bogota, you do not want to have your phone out unless you have a good line of sight around you. In Cartagena, you will want to keep a tight grip on your bags in tourist areas.
there are also safety measures you can take while you're traveling. Make sure your bag is secure, and don't wear a backpack on your back (wear it in front if you have one). Be careful walking at night and don't get drunk and walk around alone at night.
And of course, don't do drugs. It's not a good idea in Colombia for many reasons, including not supporting that behavior and keeping yourself safe.
Staying Safe in Colombia
Nowadays, the most common crimes in Colombia are petty theft (mugging and pickpocketing) and scams. At least in the areas where it's advised that it's safe for tourists to go.
In my experience, this tends to be the same in many places. I read the same warnings in Paris and Lisbon as I did in Cartagena, Medellin, and Bogota.
Yes, there are still some issues in Colombia. Even with the peace accord, there is still some dangerous activity. Much of it is away from the areas that tourists typically go. And, if you stay out of the areas previously mentioned, you're more likely to encounter a pickpocket or a scammer than an armed rebel or a kidnapper.
Always do your homework and research the areas where you plan to go. And check the travel alerts for your country (The U.S. site for international travel alerts is here), perhaps with a small grain of salt. When I went to Colombia, the United States placed it at a "2" out of "4" for risk.
Other countries that ranked a 2 were the United Kingdom and Argentina, to provide some perspective. Many countries offer similar guidance and it's a good idea to read before you go to understand the cautions.
Is Colombia Safe to Travel Alone?
In a word, yes. I believe Colombia is safe to travel alone—I did! I do think it's important to take some precautions, though, as I would any time I travel solo. In fact, I feel so strongly about this that I wrote a post dedicated entirely to the topic.
You May Also Like Solo Travel Safety Tips—A Guide for Staying Safe
Though I think many of these tips are essential for solo travelers, they are also effective if you're traveling with other people. When we travel with others, we often feel safer than when we travel solo.
Additionally, we tend to focus on the person we're traveling with—get caught up in conversation, for example, and may not pay as much attention to our surroundings.
So, whether you travel on your own, with one person, or with a group, keeping safety top of mind makes good sense. That way, you can enjoy your trip!
Safety Tips for Colombia
Here are some general safety tips for all travelers that will be effective when you go to Colombia. Though, I'd argue that these are things you should consider whenever you travel.
Practical Safety Tips
Don't flash cash, jewelry, or other valuables as if you look wealthy, you're more tempting to a potential thief.
Keep a hand on your belongings at all times and especially in crowds. Don't make it easy for a pickpocket to snatch something, so make sure everything is tucked away and secure.
Be careful of your surroundings, especially at night. Make sure where you're going is safe and limit your walking around at night.
Don't accept things from strangers, especially including gum, cigarettes, and drinks. And be aware that if someone hangs you something like a woven bracelet, they will expect money, even if you didn't ask for it!
Keep a copy of your passport and/or visa on you at all times. If you don't want to carry the original, a copy will usually suffice.
Be careful when you're drinking, both to make sure you stay within your limits as well as to keep an eye on your drink. You don't want to get tipsy and make poor decisions that could put you at risk.
Don't do drugs. Just don't do it. It's not good for the local economy to support that, nor is it good for you if you get caught.
Carry a decoy wallet. Make sure you have a few pesos in it in case it's snatched.
Make a lot of noise if someone tries to grab your possessions, though let them. You shouldn't be carrying anything of real value and it's not worth your life for a few bucks.
Make copies of your documents and cards, including your passport, license, credit cards, and ATM cards. In case your bag is stolen, you need to have a copy available to cancel any cards and to prove your identity to get new ones.
Read reviews for tours to make sure you're signing on for a legitimate and quality experience.
Be prepared for where you are going to make sure it's a safe area or know what to be aware of. Certain areas may have higher gang activity and other areas may have higher petty theft so it's important to know these things to keep safe.
Other Tips to Keep You Safe
Learn some Spanish as it will be helpful for getting around and talking with people.
Make sure you stay updated with the news on where you're staying. Americans can also register with the STEP Program (Smart Traveler Enrollment Program) to get security alerts, though don't rely entirely on those.
Don't use illegal cabs, and make sure Uber is legal before you use it. It was not when I was in Colombia, and I heard stories about people occasionally being dragged from a car, including both the driver and the passenger, by unhappy taxi drivers.
Keep an eye on distraction techniques which could include anything from getting your attention focused in a certain direction to multiple people approaching you.
Don't use ATM machines after dark as it can make you an easy and distracted target. And you should always be alert when using an ATM, particularly if there are any people around you.
Make sure to ask the price before accepting any service, and this includes taxis.
Don't pay attention to anyone who says they are a plain-clothes police detective. They are thieves who will talk you into giving up your money for an illegitimate reason.
Don't intentionally break the law. This one should go without saying, but don't do anything stupid as you don't want to see the inside of a Colombian prison.
Travel Safety Products
There are a lot of great products available to help you keep your possessions and your valuables safe. Here are some that I recommend.
Strengthening Your "Travel Safety Chops"
Though this list may appear quite long and a touch alarming, you should know that these are similar precautions that I'd recommend to people traveling anywhere. They just make good sense and once you're more accustomed to traveling, particularly on your own, they become second nature.
I liken it to the skills you develop with driving. In the beginning, it's easy to get distracted and not always easy to know where to pay the most attention. With experience, you learn to scan, so you're always taking everything in, even if you're not consciously aware.
You learn there are some things you can or cannot do which may distract you. Some people can't listen to loud music when they drive as they get too distracted. Others prefer not to eat or drink. This is definitely something you learn with experience.
Is Colombia Safe for Solo Female Travelers?
Yes, Colombia can be safe for solo female travelers. Like it or not, women traveling alone need to take some additional precautions. Particularly as Colombia is very much a macho society, like much of Latin America. You may hear catcalls or get undesired attention from men due to machismo, so just ignore it.
Dress appropriately for the area and try to blend in as much as possible. If you're dressing to get attention you likely will, and maybe not in the way you'd prefer.
Choose accommodation with security. This could be cameras in a dorm or a front desk at an apartment.
Have a taxi called for you when you can (like when you're leaving a restaurant or hotel). Uber is sometimes available and other times, it's not legal, and that seems to change a bit. So, if it's legal when you go, I'd do that.
Keep an eye on your drink and food, and don't accept any from someone you don't know.
Don't drink too much. When we drink, we don't always make the best decisions. So, certainly have a beer or a glass of wine with dinner, but it's a good idea not to drink to excess, especially when you're on your own.
Limit walking around at night. If you go out to dinner, you may do some walking at night. However, make sure the area is ok and take an Uber or taxi if you're unsure.
Be aware when you're walking around (especially at night). Don't scroll your emails or rummage through your bag. Confidently scan the area where you're walking and pay attention.
Purchase Travel Insurance
I'm a firm believer in always purchasing travel insurance whenever you travel outside of your home country. I didn't always do it, but when I met two people in one week on my trip to Thailand who both were hospitalized, I realized I was taking an unnecessary chance. Since then, I have always purchased it.
There are a number of carriers that offer comprehensive travel insurance. This includes medical insurance as well as repatriation service (if you have to be flown home).
It also includes other benefits like if your bag is missing or stolen, trip delay, and the like. I have always used World Nomads, which has a great reputation, is affordable, and is easy to get.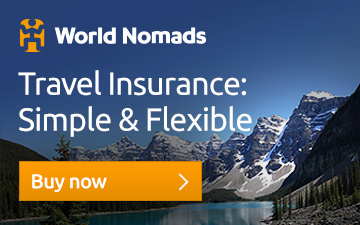 So, Is Colombia Safe?
There were only a few times that I either felt unsafe or on high alert. Once was when I went to a place on a whim that I hadn't researched and had to walk through a rough neighborhood. The other was in some of the cities where it's very crowded so I had to keep a tight hand on my things.
Colombia is an amazing country and I had such a wonderful experience there. The people were very kind and friendly, and there is a lot to see and do.
It's so worth the experience to go, especially now as tourism is increasing. We don't know what the Colombia of five years from now will be like, but the Colombia of today is amazing.
You Might Also Like
Like it? Pin it!