Day Trip from Berlin to Potsdam + Top 10 Things to Do
Sanssouci is one of the most breathtaking palaces in all of Germany. It's the reason so many people go on a day trip from Berlin to Potsdam.
Like so many people before me, I visited Potsdam to see Sanssouci. What I found was a beautiful small city brimming with so much character and things to see, and I wished I had more time than a day trip visit.
Here are the top things to do in Potsdam, Germany, so you can see all of the places that interest you the most in as much time as you can spare! I'll also include a great itinerary for one day in Potsdam and what you need to know to get there.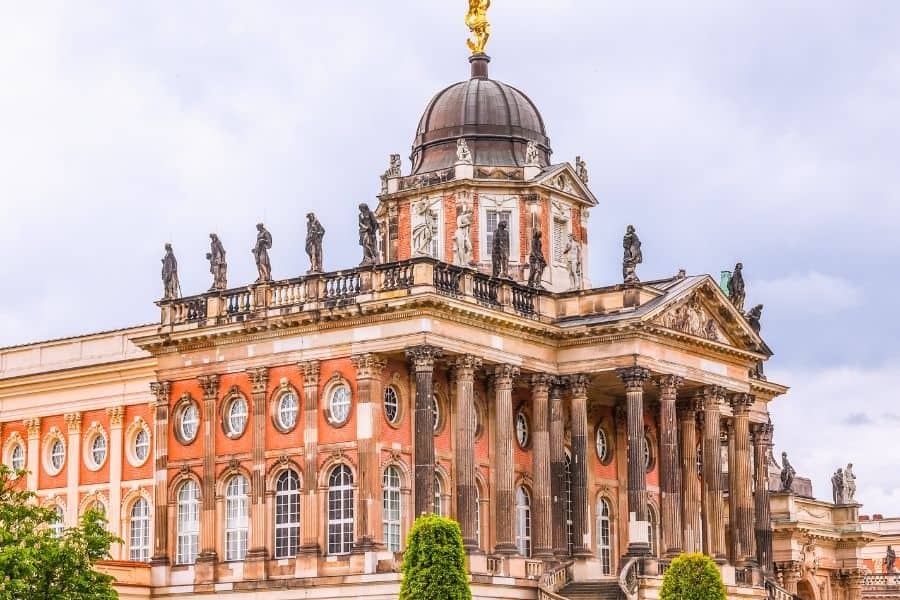 Some links in this article may be affiliate links, which means that if you purchase through them, I receive a small commission. This will never cost you extra. Please read the disclosures to learn more.
How to Go on a Day Trip from Berlin to Potsdam + How to Get Around
Potsdam is an easy 45-minute train ride from Berlin on the S-Bahn. You can take the S7 train from central Berlin to the Potsdam Hauptbahnhof (train station). There are also some regional trains that are slightly faster and stop at Potsdam-Sanssouci.
Your best bet is to purchase a 24-hour VBB card in Berlin for zomes A, B, C, as this also covers public transportation in Potsdam. The cost is 8.8 EUR+ (around $9.30 USD).
If you take alternate transportation to Potsdam but want to get a bus pass in the city, you'll likely want to get Zones A and B for 4.70 Euros (around $5.60 USD). Tickets can be purchased on the buses.
This page may be helpful in determining how to get around. To get from the Potsdam Hauptbahnhof to Sanssouci Palace and Park, including the New Palace, take bus 695. To get to Cecilienhof, you take tram 90/92 to Reiterweg/Alleestrasse, then bus 692 to Höhenstrasse.
You can also rent a car and drive. It takes 40 minutes or less on the autobahn (A115), so it's an easy trip. However, parking can be a challenge, and you really don't need a car once you get there with ample public transportation.
One Day in Potsdam Itinerary
There's a LOT to see in Potsdam, and in truth, it would be nearly impossible to see everything in just one day. Especially if you love history and you love architecture and enjoy just standing and gawking at beautiful buildings. (Like someone I might know! Ahem…)
However, if you prioritize what you most want to see, Potsdam is fairly compact so you can see quite a lot.
At a minimum, I would recommend the following (which you can, of course, adjust based on your preferences):
Sanssouci Palace
Brandenburg Gate
Old Market Square, including Nicholas Church
Brandenburg Gate, Old Market Square, and Nauener Tor with the Dutch Quarter are all within a 15-minute walk of each other, almost on a triangle. Sanssouci and Brandenburg Gate are around 15 minutes, as well. So, it's very possible to see them all easily, with plenty of time to wander.
What else you can see will depend on what time you get to Potsdam and what time you plan to leave. If you arrive early enough and plan a full day, then you will have some time to see Cecilienhof, the Filmmuseum, New Palace, or other places that pique your interest.
Taking a day tour would be a great option, particularly if you're directionally challenged (as I am).
10 Top Things to Do in Potsdam
If you're looking to see what you consider the best of Potsdam, you'll want to see all of the fun things you can do there. Or, if you're lucky enough to be able to add some time to spend there, here is the list of the most popular attractions to see.
1. Sanssouci Palace
For most people, the stunning Sanssouci Palace is why they visit Potsdam, Germany. If this palace was the only thing to see in Potsdam, it would still be worth it. Wow. It's part of a UNESCO World Heritage site along with some parks and structures in Potsdam and Berlin and is worth the trip.
"Sans souci" means without concern or carefree in French. It's the name of this stunning summer palace built in the mid-1700s for Frederick the Great of Prussia. It was built to be a German equivalent of the Palace of Versailles, though it's much smaller. The palace was intended to be a place for relaxation and not a seat of power.
It was King Frederick's favorite place, and he chose to be buried here. He was known as the "potato king," as he introduced the crop to his resistant people when grain shortages led him to seek alternatives.
He branded them as royal food to gain acceptance and in fact, quietly encouraged people to steal them from his garden. People still bring potatoes to leave on his grave to honor him.
Tour Sanssouci Palace
Though the palace is smaller than its inspiration, Versailles, it's every bit as stunning. It was built in the Rococo style, which was very popular at the time. Both the outside of the palace and the inside are designed in this style. It's painted in a light and bright yellow color that's quite cheery.
You can and should take a tour of the palace. The building is one story and actually only contains ten main rooms, though they are very large and opulent. There is a lot of impressive artwork and many gilded pieces. Sanssouci gets millions of visitors a year, and it's a very popular day trip from Berlin.
Sanssouci Palace is located at Maulbeerallee, 14469 Potsdam Germany. It costs 22 Euros (around $23.50 USD) for a ticket with timed entry with a guide to the palace, access to the grounds, and all of the structures on the property. It's open all days except for Monday from 10 to 4:30 from November 1 to March 31 and from 9 to 5:30 from April 1 to October 31. (New Palace is closed weekly on Tuesday). There is a public bus that takes you around the property, and this stop is Schloss Sanssouci.
The Picture Gallery
This building was also built for Frederick the Great between 1755 and 1764. It's the oldest preserved art gallery building in Germany, and it was built specifically for this purpose to house his extensive painting collection.
There are nearly 180 paintings, including Dutch Baroque, Flemish, Italian Renaissance, and others, and some impressive French sculptures.
The exterior may be a bit simple, but the opulence and grandeur inside are truly amazing. The floors are made of white and yellow marble with a colored stone inlay. You'll also see gilded ornaments, making this hall a true artistic masterpiece.
New Chambers of Sanssouci
This impressive guest palace, or "new chambers," was built on the grounds of Sanssouci to provide the king's guests with a lavish place to stay. It features large and sumptuous rooms decorated by the leading artists of the times.
In the very center of the castle is the "Jasper room," lined in jasper, and the ceiling has a large painting depicting the goddess Venus.
New Palace (Neues Palais)
The New Palace is located on the western side of Sanssouci Park. The main palace is located on the eastern side of the park. Where the main palace was built to be a private and intimate refuge, the New Palace was built as an official venue with all of the grandeur expected.
It was the last palace built for Frederick the Great in Sanssouci Park, built between 1763 and 1769. This large and impressive palace is designed in the Rococo style and has more than 200 rooms. It's clearly designed to impress. The Marble Hall, the Concert Hall, and the Grotto Hall are all worthy of note, and it's an amazing palace to tour if time permits.
Not only are the exterior and interior of this grand palace impressive, but the location is as well. It's situated at the end of the main route into the park and is visible throughout.
You can tour New Palace for 12 Euros (around $12.75 USD), and it's located here on the property. It's closed on Tuesdays, but it's open from Wednesday to Monday from 10 to 4:30 from November 1 to March 31. It's open from 10 to 5:30 from April 1 to October 31. There is a public bus that takes visitors around the property, and this is the Neues Palais stop.
Other Structures
Be sure to wander the grounds on Sanssouci both for the park and also the other structures there. In addition to the Picture Gallery and the New Chambers, you'll also see the Orangery Palace and the Chinese House. Both are worth visiting, especially the Chinese house with its three gilded figures.
The Chinese House is located in the deer garden. It's one of the most important buildings constructed in European Chinese fashion in the mid-18th century.
Life-sized gilded figures are placed around the building featuring Chinese musicians and tea drinkers. There is also a large ceiling painting of Chinese society and East Asian porcelain inside.
There are a number of other structures as well, and you could probably spend an entire day just touring this property. These include a Neptune Grotto, a Temple of Friendship, an Antique Temple, Roman Baths, a Church of Peace, and more.
Sanssouci Park
The grounds of Sansoucci are every bit as impressive as the palace. In the center area behind the main palace is a large water fountain. Then, climb the long and impressive staircase through the many terraces leading up to the palace.
You'll see gardens, vineyards, fountains, baroque terraces, and flower gardens in this masterpiece designed by Peter Joseph Lenné. There are large lawns, flower beds, hedges, and trees, areas with fruit trees, greenhouses, and a vineyard.
There are also many different fruit trees and a vegetable garden.
2. Cecilienhof Palace
If you have seen the famous picture of Harry Truman, Joseph Stalin, and Winston Churchill gathering at the end of World War II, that was taken at Cecilienhof Palace.
The Potsdam Conference in 1945 was held here, where leaders from the United States, the Soviet Union, and the United Kingdom met to decide the structure of Germany post-World War II.
I was almost as excited to see this place as I was to see Sanssouci!
It's a palace built in the layout of an English Tudor manor house built from 1914 to 1917. It was built for Crown Prince William and Crown Princess Cecilie of Prussia, who lived there until February 1945.
This country house has a large number of historical photos. This collection makes the Potsdam Conference and the events surrounding it really come to life.
There is an audio guide for the photo exhibition as well. It includes some statements by Churchill, Stalin, and Truman (former U.S. president), and it's translated into nearly a dozen languages.
If you're looking to learn more about this slice of history while touring an interesting palace that's unique to the area, this is a great one to see.
Cecilienhof is also part of the Palaces and Parks of Potsdam and Berlin UNESCO World Heritage site along with Sanssouci Palace.
Cecilienhof Palace is located at Im Neuen Garten, 14469 Potsdam, Germany. It's open from November 1 through March 31 from 10 to 4:30 and from April 1 to October 31 from 10 to 5:30. The cost is 14 Euros (around $15 USD).
3. Dutch Quarter (Holländisches Viertel)
The Dutch Quarter is an area in Potsdam you don't expect to see when you visit. It includes almost 150 Dutch red-brick buildings built by Jan Bouman, making you feel as if you've clicked your heels and somehow were transported to Holland.
In fact, it's the largest group of exclusively Dutch housing you can find anywhere outside of the Netherlands.
These buildings went up in the mid-1700s between around 1733 and 1740. They were built for the Dutch craftsmen who came to Potsdam, invited by King Frederick Wilhelm I. It's a picturesque area with quaint brick homes and cobbled streets that are worth visiting when you go to Potsdam.
The homes in the Dutch Quarter have been lovingly refurbished due to deterioration over the years. They are a cherished neighborhood in the city.
The Dutch Quarter is located here.
4. Nauener Tor
Nauener Tor, or Nauener Gate, is one of three historic preserved gates in the city. It was designed in the English Gothic Revival style, popular at the time in mainland Europe.
The current gate was built in 1755. The original was built around 1720, not far from the current location, and a second was built on its current site. It was rebuilt for King Frederick II in its current location. Though there was once a city wall connecting the three gates, they are now connected by a promenade.
This gate is close to the Dutch Quarter and many of the Dutch craftsmen used this gate for access to the inner city. There are a lot of cafes and restaurants in this area, so it's a great place to grab a bite to eat and take a break from your explorations.
Nauener Tor is located here.
5. Brandenburg Gate (Brandenburg Tor)
Another Potsdam gate, and the most famous in the city, is the Brandenburg Gate. It's one of the most famous landmarks in the city and was built in 1770 and 1771. It marks the start of Potsdam's main shopping street, Brandenburger Strasse. It's a great hangout area if you want to see local life in the city.
The gate was commissioned near the end of the Seven Years' War by Frederick the Great. The old gate in the location was destroyed, and this was built to symbolize his victory. It has the look of a Roman triumphal arch.
This gate is known for having two strikingly different sides to it, and it actually had two different architects designing them. Carl von Gontard designed the side facing the city, and his student, Georg Christian Unger, designed the other side. It was originally built in the old city wall, and it's now a free-standing gate.
Brandenburg Gate is located here.
6. Old Market Square (Alter Markt)
Old Market Square is the heart of the city of Potsdam. Originally it was part of the City Palace from the mid-1600s until 1945. King Frederick the Great had the square completely reconstructed between 1753 and 1755.
The effort was led by architect Johann Boumann. An obelisk was erected in the center of the square, and the face of St. Nicholas Church was redone.
There was a lot of damage to the square from World War II, and the restoration took many years. The City Palace and many other buildings were destroyed.
Reconstruction of St. Nicholas' Church and the Old City Hall was immediately begun after the end of the war in 1945. The marble obelisk was restored in 1979.
City Palace and Barberini Palace (now a museum) were later reconstructed. City Palace now serves as the seat of Parliament.
The Old Market Square is located here.
7. St. Nicholas Church (St. Nikolaikirche)
St. Nicholas Church is a Lutheran Church located in the Old Market Square in Potsdam. It was built in the 1830s in the Classicist style and is viewed as one of the most significant examples of German classicism. It was dedicated to Saint Nicholas.
The church was badly damaged during World War II, and though reconstruction efforts started immediately following the war, it took many years to complete. It was completed and consecrated in 1981 and is now open to visitors.
The dome of St. Nicholas Church can be seen from a distance and it's one of Potsdam's best-known landmarks. The dome was actually added well after the church was constructed in the mid-1850s. The church has a thriving parish and is an important part of the community.
St. Nicholas Church is located in Am Alten Markt, 14467 Potsdam, Germany.
8. Potsdam Film Museum
Located next to the rebuilt City Palace in the Old Market Square is the Potsdam Film Museum. It was built as an orangery in 1685 and became the riding horse stable of the Prussian kings. In the 18th century, it was altered into its current form.
Despite its rather varied history, it's one of the oldest buildings in Potsdam and an architectural masterpiece.
The Potsdam Film Museum is the oldest in Germany, and it has been owned by the Babelsberg Film University since 2011. It's dedicated to the 100+ year history of the largest European media center in the region.
The Potsdam Filmmuseum is located at Breite Str. 1A, 14467 Potsdam, Germany. It's open daily except for Mondays from 10 to 6. It costs 5 Euros to visit (around $5.50 USD). There is a cinema with viewings throughout the week when the museum is open at scheduled times that vary.
9. Alexandrowka
Another interesting and different thing to do if you have the time is to visit Alexandrowka in northern Potsdam. It's a colony that was built in the early 19th century in a Russian style and named after Tsar Alexander of Russia.
It consisted of 13 wooden homes and was built at the request of Friedrich Wilhelm III to welcome these new people.
Like the Dutch Quarter, which was built for Dutch workers, "Rissian Town" was built for the Russian singers who moved to Potsdam at the time. Direct descendants of the singers owned some of the homes for over 100 years.
Alexandrowka is located at Russische Kolonie 2, 14469 Potsdam, Germany. It's open from 10 to 6 daily except for Wednesdays when it's closed. Entrance costs 3.50 Euros ($4.15 USD).
10. The Bridge of Spies and the Stasi Prison
If you're a history buff interested in the darker side of Potsdam, you have a couple of places to check out. The Bridge of Spies was where the East and West German regimes exchanged secret agents who were caught as political prisoners. Glienicker Brücke, or the Bridge of Spies, was also featured in the film with the same name.
Gedenkstätte Lindenstraße was a political prison used by the Nazis, the Soviets, and the East German Stasi police. It now is a memorial of its past, commemorating the rise of democracy.
The Bridge of Spies is located here. Gedenkstätte Lindenstraße is located at Lindenstraße 54, 14467 Potsdam, Germany.
Where to Eat in Potsdam
Since I was busy running around to see as much as I could in Potsdam in only one day, I grabbed something on the go. I saw lots of signs for currywurst when I was in Berlin so I decided to give it a try. Probably not the smartest move, as I don't love hot dogs or ketchup.
It's essentially a curry-seasoned ketchup sauce on a hot dog. People rave about it, and it's a popular fast-food dish. For me, well, not so much. Though, it's always fun to try something new. Sometimes, once. 🙂
There are lots of restaurant options so it's a matter of deciding if you want a sit-down place or something grab-and-go. Your best bets are either around Nauener Tor and the Dutch Quarter or Old Market Square.
Another great place is Brandenburger Strasse, which ends at Brandenburg Gate. It's a pedestrian street with lots of regional shops and boutiques, as well as some great restaurants.
Potsdam Restaurants
Here are some restaurants in Potsdam that come highly recommended:
Will You Spend One Day in Potsdam or More?
Potsdam, Germany, offers so many magical things to see and do that it can be challenging to narrow it down! This list shares the highlights of this charming and historically important city so you can choose how you'll spend your time.
You may even decide one day isn't nearly enough!
You Might Also Like
Like it? Pin it!