Dublin for a Day—The Perfect Itinerary
If you're heading to Dublin for a day, you might be wondering what activities you need to include in your schedule. While a weekend or a week is more practical for exploring Dublin, you can easily fit in some of the best Dublin tourist attractions in a day.
To try to pack as much in as possible, make sure you start your day early in the morning. This way, you have time to hop from one activity to the next. And of course, when you visit Dublin, you have to end the day in a pub!
I recommend this one-day Dublin tour for all visitors coming for the first time or those that want to see the best Dublin attractions. If you want to explore off-the-beaten-path Dublin, I also listed some recommendations at the bottom of this guide!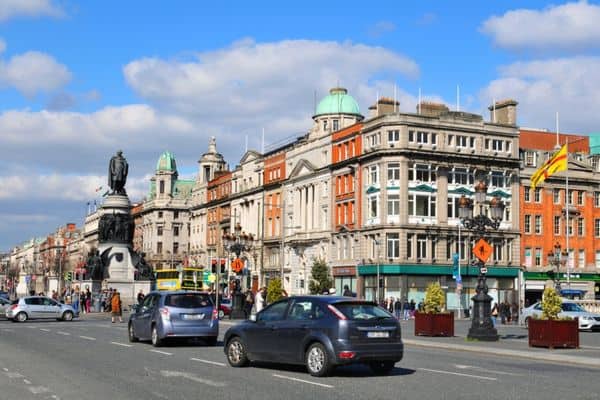 This post may contain affiliate links, which means I'll receive a commission if you purchase through my links at no extra cost to you. Please read the full disclosure for more information.
One Day Dublin Itinerary- Quick Glance
Here is a quick glance at all of the things you can do with just one day in Dublin. If you have more time, check out my 2 days in Dublin itinerary here.
Start the morning off with a traditional Irish breakfast.
Head to Trinity College to learn about Dublin's history.
Tour the beautiful St. Patrick's Cathedral.
Eat lunch in the Temple Bar District. 
Take some photos of Ha'Penny Bridge. 
Take a tour of the Guinness Storehouse. 
Explore the stunning Dublin Castle. 
Fuel up for the night with some dinner. 
Go drinking at some of Dublin's best pubs.
Feeling tired already? Well, make sure you rest up, as you'll be on the go for much of the day. But this jam-packed day tour of the best of Dublin is very doable.
Eat Breakfast Like a Local
Start off your day with a great Irish breakfast so you can be ready for the busy day ahead. Here are some of the best spots in Dublin for breakfast:
Lemon Jelly Cafe: Searching for a typical Irish breakfast? This place has the best crepes, eggs, and biscuits. In case you want more brunch-type food, you can also get a fresh ciabatta bread sandwich or panini. 
Two Boys Brew: Not only is this one of the best places to eat in Dublin, but they also have some of the best coffee in the city. Try one of the fresh scones or their chili egg breakfast platter. 
Press Cafe: This is the best place to come if you want something healthy. They have healthy sandwiches, avocado toast, and egg dishes. 
Tour Trinity College
Visiting Trinity College is one of the best things to do in Dublin. There are many areas of the college you can tour, and don't miss the Long Room. Make sure you buy your tickets ahead of time so you won't be stuck waiting in line. You don't have time for that if you want to see Dublin in a day!
The Long Room has over 200,000 books, and some of them are the oldest in Ireland and Europe. The bookshelves are from floor to ceiling, so it's like nothing you've ever seen before.
After seeing the inside, take an hour or so to explore the college grounds. The grounds are really quiet, with many different statues of famous Irish figures as well as historic buildings.
Trinity College is located at College Green, Dublin 2, Ireland. The library is open for visits Monday through Saturday from 8:30 a.m. to 5 p.m. Admission is 14 Euros (about $15 USD).
Go Inside Saint Patrick's Cathedral
Located right in the middle of the city, St Patrick's Cathedral is one of the best places to go in Dublin. You can admire the outside architecture and then go inside for a tour. The intricate glass windows are one of the best parts of the cathedral, and they are definitely worth seeing.
During the spring and summer, be sure also to tour the gardens, as the flowers are stunning.
Saint Patrick's Cathedral is located at St Patrick's Close, Dublin, D08 H6X3, Ireland. It's open every day from 9:30 a.m. to 5 p.m. except Sundays, when it's open from 9 a.m. to 10:30 a.m. and 1 p.m. to 2:30 p.m. Tickets are 7 Euros (about $8 USD).
Afternoon Lunch and Drinks in Temple Bar
After spending the morning walking around and exploring, it's time to get some food and drinks. Temple Bar is the perfect pitstop and has some great food and pubs.
Here are the best places to try:
Old Mill Restaurant: Perfect if you want to try hearty Irish food, including fish and chips, cottage pies, and meat stews. 
Piglet Wine Bar: Great for those that want to try some different cuisines, including grilled octopus and goat bacon. 
Elephant and Castle: All of your American favorites are served here, including giant burgers and chicken wings. 
See Ha'Penny Bridge
After lunch in Temple Bar, check out the Ha'Penny Bridge. It's less than a minute's walk away.
It's one of the most beautiful bridges in the country and served as the country's first toll booth. It has been crossing over the Liffey River for more than 200 years.
Here is a map of the Ha'Penny Bridge.
Guinness Storehouse or Jameson Distillery
One of the most famous things Ireland is known for is the smooth pints of Guinness. The Guinness Storehouse is one of the top things to do in Dublin for those that want to see how this drink is made.
You'll also learn about the history of the drink. At the end of the tour, you get a free pint to enjoy!
The Guinness Storehouse is located at St. James's Gate, Dublin 8, D08 VF8H, Ireland. They're open Thursday to Saturday from 9 a.m. to 7 p.m., Sundays from 9:30 a.m. to 5 p.m., and every other day from 10 a.m. to 5 p.m. Tickets are 17 Euros (about $18 USD).
If you prefer Jameson, I recommend visiting the distillery instead. Unfortunately, one day in Dublin is not enough time to visit both places, so you'll have to choose the one you want to do the most.
During your tour, you can see how the whiskey is made and have a whiskey-tasting session. You can also sign up for a cocktail-making class for an extra fee if you have more time.
The Jameson Distillery is located at Bow St, Smithfield, Dublin 7, D07 N9VH, Ireland. It's open Monday through Thursday from 10:30 a.m. to 6 p.m., Fridays from 10:30 a.m. to 7 p.m., Saturdays from 10 a.m. to 7 p.m., and Sundays from 12 p.m. to 6 p.m. Tickets are 11 Euros (about $12 USD).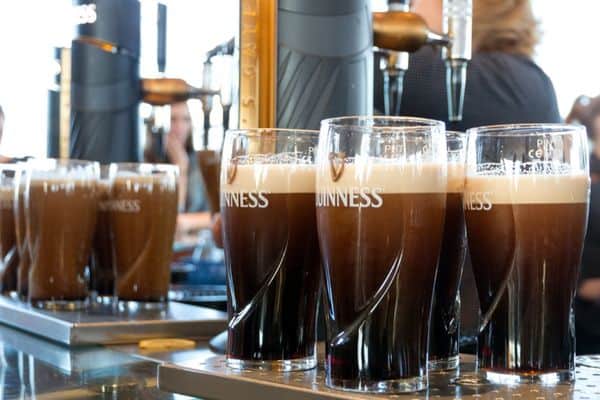 Dublin Castle
Visiting Dublin Castle is one of the best things to do in Dublin for families. The complex is home to many different government buildings where you and the kids can learn about the history and politics of Ireland.
I recommend taking a guided tour so you can learn more about the buildings and the government departments in each.
You can also visit the two museums inside, including the Chester Beatty Library Museum and the Garda Museum.
Dublin Castle is located at Dame St, Dublin 2, Ireland. They're open every day from 9:45 a.m. to 5:15 p.m. Self-guided tickets are 8 Euros (about $8.50 USD).
Dine at One of Dublin's Best Restaurants for Dinner
After a full day of walking around the city, you're probably ready for a bite to eat. While there are some great restaurants in Dublin, many people eat at pubs instead.
Here is a great selection of restaurants to eat at in the city. If you're interested in eating at pubs, check out my guide here.
Pickle: Craving some Indian food while in Ireland? This is the place to go. You can either order from the menu or reserve a spot for the tasting menu for a flat fee. The tasting menu has five courses and lets you try the best of the food offered in the restaurant. 
Rosa Madre: Want to dine inTemple Bar? Try out this restaurant that's right next to some of the best pubs in Dublin. They specialize in tapas-type dishes, which are small plates for the table to share. They also have fresh seafood and pasta. 
One Society: Come here for a casual dinner. They have great chorizo, a huge pizza menu, and a huge brunch menu if you want to come back in the morning hours.  
Explore the Pub Scene
After dinner, you can relax and chill at your hotel for a few hours, or you can head straight to the pubs. Drinking at a few Dublin pubs is a must while in the city as it's one of the things Ireland is most known for.
Here are the best pubs to relax and drink a pint:
Kehoes: This is one of the best places to have a drink and watch sports games!
The Brazen Head: Come here if you want to visit one of the famous Dublin pubs. It's also the oldest pub in Dublin. The buildings were originally constructed in the 1750s. 
Neary's: This is a popular place, so you might not be able to find a place to sit (or stand) on the weekends. It opened in 1871 and still has all the original features, including the original gas lamps. 
If you want more ideas on where to drink while in Dublin, check out my guide to the best pubs in Dublin.
Other Things to Do in Dublin
If you want to experience less of the tourist scene or have already been to Dublin a few times, there might be things on the above list that don't interest you.
In that case, here are some other things you can do instead!
How to Get to Dublin
The best way to get to Dublin is to fly into the international airport in the city (DUB). You can then take a short bus from the airport to Dublin city centre.
The airport has many flights every day from international destinations. You can also easily find flights if you're already in Europe from big cities like London, Paris, Rome, and Madrid.
How to Get Around Dublin
One of the best parts about Dublin is that you can walk almost everywhere. I recommend downloading Google Maps and using the walking directions to get from one place to the next.
Dublin also has an extensive bus system with many different routes. The buses are usually on time, so you can rely on them even when trying to get somewhere quickly.
If you want to take a day trip or explore some nearby towns, the best way to get there is to book a tour or rent a car.
When to Visit Dublin
It rains in Dublin almost every month of the year. For the best chance to see dry days and warm weather, come from June through August.
No matter when you're coming, make sure to pack a rain jacket and some warmer clothes for going out in the evening.
Best Hotels in Dublin
Whether you're staying one night or a week, here are some of the best places to book in Dublin:
Dublin for a Day—This Amazing City Is Waiting for You!
Ready to be in Dublin for a day? While your schedule will be packed, you can see some of the city's best attractions and drink at some of the best pubs with one day in Dublin. And if you have more time, you can venture out of the city and take a few day trips.
Are you heading to Dublin for just a day? What are your favorite parts of this itinerary?
You Might Also Like
Like it? Pin it!