Best Day Trip from Barcelona to Montserrat
One of the most popular day trips from Barcelona is a visit to Montserrat. Not only do you get beautiful views of the Spanish countryside along the way from Barcelona to Montserrat, but the views from the monastery in the mountains are stunning.
For some, this is a religious pilgrimage and for others, it's a site in a unique mountain range with breathtaking views. Regardless of your reason for traveling from Barcelona to Montserrat, it's a great way to spend a day when you visit Barcelona.
If you're looking for the best day trip from Barcelona to Montserrat, check out this informative post. You'll learn everything you need to know to visit, including why you should.
This post may contain affiliate links, which means I'll receive a commission if you purchase through my links, at no extra cost to you. Please read full disclosure for more information.
What is Montserrat?
Montserrat is a mountain range located in Catalonia, Spain, near Barcelona. It is named for its appearance, and "Montserrat" means "saw mountain" in the local language of Catalan. This is because the appearance of the mountains almost has a serrated saw appearance.
Near the top of one of the peaks in this mountain range is the Benedictine monastery, Santa Maria de Montserrat. These striking surroundings make the perfect backdrop for this monastery, which is quite beautiful inside.
The real treasure of this monastery, though, is the statue of the Virgin of Montserrat, a black madonna. It's an important religious retreat in Catalonia and, for that matter, Spain.
History of the Montserrat Monastery
Santa Maria de Montserrat is a Benedictine abbey located on Montserrat Mountain in Monistrol de Montserrat. It was founded in the 11th century originally but then was rebuilt between the 19th and 20th centuries.
It is a functional abbey today with more than 70 monks.
Tip: Make sure you are dressed appropriately with knees and shoulders covered or you will not be allowed in the basilica.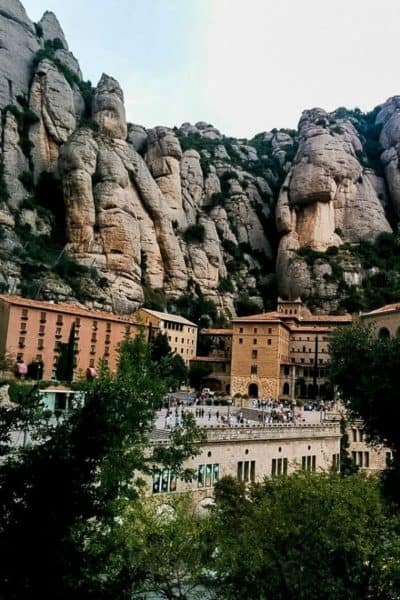 How to Travel from Barcelona to Montserrat
Santa Maria de Montserrat is around 30 miles (48 kilometers) northwest of Barcelona. It can be reached by car, train, or cable car. You can also take a taxi, which would be a higher cost or a group tour.
You May Also Like What to Do on a Barcelona Weekend
Transportation from Barcelona to Montserrat Option 1: Train to Cable Car
With this option, you will take a train from Plaça España in Barcelona (This stop is on the red and green metro lines and it's easily accessible in Barcelona). Take the R5 train heading from Manresa to Aeri de Montserrat. The train trip takes around an hour, and trains run hourly for much of the day. 
From Aeri de Montserrat, ride the cable car to the monastery. The Aeri de Montserrat cable car runs frequently and generally leaves once it's full or every 15 minutes. The total cost for the train and cable car is around €23 (around $24.75 USD) with a combined ticket that you can purchase in Plaça España.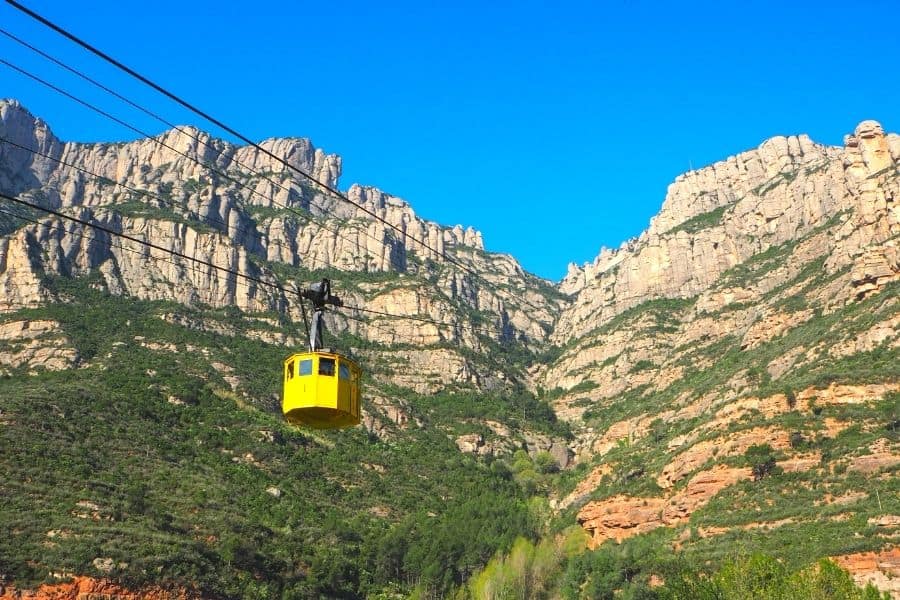 Transportation from Barcelona to Montserrat Option 2: Train to Rack Railway
This way starts at the same station in Barcelona, Plaça España. From there, take the R5 line to Monistrol de Montserrat. Then, change to the Cremallera Montserrat Rack Railway which runs to the top of the mountain. You can get prices and hours here.
The cost is the same for either option, and option two does take a little bit longer. Just make sure when you buy your tickets in Barcelona that you specify which option you will choose as your purchase is specific for one of them.
ToT Ticket
There is another option for transportation from Barcelona to Montserrat on public transit using the ToT Ticket. With this ticket, you get your round-trip transportation from Barcelona to Montserrat, lunch at the self-serve restaurant, and admission to the Montserrat Monastery Museum for one price. Here is the ToT Ticket link to explore options and to purchase if you are interested.
You also have the option to ride the cable car or the rack railway, and you can choose to take one in one direction and the other option back. And once you are at Montserrat, you can get unlimited rides on the Sant Joan funicular.
Bus from Barcelona to Montserrat
You also have an option to take a bus, though the trains are much more popular. You can get a bus from the Estacio Sants train station heading to Montserrat. Information about the bus option is here.
Tours
There are also tours available to take you from Barcelona to Montserrat, so you don't need to navigate the trip yourself. And you have the opportunity to make this trip quite special by adding on some fun local activities.
Montserrat Basilica
The Basilica of Montserrat construction began in the 16th century. However, it was destroyed in the Peninsular War and was reconstructed in the 19th century. It has been enhanced through the years, with a new facade added in the 20th century.
It's quite stunning inside the basilica, and for that alone, it's worth seeing. Inside lies a national treasure and for that, it's also worth visiting.
There is no cost to visit the basilica.
The Black Madonna
The Virgin of Montserrat, also known as Our Lady of Montserrat or La Moreneta, was found in a cave near the location of the Monastery in around 880, according to legend. She has become the patron saint of Catalonia and is an important aspect of their identity.
She is believed to have healing properties, so the faithful make a pilgrimage here to visit. The line gets quite long, so if you decide to view the statue, it's a good idea to go early to Montserrat and head directly to the Black Madonna.
If you decide to not see her and want to go directly to the basilica, make sure you're in the right line. Depending on when you go, the line to the Black Madonna can take hours!
Montserrat Monastery Museum
The abbey was burned and destroyed in the 1800s, and as a result, no artifacts from the original buildings remain. This museum was opened in the early 1900s, and since nothing remained from the original site to fill it, it has items from other areas, including Egypt and Mesopotamia.
There are also some works of art from Catalonia and other European artists.
Montserrat Museum costs 8 EUR (around $8.60 USD) to visit. Hours are 10 to 6:45 in the summer and 10 to 5:45 in the winter.
Montserrat Hikes
There are a number of hikes you can do from the Montserrat Monastery to take in amazing views of Catalonia from this viewpoint. If you do want to go hiking, make sure you go early as we didn't have enough time to do much hiking since we got there too late. We did get to take the Sant Joan funicular and walk around that area to take in the views.
This guide offers a lot of great detail about the various walks and hikes you can take at Montserrat, along with a map.
Sant Jeroni
Sant Jeroni is the highest point in the Montserrat Mountains. You can hike to it, and it's a three-hour round-trip hike. This is a challenging hike, so make sure you're up for it.
Take the Funicular de Sant Joan to the start of this hike. This funicular takes you to the top of the mountain, where the Montserrat Monastery is located. It has a glass ceiling, so you get some incredible views as you climb. When you get off, there is an incredible view of the Monastery below.
This funicular is located in the heart of the Monastery right above where the Cremallera Station, where the rack railway goes.
Santa Cova Chapel
The chapel was built at the site where the Virgin of Montserrat was found in a cave, the Holy Grotto of Montserrat. This is the location where shepherds reported seeing visions of the Virgin Mary dating back to the 13th century. The chapel was built in the 18th century. A reproduction of the Virgin of Montserrat is placed here.
Take the Santa Cova funicular down, and you can walk to the chapel on a winding paved trail. It takes around an hour in total, and you get some spectacular views.
St. Michael's Cross
This walk takes you to a higher point than the Santa Cova Chapel. It offers gorgeous views of the area as well as the Monastery. It's an easy walk that's around 1.5 miles (2.4 km).
Stairway to Heaven
This is a modern art-like stack of nine concrete blocks. People used to climb it, but now that is not allowed, and a fence surrounds them. It is actually illegal to do, so if your inclination to visit was to climb them, don't.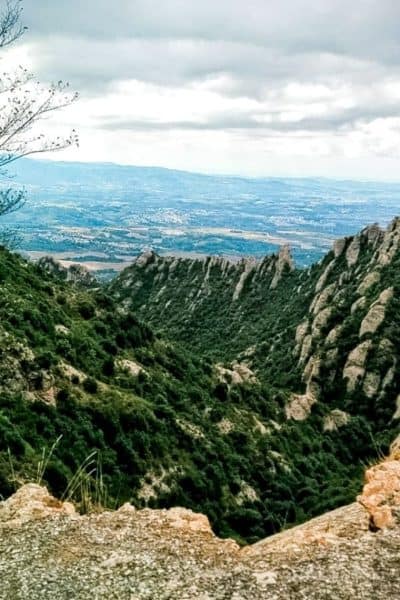 Montserrat Boys Choir (Escolania de Montserrat)
Montserrat is home to one of the oldest boys' choirs in the world, dating back to the 13th or 14th century. You can see them sing daily at one and 6:45 p.m. (except for school holidays).
If you do want to see them, make sure you get to the church at least 30 minutes before they start, or you may not be able to get it. It's a popular thing to do when you visit.
Where to Eat in Montserrat
There aren't a lot of dining options at the Montserrat Monastery, and the food is expensive and not the best overall.
There is a cafeteria with a lunch buffet and a restaurant, Restaurant Hostal Abat Cisneros. The building is quaint inside, and people say the food is good, though a bit overpriced.
There is a also little market just outside the abbey where you can get local items like bread and cheese. Your best bet is to either bring your own lunch or get something at the market.
Depending on the time of year you go, there may be a local outdoor market as well.
When to Visit from Barcelona to Montserrat
Average temperatures vary greatly at Montserrat. Temperatures between Barcelona and Montserrat can also vary widely. The warmest time of the year is July through September when highs are regularly around 84.8°F (29.3°C), and temperatures rarely drop below 71.4°F (21.9°C) at night.
In the summer, it can be much cooler in Montserrat, which is also less humid than in Barcelona.
The coldest months are December through February, where highs range around 58°F (14°C). Lows average around 42°F (5.5°C). But again, you will see some significant swings from average temperatures, so bring layers and plan accordingly.
Montserrat is open daily from 7:30 a.m. to 8 p.m. You can visit the Black Madonna from 8 a.m. to 10:30 a.m., and then from 12 p.m. to 6 p.m., Montserrat does get crowded. Go as early as possible to avoid long lines, especially if you want to see the Black Madonna.
Why You Should Day Trip from Barcelona to Montserrat
Montserrat offers some of the most stunning views of Catalonia. Whether you visit to see the Virgin of Montserrat, marvel at the construction of the Abbey so high in the mountain, or hike in the mountains for the incredible views, It's worth seeing.
It's one of the most popular day trips going from Barcelona to Montserrat and one you'll be sure to remember.
You Might Also Like
Like it? Pin it!