Everything You Need to Know for Hiking Havasu Falls
Hiking Havasu Falls is the most epic backpacking trek in Arizona. I don't mean to dis the Grand Canyon; of course, that is also amazing. But if I had to choose between them, this hike to stunning aquamarine waterfalls pouring out of red rock is a clear winner.
The falls are the most breathtakingly beautiful waterfalls I have ever seen, and they are so worth the effort to get there. I had wanted to do this hike for years, and I finally had the opportunity.
This guide will tell you everything you need to know about the once-in-a-lifetime Havasupai Falls hike, including how to get tickets, where to stay the night before, what to expect, what to bring, and more! I wish I had had this guide when I was planning, as it includes some tips I learned along the way!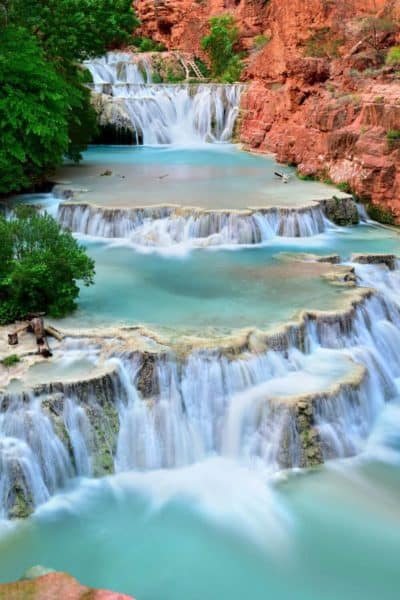 This post may contain affiliate links, which means I'll receive a commission if you purchase through my links at no extra cost to you. Please read the full disclosure for more information.
What You Need to Know Before Hiking Havasu Falls
Before you plan to do the Havasu Falls hike, there are several things you need to know. I'll explain them in more detail below, but this is a helpful summary:
The falls (and the hike) are within the Havasupai Indian Reservation. The Havasupai Tribe administers the land, so you are subject to their rules while you are there.
Treat the land with respect. You are expected to carry out whatever you carry in, so plan accordingly. Also, you are not allowed to bring alcohol, firearms, pets, or drugs.
Drones are not allowed, nor rock climbing, jumping, or diving. No nudity is permitted. (Note: I did see people jumping into the water, but do so at your own risk).
You are required to get a permit in advance for this hike. No permits are given on-site, and you will be turned away if you don't have one.
You must stay overnight as required by the Havasupai Tribe.
Do not wait to book. As soon as reservations open, get right to it.
The canyon is subject to periodic flash floods, especially during the summer. The canyon can be closed to hikes anytime without warning due to flood risk or excessive heat (115 degrees Fahrenheit or higher).
This is not an easy hike. It's a good idea to train before you go to ensure you can do it.
You cannot drive to the canyon, only the trailhead. The only way to get to the canyon is to hike it, ride a horse, or take a helicopter in the village on certain days of the week.
Alright! Now that those details are out of the way, I'll provide more information about the Havasupai people, the area, the hike, the permit required, and everything else you need to know.
Cost for the Havasu Falls Hike
The entrance fee to Havasu Canyon is $50 per person, whether people stay at the lodge or are camping. Campground reservations are $100 per person per weekday night and $125 per person per weekend night (including Friday, Saturday, and Sunday nights).
Reservations are required for three nights and four days, even if you choose to stay for less time. These prices do include all necessary permits, fees, and taxes.
The cost for this hike will be $350 per person or more, depending on the dates and if you choose to camp or stay at the lodge.
Havasu Falls Permit
You must have a permit to do the Havasu Falls Hike, and you are required to get it in advance. They do not sell them at the trailhead.
They have a website now to make reservations, and they no longer accept reservations by phone. You can get a permit to hike the canyon at Havasupai Reservations (https://www.havasupaireservations.com/).
When I went, there was a phone number to call. It took my friend and me two weeks of calling 50+ times a day to finally get through, and by then, our options were very limited.
Please be aware, though, that due to the extremely high volume of people making reservations, there may be website downtime. It sure beats dialing a phone trying to get through, though!
What You Need to Know Before You Make Reservations
Only one name is allowed on the reservation.
A reservation is only valid if the person named on the reservation is present at the Tourist Check-in Office in the Village of Supai (on the way to the campground) with their photo ID.
Travel insurance is a great idea for this trip!
All reservations are paid at the time they are made, and they are non-refundable, non-transferable, and non-changeable.
When to Make Reservations for the Havasu Falls Permit
Reservations open on February 1st of every year at 8 a.m. for hikes during the remainder of the year. It's a good idea to set up your profile in advance before the reservation window opens. The process is as follows:
Create a Booking Profile to confirm you have an email required by the system
Set up your Personal Profile details
Set up your credit card
Agree to all rules and regulations for visiting the Havasupai Reservation
Once the reservation process is open, you can select your dates to book. Bookings fill up quickly, so you should plan accordingly and not wait to try.
It's a good idea to have several backup dates available when you go to make your reservations. Because this is such a popular hike, dates sell out fast, and it's likely you won't get your first, second, or possibly even third choice, depending on the time of year you want to visit.
You can also look for reservation cancellations on the New Transfer/Cancellations page: Havasupai Cancellations/Transfers. If you have any questions about the booking process, you can email [email protected].
Havasu Canyon and the Havasupai Tribe
Havasu Canyon is a sacred land in the southwest corner of the Grand Canyon National Park. It is inhabited by the Havasupai Indian Tribe, meaning "people of the blue-green waters." This tribe is intimately connected to this land and the waters, and they have lived within the canyon as its guardian for over 800 years.
It's a small, isolated community of around 650 Havasupai tribal members. Approximately 250 of them live in Supai Village in Havasu Canyon. The Tribe is the largest employer, and most people work in tourism-related jobs. The only way in and out of the canyon is by the trail (hiking or riding a horse) or by helicopter from the Supai Village.
More than 20,000 people visit Havasu Canyon every year. Visitors are asked to preserve the magnificence of this beautiful area, the Havasupai homeland, and to respect the land and the Tribe's rules.
Where to Stay for the Havasu Falls Hike
The other decision you have to make in advance of booking, in addition to selecting your dates, is where you want to stay.
Havasu Falls Campground
You have two options: you can stay at the Havasu Falls Campground right near the falls, or you can stay in the Supai Village Lodge.
I highly recommend staying in the campground as it is an amazing experience, but the lodge is another option for people who don't prefer to camp.
Supai Lodge
The Supai Lodge is right in the village and can be booked by phone only. Lodge reservations begin booking the year prior, so for 2020, reservations start selling on June 1, 2019. They do sell out early for the most desirable dates, so if you may want to stay in the lodge, plan for it well in advance and make a reservation.
Lodge Reservations: (928) 448-2111 or (928) 448-2201
Deposits are $100 per room per night
The full room cost is $440 per room per night plus tax plus an entrance/environmental fee of $110 per person.
Rooms can accommodate up to 4 people
Costs are subject to change without notice
Lobby hours: daily from 8 to 5
A full refund is available up to two weeks prior to the reservation. After that, the reservation is non-refundable.
To make a reservation, call the number immediately above and provide the following information:
First and last name
Full address
Phone number
Requested dates
Credit card information
The rooms are very basic and not overly comfortable, but they do offer a proper bed and bathroom. It can be difficult to reach anyone by phone but keep trying if you do want to make a reservation or a change. There is a small onsite convenience store.
Getting to the Havasu Falls Hike Trailhead
The best way to reach Hualapai Hilltop, the trailhead to the Havasu Falls hike, is by Highway 66. It is 4-and-a-half hours from Phoenix and three hours from Flagstaff. Turn on Indian Route 18 in Peach Springs, a 64-mile road to the trailhead. It takes around an hour and a half to get to the trailhead from Peach Springs.
If you do start in Phoenix, consider taking a few days to see the sights there. There are a lot of fun things to do in Phoenix and some amazing restaurants to enjoy while in Phoenix. Also, there are a lot of Native American ruins in Phoenix and the surrounding areas.
So, if the Havasupai hike whets your appetite to learn more, here are my favorite Native American ruins in Arizona. And, in case you decide to stay some extra time, here are some other fun Arizona road trips to take to really get to know the state.
You May Also Like Best Things to do in Phoenix: the Ultimate Guide
Where Should You Stay the Night Before the Havasu Falls Hike?
The closest town is Peach Springs, and there is nothing between Peach Springs and the Hualapai Hilltop trailhead. This means no restaurants, no stores, and no gas. Nothing. So, make sure you have all that you need before you leave Peach Springs.
The road to the trailhead, Indian Road 18, has a lot of loose farm animals, so I don't recommend you drive it after dark. And if you do break down, you may not have cell reception. It's very remote, so other people may not see you for quite some time.
Peach Springs Area Hotels
You have the option to stay at a hotel in Peach Springs, though that puts you an hour and a half away from the trailhead. Depending on the time of year and how hot it is, it's often advisable to get a really early start before the day heats up.
I don't recommend staying at a hotel the night before. Instead, stay at the trailhead. It's up to you based on the temperature and your tolerance for heat.
Hotel Suggestions
If you decide not to stay at the Havasupai trailhead or you want to find a room for the night after your hike, there are a couple of options in Peach Springs.
The Grand Canyon Caverns Inn has simple rooms with basic amenities. It does have a restaurant, free bikes, a swimming pool, and a bar. The inn also has a shared kitchen and a playground, and offers continental breakfast. The rooms start at $99 for two full beds. It is located at 115 W Historic Rte 66, Peach Springs, AZ 86434.
The Hualapai Lodge is a little more upscale and comfortable. Rooms have a mini-fridge, a flat-screen tv, and a coffee maker, and breakfast is included. The facility also has a hot tub and a heated outdoor pool. It is located at 900 AZ-66, Peach Springs, AZ 86434. Rooms start at $192 for two queen beds.
Stay at the Hualapai Hilltop Trailhead
There is a very large parking lot at the trailhead that accommodates overnight parking while you're on the hike and the night before if you choose. You have the option to set up your tent and camp nearby or sleep in your car.
There is an office, and there are toilet facilities (several port-o-potties and a couple of composting toilets) at the trailhead, but no other amenities are available. During the day, you will find locals selling snacks and cold drinks from a truck.
Sleeping in our car wasn't very comfortable, admittedly, but we chose that option. I have a small, compact car. It dumped rain that night, right after we got there.
Not only didn't we want the hassle of trying to pack our things into our bags, but we also didn't want to sleep in our tent in the rain and then pack up our soaking wet tent. It didn't make for a good night's sleep, granted, but it seemed the best option for us.
A local woman approached us shortly after we pulled in to ensure that we had reservations and told us that a surprising number of people show up without knowing they were required.
So, do yourself a favor and make sure you have them. If you are caught without a reservation, you will be turned away. (They do multiple checks both when you pull into the lot and before you start hiking down).
Where Should You Eat Before Heading to the Havasu Falls Trailhead?
If you are looking for a last "proper" meal before heading off on your hike, the Peach Springs area is it. It's the last town before you enter the reservation, where there is nothing except for private homes until you get to the trailhead.
Peach Springs or Seligman are a good choice. This is a very small town in Arizona, so keep your expectations in check.
Peach Springs Area Restaurants
We stopped at Westside Lilo in Seligman for a last bite before heading to the Havasupai trailhead. It's an American-German restaurant founded by a German immigrant twenty years ago and was pretty good. Westside Lilo is located at 22855 AZ-66, Seligman, AZ 86337.
In Peach Springs, the Diamond Creek Restaurant in Hualapai Lodge is recommended on TripAdvisor. It's one of four restaurants, so set your expectations accordingly and it'll be great! It is located at 900 AZ-66, Peach Springs, AZ 86434.
Havasu Falls Hiking Options Available
You have two options for hiking Havasu Falls. First, you can have a donkey carry your bag. You'll still need a smaller pack for water, food, and supplies for the hike. But if you're a chronic over-packer, or don't feel you're in shape enough for this hike, it's an option.
Second, there is a helicopter used by the local People that you can use. I don't recommend this, as part of this amazing experience is doing the hiking. But, if you hike down and feel too tired, or injured, to climb back up, you have the option.
To Donkey or Not to Donkey
You have the option to have a donkey carry your pack down for you. They now must be reserved online before you go to Havasupai Reservations. The cost is $400 for a mule.
They can carry up to 4 bags that are 32 pounds per bag. (Size max is 36 inches long, 19 inches wide, and 19 inches tall). The maximum size and weight requirements are strictly enforced.
Bags must be dropped off by 10 am at the trailhead and 7 am at the campground. They can be left earlier, but if you drop them later, there is an additional $300 charge.
Bags must be soft-sided, so ice coolers are not allowed. Make sure nothing is attached to the outside of the bag or the bag is loose, as they will not stop to pick it up.
You must make the reservation one week in advance by calling (928) 448-2237. Once the reservation is made, you receive information about labeling your bags. A good precaution, as well, is to put your bag in a trash bag for the trip.
The donkeys often, well, let the bags know what they think of their crappy job, and you don't want to be smelling of donkey pee for this trek.
Do you want to use a donkey? It's a tough decision. If you're concerned about your fitness level, it is a good idea to carry a smaller pack. However, even though there are regulations that improve the donkey's quality of life, it is still lacking.
Helicopter
You have an option to take a helicopter in and out of the canyon. I don't recommend it, as the hike is an amazing and worthwhile experience. The helicopter does land in the village and not at the falls.
So, even if you take a ride on the helicopter, you still have a hike to get to the falls. And the helicopter is not a sure thing. It also doesn't run every day of the week and can be sidelined for maintenance issues and weather. They are operated by Airwest Helicopters and not the tribe.
Helicopter rides start at 10 am and operate on a first-come, first-serve basis. However, tribal members have priority. So, you could wait a while only to lose your spot and still have to hike down, losing the coolness of the early morning to do so.
This is the typical schedule, though it's a good idea to contact Airwest Helicopters to confirm. They run until 1 pm, though they will work later to try to accommodate everyone. However, they do not fly after dark. The cost for a helicopter ride is $85 each way.
From March 15 to October 15:
Sunday: 10 am to 1 pm
Monday: 10 am to 1 pm
Thursday: 10 am to 1 pm
Friday: 10 am to 1 pm
From October 16 to March 14:
Sunday: 10 am to 1 pm
Friday: 10 am to 1 pm
What Not to Do Hiking Havasu Falls
Believe it or not, we met a group of three girls who somehow made it past the people checking at the trailhead with a small bag with very limited water. They had no reservation, had only around 16 ounces of water each, and no food. They also had no tent or any gear with them!
If you don't do your homework (or read this article!), you may not know reservations are required. Also, this is not a day hike, and you are required to stay overnight for at least one night, either in the Lodge in the Supai Village or in the campground.
Do yourself a favor and make sure you have the gear, food, and water you need. And don't try to sneak past them to make your way to the trail. Remember, we are allowed to do this hike with conditions and the tribe's approval.
If too many people try to shirk the system, we may not be allowed to hike this in the future. And that would be an incredible loss!
The Havasu Falls Hike — Hiking Details
The trailhead is well-marked and easy to find. There may be someone from the Havasupai Tribe there to check permits, so make sure it's handy. They will also make sure you have a pack to stay at least one night in the canyon.
It's a good idea to leave early in the morning at most times of the year (at least from April through September when it is the hottest in the area). If you sleep in your car, it's fairly easy to do as we woke up with the sun and got an early start.
The initial part of the hike is a fairly steep climb down switchbacks. It's a beautiful canyon, and the colors change with the rising sun. It only took a couple of hours to get down, and the rest of the hike is relatively flat in a silty river bed. There are some shady areas and some nice views to be found for pictures.
You'll see some Native Americans with groups of horses running through this area. It's always hard to see them because, as much as I love horses, these don't always look to be in the best condition.
You may also see some donkeys carrying packs down for people and bringing supplies down to the village. They are tied together and run really fast, seemingly unguided, until you see a Native American come up from behind them.
Havasu Falls Hike Trail Distances
The one-way hiking trail distances:
Hualapai Hilltop Parking Lot to Supai Lodge: 8 miles (13 km)
Hualapai Hilltop Parking Lot to Havasupai Falls Campground: 10 miles (16 km)
Supai Lodge to Havasupai Falls Campground: 2 miles (3 km)
Havasupai Falls Campground to Mooney Falls: 0.5 miles (0.8 km)
Depending on your pace and condition, the hike from the parking lot down to the campground (10 miles) will take between 4 and 7 hours. It took four on the way down, with lots of stops at the waterfalls before the village and in the village, and approximately 6.5 hours on the way up.
In the "What You Need to Know" section, I did recommend some training for this hike, and I definitely agree with that. Unfortunately, the only dates we could get were in early August.
I live in Phoenix, and the summer (a.k.a. "hell") is scorching hot, so I wasn't able to train for the few months before I went. I did go to the gym, but it's not the same conditioning. The way down was fine but the way back up was challenging. Even still, we did it in less than 6 hours, so not too bad.
Supai Village
The village is very small and on the rustic side. You'll see a small store, a restaurant, a school, the lodge, homes, and a few other buildings. Keep following the path, and you will find the tourist office.
You are required to stop and check-in, where you will get a wristband that you are required to wear for the entire time you are in the canyon. You also get a tent tag, which is checked daily by rangers who patrol the campground.
There is a place to get water if you need it. And the village has free WIFI. Get your last email fix, as this is the last time you will have access until you are back in the village.
Once you leave the village area, it's only a short walk to get to Havasu Falls and the campground. You'll walk by some smaller waterfalls on your way. First is the New Navajo Falls, followed closely by Fifty Foot Falls.
There are a lot of beautiful rock formations in the water after these falls, which make a lovely curtain down the creek.
The Last Push to Havasu Falls
The climb down to the campground is a bit steep with many loose rocks, so be careful. You'll hear the sound of rushing water and get an amazing first view of the falls a little more than halfway down the hill into the campground area.
Havasu Falls
The Havasu Falls are amazing. The limestone lining the pools reflects the sunlight and sky to create a beautiful, bright aquamarine blue-green color that's incredible. The rocks are shared of rust, red, and brown, providing a striking contrast. There are lots of mature trees.
It's a large waterfall and stunning. The kind that you want to go to stare and see if it's real. Of course, you'll want to swim too, but beware — the water is COLD! I went in August, and it was crazy cold.
The rocks are incredibly slick as well. The limestone coating that provides the gorgeous colors coats the rocks like a layer of nail polish, and they are very slippery. It's a good idea to wear water shoes.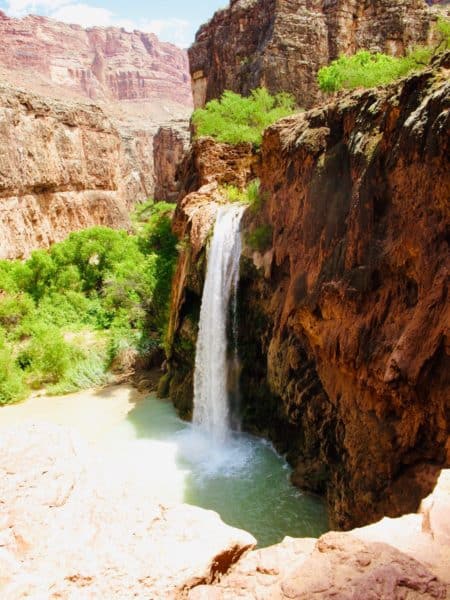 Havasu Falls Campground
When we arrived, the ranger advised us to take a site on high ground away from the creek, as it was August. There is a flash flood risk during the summer monsoon season.
The campground offers many different areas to set up camp, and you can camp wherever you want. Though it was markedly cooler by the water, we took his advice.
There are composting toilets that are actually quite decent, and they weren't smelly (when we went). There is an area where you can get fresh water that is ok to drink, which comes from a spring sourced through rock by a metal pipe.
It was fresh, cool, and a luxury on the hot and humid days we were there. It's a good idea to stay fairly close to that for convenience, but if you want a little more privacy, you can go further back into the campground. It extends for quite a distance.
Mooney Falls
Mooney Falls is spectacular as well, and you can view them looking down on them from the campground. You also have the opportunity to climb down to see them, but the climb is not for the faint of heart.
Pass the "Proceed at your own risk" sign and start the descent. At first, it's not so bad, but then you go through a fairly tight squeeze through a cave.
Once you clear the cave, there are ladders bolted into the wall, two chains, and uneven toe holds carved into the rocks to take you the rest of the way.
Beaver Falls
If you brave the climb down to Mooney Falls, you can continue to Beaver Falls. The trip is very windy, and the trail isn't always well-marked.
You will cross a 2×4 over the creek and a slotted "bridge" on the way. On the way to these falls, you'll also see the Jungle, a viney mess of lush green vegetation.
When to Go to Havasu Falls
Spring and Fall are the best seasons to go to the Havasu Falls to avoid the largest crowds. The peak season is May to September, which is also the hottest time of year.
Early Spring and late Autumn are a good time to go when there are slightly fewer people. But ultimately, go whenever you are able to get a reservation.
What to Bring for the Havasu Falls Hike
It's important to give thought to what you bring to Havasu Canyon as there aren't stores nearby to pick something up if you forget it quickly.
There is a small store in the village where you can buy essentials, but you shouldn't count on being able to get what you want. This is a comprehensive list of necessities and some recommendations, though you will want to tailor it to your specific needs.
Clothing
Nylon pants and shorts
Swimsuit
Multiple pairs of wool or synthetic hiking socks
Water shoes or sandals (I recommend water shoes. I brought my Keen water sandals, and my feet were sliding in them)
Hiking shoes or boots
Wicking tech t-shirts
Wide-brimmed sun hat
Rain jacket and pants
In Early Spring, Late Fall, and Winter, Also Bring:
1-2 long-sleeved fleece or wool layers
Warm hat
light-weight gloves
Long underwear
Gear
Backpack
Trekking poles
Backpacking tent
Lightweight sleeping bag and pad
Backpacking stove (like a Jet Boil)
Stove fuel
Matches or lighter
Cooking pots and pans (if needed)
Plates, bowls, utensils, mugs, cups
Water bottle (I recommend a drinking bottle like a Nalgene and a collapsible bottle like a Platypus for getting water at the spring)
Headlamp and extra batteries
Sunscreen and bug-repellent
Dry sac for clothing (or plastic bags)
Camera or Phone
Food and Drinks
Lots of water for the hike down – at least a gallon per person is recommended
Energy bars
Snacks (nuts, trail mix, etc.)
Electrolyte mix
Food options: instant oatmeal, bagels, peanut butter, chips, fruit, cheese, dehydrated backpacking meals, etc.
Optional
Hammock
Inflatable water float
Tips for the Havasu Falls Hike
Leave early for both directions, especially on the way up. You get to the ascent area in around 2 hours or so from when you leave the camp, depending on your page. Even leaving at 6 am, we hit it as the sun was climbing, and it got hot quickly.
There is no water on the way, so bring plenty.
Leave a jug of frozen water in a cooler in your car to have cool water when you get topside.
Pack a change of clothes for when you get done with the hike (which we didn't and wished we had) 
Bring a collapsible water container to save trips to the water source in the campground.
Put everything in plastic bags, Ziplocs, and trash bags.
Bring duct tape in case of blisters.
Fires are not allowed, so bring food that you can either cook with a portable stove/Jetboil, or that doesn't require heating.
Bring an extra battery charger for your electronics.
Don't overpack as you're hauling it. If you consider it optional, leave it at home.
Be nice to the locals. The Havasupai Tribe allows us to enter their lands. Be kind and be respectful.
Camp where you are allowed to and recommended to. If a ranger tells you to pick high ground, it's a good idea to do so for safety reasons.
Don't leave food out at your camp. Bag it securely and tie it to a tree unless you'd like to share it with a squirrel.
Please don't leave your trash. Take everything with you when you go.
The Risk of Flash Floods
They are most likely to occur during the monsoon season from early July through mid-September. However, it's possible that they can occur at any time of the year. Flash floods can hit suddenly without warning, sending a deluge of water through the canyon.
It's important to get to the highest ground possible. Sometimes, you can get advanced warning watching for a change in the water (if the typical blue-green waters turn brown, it's a good alert that trouble is coming).
They don't happen often, but they do happen, so it's best to be prepared. Camp on higher grounds in the campground, and it's a good idea not to go off on your own, especially during monsoon season. If you are with others, you have a better chance to get help from them or others if needed.
Final Thoughts on Hiking Havasu Falls
Seeing these magical falls on the Havasu Falls hike is an amazing, once-in-a-lifetime experience not to be missed. The planning and preparation for it are no joke, and this guide includes all of the information you need to do it safely and happily.
Be sure to read all of the requirements, pack all of the necessary items, and definitely train for it.
This is an experience you won't want to miss and won't want to skip because you're injured. Once you see the exquisite beauty of these waterfalls, it's easy to understand why they have a guardian.
You Might Also Like
Like it? Pin it!