17 Cool Things to do in Santiago: Chile's Fun Capital
Looking for the best things to do in Santiago, Chile?
Santiago is a beautiful city blending old-world charm and a modern appeal surrounded by the Andes Mountains. It also has a rich history and a vibrant culture so it's worth seeing.
The city center is fairly compact and walkable and you can see a lot in just a few days. Here are some of the best things to do in Santiago, Chile that you won't want to miss.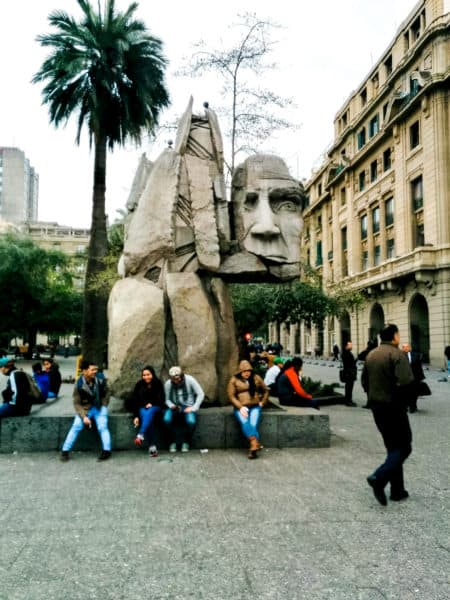 Some links in this article may be affiliate links, which means that if you purchase through them, I receive a small commission. This will never cost you extra. Please read the disclosures to learn more.
Things to Do in Santiago, Chile
There are so many incredible things to do in Santiago, Chile. In fact, Santiago is one of the most heavily touristed cities in Chile. Not only is it a great hub for seeing the rest of the country, but visiting Santiago is one of the top things to do in Chile.
If you're seeking some inspiration for why then read on! You'll fall in love with this thriving city.
Stroll Around Plaza de Armas
The true heart of Santiago is Plaza de Armas. It was established in 1541 as the city's central area for all important happenings including political and religious events and the stunning Metropolitan Cathedral has a prominent place on the square. Today it's a great spot for watching the locals enjoying life.
It's the best place to begin any tour of Santiago. In the center of this vibrant square is a large fountain celebrating Simon Bolivar, liberator of Chile from Spanish rule (as well as Colombia, Peru, and others). There are lots of benches to sit and watch the world go by or wander the wide paths lined with Chilean palm trees.
You'll often find street performers, salsa classes, and live operas. There are food carts and sometimes carts selling crafts, souvenirs, and various other things. When we went, there was a protest calling for open immigration into Chile and there was a fairly visible police presence and things remained peaceful. You might see people out for a stroll, having a loud debate, or tourists gathered for tours. It's a popular starting point for walking tours.
There are a number of beautiful buildings on the square including the cathedral that I mentioned and the Central Post Office building (Correo Central). It's surprisingly beautiful and worth going inside for a peek. And the view from the square is such an interesting juxtaposition between the old buildings and the new glass skyscrapers.
Plaza de Armas is located on a map here.
Santiago Metropolitan Cathedral (Catedral Metropolitana)
The Santiago Metropolitan Cathedral is simply stunning. It was built in the 18th century by an Italian architect and it's very ornate. There were a lot of different patterns of colored marble and stone, stained glass, sculptures, and some gorgeous woodwork. There are some impressive frescoes on the ceiling and striking gilded columns.
This wasn't the first cathedral built on this site but it's the only one that has withstood the many earthquakes in this area. It's the main house of worship for the Chilean Catholic Church and it's dedicated to the Assumption of Mary into heaven.
The Metropolitan Cathedral is the main house of worship for Chile's Catholic Church and the base for the country's Archdiocese. It is dedicated to the Assumption of Mary into Heaven. It has several alters, a chapel, a crypt, and three naves.
Santiago Metropolitan Cathedral is free to visit and it's open on Monday at 11, Tuesday through Saturday at 10, and on Sunday 9, and it closes daily after 7 p.m. mass. It's located at Plaza de Armas, Santiago, Región Metropolitana, Chile.
Explore Santa Lucia Hill (Cerro Santa Lucia)
If you're looking for some quick and impressive views, this hill packs a punch! Cerro Santa Lucia is a small hill park right in the center of Santiago. This used to be a rocky and unkempt hill and in the 18th century, it was cleaned up and paved. It's a nice spot to enjoy Santiago on a sunny day. (It gets quite slick and can be tough to walk up and down if it's raining.)
The park actually has some interesting history linked to it. Spanish conquistador Pedro de Valdivia founded the city of Santiago on this hill in 1541. Over the years, it has been home to some forts and dissidents. And the hill is what remains of a very old volcano.
Check out the Neptune Fountain (Fuente Neptuno) when you arrive and don't skip a visit to Hidalgo Castle (Castillo Hidalgo), which was built in 1816 to protect the city. It's now an events center but it's worth checking out the exterior.
You can hike the hill, up a series of pathways and steps, which takes around 45 minutes to climb. Or, if you're not up for it, head to the funicular located near the zoo.
Santa Lucia Hill is only a few blocks from Plaza de Armas, located here on a map.
Chilean Museum of Pre-Colombian Art (Museo Chileno de Arte Precolombino)
Just a couple minutes' walk from Plaza de Armas is the Museo Chileno de Arte Precolombino. It's an incredible museum loaded with artifacts and artwork from pre-Columbian South and Central America. All of the artifacts inside the museum were from up to the time of the Europeans' arrival.
You'll find many different items created by indigenous peoples including jewelry, textiles, pottery, sculptures, and more, some dating as far back as 10,000 years. It started as a private collection which is pretty incredible to think about!
This museum is located inside a 19th-century palace. There are many interesting exhibits, and one of my favorites was the permanent exhibition called "Chile Before Chile." It told the story of Chile's indigenous people from many years ago to today. The presentation was amazing and the artifacts included were just incredible.
If you enjoy museums and love learning about history, this is a great museum to visit.
Museo Chileno de Arte Precolombino is located at Bandera 361, Santiago, Región Metropolitana, Chile. It costs 1,000 CLP ($1.35 USD) and it's open from Tuesday to Sunday from 10 to 6.
La Moneda (Palacio de la Moneda)
This seat of the President of the Republic of Chile is a beautiful white-walled and European-styled building that stands proudly in Santiago's city center. It's a neoclassical palace built in the 18th century by Italian architect Joaquin Toesca.
La Moneda, meaning coin, was once the official mint of the country and has retained the name. It was a mint until 1828 and in 1845 it became the seat of the government. La Moneda was bombed in 1973 and badly damaged when the military coup put Augusto Pinochet in power and President Salvador Allende died, perhaps under suspicious circumstances. It has since been restored.
You can tour La Moneda. It's worth it if you're interested in learning more about the history of the palace and of these events in Chile.
It's still worth going regardless, both to see this gorgeous building but also to see the Changing of the Guard ceremony. It occurs every other day at 10 a.m. or at 11 a.m. on Saturdays. It's held on odd-numbered days on odd-numbered months, and on even-numbered days otherwise.
It's full of all of the pomp and circumstance you might expect and lasts for around 30 minutes. The ceremony highlights the meeting of the old and new guard detachments in front of the palace with two units on horseback. There are salutes and a marching departure joined by a military band.
La Moneda Palace is located at Moneda S/N, Santiago, Región Metropolitana, Chile. If you want to go on a tour, sign up here or send an email request to [email protected]. Tours are offered in English and Spanish.
Saint Christopher Hill (Cerro San Cristobal)
Parque Metropolitano or Saint Christopher Hill is located in Parque Metropolitano, the largest park in Santiago. The two names are often used. It's a large hill rising over the northern part of the city with some incredible views.
You can hike up, which takes around an hour, depending on your speed. Or, you can take a funicular that stops in multiple areas on the hill. There are a number of things located in this park including the National Zoo, a Japanese Garden, and public outdoor swimming pools.
At the top of the hill is a chapel, an observatory, and an impressive 70+ foot tall (22 meters) statue of the Virgin Mary. The statue is lit up at night and can be seen from much of the city. There's a large amphitheater where masses are held.
This hill offers a stunning panoramic view of the city and is generally considered a must-see when you visit Santiago. Near the top of the funicular is the Terraza Bellavista with a number of snack stands. It's a great place to grab a drink or a bite to eat and enjoy the view on a nice day.
Saint Christopher Hill is located at Recoleta, Santiago Metropolitan Region, Chile. You can take the cable car from the Bellavista neighborhood which is near the Plaza Italia Metro stop here. The cable car is open from 10 to 8 (Note: the hours on their website only show Monday to Friday. However, the prices show Saturday and Sunday as well). It costs 2,850 CLP for a round-trip ticket on weekdays ($3.90 USD) or 3,420 CLP (around $4.70 USD) on the weekend. There is a bus as well that costs slightly less.
Museum of Memory and Human Rights (Museo de la Memoria y los Derechos Humanos)
Chile has a varied and often painful past with a history of human rights violations, particularly during the Pinochet regime from 1973 to 1990. This museum serves as a memorial to the Chilean people who suffered these abuses. When the museum construction began, the first stone was laid by President Michelle Bachelet, who felt the pain of the regime all too well.
The legacy of the military coup and the following dictatorship is still felt deeply in the country. It was a very dark period in this country's history that left an indelible mark on society. This museum takes you from the time of the coup to the end of Pinochet's rule. It also covers some of the things being done since to respect and remember the times.
When you first walk through the door, you'll see the last poem of Victor Jara at the entrance, an early victim of the regime. The museum houses various torture devices used by Pinochet and his people. It also has survivors' statements and prisoner letters to their families.
This is a profound and rather heavy museum, but if you really want to understand the fairly recent history of the Chilean people, it's an important one to see. While aspects of the museum are difficult to look at, there is also a beautiful sense of hope portrayed as well.
The Museum of Memory and Human Rights is located at Matucana 501, Santiago, Región Metropolitana, Chile. The museum is free to visit.
Barrio Bellavista
If you want to know where the cool kids hang out in Santiago, it's the bohemian quarter of Bellavista. It's where one of the most famous residents of Santiago, poet Pablo Neruda, lived in his home, La Chascona.
You'll see lots of restaurants, avant-garde art galleries, late-night discos, and interesting boutiques. Bellavista is also the neighborhood with the best street art in Santiago. It's not only one of the best in the city but it's noted as one of the best in the world.
In this neighborhood, you'll also see some beautiful and colorful old houses. Wander the tree-lined streets and just take it all in. On the weekends, there is a crafts market worth checking out.
Barrio Bellavista is located here.
Central Market (Mercado Central)
Mercado Central is the central fish market in Santiago that has been around since 1872. Though they do sell other food there, it's the seafood that's the draw. There are a lot of options as Chile is mostly coastline and you'll find a maze of stalls loaded with fish, mussels, clams, oysters, and many more options.
There are a lot of restaurants and it's a popular place for lunch or dinner. Restaurant prices are geared towards tourists in the center of the market, so know that you're paying a premium for the experience. Your best bet is to choose one of the smaller restaurants lining the outer edge of the market for where the locals go and more local prices.
Try a local favorite, ceviche, or a bowl of Paila Marina. Of course, enjoy it with a pisco sour, and I have read some places may offer a complimentary one so you can try it. (We weren't so lucky, though we enjoyed one anyway!)
Like so much of Santiago, it's not far from Plaza de Armas. The Central Market is located at San Pablo, Santiago, Región Metropolitana, Chile. It's open daily; Monday to Thursday from 6 a.m. to 5 p.m., Friday from 6 a.m. to 8 p.m., Saturday from 6 to 6, and Sunday from 6 to 5.
National Museum of Fine Arts (Museo Nacional de la Bellas Artes)
The Chilean National Museum of Fine Arts (MNBA) has a significant holding of Chilean art and South American art. It was actually established by a Chilean sculptor who was concerned about Chilean art being dispersed. So, with Government support, he began collecting artworks into a collection that became the museum's foundation. It's the oldest art museum in South America, established in 1880.
The Museum is located in the Palace of fine arts (el Palacio de Bellas Artes), built-in 1910, and located in Parque Forestal. It was designed by a Chilean architect, Emile Jéquier in a Neoclassical and Baroque Revival style with Art Nouveau details.
The MNBA has over 5,500 pieces in its permanent collection, and a subset is on display at any time. It also shows a number of temporary displays every year as well. If you are a lover of art and art museums, you won't want to miss this one.
The National Museum of Fine Arts is located at José Miguel de La Barra 650, Santiago, Región Metropolitana, Chile. It's free to visit as many of the museums in Santiago are, and it's open every day except for Monday from 10 to 6:45 p.m.
Parque Forestal
This small urban park is located in central Santiago. If you need a little bit of time out of the concrete jungle of this city, it's a great place to go for a stroll. There are a number of large and unique statues worth checking out as well. These include the German Fountain, a gift for the 150th anniversary of the country, and a memorial of German immigration.
And if you're lucky, you'll see some really interesting street performers. It's a great place to wander and enjoy the quieter side of local life. Another favorite in the park is Italia Square, where they held a large celebration for Chile's first World Cup win in history.
There are wide paths and museums including the Museo Nacional de Bellas Artes (National Museum of Fine Arts) and the Museo de Arte Contemporáneo (Contemporary Art Museum).
Parque Forestal is located in central Santiago here.
La Chascona
Nobel literature prize winner and one of Chile's most famous residents Pablo Neruda had this home built in the Bellavista neighborhood of Santiago. He was a poet, diplomat, leftist politician, and one of Chile's greatest and most beloved people. It was built for the love of his life, "La Chascona," or the tangled-haired woman. It's a must-see when you visit and one of the top things to do in Santiago, Chile.
Neruda's larger-than-life character, his quirky personality, and his great love for Mathilde all live on in this unusual ship-shaped home. The living room resembles a lighthouse and the kitchen a ship's cabin, playing on the ocean that Neruda so loved.
The home has been lovingly restored, packed full of Neruda's personal belongings. The quirky architecture and vibrant colors make it a fascinating place to visit, along with his personal items from his world travels. There's also a fairy tale garden in the back that's suitably bewitching.
If you fall in love with this home and want to see more, there are two others. Isla Negra is located around an hour and a half from Santiago. La Sebastiana is located in Valparaíso, also worth seeing.
La Chascona is located at Fernando Márquez de La Plata 0192, Santiago, Providencia, Región Metropolitana, Chile. It costs 7,000 CLP (around $9.50 USD). From March to December it's open from 10 to 6, from Tuesday through Sunday. In January and February, it's open from 10 to 7 from Tuesday to Sunday
Sky Costanera
Another great place to take in the city views of Santiago is from the top of Sky Costanera. The observatory at the top of this skyscraper is the tallest in all of Latin America at just under 1,000 feet (300 meters).
Take the elevator up to the top at lightning speed and walk around to enjoy the 360-degree views from the top. Sunset is a great time to go if you can to see the city light up with pure magic.
The Sky Costanera is located at Av. Andrés Bello 2425, Providencia, Región Metropolitana, Chile. The observatory is open from 11 to 8 with the last elevator up at 7:30 p.m. Tickets cost 15,000 CLP (around $20.50 USD) or you can buy a fast pass and avoid the line for 20,000 CLP ($around $27.30 USD).
Emporio La Rosa
If you're an ice cream lover and perhaps just a city by how good its ice cream is (do you hear whistling??), then you must go to Emporio La Rosa. It's the most popular place in Santiago as you will see from the long line to get in. When you see going to an ice cream shop is one of the top things to do in Santiago, Chile, then you need to check it out!
I'm not the most patient person waiting in a line, and it's totally worth it. In fact, I might have even gone twice while I was in Santiago. (In my defense, we were there for a few days, then went back for a couple of days so it was like two separate trips. And, that's the story I'm sticking with!) They have multiple locations, which I was very excited to learn when we stumbled onto it so we took that as a sign we HAD to go in.
This place isn't just a tourist trap but it's also a favorite among locals as well. One of their most popular flavors is honey, called miel de ulmo. It's worth trying!
There's an outdoor seating area and if you're lucky, they'll have live music as well you can enjoy as you savor every last lick. Oh, and they do have coffee and food there as well.
The Emporio La Rosa locations are on this map so you won't miss out.
Take a Day Trip
There are a number of fun day trips you can take when you visit Santiago. I was able to do all of them (though I spent a few days in Valparaíso) and I can say they are all worthwhile.
Pomaire
When we visited Santiago, we read about visiting the small artist colony of Pomaire just an hour away and we were all in. Finding information on how to get there, and actually getting there, was quite a challenge! I do tend to be a bit direction-challenged though, so I may be partly to blame. I do recommend this as one of the top things to do in Santiago, Chile, though it's a tad off the beaten path.
We were so glad we did! It's a very small town and the area with all of the craft shops is only a couple of streets. But, there are some pretty amazing places to visit. If you're looking for souvenirs, pottery, handicrafts, and the like, a trip to Pomaire is just what you'll need.
Oh, and they are known for making little clay pigs, Chanchitos, that bring you good luck. Well, apparently they worked, as a wonderful woman we met at one of the shops learned of our story, and wrote down for us what to show the bus drivers to make sure we were going the right way.
Getting to Pomaire
We found mention of a bus from Terminal Borja that leaves daily at 9:30 so we decided to wing it (an interesting prospect for a planner like me)! In the central station (Estacion Central) there is a large carousel, which is interesting. The bus station is upstairs and there are a number of booths (50+) based on where you're going. Just ask for Pomaire (and learn how to say it correctly to avoid any confusion!)
Even still, we managed to get misdirected. The bus to Milipellas, the large town closest to Pomaire, stopped many times without announcing where the stops were. At the end of the line, we asked how to get to the bus to Pomaire.
The hand gestures accompanied by rapid-fire Spanish told us we weren't in the right place. The driver took pity on us and walked us almost ten minutes to a tiny bus terminal, pointed to a small bus, and said "Pomaire." I'm not sure where we went wrong, but we ended up getting there and had a funny story to share.
Pomaire is located here on a map. I won't dare guide you there given our missteps, but here is some guidance on Rome2Rio, a great site that I use often for navigating (generally, without getting lost). If you'd rather do a tour (after my incredible description about how easy it is to go), this tour includes Pomaire and also includes Isla Negra.
Valley Wine Tastings
If you enjoy wine, you won't want to miss a visit to Maipo Valley for wine tastings. Three of the largest and most important vineyards are located in this area: Santa Rita, Concha y Toro, and Undurraga. If you're a wine drinker, and especially a red wine drinker, you have undoubtedly heard of the first two!
You can rent a car and drive but a better option is to go on a wine tour so you don't need to worry about driving at all. There are lots of great tours and here are some options.
The vineyards are only around 45 minutes from the Santiago city center. The grounds are beautiful and worth seeing. Santa Rita actually even has a little surprise—a small museum with local Chilean pre-Colombian artifacts! Entirely unexpected and pretty amazing.
Valparaíso
Valparaíso is a vibrant and colorful coastal city around two hours from Santiago. You can take a day trip there, though I recommend staying for at least a couple of days to explore. There are a lot of amazing things to do in Valparaíso.
The city was once a rich and busy port. But, when the Panama Canal opened and ocean vessels no longer needed to traverse South America, they had to find a way of revitalizing the city. It's now known as the cultural capital of Chile. This city is a thriving hub of music and art, known for its brightly colored homes scattered over its very hilly neighborhoods.
Valpo, as it's often called, is also a hub of street art. What started as an underground movement during the military dictatorship is now legal and encouraged. Visit to wander the streets to enjoy the vibrant colors and art, see Neruda's La Sebastiana home, and take in life on the sea.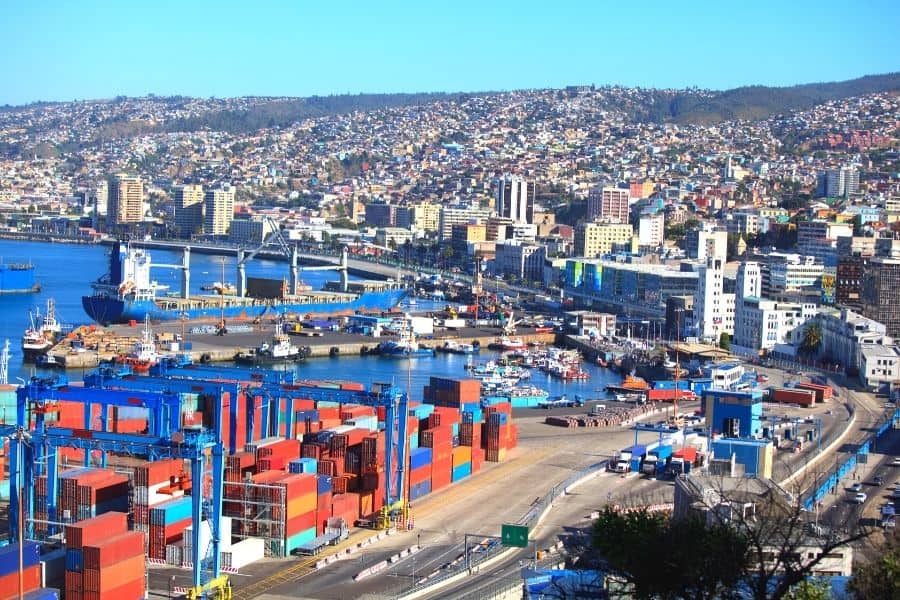 What to Eat in Santiago, Chile
Chile foods are wonderful, though I did find them to be very meat-heavy. You'll find a lot of dishes with red meat and even more with fish given the length of the Chilean coastline. Here are some of the dishes worth trying in the area:
Empanada de pino — Empanadas are found throughout much of South America, but this was a fun spin on one including minced beef, onions, olives, raisins, and a slice of boiled egg. Ask if they have merkem, a spice ground up with a mortar and pestle that takes smoky and spicy.
Pastel de choclo — This dish is a Latin casserole that's both sweet and savory. It's a layer of meat (beef usually, or chicken, with onions, olives, and boiled egg covered in a layer of thick, creamy, mashed corn. It's then baken in an oven and the top layer carmelizes (*mouth waters*).
Cazuela — Beef stew with chicken (yes, chicken!), corm, rice, and potatoes.
Asado — If you're a meat eater, you'll rejoice. This is a barbecue of beef, pork, and/or chicken and sometimes includes sausage.
Seafood — Any seafood dish will pretty much be fresh and incredible. You'll find a lot of corvina and other white fish as well as shellfish.
Pisco sour — If you're of drinking age (18 in Chile), give this a try. Both Chile and Peru claim inventing this drink, so give it a try in both countries!
Chicha — Fermented apple drink that tasted almost like a hard apple cider.
Santiago Restaurants
There are a lot of amazing restaurants in Santiago, and here are some great Chilean favorites:
Where to Stay in Santiago
Of course, there are a lot of choices for great hotels in Santiago, Chile.
Budget: Ibis Santiago Estacion Central — If you're looking for a budget hotel at hostel prices, Ibis offers great options. This hotel is stylish and modern and located a short walk from the central station, making it easy to get everywhere in the city. If you'd rather have something with more of a neighborhood feel, there is an Ibis in Providencia as well. If you do prefer a hostel, Hostel Providencia looks like a great bet.
Mid-Range: Hotel Cumbres Lastarria — This mid-sized boutique hotel is in a fun neighborhood. It's close to the sights and lots of amazing restaurants.
Luxury: The Singular Santiago Lastarria Hotel — This renovated 20th-century building is in the bustling and central neighborhood of Lastarria. Rooms are stylishly and comfortably appointed. Enjoy the stunning views from the 9th-floor Sky Bar.
When to Visit Santiago, Chile
The most popular time to visit Santiago is from December to February, summertime in the Southern Hemisphere. High temperatures average 83° to 86° F (around 28 to 30°C) with next to no rainfall in and around the city.
However, it does get very crowded and prices go up for hotels. The shoulder season are from September to November and March to May, spring, and fall. Temperatures are still mild with highs averaging between 66° and 79° F (19° to 27°C) but the crowds thin. September and May can get some rain (which I found as it rained a LOT when I was there in September).
If you like wine, March through May is a great time to go for lovely fall foliage and grape harvest festivals. Going to wine tastings at the many local vineyards is one of the top things to do in Santiago, Chile.
The Top Things to Do in Santiago, Chile
Santiago is such a great small and easy-to-navigate city with lots of history and culture. There are so many things to do in Santiago, Chile that it can be tough to pack it all into a few days. But, in a few days, you'll easily be able to see the things you're most interested in, have some incredible meals, and learn more about this interesting part of the world.
You Might Also Like
Like it? Pin it!