The 7 Best Places to Visit in Germany
Germany is a country rich in history, culture, and natural beauty. It's not easy to pick a handful of places representing the best this country has to offer.
If you're going to pick just a few, you want a representation of the different parts of Germany as the country has so much to offer. From cities steeped in history to romantic castles to quaint Bavarian villages, here are some of the best places to visit in Germany.
Some links in this article may be affiliate links, which means that if you purchase through them, I receive a small commission. This will never cost you extra. Please read the disclosures to learn more.
1. Munich
Thank you to Munich for bringing us Oktoberfest! Started back in 1810, this event actually celebrates a royal wedding. Munich draws millions of visitors to partake in the beer, Bavarian food, and revelry of this yearly bash. Though this may be what Munich is best known for, this isn't all that this city has to offer.
You May Also Like 16 Interesting & Unique Things to Do in Munich
Munich is the capital of Bavaria, the southern region of Germany. It's the most prosperous city in the country attracting many global companies. Munich offers a striking old town city center that blends modern architecture with historic churches, royal palaces, and medieval walls and gates.
The English Garden in Munich is one of the world's largest public parks. Spend hours strolling through and you can even surf! Though this city was the capital of the Nazi State during World War II, you'll find celebrated examples of resistance immortalized and celebrated.
Munich is also a great central location for a number of great day trips. Visit the magestic Neuschwanstein Castle for romantic inspiration. Or go to Rothenburg ob der Tauber to see a quaint German town. You can even day trip to Salzburg, Austria. There are so many to choose from, though you may want to spend all of your time in Munich!
If you can't make it during Oktoberfest, don't worry. There are lots of biergartens and beer halls to give you a taste of the cheer served up with some amazing Bavarian food.
2. Garmisch-Partenkirchen
The tallest mountain in all of Germany—the Zugspitze—is located in Garmish-Partenkirchen. It's a huge draw to visit the highest peak in the German Bavarian Alps at any time of the year. Hike it in the summer or go skiing in the winter.
Or, make a fun day of it taking a cog railroad or a gondola to see spectacular views in multiple countries. You can even cross over into Austria from the peak. There are some breathtaking views from the top. You can also see a glacier near the top.
You May Also Like Why You Should Visit Garmisch-Partenkirchen
There's a lot to the town of Garmisch-Partenkirchen, made by merging two smaller towns around the 1936 Olympic Winter Games. It's a popular weekend destination from Munich. People visit for skiing and winter sports in the wintertime and hiking in the summer. Though it's not often included on lists of the best places to visit in Germany, it should be!
Hike through the stunning Parnatch Gorge or go on many hikes through this beautiful Bavarian area. Or, wander on the historic Ludwigstrasse in Partenkirchen to see historic traditional Bavarian homes and enjoy the spectacular local cuisine in the many restaurants. Take it all in as you enjoy small-town life in this scenic German getaway.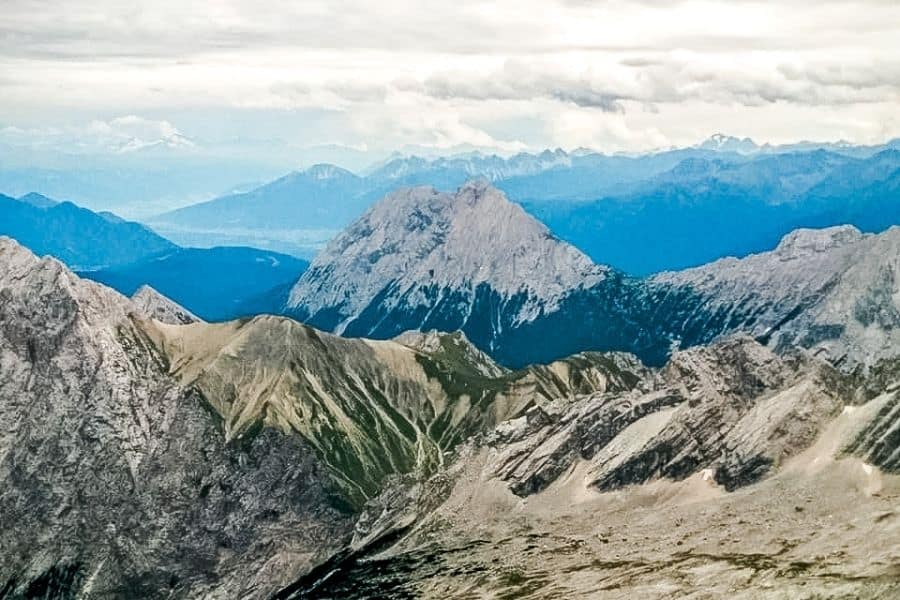 3. Hohenschwangau and Neuschwanstein Castle
King Ludwig II's incredible legacy sits atop a precipitous ridge in the German alps. Neuschwanstein, the fairy-tale castle known to be an inspiration for the famous Disney castle, is breathtaking.
It may be one of the most famous and well-known castles and is one of the best places to visit in Germany. Even for those who don't know the name, they have seen pictures of it.
You May Also Like Neuschwanstein—One of the Most Famous Castles in Germany
Tour the castle to see a flair for drama and opulence inside this stunning castle. And enjoy the incredible views of the valley below. There are many vantage points and lookouts to take in the views. One is more beautiful than the next so take your time to soak it all in.
Neuschwanstein is perched overlooking the charming Bavarian town of Hohenschwangau. Walk around the town and see the lake at the edge.
You can even visit another smaller castle commissioned by King Ludwig's father called Hohenschwangau. Though the main draw is the castle on the hill, take it all in and enjoy this quaint Bavarian town.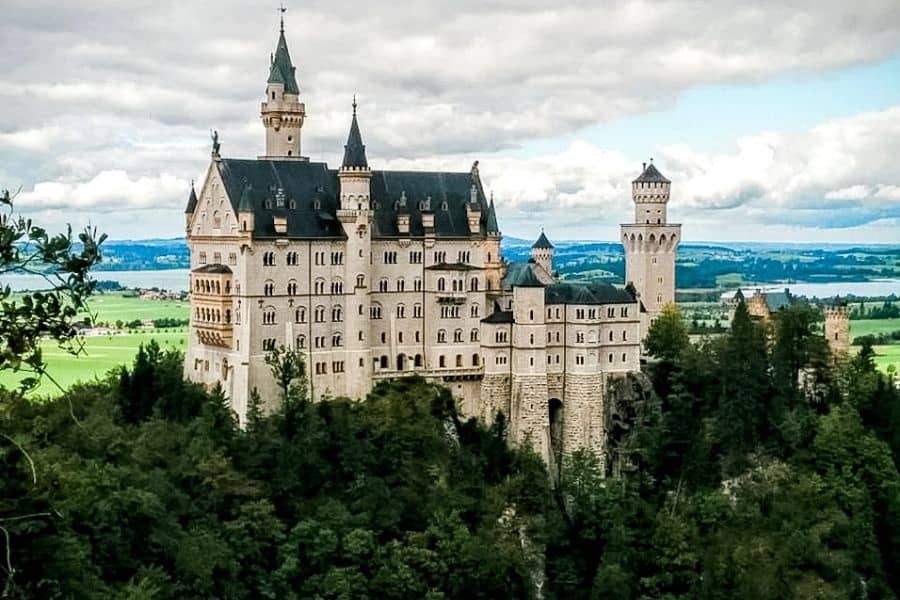 4 Romantic Road
The most scenic drive in Germany meanders from Würzburg and Füssen. It leads visitors through some of the most stunningly beautiful areas in Bavaria. The route was mapped out for tourists, it's true, but there are some really charming places along the way that are worth visiting.
Neuschwanstein Castle is included in this trip (Hohenschwangau, where the castle is located, is close to Füssen). Rothenburg ob der Tauber, the best-preserved medieval town in all of Germany, is also on this journey.
When you think of Bavaria and its rich heritage, chances are this is the picture that pops into your head.
This route is touristy and can get very crowded during the busy summer months, though it's a beautiful area worth seeing. It delivers all the charm and beauty of southern Germany both natural and man-made.
5. Cologne
Cologne is one of Germany's largest and oldest cities, dating back to Roman times. It was nearly destroyed by bombing during World War II, but has been rebuilt in a spectacular way.
It's known as a hotspot for arts and culture and the people of Cologne know how to party with its many annual festivals including one of the largest Carnival festivals in Europe.
Cologne is home to one of the most impressive Gothic cathedrals in the world, Kölner Dom, which is a UNESCO World Heritage Site. Cologne Cathedral's imposing twin spires have stood through the ages with many cherished treasures inside including a 10th-century crucifix.
This is also the site of one of the best Christmas markets in Germany: Weihnachtsmarkt Am Kölner Dom.
There are many popular museums including the Farina Fragrance Museum, which shares the history and making of the Eau de Cologne perfume, and the Wallraf-Richartz Museum, known for its fine medieval art. Museum Ludwig has an impressive collection of contemporary and pop art from the likes of Warhol and Picasso.
Wander the Altstadt (Old Town) to see its lovely historic buildings and monuments and take time to explore Agnesviertel and the Belgian Quarter.
And, of course, the lovely Rhine River runs through Cologne. You can take partial-day cruises, full-day, or multi-day. It's a lovely area to sail through and you can see some other beautiful German towns.
6. Berlin
Berlin, the capital city of Germany, may be one of the most interesting cities in Germany. It's a striking contrast to many other areas in the country, given its distinctive architecture. Where many areas of Germany were rebuilt following World War II in a more original design, Berlin is much more modern, at least in a 1960s-ish sense.
This city is often associated with its history from World War II and the following division of East and West Germany by the Berlin Wall. Most of it has been destroyed since the city's unification. However, you can still see some of it near Checkpoint Charlie and at the East Side Gallery, where artists from all over the world painted murals on it.
Visit the famous Brandenburg Gate and the nearby Holocaust Memorial. Go to Checkpoint Charlie and the amazing Pergamonmuseum museum packed with historic treasures. It's part of the UNESCO World Heritage site Museum Island, one of five museums part of it.
Wander in the Tiergarten, a large park filled with beautiful sculptures. See the stunning domed cathedral and enjoy the outdoor scene at the architecturally stunning Gendarmenmarkt. If you're looking for a city that oozes cool, Berlin is where it's at.
7. Potsdam
This easy day trip from Berlin holds a number of local treasures. The impressively gilded Sanssouci Palace was built several hundred years ago as a royal retreat. One room is more opulent than the next and it's every bit as stunning as Versailles in Paris.
It's a truly stunning place dripping in grandeur. You can also wander its striking gardens. which are truly beautiful. This is the largest World Heritage Site in Germany and is worth visiting.
Another cultural landmark in Potsdam is the Cecilienhof Palace. It was the site of the Potsdam Conference between Winston Churchill, Joseph Stalin, and Harry Truman was held here. You can tour the palace and stroll through the beautiful gardens.
Explore the old city gates and the historic market squares, Alter Markt and Neuer Markt. Neuer Markt was built in the 17th century and it's one of the best-preserved Baroque squares in all of Europe.
Visit the Dutch Quarter with its four city blocks of red-brick houses built in the 18th-century Dutch style. It's the largest grouping of Dutch-style homes outside of the Netherlands and a thriving area filled with quaint cafes and shops.
There are a lot of interesting places to visit in this city, so it's worth adding to your list, especially if you go to Berlin.
Best Places to Visit in Germany
Germany is such an incredible country and the different areas really have a different feel to them. When you visit the northern areas near Berlin or the southern parts in Bavaria,
it's hard to believe it's the same country! Germany is an incredible place to visit and these are some of the best places to visit in Germany representing many of the different aspects of this diverse country.
You Might Also Like
Like it? Pin it!