Top 6 Unmissable Things to Do in Asheville, NC
Planning a trip to North Carolina and looking for the best things to do in Asheville, NC? Asheville is a fun and quirky town with tons of fun things to do. There are options for everyone, including nature lovers, wine lovers, and food lovers.
It's also an amazing city to travel to as a family where you can bring the kids. With its peaceful atmosphere and amazing mountain views, it can also be a great place to go on a romantic getaway. If you're looking for a girl's trip paradise, Asheville is also perfect with tons of breweries and amazing restaurants.
Asheville has a little something for everyone. Use this guide to book your next trip to Asheville, North Carolina!
Some links in this article may be affiliate links, which means that if you purchase through them, I receive a small commission. This will never cost you extra, and I appreciate your support!
A Brief History of Asheville
Asheville is one of the oldest cities in America, with roots dating all the way back to 1784. It's home to Pisgah National Forest, which many people consider the birthplace of modern forestry. It is the location of the first forestry school in the country and the site of two of the first designated wilderness areas in the Eastern US, Linville Gorge and Shining Rock.
One of the most famous landmarks in Asheville is the Biltmore Estate. It's America's largest home and is the foundation of much of Asheville's history. You'll want to spend at least a day exploring the beautiful grounds, hiking trails, farm, shops, garden, and the estate house.
Asheville has over 113 places listed on the National Registry of Historic Places. So, you can be sure that almost every place you go to in Asheville is full of history.
Top Things to Do in Asheville, NC
Check out this amazing list of all the best things to do in Asheville! It'll give you some great ideas of what this amazing city has to offer.
Things to do in Downtown Asheville
Exploring the downtown area is one of the top things to do in Asheville. It's extremely walkable, so you can leave your car in one area and spend the day window shopping and dining.
Asheville is a great city for beer enthusiasts. Make sure to visit some of the best breweries, including Wicked Weed, Catawba, and Burial Beer.
You'll find lots of local crafts and clothing stores throughout the main area of downtown. Make sure to pop into the shops and grab some souvenirs or things to bring home!
The River Arts District is one of the best parts of downtown, with small galleries everywhere including the Stay Weird landmark and the Philip DeAngelo Studio. You can also watch local artists paint and sculpt as well as talk to them about your work.
Walking tours and food tours are also some of the best ways to see any city, and Asheville has some great ones. You get to tour the city with a local guide who explains the special and lesser-known parts of the city. Food tours also let you taste the local food scene. [Sam, add affiliate links to tours!]
Visit the Blue Ridge Parkway
The Blue Ridge Parkway is a huge road and park that stretches through parts of Tennessee, North Carolina, and Virginia. While one of the main ways to explore the parkway is to simply take a scenic drive, there are tons of other, more active ways to enjoy this gorgeous scenery.
The Appalachian Mural Trail is a long mural wall connected to the parkway. It has over 130 paintings depicting historical events and more modern parts of the city. The Asheville part of the Blue Ridge Parkway also has tons of small towns, like Chimney Rock and Lake Lure, where you can shop and dine.
There are also some amazing hiking trails where you can explore the parkway on foot. The views are breathtaking, and you can get some amazing family photos or selfies.
The Blue Ridge Parkway is huge, so make sure to check out the maps and suggested itineraries so you can find your way around better.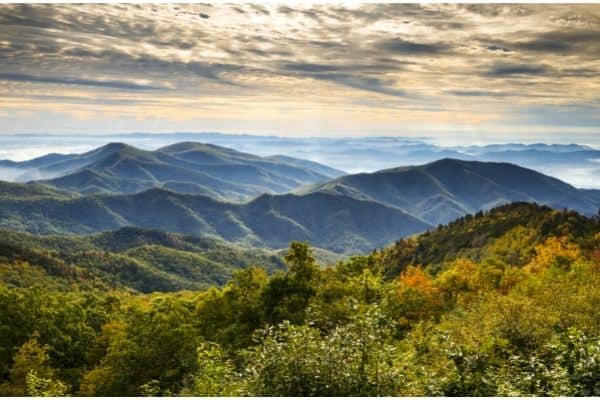 Get Your Hike on at Chimney Rock State Park
If hiking in North Carolina is on your to-do list, you need to make the short drive to Chimney Rock State from Asheville. The park is named for the 535-million-year-old monolith Chimney Rock. The hike up to the monolith is pretty intense, but the views are absolutely worth it.
If you don't feel like hiking or don't have the time, you can take the elevator to the top. You'll still need to climb 44 steps to get to the highest point, though. Once at the top, make sure to get plenty of photos of Hickory Nut Gorge and Lake Lure.
Chimney Rock State Park is located at 431 Main St, Chimney Rock, NC 28720. It's open every day from 8:30 a.m. to 5:30 p.m. Entrance is $17 for adults and $8 for kids.
Have a Spa Day at Omni Park Grove Inn
For a day of relaxation and pampering, head to Omni Park Grove Inn. Soak in the mineral pool or take a few laps in the therapeutic water pools with large waterfalls. Make sure to listen to underwater music as you swim!
Spend some time out of the water in the eucalyptus-infused steam room or visit the inhalation rooms and saunas. Sit by the fire for an amazing place to relax and enjoy the complimentary snacks and hot tea.
Keep in mind that Omni Park Grove Inn spa services are only available to people 18 and older. And, all electronics have to be kept in lockers outside.
Omni Park Grove Inn is located at 290 Macon Ave, Asheville, NC 28804. The spa is open on weekdays from 8 a.m. to 6 p.m. and on weekends from 8 a.m. to 7 p.m. One-day guest passes start at $110.
Visit the Basilica St. Lawrence
This basilica was built in honor of Saint Lawrence. He is renowned for always giving to the poor and helping his community during the third century. It's stunning, inside and out!
The tours are short and self-guided but full of amazing art and architecture. The architect, Rafael Guastavino, is the same man who designed the Biltmore Estate.
The Basilica of Saint Lawrence is located at 97 Haywood St, Asheville, NC 28801. They're open weekdays from 11 a.m. to 1 p.m. and 3 p.m. to 5 p.m. They're closed Fridays, Saturdays, and Sundays. The tours are free, but donations are accepted (and appreciated!) at the end of the tour.
Head to the Asheville Art Museum
Art lovers have to visit the Asheville Art Museum. They have all different kinds of exhibits, including paintings, pottery, and sculptures. The documentary photograph collection is one of the most popular exhibits, featuring work by Ralph Burns.
Many of the exhibits are traveling and rotate. So make sure to check the exhibit website before buying your tickets or going to the museum. Make sure to grab a bite to eat at the Perspective Café when you're done. Yum!
You can also enjoy local food and beverages. The terrace is filled with sculptures and has great views of the Blue Ridge Mountains.
Asheville Art Museum is located at 2 S Pack Square, Asheville, NC 28801. It's closed on Tuesday. They're open Wednesday through Monday from 11 a.m. to 6 p.m., except Thursdays when the hours are 11 a.m. to 9 p.m. Tickets are $15.
Top Things to Do with Kids in Asheville, NC
Searching for things to do in Asheville with kids? There are tons of Asheville kid-friendly activities, making this a great vacation spot to bring the entire family. And if you don't have kids—no worries! You'll enjoy many of these activities, even if you're a kid at heart!
See the Asheville Museum of Science
The Asheville Museum of Science is a great place to keep your kid's mind active while on vacation. Almost all the exhibits are focused on exploration and interaction, so they can touch many of the objects or use the simulators.
They also have a life-size model of a Tyrannosauroidea and many other dinosaur exhibits. So, if your children love to learn about dinosaurs or things from prehistoric times, definitely take them through the second floor of the building.
Asheville Museum of Science is located at 43 Patton Ave, Asheville, NC 28801. It's open every day from 10 a.m. to 5 p.m., except Sunday, when it's open from 1 p.m. to 5 p.m. Tickets are $8 for adults and $7 for children.
Get Active at the Adventure Center of Asheville
For a kid-friendly outdoor adventure in Asheville, head on over to the Adventure Center of Asheville. They have tons of activities, including ziplining and hiking trails that they've built to take you to the treetops.
Both courses have trails and zipline options for all different ages, so your older and younger kids will both have plenty to enjoy. All zipline courses can be self-guided as long as you go with your children. You can also choose to have an instructor.
The Adventure Center of Asheville is located at 85 Expo Dr, Asheville, NC 28806. They are closed Tuesdays but are open every other day from 9 a.m. to 5 p.m. Prices vary depending on which excursions you do, but tickets start at $49.
Take a Tour of the Biltmore Estate
No matter what season you're visiting Asheville, Biltmore Estate is a must-see in Asheville. Although it's a privately owned home, you'll feel like you're gazing at a castle when you arrive.
Part of the tour includes showing how the children of the estate lived and their daily activities, such as swimming in the indoor swimming pool. So it's a great tour for kids and the entire family.
The tour also includes seeing all the immaculate bedrooms, the many kitchens, and specialty rooms such as gyms and music rooms. After touring the inside, make sure to see the flower gardens and the grounds. They are always beautifully manicured with colorful flowers and sculptures.
Get a two-day pass to come back to enjoy the many hiking trails on the property. Visit the little farm and pet the animals, and grab an ice cream at the creamery. You can easily spend two days here, with kids or without!
The Biltmore Estate is located at 1 Lodge St, Asheville, NC 28803. They're open every day from 9 a.m. to 5 p.m. Tickets start at $76 but change depending on the season. Kids under 9 are always free.
Explore Pisgah National Forest
If you're looking for an active stay with the kids out in nature, Pisgah National Forest is an amazing place to visit. It's 500,000 acres of forests, slopes, and waterfalls. You can take the children bicycling, fishing, hiking, and horse riding.
The hiking trails range from easy to difficult, so it's easy to find one that's suitable for your family. The scenic drives are also amazing. If your kids love the water, make sure to take them swimming and tubing!
This land was actually donated by George Vanderbilt, who created Biltmore House. It'll be enjoyed by many generations to come.
Pisgah National Forest is located at 1600 Pisgah Hwy, Pisgah Forest, NC 28768. Check out the full maps here so you don't get lost.
Day Trips from Asheville
If you're looking to get out of the city for a day or two, check out some of these amazing day trip ideas!
Boone Fork Trail
Boone Fork Trail is an hour and 40 minutes from Asheville. The main trail is a 5.2 -mile loop that takes you through waterfalls and beautiful fields of flowers. Make sure to wear sturdy hiking boots because the trail can get really steep in some areas.
Crowders Mountain State Park
Visit this state park just under 2 hours from Asheville. Crowders Trail is a scenic 2.5-mile hike. On a clear day, you will be able to see the city below as well as the mountains in the distance.
Little Switzerland
This area, known as Little Switzerland, is about an hour from Asheville. It's only a small downtown area with a few streets, but it's full of things to do. The local bookshops and craft shops are amazing places to shop.
You can grab a bite to eat at the Switzerland Café or grab a coffee and a pastry at one of the many small coffee shops.
Franklin, NC
Franklin is a small town about an hour and a half from Asheville. You can hike to the top of Wayah Bald Tower for a great view of the mountains. Or, hike through sections of the Appalachian Trail. Lazy Hiker Brewing is a great place to end the day.
How to Get to Asheville
Asheville has a small airport, but it can be expensive to fly into since it services fewer airlines than other major airports. Many people choose to fly into Greenville (GSP), Knoxville (TYS), or Charlotte (CLT). Atlanta (ATL) is a little further away (around a 3.5-hour drive), but it might be the cheapest option since it has more air carriers and frequent flight times.
Since each of these airport options is an hour or more from Asheville, it's best to rent a car. From Greenville, take US 25 N and I-26 W. From Knoxville; you should drive I-40 E. If you fly into Charlotte, you should take I-40 W.
How to Get Around Asheville
If you are staying in downtown Asheville, you should be able to walk everywhere. Getting an Uber or Lyft to the further attractions is easy and not too expensive. If you choose a hotel a little further from downtown, you will need to keep your rental car or take an Uber everywhere. Asheville does not have a very reliable public transportation system.
When to Visit Asheville
Asheville has amazing weather in the fall. They also have annual pumpkin festivals and beer festivals through the autumn season.
The city can get pretty crowded during Christmas, but it's decorated beautifully, and the weather isn't too cold. It might be best to avoid it during the summer months because it's way too hot and can get pretty crowded with tourists.
Where to Stay in Asheville
Budget: Tru by Hilton Asheville East is a great basic hotel. They have free WIFI and a hot breakfast. It's only 10 minutes to downtown and only 5 minutes to Blue Ridge Parkway. This is a great place to stay if you want to be close to the city and nature.
Mid-range: Cambria Hotel Downtown Asheville is one of the most centrally located hotels in the city. You can walk everywhere you want while enjoying an amazing view of the mountains from the floor-to-ceiling windows. It's kid-friendly. They also have an on-site Cuban restaurant!
Luxury: The Omni Park Grove Inn is in the heart of the Blue Ridge Mountains. It's peaceful, with stunning views. They have an indoor heated pool, a golf course, and four restaurants on-site.
Where to Eat in Asheville
Biscuit Head has two locations, including one downtown. They are only open for breakfast and lunch. Sometimes the line even wraps around the building, so definitely go early! You can build your own biscuit, and make sure to try their signature gravies. Go to the jam bar to sample all the flavors.
Tupelo Honey is one of the largest places in Asheville to go for southern comfort food. They serve craft beer and locally-made special cocktails. For food, you have to try the sriracha honey fried chicken and waffles or the avocado toast points. 
The Lobster Trap is the absolute best place for fresh seafood. The menu changes seasonally. They also have amazing drink specials and live music on the weekends. Make sure to try the Maine lobster, the raw oysters, or one of the many chowders or bisques.
The Top Things to Do in Asheville Are Waiting For You!
Now that you know all the top things to do in Asheville, NC, you can start planning your trip! To make the most out of your trip, make sure you explore downtown and some of the nearby outdoor and nature activities. Your trip to Asheville is sure to be unforgettable!
You Might Also Like
Like it? Pin it!