The Top 7 Things to Do at Black Canyon National Park
You've probably heard of the Grand Canyon, but do you know about the awe-inspiring Black Canyon National Park? If not, don't sweat it—this is one of the least-visited national parks out there and a true hidden gem.
If you're interested to learn more and plan a trip to this absolutely epic place, then read on. This is a detailed guide of the top things to do at Black Canyon National Park along with a smattering of helpful travel advice.
But first, let's get to know this national park a bit better.
This post may contain affiliate links, which means I'll receive a commission if you purchase through my links, at no extra cost to you. Please read full disclosure for more information.
Black Canyon National Park
Officially named Black Canyon of the Gunnison, this national park is located in western Colorado. As is the case with its grand counterpart, there's both a north and south rim that you can visit.
The canyon was formed over two million years by the mighty Gunnison River, named after explorer John W. Gunnison. He provided the first official account of the area on an 1853 expedition. He described it as "the roughest, most hilly and most cut-up" he had ever seen.
So, why is it called the Black Canyon? Due to its extreme steepness, the canyon rarely receives sunlight. This causes the walls of the canyon to appear black as they're always cast in shadows.
Black Canyon of the Gunnison became a national park in 1999, making it one of the newest parks in the country. Apparently, most people never got the memo, because it receives very few visitors compared to its counterparts.
The fact that it's a 5-hour drive to the nearest major airport (Denver) and offers no accommodation within the park other than campsites may explain why that's the case.
It also has to compete with the many other national parks in Colorado. Rocky Mountain National Park is much closer to Denver and thus far more accessible to visitors.
For those willing to put forth the effort and rough it a bit, however, the payoff is well worth it. Gazing down at this geographical wonder with nary a soul in sight is a pretty amazing experience.
Practical Visit Information
Top Things to do in Black Canyon National Park
Now that you know a bit about the park, let's find out what there is to do there. First and foremost, let's take a look at some of the best Black Canyon of the Gunnison hiking options.
Hiking
Hiking is a major draw here, and for good reason. There are some great trails out there with absolutely incredible views. Just be aware that there are many steep drop-offs and it's a long way down!
Visitors also need to remain "bear aware" on the trails here, especially if you have food in your bag. It's best to leave it in the car and eat at the picnic areas. Be sure to dispose of everything properly as well.
Now, let's get to the trails! There are several different trails available on both sides of the canyon with varying lengths and difficulties. Here are a few of the best ones to try:
Unlike the Grand Canyon, there are no maintained or well-marked trails here that go down to the river. Only experienced hikers in top physical condition should attempt to tackle this sort of hike.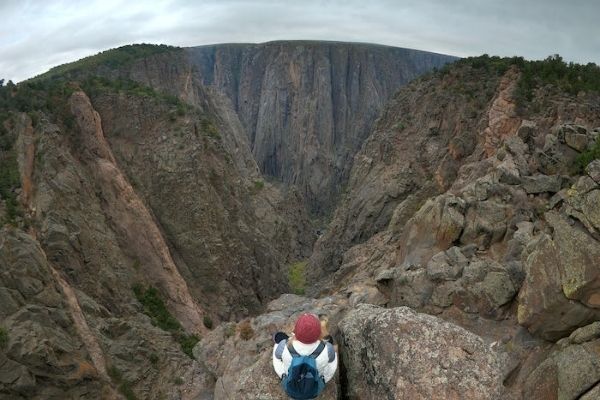 Take in the Views
You don't even need to hit the trails to take in the awe-inspiring views of the canyon. There are plenty of viewpoints on both sides of the canyon where you can simply park and walk a few steps to gaze upon the Black Canyon of the Gunnison.
A few spots to check out on the South Rim include Tomichi Point, Chasm View, and Sunset View. Some viewpoints do require a short hike, such as the Painted Wall. It's a short and easy hike, though, and a must-see when visiting the park.
There aren't quite as many easy-to-access viewpoints at the North Rim. But if you end up over there, be sure to check out the Narrows and the Kneeling Camel. See if you can spot the camel in the rock formation.
Horseback Riding
One of the coolest experiences you can have here is riding along a rugged western Colorado trail on horseback. Oddly enough, the only place where you can do this is the Dead Horse Trail at the North Rim.
There is no permit required for horseback riding, but you have to start at the Kneeling Camel Overlook. For more information, you can check the National Park's website.
Cruise Down East Portal Road
It's a long and winding way down the East Portal Road, but it's worth all the curves to get down to the river. This road offers a whole different perspective on the Black Canyon. You don't even need to break a sweat to get it!
While you're down here, you can check another one of the top things to do here off your list. That is, if you brought your line and rod…
Go Fishing
If you're into fishing, you'll love it here at Black Canyon National Park. That's because the river is designated as Gold Medal Water & Wild Trout Water, making it one of the top places to fish in all of Colorado.
Those who plan to fish within the park should definitely read up on the rules. For example, you can only use artificial lures and no bait. You must have a Colorado fishing license as well. Click here for all the relevant info from the National Park Service (NPS).
Look for Wildlife
Be sure to bring your binoculars, as there are plenty of great opportunities to spot wildlife at Black Canyon of the Gunnison. Bird watching, in particular, is excellent here in the spring and summer months.
Here's just a smattering of what type of wildlife you may encounter here—Mule Deer, Rocky Mountain Bighorn Sheep, Elk, Peregrine Falcons, Golden Eagles, and even the occasional Mountain Lion.
Take a Morrow Point Boat Tour
While this isn't technically in the national park, it's still one of the most popular things to do in the area. It starts with a hike down to the canyon floor on the Pine Creek Trail, where you'll board the pontoon boat.
Next, enjoy a 1.5-hour cruise along the Gunnison River to the beginning of the national park. These trips run from June to September and Wednesday to Monday. You can choose from a 10 a.m. or 12:30 p.m. departure, and it costs $24 per person.
Tours were canceled in 2021 but will resume this summer. Advanced reservations are required, which you can do through the NPS.
How to Get to Black Canyon National Park
To be quite honest, there's no easy way to get to Black Canyon National Park. It takes a bit of work to get there, but it definitely pays off.
Flying is sort of an option, but it's not a great one as there's no public transportation to or in the park. That means you'll need your own wheels either way.
The closest airport to the park is Montrose (MTJ). As you might expect, there aren't a ton of options for flights here, and many of them are seasonal.
You can always fly to Montrose from Denver or embark on the 5 ½-hour drive. It's a great excuse to go on an epic Colorado road trip!
Montrose is just a 20-minute drive or so to the south rim entrance of the park. This is the more accessible side of the park and receives more visitors than the north.
The town of Delta is slightly closer to the North Rim, but it still takes about an hour to get there.
How to Get Around Black Canyon National Park
You most definitely need a car to get around Black Canyon of the Gunnison. For those who opt to fly into Montrose, here's a list of the rental car providers at the airport.
Keep in mind that there are two sides to the canyon and that it takes a few hours to get between them. The South Rim has more facilities and a paved road, while the North is far more rugged.
Once you're on either side of the park, it's pretty easy to navigate and get around. The pull-offs for viewpoints and trails are obvious, and there's enough parking since it's never that busy.
When to Visit Black Canyon National Park
This is very much a seasonal park, as it pretty much shuts down once the snow starts to fall in November. The South Rim Road is open for cross-country skiing and snowshoeing, and that's about it.
The summer months see average temperatures in the low 80s and the most precipitation. At least there's not really a huge spike in tourist numbers here. That never really happens!
May and September are both generally good for visiting Black Canyon National Park. We did experience some snow on our recent visit in early September, but it actually aided to the enjoyment of the experience!
How Much Time to Spend in Black Canyon National Park
If you want to visit both sides of the park, you'll definitely need at least two days. It takes 2-3 hours to drive between the two, which would make for a long and exhausting day if you plan to do some hikes on both sides.
On either side, there's enough to keep you busy for a full day. Should you plan to spend all day inside the park, be sure to pack a lunch and some snacks, as there are no shops or restaurants in the park and not much right outside of it either.
Where to Stay in Black Canyon National Park
As far as accommodation goes, you have the choice of camping in the park or staying in one of the nearby towns like Delta or Montrose.
There's a campground at each rim, with the South Rim Campground having far more sites. You can reserve it online from mid-May to mid-September, and it's first-come, first-serve otherwise.
A campsite costs $16 for the night for non-electric and $22 with. It costs an extra $3 per night if reserved. Click here for more information.
The North Rim Campground is very remote and has just 13 sites which are first-come, first-serve. They don't accept reservations. It's only open from spring to fall and is also $16 a night per site.
There's also the East Portal Campground which isn't technically in the park. It's actually in the Curecanti National Recreation Area, but you still need to access it via the park. These sites are the same price and are also first-come, first-serve.
For more information about the campgrounds, head to the National Park Service website.
In Montrose, you'll find a few options for hotels such as the Holiday Inn Express and a Hampton Inn. The Double G Ranch and Guest Lodge is a bit further south, but it looks nice and has some great reviews.
If you've got an RV and can't find a spot in the park, there's the Cedar Creek RV park in town. They have some pretty cool glamping options too, as well as free mini-golf!
We actually found a pretty nice house on Airbnb at the last minute, so it's definitely worth checking on there as well.
Where to Eat in Black Canyon National Park
For such a small town, Montrose has a pretty good selection of restaurants to choose from. Here are a few that can get you through a short trip to the area as there is no dining directly in the park:
Excited for Black Canyon National Park?
Lace up your hiking boots and charge those camera batteries because you're primed and ready for a Black Canyon National Park adventure!
It may seem like a daunting task planning a trip there. But hopefully, this guide has helped you plan. Rest assured that it's worth all the effort once you're breathing in that cool Colorado air gazing down upon the majestic Black Canyon of the Gunnison!
You Might Also Like
Like it? Pin it!