16 Interesting and Unique Things to Do in Munich
If I'm being honest, the only reason I planned to go to Munich is for the places I wanted to visit near Munich, namely Neuschwanstein Castle and the Zugspitze. I didn't have high expectations and didn't set the bar high for Munich.
I could not have been more wrong and ended up loving this city! There are a lot of really fun and interesting things to do in Munich! Here are the reasons to visit and what you want to know before you go.
Some links in this article may be affiliate links, which means that if you purchase through them, I receive a small commission. This will never cost you extra. Please read the disclosures to learn more.
A Brief Munich (München) History
Munich is believed to have been established prior to the 12th century, though the exact timing is unknown. Bavaria, where Munich is located, was established as a sovereign kingdom in 1806, propelling it to become a major European center recognized for architecture, culture, arts, and science.
The ruling house of Wittelsbach governed Bavaria from 1180 to 1918, when they were forced to step down during the German Revolution. The city was declared the "Capital of the Nazi Movement" after the Nazi rise to power and as a result, it was heavily bombed during World War II.
One thing I found really interesting when I visited is the defiance the people of Munich staged against the Nazis. I learned a couple of stories that have been memorialized and they are included below.
Unlike Berlin, Munich made the decision to rebuild to its original state before being largely destroyed. More than 80% of the buildings in Munich were destroyed during this war.
Thankfully, the city had pictures of all of the major buildings so they were able to rebuild them to their former glory. It's a beautiful city worth seeing.
Modern Munich
Munich hosted the 1972 summer Olympics and has been on an economic upturn since. Munich is now the third-largest city in Germany, following Berlin and Hamburg.
It is the capital of Bavaria, the second-most populous state in Germany. More than 1.5 million people live in the city and over 6 million are in the metropolitan region. Like many of the larger cities in Europe, it is located on the banks of the Isar River, a tributary of the Danube. Munich is located north of the Bavarian Alps.
Munich is a prosperous and fast-growing city with a great quality of living. There are a lot of artistic and cultural attractions here and there are a lot of fun things to do in Munich.
Munich is known as the beer capital of Europe and it may be where beer was founded. The first documented brewery was created by monks here in around 1200 A.D.
Of course, a major draw to visit is the annual Oktoberfest, and it is one of the most popular things to do in Munich if you time your visit right.
Things to do in Munich
Munich is a city you can spend a lot of time in exploring. I'd definitely recommend at least two or three days and more if you plan any day trips. I only had two days and did not feel that was nearly enough!
Take a Free Walking Tour
Munich is a very walkable city, and I highly recommend a free walking tour to get an orientation and some useful information about the city. I recommend the Sandemans New Europe Tour. My guide was excellent and we got to see many of the sites, including the Glockenspiel, the famous Hofbräuhaus, and others.
Marienplatz and the New Town Hall (Neues Rathaus)
Marienplatz, or Mary's Square, is the main square of Munich in the city center. It is flocked by the New City Hall (Neues Rathaus) to the north and the Old City Hall (Altes Rathaus) to the east.
At the top of the New City Hall tower is a statue of a monk, and the city is believed to have been named for the many monks who lived there (München means monks in German).
The old town hall was built in 1397 and actually looks newer as it was rebuilt after WWII. It has been the central city square since the Middle Ages. At that time, it was the place for markets and tournaments.
The square is named after St. Mary's Column, featuring a gold statue of the Virgin Mary on the top, created to give thanks for the survival of the city after 30 years of war in the 17th century. The Swedish army tried three times to take over the city, and each time Munich was able to fend it off.
The column is surrounded by four statues: a lion, a dragon, a snake, and a basilisk. These statues symbolize war, hunger, plague, and heresy, all of which were issues during the 30 Years' War.
Here is a map of Marienplatz.
The Glockenspiel
One of the most interesting and famous features of this square is the Glockenspiel. It is located fairly high up on the New Town Hall tower. there are two levels of marionettes that each act out a story accompanied by bells and chimes three times a day: at 11, 12, and, in the summer, at 5.
The top set tells the story of the wedding of Duke Wilhelm V (who founded the Hofbräuhaus). There is a joust to honor the happy couple, and of course, the Bavarian knight wins.
The bottom half shows the coopers' dance (Schäfflertanz). It represents the coopers said to have danced through the streets to bring cheer during a time of the plague in the early 16th century. the dance now symbolizes perseverance during tough times.
The display lasts for around 15 minutes and it ends with a small golden rooster chirping three times.
St. Peter's Church
Not far from Marienplatz is St. Peter's Church. It is the oldest church in the area, build in the 12th century. Because of this, it's affectionately known as "Alte Peter" or "Old Pete."
It was destroyed and rebuilt a couple of times—first in the Great fire in 1327 and then during World War II. In one of the window frames, you can actually see a cannonball lodged into it.
The cross at the top of the church faces to the side and there is a story we were told during the walking tour, which may be true (maybe). It was said that the cross actually fell into the courtyard. The monks couldn't find anyone to put it back up, so they went into a beer hall and asked, finding a man drunk enough to be willing to climb that high for the price of a beer.
Beer in one hand, heavy cross in the other, he made his way up, placing the cross. He then dropped his beer glass which bounced several times and didn't break. It was a miracle! And it is now apparently a holy beer glass.
You can n climb to the top of Old Pete (without carrying a beer and a cross, and on stairs!) to get some amazing views. It's around 300 steps.
St. Peter's Church is located at Rindermarkt 1, 80331 München, Germany. The church is open from 9 to 12 and 2 to 4 from Monday through Thursday and Saturday and from 9 to 12 on Friday. The tower is open from 9 to 6 Monday through Saturday and 10 to 6 on Sunday. It costs €3 ($3.50 USD) to ascend.
Shirker's Alley (Drückebergergasse)
There is a path of gold on Viscardigasse, a small pedestrian street not far from Marienplatz. It represents a non-violent opposition in Nazi Germany where locals would circumvent the nearby memorial of the Beer Hall Putsch.
This memorial was commissioned by Hitler to honor the 16 Nazi supporters killed before he rose to power. By passing down this small pedestrian street, they could avoid the required Hitler salute to the memorial.
Failure to provide the appropriate respect to the statue could have led to a beating or arrest. The statue had guards at all times, so a faux pas would be noticed. Many people instead chose to make their way down Viscardigasse to avoid the statue.
At the end of World War II, the memorial was removed. the path of Viscardigasse serves as a reminder of those who had the courage to act with their conscience and refused to give Hitler a salute.
Drückebergergasses located at Viscardigasse, 80333 München, Germany
Viktualenmarkt (Market)
Not far from St. Peter's Church is Viktualenmarkt. At one end is the Lion's Tower, named for Henry the Lion. "White gold," or salt, was sold here, used to preserve food. In Viktualenmarkt, 'liquid gold' used to be sold (beer, of course!)
Today, Viktualenmark is a thriving outdoor daily market with over 140 stalls. There is a Biergarten near the center of the market, in homage to its roots, of course.
In the center of the market is a May Day pole. The first of May, May Day, is a holiday in Germany celebrating the arrival of spring and the end of winter.
There are ongoing pranks where this pole is stolen by other communities and returned for the price of beer and snacks. The pole is blue with white striping and has images from beer-drinking scenes.
This market is located at Viktualienmarkt 3, 80331 München, Germany.
Hofbräuhaus
The Hofbräuhaus is a local institution built by Duke Wilhelm V in 1589. If the Duke might have slipped into obscurity, this one success made him famous for all time.
This is the first one ever built, though now there are many others. Originally it was an establishment for wealthy and famous men, though later, it was opened for all to enjoy.
Another interesting (and slightly gross) story our walking tour guide told us was about the Hofbräuhaus. She said that when the building was erected, they forgot a really important thing: toilets. At first, the men had to go outside in a grate.
Later, pots were added under their seats so they didn't have to leave. Then, the floors were slanted, and periodically, they would spray water over the floor to clean it. So, if you were drunk and didn't move fast enough… (ugh!) This may be where the saying "getting pissed drunk" comes from.
Gross, and moving on!
Hofbräuhaus is located at Platzl 9, 80331 München, Germany. It's open from 9:30 a.m. to 11:30 p.m. daily.
Octoberfest
Octoberfest is a celebration of the wedding of King Ludwig I. He was the same king whose wedding is depicted in the Glockenspiel. It is said that Octoberfest was originally celebrated in October. However, it was moved to September so the king could go hunting.
If you haven't heard of King Ludwig I, don't worry. You may be familiar with his grandson or at least, his legacy. King Ludwig II, the grandson of King Ludwig, was responsible for the creation of Neuschwanstein Castle, believed to be the inspiration for the Disney World castle in Orlando, Florida. Even if you haven't heard the name before, you would likely recognize it.
Even if you're unable to get to Munich for Octoberfest, no worries. You can still enjoy some of the best beer in the world in the many beer halls and beer gardens.
It's a huge celebration and more than 7.7 million liters of beer are drunk every year during Octoberfest.
Dachau
Dachau was a Nazi concentration camp built by Heinrich Himmler in 1933. Though it is said the original intention of the camp was to hold political prisoners, it quickly became a labor camp for holding Jews, Nazi prisoners, criminals, and others.
There were more than 32,000 documented deaths at the camp though it is believed the actual number is in the hundreds of thousands.
The camp was liberated by United States forces on April 29, 1945. It was then used to hold Nazi soldiers awaiting trial and was closed in 1960.
Today it serves as a memorial of a horrific point in history. It is open to the public for touring as a memorial. You can walk through the gate with the saying "Arbeit Macht Frei" over the entryway. ("Work shall set you free.")
It's a difficult place to visit, but an important one so we never forget.
The Dachau Concentration Camp Memorial Site is located at Alte Römerstraße 75, 85221 Dachau, Germany. It is open daily from 9 to 5, and entry is free of charge.
Go to a Biergarten
Beer is a way of life in Germany, particularly in the area in and around Munich. Biergartens and beer halls are plentiful so you never have to worry about being thirsty!
But what is a Biergarten or beer garden? It's an outdoor area where beer is served along with local Bavarian fare. They are casual establishments, and tables are generally shared.
Sometimes they are cafeteria-style, where you pick up your food and drinks from a central place, and other times they are served by waitstaff. They were started in Munich and are still very popular.
You can also go to a beer hall like the Hofbrauhaus mentioned above. there are many others. Don't worry—you won't go thirsty in this city!
Here is a list of some of the best biergartens and beer halls.
Stroll Around the English Garden (Englischer Garten)
The English Garden is a massive public park in the middle of Munich, one of the largest in the world. It was originally built in the mid-18th century though it has been expanded some through the years.
There are a number of places to visit in this garden and different areas. One of my favorites is an area where the winding stream picks up, and the current is so strong that people actually surf! It's pretty impressive to see and unexpected.
There is a Japanese teahouse built to celebrate the 1972 summer Olympics. There is also a Chinese Pagoda and a few other interesting structures.
One of the more unexpected things about this garden is the large area where there are nude sunbathers. It's only allowed in one area of the park though, so if you're going to participate, make sure you are where you should be.
Here is a map of the English Garden.
Munich Puppet Theater (Münchner Marionettentheater)
Puppet theaters used to offer traveling shows throughout the area. They were popular with children and adults alike.
In 1858, "Papa" Schmid got approval from the City of Munich to build a puppet theater providing regular performances. This location is one of the oldest puppet theaters in Germany and in the entire world.
The original intent for this theater was to reflect proper behavior and morals, unlike the sometimes scandalous street puppet theaters. If you're looking for something uniquely German to do, this is a fun one.
The Munich Puppet Theater is located at Blumenstraße 32, 80331 München, Germany. Tickets cost 12 euros (around $14.25 USD).
White Rose Rebellion Memorial
I got lucky to stay with a local who showed me some of the places in Munich a little off the beaten path, and one of them was the White Rose Memorial.
The White Rose was a non-violent resistance group comprised of students who went to the University of Munich near the end of World War II. They held an anonymous leaflet and graffiti campaign calling for active opposition to the Naxzis from the middle of 1942 until early 1943, when they were caught.
The founders of the group, Hans and Sophie Scholl and Christopher Probst, were executed. Many of the others caught were either imprisoned or executed as well.
During this short period of time, they authored six leaflets, and more than 15,000 copies were made and distributed. This solemn memorial represents the scattered leaflets they created and distributed and shows another example of their pride in the resistance.
The White Rose Memorial is at the Ludwig Maximilian University, Theresienstraße 39, 80333 München, Germany.
Munich Olympic Park (Olympiapark)
The Munich Olympic Park was constructed for the 1972 Summer Olympics in Munich. I have to say, there is something so amazing about walking around it. When we went, it was late in the day so few people were around, and we mostly had it for ourselves.
We walked through the stadium and around a lot of the park. There is a big hill you can climb with some incredible views as well.
Munich Olympic Stadium is located at Spiridon-Louis-Ring 27, 80809 München, Germany.
Nymphenburg Castle (Nymphenburg Schloss)
Nymphenburg Palace is a huge Baroque palace in the western area of Munich. It's recognized as one of the most beautiful royal palaces in all of Europe. It served as the summer residence of the former Bavarian rulers of the House of Wittelsbach.
You can tour the palace, or at least a small part of it. The opulence rivals the other royal palaces of Europe and it's worth seeing. Though it's not as famous as Versailles in Paris, it's every bit as grand. And in fact, the front of the palace is actually larger.
Not only is the palace impressive, but the grounds are as well. It is almost 500 acres and incredible to walk around. From April to mid-October, you can take gondola rides on the Mittelkanal when the weather is good.
Nymphenburg Castle is located at Schloß Nymphenburg 1, 80638 München, Germany. The castle is open from 9 to 6 between April and October 15th and from 10 to 4 between October 16th through the end of March. The park is open from 6 to 6 in January through March, November, and December. From April to October, it's open from 6 to 8, and from May to September from 6 to 9:30. Tickets cost between 6 and 12 Euros, depending upon what you want to see (around $6.50 USD to $12.75).
Sendlinger Tor
This is one of the old city gates located at the southern end of the historic old town of Munich. It is one of the three remaining town gates, including Karlstor and Isador. Seeing these remaining gate adds to the charm of the old city.
The city wall around this gate was built in the late 13th and early 14th centuries. They were established as a defense fortification during a period of urban expansion. Little of the walls remain and the gates are pretty fun to see.
The gate was barely damaged in World War II. Even so, it was refurbished in the 1980s and remains a treasured remnant of the old city.
Sendlinger Tor is located at Sendlinger-Tor-Platz 12, 80331 München, Germany.
When to Visit Munich
The best times to visit Munich are in the springtime, from late March through mid-May or in early September. These shoulder seasons offer wonderful weather and lower crowds than the peak seasons during the summer and Octoberfest. (Octoberfest is actually from late September through early October).
Christmastime is also very popular in Munich and can get crowded. As with most areas, the busy seasons bring higher processes as well.
Summertime temperatures are quite pleasant in Munich. Average highs range from 71° to 75°F (21.7°C to 23.9°C), and lows range from 53° to 56°F (11.7°C to 13.3°C). The winter highs range from 38° to 40°F (3.3°C to 4.4°C), with lows ranging from 27° to 29°F (-2.8°C to -1.7°C).
The springtime highs from late March through May are in the 50s and 60s Fahrenheit (low-to-mid teens Celcius), with lows in the high 30s and 40s (-1 to 4°C). Rainfall is seen throughout the year, with the highest in the summer from May to August.
Where to Stay in Munich
Munich hotels can be a bit more expensive than in some areas of Europe, but I have found some reasonable options. These range from budget boutique to mid-range to high-end, offering something for everyone.
Budget: Arthotel Munich—Within a mile from the city center and right near the main train station, this cute boutique hotel is a convenient budget option. There are lots of restaurants in the area and the subway is just a 5-minute walk away. Rooms are soundproofed, so no worries about noise here!
Mid-Range: Platzl Hotel—Just a 2-minute walk from Marienplatz, this hotel is wonderfully located and has a solid mid-range value.
High-End: Hotel Torbräu—Munich's oldest hotel, it opened back in 1490! It's a short walk from Marienplatz, making it perfectly located. It's also right near Isator, one of the entrances to the Old Town. This hotel is beautiful, comfortable, and has everything you might need.
Of course, staying outside of the city center will be a bit less expensive. However, you'll spend more time traveling to the sights. It's a balance you'll want to consider. I chose to stay in the city center to maximize my time.
Where to Eat in Munich
Some of the best places for German fare are the Biergartens and beer halls. They are generally affordable and offer great quality German cuisine and a true German ambiance.
Some of the popular Biergartens and beer halls right in the center of Munich are:
If you want to learn more about German food and the types of dishes that are available, check out this handy guide to German food.
Munich Day Trips
There are a number of popular day trips from Munich, offering all of the beauty of Bavaria. Visit stunning castles, striking mountains, and gorgeous Bavarian towns oozing charm and delight.
Neuschwanstein Castle
Few royal palaces could possibly be considered more striking than Neuschwanstein Castle. Perched on the top of a high cliff, it is the epitome of grandeur. And it's believed to have been the inspiration for the castle at Disney World in Orlando, Florida.
You May Also Like Neuschwanstein—One of the Most Famous Castles in Germany
The views are breathtaking of the castle as you walk up the steep hill, and they only get better when you see the views of the valley in the background. Wander around the lovely small town of Hohenschwangau and even visit the castle of the same name. This is a popular day trip from Munich.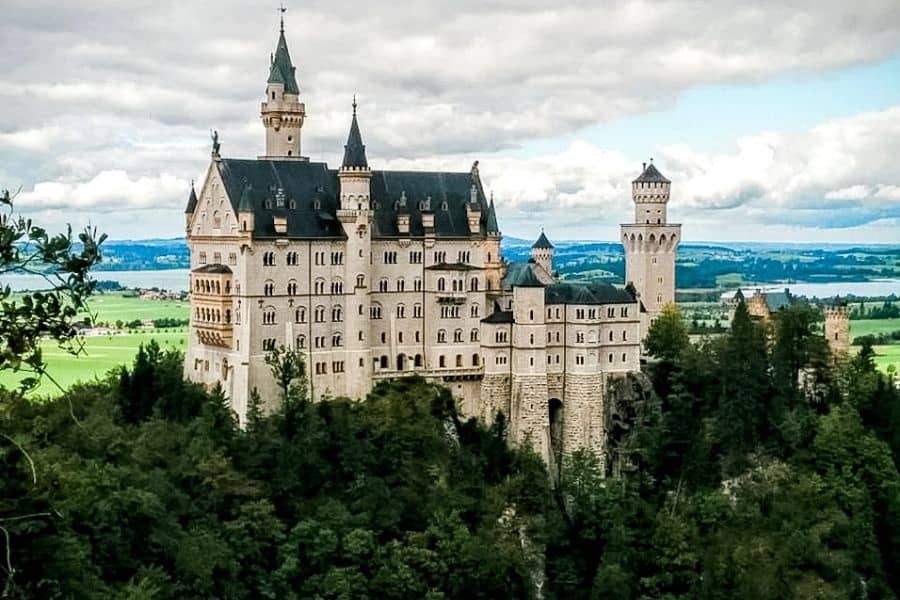 Garmisch-Partenkirchen and the Zugspitze
Garmisch-Partenkirchen is an outdoor playland in Bavaria. Summer or winter, this beautiful area offers outdoor sports that anyone can enjoy in an exquisitely-beautiful place.
Ski the Alps in the winter or hike them in the summer. Visit the Partnatch Gorge or see the site of the 1936 Olympic Winter Games. Wander the quaint historic streets of Partenkirchen, a beautiful Bavarian village. Or, visit the Zugspitze, the highest mountain in Germany, to look out over the stunning Alps and many valleys.
You May Also Like Why You Should Visit Garmisch-Partenkirchen
Garmish-Partenkirchen, also known as GaPa or GP, is a delight to visit at any time of the year. It's a popular day trip from Munich though it's worth a few days' visit as well.
Salzburg
Salzburg, Austria, is a popular day trip from Munich. It is known as one of the most beautiful cities in Europe so it's worth seeing. Not only does it offer a beautiful historic old town, but there is also a fortress overlooking the city offering gorgeous views. And, it's the birthplace of Wolfgang Amadeus Mozart!
You May Also Like How to Make the Most of One Day in Salzburg
Take in the views, wander the beautiful historic old town, and enjoy a sacher torte while watching the world go by.
Why You Shouldn't Skip Munich
Munich is an incredible city to visit, offering an easy gateway to many areas in the gorgeous Bavaria areas of Germany and Austria. It may not be on the "tourist track" like many of the large cities in Europe, but don't be fooled, it is every bit as worth seeing.
You Might Also Like
Like it? Pin it!